HEALTH AND CARE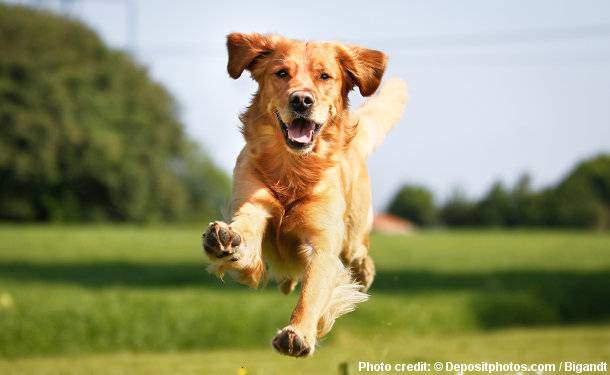 This section of Totally Goldens gives help and advice on all aspects of Golden Retriever health and care.
Alongside training, the most important part of being a responsible owner is also making sure your Golden Retriever stays fit, healthy and well cared for their whole life.
You must know how to exercise and feed your Golden Retriever properly. You need to take preventative measures against illness, disease and parasites, but recognize the signs in case they do arise and seek medical help when necessary.
You need to know how to puppy proof your home, socialize your puppy and make decisions on vaccinations. And of course there's grooming and all aspects of ongoing care.
It's a lot to learn and a lot to be responsible for. But with a little up-front learning and by putting routines in place, it soon becomes second nature and a way of life.
The Basics Of Golden Retriever Care
These articles provide introductory information that every Golden Retriever owner should know, before we move onto more detailed articles later:
Fitness, Exercise And Games
Golden Retrievers are a working, sporting breed and as such need a lot of exercise and mental stimulation to keep them happy and to stave off boredom.
This group of articles discuss how much exercise your Golden Retriever needs, the benefits it offers, what happens if you don't provide enough and the various fun and interesting ways you can provide it:
Golden Retriever Diet And Nutrition
To keep your Golden Retriever happy, healthy and to give them a full and active life, you have to provide them with the right nutrition.
This next group of articles covers a Golden Retrievers diet and nutritional needs, discussing what to feed them, how often and how you can make sure your Golden gets all the nutrition they need.
Mental Health
In dogs, as in humans, mental health is a major factor in overall wealth, happiness, and wellbeing. In some cases, external help is required in order to help your Golden deal with anxiety and stress.
Grooming Your Golden Retriever
Grooming will keep your golden looking good, feeling great and is an important time for you to bond with each other.
It's also a time for you to regularly check their health, looking for any changes in their body and for any aches or pains. After all, dogs can't tell us when they have a problem – in fact they are expert at hiding health issues – so it's up to us to find out.
These next few articles are a complete guide to golden retriever grooming that will help you to keep your pooch looking in tip-top condition, while going a long way to keeping them fit and healthy.
Diseases and Disorders
In the following articles we take a look at many of the common diseases and disorders that can affect your golden retriever.
We discuss the possible causes of these diseases and disorders, how to spot the symptoms, prevention, treatment and what you can do yourself at home to help your dog if affected.
Allergies
Dogs can suffer allergies to all the same things human can and Golden Retrievers are seen as more prone than most breeds. In this section we discuss how to spot and deal with the most common forms of allergies.
Dental Health
Many dogs suffer from serious dental issues. Consistent plaque and tartar buildup weakens their teeth over time and can cause serious problems. Make sure you have a clear dental care routine for your Golden, that provides optimal support to prevent dental issues that can jeopardize its wellbeing.
Miscellaneous
Health and care articles that are hugely important, but don't quite fit into the categories above:
VIDEO: See How Fit And Agile A Healthy Golden Retriever Is
The following video is a great example of how active, agile, fit and flexible a Golden Retriever can and should be.
The video shows a Golden Retriever taking on an agility course, doing very well and clearly loving every minute of it!
Useful Resources
For further information on general health and care, please see the following authoritative and trustworthy sources:
Golden Retriever Health And Care Archive
Please find below every article we've written on health and care, listed in date order, starting with the most recent on top.
At the bottom of the page are links to previous pages of posts in this archive.
Have a browse and please leave a comment if you have any questions or feedback, I'll be pleased to hear your thoughts or offer any help where I can :-)