Updated: August 1st, 2022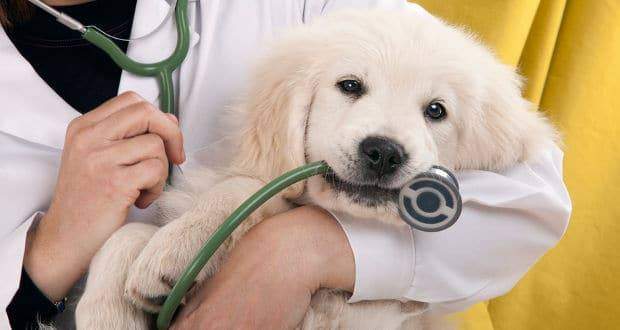 For a number of reasons it can be very hard to know or decide when you should call the vet for your Golden Retriever.
For one thing, they aren't able to talk like us and tell us when they're hurt or feeling unwell.
For another, in the wild a dog that shows signs of weakness may be ignored and shunned by the pack. Sort of discarded as 'dead wood' that will only slow down and hurt the overall packs chances of survival.
To overcome this and as a result of millennia of evolution, dogs are genetically programmed to hide any signs of injury or illness and not give the game away. They are a very strong and robust species and absolute masters of 'just getting on with it' without complaint.
And yet dogs are very adventurous and to say the least a little unhygienic.
They will fearlessly run, jump and swim through and over anything, so injuries are common.
They will eat all sorts of unpleasant things from the floor and so sickness and diarrhea are common.
And there are many canine specific diseases and parasites a dog can pick up in their normal lives.
So how do you decide when to call the vet?
First of all, there are the obvious, urgent emergencies:
These Times Are An Emergency And You Simply MUST Call The Vet Immediately
Certain injuries, illnesses or symptoms are very easy to spot and are so obviously severe they are potentially life-threatening.
Some others still are life-threatening but you may not be aware of their severity.
The following is a list of injuries and symptoms that if you spot them, you simply MUST call the emergency vet right away, with no delay.
In these situations, every minute that passes without your Golden receiving medical care could potentially lead to fatality.
So read, remember and learn to recognize and act upon the following symptoms and warning signs:
Falling unconscious or collapsing.
Poisoning / ingestion of toxic substances.
Bloat.
Very pale gums – Greyish white and turning blue.
Blood appearing from any orifice (mouth, nose, ears, anus).
Blood in urine or feces.
Constipation or being unable to urinate.
Extreme pain or distress.
Fits or seizures.
Having difficulty breathing.
Allergies and insect stings and bites.
Unexplained lameness.
Eye problems, squinting for more than just a few minutes.
Cuts, bites and wounding.
Hit by a motor vehicle or any other serious blows or falls.
In any situation where your Golden Retriever is showing any of the above symptoms or you fear an event such as those listed above has occurred, call the emergency vet right away. It's better to be safe than it is to be sorry.
Your vet will not be annoyed if you call and it turns out to be a false alarm, but if it's a real emergency and you don't call, the result could be catastrophic.
In an emergency it's also strongly advised that you do call the emergency vet and follow their advice. DO NOT take your dog and drive to the nearest vet because in some cases the vet you drive to may not be able to take you in.
Some situations call for specialist equipment that a particular vet may not have, or they may already be so busy they are over run and unable to help. So please, do call and don't just turn up unexpected.
When To Call The Vet For An Appointment, Though It May Not Be An Immediate Emergency
Some injuries, illnesses or symptoms may not mean it's an emergency, but after monitoring the situation and seeing symptoms not improve or maybe even get worse for a day or two, you should call a vet to make an appointment.
As a general rule of thumb, you should consider making an appointment to see your vet when you notice anything out of the ordinary with your Golden Retriever.
If you see any sudden and prolonged changes with their temperament, behavior, toilet habits, level of water and food intake, energy and awareness levels or the way they look and feel, even if the changes are small and subtle, then you should consider calling your vet.
Dogs are creatures of habit and changes are rare. So a change so large that you spot it will have a definable cause and if you cannot state what this after a little thought, it could be a medical reason so you should discuss it with your vet.
I'm not saying you should call them for every single cough, scratch and isolated case of runny poop, but if a symptom listed below lasts for anything over 48 hours you should seek professional advice:
Extended bouts of vomiting.
Extended bouts of diarrhea.
Changes in the amount of water or food intake, drastically up or down.
Rapid weight loss.
Changes in urination habits (particularly loss of bladder control.)
Constipation.
Prolonged limping or Lameness.
Ongoing tiredness or lethargy.
Any noticeable changes in temperament (aggression, becoming intolerant etc.)
Any lumps found in their skin or bodies.
Loud breathing, coughing or wheezing.
Any skin complaints such as bald spots appearing, rashes or sore spots.
Constant chewing, biting or scratching of any areas of their body.
Any crustiness or discharge in their ears.
Scooting / scratching by dragging their rears across the floor.
Mild pain or discomfort – Due to dogs being so hardy and trying to hide it, mild pain may not be as mild as first thought!
Many of these things can be classed as every day and passing problems that do not need any medical intervention.
For instance, every dog, and I mean every dog, will have sickness and diarrhea many, many times in their lives. They will eat grass, poop and all sorts of things that will upset their tummies for a few hours.
Likewise, all dogs will sometimes be off their food for 24 hours, normally also due to a small stomach upset.
And sometimes, perhaps due to over exertion or tiredness, a dog may sleep more than usual or appear lethargic.
But when it's an unimportant and passing problem it will last no longer than a few hours so if it extends to 48 hours then it could be more severe and it's time to seek professional help.
WARNING! Do Not Try To Treat Your Dog Yourself!
Before I write the next section I'd like to add a warning and disclaimer:
It's very dangerous for you to research symptoms and try to diagnose an illness in your Golden Retriever. It is even worse to then decide upon and administer your own treatment. You could be putting your dog's life at serious risk.
The reasons for this are that anybody can write anything on the internet so the information you find may not be correct.
Very similar symptoms can be due to very different causes.
So a person offering you advice on how to best care for your dog may be giving the wrong advice. It may have been right for their dog and the medical condition they had, but even though the symptoms are similar it could be completely wrong for your dog and the different cause of their symptoms.
This scenario…which happens frighteningly more often than you might like to think…can seriously put your dogs long-term health and maybe even their life at risk.
By all means research symptoms for informational purposes, but if your dog really is ill, there is and cannot be any substitute for professional veterinary advice. So please always seek it.
Having said that…
How To Recognize And Diagnose Common Symptoms
With the previous warning given, I know some people will and do research symptoms.
In some ways it's a good thing to do, especially if that research tells you when and when not to call a vet and doesn't lead to you trying to self medicate your dog or be in danger of giving the wrong treatment.
For that reason I would like to give two very good resources that can help you to recognize various symptoms in your dog and tell you how to react to your findings.
First of all and my personal favorite is a massive list of symptoms from medicinenet.com: Dog Symptoms A-Z
I particularly like this huge library of articles because they detail the symptoms, how you can perform simple checks to see if you really have the symptom and causes right, give great background information and end each article with a 'when to call the vet' section for that particular symptom.
This is the sort of information I feel comfortable in promoting! It doesn't ask you treat them yourself, merely gives great info on dog illness and symptoms and when a vet should be called.
Also of very good quality are the following two pages from PetMD:
PetMD is a very good and widely trusted resource on the internet for pet health so you can be sure the information is good.
With the resources I have listed here, please take heed of my warning and advice: There is no substitute for professional help. I don't care how clever you are, or where you find information on your Goldens health, on this site or any other…it can never replace veterinary advice and it's not even close.
Your Goldens health and life is in your hands!
Conclusion
If there's anything wrong with your Golden Retriever, do not be afraid to call the vet. They will never belittle you and be angry at false alarms. If anything they will applaud you for taking your pets health so seriously and the necessary precautions (as long as it's not 15 times a week!)
It's good advice to store both a 24 hour emergency vets phone number as well as your usual one in all your family's mobile phones so that you always have them right at hand. Time wasted trying to find the right number to call could be precious.
As I'm not a qualified vet or medical professional in any way, I cannot offer detailed medical advice. That would be immoral, highly dangerous and, quite rightly, in some countries even illegal!
But I also recognize that everybody is a first time owner at one stage in their life and they need to seek knowledge and learn how to care for their dogs properly.
And one such thing that every owner really must learn is when they need to call a vet. And to be on the safe side, it will be a plus to have pet first aid kit ready.
I hope it can be of some help.