Updated: October 17th, 2022
This article contains affiliate links. Read the full disclosure here.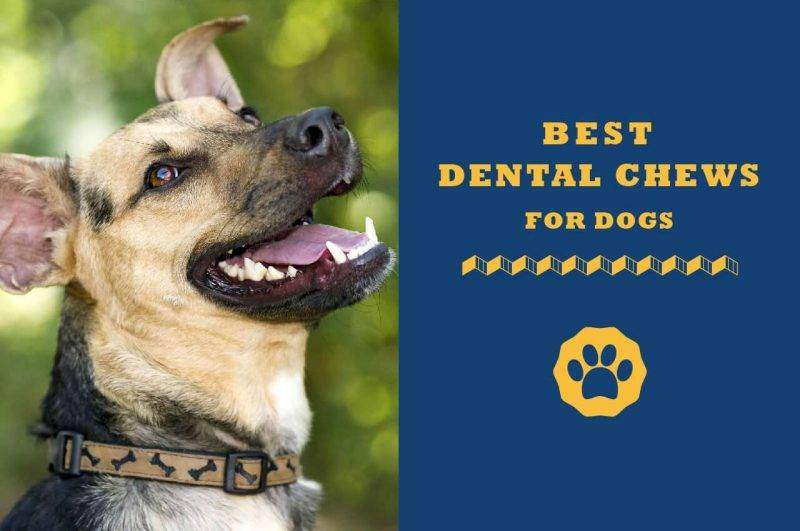 The best dog dental chews are an easy and effective way to stay on top of your dog's dental hygiene, one of the most overlooked aspects of dogs' overall health. As well as causing bad breath and leading to tooth loss, poor dental health can impact the bone of your dog's jaw, and bad dental bacteria can spread to the heart, causing heart disease. Do you need more reasons to prioritize your pup's dental health?
AT A GLANCE:
Our 5 Best Dental Chews for Dogs
Overview of the 5 Best Dog Dental Chews Reviews
IMAGE
PRODUCT

Ingredients are 99.2% digestible
Affordable

VIEW LATEST PRICE →

Edible dental chew to promote dental health
Unique x-shape for teeth cleaning
Triple action formula: breath freshener, teeth cleaner, and tartar buildup reducer

VIEW LATEST PRICE →

This dog treat is made of top ingredients such as alfalfa, parsley flakes, and chlorophyll that help to deliver fast results

VIEW LATEST PRICE →

Edible dental chews
Helps prevent gum disease

VIEW LATEST PRICE →

Edible dental chews
Effective, soft texture
Helps prevent gum disease

VIEW LATEST PRICE →
The challenge with dental chews is knowing which of the many options on the market will be best for your specific dog and how best to use them to keep teeth clean without upsetting your golden retriever's diet or stomach.
Read on to see the top five dental chews currently on the market; there should be an option for every dog on this list! Also read the comprehensive buying guide so that you can make an informed decision about the quality and suitability of any dental chew.
5 Best Dog Dental Chews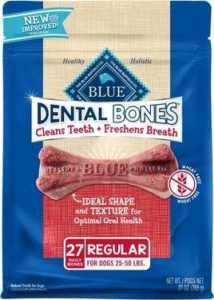 While these dental chews from the reliable Blue Buffalo brand are primarily designed to support their teeth, they provide a variety of other health benefits too.
Product Features
Edible dental chew

Made from all-natural ingredients

Easy to digest and freshens breath
These edible dental treats are made from all-natural ingredients and not only don't contain any artificial colors, flavors, or preservatives, but are also free from corn, wheat, soybeans, and meat byproducts, all of which are common allergens among dogs. If your dog suffers with allergies, check out these best foods for dogs with allergies. 
The treats give off a strong, meaty aroma that appeals to dogs, and there is little chance of your pup turning their nose up at this treat!
As well as cleaning teeth and freshening breath, the Blue Buffalo recipe contains glucosamine and chondroitin designed to support joint health, so you are getting extra benefits from this treat.
The treat comes in several sizes to be appropriate for all dogs from small to giant, though none of their treats should be fed to dogs less than five pounds. They are also pretty high in calories at 87 calories for a regular size bone, so be sure to factor this into your golden retriever's diet.
Pros:
Contains no artificial ingredients or common dog allergens

Strong, meaty aroma appeals to dogs

Contains glucosamine and chondroitin to support joint health
Cons:
Not appropriate for dogs under five pounds

High in calories
These chews from Blue Buffalo are the best on the market, as they appeal to dogs and do the job of keeping teeth clean and breath fresh, all while supporting long-term joint health.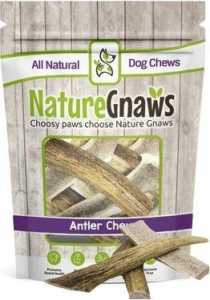 If you prefer to give your golden retriever non-edible dental chews, then try these deer antlers from Nature Gnaws.
Product Features
Non-edible dental chews

Made from deer antler

Hormone free chewer 
These chews are made purely from deer antlers that have naturally been shed in the Rocky Mountain region, so you know exactly what you are giving your golden retriever. The antlers are then visually inspected, cut to appropriate sizes, and washed without the use of harsh chemicals before being packaged for small to medium dogs. They are generally too small for larger dogs.
These antlers have a pretty tough texture which makes them great for chewers and means that they are long lasting. However, they probably should not be used for puppies or older dogs that already have dental issues.
Pros:
No added calories or unknown foods to your golden retriever's diet

Ethically sourced deer antler

Visually inspected for size and safety and washed without the use of harsh chemicals
Cons:
Not appropriate for larger dogs

Not appropriate for puppies or older dogs with dental issues
If you are looking for a non-edible dental chew, then these Gnaw Nature deer antlers are ideal for healthy small to medium sized dogs.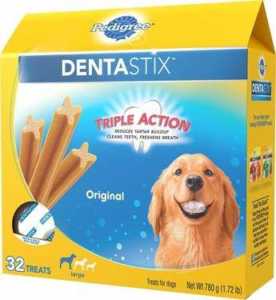 If you are looking for a more affordable dental chew that still does the job, Pedigree Dentastix make a great choice.
Product Features
Edible dental chew

Unique x-shape for teeth cleaning

Triple action formula: breath freshener, teeth cleaner, and tartar buildup reducer
Pedigree's edible Dentastix have a unique x-shape which allows it to get into all the corners of your golden retriever's mouth, but they are softer than you would expect so no need to worry about them accidentally hurting themselves in the process. The softer texture also helps them clean not only the teeth but also along the gumline more effectively.
These treats, which come in a variety of different sizes for different dog breeds, have a strong meat flavor that appeals to dogs and is available in chicken, bacon, and beef flavor. The recipe does contain rice flour and wheat starch which will not appeal to pet owners whose dogs have allergies but are fine for most pooches. Their patented recipe has been clinically proven to reduce tartar buildup, clean teeth, and freshen breath. But while the recipe does not contain any particularly dangerous ingredients beyond common allergens, it does not have the VOHC seal of acceptance (see buying guide).
Again, be careful when feeding these treats to a golden retriever, as at 78 calories per regular treat, that can quickly eat up your dog's daily calorie allowance.
Pros:
Softer texture allows for better cleaning of the gums

Strong meat flavors that appeal to dogs

Patented formula clinically proven to improve canine dental health
Cons:
Does not have the VOHC seal of acceptance and contains common grain allergens

High in calories
If you are looking for an affordable and effective way to maintain your dog's dental health, Pedigree's Dentastix will do the trick.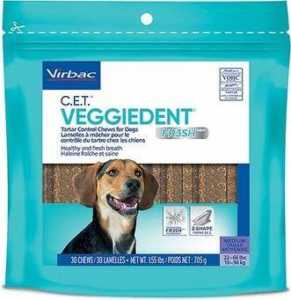 These effective chews from Vibrac use your golden retriever's natural chewing action to clean their teeth and keep their breath fresh.
Product Features
Edible dental chew

Unique z-shape for teeth cleaning

Helps reduce tartar and plaque
These edible chews have a unique z-shape which, similar to Dentastix, allows the chew to get into every corner of your golden retriever's mouth for thorough cleaning. These chews are 100 percent vegetarian, which is great for vegetarian dogs, but it does mean that the recipe is grain-based, which is a common allergen among dogs and will not be appropriate for all dogs. The treats should be easy for dogs to digest, since they do not contain any animal protein or wheat gluten.
These treats are relatively soft compared to some chews. This allows them to penetrate further down to your dog's gums and also means that they are safe to give to puppies (with vet approval) and senior pups with weaker teeth.
This treat comes in a variety of sizes for different dogs, but with all of them be careful, as they are quite high in calories. Small chews contain 48 calories per treat, medium treats 75 calories per treat, and the large a very high 105 calories per treat.
Pros:
100 percent vegetarian

Easy to digest, free from animal protein and wheat gluten

Relatively soft for cleaning gums, making them appropriate for puppies and seniors
Cons:
Grain-based recipe

High in calories
These dog chews are the perfect solution for vegetarian dogs and for senior dogs that need a softer chew to keep their teeth clean.
Probably one of the most well-known dog dental chews on the market, these green treats are designed to clean teeth without upsetting your golden retriever's stomach.
Product Features
Edible dental chews

Effective, soft texture

Helps prevent gum disease  
These market-leading treats are recommended by the Veterinary Oral Health Council (VOHC) as safe and effective when it comes to keeping dogs' teeth clean and healthy. This is another treat that may appear softer than you expect, but it still causes effective abrasion against the teeth and can penetrate further down the gum line than harder chews.
Greenies also fortify their treats with a number of additional vitamins and minerals to promote overall canine health. These include calcium, zinc, and b-vitamins.
These chews come in a variety of different sizes for different dog breeds. However, while these chews are made with all-natural ingredients, they do contain wheat products, which are a common allergen among dogs and will not be appropriate for all pups. These treats are also relatively expensive compared to similar chews and pretty high in calories with 91 calories per medium chew.
Pros:
Veterinary Oral Health Council approved

Made from all-natural ingredients

Fortified with added vitamins and minerals for overall health
Cons:
Contains common grain allergens

Relatively expensive

High in calories
If you want the comfort of giving your dog one of the most established and trusted dental products on the market, then grab a packet of Greenies.
Dental Chews Buying Guide
Dangers Of Canine Periodontal Disease
I have spoken to pet owners who specifically refuse to brush their dog's teeth, citing that this is not something that they do naturally in the wild, and therefore it is not something that their dog needs. While this is true, we need to remember that while wolves and wild dogs normally live for around five years, domestic dogs live for between 10 and 15 years. This means that their teeth need to last two to three times as long. Whereas, unlike wild dogs, your pooch is unlikely to starve if they lose some of their teeth, and dental problems can cause them a considerable amount of pain.
Dental disease, also known as periodontal disease, can put golden retriever's life at risk as the bacteria that causes their bad breath and plaque can migrate to the heart causing potentially fatal heart disease. Moreover, the bacteria that forms in plaque and tartar that can cause tooth loss can also do damage to the surrounding bone if left untreated, which is a much more serious issue.
Signs that golden retriever—who should have 48 adult teeth after shedding their 28 baby teeth at around four to six months—may be suffering with periodontal issues include:
Bad breath

Pawing at the mouth

Reluctance to eat

Leaving blood on their bowl or toys
Smaller breeds are more likely to be affected by dental issues than larger breeds, as their teeth and usually closer together which provides more opportunity for food and bacteria to get caught between teeth and start causing problems. Here's a list of our recommended dog food for managing dental issues.
Managing Canine Periodontal Disease
The most effective way to keep your dog's teeth happy and healthy is daily brushing. Less frequent brushing significantly reduces the beneficial effects. To learn more about how to brush your dog's teeth, check out this helpful video from VetVid.
Of course, depending on the dog, brushing can be far from easy. Studies suggest that only around two percent of dog owners in the United States brush their dogs' teeth daily. Fortunately, dental chews can be used as a brushing alternative or as a complement to a brushing routine that may fall short of daily.
According to a study by Rutgers:
… raw bones reduced mouth bacteria by 79%, brushing reduced it by 70%, and chews reduced it 54-60%.
Dental chews work in two ways. First, they stimulate saliva which produces anti-bacterial agents that help keep the teeth clean and breath fresh. Secondly, the abrasion of the chew against the teeth helps scrape plaque and tartar deposits off the teeth, much like brushing.
Choosing The Right Dental Chew
When it comes to choosing a safe and effective dental chew for your pup, there are a variety of things to consider.
Edible Or Non-Edible
Dental chews are either edible, something that your golden retriever can break down and digest, or non-edible, so resembling more a chew toy. While edible chews are popular, they do have some significant drawbacks. First, they add calories to your dog's diet which, for small dogs, can easily push them from a healthy daily calorie intake to an unhealthy one. Dogs may also devour their edible treats too quickly, minimizing the dental benefits of the chewing process.
Non-edible treats obviously have their drawbacks as well, not the least of which is the need to clean and store them. There is also the danger that your dog will break bits off the inedible chew and swallow them. Not only could they be ingesting something harmful, but pieces can become lodged in their digestive system and cause blockages. Non-edible treats need to be durable enough not to cause this problem.
Size And Durability
Just as with chew toys, dental chews need to be the right size for your golden retriever. First, this is to maximize the benefit, as the chew is large enough to work on their whole mouth. Secondly, this is to minimize choking risks with dogs accidentally swallowing chews that are too small for them.
Durability is also a concern, not only in terms of your dog breaking up the chew and swallowing it. Dogs with strong teeth need a strong chew to provide the right level of abrasion. But giving these same chews to puppies with growing teeth or to older dogs that already have teeth problems can do more harm than good. They need softer chews, which can be just as effective in managing dental health.
Ingredients
Just as you always check the ingredients list on your dog food to ensure it does not contain anything potentially nasty, it is important to do the same with your dental chews. The Veterinary Oral Health Council has provided a list of acceptable products, and products that comply with their list will be stamped with a VOHC seal of acceptance.
Ingredients that should be avoided include rawhide, gluten, and corn syrup. Rawhide may seem like a surprising ingredient to see on the bad list, as for many years, rawhide has been marketed as a great chew for a golden retriever. But rawhide, which should more accurately be called processed-hide, can quickly become dangerous. According to vet Karen Becker:
Rawhide chews start out hard, but as your dog works the chew, it becomes softer, and eventually he can unknot the knots on each end and the chew takes on the consistency of a slimy piece of taffy or bubble gum. And by that time, your dog cannot stop working it — it becomes almost addictive. At this point, there's no longer any dental benefit to the chew because it has turned soft and gooey, and, in fact, it has become a choking and intestinal obstruction hazard.
Moreover, an investigation by the Humane Society International has found that many rawhide products are a byproduct of a cruel international fur trade.
A better alternative is something like potato starch, which is digestible, flexible, and just as effective at removing tartar and freshening up the breath.
Using Dental Chews Safely
Once you have selected your dental chew, it is not a simple matter of just giving one to golden retriever every day. Dogs should always be monitored while using a dental chew to guard against them breaking off pieces which they may swallow, causing obstructions.
The amount of saliva that your dog can produce while using a dental chew can also be problematic, and you should always have fresh water available for your dog while they are using a dental chew.
Remember that unlike chew toys, dental chews are not meant to occupy your pooch for hours on end, and they should only have access to their dental chew for around 30 minutes at a time.
FAQs
Do dental chews really work for dogs?
While not as effective as daily brushing, dental chews can significantly reduce mouth bacterial and improve your dog's dental health.
How often should dogs have dental chews?
Dental chews can be given to dogs daily to promote dental health, but beware of edible dental chews, as they can be as high in calories as treats and eventually cause your dog weight issues.
Can a dog eat too many dental chews?
Yes. Not only can it cause excess weight gain, but it can cause stomach upset. While you should always choose a dental chew that only contains safe ingredients, they can still be problematic in excess. Dogs should only be given dental chews once a day, and in the case of non-edible chews, for a maximum of 30 minutes.
What bones are best for dogs?
The safest bone choices for dogs include beef rib, lamb neck bones, and pork or lamb ribs and heads. Poultry bones should never be used as recreational bones, as they are generally too small and brittle.
Why does my dog's breath smell bad?
The most common causes of bad breath in dogs are bad oral hygiene and periodontal disease. The buildup of plaque and bacteria can cause bad breath.
The Verdict
While Greenies are certainly the most well-established and popular dog dental chew on the market, and an excellent dental chew choice, my top pick dental chew is made by Blue Buffalo. These all-natural treats have a strong flavor that golden retrievers will adore, and as well as keeping teeth clean, they are enriched with additional vitamins and minerals to support joint health.
Both of these treats can be a little bit pricey, so if you are looking for a more affordable option to manage your dog's dental health, consider Pedigree's Dentastix as a safe, effective, and affordable treat to keep teeth and gums in optimum health.
All of these treats are edible, and can add unwanted calories to your golden retriever's diet. If you are looking for a non-edible dental chew to keep your dog's mouth healthy and fresh, then consider getting your pup some deer antlers from Nature Gnaws. These antlers are ethically procured, visually examined, and washed without the use of harsh chemicals before being packaged up for your pooch to enjoy.
Whatever dental chew you choose for your golden retriever, remember to use them appropriately. Dogs should always be supervised while using their dental chews. Edible dental chews should be limited to one per day and factored into your dog's overall calorie intake, while golden retrievers should not be left with non-edible chews for more than 30 minutes at a time.