Updated: October 17th, 2022
This article contains affiliate links. Read the full disclosure here.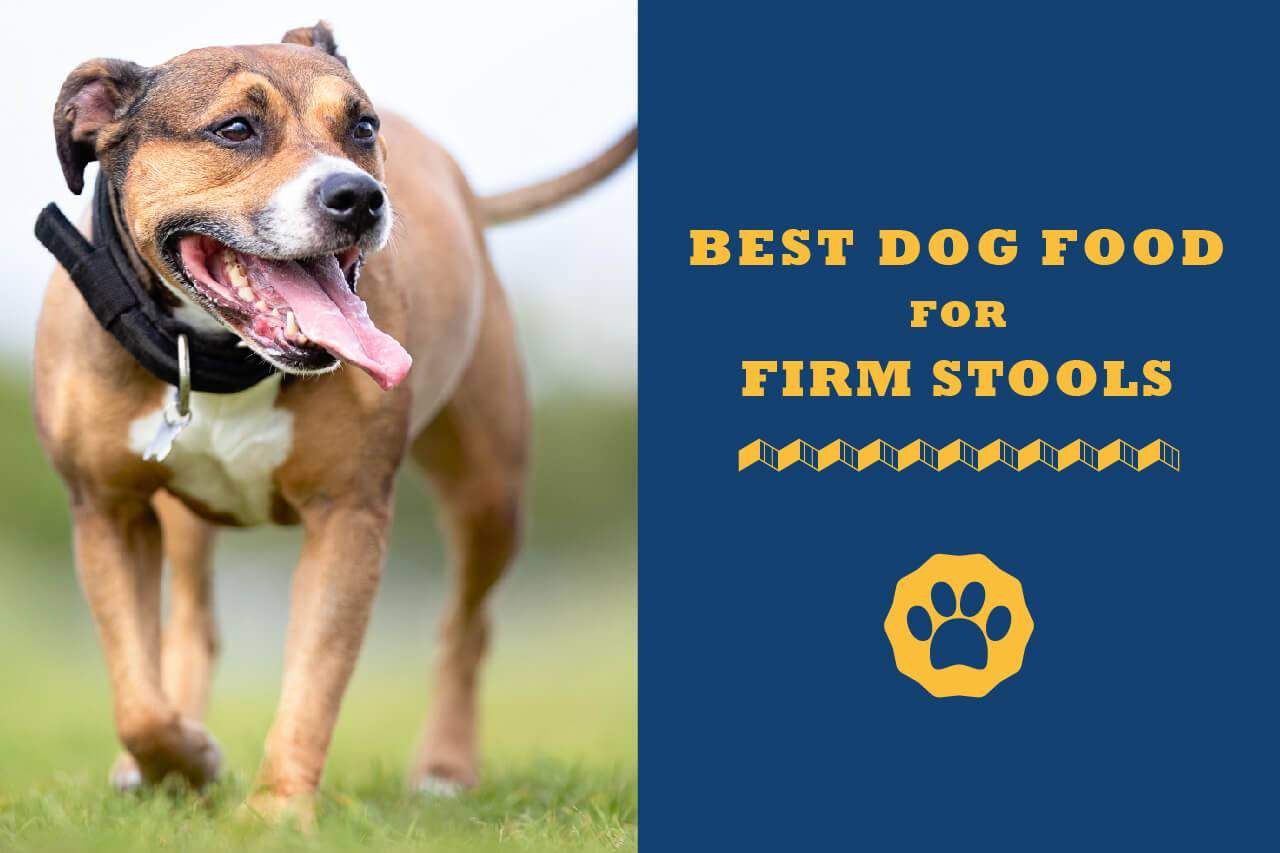 Noticed any runny stool from your furry friend lately? Yes? That should be a cause of concern.
If you've dealt with this before, I bet you share the same sentiments too. And if you've never experienced it, this is your chance to learn what's the proper thing to do when that happens.
A couple of causes, among them poor diet and medical conditions, could be the reason for your dog's troubles. I'll tell you more about that shortly.
In some cases, you'll have to seek medical intervention, particularly where there are special health conditions involved. However, other times a special diet could be enough to firm up her stool and restore her health and joy.  
To achieve that, you have to feed her the best dog food for firm stools. Never assume that your dog will take to any food you feed it. It is imperative, for your dog's health, that you provide a healthy well-balanced diet that is easily digestible. At the same time, keep in mind any allergies your pooch may be prone to.
AT A GLANCE:
Our Best Dog Food For Firm Stools
An Overview of the Best Dog Food For Firm Stools
IMAGE
PRODUCT
 

Have met USDA standards
Made in the USA
Great variety of meals, including grain-free and gluten-free options

VIEW LATEST PRICE →

Uses human grade ingredients
Contains no artificial preservative
Easy to digest

VIEW LATEST PRICE →

Grain-free
Recognized by AAFCO
No artificial color, preservative and flavor

VIEW LATEST PRICE →

Best For Sensitive Stomach

No artificial preservatives, colors, or flavors
Contains Omega-6 fatty acids
Easy to digest

VIEW LATEST PRICE →

No artificial preservatives, colors, or flavors
This formula has a selected six ingredients
Proteins are combined with carbohydrates

VIEW LATEST PRICE →
Causes And Symptoms Of Loose Stools In Dogs
A poor diet can contribute to a parasitic infection, leading to the loose stool in your doggy pal. Food allergies can also play a huge role in giving your pooch runny stool. Even though they mostly affect the eyes, nose, and skin, allergic reactions to food ingredients can also be felt in the digestive tract.
Not forgetting to mention specific medical conditions such as cancer, infections in the digestive tract, and a range of other ailments linked to the loose stool in dogs. Any of the following situations could be the cause. Please look out for them.
Dietary Changes
Have you recently started giving your pooch food from a different brand or using a different source for your ingredients if you make home cooked food?
If yes, a closer look at the ingredients may reveal the reason for the loose stool. Sometimes the food may contain an ingredient that doesn't agree with your pet; other times you may have introduced the new food too quickly, not allowing your pup's digestive system to acclimatize to the new food.
Transitioning into a new food recipe or brand should be done within several days. For example,  moving from dry food to a raw diet requires the raw ingredients to be introduced in stages and not all at once.
Mix it into their current food a little at a time so they can acquire a taste for it and their digestive system can cope with breaking it down.
Poor Good Choices
If your golden retriever eats from the neighbor's trash, leftovers at the park, or from strangers, those could be among the reasons she's having loose stool. Dirt food, as well as processed food packed with salt, sugar and other chemicals, can contribute to bouts of diarrhea.
Poor diet also includes feeding your doggy your leftovers. No matter how much they beg, stick to well-known diets and treats with nutritional value instead of fatty treats.
Ingesting Poisonous Substances
If food is not a contributing factor, check for any poisonous substances around your house and home. This could be insecticides, toxic plants, or contaminated water.
It would be better if you keep your household products away from your pet's reach. That includes potentially toxic substances to dogs such as charcoal, chocolate, and mushrooms.
You'll notice some of the foods and substances are foods, but be careful what you allow your golden retriever to consume. Enlighten yourself with as much information as you can about what dogs shouldn't consume.
Below is a video with a list of foods you should never feed your golden retriever:
Ailments
Medical conditions like cancer, inflammatory bowel disease, tumor in the digestive tract, and infections like salmonella are more often accompanied by severe bouts of diarrhea.
Bacterial infections are contagious so always keep an eye on your pooch after a day in the park or if there is a notice about an infection doing rounds.
The best way to contain the spread, especially if you have a multi-pet household is to quarantine the affected pet. Use gloves because some of these infections can be contacted by humans.
Medication
Some drugs are known to induce diarrhea in dogs. Therefore, make sure any prescribed medication is safe for your pooch. Antibiotics are a huge culprit in causing loose stool not just in humans but also in dogs. In this case, you have to ride out diarrhea until the dose of antibiotics is finished.
Emotional Upsets
Dogs can suffer from depression, stress, and anxiety and in some cases these emotional upheavals can have diarrhea as a side effect. In dogs, stress has been linked to both loose stool and constipation.
Sometimes all it takes is a little more time spent together, more playing in the park, or a getaway and your pooch will be back to its usual firm stool self.
Common symptoms of loose stool in dogs include:
A stomach ache

Persistent gas

An itchy rear

Loss of appetite

Reduced urination
What Can I Do To Firm Her Stool?
In addition to finding her the best dog food for solid stools, there are a couple of other things you can do to help your pooch find its way back to having firm poop. These include:
Using Fiber
First, you need to introduce fiber to its diet. Fiber tends to absorb the excess water in your pooch's digestive system, resulting in the firmer stool. You can add some fiber into your golden retriever's daily feed until you begin to see firm stool.
Moderate Brands
Make do with a milder recipe than you are used to giving your dog. If it is on raw products, try introducing it to a dry food option.
For those that have a full recipe, including whole grains, veggies, and fruits, try plain boiled lean proteins, like boiled ground beef or turkey as an alternative until the loose stool phase passes.
Stay Away From Dairy
Some dogs are lactose-intolerant so make sure you are aware of how your dog reacts to dairy. If it is part of its daily diet, stay off it for a while until your pooch resumes its firm stool. Try replacing the milk with a veggie infused food.
Things To Consider When Buying Dog Food for Solid Stools
Not every commercial dog formula has the potential to stop loose stools. There are a few made with specific ingredients and in a way that enables them to help your little friend not experience loose stools anymore. Here are the most important factors you should watch out for:
Probiotics
Diarrhea rids your pooch of much more than just poop; there's the good bacteria as well. Yet these need to be replenished for the wellbeing of your dog's digestive tract.
So, choose food rich in ingredients that promote the growth of probiotics to help inject the natural balance back into your animal's digestive system.
The food should also include prebiotics, which helps protect and maintain the balance of probiotics in the digestive tract.
High Protein Content
The more the lean premium content, the better your dog's poop. Protein is great for the digestive system because it deposits the much-needed nutrients as it passes through it, ultimately firming up your golden retriever's poop.
Avoid Inferior Quality Grains
Stay away from dog foods that use corn, wheat, or fillers. Poor quality grains usually provide no nutritive value to your pooch. Instead, opt for foods that feature whole grains or no grains at all. A great start to this would be to learn how to read a dog food label.
Avoid Too Much Fat
Fatty diets are known to cause diarrhea in your pooch because they can barely be absorbed in the digestive system.
Natural Ingredients
Artificial ingredients include food coloring, flavoring, and any preservatives. All the above offer no nutritional value to your dog. In fact, they could end up irritating the sensitive stomach of your pooch, causing diarrhea and other horrible stomach issues.
Top 5 Best Dog Food For Firm Stools: Reviews
With all that's discussed so far in mind, let's now have a closer look at what I found to be the best dog food for loose stools.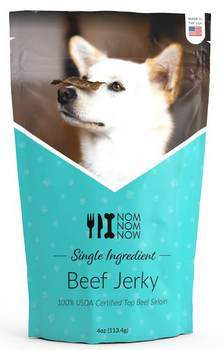 This food from NomNomNow features one ingredient, which is beef jerky. The jerky strips have no preservatives nor are they served with any fillers.
I actually love that the company uses human grade food ingredients. In this case, it is beef sirloin certified by the USDA, guaranteeing you 78% of unaltered protein.
Usually, NomNomNow receives a huge buzz because of their subscription service recipes, but these jerky treats are equally fantastic for your dog. The protein helps the pooch's stool become more solid so feeding it this food exclusively may work magic.
NomNomNow foods have been infused with just the right quantities of prebiotics, probiotics, minerals, and supplements to help your dog recover from the effects of diarrhea.
Most dog parents appreciate NomNomNow's willingness to go the extra mile to test your dog's stool sample and let you know the state of its digestive system.
Combine the care of the creators of this food and their expertise on dogs and what you end up with is a dog formula you have to really consider when you want better stool for your pooch.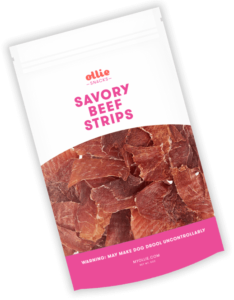 The fact that Ollie uses human grade ingredients is a good point to start from when feeding your pooch a meal that will not only nourish him but also produce quality fecal matter. A firmer stool is indicative of your pooch's digestive tract and by extension an insight to his overall health.
No one understands this better than Ollie who are fervent dog owners themselves and have teamed up with a nutritionist to formulate nothing but the best for your pooch.
One of their many recipes is this beef jerky that is absolutely savory and made from 100 percent human grade beef. This is a great snack that contains no artificial preservative, flavor, or color; just pure protein goodness.
It can be used as a topper on your doggy's regular meals or as a reward snack during training or just to make your pooch feel nice and loved for no particular reason at all.
Either way, your mutt will love them. They are also easy on your pooch's gut. Although the protein content on these savory beef strips is 75%, they still contain a decent amount of moisture at about a max of 20 % and 1 %fiber. This goes down well with your pooch's digestive system because, naturally, she will digest animal protein far much better than other food classes.
This digestibility in itself contributes to better fecal consistency while at the same time keeping your mutt happy and content.  
This is no doubt one of the best dry dog food for loose stools, given the rave reviews it continues to receive from doggy parents.
One thing I also admire about them is their brand philosophy of only formulating diets that are as close to nature as possible. Remember, ancestral dogs used to forage for prey to fulfill their protein needs and would balance things out by nibbling on berries and even grasses on occasion to keep their gut health balanced and generate decent poop. This is what inspires the brand.
In addition to being delicious, this formula is grain-free and comprises novel meats such as smoked salmon to provide animal proteins for lean muscle development.
The recipe utilizes carbs that are highly digestible, such as sweet potatoes, and green peas, which also happens to have a rich fiber content.
These carbs sources are a recommended alternative to grains. Don't forget that grains can be a cause of stomach issues in some pooches.
When protein and healthy carbs are combined with chicory root, which is a healthy prebiotic that supports digestion and gut health, the meal becomes very easy for your furry buddy to absorb and digest.
In turn, you can expect to see the quality of your buddies droppings firm up to a healthy consistency.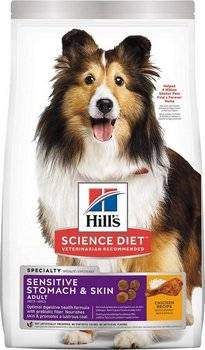 Lots of doggy owners can attest that Hill Science is one of their go-to brands when they need a vet formulated formula. If your pooch suffers from a sensitive stomach and loose stool as a result of her diet, you can consult with your vet to try this savory chicken recipe.
The formulation contains no artificial preservatives, colors, or flavors. But it does comprise a special blend that is gentle on your buddies stomach.
This is in addition to a healthy dose of vitamin C and E for a healthier immune system. The blend also works in conjunction with Omega-6 fatty acids for more nourished skin and coat.
With this formula, you can expect to see a firmer stool in you pooch in addition to other nutritional benefits such as a glossier coat and a demeanor of general well being. This is one of the best dog food for firm stools.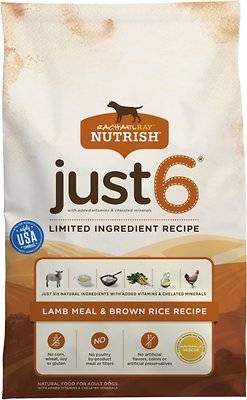 If your golden retriever frequently suffers stomach upsets and loose stool, you may want to consider Rachel Ray Nutrish limited ingredient formula. This formula has a selected six ingredients only, which are simple enough a diet to help your little furry friend recover from a bout of diarrhea.
It's actually among the most powerful formulas for loose stool because of its simplicity and great nourishing ability. Tasty lamb meal is the first ingredient and acts as a source of the vital proteins your dog needs for muscle building. The proteins are combined with carbohydrates, such as rice and chicken fat, for all-round flavor and nutrients.
Dried beet pulp is a key ingredient as it is a natural prebiotic aiding in digestion as well as promoting healthy bacteria in the gut. This simple meal is considered as one of the best in bringing about the right consistency in your pooch's poop. 
Conclusion
Seeing your golden retriever with a running stomach can be alarming. However, once you have determined the cause and it is not a chronic ailment, consider all of the above options which are excellent ways to get back the firm stool expected of a healthy dog.
What's more, each of these diets is well spoken of by pet owners currently using them and those who used them for the same reasons you see in their reviews.
Just remember to introduce them gradually and stick to the food until you start to see results. It may be a messy fight but you will win it in the end. And the triumph is in the firm stool!