Updated: November 11th, 2022
This article contains affiliate links. Read the full disclosure here.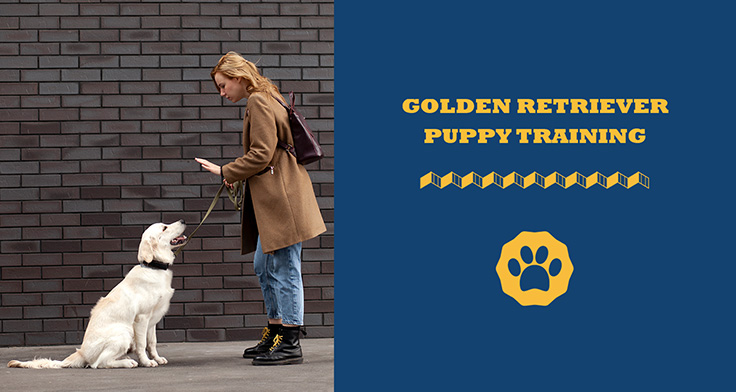 Lots of nice things have been said about goldens, but what's rarely spoken of is how golden retriever puppy training plays a huge role in how they pan out as adults. You could get a pup today and sooner or later wonder why you ever thought about having one.
I'm sure you don't want an affectionate, playful, and loyal golden that's also unruly or not housetrained. Your pup may give you joy, but you will be more often frustrated, annoyed and angry, and eventually sad to be a pet parent.
That's part of the reason why you should take your golden retriever puppy through proper training. It may be time-consuming and will involve a lot of effort, but in the end, all the effort will pay off. You will have a well-behaved dog and both of you will live happily ever after.
So how do you go about training a golden puppy? It's essentially quite easy, but first, you have to understand your golden's growth milestones and then learn how to train them as they mature through the different phases. I break all these down below.
Let's get started!
What Essentials Do I Need To Train A Dog?
You might gather the best tricks and tips for successfully training your puppy, but if you leave out training equipment, you are likely looking at disappointing outcomes. There's plenty of them, but the select options below are the most essential in your effort to have a well-behaved puppy.
Plenty of treats for training
Treat bag for the times when you train outside the house
A long, sturdy leash for training your dog while talking walks
A collar or no-pull harness where you will attach the leash
Dog training toys
Soft training mat or non-slip pet bed
A puppy crate
Optional equipment include muzzles, indoor gate, training books, dog whistle, targets, and potty bells.
The Different Phases Of Golden Retriever Puppy Training
Stage 1: Early Stage Phase (2-6 Months)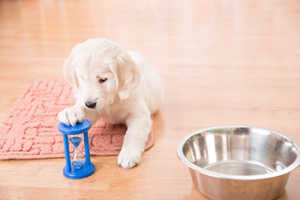 A common question lots of pet parents ask is, what age should you begin training a golden retriever puppy? Well, let's address that first.
Only begin the training when the puppy is at least 8 weeks old. Studies show that starting earlier than that could result in behavioral issues later on, primarily because you are prematurely separating the puppy from their parents and siblings.
Once you have confirmed that the age is right, start to seriously connect with your golden. Build trust and help them to develop obedience skills, both of which are solid foundations for successful training.
Growth Milestones
Your golden will already be active and playful at this point, so start to expose them to activities where they can burn off their energy. Attention span at this time is short, but they can communicate well.
Mostly they will bark, whine, or growl. Take time to understand how your pup communicates. Specifically, analyze the sounds and body language.
Your dog will go through a fear phase as well, where loud sounds could make them act up. It could be a thunderstorm, shouts from people, fireworks, etc.  Even unexpected movements could create fear.
Purpose
Early-stage training builds a solid foundation with regard to rules, schedules, expectations, and routines to be followed at home. It's also the time to discover things your pup loves to do and what they are good at.
Training
At this age, it would be best to focus on only behavioral training. Five areas to choose from include:
Crate Training
A lot has been said about dog crates, but it's no more than a place for your pup to feel safe, happy, and comfortable. You can start crate training as soon as your pup is about 8 weeks old or thereabouts.
The truth is, you will have to crate your dog at some point in their lives. Think about the time you'll have to travel by air or take them with you to your hotel while on vacation . But that's not the only situation when a crate will be useful.
You can also use it to house train your puppy, stop destructive chewing, nurture chew toy habits, stop problematic behaviors … the list goes on. Looking at all the benefits of crate training a puppy, it's clear why most pet parents do it.
Just make sure you choose the best model for your golden retriever, specifically a spacious one that will still be able to accomodate them as they grow into adults.
Overcoming Fears
The best way to help your dog face and beat their fears is to first take them to puppy classes. Group-based training will help you identify and manage the fears that cause your pup to misbehave. Expose them to loud sounds and unexpected movements, and also teach them coping skills.
Socialization
Socialization should be done in the first three months. Your goal should be to make sure the pup reacts positively to other dogs, people of all ages and sizes, different situations, and everything else they will encounter throughout their life.
Provided you do this well, the outcome is going to be a confident, happy golden free from psychological disorders. Socialization will shape their personality, plus it hugely influences how a dog is going to interact and relate with its surroundings.
Leash training will definitely be a part of this socialization, so go ahead and get your pup used to walking on a leash and wearing a harness or collar. Some great options I recommend include:
AT A GLANCE:
Best Retractable Dog Leash For Golden Retrievers:
AT A GLANCE:
The Best Training Collars for Golden Retriever Puppies:
AT A GLANCE:
Best Harnesses for Golden Retriever Puppies:
Potty Training
Finally, something we can all relate to. Let's face it, poop accidents suck. No one wants to scrub their couch or carpet hour after hour. Unfortunately, you will likely have to make peace with this as you house train your pup.
It takes an average of two months to successfully potty train a golden retriever puppy. And if you don't know how to go about it, we've got you covered. Check out the video below:
Chewing
Chewing is absolutely normal behavior that you should not bother trying to stop. I know it can be annoying, especially when your pup tears your clothes apart or ruins other important stuff.
Well, the bad news is that you won't succeed in training your pup not to chew. But you can teach them to chew the right things such as chew toys, which should be good news. Even better, you can train them to chew and nip gently.
Chew toys do far more than that, including improving a dog's mental and physical health.  The best chew toys to consider for training your pup include:
Stage 2: Teenage/Adolescent Phase (6 – 18 Months)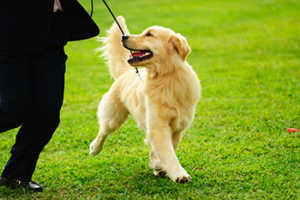 Of the three growth phases, this is the longest. So many inevitable changes will be happening to your dog's personality. But none of them should worry you because the foundation you will have set during the previous growth stage will help you teach and train your golden to be better.
Growth Milestones
At 18 months of age, your golden will be 80 percent grown. They won't be as rebellious and spirited as they were during the early stages due to changes in hormones. But they will at one point test the boundaries, which is classic adolescent behavior, meaning it is not time to stop teaching them obedience commands,
Because of continued growth, it would be wise to control your golden retriever's diet in order to maintain their athletic attributes.
Purpose
Training at this point is mostly a continuation of what you did during the early-stage phase. As mentioned, your golden retriever may decide to test boundaries and your patience as well. In fact, they will not respond to commands all the time.
Now, when that happens, keep on teaching them the lessons but now be more firm yet still gentle. It may be tempting to ignore unwanted behavior and just move on, but that's what your dog wants. Just like a human teenager, if they soon figure out that ignoring you saves them from training, which some dogs see as a bother, they will keep doing it.
So keep the training going!
Training
Frustration, feistiness, and anger are rare in golden retriever puppies, but as they reach teenagehood, you will begin to see these emotions more often.
Your pup will also start to interact with other dogs differently, and sometimes they will be more subdued. Therefore, you should carry on with socialization.
Introduce your dog to new friends and be keen to note those they seem to have more fun with when it comes to activities such as wrestling, chasing, or frolicking. Like every other baby, they will have preferences, and as a pet parent you have to respect their choices. Also, remember to use positive reinforcement such as treats for the best results.
Teething may be coming to an end at this point, but your golden will still prefer to bite and hold things in their mouth so carry on teaching them coping skills with new commands such as "go fetch," "drop it," etc.
Your golden will also need a lot of exercise at this point because their energy level will be higher.  Therefore, introduce them to more games and activities such as barn hunt, agility training, fieldwork, and dock diving, just to name a few. This will teach them teamwork and respect for fellow canines.
Stage 3: Maturity Phase (18-24 Months)
By now, your golden retriever should be well-behaved, properly mannered, and very fun to be around. The assumption is that you have raised them well enough to become part of the family.
However, you can still introduce more lessons to polish their skills and make their behavior way better.
Growth Milestones
Two years is enough for your golden retriever to reach full maturity. But males could take longer than that to fully develop their facial features.
Weight management could be a big issue for your golden at this stage because their metabolism is slowing down. You will therefore have to control their calorie intake in order to manage their weight.
Speaking of food, this is the time to make a switch to an adult golden retriever diet. Here are some options you can't go wrong with:
Also, if you do not plan to breed your retriever, this would be the right stage to have them spayed or neutered.
Purpose
Since your retriever has fully matured, both physically and emotionally, you can introduce lessons and activities that improve on the foundation you have already set. In fact, this is the perfect time to go for obedience or performance titles if you are eager to take that path.
Training
At this point, you can build on skills you have already nurtured in your dog. As for what to focus on, the choice is all yours. Advanced training includes things such as off/loose-leash training, conditional calmness, challenging dog tricks, and staying down when there are distractions, just to name a few.
That's how to train a golden retriever puppy! For more golden retriever puppy tips, you can speak to a professional trainer, watch videos, or read golden retriever training books.
Frequently Asked Questions
Are golden retrievers easier to train than other breeds?
The golden retriever is actually one of the easiest breeds to train. This can be attributed to the superior intelligence they possess and their eagerness to please. Count on them to learn your commands with speed.
On your part, you only have to be the responsible pet parent. Give them the attention, care, and exercise they deserve and they will reward you with loyalty and obedience.
Are goldens hard to potty train?
It's quite easy to potty train a golden retriever and, as mentioned earlier, this should only take two months on average.  The reasons for this are pretty obvious: this is an intelligent breed that's keen to please you. Also, the golden retriever is a larger breed, which is generally easier to potty train compared to small breeds.
Do golden retrievers really need to be trained?
It's not a must to train your golden retriever, but the benefits of doing so far outweigh the reasons why you wouldn't. Just to name a few, training will help you:
Build a stronger connection with your pup
Keep them safe
Communicate with your dog more effectively
Be happier as a pet parent
Final Thoughts
That's how simple and easy it is to train your golden retriever. It should even be easier for you if you have been a pet parent for a while. Remember this is one of the easiest breeds to train so the only big challenge here is to make sure that you are doing everything right.
Keep these three points in mind as you go about this exercise:
Each phase of a golden retriever's life will need different lessons and training activities
Most of the training takes place during the early stage and teenage growth phases
Dog training never ends; you will be doing it even as your golden ages
Sometimes you will encounter challenges such as your dog ignoring your commands, but never give up. Stay consistent and, more importantly, be a great and responsible pet parent. Your pet will reward you kindly for giving them the care and love they deserve.
All the best!