Updated: April 27th, 2023
This article contains affiliate links. Read the full disclosure here.
Some people consider dog food to be "just dog food," but it goes beyond that. The quality of your golden retriever's meal is intrinsically tied to its health, so you must not settle for just any kind of dog food, supplements, or treats. You need to go for the best. There are different pet food brands on the market, with qualities that vary from one manufacturer to another. It becomes difficult for one to find the best canine meal suitable for their pups. Ollie Dog Food puts an end to this search.
Ollie's dog food menu is exceptional and crafted for different dogs' unique needs based on age, size, breed, and health issues, enabling you to find the best meal for your golden retriever. It's also suitable for dogs that have food sensitivities. Ollie is undoubtedly one of the best dog food brands you can bank on to not only meet your furry friend's dietary needs but also keep them on the healthy side.

IMAGE
PRODUCT
 

BEST OF THE BEST

BEST OF THE BEST

includes several organ meats that pack an extra nutritive punch
also sweet potatoes, peas, and rosemary
1540 kcal ME/kg

CHECK PRICE →

RUNNER UP

RUNNER UP

filled with chicken and peas
nutritional powerhouses like blueberries and carrots
cod liver oil and spinach

CHECK PRICE →

BEST FOR BUDGET

BEST FOR BUDGET

heart-healthy turkey
vitamin-rich pumpkin and carrots
chia seeds

CHECK PRICE →
How Ollie Dog Food Works
Ollie dog food has nutritional profiles appropriate for all stages of dog life. Plus, they feature the essentials of a top-quality dog meal, like being freshly made, containing locally sourced ingredients, meat (source of protein), vitamins (derived from mainly fruits and vegetables), and "good" fatty acids.
For your golden retriever to start enjoying any of Ollie's special dog diets, the process begins with the pet owners or parents creating an account on the Ollie website. This process involves creating a profile based on your golden retriever's age, weight, breed, and activity level. The information needs to be accurate, as they form the basis for the recommended meals. You can consult your veterinarian if you lack any of the above information and any other required data to create the profile.
Based on your dog profile, Ollie goes on to formulate and recommend a customized meal plan to suit the calories requirements of your pooch. In summary, Ollie works in the following easy steps:
Log in to the

Ollie website

and create a profile for your dog.

Get a customized meal plan based on this profile.

Determine your desired flexible and regular schedule for delivery.

Utilize the feeding guide to ensure your golden retriever gets the recommended amount of food at a particular time.

You can sign up for a starter box – 2 weeks of food to help your golden retriever start enjoying the benefits of a fresh food diet.
Ollie makes it extremely easy for you to feed your pup fresh food at its peak. Ollie ships regularly in lid covered "pup-tainers," ensuring your dog gets that 100% organic meal free from preservatives and antibiotics.
Merits of Fresh Food
While other dog foods are dry, wet, or canned, fresh dog food ranks ahead of them because it is a better and healthier option for feeding your pup. It remains a preferable option as it is free from all forms of chemical contamination and safe for dog consumption. Ollie boasts of fresh dog meals that are not harmful to humans in case of accidental ingestion. The following are some of the merits;
Increased health

Easily digested meals

Increased energy

Improved immune system

Less waste
Why Ollie Dog Food should be your Pick
Ollie offers 100% fresh and natural flavored dog food guaranteed to tickle your pooch's taste buds. Here are more reasons why you should not only consider but pick Ollie as the meal brand for your canine friend:
Enhanced Health Level:

With the fresh food recipes from Ollie, your dog's health is guaranteed to improve exponentially. It will significantly reduce the trips to the vet, save more of your money, and make you a delighted dog owner with a happy pooch as well.

Recipe Variety:

Ollie boasts of different vet-formulated food recipes guaranteed to leave your pup scratching his/her ear and tickling the belly after consumption. These recipes ensure your golden retriever enjoys variations of fresh meals containing meat or plant-based protein, fruits, and vegetables.

High Ingredient Quality:

Ollie dog food has no hidden content as you get locally picked fresh ingredients and zero fillers (meaning no soy, corn, or wheat). This uniqueness gives the assurance that your dog is sure to consume meals free from preservatives, antibiotics, or any other form of chemical input.

Convenient Service:

Ollie's free delivery service is structured flexibly and regularly, allowing customers to tweak the orders any time they want while still getting regular deliveries. The meals come with "the most convenient packaging" (

Forbes

), a free pup-tainer and scoop, sealed with a lid for proper preservation.

Money-back Policy:

Ollie has a 100% money-back guarantee policy that stipulates full refunds on your starter box if your pooch finds the meals unsatisfying. So you can rest assured you are getting the best; order away.
Ollie Top 3 Dog Food Recipes
Here are the top three picks from the different dog food recipes available from Ollie: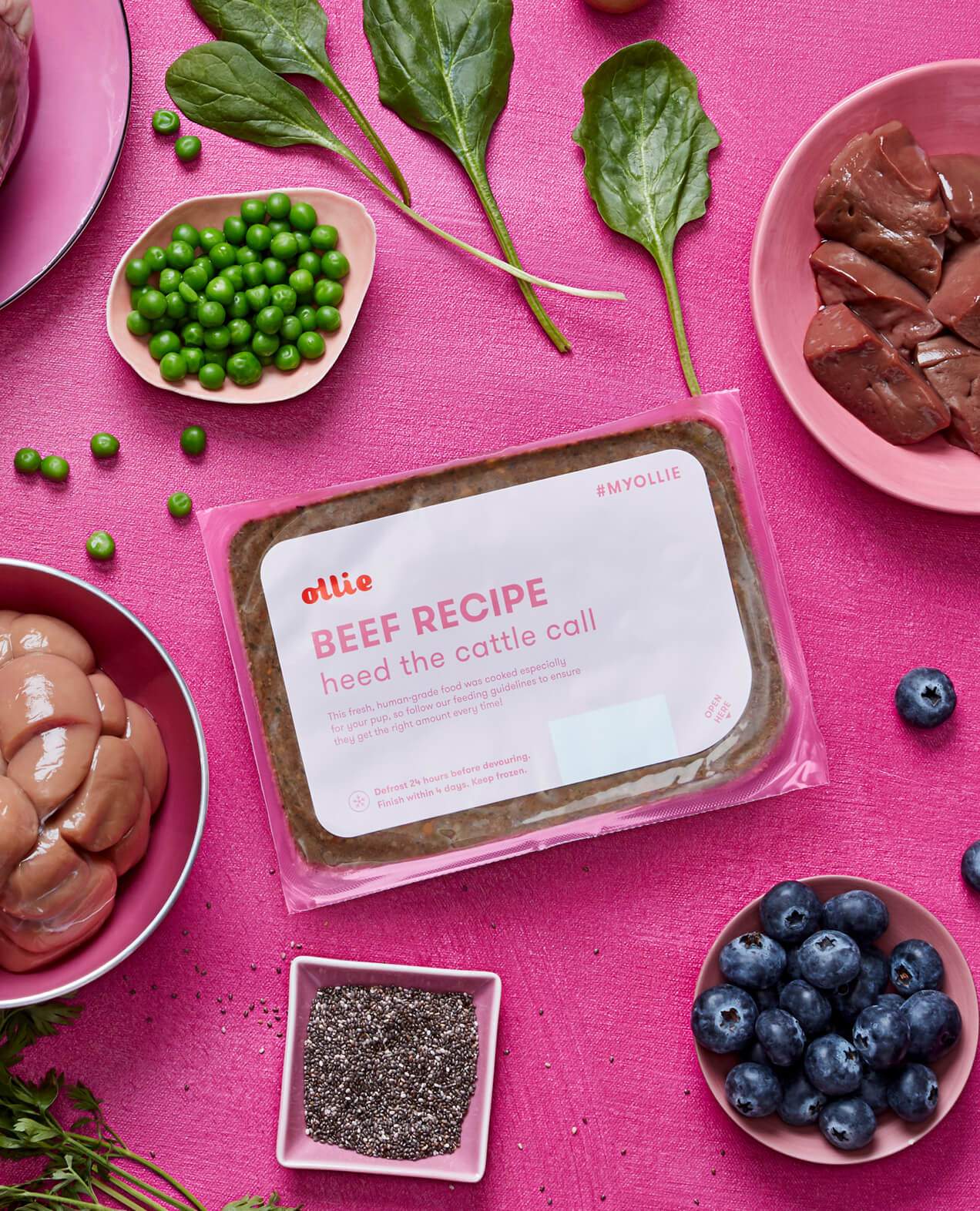 This popular pick features a diet made up of beef, kidney, sweet potato, peas, carrot, blueberries, fish oil, spinach, rosemary, among other ingredients. It contains several organ-portions of meat to give that additional nutrition making it a meaty feast for your golden retriever. Your pup gets 9% protein, 7% fat, 2% fiber, 70% moisture. The Beef recipe is per the nutritional levels established by the AAFCO Dog Food Nutrient Profiles for All Life Stages. Its calorie content sums up to 1540 kcal ME/kg. It is one meal that will make your pup gobble it all up, leaving an empty bowl.
Features
| | | |
| --- | --- | --- |
| Key ingredients | Nutrient | Function |
| Beef | Protein, vitamins and minerals. | Improved immune system, well built bones. |
| Sweet potatoes | Potassium, vitamin A, B6, C; fiber and magnesium. | Energy, improved eyesight. |
| Peas | Lutein, Fiber, vitamin A, C, K, B6, and minerals. | Improved skin, eye and heart health. |
| Carrot | Vitamin A, phytonutrients. | Eyes health. |
| Rosemary | | Safe, natural anti microbial. |
| Fish oil | Omega 3 fatty acids | Stronger, healthier coats. |
Pros
Packed with protein, vitamins, and minerals

Highly nutritious

Great for the skin and heart
Cons
---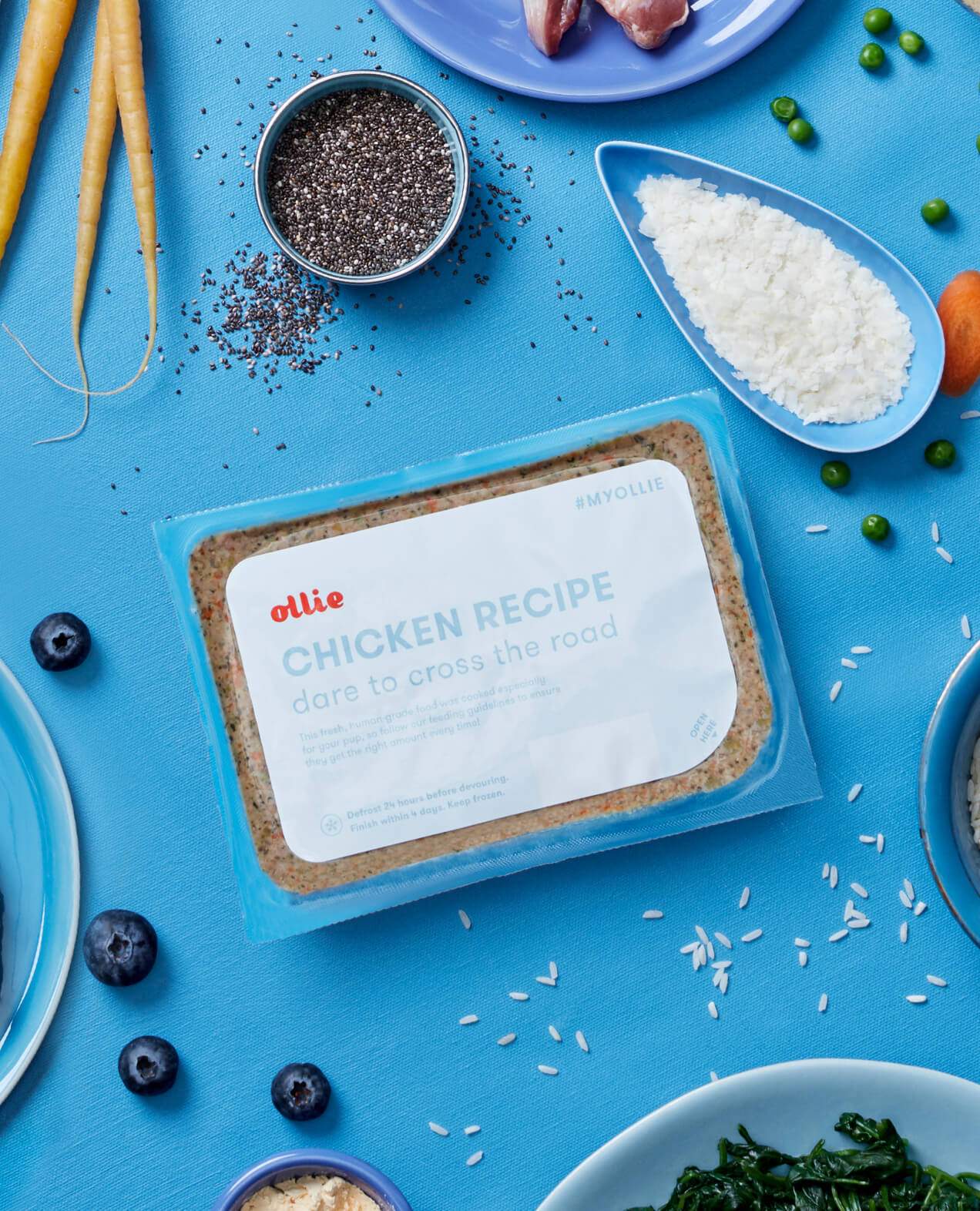 The chicken recipe comprises chicken, spinach, carrots, chicken liver, eggs, cod liver oil, rosemary, chia weed, peas, and other ingredients blended for that loving dog. Its protein level is 10%, fat 3%, fiber 2%, and moisture 73%. Also formulated to meet the nutritional levels of the AAFCO, this meal is a tasty treat for any dog, including picky eaters. Its calculated calorie content is at 1298 kcal ME/kg.
Features
| | | |
| --- | --- | --- |
| Key ingredients | Nutrient | Function |
| Chicken | Protein and minerals | Boost the immune system, build strong bones. |
| Spinach | Iron, vitamins, dietary fibre, folate, magnesium | Antioxidants |
| Cod liver oil | Omega 3 fatty acids | Healthy heart |
| Whole dried eggs | Protein, iron, zinc | |
| Chia seeds | Zinc, copper, manganese | |
Pros
High level of vitamins

Nutritious

Bone care
Cons
---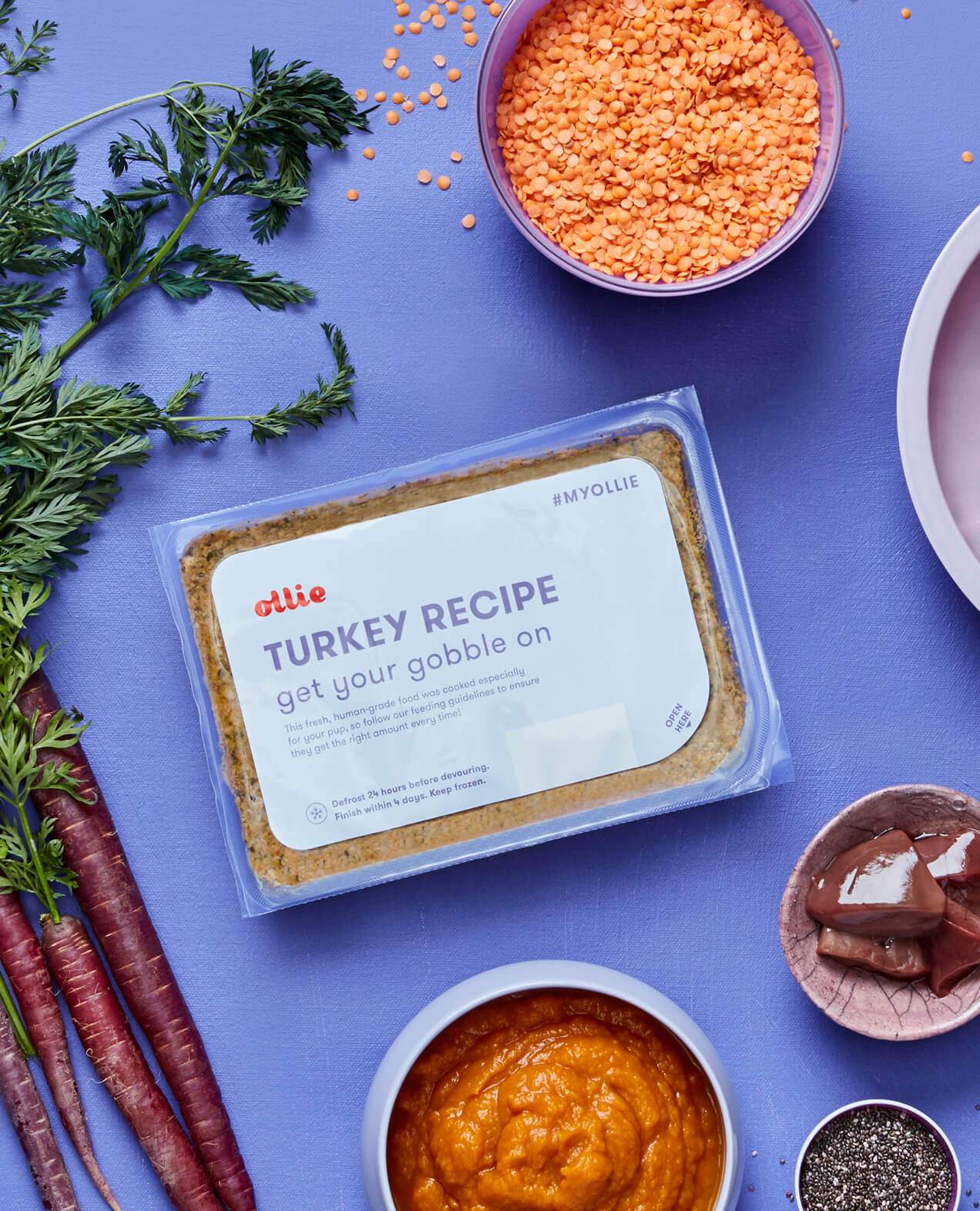 The turkey recipe brings Thanksgiving to your golden retriever more than once a year. It features a heart-healthy turkey alongside ingredients such as pumpkin, carrots, blueberries, chai weeds, lentils, coconut oil, cod liver oil, and kale. A regular dose of this meal is sure to turn your pooch into a big eater. 11% protein, fat 7%, fiber 2%, moisture 72%, and calorie content of 1390 kcal ME/kg form the basis of nutrition in this meal.
Features
| | | |
| --- | --- | --- |
| Key ingredients | Nutrient | Function |
| Turkey | Protein | Strong bones |
| Blueberries | Vitamins, antioxidants. | Fight radicals. |
| Chia seeds | Copper, zinc, magnesium. | |
| Carrots | | |
| Kale | Beta carotene | Healthy skin and fur |
Pros
Tasty

Excellent for the fur, skin, and bones
Cons
The above food recipes and other Ollie recipes are made with minimal processing and gently cooked to preserve food nutrients. No artificial flavors, plus they are also very safe for human consumption but don't forget to save some for your pooch.
Not sure how much to feed your Golden Retriever? Visit our Golden Retriever Feeding Chart.
(FAQs)
Is Ollie a top-quality dog food?
Ollie dog meals are human-grade and carefully prepared and delivered to preserve nutrients. They also feature local ingredients, providing a quality, fresh, safe, and natural biological diet for your golden retriever. This brand specializes in pet foods that nourish your dog's body plus different formulas that cater to pups in all life stages.
How do I cancel/reorder my Ollie dog food?
It is relatively easy to do this and other operations as soon as you have created an Ollie account. You get to update payment, pet, and delivery information, cancel, re-start, revise or pause your subscription. You can go as far as offering suggestions for improved service and sharing your story with other dog parents.
Is Ollie AAFCO approved?
The Association of American Feed Control Officials (AAFCO) is not responsible for approving or certifying pet food. AAFCO only sets nutritional adequacy standards that pet food companies need to meet. Ollie dog food recipes are all produced under these set standards, so rest assured, your dog is in for an entirely nutritious and balanced meal specially made for him/he
Final Remarks:
With any of Ollie's dog food recipes, your golden retriever is sure to have found a new favorite meal. The market is flooded with numerous choices, yet Ollie sticks out with a fantastic array of recipes and custom-made delivery services. Your golden retriever won't be able to wait to gobble up the next serving. There is practically no way things can go wrong with Ollie's dog food as your dog's number one meal option. With a current offer of 50% off your first box, go ahead and try Ollie dog food.