Updated: October 17th, 2022
This article contains affiliate links. Read the full disclosure here.
Anti Chew spray will deter dogs and pets from gnawing, biting, and chewing household objects and hot spots. Puppies are naturally curious and explore the world that they live in through chewing on different things. Younger dogs chew on hard surfaces such as wooden furniture or table legs to relieve themselves from pain and discomfort caused by teething. This unwanted chewing behavior will stop once their teeth come in around six months of age. Starting dog training from this young age is important to prevent unwanted biting or chewing behavior at a later stage. Older dogs chew to clean their teeth and strong jaws
AT A GLANCE:
Our 5 Best Anti Chew Sprays for Dogs
Several different factors cause destructive chewings like stress, separation anxiety, boredom, and hunger. Adult dogs or puppies that lick or chew on fabrics can also become deterred when an anti-chew spray is applied. Stress caused by separation anxiety will cause anxious dogs to chew anything in sight when left alone. Hungry dogs will also chew or destroy objects to find food, especially when placed on a calorie-restricted diet. Sucking, licking, or chewing on fabrics could be due to being weaned too early. Chewing is a normal behavior in dogs in the wild and domestic.
The Benefits of Using Anti Chew Spray
Anti chew sprays discourage unwanted chewing, licking, and gnawing behavior. There are many added benefits to using a chew spray. Protect your indoor and outdoor objects from being damaged. Dogs love to chew household furniture, fabrics, handbags, plants, and even electrical cords. Some sprays can be sprayed directly on your anxious furry friends' paws to prevent biting. Using an anti-chew spray will keep your dog safe from power cords and poisonous plants. Natural chew sprays applied to wounds, bandages, or hot spots will stop your dog from biting or chewing to promote healing.
To prevent damage to household objects

Keep your dog safe from chewing on power cords

Stop wanted sucking, licking and chewing on fabrics

Keep your dog safe from licking or chewing

poisonous plants

For dogs who have hot spots or wounds
Best Anti Chew Sprays for Dogs
IMAGE
PRODUCT

non-toxic and safe for almost all materials
prevent damage to your home, furniture, clothes,
Prevents biting, gnawing and licking

VIEW LATEST PRICE →

all-natural formula
Made from purified water, tea tree oil and a special blend of bitters
Manufactured in a GMP certified facility

VIEW LATEST PRICE →

Features a bitter taste
topical formula is made in the USA
paw-fectly suitable for canine companions

VIEW LATEST PRICE →

deliver an unpleasant apple taste
can even spritz this spray on fabric, furniture and electrical cords
Crafted with natural ingredients

VIEW LATEST PRICE →

clear, non-sticky, and easy to apply
water-based
can be applied to wounds or bandages

VIEW LATEST PRICE →
Different types of Anti Chew Sprays for Dogs
There is a wide range of sprays available depending on usage. An option that is non-sticky and clear is perfect for different types of fabrics and textiles. A dog with sensitive skin that suffers from allergies will need a special spray that is gentle on the skin and contains no odors. Depending on the surface that you will be spraying will also need to be taken into account. Anti chew sprays have bitter ingredients formulated from plant extracts, flowers, and tea tree oil. Certain sprays can be applied to wounds as an antiseptic while stopping unwanted biting or chewing on bandages or hot spots.
Top 5 Best Anti Chew Sprays: Reviews
Let's take a closer look at our best anti chew sprays from Chewy.com
In no particular order: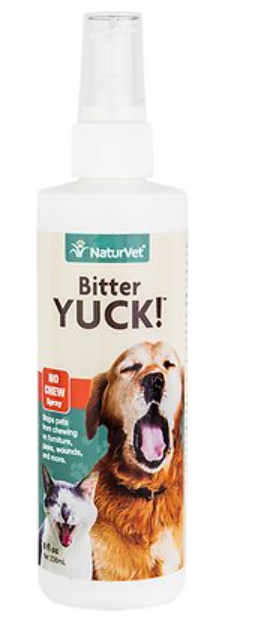 The Naturvet Bitter YUCK will stop your dog from chewing your household furniture. This no chew spray is clear, non-sticky, non-staining and easy to apply. This water-based spray can be used indoors or outdoors. It can also be applied to your dog's wounds or bandages to prevent biting. The Naturvet chew spray will stop your dog from chewing on problem areas.
Pros:
Non-sticky

Water-based

Trigger action

Bitter taste

Indoor or outdoor use

Can be used on plants

Can be applied to wounds and bandages
Cons:
Has to be reapplied often

Not recommended to get on your hands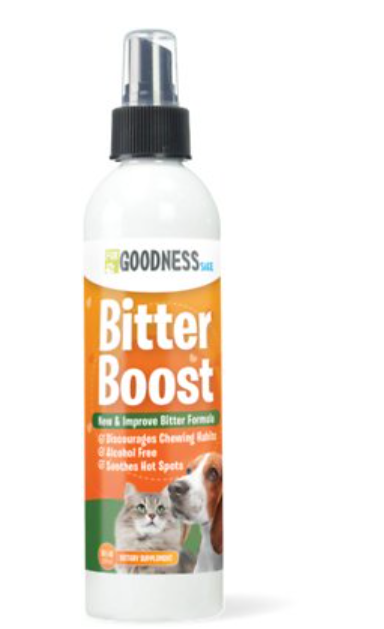 This relieving anti chew spray will stop your dog from chewing and biting affected areas in order for healing to take place. A topical solution made from tea tree oil to soothe and treat hot spot areas. This anti chew spray has a bitter unpleasant apple taste and can be sprayed onto furniture, fabrics and electrical cords to stop your furry friend in his tracks. This spray can be applied to household furniture, power cords and most fabrics. 
Pros:
Natural tea tree soothes and treats affected areas

Can be used on fabrics and furniture

Bitter apple taste
Cons:
Some pets liked the taste

Strong smell

Must be reapplied often
The BODHI Dog Bitter Lemon Anti-Chew Spray stops unwanted biting, gnawing, chewing or licking behaviours from your furry friend. This spray is gentle, safe and an effective alternative to harsher training methods.This spray will not scare or harm your pet, it will make sprayed surfaces taste bitter deterring your dog from chewing or biting.  This bitter spray is safe to use on surfaces and gentle on your pet. The BODHI Dog Bitter Spray is a botanical formula blended with natural bitters and plant extracts. It does not contain any additives or harsh chemicals. This spray is enough to use for dogs and pets that suffer from allergies or sensitivities. The Bodhi anti-chew spray is safe for indoor and outdoor use. Great for puppies and adventurous dogs.This spray can be used on many different surfaces ranging from wood, fabric, leather, suede, microfiber, carpet, stone, marble, rope, bamboo, veneer, stucco, plaster, plastic, rubber,electrical power cords, cork board, houseplants to garden plants. This Anti-chew spray is made in the USA using locally produced ingredients and comes in eco-friendly packaging.
Pros:
For sensitive pets with allergies

Natural spray can be used on multiple textiles and surfaces

Made locally

Eco-friendly packaging 
Cons:
Bitter strong smell

Only effective in large doses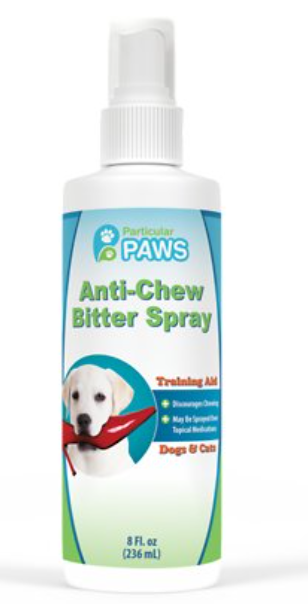 The PARTICULAR PAWS Anti-Chew Bitter Spray for Dogs is made from tea tree oil, purified water and a blend of bitters. This natural anti-chew spray is a gentle training aid that will stop your dog and puppy from chewing on household furniture or your running shoes. This spray can be used indoors and outdoors and is safe to use on any household material and houseplants.
This anti-chew spray can be used on electrical power cords keeping your dog safe and away from danger. The Particular Paws Anti-Chew Spray can treat any hot spots with the healing antiseptic properties of tea tree oil, it can also be used to stop your dog from biting their skin or paws. This anti-chew spray has been registered with the FDA following strict veterinary supervision. Environmentally friendly and free from harsh chemicals. 
Pros:
FDA Approved

Blend of bitters

Can be sprayed on household items and plants
>Cons: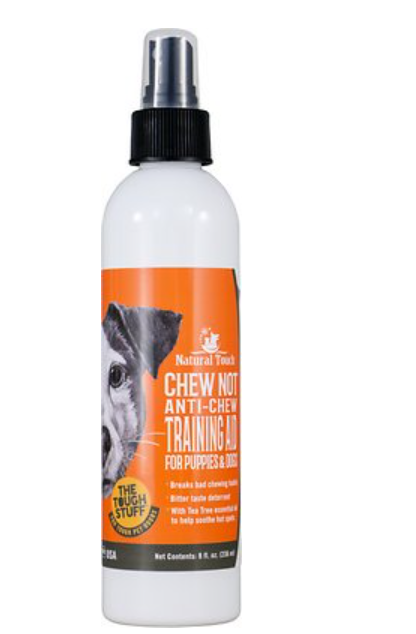 The Tough Stuff's anti chew spray topical formula contains bitter tea tree oil that acts as a calming and soothing treatment of hot spots. Tea tree oil is a natural antiseptic that will promote healing too. This bitter spray will stop unwanted chewing habits in its tracks. This dog spray is perfect for puppies and adult dogs. This spray is perfect to use for teething young pups who will gnaw and chew everything in sight. Protect your table legs, wooden surfaces, couches and shoes. This anti chew spray can also be used to protect fabrics and electrical cords.
Pros:
Natural tea tree oil

Can be used for puppies and adult dogs

Made in the USA
>Cons:
Might not be safe for plants

Strong smell
How to use Anti Chew Spray?
When first using an anti-chew spray you need to introduce it to your dog. Apply a small amount of spray to a household object, allow your dog to smell and taste it. Your dog will highly likely spit it out and find it to be very bitter. It is common to find your dog drool, shake his head, or spit it out. Your furry friend has now learned the connection between the smell and the taste of the spray. It is now a good idea to start spraying all indoor and outdoor objects that you do not want your dog licking or chewing. Anti chew sprays will need to be reapplied weekly or according to the instructions on your spray product. To encourage your dog to place chew toys close by to clean his teeth and strengthen his jaw.
Anti Chew Spray Buying Guide:
Now that you have a better idea about the many benefits of using an anti-chew spray. We have highlighted factors to consider when purchasing the perfect deterring spray.
Ingredients: Anti chew sprays contain natural bitters and botanical ingredients. These formulas are safe to use on your dog and furniture. It is best to check the ingredients if they are water or oil-based, especially when spraying certain fabrics or household plants. A common ingredient found in anti-chew sprays is tea tree oil. This antifungal, antiseptic oil promotes healing and soothes hot spots. Dogs that have sensitivities will need a very gentle formula based spray. If you are using the spray on trees or household plants check the ingredients are safe to use.

Smell: Different sprays have different odors depending on the formula. Tea tree oil has a strong smell. Anti chew sprays do come in odorless options. If your dog is known to suffer from allergies it is best to choose an odorless option.

Water or oil-based: Certain fabrics such as leather need to be taken into account when using a spray.

Safety: A factor to consider is if it is for puppies. Not all sprays are safe once in contact with your furry friend's eyes or nose or dogs with sensitivities.
Final Thoughts on Anti Chew Sprays
Dogs who are frustrated will bite, chew, tear and shake objects to grab your attention. A dog that is chasing a bird or cat will bite at gates or fences. It's important to understand the reason behind your dog's unwanted chewing behaviour. Is it due to boredom, separation anxiety, pain or discomfort, teething or playful motivators? Once you understand your furry friend it will be easier to treat unwanted behaviors. An anti-chew spray is a great way to stop destructive chewing behaviour however it is just important to anticipate stressful situations and plan accordingly.