Updated: November 10th, 2022
This article contains affiliate links. Read the full disclosure here.
This article contains recommendations for the best anti-yeast infection foods for dogs.
Is your dog itching or scratching, or do they suffer from frequent ear infections? All of these symptoms are commonly found in dogs suffering from yeast infections.
This condition is often exacerbated by certain foods.
So, if your dog suffers frequently, choosing dog foods that avoid problematic ingredients and use soothing additives can help eliminate your dog's symptoms quickly!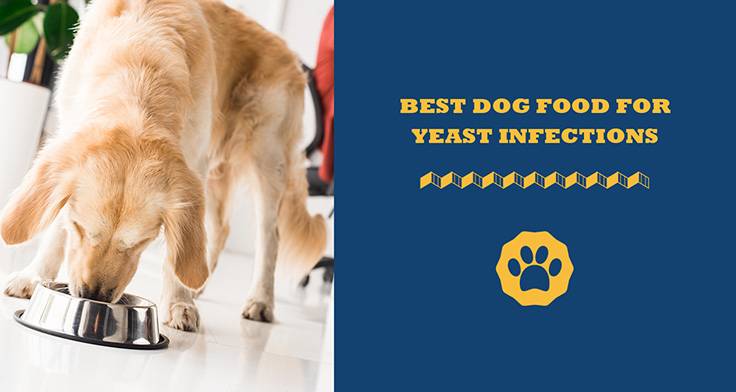 Nutrition has a huge effect on your pup's health and happiness.
Switching your golden retriever's regular food to anti-yeast dog food is one of the best things you can do to maintain your dog's health and and prevent future breakouts.
The dog foods I am going to recommend in this article contain a special blend of ingredients that are proven to help reduce yeast production in dogs with yeast infections.
However, they are rarely clearly labeled as such, so as well as sharing recommendations, I'll also take you through what to look for in an anti-yeast dog food.
Note! Many people believe grain-free dog foods are also ideal for yeast infections, but that's not really the case.
AT A GLANCE:
OUR 7 BEST DOG FOODS FOR YEAST INFECTIONS
What Is A Yeast Infection?
Yeast infection, or Malassezia Dermatitis as it's scientifically known, is a skin infection that occurs when the naturally occurring bacteria Malassezia gets out of control.
This infection is usually found in the ears, around skin folds, and between paw pads.
Not only can this make your dog feel very uncomfortable, but if left untreated in the ears, it can cause deafness.
Dogs with floppy ears, such as golden retrievers, can be particularly prone to yeast infections, as the dark and moist ear canal is a perfect breeding ground for bacteria.
Dogs with droopy skin, such as Basset hounds, are also at high risk.
Common Symptoms Of Yeast Infections:
If your dog has a yeast infection, you will probably notice changes in your dog's behavior. A quick trip to the vet will confirm your suspicions.
There are a few key symptoms to look out for.
Intense itching, swelling, and redness of the skin. As well as lots of scratching, you might notice them doing things like dragging their bum along the floor for relief.
Sores on the skin, usually circular in shape
Bad odor, usually with a distinctive musty smell that is different from their normal scent
Bloody, yellow, or brown discharge
Loss of balance and hearing
Loss of hair around the ears, tail, or upper back
Crusty and flaky skin around the affected area resembles dandruff. Their skin may also change color or texture, becoming pink or red, or even turning gray or black at advanced stages.
Recurrent or extreme ear infections as indicated by regular head shaking and tilting.
It's non-negotiable that as a pet parent you need to learn how to clean a dog's ears using a dog ear cleaner, to prevent recurring yeast infections that cause painful ear infections.
Knowing how to clean your pup's ears and making sure they stay clean is the only way you can stay in control and prevent a mess.
If your dog is prone to yeast infections, putting them on a diet that minimizes yeast outbreaks is another important step.
What Dog Food Is Best For Dogs With Yeast Infections?
IMAGE
PRODUCT

Multiple sources of premium proteins give it a diverse nutrient profile
Rich in omega fatty acids to promote healthier skin and coat
Fresh fruits and vegetables

VIEW LATEST PRICE →

Helps support muscle development.
Doesn't contain any corn, wheat or artificial colors and flavors
Antioxidant-rich fruits and vegetables help maintain a strong, healthy immune system

VIEW LATEST PRICE →

Enriched with essential minerals and vitamins to provide a complete and balanced nutrition
Contains natural prebiotics sourced from beet pulp and brown rice to support healthy digestion
Fats from chicken act as a source of omega fatty acids

VIEW LATEST PRICE →

Best Dry Dog Food For Yeast Infections

Other than being a protein source, lamb meal also aids in digestion
Rich in omega fatty acids
Use of all-natural ingredients

VIEW LATEST PRICE →

Best Dog Food For Chronic Yeast Infections

Made with natural, fresh, high-quality ingredients, making it the best and safest for treating yeast infections
No grains, gluten, artificial ingredients, and by-products, making it a healthier option for dogs prone to yeast infections
Fresh fruits and vegetables

VIEW LATEST PRICE →

Contains antioxidants and omega fatty acids
Lamb as the main ingredient
Contains glucosamine and chondroitin

VIEW LATEST PRICE →

Made without gluten
Limited ingredient formula for dogs with sensitivities
Rabbit is a lean source of protein

VIEW LATEST PRICE →
Your canine bud already has yeast, but it's normally harmless because of its low numbers. However, as you'll see later, there are a bunch of simple things that can trigger yeast overgrowth and create many other problems for your dog. The good news is pet parents who use yeast-free dog food don't have to worry about excessive yeast growth and all the other issues that come with it.
Best Yeast Free Dog Foods – Top Picks Reviewed
Listed below are the best anti-yeast dog foods available on the market today.
Whether you have a limited budget or you have preferences for certain meats, and regardless of the severity of your dog's symptoms, I've rounded up several options to suit your unique needs.
Without further ado, these are my favorite no yeast dog foods!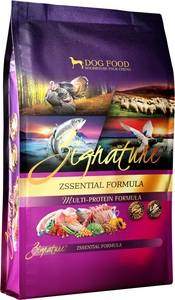 Zignature isn't your average pet food brand. This is because they make super special recipes that address a spectrum of issues your canine battles often.
From the best dog food for allergies and obesity to the best dog food for diabetic dogs and yeast infections, Zignature makes food suitable for your dog's individual needs.
Troublesome ingredients that would have triggered yeast to go wild have been completely eliminated in this Zssential formula.
What's more, unlike most dog food formulas, the protein level is slightly higher (32%) and comes from multiple legit sources, including turkey, turkey meal, salmon, duck meal, and lamb meal.
Key Features
Grain and gluten-free
No starch grains
Limited ingredients
Multiple protein sources
Contains fresh vegetables
Rich in essential vitamins and minerals
Imagine a grain-free, limited ingredient formula that is also rich in quality proteins, vitamin supplements, chelated minerals, and antioxidants. Who wouldn't want that for their dog?
Well, this is what this formula brings, and in their reviews, pet owners can't seem to get enough of its consistency in offering complete and balanced nutrition.
Also worth mentioning is that it features low glycemic fiber-rich carbs such as chickpeas and wholesome peas.
This, combined with the fact that it's made from wholesome, natural ingredients, makes it a great low-starch diet that is recommended for dogs with yeast issues.
Pros
Multiple sources of premium proteins give it a diverse nutrient profile
Rich in omega fatty acids to promote healthier skin and coat
Lack of troublesome ingredients like starchy grains, chicken (a potential allergen), and gluten makes it ideal for dogs prone to yeast infections and allergies
Fresh fruits and vegetables such as cranberries, blueberries, and carrots support urinary tract, immune, and digestive health
Cons
Contains flaxseed, a controversial ingredient
Might be too expensive if you are on a limited budget
Zignature clearly stands out in several ways when it comes to nutritional content, and considering that you are the owner of a dog battling yeast infection, this would be a healthy option to go with, especially if your dog is battling allergies as well.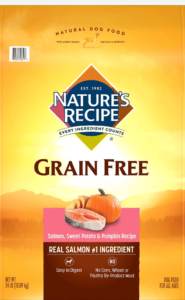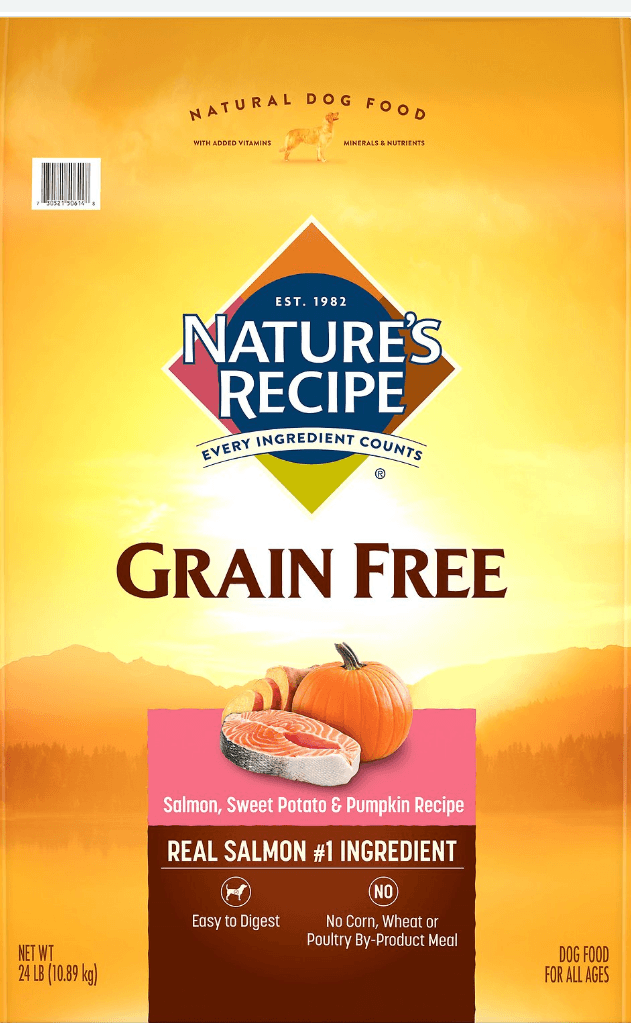 Great news for your budget: Nature's Recipe Grain-Free Salmon, Sweet Potato & Pumpkin Recipe Dry Dog Food is far more affordable than many competing brands.
Salmon is the number one ingredient and is reinforced with several other high-quality protein sources.
Besides focusing on high-protein salmon for healthy skin and a glowing coat, this grain-free dog food incorporates high-fiber, low glycemic index veggies such as pumpkin and sweet potato.
Designed to provide quality nutrition, this highly digestible formula has a flavor that appeals to most dogs.
Key Features
Real salmon is the #1 ingredient
Pumpkin and sweet potatoes provide energy
This grain-free formula contains no corn, soy, or wheat
Contains added vitamins, minerals, and nutrients for a healthy, active life
Suitable for all adult dogs
This high-protein dog food relies on real salmon to serve as the number one ingredient and the main protein source.
With no starchy fillers to exacerbate your dog's yeast issue, this food is reinforced with added vitamins and minerals that support your dog's overall health and wellness.
Pros
Real salmon promotes muscle growth and development
Delivers balanced nutrition; contains all the vitamins and minerals your dog needs
Contains lots of antioxidants to bolster your dog's immune system
High in essential fatty acids
Cons
Has a definite fishy smell that some dogs don't like
High-quality natural ingredients make this food worth trying – and most pet owners agree that their dogs enjoy the flavor!
With this healthy, grain-free food as an ally, you're one step closer to winning the battle against your dog's yeast dermatitis.
As a bonus, it comes with a fairly affordable price tag that makes it as easy on your budget as it is on your dog's system.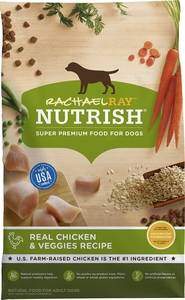 You are likely to question the simplicity of this diet, but in this case, less is more.
This dry dog food is made without grains, wheat and wheat gluten, fillers, dairy, eggs, and potatoes, all of which are common culprits behind allergies, yeast infections, and bacteria growth. 
Your dog is also set to enjoy quality proteins sourced from chicken, plus healthy fats from chicken fat, vitamin supplements, and chelated minerals.
Key Features
Limited ingredients
No common allergens such as grains, dairy, etc.
Uses farm-raised chicken as the top ingredient
Rich in natural prebiotics
As you'll notice, this formula isn't as limited as other limited ingredient recipes in its category.
In fact, it contains multiple carbohydrates, but the encouraging part of this drawback is they are all wholesome ingredients.
Some, like peas, are excellent sources of key minerals, vitamins, and dietary fiber.
Pros
Enriched with essential minerals and vitamins to provide a complete and balanced nutrition
Contains natural prebiotics sourced from beet pulp and brown rice to support healthy digestion
Fats from chicken act as a source of omega fatty acids that support healthy skin and coat
Cons
Relatively lower protein and calorie content (but this could work to your advantage if you have spayed, neutered, or indoor dogs)
If you are on a budget and looking for a better way to go about keeping those yeast infections at bay, consider Rachael Ray Nutrish Natural Chicken & Veggies Recipe Dry Dog Food.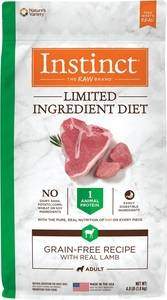 In addition to being low-carb and containing no grains, gluten, or potatoes, this formula is made with easy-to-digest, nutrient-rich, grass-fed lamb as the primary source of protein.
This makes this formula great for allergy-prone dogs as well as those likely to suffer from yeast infections.
It also contains no dairy, eggs, fish, starchy grains, and artificial ingredients that are most likely to cause yeast overgrowth.
Key Features
Limited ingredient diet
Grain-free
Grass-fed lamb as the main ingredient
No artificial ingredients
Most diets with limited ingredients tend to be flavorless, but this one sets itself apart by carrying a superior taste since it has been freeze-dried.
The only source of carbohydrates in this recipe are peas, which are considered a healthy source of dietary fiber and key in promoting digestive health.
Pros
Other than being a protein source, lamb meal also aids in digestion
With just one protein source and vegetables, this formula is great for dogs with food sensitivities
Rich in omega fatty acids from canola oil and antioxidants to make your dog's skin healthier and their coat shinier
The inclusion of all-natural ingredients, real meat, fresh fruits and vegetables, and no artificial ingredients makes this food ideal for dogs prone to yeast infections
Cons
Some dogs may not like the flavor of lamb
Having an above-average protein and fat content with minimal levels of carbs makes this recipe the perfect choice for keeping yeast infections away.
Don't forget that it's limited in ingredients, grain-free, and high in nutritional value!
These great features further qualify it as ideal for dogs battling allergies and other types of sensitivities.
No talk of human-grade pet foods ends without mentioning the Honest Kitchen.
Their great reputation is grounded in the fact that their pet foods, like this grain-free turkey recipe, are made in human food facilities just next to what you consume.
In addition to being dehydrated, the recipe has minimal carbohydrates and is free of starchy grains, gluten, peas, preservatives, GMO ingredients, and meat by-products, which makes it an ideal dry dog food for treating yeast infections.
Key Features
Dehydrated
Grain and gluten-free
Made with cage-free turkey
Contains fresh fruits and vegetables
All-natural ingredients
Whether you have a puppy, adult, or senior dog, the Honest Kitchen gives them a chance to enjoy a wholesome meal that is dehydrated – a special technique that retains the natural vitamins and minerals contained in the ingredients.
Therefore, your golden retriever will be getting all the nutrition it needs to combat yeast infection, get healthy, and thrive.
The main ingredient, cage-free turkey, is a lean source of protein that is extremely beneficial to dogs with yeast overgrowth.
Expect no starchy veggies, but there are plenty of healthy fats (18%) and fiber (9.6%) to ensure proper digestion.
Pros

Made with natural, fresh, high-quality ingredients, making it the best and safest for treating yeast infections
No grains, gluten, artificial ingredients, and by-products, making it a healthier option for dogs prone to yeast infections
Fresh fruits and vegetables, together with chelated minerals, help boost immunity and make this formula a balanced nutritional meal for everyday feeding
Additional vitamins enhance your dog's immune system, helping it to repel yeast infections
Cons
Needs careful preparation. Too little or too much water could defeat its purpose
Even though it costs more than most diets in its category, lots of pet owners with dogs that are prone to yeast infections or battle allergy complications still continue to order the Honest Kitchen Dehydrated Dog Food because of what it's able to deliver in terms of nutrition and value for money.
From nutritional integrity to the abundance of essential nutrients, you can trust this formula to exceed all of your expectations.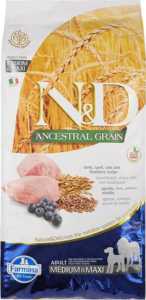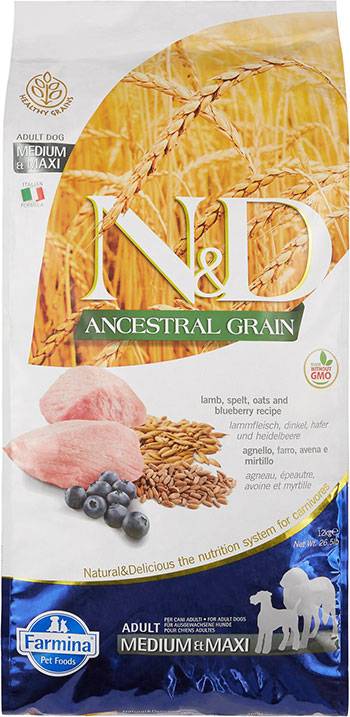 When looking for dog food for yeast infections, you should also make sure it is suitable for dogs with allergies and sensitive stomachs.
The Farmina N&D Ancestral Grain Lamb & Blueberry Adult Dry Dog Food is one such recipe that ticks off all the boxes.
Key Features
Features lamb as the main ingredient
Made without peas, legumes, meals, or by-products
Rich in antioxidants
Made using a high-quality lamb meal, this low glycemic dog food is great dog food for yeast control and is suitable for pups who are allergic to chicken or poultry.
And while not grain-free like other recipes from this list, this formula contains easily digestible, wholesome grains such as whole spelt and whole oats.
The thing I like the most about this formula is that it contains dried blueberries, apples, pomegranates, and spinach as sources of essential vitamins and minerals.
These fruits and veggies are also chock-full of antioxidants that reduce the damage caused by free radicals and lower your pup's chances of developing chronic conditions such as cancer or mobility issues that can't be managed without the best joint supplements for dogs.
Pros
Uses lamb as the main ingredient and high-quality source of protein
Reinforced with all essential vitamins and minerals for a strong immune system
Low in starches, which helps reduce the symptoms of yeast infection
Being a low glycemic formula, this food won't cause a spike in your dog's blood sugar levels
Cons
Several owners reported that their picky eaters didn't want to eat this food. If your pooch is naturally picky, you might want to consider another Furmina recipe.
If you are looking for high-quality dog food with a low glycemic index and starch, give Farmina N&D Ancestral Grain Lamb & Blueberry Adult Dry Dog Food a try.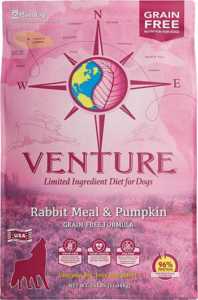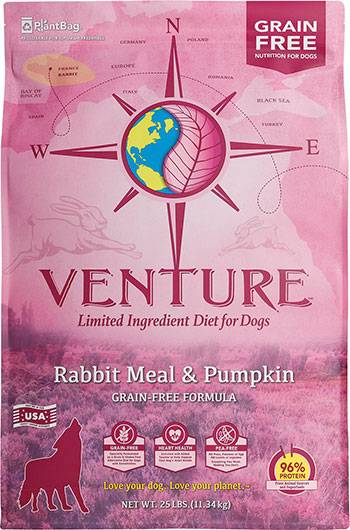 The Earthborn Holistic Venture Limited Ingredient Grain-Free Rabbit Meal & Pumpkin Dry Dog Food is, at the same time, a premium quality kibble and great anti-yeast dog food.
Featuring rabbit meal as the novel protein source, this limited ingredient recipe can be a lifesaver for dogs with sensitive stomachs, yeast infections, or food allergies.
Key Features
Reinforced with all essential vitamins and minerals
Made without grains, gluten, fillers, and by-products
Low in starch that causes yeast growth
As a limited ingredient formula, this recipe contains only a handful of real ingredients that are carefully picked, so it doesn't exacerbate your dog's sensitivities and health problems.
But despite having only a few ingredients, this formula has a decent protein count of 26%.
The main ingredient, rabbit meal, is naturally high in phosphorus, selenium, and vitamins B12 and B3.
There are also no peas, lentils, potatoes, eggs, chicken, or other ingredients that are the main culprits for yeast growths, persistent yeast infections, and itchy skin.
Highly digestible and great tasting, this recipe can help you cure and prevent uncomfortable recurring yeast infections in your pooch. 
Pros
Made using high-quality limited ingredients
Ideal for dogs with chronic yeast infections since it's grain and gluten-free and low in starch
Rabbit meal is the main ingredient and a lean source of novel protein
Doesn't contain any common allergens that can be problematic to dogs with allergies or sensitive stomachs
Cons
This formula has a strong smell that might not sit well with you or your dog
If you are looking for a yeast-free dog food that is at the same time healthy and won't cause allergies, try the Earthborn Holistic Venture Limited Ingredient Grain-Free Rabbit Meal & Pumpkin Dry Dog Food.
This premium quality formula is made without gluten, grains, starch, and other questionable ingredients that cause yeast growth.
Understanding Yeast Infections In Dogs
Even though just about any dog could suffer from a yeast infection, those more prone to it include breeds with floppy ears, such as golden retrievers, Labradors, poodles, and Basset hounds, dogs prone to allergies, and those with an inner ear canal that supports hair growth.
In fact, yeast, together with other infection-causing bacteria and fungi, are naturally present in the digestive tract and skin of canines.
But since they are low in numbers and some are under the control of the immune system, they aren't considered harmful.
However, should that change, say, if the yeast proliferates or the fungi/bacteria are triggered, that's when the infection begins to spread.
Note that yeast spreads faster in warm and humid conditions, like in the paw or ear, or basically where the skin is close to each other, or in places where your pooch has skin folds.
If left untreated, the infection could become worse, leading to more severe conditions like intense itchiness, crusty skin, and loss of hearing, among others.
The most common culprits behind the spread of yeast infections are a dog's food, allergens, environmental factors, or a combination of the three.
When it comes to food, carbohydrates and starches are often the main culprits. This is because the sugar they generate feeds yeast, allowing them to multiply.
Environmental factors and allergens that can trigger a yeast infection include deposits of pollen, dust, mold, cleaning products, and feathers.
They can also be triggered by certain flea and tick treatments.
Treating Yeast Infections
To treat a yeast infection, you will want to take your dog to your local vet, who will provide you with creams or cleaning solutions depending on exactly where your dog is affected.
You can also try natural solutions such as calendula, coconut oil, olive oil, or vinegar to treat the infection.
It is then helpful to eliminate the foods that are causing the bacteria to multiply. This will assist the medication to do its job and help prevent further outbreaks in the future.
You can cook your dog's food at home to ensure that you are getting the right ingredient mix.
However, finding the right food with the right balance of nutrients is more challenging than many people realize.
Vet recommended and appropriate commercial foods are often a better option.
If you do choose to make your own dog food, start with healthy proteins such as beef and lamb, and limit carbohydrates. Instead, add leafy greens, broccoli, squash, and low sugar fruits.
If you choose to buy commercial dog foods, the best formulations to look for should be low in starch and sugars, as these are the main culprits when it comes to feeding bacteria and encouraging it to grow.
Admittedly, it's difficult to leave out the starch in dog foods because they serve crucial roles, including that as cheap binding agents.
Ingredients high in starch such as potatoes, wheat, sweet potatoes, corn, rice, and the like are quite common in most dry dog foods. Without them, you'd be left with a powdery diet.
Now, the best way to go about finding the best anti-yeast dog food is to limit your selection to those made with wholesome natural ingredients such as lean proteins, quality animal-based fats, veggies with low starch, plus digestive enzymes and probiotics, among other nutritious supplements.
Recipes you choose should also be rich in antioxidants and other essential ingredients key in supporting the immune system to help your dog fight off the infection naturally.
Anti-Yeast Dog Food Buying Guide
OK, that all sounds good, but what exactly should be on your shopping list when looking for anti-yeast dog foods?
To begin with, here are some things you should avoid:
Highly processed ingredients
Starchy grains such as wheat, rice, and corn
Starchy vegetables such as potato and peas
High fructose corn syrup
On the other hand, there are some ingredients whose presence makes the diet more ideal for dealing with a yeast infection. Those include:
Wholesome natural foods/unprocessed foods
Fresh fruits
Low starch/carb veggies
Dietary fiber
Antioxidants from natural sources
Fresh, lean, animal proteins
High-quality animal-based fats
Many of the foods that meet these requirements are high in protein, which can wreak havoc on your dog's stomach, liver, and kidneys if they aren't accustomed to it.
If they aren't used to a high protein diet, choose lower protein options and move them onto it slowly.
Watch out for signs of excessive protein consumption such as anxiety, restlessness, inability to sleep, and depression.
How much should your dog eat? Click here to see the complete Golden Retriever feeding guide >>
FAQs About Dog Food For Yeast Infection
What do you feed a dog with a yeast infection?
Dogs with yeast infections can eat raw, homemade, or commercial dog foods as long as they don't contain certain problematic ingredients.
Dogs with yeast infections should eat lean sources of protein, low-starch vegetables, lots of fiber, unprocessed foods, and natural sources of vitamins, minerals, and antioxidants.
What foods kill yeast infections?
Depending on the type of yeast infection, certain types of foods can help you get rid of it quickly in a natural way.
If your pooch suffers from candidiasis, try using coconut oil, ginger, apple cider vinegar or apple juice, green veggies, and cruciferous plants to get rid of the infection.
How can I reduce my dog's yeast infection?
Topical treatments are highly effective and are usually recommended first for treating yeast infections in dogs.
Antifungal shampoos and antifungal ointments or creams that contain miconazole or ketoconazole are often the most effective.
In severe cases, your vet will prescribe antifungal oral medications to be used combined with topical treatments.
Which dog breeds are most likely to develop yeast infections?
Some dog breeds are more prone to yeast infections than others. These breeds include:
Golden retrievers
Labrador retrievers
Shih Tzus
Basset hounds
Boxers
Poodles
Dachshunds
American Cocker Spaniels
West Highland white terriers
German shepherds
Maltese
Conclusion
You should always be monitoring your dog for changes in their appearance, odor, and behavior to keep an eye on their health.
They can't tell you directly if something is wrong, but sudden changes are always the best sign that something is not quite right.
If you have a golden retriever, it is also a good idea to clean their ears regularly.
Because their ears flop down and lay close their ear canal, they create the prime breeding grounds for bacteria.
If your dog seems prone to developing these infections, it is also important to maintain a diet that is limited in the ingredients – sugars and starches – that aggravate yeast growth.
Do you have experience dealing with canine yeast infections?
Share your experiences and advice with the community in the comments section below.