Updated: July 11th, 2022
This article contains affiliate links. Read the full disclosure here.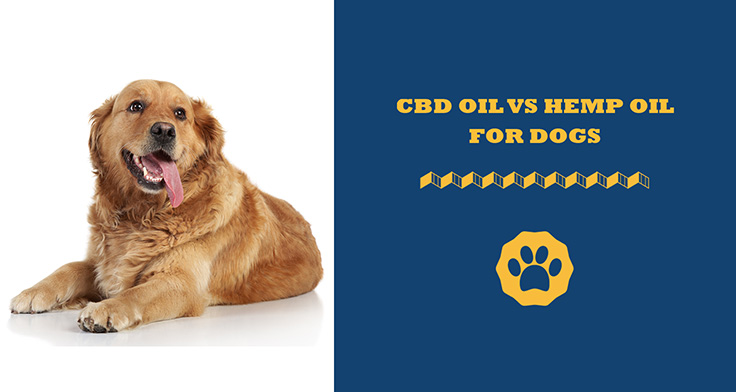 CBD and hemp oil are all-natural treatments that are both suitable for dogs. These two oils contain compounds that assist with a wide range of medical conditions canines commonly suffer from. To assist you, I've provided a full CBD oil vs hemp oil for dogs comparison so you can see how each product is made and the benefits they offer.
The comparison will help you choose the right product based on what your dog needs. Hemp oil may not be potent enough for some dog breeds, so you'll need CBD oil instead. Alternatively, you may only need a mild hemp oil for your dog to promote healthy skin and coat.
In this post, I've provided information on the top hemp and CBD oil products on the market, as well as a buyer's guide so you can learn more about these products. Keep reading to find out more!
Comparison Table
| | | | |
| --- | --- | --- | --- |
| | | | |
| | | | |
| | | | |
| | | Stress and joint discomfort | |
| | | Inflammation, skin allergies and joint discomfort | Omega 3,6 and 9 with vitamin C and E |
Our Winner
In the table above, I've provided two CBD oils and two hemp oils.
For dogs that suffer from anxiety and stress during fireworks or thunderstorms, I highly recommend King Kalm CBD oil. This product has 600mg of pure CBD extract as well as krill oil and DHA. It comes in a 30 ml bottle, and you get a syringe with the product to make it easier to administer the right doses.
This CBD oil for dogs has additional benefits such as promoting healthy skin and coat. Dogs that suffer from chronic inflammation and digestive problems will also benefit from this CBD oil.
On the other hand, if you want a more potent CBD oil, we recommend the 300 ml full-spectrum CBD oil, which is ideal for dogs that suffer from arthritis and discomfort.
For dogs that suffer from skin allergies or stress, choose the broad spectrum hemp oils on the list.
Rating Criteria
Main Differences
Benefits Of Hemp Oil vs CBD For Dogs
What The Oil Is Used For
Oil Spectrums
Administering Doses
CBD vs. Hemp Oil For Dogs Buying Guide
People may use the terms "hemp oil" and "CBD oil" synonymously, but the two products are not the same. In this section, I'll explain the key differences between the two oils and what their benefits are. I've also provided information on what you can use the two oils for and how to administer doses.
Main Differences
What Is Hemp Oil?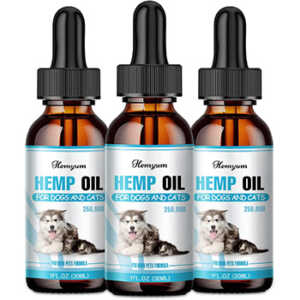 The main difference between hemp and CBD oil is how the product is extracted from the cannabis plant. Hemp is extracted from the seeds of the cannabis plant. Pet owners may be skeptical about using a product for their dogs if it comes from a cannabis plant. This is because cannabis contains THC, which is a psychoactive compound. 
However, it depends on how the oils are extracted from the plant. Hemp oil contains no THC compounds because they've been removed during the extraction process. Only the beneficial compounds are left after extraction in hemp oil formulas such as omegas.
What Is CBD Oil?
CBD or cannabidiol is extracted from the flower of the cannabis plant and formed into a powder. Manufacturers take this powder and dissolve it into a carrier oil. The CBD that's extracted from the cannabis plant is more potent compared to hemp because it may contain traces of THC. 
However, there can be no more than 0.3% of THC in a bottle of CBD oil, which isn't enough to make your dog high. These traces of THC can work as a sedative, which is ideal for hyperactive dogs or canines that have anxiety. Dogs that suffer from anxiety can also benefit from calming dog treats that contain hemp or CBD oil.
Benefits Of Hemp Oil vs. CBD For Dogs
Hemp Oil Benefits
Hemp oil is less potent than CBD and is used to improve your dog's skin, coat, and digestive system. This type of oil contains high traces of omega and Gamma Linolenic Acid, which are ideal for lowering your dog's cholesterol and the risk of heart diseases. The oil can also be used as a mild solution for dogs who suffer from stress.
A bottle of organic hemp oil is best for all dog breeds and sizes including puppies. Since this type of oil is mild, it's safe to administer to your dog every day as a healthy natural supplement. On the other hand, hemp oil wouldn't be suitable for dogs that have cancer or severe arthritis, so in that case, you'll need something more potent.
CBD Oil Benefits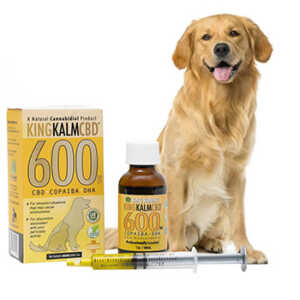 CBD oil for dogs is more potent compared to hemp extracts, so it's ideal for dogs who suffer from:
Severe anxiety
Seizures
Cancer
Arthritis
Digestion problems
Joint discomfort
While the oil can't cure cancer, it can be used to support anti-tumor medications and provide pain relief. CBD is also best for noise aversion during loud fireworks or thunderstorms. In addition, you may find CBD can help dogs with hip dysplasia.
What The Oil Is Used For
CBD and hemp oil are both used to improve a dog's overall health and comfort, but you can buy products specific to your dog's needs. For example, there are specific hemp oils for skin and coat and there are others for allergies and inflammation. There are CBD oils specifically formulated for dogs who suffer from arthritis and others are for separation anxiety and depression.
Both types of oil products will specify on the label what the product is best for. It's important to choose the right oil for your dog's needs because the oil may only contain ingredients to help with a specific ailment.
For example, if your dog has problems with inflammation, you'll need a CBD or hemp oil that contains omegas 3, 6 and 9. If you want an oil for skin allergies, pick an oil that contains Gamma Linolenic Acid.
The benefit of CBD and hemp oil products is you can find a full list of ingredients on the labels. This helps you choose a product that has components to help with specific ailments.
Oil Spectrums
There are four types of CBD and hemp oils you can buy for your dog that contain various components such as CBD, THC, and CBN. Some oils may contain all three components, and some may only contain one. Here are the spectrums to choose from.
Isolate
CBD or hemp isolate is when manufacturers remove all the cannabinoids and terpenes so there are no traces of THC in the oil. The product still has all the benefits of a CBD oil, but the psychoactive ingredients have been removed. CBD isolate is ideal to administer to your dog for general health purposes such as alleviating skin allergies or assisting with digestion.
Full Spectrum
Full spectrum CBD oil has multiple extracts from the cannabis plant, including terpenes, essential oils, and cannabinol. This oil also contains traces of THC but not enough to make your dog feel intoxicated. Experts suggest that CBD oils are more beneficial when they contain all compounds of the cannabis plant. 
A high-quality, organic full spectrum CBD oil is beneficial for dogs who suffer from pain, mobility problems, and separation anxiety. It's also ideal for dogs that have different types of cancer.
Broad Spectrum
Broad spectrum CBD oil has the qualities of both full and isolate products. The oil contains various compounds including terpenes such as cannabinol, limonene, pinene, and extracts such as cannabichromene. Most broad spectrum CBD products don't contain THC, but there are products that can have trace amounts.
Essentially, broad spectrum has all the powerful medicinal properties of the cannabis plant but without the THC. This type of CBD has a wide range of health benefits for common health problems dogs suffer from. It can promote healthy skin, relieve pain, reduce anxiety, and help with sleep.
Superior Broad Spectrum
Superior broad spectrum CBD or hemp oil is a new standardized formula that uses precise measurements of pure cannabidiol, cannabigerol, cannabinol, and terpenes. This type of CBD oil is specifically formulated to be conscious of your dog's needs and to keep the product free from any traces of THC.
Administering Doses
Every bottle of hemp or CBD oil you buy will have instructions on the label for how much of the product to administer to your dog. The doses will depend on the milligrams of CBD in the oil and your dog's weight.
Most CBD or hemp oils come with a dropper, but if the bottle doesn't come with a dropper,you can use a syringe to draw the oil out of the bottle. A syringe may be useful if you want to administer exact doses.
The advantage of CBD and hemp oil for dogs is that you can administer doses in different ways such as:
Direct oral application
Pouring the oil over food or snacks
Dropping the oil into your dog's water bowl
If you're administering CBD or hemp oil for pain or anxiety relief, most products will take between 30 and 45 minutes to take effect.
FAQs About CBD And Hemp Oil For Dogs
How is hemp oil and CBD oil for dogs made?
Hemp and CBD are both extracted from different parts of the cannabis plant. CBD is taken from the leaves, stems, and flowers of the plant and then made into powder form. The powder is then diluted with a carrier oil such as krill oil.
To make hemp oil, compounds are extracted from the seeds of the cannabis plant, and then they are cold-pressed into an oil, similar to how olive oil is made.
Can CBD and hemp oil help dogs with separation anxiety?
Yes, CBD and hemp oil can help dogs with separation anxiety, but it will depend on the type of oil you choose. The best hemp or CBD oil for separation anxiety is full-spectrum products. These may contain up to 0.3% of THC, but it's not enough to make your dog high. Full spectrum CBD oil is used as a mild sedative to keep your dog calm during stressful situations.
Are CBD and hemp oil safe for dogs?
Yes, CBD and hemp oils are safe for dogs, but it's important to buy products that are specifically formulated for pets. CBD and hemp oil for humans may contain products that are not suitable for dog consumption. Always look for a pet-friendly hemp or CBD oil.
Additionally, you should consult your vet before giving your dog CBD or hemp oil in case there are ingredients that your dog is allergic to. CBD oil is an organic medicine that contains no preservatives, artificial colorants or flavorings. This makes the product safe for dogs.
What can CBD and hemp oil help with?
CBD and hemp oil provides a wide range of health benefits for your dog. It can improve your dog's coat and skin, reduce anxiety, promote healthy teeth and gums, and improve mobility. Most CBD and hemp oil products will have specific labels to show what the oil is best for.
CBD Oil vs. Hemp Oil – Recommended Products
If you don't want to give your dog pharmaceutical medication, CBD or hemp oil can be a good alternative. CBD and hemp oils for dogs are easier to administer and have various compounds such as omegas, vitamins, and Gamma Linolenic Acid. Simply choose a CBD or hemp oil that's specifically formulated for dogs.
We recommend King Kalm CBD Oil if your dog suffers from anxiety. Alternatively, choose Hemyum Hemp Oil for a wider range of health benefits.
If you have any comments or first-hand experiences with CBD or hemp oil for dogs, please post them below or share your pictures via our social media.