Updated: June 28th, 2023
This article contains affiliate links. Read the full disclosure here.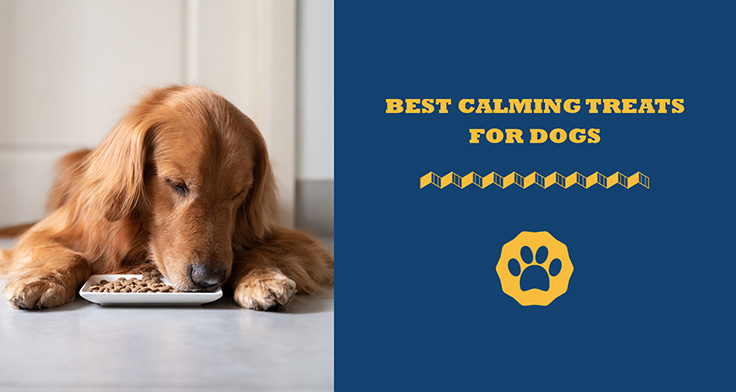 Similar to humans, dogs suffer from anxiety, stress, and hyperactivity. They may feel anxious when there are fireworks or when you leave them alone for too long. If your furry friend experiences stress for any reason, you need the best calming treats for dogs. But there are different types of treats to choose from, and there are some snacks your dog may not like.
To help you find the right calming treats, we've reviewed the top five products on the market. In each review, we've listed key features as well as pros and cons to consider before buying. Keep reading to find a treat that will help relieve your dog's anxiety or stress.
AT A GLANCE:
OUR TOP 5 Best Calming Treats For Dogs
IMAGE
PRODUCT

Best Overall

Best Overall

No sedatives
Chicken flavor
No GMOs

CHECK PRICE →

Best Value

Best Value

Contains melatonin
No synthetic colorants
Supports periodontal health

CHECK PRICE →

Best Budget Buy

Best Budget Buy

Contains melatonin
90 day supply
NASC Certified

CHECK PRICE →

Best For Puppies

Best For Puppies

With melatonin and chamomile
Smoked chicken flavor
Contains sensoril

CHECK PRICE →

Best For Picky Eaters

Best For Picky Eaters

Peanut butter flavor
Contains hemp and chamomile
Supports dental health

CHECK PRICE →
Best Calming Treats For Dogs Reviews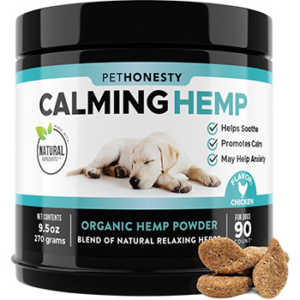 If you're looking for a safe dog anxiety treat, PetHonesty's Calming Hemp Chews is the product to buy. It has no GMOs, wheat, soy, corn or harsh preservatives that could negatively affect your dog. The treats come in various sizes for small and large dogs. Additionally, they're formulated for puppies, adult, and senior pups.
Key Features
Natural herb ingredients
90 chews in a jar
GMP compliant
Takes effect in 30 to 45 minutes after eating
PetHonesty Calming Hemp Chews are made with natural ingredients such as organic hemp and chamomile. These ingredients help keep your dog calm during stressful situations such as crowds or trips to the vet. There are no sedatives in these calming treats so your dog won't feel drowsy or become unresponsive.
Pros
Easy to administer
For dogs of all sizes and ages
Comes in a resealable container
Cons
Dosage may not be strong enough for some dogs
Some dogs may not enjoy the flavor
These hemp chews come in a tight container to prevent the treats from spoiling or hardening. What's more, the treats are soft so they're ideal for pets with sensitive gums. Simply give your dog a treat if you notice signs of stress.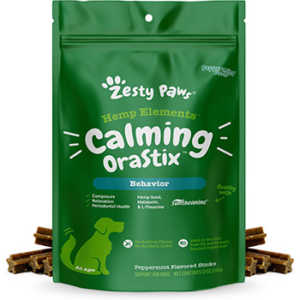 Zesty Paws make the best calming treats for dogs with separation anxiety. So before you leave the house, give your pup the recommended dosage and they should relax your pet within 30 minutes. These are stick treats that contain natural ingredients such as valerian root, hemp seed, and chamomile.
Key Features
12oz bag
For dog between 25-75lbs
Peppermint flavor
Each stick contains Suntheanine
Keeping your pet calm isn't the only benefit these treats provide. They also contain rosemary extract to promote periodontal health. The peppermint flavor may also help dogs that have bad breath.
These stick treats help dogs that are hyperactive. So if your dog never stops with the zoomies, you could administer one stick to help keep your pet relaxed.
Pros
Contains natural ingredients
Supports dental health
Freshens your dog's breath
Contaminant-free
Cons
Your dog may not like the peppermint flavor
May not work for dogs over 75lbs
Zesty Paws Hemp Chews are easy to administer and they're soft enough for puppies to chew. You'll also be happy to know that the treats contain no grains, soy, or corn, which makes them safe to give to dogs who suffer from allergies.
The NaturVet Quiet Moments Chews come in five sizes of 70, 180, 240, 140, and 360 per package. The 180-count container is a 90-day supply, so if you buy the bigger container it will last you longer. These are all natural calming dog chews with a blend of thiamine and L-Tryptophan to help reduce tension.
Key Features
Includes chamomile
Takes effect in 30 minutes
13.9oz
For dogs of all sizes
90-day supply
NaturVet makes the best dog anxiety treats for canines over the age of 12 weeks. One of the main ingredients is ginger, which is helpful for dogs with sensitive stomachs. The chews can be administered to your dog 30 minutes before traveling to the vet. They also work to keep your dog calm during fireworks or thunderstorms.
Pros
Comes in 5 different sizes
Suitable for puppies
Soft chews ideal for sensitive gums
Promotes rest and relaxation
Cons
Not ideal for pregnant dogs
May not be used with other sedatives
The brand isn't transparent about the flavor of the chews. If you have a picky eater, you may have some trouble administering doses. On the other hand, these calming chews are ideal for dogs of all sizes and ages above 12 weeks.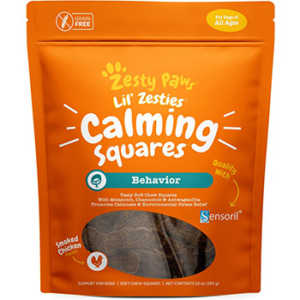 Zesty Paws makes the best anti-anxiety dog treats for canines of all sizes. The brand's Lil Zesties Calming Squares have a natural chicken flavor your pet will enjoy. These chews are also soft so they're ideal for dogs with sensitive gums.
Key Features
10oz bag
For dogs 25lbs to 50lbs
Grain-free
Lil Zesties chews have special ingredients such as chamomile, passionflower, and sensoril to help with tension, anxiety, and hyperactivity. They work to keep your pet calm during separation, fireworks, thunderstorms, or car rides. These chews are specially formulated for puppies.
Pros
Soft chews for sensitive gums
All natural ingredients
No artificial colorants
Easy to administer
Cons
Not for pregnant dogs
May not work for bigger dog breeds
The Zesty Paws treats are free from potentially harmful ingredients such as soy, corn, and preservatives. They come in small squares so they are easy to administer to puppies who have smaller mouths. And lastly, these chews are ideal for dogs with sensitive stomachs.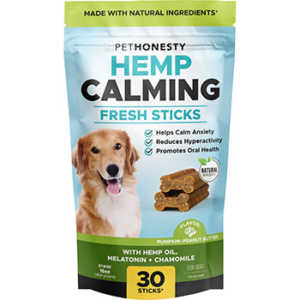 PetHonesty makes the best anxiety chews for golden retrievers. These treats are in stick form and have a delicious natural peanut butter flavor your dog will love. What's more, the treats contain active ingredients such as valerian root and hemp that help to support your dog's mental well-being and to keep your pooch calm in stressful situations.
Key Features
30 sticks in a bag
16oz weight
For dogs between 1-75lbs and above
For pet owners who struggle to get their dogs to take medicine, you'll find that administering PetHonesty's hemp sticks is easy. These chews come in small sticks that are soft, which makes them ideal for dogs with sensitive gums.
Pros
Ideal for dogs of all sizes
Contains no chemical preservatives
Brushes off plaque to promote excellent oral health
Contains natural ingredients
Cons
Not all dogs will like the flavor
May not work for all dog breeds
The PetHonesty hemp stick chews are easy to digest and should work within 30 minutes of administering the treat. These treats contain no chemicals or harmful preservatives so they're safe for puppies and adult dogs alike.
Best Calming Treats For Dogs Buying Guide
Now that you have a choice of five quality calming treats for dogs, how do you choose the right product for your own furry friend? In this comprehensive guide, we've provided valuable information on how to choose the right dog chews for anxiety, stress, or hyperactivity.
Does Your Dog Have Anxiety?
Before you decide to buy calming treats for your dog, you should first determine if your pet has anxiety or stress. If your dog shows the following signs, he or she may suffer from anxiety:
Panting or pacing even when it's not hot
Excessive chewing or licking
Cowering in the corner when there are loud noises
Barking or howling when you leave the house
Shivering even when it's not cold
An inability to settle down
Not eating
If you're still not sure whether your pet has anxiety, you can visit your vet for a full diagnosis. Additionally, if you don't want to use pet pharmaceuticals you can use the best anxiety chews for dogs on the market with natural ingredients. You want to feed your dog foods that won't cause stomach or dental issues.
Types Of Dog Calming Treats
For most pet owners, administering medication can be difficult. The best way to get your dog to take medication is by offering it in the form of a treat. Here are the different types of dog calming treats you can get.
Hemp Or CBD Treats
Hemp and CBD are found in the cannabis and hemp plants. The CBD and hemp used in dog treats don't have psychoactive compounds because they've been removed. During the extraction process, only the beneficial compounds are left behind These compounds keep your dog calm and relaxed. Hemp or CBD treats can calm your pet during thunderstorms, separation, fireworks, and car rides. Read more about the use of CBD for dogs with anxiety.
Bone Treats
There are bone treats infused with calming medication for your dog. These treats are ideal for dogs that chew when they get nervous. Some bone treats are simply shaped into bones using natural ingredients, which is safer for dogs. The bone treats are soft so they won't cause mouth injuries.
Peanut Butter Treats
Some dogs love the taste of peanut butter. So brands such as PetHonesty have made calming pet treats with natural peanut butter flavoring, which is ideal for picky eaters. Peanut butter treats are soft biscuits that are easy for dogs to chew so they may be better for canines with sensitive gums.
Stick Treats
Stick treats can come in different flavors such as chicken or peanut butter. They are harder and denser than biscuits, which helps keep your dog's teeth clean. Sticks can be made with various natural ingredients such as hemp, chamomile, or ginger. They work the same as any other calming dog treat but may be more suitable for bigger dogs such as German shepherds or golden retrievers.
The Benefits Of Calming Treats For Dogs
The reason pet owners choose to administer calming treats to their dogs is that they have natural ingredients with no added preservatives or harmful colorants. Some treats also promote teeth, coat, and gut health. Calming treats are also easier to administer and there are different ones for various issues such as:
Hyperactivity
Stress
Depression
Sleeplessness
Separation anxiety
You can also use treats to train your dog to sit or do tricks. This is an ideal way to get them to accept their calming treat.
What To Consider When Buying Calming Treats
When buying calming treats for your dog there are factors to consider which include:
Size of your dog: Find a calming treat specific to your dog's weight. You may have to administer two or more treats to bigger dogs depending on the medicinal milligram content in each treat.
Dog breed: Some calming treats may not work for certain dog breeds. You may need to consult your vet to see which treats would work best for yours.
Flavors: If your dog is a picky eater, you'll want to find a calming treat your pet will enjoy. Try different flavors such as beef, chicken, lamb, or turkey. If those don't work, try a peanut butter-flavored treat.
Ingredients: There are ingredients such as soy, wheat, and corn that can be harmful to dogs especially if they have an allergy. You want to buy a calming treat that's packed full of beneficial nutrients and natural ingredients.
FAQs
Are calming treats safe for dogs?
Yes, calming treats are safe for dogs if you choose treats that have natural ingredients and don't contain harmful chemicals or colorants.
Are calming treats safe for puppies?
Yes, there are calming treats that are specifically formulated for puppies. These treats have ingredients that have additional benefits such as promoting a healthy gut or oral care. Brands such as PetHonesty and Zesty Paws make calming treats for puppies.
Do calming treats for dogs really work?
Yes, calming treats for dogs do work, but you have to ensure you're using the right product. Some dog treats don't work for all breeds. So you may have to find a product that works for your dog. Additionally, some treats take 30 to 45 minutes to take effect so that's something to consider.
Final Thoughts
Calming treats for dogs should be free from artificial flavoring and colorants. They should contain ingredients that keep your dog calm without making them drowsy or unresponsive. The best calming treats for dogs are easy to chew and have a flavor they'll enjoy. Use this review and guide to find calming dog treats that will work for your pup.
If you have any comments or first-hand experiences with calming treats for dogs, please post them below or share your pictures via our social media.