Updated: October 19th, 2022
This article contains affiliate links. Read the full disclosure here.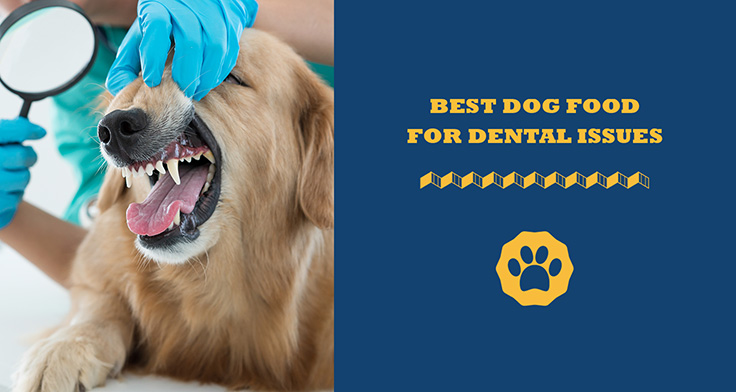 Many dogs suffer from serious dental issues. This means chronic bad breath and consistent plaque and tartar buildup that weakens their teeth over time and can cause serious problems. But did you know changing your dog's food can help treat these problems? In this article, we will recommend the best dog food for dental issues.
Vets actually recommend that dogs have their teeth brushed every day, but I don't know many pet parents who actually do that. Dental chews are an alternative that can extend the time between brushes by cleaning your dog's teeth through friction, but they have their limits.
If your dog has problem teeth that are causing them pain, then your vet will probably recommend a wet food that is easier for them to chew. However, if they have ongoing or chronic dental issues, they may recommend a special dental health dog kibble.
These foods combine kibble that is specially shaped to scrub your dog's teeth along with ingredients designed to deal with the bacteria in the digestive system that is responsible for bad breath and tartar build-up. These are the dog foods that we'll be recommending today.
At the end of this article, we will also introduce you to Bark Bright, a new dental chew that combines traditional chewing friction with an innovative toothpaste.

AT A GLANCE:
Our Best Dog Foods For Managing Dental Health
Best Dog Foods For Dental Care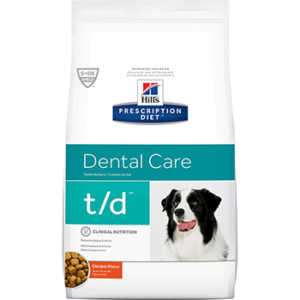 This prescription dog food combines a unique shape and fiber matrix designed to create friction against your dog's teeth to clear away plaque and a recipe that rights the bacteria that causes plaque and bad breath. This is ideal for dogs that have chronic bad breath.
Key Features
Dry dog food
14% Protein
12% Fat
12.5% Fiber
248 calories per cup
The die-shaped pieces of kibble rub against the teeth and utilize a fiber matrix that is clinically proven to reduce plaque and tartar all the way to your dog's gum line. The recipe also contains ingredients that are designed to kill bad mouth bacteria and promote a urinary environment that reduces the presence of struvite and calcium oxalate crystals in the mouth.
Overall, the food offers a healthy recipe that is low in calories and has acceptable if not outstanding levels of protein. It is high in fiber as part of promoting a healthy digestive system. It uses chicken by-product meal as its main protein, which is not ideal, but it keeps costs down, and it is reinforced with pork fat. It is highly recommended by vets for dogs with dental issues.
Pros
Relatively affordable
Cleans teeth and gums while your dog eats
Addresses digestive issues that can affect teeth
Low in calories
Vet recommended
Cons
Does not use a named meat as its first ingredient
Could be higher in protein
If your dog has chronic bad breath and it feels like nothing works for them, this recipe could be the answer. It both cleans their teeth and deals with the underlying issues that may be causing bacteria in the mouth.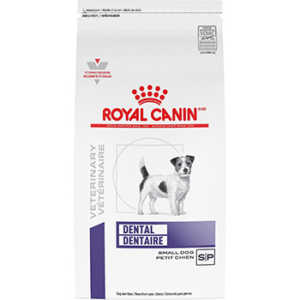 This vet-recommended dog food is specifically for smaller dogs, though they also make a version for large dogs. Again, it uses a combination of kibble-shaped pieces to scrub teeth and a recipe to kill the bacteria that creates mouth problems in the first place.
Key Features
Dry dog food
20% Protein
15% Fat
4.8% Fiber
330 calories per cup
The kibble shape removes plaque and tartar as it rubs against the teeth and will work all the way up to your dog's gum line. It also has added nutrients to dilute urine. This helps reduce the formation of crystals in the bladder, which end up in the mouth creating dental issues. It also contains calcium and phosphorus for healthy teeth in general.
The recipe is made from a chicken by-product meal reinforced with chicken fat. While we like to see a named meat or at least a named meat meal as the first ingredient, Royal Canin procures this from trusted sources. It is relatively expensive for dog food, but it delivers a good nutritional balance for a kibble with 20% protein.
Pros
Cleans your dog's teeth with no brushing
Deals with urinary issues that can affect the teeth
Quite high in protein for a kibble
Vet recommended
Cons
Does not use a named meat as the first ingredient
Relatively expensive
If you want something to help a dog with ongoing dental and breath issues but you also want a kibble that looks a lot like their existing diet, then Royal Canin is an excellent choice.
Purina also makes a dry food recipe designed specifically for dental health. Again, it combines a unique crunchy kibble texture that "brushes" the teeth with a recipe designed to minimize the bacteria that causes dental issues.
Key Features
Dry dog food
25% Protein
14% Fat
5% Fiber
329 calories per cup
This formula uses the same combination of friction and ingredients designed to kill dangerous bacteria to keep your dog's mouth clean, but with an appealing underlying recipe for canine health.
Unlike the other two recipes that we have reviewed, this food starts with chicken and chicken meal as its main sources of protein, suggesting that your dog will get higher quality protein. The result is 255% fiber, which is relatively good for any dry dog food. However, all that goodness inside means it is relatively expensive as well.
Pros
Named meat as first ingredient
High in protein
Cleans your dog's teeth as they eat
Vet approved
Cons
Relatively expensive
Less detailed information available about the food
If you want to care for your dog's mouth but don't want to compromise on a high protein diet, then this Purina formula might be the right choice for you.
Buying Guide: Dog Food For Dental Care
If you have a dog with sore teeth and gums, your vet will probably recommend that you feed them wet dog food for a while. This is much easier on their mouths and won't aggravate any pain that they are already suffering.
But if you have a dog with chronic bad breath and dental issues, they are probably going to recommend a kibble, as these can help clean your dog's teeth through friction.
However, not all kibbles are created equal in this regard. Dog foods specially formulated for dental care will have specially-shaped kibble pieces designed to give extra friction and work all the way up to your dog's gums rather than just the lower half of their teeth.
Good options will also contain ingredients designed to control the bacteria that cause issues in the mouth. It is actually normally crystals that form in the bladder that push the unwanted bacteria up to the mouth and cause bad breath and tartar. Dental dog foods will dilute the urine, ensuring that these crystals cannot form. They are also high in protein to aid digestion.
Getting the recipe right for dental often means making sacrifices elsewhere. Dental-specific kibbles are often lower in protein than other good quality foods, and they may use less expensive protein sources to help keep the prices of these more expensive recipes down.
When considering your dog's health, it is a question of how bad your dog's dental health is if you want to change their diet completely to manage the problem.
What Are The Alternatives?
If you don't want to change your dog's diet completely to manage their dental health, and you also know you won't be able to manage daily brushing (check out our top recommended dog toothbrushes), then dental chews are a great alternative.
You can give them to your dog as a treat and they use friction to clean teeth and other ingredients to kill odors. However, they cannot deal with the urinary issues further down the line that can be the underlying source of bad breath and tooth decay.
We have reviewed the best dental chews in the past, and you can find our guide to choosing great dental chews for dogs here.
But since then, BarkBox has released a new dental chew subscription program that is a market that is worth looking at in detail because it is excellent! This brings us to our 5th product listed here: BarkBox Bright Dental chews.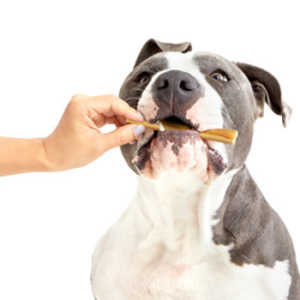 BarkBox Bark Bright Dental chews go beyond standard dental chews by combining the friction of the chew with the powerful cleaning agent of triple-enzymatic dog toothpaste.
Their product is easy to use. Daily, grab a chicken-flavored dental chew and squeeze the equally tasty toothpaste into the groove along the side of the chew. Give the chew to your dog to enjoy, and the stick uses the paste to scrub your dog's teeth clean.
Key Features
Chicken-flavored chews
Dog toothpaste tastes great and protects your dog's teeth
Subscription comes out to around $1 per day
This product works on a subscription service that will cost you around $1 per day for a dental chew. But the company also recognizes that all pups are different and offer a full money back guarantee if these chews just don't work for your dog.
The dental chews come in three sizes for small dogs under 20 pounds, medium dogs from 20 to 50 pounds, and large dogs weighing over 50 pounds.
Pros
Affordable
Easy to use
Tasty for dogs
Effective cleaning
Cons
Added calories to your dog's diet
If you have tried dental chews in the past and they haven't been that effective, then this could be the product that you are looking for to keep your dog's mouth clean without manual brushing.
Read our guide on caring for Golden Retrievers, including their teeth.
FAQs About Your Dogs' Dental Health
How can I improve my dog's dental health?
You can improve your dog's dental health by brushing their teeth every day like you do your own to prevent plaque buildup. If they have chronic bad breath, consider a special diet that is designed to kill the bacteria in their digestive system that causes bad breath.
Do carrots clean dogs' teeth?
Chewing against friction causing objects can help clean your dog's teeth, and yes, carrots definitely count. This cannot be a replacement for regular brushing, though it can extend the time needed between brushes.
How can I tell if my dog's teeth are rotting?
Often the first signs that your dog has dental issues are bad breath, a loss of appetite as they have difficulty chewing, and unusual drooling or dribbling.
The Verdict
While there are lots of different ways to care for your dog's teeth, the fact that it needs to be a daily practice is fundamental. Your best approach depends on what exactly is happening with your dog's mouth!
If they suffer from chronic bad breath and tartar issues, then you need to deal with the underlying cause, and not just mask the bad breath. This often means a fundamental change to their diet to fight the culprit bacteria.
Several dog foods have been developed specifically for this purpose, and we have recommended three of the best in this article.
If your problem is more that you can't face brushing your dog's teeth every day, then you might want to try BarkBox Bright dental chews with doggy toothpaste to do the job for you.
What are your top tips for doggy dental care? Share them with the community in the comments section below.