Updated: October 14th, 2020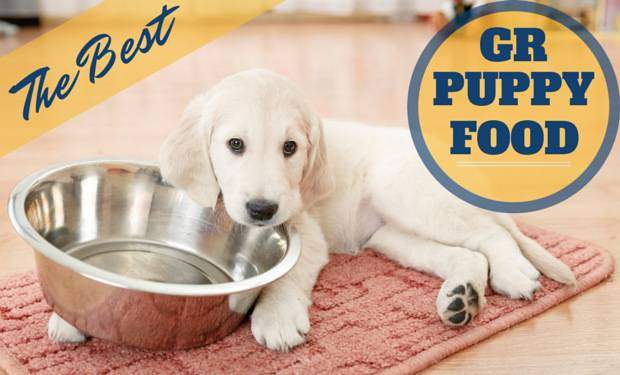 There are many things that impact the health of your puppy, some controllable, some not.
One major contributing factor is nutrition. In fact, proper nutrition can impact nearly every aspect of your puppy's health. Luckily, this is something you have total control over. (Though many a Golden has served himself from the trash!)
Finding the right kind of food for your puppy can be a daunting task, so we've done some research on your behalf.
Read on to learn about feeding, nutrition, and some of the best brands of dog food on the market.

AT A GLANCE:
Our Top Puppy Food For Golden Retrievers
An Overview of the Best Puppy Food for Golden Retrievers
We highly recommend looking at the comparison table we have below where we highlighted the features of each product.
IMAGE
PRODUCT

Premium ingredients
Meets your puppy's dietary needs
Correctly portioned

50% Off First Order

Easy to store
Added vitamins and fish oil for healthy skin
Human-grade ingredients

CHECK PRICE →

Convenience of dry food
Premium nutrition designed just for large breed puppies
Small, puppy-sized kibble chunks

CHECK PRICE →

Contains real freeze-dried raw meat
Added probiotics and antioxidants
Made in the USA

CHECK PRICE →

Priced a touch lower per pound than some other premium pet foods
Contains all-natural ingredients
High-fiber recipe

CHECK PRICE →
*The above links lead to current prices and customer reviews on Chewy.
Carry on reading to discover why we made these choices, and lots of tips and buying advice to ensure you get the right product.
Top 7 Best Puppy Food for Golden Retrievers: Reviews
This list is based on recommendations found around the Internet, among the Golden Retriever community, and the personal experience of we here at Totally Goldens.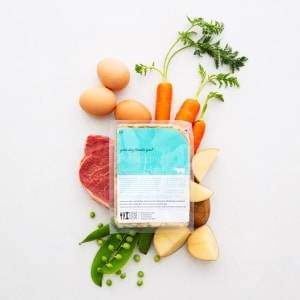 Get 50% Off First Order
If you've ever wondered about feeding your Golden Retriever a fresh diet but you dislike the idea of raw food and the dangers that can come with it, then you're definitely going to want to take a look at what Nom Nom has to offer.
The nutrition (and fun) begins when you choose which food you'd like to give your dog. There are several recipes to choose from, all developed by veterinary nutritionists and cooked at Nom Nom's on-site kitchen using fresh, restaurant-quality whole-food ingredients.
Food is portioned based on your dog's unique profile including age, weight, and any goals such as weight loss. You get a free consultation with a veterinary nutritionist when you order, so your golden gets exactly the right nutrients.
Once your dog's weekly menu is ready, food is sealed into single-serving packages, after which it is delivered to your home under refrigeration for optimal freshness. Just like your own fresh food, you keep your dog's meals in the freezer or refrigerator until mealtime. Simply open a pack, serve it up, and watch your pet enjoy every morsel. You can choose a single favorite, or treat your dog to variety packs.
Convenience isn't all this food has to offer. Like other brands that made it onto our list of the best food for Golden Retrievers, Nom Nom provides healthy meat-based protein, with no weird byproducts or questionable preservatives.
The carbohydrates are all easy to digest, with sources including potatoes, sweet potatoes, brown rice, carrots, green beans, and other healthy veggies in each recipe.
Every recipe is finished off with an expertly formulated nutrition blend that includes fish oil so your golden retriever's coat stays soft, beautiful, and healthy.
Pros:
Suitable for all life stages from puppies to seniors
Real restaurant-quality ingredients, no nasty byproducts or potential toxins
Fresh food based on your dog's unique needs
Developed by a veterinary nutritionist, all recipes include an expertly formulated nutrition blend plus fish oil for healthy skin and a soft, beautiful coat
Delivered weekly in convenient single meal portions
Cons:
Cost is above market average.
Naturally, there are many other excellent choices on the market, and not every brand is available to every consumer.
With that in mind, here are few additional recommendations: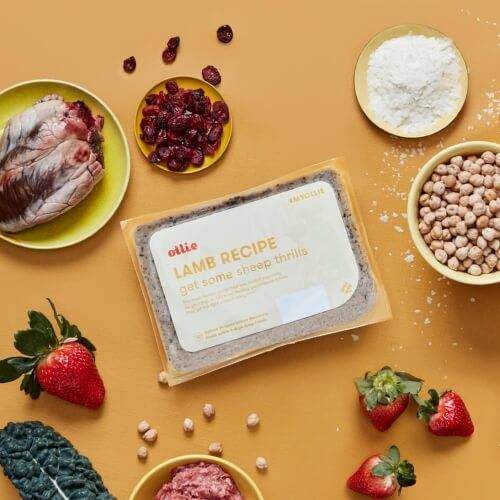 Get 50% OFF Your First Box of Ollie
Your puppy deserves a great start in life and that's why we've gone to great lengths to find the very best food for golden retriever pups. We had an awesome list to begin with, and we've found yet another food to put on your shortlist: Ollie.
Ollie is fresh, slow-cooked dog food made with real, human-grade ingredients and shipped straight to your door once per week. You get a special scoop designed just for your pup so that you can treat them to the exact serving size they need.
Not only is this food convenient, it's also designed for all life stages, so you never have to switch your puppy's food as they get older. There are quite a few recipes to choose from including chicken, lamb, beef, and more. Most are grain-free, perfect for sensitive stomachs, and none of them have questionable ingredients that might not be good for your puppy. Healthy carbohydrates come from veggies like squash, sweet potatoes, peas, carrots, kale, and more, and a few recipes even include tempting berries to up the antioxidant level and treat your dog to interesting flavors.
Ollie fresh dog food has an outstanding nutritional profile thanks to added vitamins, minerals, and tasty, healthy extras like natural fish oil, so your puppy grows at the proper rate and every body system develops as nature intended.
Pros:
Superb nutrition designed just for your dog by veterinarians.
Choose the right recipe by creating a profile just for your puppy.
Delicious tastes, dogs never get bored.
Human-grade ingredients sourced from America and Australia, food is fresh-cooked in New Jersey and delivered weekly.
Portion scoop included so your puppy gets exactly the right amount at every meal.
Cons:
Priced above average market cost
Must have a subscription
Blue Buffalo has an outstanding reputation as one of the best pet food companies on the planet, and their large-breed puppy food is ideal for Golden Retriever pups. This premium puppy food is high in protein, and it's grain free, with no corn, so, or wheat to cause potential issues.  It has added DHA to help ensure healthy brain development, and it has added phosphorus and calcium to aid in healthy bone development. Premium deboned chicken and turkey meal protein helps build lean, strong muscles, and an antioxidant blend made with cranberries, blackberries, and blueberries helps support your puppy's developing immune system.
Complex carbohydrates are sourced from potatoes and sweet potatoes, along with carrots that double as an additional source of antioxidants. Added Omega-3 and Omega-6 fatty acids help keep your pup's skin healthy and ensure a shiny, healthy coat with a soft feel.
Chicken, chicken meal, and turkey meal are the key sources of protein in this formulation, and egg also contributes.
Other notable ingredients include:
Peas
Chicken fat
Potato
Flaxseed
Chelated minerals
Pros:
Convenience of dry food
Small, puppy-sized kibble chunks
Premium nutrition designed just for large breed puppies
Cons:
May need to be moistened for smaller puppies to handle
Protein comes from chicken and turkey meal, not whole meat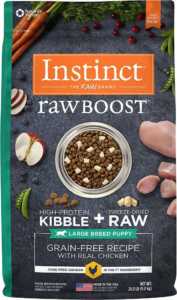 Nature's Variety Instinct Raw Boost large breed puppy food stands out for its inclusion of freeze-dried raw meat, which provides a unique blend of nutrients. Other healthy ingredients include carrots, apples, cranberries, blueberries, and salmon oil, along with a blend of nutrients to support healthy growth.  Omega 3 and 6 fatty acids and biotin help support healthy skin and coat development, and natural, grain-free carbohydrates provide a source of ready energy.
This recipe is perfect for puppies with potential allergies to grains. Like many of the best large breed puppy foods on the market, Nature's Variety Instinct Raw Boost is free from GMO ingredients. There's no need to worry about switching to a different food if you choose this one; it's suitable for all life stages.
The unique feature of these blends is the combination of dry kibble with freeze-dried raw meat.
Protein is provided by chicken meal, raw chicken, freeze-dried chicken, freeze-dried turkey, and salmon meal.
You'll also find:
Peas
Eggs
Chicken fat
Salmon oil, a great source of Omega-3
Chicory root
Apple cider vinegar, which seems to have many health benefits, including reducing blood sugar levels
Pros:
Contains real freeze-dried raw meat
Added probiotics and antioxidants
Nothing artificial
Made in the USA
Cons:
Priced higher than most other premium puppy foods
Dr. Tim's premium grain-free dog food has been specially formulated to support all life stages, from puppy to senior. It is formulated with the ideal blend of fat, fiber, protein, and carbohydrates to support healthy digestion and provide even energy, and it has added probiotics, prebiotics, and antioxidants for total well-being.
This recipe is free from corn, soy, wheat, and other grains, so puppies with sensitive stomachs can enjoy it worry-free. Omega-3 fatty acids sourced from natural fish oils provide EPA and DHA for cognitive function and a shiny, smooth coat that feels amazing. A patented BC30 probiotic boosts your dog's digestive health and a blend of vegetables including carrots, celery, beets, spinach, and other veggies provides a well-rounded blend of vitamins and minerals. Added vitamin and mineral supplements ensure good nutrition for an active, healthy life.
Being such a high source of protein, though, this should not be viewed as a drawback.
Additionally, Dr. Tim's contains:
Potatoes
Peas
Beet pulp (good for the intestines and blood sugar)
Chicken fat
Herring meal, which is rich in iron and B-12
Whole dried egg
Flaxseed
Menhaden oil, made from a fish rich in Omega-3
Chicory root
Chelated minerals
Pros:
Priced a touch lower per pound than some other premium pet foods
Contains all-natural ingredients, no empty additives or preservatives
High-fiber recipe makes stool easier to pass
Cons:
Protein is from a blend of meat and fish meals; better than most dog foods but not as nice as real meat
Some picky eaters don't like the taste
For Those On A Tight Budget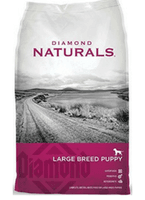 Diamond Naturals Large Breed Puppy Food contains real lamb as its first ingredient, and is enhanced with a blend of real vegetables, fruits, legumes, and coconut.
Designed to deliver a blend of essential vitamins and minerals, it also contains fatty acids to ensure healthy skin and coat development. The recipe contains no corn or wheat, and it's free from artificial colors, preservatives and flavorings.
Diamond pet foods are made in the USA at a family owned and operated facility that promises a strong focus on safety and natural ingredients. Added probiotics help support healthy digestion, and tasty ingredients including kale, pumpkin, spinach, and coconut make this formula one that most puppies enjoy eating.
In this brands line-up you'll find a large breed puppy formula that's good for your growing Golden puppy, providing all they'll need including balanced omega oils for healthy skin and coat.
The protein source is lamb, a go-to meat for allergy-prone dogs.
Pros:
Great choice for those on a budget
Sound nutritional profile, no fillers or artificial ingredients
Made in the USA by a family owned company
Cons:
Not grain free for those that need it; contains rice and barley
Kibble is harder than some other brands, may need to be moistened for some puppies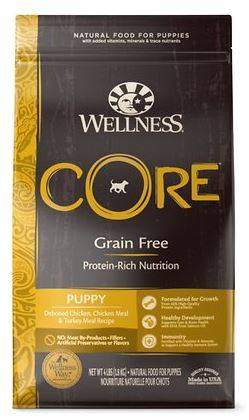 Click Here For Price
With real deboned chicken as its first ingredient, Wellness CORE Natural grain free dog food also contains salmon oil, chicken and turkey meal, a vitamin E supplement, and a blend of vitamins and minerals to support overall health. This formula contains a variety of fruits and vegetables including blueberries, apples, kale, sweet potatoes, broccoli, and bananas, along with probiotics to support healthy digestion.
Added DHA supports healthy eye and brain development, and a blend of antioxidants helps keep your puppy's immune system working right. There are no fillers, wheat, corn, soy, or artificial ingredients in this recipe, nor are there any unidentifiable animal products from questionable sources.
The major sources of protein in this brand are chicken and turkey, with both raw and concentrated meat (chicken meal, and turkey meal) being used.
Other beneficial ingredients include:
Peas, which provide protein and fiber
Potatoes, for digestible carbohydrates
Flaxseed, a source of Omega-3
Chicken fat, a source of Omega-6.
Chicory root, which is rich in inulin, a prebiotic that aids in the growth of healthy digestive bacteria
Chelated minerals; these are minerals that have been attached chemically to proteins, so they can be absorbed more easily
Pros:
Balanced nutritional profile with real meat as the first ingredient
Many specialized ingredients designed to support optimal health naturally
Added calcium and phosphorus for healthy skeletal growth
Cons:
Made in the USA, but some ingredients may be sourced from outside USA depending on quality
Some puppies develop stinky gas when switching to this food
Eating Their Way To Health
Puppies have their own unique nutritional requirements. They are growing quickly, so while they eat smaller quantities of food than adult dogs, they need to extract far more nutrients, like protein, minerals and vitamins, to sustain their growth and development.
As such, puppy food is packed with extra nutrition, things that adult dogs don't need.
Be sure to feed your puppy food that is specifically made for their age bracket and check the label to be sure you're getting the right formula.
Different Dogs, Different Diets
Of course, nutritional needs vary from breed to breed. One only needs to look at a Golden Retriever to know they require a different diet than a Chihuahua!
Large breeds have special requirements, and it's important that they be met. For example, joint and bone problems are much more common in big dogs than little ones, but choosing the right puppy food can reduce the risk.
Large-breed puppy food has reduced amounts of calcium and phosphorus, which helps control the rate of skeletal growth.
Proper nutrition can lessen your dog's chances of developing conditions such as arthritis and hip dysplasia.
Don't Give Them Too Much Of A Good Thing
Overfeeding your puppy can undo all the benefits of breed-specific food. By consuming too much food, your puppy will have elevated levels of the very nutrients that should be limited.
Additionally, overweight puppies may develop other health issues such as diabetes, and heart disease. Good eating habits developed during puppy-hood, will lead to a healthy mature dog in the years to come.
Nutrition For The Outside
One of the most visible components of your dog is its fur.
You've probably noticed that a nice, shiny coat gets a lot of attention from dog lovers! Nutrition plays a vital role in this area.
A large percentage of the protein your puppy takes in goes towards maintaining the coat. Omega-6 and Omega-3 fatty acids are also essential for healthy skin and fur.
Which Food Do I Choose?
Ask 10 different dog owners for their opinion on what the best dog food is, and you'll likely get 10 different answers!
There will always be those who buy the cheapest brand on the market. Others will opt for the most expensive, while others still will simply go with a brand-name they recognize.
The truth is, there is no single "best" food for puppies (or adult dogs) in general. The key is to find the right food for your particular puppy.
Things To Look For In A Dog Food
Having said that, there are some general guidelines one can follow.
For instance, less expensive dog foods typically have lower quality ingredients. The contents are often inexpensive, low-grade protein sources, like animal by-products, and fillers.
Fillers are frequently things like corn meal, rice flour, or seed hulls.
Beware Of Fillers
Fillers literally fill your puppy's belly, but offer little in the way of nutrition. For this reason, they'll need to eat more food to get the nutrients they need.
This can lead to obesity, and will certainly cause increased defecation. The latter of these two issues will make house training more difficult than it already is.
Does High Cost Mean High Quality?
By contrast, more costly dog foods usually have higher-quality ingredients. The scales will be tipped heavily in favour of high-grade protein sources and fillers will be few and far between.
Price is not, however, a guarantee of quality. Check the ingredients list to see what's inside before you make your decision.
How Much Am I Really Paying?
When it comes to price, remember that your puppy won't need to eat as much food if they're getting the nutrients they need.
You might find that expensive dog foods are a better bargain in the long run than they might seem at first, since you'll need to feed less and hence buy less often than you would a cheaper brand.
Summary & Conclusion
Throughout the life of your dog, you'll be constantly striving to keep him or her healthy. And it all starts with choosing the proper nutrition for your puppy.
Avoid low-cost foods that are more filler than substance, and look for better foods that are packed with nutrients to help your puppy grow. In particular, consider trying a large breed formula to meet the specific needs of your Golden Retriever puppy.
A high-quality brand might cost more up front, but in the long run, you'll spend less than you thought because you'll go through it more slowly than cheaper food.
Good nutrition is an essential part of any health regimen, and providing a high-quality puppy food will lay the foundation for a long, and enjoyable life.
Further Reading:
The importance of proper nutrition for puppies – PetMD
Canine Nutrition Basics – The Bark
Product images: © Chewy.com
Please be aware this page contains affiliate links and TotallyGoldens receives a small commission if you make any purchases through any such links. This has absolutely no effect on the eventual price that you pay and we are very grateful for your support.