Updated: April 27th, 2023
This article contains affiliate links. Read the full disclosure here.
Excuse me! Bowl's empty!
Energetic, playful, and goofy golden retriever puppies burn a lot of calories and need highly nutritious food to grow and develop properly.
The food you decide to feed to your puppy can affect them as an adult and give them a healthy head start…or put their health at risk.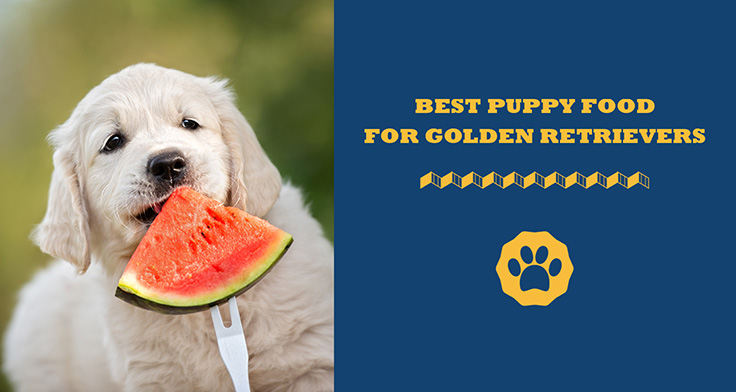 Finding the best puppy food for golden retrievers is your best bet for preventing problems.
There are many high-quality puppy foods you can choose from, but not all are formulated to meet your pup's dietary needs.
Choosing the wrong formula can be detrimental to your pup's health and cause nutrient deficiency, musculoskeletal problems, heart disease, or cancer.
While these aren't things you want to hear, you need to understand the full effect of unhealthy puppy foods.
On the other hand, high-quality food that is formulated to meet the nutritional needs of a growing golden retriever puppy will give your pup a good start in life (You can follow your pup's growth with our golden retriever puppy growth chart).
To help you do just that, I've found and reviewed the seven best dog foods for golden retriever puppies!
AT A GLANCE:
Our Top Puppy Food For Golden Retrievers
An Overview Of The Best Puppy Food For Golden Retrievers
Take a look at the comparison table below where I've highlighted the key features of each retriever puppy food.
We highly recommend looking at the comparison table we have below where we highlighted the features of each product.
IMAGE
PRODUCT
 

BEST OVERALL

Premium ingredients
Correctly portioned
Exceed AAFCO standards for all life stages

CHECK PRICE →

RUNNER UP

Human grade ingredients
Delivered fresh to your door
Complete and balanced

CHECK PRICE →

BEST BUDGET

Added probiotic blend
Made in the USA
Contains antioxidants

CHECK PRICE →

PREMIUM CHOICE

Contains real freeze-dried raw meat
Added probiotics and antioxidants
Made in the USA

CHECK PRICE →

MOST POPULAR

LifeSource Bits
High-protein recipe
Contains DHA and ARA

CHECK PRICE →

BEST GRAIN-FREE PUPPY FOOD

Smaller kibble size
No meat by-products or filler
Added probiotics

CHECK PRICE →

BEST FOR DIGESTIVE HEALTH

Contains live probiotics
Formulated for large breed puppies
Crunchy and tasty kibble

CHECK PRICE →

BEST MADE IN THE USA

High-quality ingredients
Rich in vitamins, minerals, and antioxidants
Made in the USA

CHECK PRICE →

BEST BREED-SPECIFIC

Breed-specific diet
Custom kibble size
Added taurine

CHECK PRICE →

BEST VALUE FOR MONEY

Tasty and nutrient-rich ingredients
Added antioxidants
Made in the USA

CHECK PRICE →
*The above links lead to current prices and customer reviews on Chewy.
Keep reading to discover why I chose these recipes and check out the included helpful tips and buying advice to ensure you get the right product for your golden puppy!
Best Food For Golden Retriever Puppies: Reviews For Our Top 10 Picks
Below, you will find in-depth reviews of ten puppy foods that meet the nutritional needs of golden retriever puppies and are extremely tasty.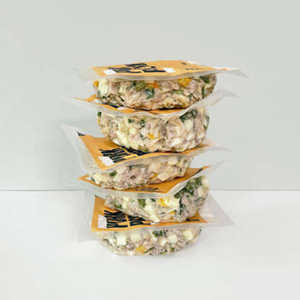 Do you want to feed fresh food to your golden retriever puppy but don't have the time or know-how to prepare fresh and wholesome meals?
If this is the case, you'll be happy to discover what Nom Nom has to offer!
The nutrition (and fun) begins when you choose which food you'd like to give your dog.
There are several recipes to choose from, all developed by veterinary nutritionists and cooked at Nom Nom's on-site kitchen using fresh, restaurant-quality whole-food ingredients.
Food is portioned based on your dog's unique profile, including age, weight, health problems, and any goals such as weight loss.
You get a free consultation with a veterinary nutritionist when you order, so your golden puppy gets exactly the right nutrients.
Once your golden retriever's weekly menu is ready, food is sealed into single-serving packages, after which it is delivered to your home under refrigeration for optimal freshness.
Just like your own fresh food, you keep your dog's meals in the freezer or refrigerator until mealtime. Simply open a pack, serve it up, and watch your pet enjoy every morsel. You can choose a single favorite or treat your dog to a variety pack of flavors.
Convenience isn't all this food has to offer.
Like other brands that made it onto our list of the best dog foods for golden retrievers, Nom Nom food is made with healthy meat-based proteins, easily digestible carbs such as potatoes, sweet potatoes, brown rice, carrots, green beans, and other healthy veggies.
We can say it's the best food for a golden retriever puppy.
Pros
Suitable for all life stages from puppies to seniors
Real restaurant-quality ingredients, no nasty byproducts or potential toxins
Fresh food based on your dog's unique needs
Developed by a veterinary nutritionist, all recipes are expertly formulated
Delivered weekly in convenient single meal portions
Cons
Cost is above the market average
Read this in-depth Nom Nom review to learn more about this dog food brand and discover their top three dog food recipes!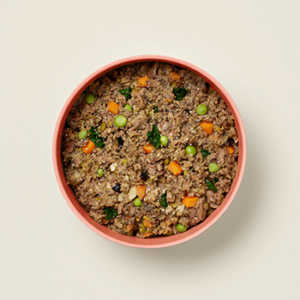 Like Nom Now, Ollie also makes custom meal plans for dogs using fresh, human-grade ingredients.
Once they are prepared, your golden retriever's meals are shipped straight to your door once per week and you can store them in the fridge or in the freezer.
Not only is this food convenient, but it's also designed for all life stages, so you never have to switch your puppy's food as they get older.
There are quite a few recipes to choose from, including chicken, lamb, beef, and turkey.
Most are grain-free, perfect for sensitive stomachs, and none of them have questionable ingredients that might not be good for your puppy.
Healthy carbohydrates come from veggies such as squash, sweet potatoes, peas, carrots, and kale.
A few recipes even include tempting berries to up the antioxidant level and treat your golden puppy to some interesting flavors.
Ollie's fresh dog food is carefully cooked to preserve all valuable nutrients and also has added vitamins, minerals, and tasty, healthy extras like natural fish oil.
Being complete and balanced for daily feeding, Ollie's fresh meals support your puppy's growth and development at the proper rate.
Ollie's recipes are formulated to meet the nutritional needs of different dogs, so you won't have any trouble finding a fresh meal that will fulfill your pup's individual dietary needs.
Read our detailed Ollie dog food review to learn how to get a customized meal plan for your golden pooch.
Pros
Superb nutrition designed just for your dog by veterinarians
Choose the right recipe by creating a profile just for your puppy
Delicious tastes; dogs never get bored
Human-grade ingredients sourced from America and Australia; food is fresh-cooked in New Jersey and delivered weekly
Portion scoop included so your puppy gets exactly the right amount at every meal
Cons
Priced above average market cost
Must have a subscription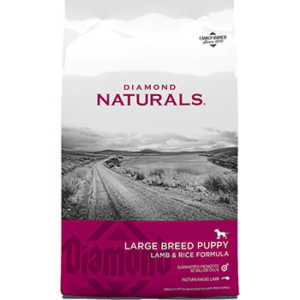 Diamond Naturals Large Breed Puppy Formula is a nutritious golden retriever puppy food and a good option if you are on a tight budget.
While more affordable than other foods on this list, this formula is made from high-quality ingredients and doesn't contain artificial flavors, preservatives, or fillers.
Featuring real lamb and lamb meal as the first two ingredients, this recipe has 27% crude protein that supports growth and development and helps build lean muscles.
Whole grain brown rice and cracked pearled barley are easily digestible carbs and provide energy; however, this food isn't a good choice if your golden retriever puppy has a sensitive stomach or suffers from grain-related allergies.
In that case, look for grain-free diets that won't make your puppy ill and itchy.
Designed to deliver a blend of vital vitamins and minerals, this recipe also contains fatty acids that support healthy skin and coat.
Besides supporting a soft and shiny coat, salmon oil is also a source of DHA, which supports brain and eye development in still growing puppies.
To ensure proper digestion and better nutrient absorption, Diamond Pets added a proprietary probiotic blend that supports good gut health.
Added vitamins and antioxidants from real fruit and veggies support a strong immune system and improve your goldie's overall health.
Being specially formulated for large breed puppies, this food has an ideal calcium-phosphorus ratio.
Therefore, you can rest assured your pup won't grow too fast and develop skeletal issues.
Pros
A great choice for those on a budget
Sound nutritional profile, no fillers or artificial ingredients
Made in the USA by a family-owned company
Added probiotic blend for better digestion
Contains DHA, which supports brain and eye development
Cons
Not grain-free for those that need it
Kibble is harder than some other brands, so you may need to moisten it for your pup
Nature's Variety Instinct Raw Boost Grain-Free Recipe stands out for its inclusion of freeze-dried raw meat, which provides a unique blend of nutrients.
Formulated to meet the nutritional needs of all life stages, this formula has everything you should look for in a retriever's puppy food.
Made with cage-free chicken as the main ingredient, this food contains bites of freeze-dried meat which make it a good dog food for picky eaters.
The high protein count will keep your golden retriever energized throughout the day and also help them build lean and strong muscles.
Being a grain-free puppy food, this formula contains peas, carrots, apples, cranberries, and blueberries as sources of carbs, fiber, and vitamins.
The fresh fruit and veggies are also supplemented with all the vital vitamins and minerals necessary for a strong immune system.
Nature's Variety uses chicken fat and salmon oil as sources of omega 3 & 6 fatty acids to help support healthy skin and coat development.
The added probiotic cultures support healthy digestion and can be extremely beneficial if your golden retriever puppy has a sensitive stomach.
This recipe is also perfect for puppies with potential allergies to grains and won't cause tummy problems or itchy skin.
Like many of the best dog foods for large breed puppies on the market, Nature's Variety Instinct Raw Boost is free of GMO ingredients.
Best of all, you don't have to worry about switching your pup to food for adult golden retrievers when they grow up.
This is dog food for all life stages, so your goldie can eat it from puppyhood and well into their senior years.
Pros
Contains real freeze-dried raw meat
Added probiotics and antioxidants
Completely natural and made without artificial ingredients
Higher protein count for lean and strong muscles
Cons
This food may cause loose stool and gas in dogs that aren't used to high-protein foods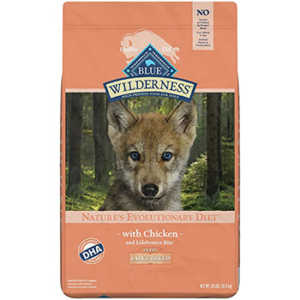 Blue Buffalo has an outstanding reputation as one of the best pet food companies on the planet, and their large-breed puppy food is ideal for golden retriever puppies.
This premium puppy food is high in protein, grain-free, and made without corn, soy, or wheat which can create potential issues.
Featuring deboned chicken and chicken meal as main ingredients, this food is high in protein that helps build lean and strong muscles.
Complex carbohydrates are sourced from potatoes and sweet potatoes, along with carrots that double as an additional source of antioxidants.
Fresh fruits, including cranberries, blackberries, and blueberries, are full of vitamins and antioxidants that help support your puppy's developing immune system.
All essential vitamins and minerals are supplemented and will improve your pup's overall health and well-being.
The included fish meal and flaxseed are sources of omega 3 & 6 fatty acids that support healthy skin and ensure a shiny coat with a soft feel.
Blue Buffalo also includes fish oil as a natural source of DHA and ARA which are essential for your pup's brain and eye development.
This formula contains LifeSource Bits that provide a precise blend of vitamins, minerals, and antioxidants that your golden puppy needs to stay healthy and thrive.
Pros
Higher protein supports muscle growth and development
Small, puppy-sized kibble chunks
Premium nutrition designed just for large breed puppies
Full of vitamins, minerals, and antioxidants
Cons
May need to be moistened for smaller puppies to handle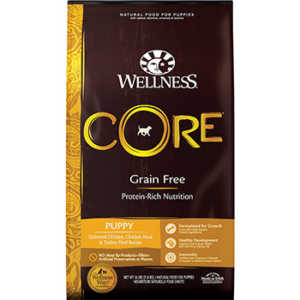 Made to fulfill the nutritional needs of growing puppies, Wellness Core Grain-Free Puppy Food is a great option for golden retrievers.
The smaller kibble size is easier to eat and is made without cheap fillers, artificial flavors, or preservatives.
Deboned chicken and chicken meal are the first two ingredients and the main sources of protein, which help with the building of lean and strong muscles.
This formula contains a variety of fruits and vegetables, including blueberries, apples, kale, sweet potatoes, broccoli, and bananas that are full of vitamins and minerals to support a strong immune system.
Wellness also adds probiotics to support healthy digestion and maintain optimal gut health.
Added DHA supports healthy eye and brain development, and a blend of antioxidants helps keep your puppy's immune system working right.
There are no fillers, wheat, corn, soy, or artificial ingredients in this recipe, nor are there any unidentifiable animal products from questionable sources.
Pros
Balanced nutritional profile with real meat as the first ingredient
Many specialized ingredients designed to support optimal health naturally
Added calcium and phosphorus for healthy skeletal growth
Omega fatty acids support healthy skin and coat
Cons
Made in the USA, but some ingredients may be sourced outside the USA
Some puppies develop stinky gas when switching to this food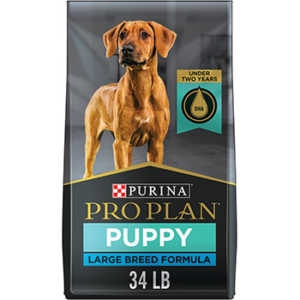 Purina Pro Plan Puppy Large Breed Formula is specially designed for pups who'll weigh over 50 pounds when they grow up.
As one of the best dog foods for a golden retriever puppy, this formula contains all the essential nutrients your pup needs now to stay healthy in adulthood.
This high-protein recipe contains real chicken as the main ingredient which will keep your pup energized throughout the day and build lean muscles.
This isn't a grain-free formula, so if your pup has a grain-related issue, this isn't the recipe for you.
Purina adds fish oil as a natural source of DHA that is essential for your pup's brain and eye development.
This food also contains all essential vitamins and minerals that support a strong immune system and live probiotics for optimal digestive health.
This flavorful kibble also contains glucosamine for optimal joint health and omega 3 & 6 fatty acids, which are beneficial for your pup's skin and heart health.
We feed our Guide Dog puppies Purina Pro Plan Puppy Large Breed Formula.
Pros
Specially formulated for large breed puppies
Supports easy digestion and better nutrient absorption
Promotes joint health and mobility
Optimal calcium-phosphorus ratio
Cons
A few owners noted their puppies developed loose stool and gas after eating this food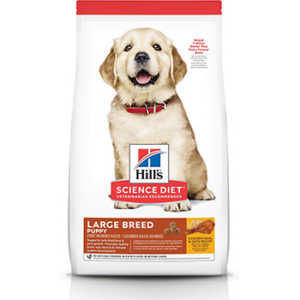 Right off the bat, you can tell this is no ordinary food. Everything, from the choice of ingredients to the distribution of nutrients, has been put together with the specific needs of your large breed puppy in mind.
Chicken meal, which is one of the main ingredients in the diet, has way more protein than fresh chicken since it's a meat concentrate.
You have 25% crude protein as a result, which is enough to promote healthy muscle growth and development in your golden retriever.
It's not the only ingredient doing that, either. There's chondroitin and glucosamine as well, both of which support strong muscles and joint health.
Pork fat and fish oil are also present in the meal to provide the much-needed fats for optimal joint health.
Calcium, too, has been included in the recipe but at controlled levels for steady bone growth.
Another significant ingredient worth mentioning is oats. Not only do they enrich the diet with minerals and vitamins but also dietary fiber.
Together with antioxidants, they will help your dog to have a healthy immune system.
It's therefore not surprising to see this high-quality dog food is being recommended by vets. It's exactly what your golden retriever puppy deserves.
Pros
Rich in protein for effective muscle growth and development
Made in the USA from natural ingredients sourced globally
Great-tasting ingredients
Enriched with vitamins, minerals, and clinically approved antioxidants
No artificial ingredients
Cons
Contains whole grains, which can be difficult for some puppies to digest
Royal Canin's passion for making breed-specific diets has endeared them to pet owners the world over.
Golden retrievers are among the few breeds they have a specially formulated diet for, and you can use it until your dog is 15 months old.
The best part is that even the kibble shape has been designed for your dog's straight muzzle and scissor bite so as to encourage them to chew.
Chief protein sources include real chicken and grains.
Combined with other protein sources, they make up about 30% protein which is enough to effectively build your dog's muscles as well as hair, skin, tendon, and cartilage.
Your golden puppy will also benefit massively from taurine, an amino acid supplement that promotes cardiovascular health among other essential functions.
Calcium has also been added to the recipe, but at controlled levels to make sure your puppy only gets what they need for proper bone development and overall well-being.
What's more, the feeding chart for this diet is based on the ideal adult weight of golden retrievers.
You will basically be providing your dog with precisely what she needs to meet her weight goals.
Pros
Formulated to meet the unique needs of golden puppies
Includes essential nutrients for healthy skin and coat
Promotes digestive health through quality proteins
Added prebiotics for improved stool quality
Enriched with antioxidants for enhancing immunity
Cons
Only one size available
Not grain-free for those who need that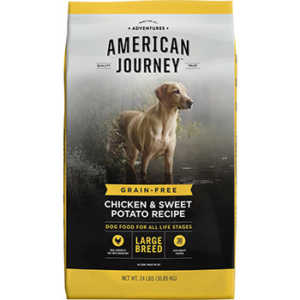 Not many dog foods balance nutrition and taste as perfectly as this American Journey diet does.
Every ingredient is nutritious and essential to the well-being of your dog, and at the same time, you have an exceptional flavor that golden puppies crave.
What more could you ask for?
Most of the protein in this recipe comes from poultry sources, specifically deboned chicken and chicken meal.
Besides making the meal delicious, these two supply the amino acids that golden retrievers need to maintain lean muscle mass.
Chicken meal is also a source of chondroitin and glucosamine, both of which not only support but also help maintain healthy joints.
Knowing that your pup would need enough energy for her everyday adventures, chickpeas and sweet potatoes were added to the recipe to cater to that.
Other significant nutrients present in this diet include fiber, antioxidants, and omega fatty acids.
Sources include veggies, wholesome fruits, flaxseed, and salmon oil, among other ingredients.
Yet that's not all; there is still more nutritious content in this affordable recipe that's beneficial for large breed pups.
Pros
High-quality protein sources that add taste and promote muscle growth
Nutritious ingredients that effectively promote a dog's well being
Grain-free and ideal for sensitive pets
Made in the USA
Plenty of minerals, vitamins, and antioxidants from veggies and fruits for immune system support
Omega fatty acids from flaxseed and salmon oil for healthy skin and coat
Budget-friendly
Cons
Eating Their Way To Health
Puppies have their own unique nutritional requirements.
They are growing quickly, so while they eat smaller quantities of food than adult dogs, they need to extract far more nutrients like protein, minerals, and vitamins, to sustain their growth and development.
As such, the best dog foods for golden puppies are packed with extra nutrition and things that adult golden retrievers don't need.
Be sure to feed your puppy food that is specifically made for their age bracket and check the label to be sure you're getting the right formula.
Different Dogs, Different Diets
Nutritional needs vary from breed to breed. One only needs to look at golden retrievers to know they require a different diet than a Chihuahua!
Large breeds have special requirements, and it's important that they be met.
For example, joint and bone problems are much more common in big dogs than in little ones, but choosing the right puppy food can reduce the risk.
Large-breed puppy food has reduced amounts of calcium and phosphorus, which helps control the rate of skeletal growth.
Also, you may find puppy foods that contain glucosamine and chondroitin to support joint health and mobility.
With proper nutrition, you can lessen your dog's chances of developing conditions such as arthritis and hip dysplasia.
Don't Give Them Too Much Of A Good Thing
Overfeeding your puppy can undo all the benefits of breed-specific golden retriever puppy food.
By consuming too much food, your puppy will have elevated levels of the very nutrients that should be limited.
Additionally, overweight puppies may develop other health issues such as diabetes and heart disease.
Good eating habits developed during puppyhood will lead to a healthy mature dog in the years to come.
Nutrition For The Outside
One of the most visible components of your dog is its fur. You've probably noticed that a nice, shiny coat gets a lot of attention from dog lovers! Nutrition plays a vital role in this area.
A large percentage of the protein your puppy takes in goes towards maintaining its coat. Omega-6 and Omega-3 fatty acids are also essential for healthy skin and fur.
Which Food Do I Choose?
Ask 10 different dog owners for their opinion on what the best dog food is, and you'll likely get 10 different answers!
There will always be those who buy the cheapest brand on the market. Some will opt for the most expensive, while others will simply go with a brand name they recognize.
The truth is, there is no single "best" food for puppies (or adult dogs) in general. The key is to find the right food for your particular puppy.
One thing you cannot afford to ignore is the nutritional content.
Food suppliers, vets, and researchers all agree that adult dogs need at least 18% protein while puppies require no less than 22% protein.
Because they are still growing, puppies need more protein than adults.
Proteins foster muscle growth and development in puppies and lean muscle maintenance in adults, so the more of it there is in a diet, the better it is for your growing retriever.
Fats, too, are important for golden puppies because they provide the energy required for everyday activities.
Let's not forget that this is an athletic breed that loves to play. Enough fats (8% for puppies) are therefore needed to help them stay active and healthy.
You should be careful, however, not to feed your golden excess calories because this will result in excess weight or obesity. Eventually, your dog will end up battling joint problems.
Things To Consider When Searching For Best Golden Retriever Puppy Food
Having said that, there are some general guidelines one can follow.
For instance, less expensive dog foods typically have lower-quality ingredients. The contents are often inexpensive, low-grade animal protein sources, like by-products and fillers.
Fillers are frequently things like cornmeal, rice flour, or seed hulls.
In general, thoroughly review the nutritional content of your chosen diet. Here's a quick checklist you could use to identify high-quality dog food:
Does it have protein-rich ingredients?
Are the ingredients wholesome and natural?
Does the diet have controlled calcium and phosphorous levels?
Is the calorie and fat content limited to manage growth?
Does the label state that the diet is complete and balanced?
Beware Of Fillers
Fillers literally fill your puppy's belly but offer little in the way of nutrition. For this reason, they'll need to eat more food to get the nutrients they need.
This can lead to obesity and will certainly cause increased defecation. The latter of these two issues will make house training more difficult than it already is.
Does High Cost Mean High Quality?
By contrast, costlier dog foods usually have higher-quality ingredients.
The scales will be tipped heavily in favor of high-grade animal protein sources and fillers will be few and far between.
Price is not, however, a guarantee of quality. Check the ingredients list to see what's inside before you make your decision.
How Much Am I Really Paying?
When it comes to price, remember that your puppy won't need to eat as much food if they're getting the nutrients they need.
You might find that expensive dog food brands are a better bargain in the long run than they might seem at first since you'll need to feed less and hence buy less often than you would with a cheaper brand.
FAQs About The Best Food For Golden Retriever Puppies
What Do Golden Retriever Puppies Eat?
The best dog foods for a golden retriever puppy are made with high-quality natural ingredients and have high levels of protein.
Make sure the food is complete and balanced for daily feeding and formulated to meet the nutritional needs of large breed puppies.
Depending on your pup's preferences and needs, you can feed kibble, canned food, or a raw diet to your pup.
What Should I Feed My Eight-Week-Old Golden Retriever Puppy?
At this point, golden retriever puppies have likely already been switched to dry puppy food and you should continue feeding your pup the same type of food the breeder used.
You shouldn't change your pup's food at this time unless you have major concerns. An eight-week-old puppy should eat around 1 ½ cups of kibble a day.
How Many Times Should You Feed A Golden Retriever Puppy?
From the day you bring them home until they are six months old, you should feed your golden retriever puppy three times a day. Ideally, your pup should have breakfast, lunch, and dinner every day.
Create your puppy's feeding plan based on your lifestyle and commitments but try to maintain a regular schedule of equally spaced meals.
Is Grain-Free Dog Food Good For Golden Retrievers?
A grain-free diet is the default meal for golden retrievers that are sensitive to grains, but if your dog is healthy, feeding her such a meal boils down to choice.
A lot has been said about grain-free diets.
Reports and studies have been carried out in recent years trying to establish any connection between it and Canine Dilated Cardiomyopathy (DCM).
There's no official statement from the DFA yet regarding this, but the general conclusion, for now, is that grain-free diets are not a healthier alternative to grain-inclusive diets.
The Best Golden Retriever Puppy Food – A Summary
Throughout your golden retriever's life, you'll be constantly striving to keep them happy and healthy. That all starts with choosing the best puppy food for golden retrievers.
Avoid low-cost foods that are more filler than substance, and look for better foods that are packed with nutrients to help your puppy grow.
In particular, consider trying a large breed formula to meet the specific needs of your golden retriever puppy.
High-quality puppy food might cost more upfront, but in the long run, you'll spend less than you thought because you'll go through it more slowly than cheaper food.
Good nutrition is an essential part of any health regimen, and providing high-quality puppy food will lay the foundation for a long, and enjoyable life.