Updated: February 15th, 2021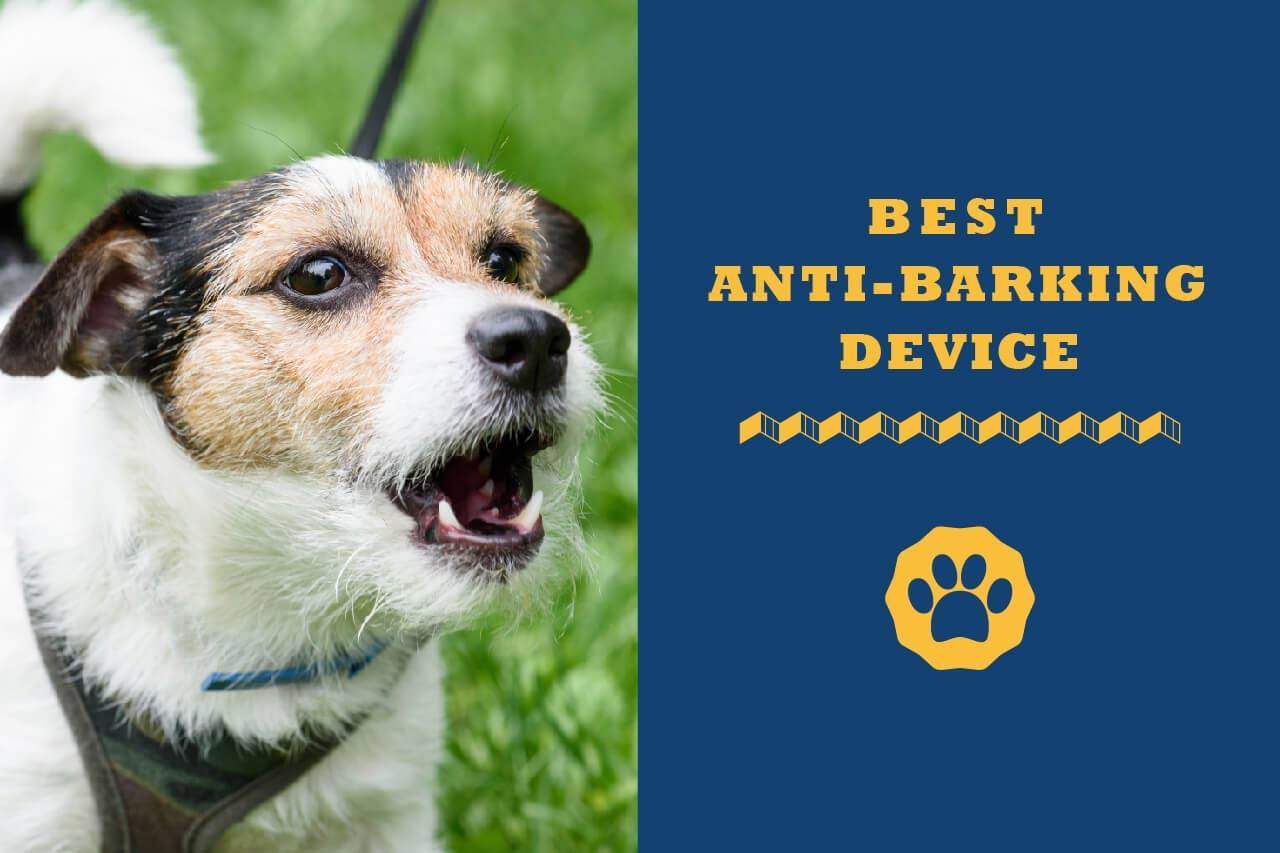 When your canine companion wants to communicate his feelings – joy, disgust, anxiety, anger, and everything in between – he'll probably bark. He can't speak to you in words you can understand, after all! It's completely normal for dogs to bark every so often, but when the barking becomes excessive, it might be time for an anti barking device. We'll take a close look at some of the best bark collars and anti-barking devices on the market in a minute, but first, let's talk (you guessed it!) barking.
AT A GLANCE:
Our 7 Best Anti Barking Device
*The above links lead to current prices and customer reviews on Chewy
How to tell if your dog needs an anti-barking device
Are you feeling irritated with your dog? Are they barking every time you turn around, for what seems like no reason whatsoever?
Sometimes dogs get into the habit of barking just for barking's sake. Often, this happens out of boredom; sometimes they can hear or smell things that are outside our senses. Whatever the reason for your dog's barking, if it's irritating you and making the neighbors wish you'd move away and take your barking dog with you, it's probably time to give an anti-barking device a try.
Barking that's meant to communicate with you, tell you something's happening, or warn you of an intruder is probably normal. Dogs often bark while playing, or when they see things that make them excited. But between those bursts, your dog should have long stretches of quiet time.
If your four-legged friend has been barking in a way that doesn't seem normal, you might want to check with your vet to see what's going on. Common reasons for excessive barking can be territorial exhibits or "socializing" with other dogs in the neighborhood, or they can signify more serious issues such as illness, injury, separation anxiety, frustration, etc.
.
Whatever the outcome, if your dog is barking excessively and the reason isn't medical, it's likely that you and your pet could greatly benefit from some of the best anti-barking devices on the market right now.
I'll be telling you more about them shortly, but for now, here's a quick overview:
An Overview of the Best Anti Barking Devices
IMAGE
PRODUCT

Its system is precise in correcting your pooch's barking
It's water-resistant
Very easy to use

VIEW LATEST PRICE →

This gadget is very portable
Interrupts bad behavior
It's easy to use

VIEW LATEST PRICE →

Very adjustable
It can correct multiple behavioral issues like aggression, lease training, sitting, in addition to correcting barking
The extensive range control will allow you to train your dog in your backyard or park

VIEW LATEST PRICE →

It's relatively simple to operate
Being waterproof makes it ideal for use in the outdoors
Less chances of false corrections

VIEW LATEST PRICE →

Operating the device is very easy
It uses replaceable 4 AAA batteries that are easy to find
Has an automatic LED light that shuts off the ultrasonic sound after 10 seconds

VIEW LATEST PRICE →
I have rounded up seven options for you that you will find effective, practical, and best suited for your dog's needs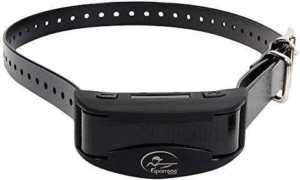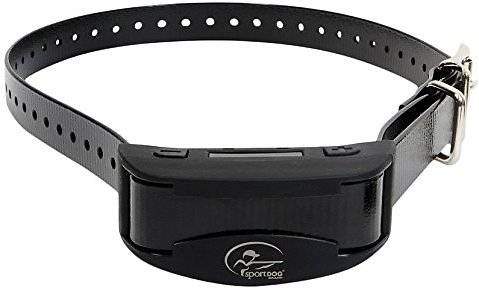 The SportDOG NoBark is a well-rated tool famous for effectively deterring dogs from excessive barking. It's designed to learn your pooch's unique barking style such that correction is only delivered to him if and when he is barking too much. This means that your pooch does not get a correction as a result of another dog in the vicinity barking incessantly.
Key Features
A silent partner technology that only identifies your dog's unique style

The collar is rechargeable

Three programmable correction modes

10 levels of static stimulation

It's waterproof

Rechargeable lithium-ion battery

Built-in safety feature
The lithium ion batteries take two hours to charge but will reward you with 200 hours per charge. A special combination worth mentioning is the three programmable correction modes and multiple levels of stimulation. These make the collar able to adjust to just about any correction level that works for your dog.
Pros:
Its system is precise in correcting your pooch's barking

It's water-resistant, even in the case where your pooch is in water up to 10 feet

Very easy to use as it requires no remote; just charge it and put it on your dog

According to customer reviews, the company has responsive customer service.
Cons:
The chargers are specific to this collar

The material can activate allergies to dogs with skin sensitivities. To minimize such reactions, the manufacturer suggests that you take it off after every 8-12 hours.
SportDOG NoBark SBC-R Rechargeable Bark Control Dog Collar takes pride in being almost 100% effective at stopping excessive barking, thanks to its versatile correction modes. Also, it lasts relatively longer and is a perfect choice for anyone looking for a simple functional collar.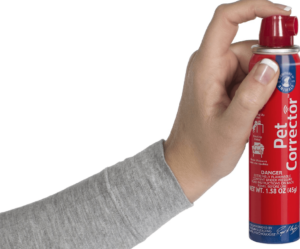 If your dog has a tendency to bark when you're home, this unique anti-bark device gives you a simple way to get your dog's attention, stop their barking immediately, and help you begin the process of redirecting to a positive activity. Be sure to reward your dog after they stop barking. It's the best way to let them know that they should be quiet.
Key Features
Portable – easy to keep with you for immediate use as needed
Pain-free; compatible with positive training methods
Loud hiss won't harm you or your dog
Each 200 ml can offers 200 uses. The Pet Corrector Training Aid is useful for stopping other unwanted behaviors including jumping up, chasing other pets, begging, and more. A training guide is included, with helpful tips for getting the best results from this anti-barking device.
Pros:
Easy to use
Provides immediate correction
Can be used to correct a variety of unwanted behaviors
Portable, works indoors and outside
Cons:
Doesn't work independently
Won't stop dog from barking when you're not home
This isn't a traditional anti-bark device but when your dog's annoying barking is directed at you, your guests, or things happening outside, it puts you in complete control of stopping your dog's barking, redirecting them, and rewarding them once they're quiet. If your dog exhibits other unwanted behaviors, you can use this tool to correct those, too. We'd like to remind you to be sure to follow the manufacturer's instructions and remember to positively reinforce the desired behavior!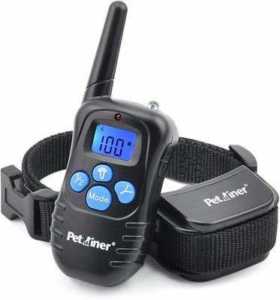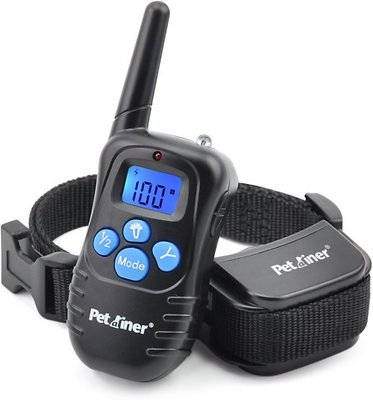 This is a versatile dog collar training system that allows you access to several corrective modes to choose from. They include light, vibrations, sound, beeps, and static shock.
If you think that's impressive, your jaw will drop at the fact that this device gives you the option to work with 100 intensity levels across all its stimulation modes. This way you can customize your training to what works best for your pooch.
Key Features
Made with an adjustable nylon collar strap

Compact and water-resistant receiver

Has a range of up to 330 yards

Rechargeable and rainproof transmitter and receiver

Three types of stimulation

four different stimulation modes

100 levels of intensity.
One special thing about this collar that you'll love is it's accommodative to all kinds of weather, thus you do not need to have any worries when it's raining.
With the transmitter having a range of up to 900 feet, this means you can easily grab the attention of your dog to deter her from digging, bolting, or any excessive barking behavior. You can easily do this through a programmable remote.
Pros:
The adjustable nylon strap enables the collar to fit dogs of all sizes, from small to large

It can correct multiple behavioral issues like aggression, lease training, sitting, in addition to correcting barking

The extensive range control will allow you to train your dog in your backyard or park

Thanks to the four different stimulation modes, together with 100 levels of intensity, you customize your training sessions as you wish

It has a light mode that enables you to watch your dog in low light situations
Cons:
It might take you a while to master how to switch between different modes quickly
Despite it looking complex, once you've learned how to use it properly, the Petrainer 998DRB will eventually end up to be one of your best buy in your efforts to manage the backing behavior of your dog once and for all.
PetSafe Static Basic Bark Control Collar sets itself by using the famous RFA- 67 PetSafe battery to power its systems. That aside, it's one of the few reliable stop bark devices that comprises a vibration sensor able to detect your dog's barking and consequently dispense a static correction.
Key Features
6 levels of progressive static correction

An automatic safety shut-off

A vibration sensor to detect your dog's vocal chord's moving.

Waterproof receiver collar
With this collar, there is no programming required. However, it's important to note that the device is calibrated incrementally such that if your pooch continues to bark through the first static correction, the second static correction will be stronger, until your dog submits to the correction and stops the barking.
As for the correction, once it is triggered by your pooch's vocal chords, it will last for 50 seconds. Also worth mentioning is that the 6 correctional levels are all safe for your dog.
Pros:
You can customize it to your pet's specific size and personality, thanks to the six progressive static correction levels

Less chances of false corrections due to the addition of a vibration sensor

Being waterproof makes it ideal for use in the outdoors

It's relatively simple to operate
Cons:
It's a one-size-fits-all device thus it may not be a good fit for ultra small dogs

It only uses Petsafe batteries
If not its versatility to dealing with behavioral issues, the other thing that will effortlessly draw you to this collar is its preciseness to dealing with barking anomalies.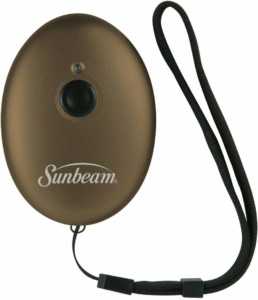 The design of this gadget is pretty cool and no one would know that you are carrying a bark deterrent for your pooch. The nice and slim egg shape can easily be mistaken for car keys or a key holder.
What's more, this gadget is fairly versatile as it can be used indoors, outdoors, and even when walking your dog.
Key Features
Borrows a handheld design

The gadget is battery-powered, running on 4 AAA batteries

Comes with an adjustable wrist wrap

It has a work range of 15-foot radius

Uses ultrasonic sounds
Should he engage in excessive barking, pointing the gadget at him and holding down the button will cause the gadget to emit an ultrasonic sound only audible to your pooch, which is enough to quieten him down effectively.
When holding the button down, the gadget lights green to indicate that it is working correctly. After 10 seconds, the ultrasonic sound will automatically switch off. The sound has been calibrated to ensure that it remains within a safe level for your pooch.
However, you must note that when using the device, it must be at least 12 inches away from human ears, including your own, because of the potential negative health impact ultrasonic noise has on humans.
Pros:
Operating the device is very easy; all you have to do is push a button while the device is directed at your pooch to deter any excessive barking

It has a lanyard that you can use to secure the Egg for easy accessibility

Being a handheld design makes it perfect for travel, walks, travel, or even within the home

Has an automatic LED light that shuts off the ultrasonic sound after 10 seconds

It uses replaceable 4 AAA batteries that are easy to find
Cons:
The noise can make some pups anxious, resulting in more barking
If you really care about portability and functionality, the Sunbeam Little Sonic Egg Handheld Bark Control Device is a perfect combination of both. You'll be getting great value for a fair price.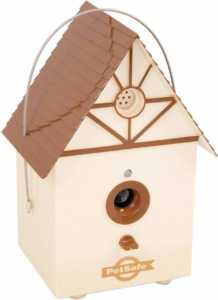 Whenever your dog is barking excessively, and then she manages to get the neighbor's dogs in on the barking act too, the aftermath is usually chaotic, at the very least.
But fear not! The Petsafe Outdoor Ultrasonic Bark Control is what you need to firmly remind your pooch and others that she is over doing the barking and needs to tone it down a notch.
The beauty of it is that you do not even need to press any buttons, because this outdoor bark deterrent has a bark sensor that triggers an emission of ultrasonic sound to silence your pooch when she is barking excessively.
Key Features
Up to 50-foot range

3 range settings to manipulate sensitivity

Uses high-frequency ultrasonic sound

Can project the sound in a cone shape (up to 150 degrees)

It's weatherproof
The device being able to project the ultrasonic sound at a 150-degree angle means it can probably cover your compound and the neighbor's.  Also, the design is discreet and looks like a bird house.
What's more, it has a tough exterior build to withstand the weather elements. All you would have to do is check on the battery power level every so often just to be sure that your device is active.
Pros:
It's built to work with dogs of all sizes, provided they are within the hearing range

The company has excellent customer service

Comes with a built-in timer that lets set your desired on and off time. This way you are able to improve battery life

There are two versions, standard and deluxe, to suit your budgetary needs
Cons:
Can only be used in the outdoors

Some dog owners report that it didn't work on their pet
Overall, this gadget makes for a great excessive barking solution, especially if you want to train your pooch for the same but without an anti barking device.
Like most bark collars, the PetSafe Elite Little Dog Spray Bark Control Collar communicates to your dog when it's right to bark and when not to indulge in such an action. Whereas some dogs will quickly get the lessons and not require this device for the long term, some will get used to only controlling their barking when they have the collar on.
How it works is that this fine spray will create a mist around your dog's nose/muzzle. The gentle burst of the citronella-scented spray will interrupt your dog's barking and take her focus off it.
Key Features
Utilizes citronella spray to manage excessive barking

Uses a patented system that prevents false corrections

Each spray can holds 400-500 sprays

Adjustable nylon neck strap

It's waterproof

Rechargeable PetSafe RFA-188 battery

Spray cartridge refill/ recyclable spray cartridges
Thanks to the Petsafe patented perfect bark dual detection technology, no other sounds, including the barking by other dogs, will set off this collar. This means if you have several dogs, each of them can wear it and none of their barks will trigger the other's collar.
What's more, the collar can stay waterproof when submerged up to 5 feet for up to 30 minutes. However, it's important to note that this collar should only be worn when you want your dog to stop barking.
Pros:
Uses sound and vibration sensors to prevent accidental corrections

It's very easy to use and requires no manual settings

An adjustable neck strap enables it to fit dogs of all sizes

It combines the sound of the spray, the smell and mist to achieve immediate results
Cons:
It might take you a while to learn how to reset the spray counter

It works better with petsafe batteries
Other than being simple to use and able to achieve immediate results, the PetSafe Elite Little Dog Spray Bark Control Collar ability to fit just about any dog and thwart any false corrections make it competitive and worth a try for the pet owner who's curious to try something different beyond sound and shocks.
Next, it would be helpful if you knew what to consider before buying one,  the qualities you should pay the most attention to while shopping, how these devices work, and why it could be your best solution yet,
What To Look Out For When Selecting The Best Anti Barking Device
1. Design
Design does not affect functionality. However, a bark control system that is best for indoors needs to be aesthetically appealing, keeping with your interior decor. It might take the shape of a pebble or a remote control or such like items that easily fit in with your internal furnishings.
For outside versions, they need to look discreet, appealing, and in some cases inconspicuous just in case you are silencing you neighbor's dogs. A bird house design, for instance, works quite well and blends in perfectly with the outdoor environment.
But before you indulge such a move, check the municipal codes, local laws, homeowner association agreements, and apartment leases just to be sure your action is within the legal boundaries.
2. Safety
Safety is paramount. If you are opting for a device that emits sound as a response to barking, then you want reassurance from the manufacturer that the sound emitted is just annoying enough to stop the barking but not harmful to your pooch.
This is important because you as the doggie parent are not able to hear the inaudible high pitched ultrasonic sound.
For collars that respond to barking with a jolt, you want to make sure that the highest setting is not harmful to your dog.
3. Features
Look out for features that will work for you. Such features range from:
Indoor, outdoor, or multi-area use

Can be hung on a wall or placed on a counter

Extended handle

Sound and sensory levels

LED light that indicates battery level

Range – This is a vital feature that will determine how effective your anti barking device will be for your needs.
How Does An Anti Barking Device Work?
You've probably noticed that there are plenty of good stop bark tools on the market nowadays. But before you go get one, it would be great if you found out the reason why your pooch has been barking excessively of late.
You can do this with the help of your local vet. Should you and your vet come to the conclusion that indeed his barking is excessive and can be reduced through the help of an anti barking device, then you have three types of anti dog barking tools to select from.
Types Of Dog Barking Control Devices
The general way that a stop bark device works is by helping your pooch understand that every time she barks there may be an unpleasant consequence.
Depending on the type of device that you choose, the consequences could be through sound emission that is unpleasant enough to stop her from barking.
It could also be a collar that sends a gentle electric jolt to deter him from barking all the time. And last but not least is through sprays that shock your pooch every time they bark without a good reason.
Sound Emitter
This can come in the form of a dog collar or remote devices with the ability to emit an unpleasant sound every time your dog barks excessively.
Such a device is able to detect your dog barking and thus trigger the emission of a high pitched ultrasonic sound that is only audible to doggy ears. This sound is quite unpleasant to your pooch, enough to get him to stop barking. The idea is to discourage him from barking excessively.
Since dogs have a different threshold for the noise irritation, the device is set in a manner that causes its sound to increase as your pooch keeps barking, to a level where it can stop your pooch from barking, but without causing any harm.
So, despite the variance in different tolerance levels for different pooches, an ultrasonic sound emitter will help teach your pooch to bark less.
Anti Bark Collar
This device works in a similar fashion as the sound emitter. The only difference is that instead of the device emitting a high pitched ultrasonic sound when your dog barks, this device will deliver a gentle but firm electric shock to your dog from the dog's electric collar.
The electric current is at a safe level, enough to shock your pooch to submission without causing him any harm.
It is recommended that you use this option as a last resort because if you fail to use it correctly, it can cause your pooch to become fearful or aggressive.
Some of the best ways to go about this is to opt for a collar with dual sensors (sound and throat vibration sensors). This prevents it from being activated by other sounds. Also, it would be better if the device has multiple levels of punishment and a warning signal that alerts the dog of an impending shock.
Water Sprays
Offering one of the best solutions in bark control, water sprays can be incredibly effective in disrupting your pooch from barking bouts. This type of dog barking control devices utilizes ingredients such as citronella that have a powerful odor that dogs aren't too crazy about.
So, when they bark with the device on, the collar spays and shocks your pooch right out of his bark, making him question whether persisting with the yapping is actually worth it.
There are other milder yet effective anti bark sprays with gentler ingredients in case you feel that citronela is a bit to purgent for your buddy's liking.
What's The Best Anti Barking Device?
Before you try barking deterrents, I would suggest that you consider other solutions to excessive barking that don't involve the use of an anti barking device.
To begin with, establish that your pooch is indeed barking excessively. Remember, your dog's primary language is through barking. Normal barking could be due to the following situations:
She is excited to see you

She is (or becomes) territorial

There is an intruder in the house or compound
Although this list is not exhaustive, it does give you an idea of when you can expect your pooch to naturally bark.
That aside, it's also important to understand the psychology of dogs before you decide to employ the help of an anti barking device. For instance, dogs may bark excessively if they become bored. This is usually accompanied by other manic behavior such as chewing house rags and ripping and chewing cushions apart.
Thankfully, such behavior can be remedied through providing engaging toys that can mentally stimulate him.
Taking him out for long walks or exercise is another great way to bond with your buddy. You'll be helping him work off the excess energy he may have accumulated lately, which could, in turn, stop him from being restless and barking excessively.
In case the excessive barking is a result of your pooch being territorial, it means you can help him reduce the barking when visitors show up or when he meets new dogs or by simply socializing him a bit better.
Take him to the park every so often to meet new dogs and strangers. This way, she won't feel the need to mark and defend territory. If possible, get visitors to visit you more often so that your pooch can get used to seeing new faces in your house and compound without freaking out.
However, if you and your vet have come to the determination that your pooch will need the help of barking deterrent devices that are the best at reducing her yapping, then pay attention to the following factors.
Final Thoughts
Your dog barking excessively is not an experience you want to cope with because of all the reasons mentioned earlier, including the possibility of your dog suffering from a serious condition. Thus, it is imperative that you as a doggy parent finds out what the cause may be.
If the cause can be addressed without resorting to a barking deterrent all the better. But if it turns out that you need an anti barking device, then the above options are well built to cater to dogs of all kinds and to different temperaments.
SportDOG NoBark SBC-R Rechargeable Bark Control Dog Collar, in particular, stands tall above the rest not just because of its simple design but also its versatility, ability to last longer, and functionality.
Meanwhile, when using a stop barking device, please ensure to follow the guidelines in order to ensure the safety of your pet, yourself, and those around you.
Also, bear in mind that corrective gadgets are not supposed to be used all the time, but in moderation for dog training purposes.