Updated: October 13th, 2022
This article contains affiliate links. Read the full disclosure here.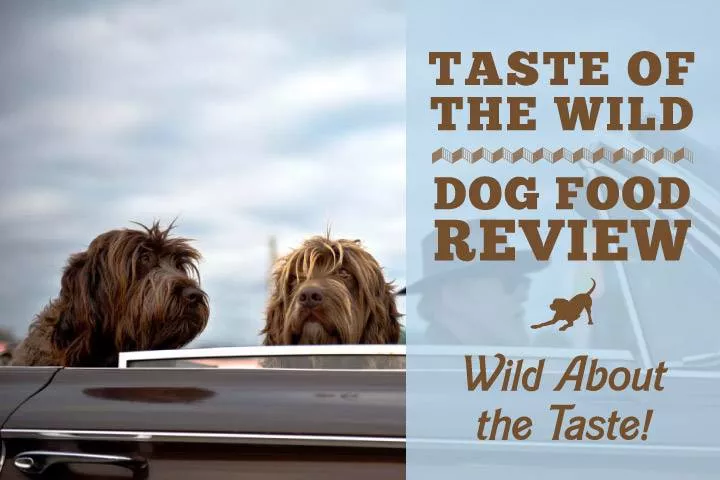 This waggin'-worthy Taste of the Wild Dog Food review checks if it's the pawfect dog food for your furry friend.
Introduction
The name really says it all: a taste of the wild for your pup. With ingredients such as lamb, bison, venison, salmon, and chicken, your pup will enjoy a true taste of the wild game that they would get out on their own.
Being able to bring these flavors to your dog's bowl is not something that many pet food brands can say. But flavor is only a small piece to the food puzzle when finding the right dog food for your pup. You'll want to look at the ingredients, customer reviews, and products offered.
So, let's take a look at this wildly loved dog food to help you decide if your dog will be waggin' their tales or tucking them.
Our Rating
Customer reviews have provided us with all of the ample knowledge to be able to give this dog food 4.9 out of 5 stars.
AT A GLANCE:
Our 5 Best Taste Of The Wild Dog Food
An Overview of the
Best Taste Of The Wild Dog Food
IMAGE
PRODUCT

Grain-free
Lamb protein is listed as the first ingredient
Infused with Omega-3 and Omega-6 fatty acids to promote healthy skin and coats

VIEW LATEST PRICE →

Grain-free
Probiotics included to support a healthy digestive system
Infused with Omega-3 and Omega-6 fatty acids for healthy skin and coats

VIEW LATEST PRICE →

Grain-free
Probiotics to support healthy digestion
Great source of amino acid

VIEW LATEST PRICE →

Grain-free
Real roasted venison and smoked salmon for a true taste of the wild
Great for digestion and nutrient absorption

VIEW LATEST PRICE →

Grain-free
Potatoes and peas included as a source of highly digestible carbohydrates
Bison, lamb, and venison blend for quality protein source

VIEW LATEST PRICE →
After looking at the ingredients in their formulas, it is clear that Taste of the Wild is an exceptional dog food. Top-quality ingredients translates to blissfully satisfied pooches and extremely happy customers.
Seems like pet owners can't go wrong with feeding their dogs with Taste of the Wild Dog Food.
Check out this video review:
Like many dog food brands, the dry dog food and grain-free dog food ingredients include sweet potatoes, chicory root, chicken meal, egg products, and tomato pomace, as well as supplements, such as zinc proteinate, iron proteinate, manganese proteinate, folic acid, vitamin E supplements, and ascorbic acid.
Pros:
Incredible Taste
Taste of the Wild Dog Food reviews are raving about the taste of this dog food!
Dogs who once were super picky eaters cannot wait for their owners to put the food in their bowls. And, they lick up every piece of food they can get their tongues on—it's just THAT good.
Healthier Pups
Many customers also reported that their dogs were healthier as a result of eating Taste of the Wild Dog Food. Many owners said that their fur babies no longer had itchy skin, weight loss, or upset stomachs.
One customer even said their pup looked fitter compared to the same age and breed of other dogs.
Cons:
Strong Dislike from the Puppy Pack
There really aren't many negative aspects of this pet food, but the one thing customers did report was their puppy didn't like the taste of the food.
It seemed that many negative reports related to puppies refusing to eat the puppy food, but there was no other reason given.
Top 5 Best Taste Of The Wild Dog Food: Reviews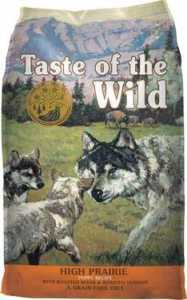 Your pup can feel as close to nature as possible with this recipe. It's formulated with novelty meals and packed with essential minerals plus natural antioxidants that blend to provide complete and balanced nutrition. 
Key Features
High-quality animal protein with real buffalo as the first ingredient

100% grain free

Highly digestible

Contains a prebiotic blend 

Rich in omega-3 and -6 fatty acids
In consumer reviews, most users love that the meal contains additional meats such as roasted venison, lamb, and bison to strengthen its protein profile. Sensitive pups can benefit from this formula as well, because it's grain free. Also, it is laden with omega fatty acids for better immunity and for promotion of a healthier fur and skin.
Pros:
High protein content (28%) to maintain and build the extra muscle active breeds require

Good for sensitive stomachs, as it's grain-free

Prebiotic blend helps with digestion and to maintain healthy bacteria in the gut

Contains lamb meal, an excellent source of glucosamine and chondroitin for stronger bones, mobile joints, and proper skeletal development
Cons:
Some pooches may be allergic to beef or fish
As a puppy formula, the Taste of the Wild High Prairie recipe lives up to the requirements of dogs in this life stage. From the high protein content to supporting better digestive health, bone and joint health, and healthier skin, together with the other features it boasts, this formula stands out as the best recipe overall.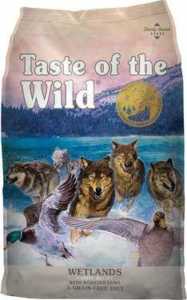 From the Taste of the Wild Wetlands line of dog foods, you have up to nine different dry foods to choose from. For strong muscular dogs, like pitbulls, the Taste of the Wild Wetlands Grain-Free Dry Dog Food, which mimics the ancestral diet of canines in the wild, is the ideal option. 
Key Features
Large range of poultry ingredients

Grain-free

Includes probiotics 

No artificial additives 
Expect rich protein content in the formula, thanks to the presence of meats and meat meals, ranging from duck, smoked turkey, and quail (meats) to chicken, duck, and ocean fish meals. Other nutritious ingredients like peas and garbanzo bean have also been included.
Because of the high protein content and a smaller portion of carbohydrates, this meal meets the nutritional needs of most dogs, your dog included. 
As for the fat content, it's relatively high thanks to the use of poultry like chicken and duck. But that shouldn't worry you. As long as your pup is active enough, she will burn it off  in no time.
In reviews of this food, pet owners seem happy with the shiny coat and general health of their pooch that comes with using this formula regularly. 
Pros:
Contains plenty of high-quality animal protein for building muscles

Contains probiotics to promote good gut health in your dog

Has chelated minerals to ensure better absorption during digestion
Cons:
Contains ingredients that may trigger allergies like eggs
Overall, the Taste of the Wild Wetlands Grain-Free Dry Dog Food is not only delicious but also developed to ensure it meets the instinctive appetite and cravings of your dog which is what makes it one of the best overall recipe on this list.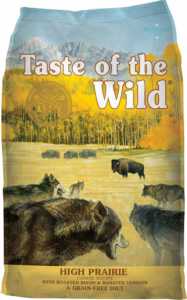 If you want your pooch to have a meal that closely resembles that of their ancestral wolves, then this recipe might just do it for her.
Taste Of The Wild understands that 70% of your canine buddy's immune system is found in the gut. Thus, they formulate their recipes to be gut-friendly.
The first ingredient in this grain-free formula is buffalo, lamb meal, roasted bison, roasted venison and chicken meal.
This ensures that your pooch has a plentiful supply of animal protein and other vital elements such as calcium for stronger bones and strong muscle development.
Just the sound of the ingredients is enough to make even the most choosy of eaters salivate. The recipe is packed with animal protein, and sweet potatoes and chicken fat ensure that there is adequate energy supply for your pooch.
Dry chicory root further enhances digestion and gut health for better absorption as well as a stronger immune system.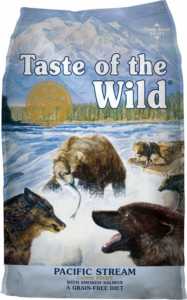 This is no doubt one of the best dry dog food for loose stools, given the rave reviews it continues to receive from doggy parents.
One thing I also admire about them is their brand philosophy of only formulating diets that are as close to nature as possible. Remember, ancestral dogs used to forage for prey to fulfill their protein needs and would balance things out by nibbling on berries and even grasses on occasion to keep their gut health balanced and generate decent poop. This is what inspires the brand.
In addition to being delicious, this formula is grain-free and comprises novel meats such as smoked salmon to provide animal proteins for lean muscle development.
The recipe utilizes carbs that are highly digestible, such as sweet potatoes, and green peas, which also happens to have a rich fiber content.
These carbs sources are a recommended alternative to grains. Don't forget that grains can be a cause of stomach issues in some pooches.
When protein and healthy carbs are combined with chicory root, which is a healthy prebiotic that supports digestion and gut health, the meal becomes very easy for your furry buddy to absorb and digest.
In turn, you can expect to see the quality of your buddies droppings firm up to a healthy consistency.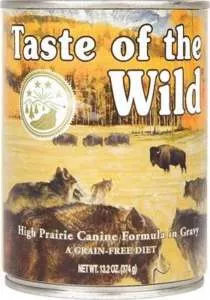 Beef, which is the top ingredient in this formulation, is a great source of lean protein and a wonderful alternative if your dog has an allergic reaction to chicken. Use of this farm-raised turkey, together with carrots, chickpeas, and wholesome peas make this food tasty enough even for your picky eater. Taste of the Wild also offers duck if your pooch doesn't like turkey.
Key Features
Grain free

Uses real meat as the first ingredient

Limited ingredients

Dairy free

Contains complex carbohydrates
Most dog foods use potatoes, which when broken down become simple carbohydrates that increase your pooch's sugar level, because they have a high glycemic value. However, Zignature uses complex carbohydrates that offer higher fiber and low glycemic levels, like chickpeas and peas. 
The combination of essential minerals, vitamins, and antioxidants, with the other key high-quality ingredients, give your pooch a well-balanced meal every time she eats.
Pros:
Limited ingredients help eliminate the risk of an allergic reaction

Uses turkey, which is a lean meat excellent for building muscles

Free of common allergens like additives and artificial preservatives, colors, and flavors
Cons:
Company doesn't provide specific formulas for different life stages
This is a delicious food that can meet the needs of a pup or a senior dog (all stages). Not only is it among the best tasting wet dog foods, it is also packed with nutritional value, a fact that makes the best product overall in this review.
Ingredients Analysis
The ingredients used in Taste of the Wild Dog Food are above average when compared to other dog food products on the market today. With the top ingredient in all of their formulas being a real meat, you can assure yourself that your dog is receiving top quality ingredients first and foremost.
However, we do know that when a real meat is listed as the first ingredient, we must also assume that the meat will lose some of its moisture which in turn makes the meat lose some of its weight and moisture. This means that the meat content actually becomes smaller after it is cooked so to say it is the first ingredient is a tad misleading.
There are also peas and beans included in most of the formulas which are great sources of fiber and carbohydrates. After the peas and beans, you will find a meat meal, such as lamb meal, which is about 300% more protein than fresh meat.
Overall, the ingredients prove that Taste of the Wild dog food your pooch will chow down will be top notch!
Recall History
According to the FDA website, there have been no recalls for Taste of the Wild Dog Food in the recent years.
Conclusion
Our Taste of the Wild Dog Food review predicts that your doggie will be waggin' their tail and covering you with slobber after tasting this food! And if taste alone wasn't enough to win your dog over, you can rest easy at night knowing you're giving your dog the absolute best food for their needs.
Giving your dog the true taste of the wild game their ancestors fed on will leave them feeling satisfied, energetic, and thankful.
Read our other dog food articles: