Updated: October 17th, 2022
This article contains affiliate links. Read the full disclosure here.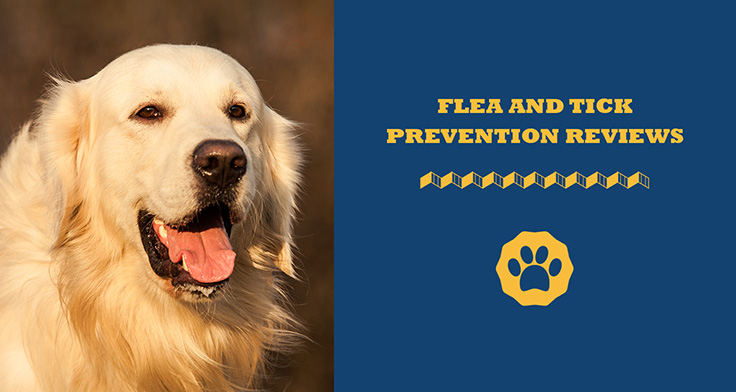 Fleas might be small, but they can cause big problems for your dog and your household if they are not dealt with quickly and effectively. Beyond just being irritating, fleas can cause more serious medical issues if left untreated. That's why I've put together the following flea and tick prevention product reviews.
AT A GLANCE:
Our 10 Best Dog Flea Treatments
Overview Of 10 Flea And Tick Prevention Reviews
IMAGE
PRODUCT

Topical treatment
Flea and tick treatment
30-day protection

VIEW LATEST PRICE →

Oral treatment
Works for fleas, ticks, and mosquitoes
24-hour protection

VIEW LATEST PRICE →

Topical treatment
Flea and tick treatment
30-day protection

VIEW LATEST PRICE →

Topical treatment
Treatment for fleas, ticks, mosquitoes, and lice
30-day protection

VIEW LATEST PRICE →

Collar
Treatment for fleas, ticks, and lice
Eight-month protection

VIEW LATEST PRICE →

Oral treatment
Treatment for fleas and ticks
8-12 weeks protection

VIEW LATEST PRICE →

Oral treatment
Treatment for fleas and ticks
30-day protection

VIEW LATEST PRICE →

Oral treatment
Treatment for fleas
24-hour protection

VIEW LATEST PRICE →

Environmental treatment
Treatment for fleas and tick
Seven-month protection

VIEW LATEST PRICE →

Environmental treatment
Treatment for fleas, ticks, and mosquitoes

VIEW LATEST PRICE →
Unfortunately, dealing with fleas can be easier said than done, as fleas lay their eggs quickly and not just on your dog but around your home. As a result, even dogs that have been treated for fleas can easily become reinfected. Treatments need to be powerful enough to kill fleas, their eggs, and their larvae but also mild enough not to pose a risk to your dog or other members of the household.
Fortunately, there are many highly effective products on the market to deal with every type of flea infestation for every type of dog. The main challenge for dog owners is to know which type is right for their particular dog and their particular flea problem.
In this article, I will share with you the top ten best flea treatments for dogs. I've also put together a comprehensive buying guide that explains the many different solutions on the market and what key things to think about when considering which one is right for you and your pooch.
Flea Medicine Reviews: Top 10 Best Treatments For Dogs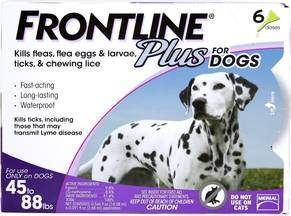 Click Here For Price
For the safest, fastest, and most effective monthly flea treatment, look no further than Frontline Plus for dogs.
Product Features
Topical treatment
Flea and tick treatment
30-day protection
This brand has been a vet favorite for over 20 years, which is no surprise, considering how fast-acting and effective it is. This topical treatment typically starts killing fleas within four hours of application and can eradicate all the fleas on your dog within 12 hours. However, the formula does give off quite a strong chemical smell immediately after application.
The formula uses fipronil to eradicate current fleas and (s)-methoprene to prevent future generations from taking hold by eradicating eggs and larvae. Both of these chemicals are EPA approved for dog flea treatment.
Frontline also comes with a special applicator, which makes it easy to apply the medicine to your dog's skin without potentially dangerous messes and spills. Simply peel off the protective seal and apply–no need for scissors!
The quality of this product, combined with its brand recognition, does mean that it is a bit on the expensive side. But the peace of mind may be worth the extra expense to many pet owners. The medication also comes in a variety of different dosages for different-sized dogs.
Pros
Safe ingredients
Works on fleas, eggs, and larvae
Fast-acting
Easy application
Cons
The effective and easy-to-apply flea and tick monthly treatment will ensure that your dog and your house both remain flea-free.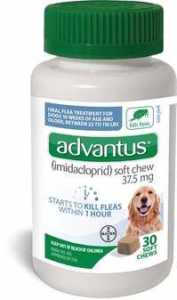 Click Here For Price
When dealing with an infestation that needs swift action, Advantus' Soft Chew Flea Treatment is an excellent choice.
Product Features
Oral treatment
Works for fleas, ticks, and mosquitoes
24-hour protection
These chews are designed to start working within one hour of ingestion and are mild enough to be fed to your dog every day if necessary, even with puppies as young as 10 weeks old. This medication is also conveniently available without a prescription, so it can be used for quick action without the need to visit a vet, assuming your dog is not on any other medication or suffering from any serious health conditions.
The formula uses imidacloprid, an insect neurotoxin that is one of the safest for animals and humans, so there's no need to use gloves when feeding this chew to your pooch. It also has a scent and flavor that dogs enjoy.
This treatment is a bit expensive and is best used for dealing with more severe infestations rather than for regular treatment. However, remember to be wary when combining oral and spot flea treatments, and do not let the active periods overlap.
Pros
Fast-acting
Mild for daily use and use with puppies
Available without a prescription
Animal and human-safe ingredients
Appealing smell and taste
Cons
Somewhat expensive compared to other products on the market
To deal with a flea infestation quickly, easily, and effectively, give your dog a delicious Advantus flea chew.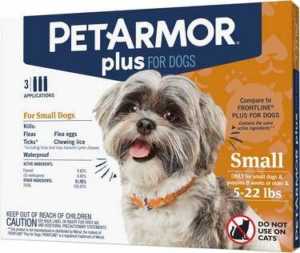 Click Here For Price
If you are looking for a more affordable treatment for keeping fleas under control, then try this monthly treatment from PetArmor.
Product Features
Topical treatment
Flea and tick treatment
30-day protection
PetArmor uses a very similar formula of safe ingredients to Frontline, combining fipronil to kill fleas and ticks and (s)-Methoprene to deal with eggs and larvae. The medication also comes in different doses for different-sized dogs and even has a handy applicator, though some pet owners have found this can be a bit difficult to use.
The formula is also a little slower acting, taking up to 12 hours to get to work. But these are the trade-offs for the medicine's budget price.
PetArmor also stands out for having a waterproof formula that won't be compromised by any of your dog's recreational activities over the course of the month-long protection period.
Pros
Affordable
Safe ingredients
Waterproof
Can kill fleas at all life stages
Cons
Slow-acting
Difficult to use applicator
If you are looking for an affordable but effective way to keep fleas in check, then look no further than PetArmor.

Click Here For Price
If you are looking for a single medicine to deal with all the nasty insects that can latch onto your dog, then K9 Advantix II Flea, Tick, & Mostquito Prevention is an excellent choice.
Product Features
Topical treatment
Treatment for fleas, ticks, mosquitoes, and lice
30-day protection
This topical treatment will start to kill fleas pretty much immediately on application using a mix of imidacloprid, permethrin, and pyriproxyfen. These active ingredients are also effective against ticks, mosquitoes, and lice, giving your puppy broad-spectrum protection. However, be aware that the latter two active ingredients can be a little harsh for sensitive dogs.
The formula claims to be waterproof and to continue working after bathing and swimming, though some pet parents have noted that the formula appears to be less effective after water contact.
Pros
Safe ingredients
Fast-acting
Provides broad-spectrum protection
Cons
Harsh for sensitive dogs
Waterproofing may be insufficient
If you are looking for a single medicine to deal with fleas, ticks, mosquitoes, and lice, then K9 Advantix II is the choice for you.

Click Here For Price
If you are looking for a longer-lasting source of flea protection, then consider this flea collar from Seresto that can provide protection for up to eight months!
Product Features
Flea collar
Treatment for fleas, ticks, and lice
Eight-month protection
Flea collars work in a very similar way to topical treatments, slowly releasing chemicals onto your dog's skin over a period of time. This collar from Seresto is one of the best on the market, as it manages to do this for a period of eight months without any accompanying grease and odor thanks to a unique polymer matrix.
The collar is also waterproof, and its effectiveness should not be affected by your dog's swimming and bathing activities.
The active ingredients in this treatment are imidacloprid to control fleas and flumethrin to repel ticks and destroy larvae. Both are recommended as safe by vets. The collar comes in a number of different sizes for different-sized dogs.
The collar is quite expensive, though it is a better value than it appears considering how long it lasts. It also means your dog won't suffer unnecessarily if you are late with their monthly flea treatment—just set a regular reminder in your calendar every seven months or so!
Pros
Safe ingredients
Long-lasting protection
No grease or odor
Waterproof
Cons
If you are looking for a simple way to manage fleas that doesn't require you to remember a monthly treatment, consider this flea collar from Seresto. Interestingly, the product also dominates the reviews on flea treatment for dogs.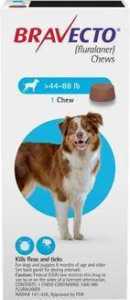 Click Here For Price
If you are looking for an easy-to-use treatment that offers long-lasting protection, then these chews from Bravecto will do the trick.
Product Features
Oral treatment
Treatment for fleas and ticks
8-12 weeks protection
These chews have a strong meaty flavor that your dog will love and are based on a fluralaner, which can protect against fleas for up to 12 weeks and ticks for around 8 weeks. It offers your dog relief from any existing infestation right away, killing 98.7% of parasites within 24 hours.
Doing a straight comparison with other flea treatment chews, these certainly are at the expensive end of the spectrum, but their long-lasting strength adds both value and convenience. Because they are so long-lasting, these chews are quite strong and have been known to be too much for some dogs. As such, they usually require a prescription from a vet. If your dog starts experiencing diarrhea or flatulence, consider changing medications.
Pros
Cons
Expensive
It may be too strong for some dogs and cause side effects
Prescription-only
Bravecto chews are a tasty oral flea treatment that can protect your dog from fleas for up to 12 weeks and ticks for up to 8 weeks.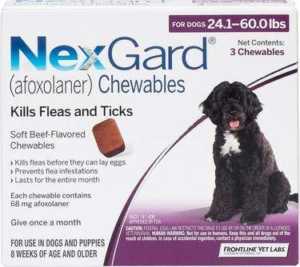 Click Here For Price
If you are looking for an oral medication that only needs to be used monthly, then try this unique formula from NexGard.
Product Features
Oral treatment
Treatment for fleas and ticks
30-day protection
Your dog will gobble down these beef-flavored oral flea treatments that will get started to kill fleas that have made their way onto your pooch within only four hours. However, unlike most oral medications, this medicine will stay in your dog's system and continue to be effective for 30 days.
To achieve this, NexGard uses Afoxolaner, which is still a relatively new chemical used in flea treatment, so it is not as well-known or thoroughly tested as some of the more established formulas. This medication is still relatively expensive due to its newness, so you will find yourself paying for the innovation and convenience.
Pros
Scent and flavor appeals to dogs
Fast-acting
Long-lasting
Cons
Expensive because it is a very new product
Uses a less well-known chemical that hasn't been as thoroughly tested as some others that have been on the market for longer
If you are looking for the convenience of an oral treatment that only needs to be administered monthly and aren't afraid to try something new, then check out these convenient, chewable tablets from NexGard.

Click Here For Price
If you are looking for the fastest-performing flea treatment on the market to put your dog out of its misery as quickly as possible, then try Capstar's Flea Tablets.
Product Features
Oral treatment
Treatment for fleas
24-hour protection
Capstar starts killing the fleas that are bothering your dog within 30 minutes of application. It will kill all the adult fleas on your dog within 4 hours, and it will have done its job and left your dog's system within 24 hours. It also manages to do all this with a relatively affordable price tag.
The active ingredient in this recipe is nitenpyram, which is effective but mild enough to use, in the correct dose, with puppies as young as four weeks, dogs as small as two pounds, and in pregnant and breeding dogs.
Nevertheless, this should only be used in consultation with a vet and should not be combined with other medications. This is a bit of a drawback, as this medication is designed to deal specifically with fleas and will not deal with lice, ticks, and mosquitoes as effectively as other medicines.
Pros
Affordable
Fast-acting
Leaves your dog's system quickly
Mild for use with puppies and pregnant dogs
Cons
If you are looking to deal with fleas as quickly as possible to give your dog relief, then Capstar may be the answer.


Click Here For Price
Kill the fleas that your dog has brought into your home with this affordable and effective flea spray from Virbac.
Product Features
Environmental treatment
Treatment for fleas and ticks
Seven-month protection
As well as killing the fleas that are clinging to your dog, it is important to kill any eggs and larvae your dog has brought into the home, as they can easily latch onto your dog, reinfecting them even after a full course of treatment.
This spray contains pyrethrins and permethrin to kill adult fleas as well as pyriproxyfen to deal with eggs and larvae. A single can of Virbac can cover 2,100 square feet, and once sprayed, it can last for around seven months.
Use this aerosol spray to treat carpets, rugs, drapes, upholstery, and pet bedding to protect your pet against reinfestation. The spray does not leave any odor or sticky mess, so once applied, you won't even notice that it is there. This spray is relatively expensive compared to similar products, but it's still a good value since it lasts a long time.
Pros
Long-lasting
No odor or sticky mess
Easy to apply
Cons
Cannot be applied directly to pets
Expensive
If you are worried that your flea problem has spread beyond your pooch to your home, then treat any infected areas with this effective and easy-to-use aerosol spray from Virbac.

Click Here For Price
If you are looking for a way to deal with fleas, eggs, and larvae your dog has brought into the home but want to avoid all the nasty chemicals, then try this all-natural solution from Vet's Best.
Product Features
Environmentally friendly, all-natural treatment
Treatment for fleas, ticks, and mosquitoes
This formula uses all-natural plant-based ingredients, including peppermint oil and clove extract to kill fleas, their eggs, and ticks on contact. It is also pretty effective at repelling mosquitoes. Considering its all-natural label, this formula is surprisingly affordable and is non-staining, so once you have used it, you won't even notice that it is there.
This comes as a spray rather than an aerosol, so it is more difficult to apply than an aerosol. This product should also not be used in homes with puppies (or kittens) less than 12 weeks old or around pregnant or nursing dogs.
Pros
All-natural
Doesn't stain
Affordable
Cons
Should not be used around puppies less than 12 weeks or pregnant or nursing dogs
More difficult to apply than aerosol products
If all-natural products are important to you but you still want an effective way to deal with fleas in the home, then try this spray from Vet's Best.
Buying Guide: Dog Flea Treatments
Even if you think you live in a clean home where your dog can't possibly pick up fleas, they still probably need regular flea treatments. Fleas are very resilient beasts that can live outdoors in temperatures as low as 33 degrees Fahrenheit for as long as five days as they wait for a new warm host like your dog.
While they don't fly, they have incredible jumping abilities and can easily latch onto passing pooches.
Once adult fleas have found their way onto your dog's skin, they then start to lay their eggs. The average female can lay up to 5,000 eggs, and depending on conditions, these can hatch in as little as four days.
This means your pet can quickly become infested. What's more, they won't just infect your pet, as the eggs don't latch onto your dog with the same intensity as fleas themselves. As a result, they often fall off and make their way into things like your carpet and furniture. Then it is not just your dog that needs flea treatment but your entire home!
When fleas bite your dog, they can introduce microorganisms into their bloodstream that can cause a variety of serious health conditions such as flea bite dermatitis (inflamed and itchy skin), typhus, tapeworm infestations, and Haemobartonellosis, which disrupts the blood's ability to deliver oxygen to the tissues.
While fleas will not usually migrate from dogs to humans, they can still cause problems for humans in the home.
According to vet Dr Denish:
Fleas can bite humans but don't actually live on human skin or hair. Certain diseases can be carried by fleas and spread to humans, including plague and cat scratch fever.
Suffice it to say, more than just an irritant, fleas are a serious issue that needs to be managed.
How To Tell If Your Dog Has Fleas
While it is safe to assume that dogs that are not receiving flea treatment probably have fleas, there are a few other signs to look out for to confirm your suspicions:
Scratching
Not just an old wives' tale, fleas are itchy, and if your dog has them, they will be scratching. When fleas bite, their salivary glands give off a substance that is irritating to dogs, so there is no way they won't be scratching.
Hair Loss And Irritated Skin
Hair loss can also be a sign of fleas, not only from the fleas themselves but also as a result of the increase in scratching and biting by your dog in an attempt to get the fleas off. You should also look out for irritated, red marks on their skin, especially on their back and neck and at the base of their tail.
Visual Inspection
If you suspect your dog has fleas, you can probably spot them with a visual inspection. Adult fleas are about one-eighth of an inch long and reddish-brown in color. They are hard to see, especially on dogs with darker hair, but start your examination at the base of your dog's tail, between the toes of the paw, as well as on their neck, belly, and chest.
Fleas also leave behind a residual substance often called flea dirt, which looks much like pepper, but they are actually specks of dried blood. Look for this on your dog, on their bedding, and on the carpet. You may also be able to see flea eggs, which look like small, white specks, and flea larvae, which look like tiny worms, around the home.
Pale Gums
In the case of severe infestations, dogs can begin to suffer from anemia, which is a loss of red blood cells. Fleas can consume 15 times their body weight in blood. One of the first visual symptoms of this condition is pale gums.
How Often Should You Buy Flea And Tick Meds?
Flea and ticks aren't seasonal; they can invade your dog anytime. This means you'll need to give your dog flea treatment year-round, especially during the summer because this is the time when fleas' and ticks' numbers double.
When it comes to frequency, it all depends on the treatment options you opt for. Tablets, flea collars, sprays, and topical treatments all work in varied ways and for different periods (more about that below). However, if you are completely unsure how to go about this, speak to a vet.
Types Of Treatments
There are a number of different ways to treat fleas on your dog and in dog homes.
Oral Treatments
These treatments are usually given in tablet form and contain insecticides that make their way into your dog's bloodstream. Then, when fleas bite your dog, they ingest the poison and die. These generally only stay in your dog's bloodstream for about 24 hours and need to be used daily until the infestation is under control. For this reason, oral medicines are best for dealing with infestations rather than for prevention.
This type of treatment sometimes requires a vet's prescription. A vet will take into account factors such as the age and size of your dog, the severity of the infestation, and how any particular medication may interact with any other medications your dog might be using.
Oral solutions are generally made with imidacloprid or nitenpyram as the active ingredient.
Topical Treatments
Such treatments are normally a concentrated liquid that is applied directly to your dog's skin but can also take the form of a shampoo or powder. They are generally made with fipronil and (s)-methoprene as the active ingredients, and these do not need to make their way into your dog's bloodstream but instead work on the fleas directly.
These kinds of treatments usually last for about a month at a time and so are a better alternative for prevention. Protection periods do vary from medicine to medicine, so it is important to check the protection period and apply accordingly.
With topical treatments, it is also a good idea to look for something waterproof to ensure that it actually lasts for the stated protection period even in the face of swimming and bathing.
Flea Collars
Flea collars are another option for keeping fleas at bay, though they are not appropriate for dealing with an existing infestation. They work pretty much the same way as topical medicines, releasing chemicals that repel fleas on your dog's skin over a more extended period of time.
Environmental Treatments
While the above three treatments are all to eradicate the fleas that are on your dog, if your dog has brought fleas into the home, it is likely that your carpets and upholstery are harboring flea eggs waiting to hatch and infect your dog all over again. In order to manage fleas effectively, carpets, upholstery, and pet bedding should be treated for fleas as well to kill eggs and larvae and stop the cycle of infection. These will often use similar chemicals as topical treatments.
While environmental treatments can be used alongside topical or oral medicines for your dog, you should never mix topical and oral treatments. The different chemicals in these treatments can mix in unexpected ways, and treatments using the same chemicals can lead to an overdose.
Other Considerations
Once you know what type of treatment you would like to use, there are some other things to consider when deciding which one is best.
Value
No pet parent wants to pay more for a product only to realize it is of sub-standard quality. Thankfully, you can avoid that by taking some time to analyze what the treatment is composed of. Opt for reasonably priced options with high-quality ingredients for long-lasting results.
Brand Reputation
You will hardly go wrong with brands that are well established and highly regarded. In the case where the brand is unheard of, dig deeper to learn what they are all about, from values and goals to things they believe in. Remember to check their policies as well.
Overall, narrow your options to brands that have won the trust of pet parents or are honest and transparent. You could get such information by reading more dog flea medicine reviews from shopping websites and forums.
Your Dog's Age And Weight
This is where you might want to consult with your vet, especially if you have a puppy or an older dog. Some flea and tick treatments could end up causing more harm than good, especially for sensitive dogs. Puppies aged eight weeks or less and very old dogs require special treatment. You could check the product for age recommendations or talk to your vet.
The situation is no different when it comes to age. You do not want to give your dog more treatment than is necessary because this could cause more problems. While some manufacturers specify the weight requirements on their packages, others don't. It would be wise to consult your vet about that as well.
Does The Treatment Deal With Other Pests?
While fleas are the most common parasites to affect dogs, they are certainly not the only ones. Some flea medicines are also effective against other parasites such as ticks, lice, and mosquitoes. Obviously, it is a great benefit to be able to deal with all these potential problems in one fell swoop, especially if you live in an area with lots of ticks and mosquitoes.
Other Medications
Medications always have the potential to interact in unexpected ways, so if your dog is on other medication, it is best to consult your vet before giving them any type of flea medication. For your own peace of mind, most flea medications will include a section in their instructions about potential problematic drug interactions that you can review.
Safe Ingredients
Obviously, when you are choosing a flea treatment, you will want something that has been verified by vets and reported by other dog owners as effective but also safe. The same poison that kills fleas could potentially be harmful to your dog, you, and your household.
Treatments often include chemicals that can cause serious health problems for your dog. According to the U.S. Food and Drug Administration (FDA), some dog flea treatments have:
…potential for neurological adverse events in dogs and cats… including muscle tremors, ataxia, and seizures…"
Signs that animals may have been harmed by the chemicals in flea treatments include vomiting, diarrhea, trembling, and respiratory problems. If any of these signs occur, the product should be washed off as much as possible immediately and a vet consulted.
Whatever flea treatment you choose should be EPA approved. You can check the National Pesticide Information Center (NPIC) and National Center for Biotechnology Information (NCBI) for which pesticides and active ingredients should be avoided. The main chemicals to avoid include:
Tetrachlorvinphos: overexposure to this chemical can cause nausea, dizziness, and confusion, and in extreme cases can be fatal.
Pyrethroids: humans exposed to this chemical can experience numbness, itching, burning, and stinging.
Pet owners should also avoid getting these chemicals on their own skin, wash their hands thoroughly after use, and keep medicines out of the reach of children.
Other Ways To Manage Fleas
As well as flea treatments, there are a number of things we can do to minimize the likelihood of flea infestations in our dog and home, including:
Bathe and brush your dog regularly. For advice on grooming golden retrievers, check out this how-to article.
Vacuum carpet and furniture frequently. Afterward, be sure to seal and throw away the vacuum bag (if you have one) and take out the trash immediately, as flea eggs can still hatch in the bag.
Wash animal bed covers weekly.
Sprinkle diatomaceous earth, a powder composed of the fossilized remains of single-celled algae, on floors to eliminate fleas.
For more tips on protecting your home against fleas, check out this video from Bright Side.
FAQs
Can You Overdose A Dog On Flea Treatments?
Yes, which means flea medications should be administered only as instructed to avoid overdoses. Signs of a flea treatment overdose include twitching, excessive salivation, paw flicking, vomiting, diarrhea, and depression.
How Can I Soothe My Dog's Flea Bites?
Apply a mixture of water and baking soda to the bites to relieve itchiness. Give them flea medication afterward to prevent further bites.
How Long Do Fleas Live In Your House?
Fleas can live for more than 100 days without food if left undisturbed. On average, they live for about two to three months.
Can Fleas Survive The Washing Machine?
If you wash clothes and bedding on a hot cycle, fleas will not survive the washing process.
How Much Is Flea Treatment For Dogs?
Prices for the best flea treatment for dogs vary from brand to brand and also depend on the type, quality of ingredients, functions, among other things.
For as low as $10, you can get a quality spray medicine. $30 could get you any of the best topical solutions. You can usually get the other treatment options for somewhere between $20 and $70 dollars, depending on the rest of the factors mentioned above.
Is Flea Medicine Safe For Dogs?
The answer is yes. However, it is always best to examine the ingredients just to be sure they are safe for your dog. While some chemicals are bad for pets in general, others could be safe for most dogs yet harmful to puppies, old dogs, or pets with sensitivities and other conditions. Once again, it's best to consult with your vet if you have doubts about an ingredient.
Where To Buy Flea Medicine For Dogs?
You could buy the best flea treatment for dogs from vet-recommended stores near you. The other alternative is to shop online from a reliable and pet-specific store like chewy.com. All the options on our list are available on chewy and are reasonably priced.
Best Dog Flea And Tick Treatment Reviews: Summary
We are fortunate to have so many options on the market to deal with the pervasive problem of dog fleas, but choosing the right one for your dog can be challenging. If you are looking for the overall most effective and safest topical monthly treatment on the market, then you can't really beat Frontline, the market leader.
However, this high-quality product is understandably expensive, so you can also consider PetAmor as a more affordable alternative. If you prefer a longer-lasting collar treatment to monthly applications, then you won't find anything better than the Seresto collar.
If you need to treat an infestation with a fast-acting oral medicine, then Advantus offers the best option on the market. Meanwhile, if you are looking for something that protects your dogs against all sorts of parasites in one treatment, then check out K9 Advantix. If you are looking for an oral treatment that lasts for more than 24 hours, then consider trying the new, innovative 30-day oral medicine from NexGard.
When it comes to environmental treatments, Virbac's aerosol spray will do the job quickly and effectively. Finally, if you are looking for an all-natural alternative for treating your home, then consider Vet's Best home spray.
Whatever flea treatments you decide to use, remember that they do contain potentially harmful chemicals and to only ever use them as directed.