Updated: April 27th, 2023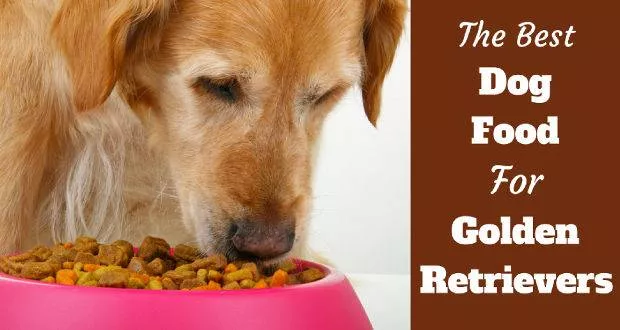 © Depositphotos.com / studioM
If you're a loving and responsible pet parent, you want to look after your dog as well as possible, making sure they're healthy and happy.
It's impossible to be in full control of your dog's health, as illnesses and injuries can just happen, but one thing you can control is what your pup eats. Choosing a high-quality food that your dog thrives on can make a huge difference to their health.
But, with so many options out there, which should you pick?
This is a tough one because there isn't a one-size-fits-all answer. A top-quality food that one dog thrives on might make another sick. Conversely, food that one person sees as cheap or lower-quality might keep a dog in perfect nutritional health.
AT A GLANCE:
Our 7 Best Dog Foods For Golden Retrievers
Although it's important to do your research, you shouldn't beat yourself up about finding the one perfect food because there are plenty of excellent options out there. Once you find a good quality food that fits within your budget and suits your dog, then you're laughing!
*The above links lead to current prices and customer reviews on Chewy.
Read on to discover why we made these choices, and for buying advice to follow that will make sure you get the right product for your dog.
What Are The Best Dog Foods For Golden Retrievers?
We highly recommend looking at the comparison table we have below where we highlighted the features of each product.
IMAGE
PRODUCT
 

Best Fresh Dog Food

Best Fresh Dog Food

Suitable for all life stages from puppies to seniors
Real restaurant-quality ingredients
Developed by a veterinary nutritionist

50% off first order

Best of the Best

Best of the Best

Extremely high-quality ingredients
Biologically appropriate
Grain-free

CHECK PRICE →

Runner Up

Runner Up

Contains certified organic ingredients
Hormone-free meat
Contains chelated vitamins and minerals

CHECK PRICE →

Best for Budget

Best for Budget

well-rounded, balanced diet
Antioxidant and nutrient-rich vegetables
Balanced blend of omega-3 and omega-6 fatty acids

CHECK PRICE →

Best for Large Breed

Best for Large Breed

A range of meat and plant ingredients
Vitamins and minerals are chelated
No nasty additives or fillers

CHECK PRICE →

Premium Choice

Premium Choice

A hassle-free way to feed a raw diet
Freeze-dried so no need for preservatives
Many of the fruits and veggies are organic

CHECK PRICE →

Best for Adult

Best for Adult

Contains chelated minerals which are more bioavailable
High-quality ingredients
No dangerous preservatives

CHECK PRICE →
Now that you've read the above, you should know a bit more about what makes a good dog food and what makes a bad one. However, you still might be feeling a little overwhelmed by all the choice out there.
If you're reading this as the owner of a golden retriever puppy, you should chek out our choices of the best food for golden puppies here.
For adult goldens, we've selected a handful of what we think are the best dog foods for golden retrievers and discuss them in the rest of the article here. Of course, there are other great foods out there if none of these take your fancy, but we can't list them all!
Top Rated Dog Food for Golden Retrievers Reviewed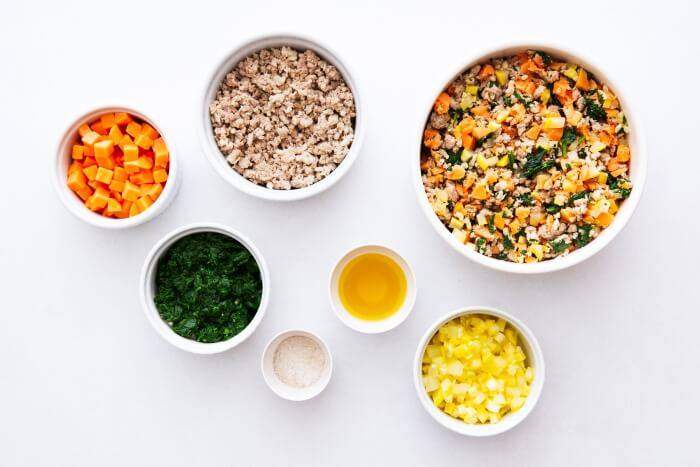 If you've ever wondered about feeding your Golden Retriever a fresh diet but you dislike the idea of raw food and the dangers that can come with it, then you're definitely going to want to take a look at what NomNomNow has to offer.
The nutrition (and fun) begins when you choose which food you'd like to give your dog. There are four delicious recipes to choose from for your Golden – the popular Heartland Beef Mash, Chicken Cuisine with the highest protein, Porkalicious Potluck for dogs with allergies, and Tasty Turkey Fare for those picky eaters.
Each recipe is made with healthy meat-based protein and human-grade ingredients, with no weird byproducts or questionable preservatives. The food is easily digestible, and you can be rest assured that your dog is getting the right amount of nutrients because every recipe is finished off with an expertly formulated nutrition blend
You'll soon see the health benefits that come with eating fresh food, such as a healthier, shinier coat because of the fish oil in the NomNomNutrient Blend, smaller and firmer stools because of the highly digestible ingredients, and improve energy and mood
The Food is portioned based on your dog's unique profile including age, weight, and any goals such as weight loss. You get a free consultation with a veterinary nutritionist when you order, so your golden gets exactly the right nutrients.
Nom Nom takes the guesswork and measuring out of mealtime by individually portioning and packaging each meal for your pup. Portions are customized based on your dog's unique profile and health factors, including their age, weight goals, and activity level. If you have any questions, you can get a free consultation with Nom Nom's nutrition consultant so your Golden gets exactly the right nutrients they need.
Pros:
Suitable for all life stages from puppies to seniors
Real restaurant-grade quality ingredients – no nasty byproducts or potential toxins
Individually-portioned to help meet your dog's weight goals
Developed by a veterinary nutritionist to be suitable for all life stages from puppies to seniors
Delivered weekly in convenient single meal portions
Cons:
Cost is above market average.
Naturally, there are many other excellent choices on the market, and not every brand is available to every consumer.
The Taste of the Wild Grain-free range is designed to reflect the local, regional produce available all over North America. So, the High Prairie variety contains a mix of buffalo, lamb, bison, and venison. As well as plant-based foods including sweet potatoes and a variety of berries. Frankly, those ingredients sound better than the way most humans eat.
It is high in protein and low in carbohydrates, following the "biologically appropriate" model of dog feeding. This product is 100 percent grain-free, though this doesn't necessarily make it better for your dog unless they have an allergy.
The guaranteed analysis shows a minimum of 33 percent protein and 17 percent fat. It doesn't contain any artificial flavors, colors or preservatives and you'll find that reading the ingredients, almost everything is easily identifiable, unlike some foods where you can't decipher half of what's in them.
It is quite an expensive food, but it definitely contains high-quality ingredients and no hidden nasties.
Pros:
Extremely high-quality ingredients
Biologically appropriate
Contains a good range of vegetables and pulses, as well as meat
Grain-free (which may be a pro if your dog can't tolerate grains)
70 percent meat content
Cons:
Costs more than some others on this list
If you prefer to buy organic food for you and your family, you can include your furry family members on the list now, too. Made from predominantly certified organic ingredients and hormone-free meat, this quality dry kibble won't leave you worried about the effects of pesticides on your pet.
This is a popular food for a reason, and tends to get top reviews from almost everyone who has fed it to their dogs. It also offers good value for money, especially if you order it in larger bags.
It's made using chicken as a single type of meat, which can be easier on some dogs' stomachs than having a blend of meats. It also contains fish, in the form of salmon meal, and some vegetarian sources of protein, including peas and egg.
Healthy carbohydrates come from brown rice, barley and millet. Fruits and vegetables including broccoli, carrots and apples add some vitamins and minerals, but this food also contains chelated vitamins and minerals, which are easily absorbed and will make sure your dog is getting all the nutrients they need.
The guaranteed analysis shows it contains 27 percent protein and 14 percent fat.
We especially like that this is a large breed formula, as it should more accurately meet the nutritional needs of a golden retriever.
Pros:
Contains certified organic ingredients
Hormone-free meat
Contains chelated vitamins and minerals
Good value for money
Large breed formula
Cons:
Not all ingredients are organic
The Canidae PURE Sea Salmon and Mackarel Formula is perfect for those looking to find a high-quality wet food for their four-legged friend.
It's almost like a home-cooked meal in a can, composed predominantly of salmon and mackerel in fish and vegetable broths, with peas and sweet potatoes. However, the addition of vitamins makes it a complete and balanced food for your dog. So, if you want to feed wet food alone, this meets all your pet's nutritional needs.
That said, for a dog as large as a golden retriever, it would work out extremely expensive if this was the only thing you fed them. Unless money is no issue, it might be best fed mixed with a good kibble.
While it is grain-free, there are adequate carbohydrates from the sweet potato. It contains above average protein and below average fat compared to other wet foods, so it could be good for dogs that have trouble staying trim.
Pros:
High-quality ingredients
Free from artificial flavors, colors or preservatives
Good meat content
A complete and balanced food
Cons:
Costs more than many other dog foods available
Sometimes it's off-putting when dog food has a long list of ingredients, but when the ingredients listed are great for your dog, then the more the merrier.
In terms of meat products, it contains a mixture of chicken and turkey, which are easy on the stomach and suit a good range of dogs
Then there are a large number of plant-based foods, providing both protein and a variety of vitamins and minerals. These ingredients include potatoes, spinach, broccoli, parsley, kale, apple, blueberries and sweet potatoes.
There are also added vitamins and minerals so your dog is getting all the right nutrients. These are chelated, which makes them more highly bioavailable. The guaranteed analysis shows a minimum of 34 percent protein and 12 percent fat.
The large breed formula contains both glucosamine and chondroitin, which are beneficial for the joints and could help avoid some of the joint issues often found in golden retrievers and other big dogs.
Pros:
A range of meat and plant ingredients
Vitamins and minerals are chelated
Large breed formula contains glucosamine and chondroitin for joint health
No nasty additives or fillers
Made in the USA
Cons:
More expensive than some similar products (but not prohibitively costly)
This is a bit different from the other foods on our list, as it's neither a wet food or a kibble. It's a freeze-dried raw food that can be rehydrated to make it almost like a wet food. NomNomNow has a board-certified veterinary nutritionist, Dr. Justin Shmalberg, that specifically formulated all of our recipes to be suitable for all life stages, from puppies to senior dogs
If you've ever thought of feeding your dog a fresh dog food diet, but have been put off by the hassle, this could be a great compromise.
Composed of 77 percent beef and 23 percent plant-based foods and supplements, there are certainly no fillers or junk additives here.
Alongside the beef, which is raised without antibiotics or hormones, you'll find fruit and vegetables such as yams, kale, broccoli, apples and blueberries. What's more, many of these plant foods are organic, which means fewer pesticides.
According to the guaranteed analysis, it contains 48 percent protein and 38 percent fat. This sounds great on paper, and it is for many dogs, but it may be a bit too much for some, especially if they're less active.
It is understandable, due to the high-quality ingredients, but this would work out a very expensive way to feed your golden if they ate this for every meal.
Pros:
A hassle-free way to feed a fresh dog food diet
Contains excellent-quality ingredients from meat and plant sources
The beef used in the product is antibiotic and hormone free
Freeze-dried so no need for preservatives
Many of the fruits and veggies are organic
Cons:
May be too high in protein and/or fat for some dogs, best suited to highly active dogs.
Chicken and eggs make up the majority of the protein in this food, so it could be a good choice for a dog with a sensitive stomach. Eggs are an excellent source of protein for dogs, as they're easily digestible. There are also plant-based sources of protein, coming from whole peas and pea protein.
The focus on this brand is with wholesome ingredients, so there are never any artificial preservatives, colors or flavorings, nor does the food contain rendered meat.
The carbohydrates come from oats and barley, both of which are good sources of fiber. Oats are also rich in B-vitamins. Other plant-based foods in this recipe add important vitamins and minerals. Fruits and vegetables include blueberries, zucchini, sweet potatoes, apple, green beans, carrots and cranberries.
Flaxseed is added as an excellent source of omega-3 fatty acids and its also rich in easily-digestible soluble fiber. Inulin is added as a probiotic to make the food extra easy to digest. The added vitamins and minerals are chelated, which means your dog can more easily absorb and make use of them.
According to the guaranteed analysis, the minimum protein content is 28 percent, and minimum fat content is 16 percent, which is more than sufficient for most dogs.
Pros:
Contains chelated minerals which are more bioavailable
Contains omega-3 fatty acids to promote skin health
No rendered meat or meat meal
High-quality ingredients
No dangerous preservatives
Cons:
Some owners find the kibble pieces small for larger dogs
With that in mind, here are few additional recommendations:
Get 50% OFF Your First Box of Ollie
Your puppy deserves a great start in life and that's why we've gone to great lengths to find the very best food for golden retriever dogs. We had an awesome list to begin with, and we've found yet another food to put on your shortlist: Ollie.
Ollie is fresh, slow-cooked dog food made with real, human-grade ingredients and shipped straight to your door once per week. You get a special scoop designed just for your pup so that you can treat them to the exact serving size they need.
Not only is this food convenient, it's also designed for all life stages, so you never have to switch your puppy's food as they get older. There are quite a few recipes to choose from including chicken, lamb, beef, and more. Most are grain-free, perfect for sensitive stomachs, and none of them have questionable ingredients that might not be good for your puppy.
Healthy carbohydrates come from veggies like squash, sweet potatoes, peas, carrots, kale, and more, and a few recipes even include tempting berries to up the antioxidant level and treat your dog to interesting flavors.
Ollie fresh dog food has an outstanding nutritional profile thanks to added vitamins, minerals, and tasty, healthy extras like natural fish oil, so your puppy grows at the proper rate and every body system develops as nature intended.
Pros:
Superb nutrition designed just for your dog by veterinarians.
Choose the right recipe by creating a profile just for your dog.
Delicious tastes, dogs never get bored.
Human-grade ingredients sourced from America and Australia, food is fresh-cooked in New Jersey and delivered weekly.
Portion scoop included so your dog gets exactly the right amount at every meal.
Cons:
Priced above average market cost
Must have a subscription
What Makes A Good Dog Food?
There are a range of factors that mark out a good dog food. According to Dog Food Advisor, a good dog food should have:
A decent amount of meat-based protein
A carbohydrate content that's not too high
No controversial chemicals
No artificial colors
A fat-to-protein ratio no higher than 75 percent
No generic animal fats
No unidentified meats or other ingredients
Although some experts deem it unnecessary, Chelsea from Pups N Paws advises that another mark of quality is that the ingredients are also labeled as suitable for human consumption. This way, you can rest assured your pet's diet is compatible with your own eating habits.
Do Golden Retrievers Have Any Specific Dietary Requirements?
In some cases, it can be helpful to feed a dog food that's suitable for the breed you own, so that begs the question, do golden retrievers have any specific dietary requirements?
Well, yes and no. Of course, based on factors such as their age, weight and activity level, your golden will have specific calorie and protein requirements. Plus, some goldens may thrive on foods designed for large breeds. However, most will be perfectly healthy on a quality food designed for any adult dog.
According to Dog Food Guru, the National Research Council of the National Academies recommends an active 70-pound golden retriever needs around 1700 calories a day. And the Association of American Feed Control Officials says they need around 18 percent protein in their diet (although this is the same for all adult dogs). So, you'll need to pick a food that can meet these needs.
Knowing how much to feed your Golden Retriever is always tricky. If you are not sure how much to feed your Golden, make sure to read this article.
Both hip and elbow dysplasia aren't uncommon in golden retrievers. Appropriate feeding during the puppy stage is deemed more important in preventing it than adult dietary choices. However, maintaining your golden at a healthy weight will help keep undue pressure off their joints.
Is There One Best Dog Food For Golden Retrievers?
The short answer to this is no.
There are hundreds of dog foods out there on the market, and many of them are of extremely high quality.
You're not so much looking for the one perfect dog food as you are looking for the dog food that best suits you and your dog.
Don't stress out over the decision, as it's not hard to change brands if you find your dog isn't thriving on the food you selected.
Likewise, don't go way over your budget just because you think you've found the perfect food. Sometimes the priciest brands out there are just the ones with the best marketing gimmicks. There are plenty of top-notch foods that come at more affordable prices.
Should You Choose Wet Or Dry Dog Food?
A range of factors may determine whether you choose to feed your dog wet food or dry kibble.
Dry kibble is extremely popular as it's convenient and affordable. It can also help with plaque build-up, as chewing on the hard pieces scrapes the teeth slightly.
Wet food doesn't last as long once you put it in the bowl and it requires refrigeration if your dog doesn't eat the full can in one meal. In other ways, however, wet food is often superior. Because of the airtight packaging, wet foods don't need any chemical preservatives and they're easier to chew for older dogs. They're often nutritionally superior, too. What's more, many dogs find them more palatable, so they're perfect for finicky eaters.
To get the best of both worlds, some owners mix kibble with wet food, which is a good compromise.
Are There Any Ingredients To Avoid?
It's certainly true that not all ingredients are created equal. But, unless you're a nutritionist or a food scientist, it can be hard to determine what's what.
According to Dog Food Advisor, there may be some preservatives that could cause damage to your dog. They may be fine in the short run, but since you'd be feeding them to your dog everyday for their whole life, the cumulative effect could be cause for concern.
Here are a few chemical preservatives you should try to avoid,
Butylated hydroxyanisole (BHA) and Butylated hydroxytoluene (BHT): These compounds have been labeled carcinogenic by the World Health Organization.
Ethoxyquin: This is also used as a pesticide and a hardening agent in rubber. The FDA is investigating whether it causes liver and blood problems. And it's already banned in Australia and the EU.
Propylene glycol: This is used to preserve the moisture content in some dog foods. It's already banned by the FDA for use in cat food, as it can cause Heinz body anemia.
Tertiary butylhydroquinone (TBHQ): Studies suggest that this preservative can cause stomach tumors in animals, as well as damage the DNA in cells.
Propyl gallate: This substance contains xenoestrogens which are linked to breast cancer in humans.
While it's not 100 percent certain that these substances would cause significant harm to your dog, it's better to be safe than sorry. There are plenty of foods that don't use these kinds of ingredients, so why not go with them?
It's worth noting that there's likely nothing wrong with natural preservatives, such as those containing the words the words "tocopherol" or "ascorbate." Their job is simply to stop the meat and animal fats in the food from going rancid.
Should You Go Grain-Free?
What with the gluten-free trend in human foods, many dog owners seem to assume that grain-free foods are better for their dogs.
However, according to Lorie Huston, DMV, there's nothing innately inferior about foods that contain grains. In fact, grains are a great source of carbohydrates that are easily metabolized by dogs.
Some dogs are gluten-intolerant or allergic to a particular type of grain. But, it's more common for dogs to be allergic to a particular meat, or even meat in general.
So, unless your dog has been diagnosed with an allergy to grains, there's no reason to avoid them when selecting a dog food.
How Can You Tell If Your Golden Is Thriving On Their Food?
It's not hard to tell if your dog is thriving on their diet. Signs to look out for include,
A shiny coat
Bright eyes
Fresh breath
A consistent, healthy weight (not unintentionally losing or gaining weight)
Healthy, regular stools
Plenty of energy
If your dog is getting itchy or flaky skin, vomiting or suffering from diarrhea, they might not be getting on well with their food. However, these issues could be caused by a range of other potential health problems, so take your dog to the vet for a check-up.
What Should You Do If You Want To Switch Foods?
Once you've found a food you think would suit your dog, you're going to need to do the switch.
However, as you may already know, it's not the best idea to simply change from one type of dog food to another overnight. This can give your pup an upset stomach, which isn't going to be fun for either of you.
Start by replacing a small amount of the old food with the new food and gradually increase this daily until you're feeding 100 percent new food. This gives your dog a bit of time to adjust.
PetMD suggests doing this over five days, replacing 20 percent of the old food with new each day. However, if your pet has a particularly sensitive stomach, you can spread this out over a slightly longer period, such as a week to 10 days.
Conclusion
One of the main lessons to take from this article is that there isn't one single best food. Neither are there just five or ten best foods that everyone should be feeding. There are many high-quality foods on the market and all dogs respond to them differently.
Therefore, you shouldn't be too swayed by trends like grain-free, raw or biologically appropriate foods (though if those work your dog, then great). Just find something that keeps your dog healthy, they like the taste of and doesn't have too many additives or chemical preservatives.
That said, if you're looking for a place to start, any of the foods listed above are made with excellent ingredients and should suit the majority of goldens.
Product images: © Amazon.com
Please be aware this page contains affiliate links and TotallyGoldens receives a small commission if you make any purchases through any such links. This has absolutely no effect on the eventual price that you pay and we are very grateful for your support.