Updated: April 27th, 2023
This article contains affiliate links. Read the full disclosure here.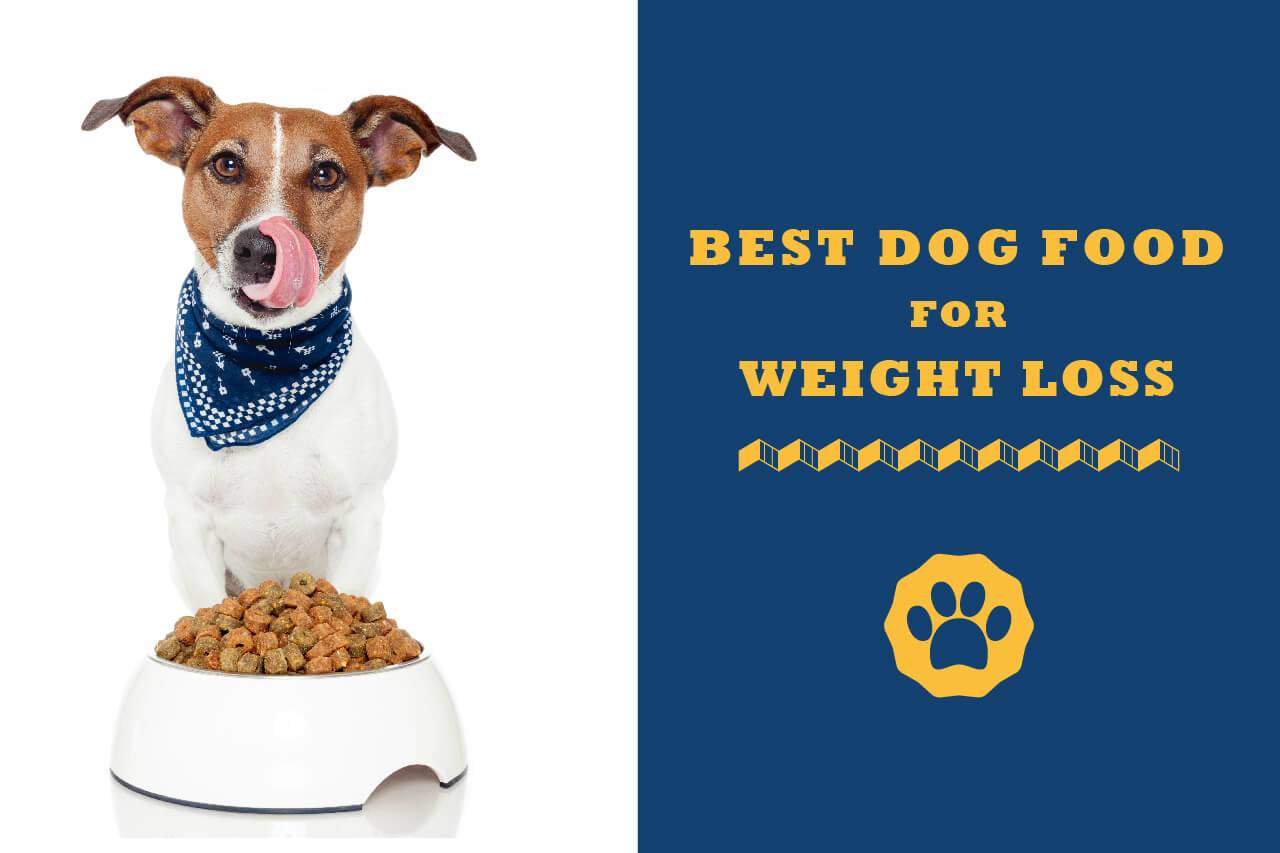 A cuddly pooch, with a few pounds of flesh and fat, is what all of us probably want for a pet, right? I do. On the other hand, a scrawny dog tells a tale of neglect or lack of love, and no dog owner wants to be that guy (or lady).
But what if I told you that a fat dog would make you look exactly like that guy you don't want to be? That would mean that you've already crossed the feared line between healthy weight and being overweight.
Unfortunately, a lot of doggy parents cross it by not focusing on the diet of their pooches. It is easy to think that treats and fatty foods, along with a sheltered life, are a show of love to your pooch. To an extent, yes, but this could very well be the reason for her misfortunes.
Once the line of obesity is crossed, your vet will advise you to start your pet on a weight loss program, and with immediate effect. In this article, I'll list and review the best dog food for weight loss diets that could bring your furry friend the much-needed change in size and health.
Searching for the best weight loss dog food must be undertaken after having answered a few questions. These include:
AT A GLANCE:
Our 5 Best Dog Foods For Weight Loss
An Overview of the Best Dog Foods For Weight Loss
IMAGE
PRODUCT
 

Gluten-free
Have met AAFCO standards
Comes from natural ingredients

VIEW LATEST PRICE →

Contains real animal protein sourced
Have met AAFCO standards
Excellent value

VIEW LATEST PRICE →

Used a combination of three fine real proteins
Great option for animals looking to maintain their ideal weights
Affordable

VIEW LATEST PRICE →

Best for small adult dogs

Nutrients and ingredients are balanced
Nutritious

VIEW LATEST PRICE →

Proven to deliver great results
Naturally improve metabolism
Vet Recommend

VIEW LATEST PRICE →
How Do I Tell My Dog Is Overweight?
Like human beings, dogs need to be weighed to determine whether they are in their correct weight group. To ensure that your pooch's weight is correct, it has to be compared to the ideal weight of its breed.
For toy breeds, they must not go beyond 6 pounds. Medium breeds, like German Shepherds, should not go beyond 75-90 pounds for males and 65-75 for females, while large breeds, like rottweilers, should not exceed 135 pounds.
Other ways to tell your dog is overweight include:
1. Loss Of Muscle Definition
If you can't tell your dog's tummy from its waist then your dog is overweight. An abdominal tuck is characteristic of a healthy dog as opposed to a distended stomach that is visible from the front and sides of the pooch. An obese dog has the chest, stomach, and waist meshed into one.
2. Inability To Reach Parts Of Its Body
An obese dog can't reach parts of its body for an itch. The extra padding on your pooch prevents it from its most basic range of motion. The layer of fat curtails the movements of the joints so that the twists and turns that come naturally to dogs are difficult to achieve.
3. Difficulty Moving
If basic grooming maneuvers and itches are hard for your dog, you can imagine how the additional weight impacts its mobility. Not only does it walk slower, but it also runs for a shorter distance and pants heavily during a round of exercise.
For example, your dog hopping onto the couch should be a fluid motion but if your pooch can't do that yet it has no underlying medical conditions, it may be overweight.
4. Persistent Gas And Constipation
This may not be a definitive sign that your pooch is overweight, but obese dogs tend to suffer bouts of constipation and gas more than healthy weight dogs. This is because overweight dogs have digestive issues that cause them not to breakdown food as effectively and efficiently as their healthy counterparts. Carbs become hard to digest, resulting in constant flatulence.
How Can I Help My Dog Lose Weight?
Your dog not only needs a better diet but also a daily exercise routine to help it get back to its ideal weight.
The following steps have been tried and tested and found to work for overweight pooches:
Daily Exercise
Dedicate at least half an hour to your dog's daily exercise routine. A good exercise routine should take up to 2 hours on a daily basis and it doesn't have to be too intense. A good walk around the neighborhood is adequate.
Reduce The Food Intake
Reduce the treats and even the food portions to ensure your dog consumes only what it needs. Too much food is directly responsible for additional weight. Ensure the food has probiotics as well as enough fiber.
Fiber will keep your dog fuller for longer and aid in digestion, just like it does in humans. Treats must only be a reward, not a daily staple.
In the video below, you'll learn more about the proper amount of food to feed your dog together with other weight loss tips and information:
Change Of Diet
Less fat and more lean meat will work for your pooch in helping it reduce its weight. The best dog food for overweight dogs will feature important nutrients and a healthy percentage of protein and carbohydrates. You can learn more below.
Qualities Best Dog Food For Overweight Dogs Should Have
1. Low Calories
The lower the calories in the food, the better it works in reducing your pooch's weight. However, low-calorie intake should not be taken to mean compromising on the important nutritional aspects of the feed. So, choose foods that have less fat but more protein.
Protein helps in muscle formation as opposed to being turned to fat. It also takes more energy to breakdown protein leading to weight loss. Just make sure the protein is real animal protein, not animal by-products.
2. Whole Grain And Natural Ingredients
To beat indigestion, constipation, and gas that often plague overweight pooches, make sure the feed you buy has a good amount of natural fiber and whole grains. To also aid in digestion, make sure the food features real animal protein as opposed to animal by-products.
It should also not be limited in vegetables, fruits, natural carbohydrates, and animal-based fats as all these work in tandem for a healthy digestive system.
3. Adequate Fat Content
The food should contain at least 4% fats to ensure your pooch still receives adequate fat for energy. When dog owners hear the word overweight or obese associated with their pet, they naturally shy away from fats.
This is a mistake because fats are still essential for your pooch's development. Instead of eliminating fats, find food that has animal-based fats in the right quantities.
Top 5 Best Dog Food For Weight Loss: Reviews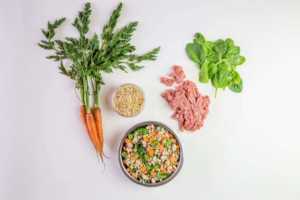 From turkey bacon to Thanksgiving turkey, anywhere turkey is served, it's featured as the healthy option. The same goes for turkey in dog food.
Nom Nom recipes across the board are dedicated low-fat diets for pooches of all sizes. In this particular recipe, your doggy pal will receive restaurant-quality ingredients in the food. These include ground turkey, brown rice, spinach and carrots, fish oil, egg, and the Nom Nom nutrient mix.
We love that this recipe is gluten-free without compromising on the tastiness. You can expect minerals like magnesium, zinc, iron, phosphorus, calcium, and thiamin, among others to boost the overall health of your pooch.
If your doggy loves other types of meats, try the Chicken Cuisine Recipe, Porkalicious Potluck Recipe, or Heartland Mash recipe. The variety pack comes with the four recipes in smaller packs so your dog can have the best of all worlds. These recipes have all been approved and exceeded the standards of AAFCO.
You'll notice that Nom Nom recipes use only real animal protein and no animal byproducts. Doggy parents really love these recipes because each meal is freshly prepared before being delivered to your pup.
As a subscription service, you are always assured of fresh nutritious food with every meal.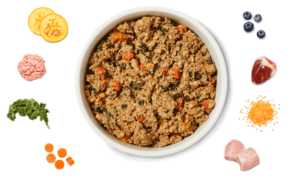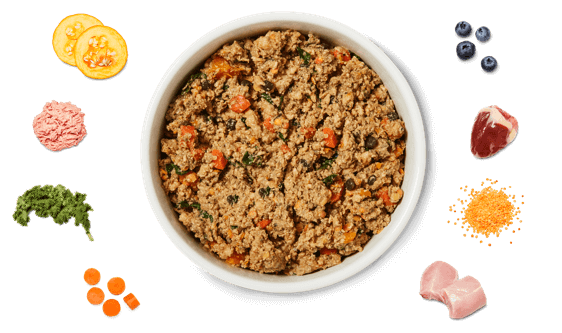 When you feed your pooch My Ollie dog food, you are feeding your dog the same food grade you would consume. None of the inferior grade ingredients are here. In fact, the ingredients are prepared in a human-grade kitchen.
I'm sure you'll love the use of real animal protein sourced from local farmers in the US, with the exception of some lamb that is sourced from farmers in Australia. The fact that their recipes have met AAFCO standards is a huge plus and inspires confidence in this subscription dog food service.
The Chicken Goodness recipe is made of real chicken meat, chicken gizzards and liver, chia seeds, peas and carrots, spinach, long grain rice, egg, potatoes, and sunflower oil. Your pooch will get a healthy dose of iron, zinc, calcium, vitamins, and phosphorus with a total calorie count of only 1298 kcal ME/kg. That is just enough calorie content to maintain a healthy weight in your pooch.
The meals need refrigeration and a small amount of preparation time but this is a small price to pay to keep your doggy baby healthy and strong. Some dog owners are put off by the synthetic dicalcium phosphate and calcium carbonate, but the overall effect of the food on weight loss and its nutritional value is in no way compromised by these synthetic minerals.
They provide your pooch with excellent value just like naturally derived minerals. If you are the doggy parent who found their dog soulmate in a shelter or rescued them, you will love the fact that Ollie gives 1% of their revenue to dog rescue organizations.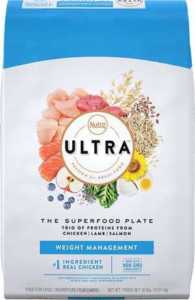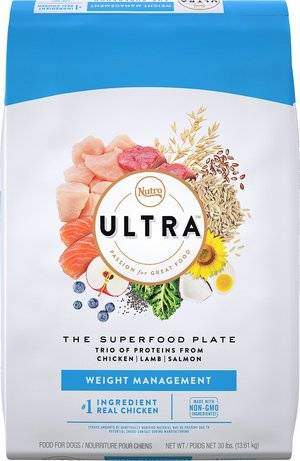 This is a dry dog food recipe featuring non-genetically modified food ingredients. It comprises of 15 different ingredients that have been meshed to create a delicious meal for dogs of all ages and sizes.
They have used a combination of three fine real proteins: chicken, lamb, and salmon. To this, they mixed in whole grains, like chia seeds, and veggies, like kale. They also threw in some blueberries and even coconut.
Even though the meal is dedicated to dogs that are undergoing weight control management, still, it can be a great option for animals looking to maintain their ideal weights. With every cup serving, your pooch receives approximately 300 calories so you can easily keep tabs on the number of calories your pup consumes.
Overall, the ingredients used and the amount of food in the bag give you value for money making it an affordable option. I also like the fact that fillers, like wheat, corn, and soy are not included in the recipe.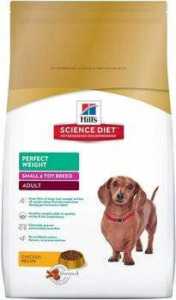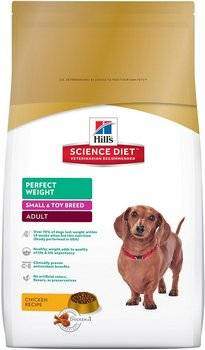 Small dogs can easily become obese, particularly because they tend to be carried around in their owners' arms as opposed to being allowed to walk. But that should not disturb you because this food offers visible results to such pups within 10 weeks of use and will continue to support long-lasting weight loss and maintenance.
Its nutrients and ingredients are balanced properly to offer an all-round nutritious meal that meets the proper daily calorie count. Each cup serving offers your pooch 291 calories.
The star ingredients in the food include chicken, brown rice, oat fiber, chicken meal, tomato pomace, pea brain meal, chicken and pork liver flavor, coconut oil as well as corn gluten meal, flaxseed, and dried beet pulp.
One other special thing about this formula is that it helps animals keep the weight off once they have shed it. It is the perfect fit for small adult dogs having been created with their size and build in mind.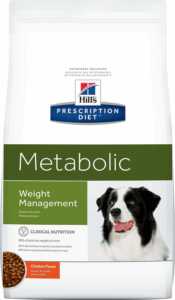 This is another special dry dog food for weight management that has proven to deliver great results. You'll love the fact that it has been clinically tested to prove that it produces a 28% loss in fat within a 2-month period.
It has also been proven to naturally improve metabolism safely and prevent weight regain. Aren't these the assurances you need when helping your dog lose weight and get healthy again?
This exclusive dog food formula works by using ingredients that keep your pooch fuller for longer while providing energy. It has whole grains, fruits, and vegetables as well as a good amount of antioxidants and minerals.
The key ingredients include chicken meal, pork fat, pork and chicken liver flavors, whole grain wheat and corn, corn gluten meal, and soybean meal as well as pea fiber, dried tomato pomace, and beet pulp.
Each cup serving provides your pup with 260 calories and the manufacturer recommends gradually introducing the food to your pooch within a 7-day period.
Also, it is recommended that if you are unsure about the servings, reach out to your vet for guidance. Your vet should advise on how much should your Golden retriever be eating during the entire process. This is arguably the best weight loss dog food that vets recommend for dog parents.
Because it's a special diet, please note that the company will require you to have a valid veterinary prescription in order to get a bag of Hill's Prescription Diet Metabolic Weight Management Chicken Flavor Dry Dog Food.
Conclusion
A fluffy dog may look cute, but the health ramifications of obesity can be deadly. With the above choices of best weight control dog foods, you are giving your furry friend a chance to live its best life and enjoy the little things it was meant to do, like run around after its own tail and reach way, way back for a satisfying itch.
To watch your dog's weight is one of the most loving things you can do as a doggy mom or dad. This is your chance. Do it for the sake of her health and happiness.