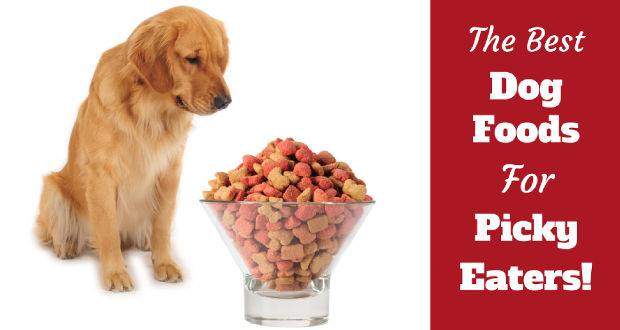 Many owners will never know the trials and tribulations of caring for a dog that's a picky eater. In fact, they might have the polar opposite problem – a dog that inhales their food before it touches the ground!
Fussy eaters can be frustrating, however, thankfully there are feeding methods and certain foods that are known to encourage even the pickiest of pups. If you've been wondering "How to get my dog to eat?", we got you covered!
In this article, we offer our review of some of the best tasting dog foods (dry food, grain-free, canned…) that will surely satisfy even the pickiest eaters! Read on to find out more.

AT A GLANCE:
Our Top 8 Dog Food for Picky Eaters
An Overview of the Best Dog Food for Picky Eaters
We highly recommend looking at the comparison table we have below where we highlighted the features of each product.
IMAGE
PRODUCT

No scary byproducts
Portioned for your dog's size and age
Suitable for all life stages

50% Off First Order

Recipes are formulated by vets
Human-grade dog food
Suitable for puppies through to mature adults

50% Off First Order

Made with US farm-raised chicken
Contains natural prebiotics
Plenty of flavor options

CHECK PRICE →

BEST FOR SENSITIVE STOMACH

BEST FOR SENSITIVE STOMACH

Made of fresh Wisconsin duck
Contains no corn, wheat or fillers
Great for sensitive stomachs

CHECK PRICE →

Plenty of different flavors to chose from
Contains Omegas 3 and 6 fatty acids
Made in the USA

CHECK PRICE →
*The above links lead to current prices and customer reviews on Chewy.
Read on to discover why we chose these particular foods, and for tips and advice on getting your picky eater to enjoy more food.
Top 8 Best Dog Foods for Picky Eaters: Reviews
NomNomNow is the perfect choice for picky eaters! If your pup gets tired of eating the same thing every day, they are going to love having the option of choosing from four different recipes — Heartland Beef Mash, Chicken Chow-Wow, Porkalicious Potluck, and the picky eater favorite, Tasty Turkey Fare. Each recipe is made with human-grade ingredients and an expertly formulated nutrient blend so you know your dog is getting what they need to live a happy and healthy life.
Formulated by a veterinary nutritionist, NomNomNow's food meets and even exceeds AAFCO standards and is suitable for all life stages. Whether your picky eater is just a pup or a senior, this food was made for them in mind. You can get individually-portioned meals delivered straight to your door so you never have to worry about measuring, scooping, or running to the store whenever you run out. Whether you decide to get deliveries weekly, biweekly, or monthly, you can be rest assured that NomNomNow has your (and your dog's) back when it comes to mealtime.

Pros:
Ideal for all life stages, from puppies to senior dogs
Four healthy and delicious recipes to choose from (all made with expertly formulated nutrient blends) – Heartland Beef Mash, Chicken Chow-Wow, Porkalicious Potluck, and Tasty Turkey Fare
Individually-portioned meals packs – no measuring or scooping required!
Delivered based on your preferences – weekly, biweekly, or monthly
Free consultation with NomNomNow's nutrition consultant who will help you decide food and portioning based on your dog's health goals, age, activity, etc.
Excellent for sensitive stomachs and allergies; selection of grain-free options available
Cons:
Expensive to feed as a staple diet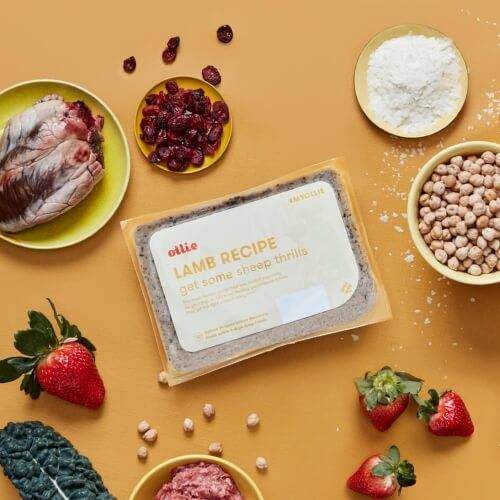 Get 50% OFF Your First Box of Ollie
We get it. Some dogs are really picky eaters! We've covered a few foods that have a great reputation for tempting even the finickiest hound, and now we've found something new. Like other choices that tend to meet the requirements for finicky dogs, Ollie dog food is made with fresh ingredients, and it's also delivered fresh to your door, kind of like a grocery subscription, but for your dog.
All the recipes have fresh meat as their first ingredient, and there are quite a few options to choose from, so you can keep your canine friend interested at mealtime. After all, how would you feel if you had to eat the same exact thing day in and day out? These recipes are nutritionally balanced, with a blend of vitamins and minerals designed with your dog's health in mind. Fresh fruits, veggies, legumes, and wholesome extras like fish oil help keep your dog looking and feeling his best, from the tip of his nose to the end of his adorable tail.
Pros:
Every dog gets a specific meal plan based on nutritional needs. Meals are made with fresh ingredients sourced in America and Australia.
Recipes are formulated by vets with an eye toward great health and good, fresh flavor. Everything is cooked fresh at low temperatures, assuring nutritional integrity.
Food is delivered fresh, with a special scoop to help you measure exactly the right amount at each meal.
Tempting tastes convince finicky eaters to dig in. If you dog doesn't like the food, your first order is refunded.
Many grain-free options to choose from.
Cons:
Not available without a subscription
Above average market cost
Rachel Ray is a celebrity cook who has diverted into the dog food industry to the benefit of picky eaters worldwide!
While it may not be quite as nutritionally perfect as some of the other foods on this list, it's undoubtedly delicious with plenty of great reviews from fussy dog owners.
Pros:
Made with US farm-raised chicken
Contains natural prebiotics to boost digestion
Also contains Vitamins B12, C, D3, E and K, folic acid, niacin, and calcium
Free from artificial flavors, preservatives, poultry by-products, fillers, wheat or gluten
Plenty of flavor options: Turkey, Brown Rice & Venison, Real Beef & Brown Rice, and Real Chicken & Veggies
Made in the USA
A portion of the sales proceeds is donated to the Rachel Ray Foundation to help support animals in need
Good for dogs with allergies and digestive issues
Cons:
Does contain some soybean and corn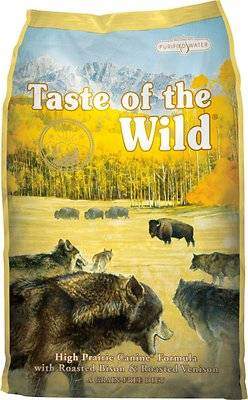 This is another hugely popular dog food brand with finicky eaters that is widely regarded to be one of the best in terms of flavor, taste, and nutrition.
It is one of the more expensive brands, so it's best to see the purchase as an investment into your picky pup's health and eating pleasure.
Pros:
Contains no corn, wheat or fillers
Full of flavor: made of fresh Wisconsin duck, hand-trimmed USDA chicken, low-ash lamb and real Wisconsin cheddar cheese
Also contains chicken cartilage full of naturally occurring glucosamine, as well as salmon oil with Omegas 3 and 6, which are great for boosting joint function
Great for managing sensitive stomachs and skin allergies
Has a crunchy texture which helps to naturally floss your pup's teeth
Also contains Vitamins A, B12, D3 and E
Cons:
Does contain a little grain – some flavors include brown rice, pearled barley, and oatmeal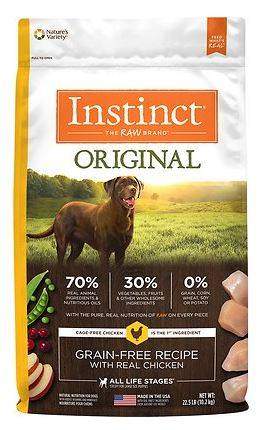 We've got yet another manufacturing heavyweight here with Nature's Variety, which are known for their high quality, delicious and nutritious dog food. The food is actually freeze-dried, which keeps it moist and the flavors fresh – picky eaters won't be able to resist.
Pros:
Composed of natural ingredients that are close to what dogs would eat in nature
Free from artificial colors, flavors, preservatives, grains, gluten, corn, wheat, soy or fillers
High in protein
Comes in a variety of different flavors: Beef & Lamb, Chicken, Duck & Turkey, Rabbit and Salmon
Contains Omegas 3 and 6 fatty acids to improve joint and cognitive function
Also contains probiotics and antioxidants, for digestion and immune system support respectively
Freeze-dried raw coating for freshness and flavor
Suitable for all age levels from puppy to senior
Nature's Variety is the pet food partner of the Best Friends Animal Society
Easily digestible
Made in the USA
Cons:
Comparatively quite expensive
Has a bit of a strong smell (good for picky eaters, less so for humans!)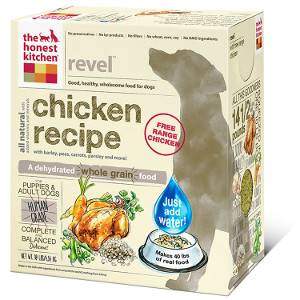 Check Price
The Honest Kitchen is a relatively new and revolutionary dog food (and human food!) manufacturer that creates products just as nutritious and tasty as the other foods on this list but in a dehydrated form. This means you need to add a little water to the formula before you feed it to your pup.
Pros:
The dehydrated formula is budget friendly: 10lbs of the food makes a total 40lbs
100% human grade – just like those table scraps!
Organic, all-natural, nutritionally complete and balanced (meets the standards of the AAFCO)
Made of whole foods, whole grains, and responsibly sourced meats: cage-free turkey, free-range chicken, cage-free duck and range-raised beef
All the meat is hormone and antibiotic free
Contains no corn, soy, rice, beet pulp, wheat, poultry by-products, preservatives or GMOs
Very moist and minimally processed
Made in the USA within a family company
Heals dry skin and runny eyes, and is great for digestion – in a study of over 6,000 customers, 75% saw their digestion problems improve
Suitable for puppies through to mature adults
Cons:
Dehydrated foods can take some time for your dog to adjust to so make the change gradually
Natural Balance is one of the most popular and highest quality dog food manufacturers operating right now. This particular formula is designed for dogs with dietary sensitivities and allergies, so it has minimal ingredients. It's also nutritionally complete and full of natural flavors.
Pros:
Free from grains, artificial flavors, colors and preservatives
Complete, balanced nutrition
Comes in lots of different flavors: Chicken & Sweet Potato, Duck & Potato, Fish & Sweet Potato, Venison & Sweet Potato, Buffalo & Sweet Potato, and many more
Minimal ingredients: great for allergies
Contains Vitamins A, B6, B12 and D3
Meets the AAFCO standards for nutrient profiles for all life stages
Natural Balance has been established since 1989
Cons:
Although moist, the consistency of the food errs marginally on the dry side
Blue Buffalo is another popular dog food brand with many owners, with this canned wet formula one of their favorites for picky eaters. Not only is it moist and delicious, it's also super nutritious and positioned to support a healthy lifestyle.
Pros:
Contains only the finest natural ingredients, formulated with high-protein and complex-carbohydrate products
Full of chunks of real meat – tasty and irresistible to all pups
Free from grains, gluten, poultry by-products, corn, wheat, and soy
Contains absolutely nothing artificial
Comes in a variety of flavors: Beef Dinner, Grillers Beef, Chicken Dinner, Grillers Chicken, Lamb Dinner, Grillers Lamb and Grillers Turkey
Made in the USA
Comes with extra vitamins and minerals for added nutrition
Cons:
Some dogs might be sensitive to wet food. If so, make the change gradually and combine it with dry food
What Makes a Dog a Picky Eater?
Often, the reason behind a dog's faddiness when it comes to food can simply be boiled down to the obvious – personal preferences. Just like we humans can prefer certain food over others, so can your dog.
Some dogs will prefer certain brands, or will choose wet food over dry, or will only like meaty flavors. When they don't get their favorite foods, they might refuse to eat what's in front of them in a bid to show their owners what foods they do like.
Equally as important: some dog food just simply isn't that tasty. Some of the cheaper, low-quality commercial foods might be stuffed with tasteless fillers, be too dry, or be high in hard-to-digest grains. If you've got a dog with a more discerning palate, they could well turn their noses up at low-quality kibble.
More often than not, however, finicky eating in dogs is actually the result of human behavior, rather than the dog's. If your dog enjoys plenty of delicious table scraps, their daily kibble is going to seem less and less appetizing as an alternative. The more human food they eat, the less satisfied they are likely to be with their dog food. In effect, you can spoil your dog through feeding them your meal under the table!
Can Picky Eating Indicate a Medical Problem?
If your dog has always been a fussy eater yet otherwise shows all the signs of being healthy – a normal weight and shiny coat – then it would seem that they are simply just that: a finicky eater.
However, if your dog suddenly starts eating less or starts turning their nose up at their regular kibble, it could be a symptom of an underlying medical condition. Conditions like allergies, dental diseases, and cancer can all diminish appetite in dogs.
If you notice a sudden shift in your dog's eating habits, or if they unaccountably drop a few pounds in a short space of time, make sure to take them to the vet at your earliest opportunity for a check-up.
Things to Try to Encourage Less Picky Eating
If you're feeding your dog a lot of table scraps, stop. Instead, stick to a consistent feeding schedule so your dog can predict exactly when and what they'll be eating come feeding time. It's also a good idea to put a limit on how long you leave their bowl out – say, 30 minutes – so that they'll get used to the idea of having to eat at a set time every day, instead of having the luxury of eating dinner whenever they feel like it.
Another good way to kickstart your pup out of picky eating is to start treating them to some variety. Again, just like humans, dogs benefit from eating different sources of nutrition and trying out different flavor profiles on their palate.
Start small with diet changes: your first act could be to simply change up the main ingredients of their regular food. If they usually are given chicken and vegetables of a certain formulation, try them out with beef and liver, for instance, from the same brand.
You can, of course, also change up the brands and formula that you feed your dog, and even alternate between wet and dry food. The key here is to make the change gradually, slowly decreasing one food source while upping the new food in parallel. It should take about a week to completely change from one food to another.
If you change your dog's diet drastically with no warning, you should prepare yourself for some digestive problems, including diarrhea.
Of course, one of the best and easiest ways to encourage your dog to eat is to buy food specially designed for picky eaters…
What are Good Dog Foods for Picky Eaters?
Regardless of how picky your dog is, the two major principles of what makes food delicious are flavor and taste. This holds true in the human world as well!
There are certain flavors and tastes that are particularly irresistible to dogs, and formulas suited to fussy eaters will contain at least a few of these.
Firstly, the best dog food for picky eaters will always be formulas made with high-quality ingredients. We all know that cheap food stuffed with fillers and artificial preservatives taste bland at best. On the other hand, responsibly sourced, nutritionally complete and balanced food promises to be both more delicious and more nutritious.
Moist foods are also appealing to the canine palate. This doesn't necessarily mean that wet, canned food is the way forward, but it's worth avoiding food that is too dry. Moist kibble will taste and feel more like real meat, whereas dry food will taste like cardboard – yuck! Look out for wet, canned and freeze-dried formulas for the moistest dog food.
Dogs love the taste of meat, so it's well worth choosing a meaty formula for your picky pup. Thankfully, there are a huge number of varieties of flavor on offer: anything from chicken, beef, and turkey to more exotic foods like venison, wild-caught salmon and buffalo.
The best dog foods for fussy eaters will also be either free from or low on corn and other grains. They might bulk out a meal for your dog but they can cause digestive problems and put your dog off eating in the future. Grains are actually in the top 5 foods that cause pet allergies, so it is a widespread issue.
What's the Difference Between Food for Picky and Regular Eaters?
In truth, there isn't a whole amount of difference between the best foods for picky and regular eaters. The best dog food is simply the best dog food, even for the pickiest eater, period.
Having a picky eater dog makes us more aware of the importance of taste, flavor, and nutrition in our dog's diet, so we're more likely to research and invest in the best dog foods. When we have a dog that gulps down anything put in front of them, we're less likely to invest the time and money in finding the best food.
But really, all dogs will benefit from our favorite foods for picky eaters – what dog can resist meaty, moist and delicious when it's laid out in front of them? The best dog food can even rival your much-treasured table scraps when it comes to flavor!
Should I Make My Own Kibble?
Some owners with picky dogs are tempted to try out making their own dog food at home in a bid to try and convince their pup to start eating.
While it's likely that even the pickiest of dogs will be tempted by fresh, moist and succulent homemade kibble, there's an important argument to be had that you could actually be doing your dog more harm than good by feeding them it.
Homemade dog food certainly delivers on the taste and flavor front but – unless you've been working with a canine nutritionist – it's unlikely that it will provide the complete nutrition your dog needs to stay at optimal health.
So, unless you're an expert (or working with one), we'd recommend you save the time and simply invest in the best commercial dog foods for picky eaters instead.
Conclusion
No matter how picky your dog is when it comes to food, they'll be unlikely to resist the tasty nutritious and delicious formulations above.
Remember to introduce some variety into your picky dog's diet – just like us, dogs like to mix things up. And cut down on those table scraps too in order to keep your dog excited about the food in front of them.
Product images: © Chewy.com
Please be aware this page contains affiliate links and TotallyGoldens receives a small commission if you make any purchases through any such links. This has absolutely no effect on the eventual price that you pay and we are very grateful for your support.
Last Updated on