Updated: April 27th, 2023
This article contains affiliate links. Read the full disclosure here.
[five_sixth_last]
Ever been curious to know what the ancestors of your little furry friend survived on? Of course, it had to be a diet with a distinctive delicious taste. That sort of explains why the natural palate of your dog is more skewed towards meaty foods.
And why not? Nearly all meaty recipes are appetizing, not just to humans, but dogs as well. Beyond that, the high protein content in them can be of benefit to your pooch in multiple ways.
You are probably aware that a recipe with high protein is vital for proper muscle development and maintenance in dogs.
But, just because a formulation states that it has high protein doesn't mean you should trust that right away.
You have to subject it to your informed scrutiny to see if it really makes the cut. Besides, not all protein-rich formulations are made equal; some are far much superior. And that's what you will want to make sure that what you are buying is the best.
Not too long from now, I'll let you in on some of the best high protein dog foods available today. Meanwhile, here's more information about high protein dog foods that you will want to bear in mind.
AT A GLANCE:
Our 5 Best High Protein Dog Food
An Overview of the Top 5 Best High Protein Dog Food
| IMAGE | PRODUCT |   |
| --- | --- | --- |
| | | VIEW LATEST PRICE → |
| | | VIEW LATEST PRICE → |
| | Lamb, Pea Protein, Lamb Meal | VIEW LATEST PRICE → |
| | Real buffalo, bison, roasted venison, beef, lamb, and chicken meal | VIEW LATEST PRICE → |
| | Deboned salmon, chicken meal, and fish meal | VIEW LATEST PRICE → |
What Kind Of Dogs Need High-Protein Dog Foods The Most?
Every dog needs proteins, but some need a higher quantity of protein than others. Why is this is so?
First, it's because some dogs are simply more active than others. For example, herders, canine athletes, active, diabetic, and pregnant dogs will tend to use more proteins than usual.
Active dogs – If your pup is the kind that loves to play around all day or accompanies you to your daily jog often, then he's going to need high protein in order to maintain his lifestyle and remain healthy.
Herders and canine athletes – These two expend a huge amount of energy and exert their muscles all day long. A high protein food, alongside plenty of water, helps them to replenish their strength. The high protein also ensures that they build strong lean muscle while maintaining adequate mass for optimal performance. High protein food also plays an important role in better muscle recovery in preparation for the next day's hard work. This mostly applies to dogs that participate in athletic events such as canine cross races or disc dog activities.
Pregnant dogs – Reproductively active females also thrive on a high protein recipe. If your female pooch is going to be churning out some healthy puppies every so often, then it is only fair that she be fed a high protein diet that not only keeps her healthy, but also gives her protein that is needed in generating new puppies from scratch.
Diabetic dogs – If your pooch is diabetic, he also stands to benefit from a high protein content meal. This is because a high protein recipe content will likely be grain-free and formulated with alternate sources of carbs, including legumes like peas or chickpeas.
Thanks to the low glycemic index of these carbs, they tend to have a slower rate of absorption, therefore, helping the glucose levels in your diabetic buddy not to spike.
Ingredients A High Protein Dog Food Should Have
As a doggie parent, it is important to understand that not all high protein dog food brands are made equal. One of the key distinguishing factors is the ingredients and my focus will be on the type of proteins used.
Quality Animal Proteins
While the protein in most commercial dog foods comes from plant and animal sources, the latter has been touted as the most nutrient-rich and healthy. Quality animal protein sources include meats from specific animals.
Meats could range from real chicken, turkey, beef, and pork to lamb, rabbit, duck, just to name a few.
Other animal protein sources that are considered high quality but categorized as novelty meats include venison and kangaroo meats.
These examples of high animal protein sources are excellent for lean muscle development and have a delicious taste that appeals to the natural palate of your pooch. Also, they contain vital nutrients such as vitamin B 6 & 12, omega 3 & 6 fatty acids, arginine, leucine, isoleucine, zinc, and iron in varying degrees:
In addition to that, they comprise some important nutrient subgroups such as amino acids, essential fatty acids, vitamins, and minerals which promote a strong immune system and the overall health of your furry buddy.
Actually, the difference between them in terms of protein content and general nutritional value is minimal.
In a dog formulation recipe, the animal protein I've mentioned are considered as primary sources. Your choice to choose one over the other usually boils down to your dog's preference.
Named Meat Meals
Meals such as chicken meal, turkey meal, lamb meal, and salmon are also excellent sources of high protein due to their protein concentrated nature.
They are often considered as secondary sources of protein. One feature that makes excellent for your pooch is their lack of moisture, which means that they possess a higher level of protein compared to fresh meat.
Meals are also rich sources of glucosamine and chondroitin, which are vital components for the maintenance of healthy joints and the development of strong bones.
Other secondary quality sources of proteins to look out for include:
Named by-products, especially healthy organ meats
Ocean fish, Salmon and other named fish meats
Whole eggs
Protein Sources To Avoid
Animal by-products such as hooves, skin, and intestines are to be avoided at all cost because their protein content is very low or non-existent. They are actually considered fillers.
Plant-based protein derived from alfalfa and peas, although important, do very little in terms of useable protein for your pooch because your dog's digestive system lacks the biochemical adaptation that can effectively digest these items.
Others ingredients to avoid include unnamed/non-descriptive meat meals and by-products.
Choosing High Protein Dog Foods: What To Consider
When choosing dog food high in protein, it helps to know the types of protein source as outlined above.
That aside, as a doggie parent it is also important to note that as per the Association of American Feed Control Officials (AAFCO), an acceptable adult dog food recipe should have at least 18 % animal protein while that for pups should have not less than 22.5 % of animal protein.
Although AAFCO has no specifications as to what percentage of animal protein on a dry matter basis a high protein dog food recipe should contain, it's fair to say it should be upwards of 22.5 percent.
Over and above the protein content, there are also a few important ingredients to consider in a high protein diet for optimal results. This include:
Omega fatty acids – Essential fatty acids such as omega 3 and omega 6 support healthy skin and a luxurious coat, in addition to assisting in curbing inflammation, as well as brain development in puppies. Fatty acids derived from animals are better than those derived from plants.
Presence of probiotic – Look out for the presence of probiotic as they help in maintaining good bacteria that support gut health, better digestion, and frequent bowel movement.
Manufactured in a country with high pet safety standards – Safe ingredients and manufacturing processes ensure that your pooch gets only the best. Countries that are known for high dog food safety standards included the US, New Zealand, Western Europe, and Canada.
Be sure the option you choose does not have worthless additives, like artificial flavoring, colors, and preservatives.
Check to see that the primary and secondary protein sources are animal proteins. First ingredients should be real animal meats reinforced with identifiable meals such as turkey, chicken, or lamb meals.
Here's a short video that will teach you how to read the labels. You are going to need this knowledge in evaluating the labels on that high protein diet:
Top 5 Best High Protein Dog Food: Reviews
As promised earlier, I will take you through high protein dog foods that doggie parents and vets alike can't stop raving about.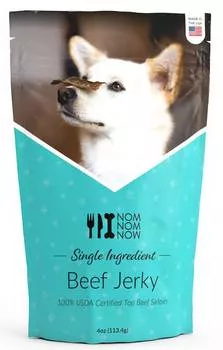 Nom Nom's approach to making and delivering pet food is new and fresh. The brand uses high protein human-grade sources such as chicken, turkey, and lamb in their recipes. The recipes are slow cooked to lock in nutrients and are delivered promptly after being freshly made such that you can actually see the ingredient in your pooch's food.
You can refrigerate until you are ready to feed your pooch. Nom Nom deliveries are free for those in West and East Coast. The West Coast enjoys scheduled weekly deliveries while the east coast receive their deliveries once a month
When it comes to high protein dog foods, Nom Nom is now setting the bar pretty high with their line of jerky treats. These treats are simple and made from a single source high-quality protein comprising of 71 % protein. Presently, there are only two options, chicken and beef jerky.
The chicken jerky is dehydrated chicken breast with no additives. The beef jerky is dehydrated sirloin that your pooches will love. It contains no preservatives. Both treats are hand-sliced and approved by the United States Department of Agriculture (USDA).
They are good options to carry around for rewarding your pooch plus you can also use them as toppers for your mutt's meal.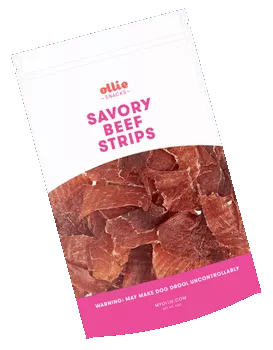 Ollie's concept of dog food is quite forward thinking and flexible. By simply providing your dog's weight, age, breed, and allergies, Ollies' staff, through the help of algorithms, are able to profile your pooch and customize a meal that they recommend for her.
The delivery schedules are regular enough so that you do not have to worry about running out. Just order, refrigerate, and feed your pooch accordingly till your next batch arrives.
Ollies treats are tasty and laden with a protein content of a 75 percent protein. Ollies' treats come in several options.
One is the Savory Beef Strips made from human grade beef while the other two high protein snacks include:
Tasty chicken strips – Absolutely delicious with a protein content of 72 percent.
Trusty turkey Strips – A firm favorite treat for many doggie parents because their mutts love them. They comprise of 78 percent protein and are made from turkey breast Strips.
Your mutt will likely be all over your trying to see if you have some more Ollie treats tucked away somewhere in your purse.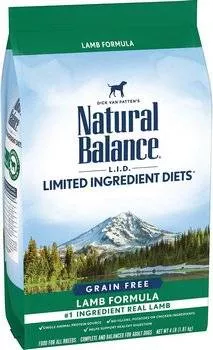 In addition to being a delicious option to most dogs, this lamb recipe also has a high protein content of 32% from single sourced from lamb.
Doggie parents with pups that are prone to food sensitivities will appreciate the limited ingredients in this formulation. In fact, it's among the best food for dogs with diabetes. This is because the carbs are from two primary sources, peas and chickpeas, which have a low glycemic index.
The diet has been made more nutritious with the inclusion of flaxseed and menhaden oil, both of which pair well to form a rich profile of omega fatty acids that help in reducing inflammation as well as promoting healthy skin.
The rosemary extract in this recipe acts a natural preservative and is part of the powerful antioxidant blend that aids in a stronger immune system.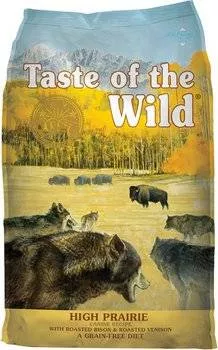 This grain-free recipe is an excellent option for highly active hounds due to the high animal protein content.
The protein sources used in this formulation are novelty meats, such as bison and buffalo, both great for powerful muscle development and optimal body mass.
Alternate carbs include sweet potatoes and peas, which are highly digestible and rich in fiber for optimized, energy as well as digestion. Digestion and gut health are further promoted by the presence of naturally occurring probiotics such as chicory root.
Your pooch also stands to benefit immensely from the chelated amino acids that enhance food absorption. What's more, your pup's immune system is boosted by the presence of essential minerals in addition to a blend of antioxidants in this recipe.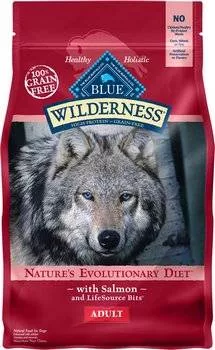 If salmon is what tickles your dog's appetite, then he will salute you for making his day without him even having to wet his paws. As the first ingredient, it not only makes the recipe delicious but also contributes to muscle development and maintenance.
Also, this high protein grain-free formulation is freeze-dried, locking in all the nutrient and flavor for a sumptuous meal.
Another aspect worth mentioning is that the recipe is highly digestible, thanks to the high protein content from deboned salmon that combines with potatoes to form complex carbs.
This digestibility is further enhanced with the addition of tomato pomace and the presence of dietary fiber and chicory root, all of which enable the provision of probiotics that promote gut health.
When you throw in a blend of antioxidants such as rosemary oil, you have a meal that is well rounded, not to mention really tasty too.
Conclusion
I believe you've learned a lot from the high protein dog food comparisons above, including what recipe would be a great fit for your pooch.
Because they are all made from premium ingredients, it shouldn't be difficult to decide what to feed your pup.
As mentioned earlier, a high protein diet certainly has its special benefits, especially for active, pregnant, and diabetic dogs. However, in the case of diabetics dogs, it's always best to consult with your vet to make sure that a particular high protein regimen will form part of the solution in preventing glucose surges in your pooch's bloodstream.
With a variety of styles, such as home cooked and made to order meals, like NomNomNow and Ollies, respectively, as well as dry and kibbled options from other brands, you and your pooch are poised to be healthy for a long time to come.
Learn how much to feed your dog with our feeding chart by age.