Updated: October 12th, 2022
This article contains affiliate links. Read the full disclosure here.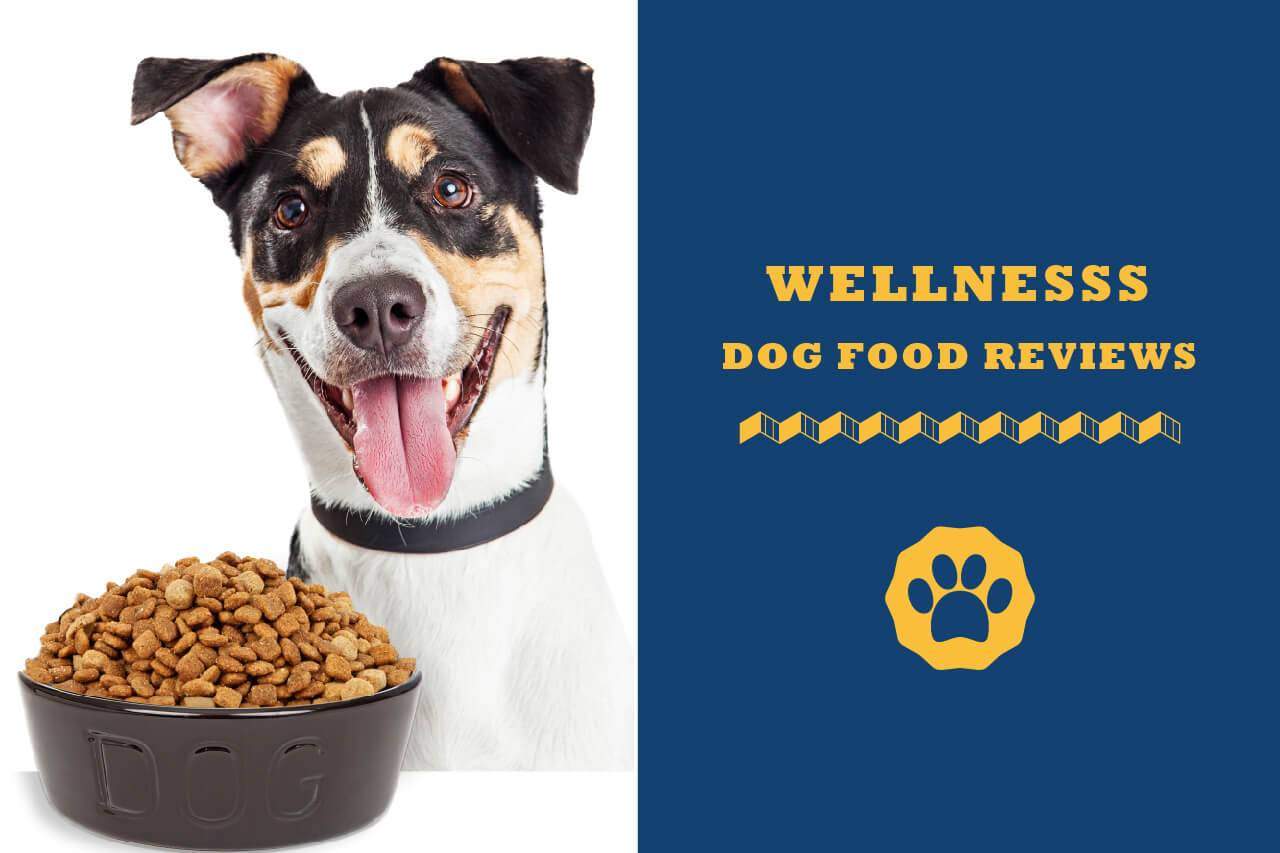 Let's face it, shopping for a dog food today is not as simple as it should be. Why are there so many to choose from?
While this should be a good problem to have (so many choices!), it most often is not because quality standards can differ greatly between recipes and brands.
Sometimes, even the more established brands you have come to trust over time may fail to have the variety of healthy ingredients you would like. In fact, it's really tough to find a brand that is reputable, with a solid history and good customer service while at the same time providing you with an extensive selection of high-quality dog foods.
But hold on! Maybe you just haven't tried the Wellness dog food brand.
Their quality will likely exceed your (and your dog's) expectations. Also, when you need to switch things up a bit and provide your pooch(es) a change of flavor, they have plenty of options to work with, without compromising on quality.
Wellness dog foods might just have the quality, healthy recipes you have been searching for, ones your pooch is likely to absolutely tear into!
AT A GLANCE:
Our 5 Best Wellness Dog Food
An Overview of the
Best Wellness Dog Food
Brand Overview
The Wellness brand is part of the Wellpet LLC family of brands. Wellpet LLC is a culmination of a recent merger between Old Mother Hubbard and Eagle Pack Petfoods.
Wellness Brand History
The roots of Wellness go back to the 1920s and beyond. Back then, the company was known as Old Mother Hubbard and used to make oven-baked dog biscuits.
Later on, the company was bought by a nutritionist, Jim Scott Senior, who had a fervent passion for making nutritious formulations for pets.
With the companies growth, Scott moved the company's headquarters from Gloucester to Lowell, Massachusetts.
Eventually, Scott and his team reformulated their dog biscuits into homestyle recipes with even better ingredients such as meats, apples, carrots, sweet potatoes, and a host of other tasty wholesome ingredients that animals love.
In the 1990s, a team of dedicated nutritionists within the organization set out to research and develop a  revolutionary dog food that was balanced and nutritionally well rounded for doggies. The results came to fruition in 1997 and are the Wellness dog food recipes that we know and love today.
The company also manufactures cat food as well.
Wellness gets their ingredients from reliable sources in order to sustain the quality of their dog food. They've quickly become a hallmark of quality and have gained a huge following within the doggie world for luxury dog foods at an affordable cost.
Wellness Product Line
The extensive range that Wellness dog food has to offer is nothing short of impressive. This goes for both dry and wet foods, as well as doggy snacks. The different Wellness dry product lines include:
Complete Health recipes

Complete health grain free recipes

Toy Breed recipes

Small breed recipes

CORE grain free recipes

Large breed recipes

Limited ingredients diets

CORE RawRev

Healthy Balance
As you can see, the Wellness brand has gone all out to make sure that the nutritional needs of your pooch, whether based on breed, life stage, or food sensitivities, are all covered.
Wellness Recalls
Over the years, Wellness has had a few recalls; it's true. The most notable ones include the February 2012 recall where Wellness Canned cat foods were recalled by the FDA due to lack of adequate amounts of Thiamine.
In May 2012, the FDA announced another recall where a batch of Wellness Large Breed Puppy Complete Health Super 5 Mix dry dog foods were suspected to be contaminated with salmonella.
Wellness has also issued a few voluntary recalls, the most prominent being in October of 2012 when their small breed adult health dry dog food was suspected of moisture contamination. Several other voluntary recalls have been issued since then.
Whereas recalls tend to be viewed negatively, for the most part, voluntary ones serve to show the company's integrity and commitment to testing formulas in their manufacturing processes in order to detect any anomaly before it reaches your pooch. It shows they have the safety of your pet in mind.
With only about five recalls to speak of in the entire time that Wellness has been in business, that's a pretty good record that shows the brand's dedication to quality and safety.
In fact, based on the tons of Wellness dog food reviews out there, it's clear that most doggy parents now associate the Wellness brand with quality for all dog life stages and breeds.
Is Wellness A Good Dog Food? What Makes It Special?
These are  common questions I see countless dog owners ask, including 'How good is Wellness dog food?'
Well, let me put your mind at ease by simply saying that the brand's recipes are no doubt 'very good'. But you don't have to just take my word for it. If you need more confirmation after reading this article, check out the Wellness reviews online to see what other doggie parents are saying about Wellness dog food recipes.
The fundamental basis of a good dog food is its ingredients. Wellness sources its ingredients from trusted farmers in the US.
With wholesome and natural ingredients, as well as super nutrients that include antioxidants, omega fatty acids, prebiotics, and probiotics, you can be sure of a superior formulation that provides the required nutrients to your pooch.
That's in addition to building her immune system as well as being gentle on her stomach and digestive needs.
As you probably know by now, every pooch is an individual in her own right and will tend to have her own unique needs such as allergies or food sensitivities, as well as preferences.
Wellness's expansive range of dog foods ensures that your pooch always has an option that works for her based on breed, life stage, and even palate preference or dietary needs as they change.
For those pooches that don't fare so well on grains, Wellness has plenty of grain-free options to choose from as well.
The best part is that that no single Wellness formula is made with artificial preservatives, colors, or flavors, as these have been known to be the major culprits in causing allergies and even digestion issues for pooches with sensitive stomachs.
Wellness Complete Product Line
The Wellness product line includes four distinct product ranges that offer your pooch(es) a broad range of selection depending on preference and nutritional needs.
1. Wellness Complete Health
The Complete Health line provides formulas with high-quality protein, carbs, veggies, and fruits, plus antioxidants, minerals, and vitamins that ensure these foods are wholesome and well rounded.
With 20 different dry recipes to choose from, any doggy parent can rest assured that there is a formula for every palate imaginable. Even the most finicky of eaters can find something tasty.
Bear in mind that the complete product line has both recipes that contain grains as well as those that are grain free.  
Just in case your pooch leans more towards wet foods, this Wellness Complete Health product line also provides an additional 13 varieties of wet dog food.
Here's a video that briefly talks about this product line:
2. Wellness CORE
If your pooch is highly active and requires loads of protein in his diet, then Wellness CORE is what you want. This line caters to those doggy parents who want to feed their pooches a high protein diet reminiscent of what their primal ancestors used to feed on in the wild.
The Wellness CORE line is grain-free and loaded with animal protein. It comes with seven different dry varieties, and your pooch can also choose from a selection of CORE wet foods, as well as toppers and doggies snacks that bear the same name.
3. Wellness Simple
There are times when your pooch needs a simple meal that is easy on his stomach yet meets all his nutritional needs. The Wellness Simple line is the ultimate choice when you are searching for a limited dog food recipe that is crafted with simplicity yet packed with dense nutrients. The Simple formulas have a single source of protein and simple carbs that are easily digestible.
Wellness boasts of six dry Simple formulas, four of which are grain free while two do include oatmeal. This line also includes three canned wet foods to provide a choice even when working with limited ingredients.
4. Wellness TruFood
The Trufood line of products takes a more natural approach toward feeding your pup. These meals include healthy whole meals, mixers, and snacks that are 100% grain free and have no fillers either.
Just pure real food ingredients that include prey meats, antioxidant-rich superfoods, as well as low glycemic carbs.
Your pooch's palate will be tingling with delight at the amazing taste of the Wellness Trufood product line. The dry formula provides you with five different nugget flavors, but you can also choose from additional raw foods, pates, and mixers.
To wrap up this information about their product lines, Wellness's array of quality dog foods truly sit in a class of their own. A great majority of doggie parents continue to appreciate the fact that they can take care of all their pup's nutritional needs under this one brand without having to worry about quality.
Top 5 Best Wellness Dog Foods: Reviews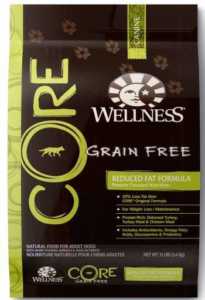 If your pooch is becoming a little too round in the middle for your liking, it might be time to help him get back to proper shape before he becomes significantly overweight. This entails adjusting his diet to help shed off the pounds he's already accumulated.
Wellness Core Grain-Free Reduced Fat is the diet that is up for this task. It is crafted to be tasty and nutritious and in no way punishing to your pooch (as we all know diets can be). As a matter of fact, the food is so tasty that your pooch will have no clue that he is on a weight-reducing diet.
What makes this diet so effective in shedding unwanted pounds is the fact that it has been formulated to have 25% less fat than usual.
However, the first ingredients are chicken, turkey, and salmon meal. So, your pup will continue to enjoy a delicious meal that is filling while also reaping all the benefits of maintaining lean muscle mass as well as a more robust immune system, healthy skin and coat (speaking of which, did you get to read our review of the top supplements for dogs' skin and coat?).
Like the other recipes, this product is absolutely grain-free and has no wheat, corn, soy, by-products, artificial flavors, or preservatives, a fact that makes it a really healthy meal.
So, if you feel your dog is a little too fluffy, this meal will help trim him back to size.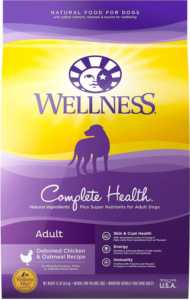 The first ingredients in this Wellness Complete Health adult formula are deboned chicken and chicken meal.
Your adult pooch is assured of adequate quantities and high-quality animal protein that restores damaged tissue and helps build lean muscles. Deboned chicken also provides a tasty meal that naturally appeals to the palate of most dogs.
Chicken meal serves to reinforce the protein content and is rich with glucosamine that helps strengthen your buddy's bones as well as lubricating his joints for better mobility.
So long as your pooch does not have grain sensitivities, he stands to benefit from the presence of barley as well as oats which are quality carbs, in addition to sweet potatoes, a high energy source.
Ground chicken fat and brown rice, together with the presence of fiber-rich carbs, make this meal highly digestible and great for bowel movement.
The formula also features tomato pomace for additional fiber and dry chicory root, which makes the recipe gentle on the stomach.
And I can't forget to mention the omega fatty acids from flaxseed. These essential fats are vital for building the immune system and for promoting vibrant skin and coat health.
Blueberries, apples, spinach, and rosemary extract do a remarkable job of providing vitamins, minerals, and antioxidants in the meal for the overall wellness of your furry buddy.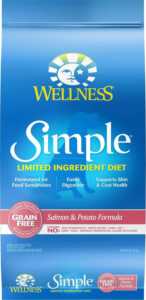 There are those times that your pooch might need a simple diet that has limited ingredients. This could be a result of sensitivities such as allergies or digestion issues.
In such a case, you may need to consult your vet in order to establish the source of the allergies, and if the allergies are indeed food related. If they are, your vet is highly likely to recommend a quality limited ingredient diet that does not have the allergen triggers (that your previous doggy diet likely had).
Wellness Simple Limited Grain-free is a viable option because it eliminates all grains. This simple diet also has a single source of protein: salmon. Other than being tasty, salmon is a quality source of protein for lean muscle development.
Salmon meal has also been used in this recipe to reinforce the overall protein content for building healthy muscle mass. It is also a rich source of omega fatty acids that are beneficial as immune system boosters as well as nourishing the skin and promoting a vibrant coat.
The carbs in this diet are also simple and easily digestible. They include ground potatoes and peas. Canola oil is a good source for flavoring.
Flaxseed and salmon meal form a rich profile of omega-3 and -6 fatty acids for better health. Tomato pomace is included for additional fiber which helps in the digestion process.
Since there are no artificial flavors, colors, or preservatives in any Wellness recipes, that alone is a first, crucial step toward eliminating allergies.
In this simple recipe, all ingredients work in tandem to provide your pooch with a simple enough meal that is tasty and nutritious yet very digestible, all the while eliminating most, if not all, food factors that are common allergy triggers.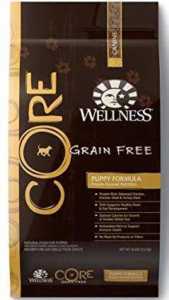 If you strongly believe in raw feeding and providing your energetic pooch with higher levels of animal protein, then you will most likely find this Wellness CORE grain-free food to be the best for your puppy.
Puppies naturally need a lot of protein, because their cells are still actively growing. Well, this food aptly has premium turkey and chicken as the first ingredients. Both are naturally appealing to a puppy's palate. Therefore, they will likely eat this up, which will contribute to optimal weight gain as well as lean muscle development as they grow.
Being a grain-free recipe, this formulation constitutes 80% more meat than regular dog foods. So, you should not be surprised to see your puppies really enjoy eating it. The kibble is very filling because of the protein content gained by the inclusion of salmon and salmon oil in the recipe.
Salmon brings with it a load of essential fatty acids that boost cell growth, provide DHA for better cognitive development of both the eyes and brain, in addition to boosting your pooch's immunity.
This recipe has no corn, wheat gluten, or any artificial colors, preservatives, or flavors. These are known to be common allergy triggers.
Also worth mentioning is that the recipe is balanced and dense in nutrition. Because it's tasty, your puppies are sure to love it and bark for more.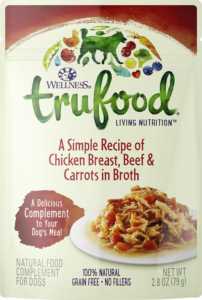 Just the mention of chicken breast, beef, and carrots is enough to make a human salivate. For a dog, these ingredients make this one of those foods they find irresistible and can't get enough of.
Since it's grain-free, most dogs with grain sensitivities will enjoy this Trufood formulation. It can also be served as a topper to supplement any doggy meal with quality and tasty protein.
As you would guess, it contains no fillers; just pure proteins as described on its label. They include chicken, beef, chicken broth, carrots, and water for processing. Nothing more and nothing less.
If your pooch is a finicky eater, topping her daily rations with this might help her in eating better. This delicious recipe can also be served to your pooch as a snack whenever you want to spoil her a little or reward him for a job well done.
Conclusion
Wellness has a rich history and heritage in the dog food industry and has clearly come a long way to revolutionize the way our canine buddies eat today.
Evidently, their product lines are comprehensive and are designed to cover a huge range of your dog's nutritional needs.
Most doggy parents do not want to have to shift from one brand to another trying to find a recipe that will work for their dog. But you do not need not to worry about that because Wellness recipes have you covered in every way. You can now find pretty much any quality diet you are looking for right under the Wellness brand.
Having one brand you trust for all your pup's needs will really simplify your life and shopping trips.