Updated: October 14th, 2020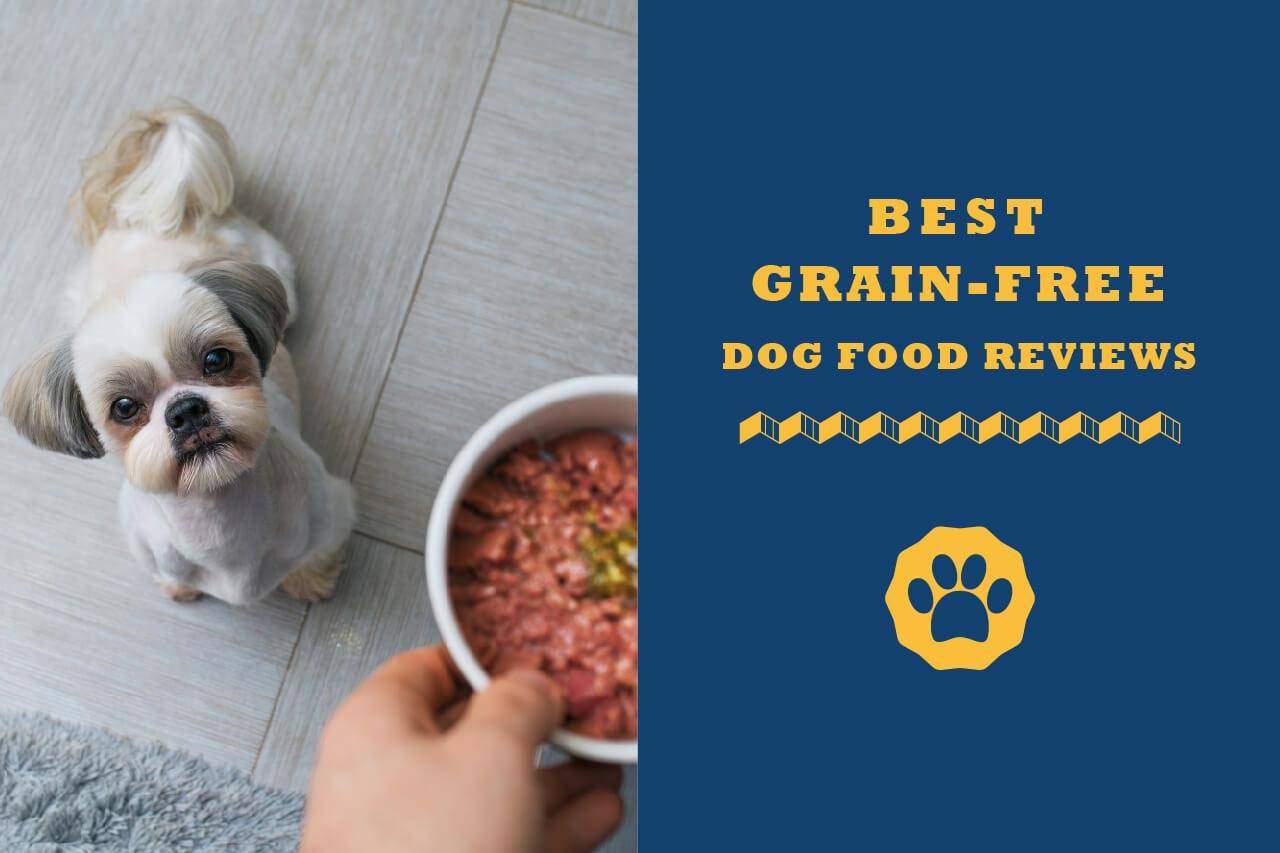 Part of being a great doggie parent is knowing what recipes work for your pooch and the ones that don't. 
Do you? Unfortunately, that's not as easy as it sounds.
Simply sifting through the shelves in the local pet shop or browsing the online selections at stores looking for what's popular and seemingly ideal for your little friend just won't cut it.
First, understand that while all dogs seem to share a similar digestive system, their individual constitutions may vary slightly.
While some canines may be comfortable with—and even thrive on—ingredients comprising things like corn and others grains, others may be adversely affected by grains.
This certainly is the case with pups that are gluten sensitive.
Is your little friend sensitive to grains? If yes, then it would only be fair and kind of you to feed her a diet without them so as to save her the pain that accompanies such an anomaly.
AT A GLANCE:
Our 5 Best Grain Free Dog Food
An Overview of the Best Grain Free Dog Food
IMAGE
PRODUCT

Ideal for all life stages, puppies through senior dogs
Lots of enticing recipes to choose from, all with specially formulated nutrition blends

VIEW LATEST PRICE →

Every dog gets a specific meal plan based on nutritional needs
Recipes are formulated by vets with an eye toward great health and good, fresh flavor

VIEW LATEST PRICE →

Contains no corn, wheat or fillers
Full of flavor: made of fresh Wisconsin duck, hand-trimmed USDA chicken, low-ash lamb and real Wisconsin cheddar cheese

VIEW LATEST PRICE →

Composed of natural ingredients that are close to what dogs would eat in nature
High in protein
Easily digestible

VIEW LATEST PRICE →

High-quality ingredients
No dangerous preservatives
Contains chelated minerals which are more bioavailable

VIEW LATEST PRICE →
Top 5 Best Grain-Free Dog Food: Reviews
A look at grain-free dog food reviews, coupled with my personal experience and that of fellow pet parents, helped me to round up some of the top grain-free dog foods in the market right now. They include: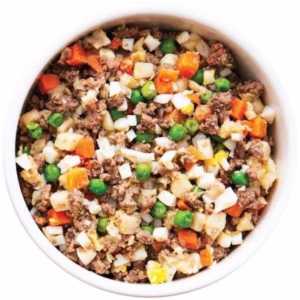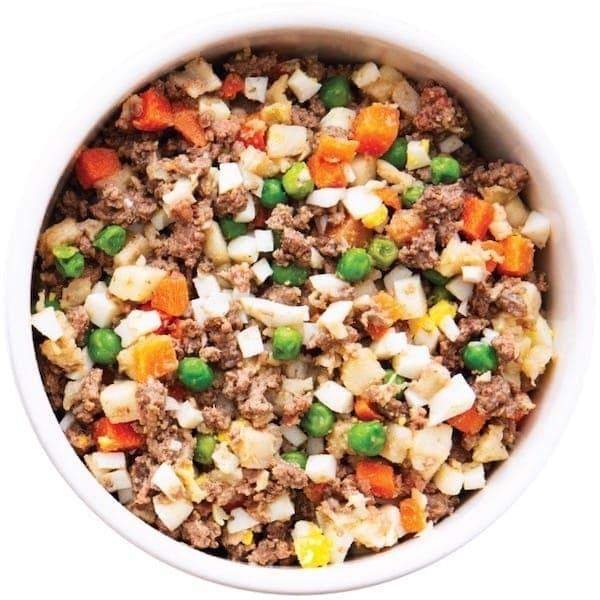 Doggy parents who've always wanted great tasting, fresh food made with restaurant-grade ingredients for their pooch have great things to say about Nom Nom's Heartland Beef Mash.
First off, none of the company's recipes incorporates grains, a fact that makes them great for gluten-sensitive dogs as well as those that may be grain intolerant.
Your pooch is likely to fall in love with the savory taste of the Heartland Beef Mash. Whether you have pups, adult, or older dogs, they will love this slow-cooked recipe.
Ground beef is the star ingredient, helping your dog develop lean muscle.
This recipe is packed with energy and potassium from potatoes to keep your pooch lively and playful all day.
Veggies such as carrots and peas perfectly blend with fish oil to create an irresistible taste.  
You can actually figure out the ingredients in the food by simply looking at it once it's in your doggy's feeding bowl. I would say what you see is what you get.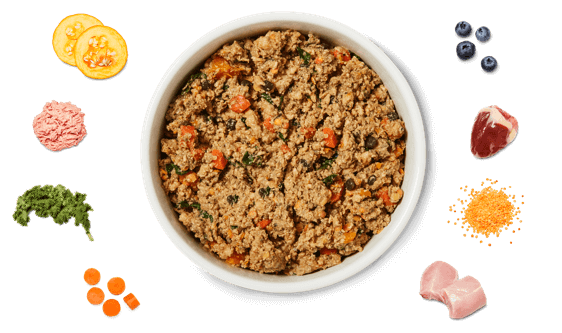 Ollie's Healthy Turkey Feast has been formulated to have an appealing meaty taste that dogs love. Delicious turkey tops the ingredient list in this recipe. Great taste aside, it promotes lean muscle growth and muscle repair from play and work.
When it comes to carbohydrates, whole grain brown rice tops the list.
It's known for its dietary fiber and being a source of vital minerals such as manganese, magnesium, and thiamin.
These work in tandem to provide your dog with energy and to regulate blood sugar and encourage better metabolism.
Fish oil and eggs pair well with veggies such as spinach and carrot to form a well-balanced diet rich with omega fatty acids and vitamins for a stronger immune system, healthy skin, and a smoother coat.
Another special thing about the meal is that it's slow cooked, meaning the nutrients are locked in, keeping it tasty and very digestible.  
Also worth mentioning is that this formulation contains a powerful nutrient mix full of minerals and antioxidants that help to boost your pup's immune system.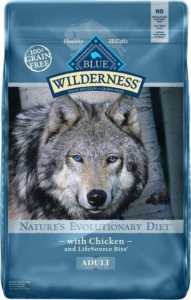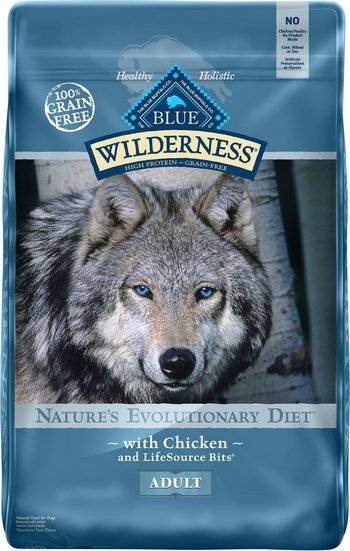 The Blue Buffalo brand prides itself in making the best grain-free dry dog food that can bring your pooch as close to nature as possible. This particular recipe does so by mimicking what ancestral wolves used to eat. It's a philosophy that explains this animal protein-loaded recipe.
Since your dog needs animal protein every single day to maintain muscle development, this recipe provides plenty of that from chicken, turkey meal, and chicken meal.
These are quality protein sources that promote lean muscle growth and help in the provision of glucosamine and chondroitin, which ensure stronger and healthy bones.
Your pooch can stay active due to a good supply of high energy from sweet potatoes, peas, and potatoes. Also present are cranberries which can help to clean her urinary tract.
Veggies such as spinach and carrots round off the recipe to make it a balanced diet. This grain-free recipe is a viable option for dogs with grain sensitivities as well as highly active dogs.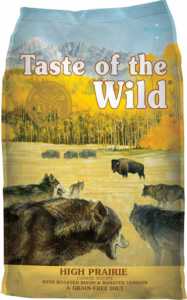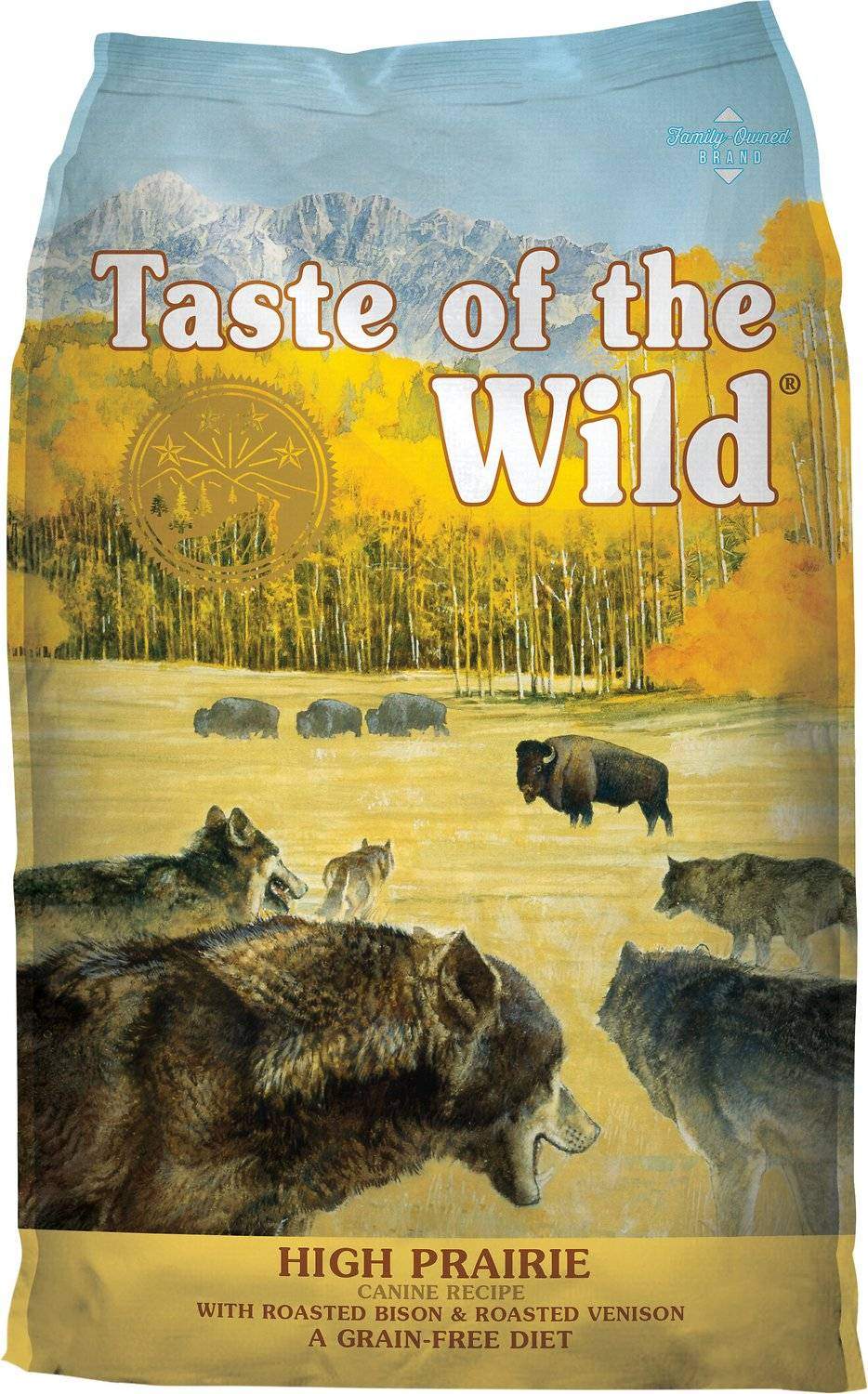 If you want your pooch to have a meal that closely resembles that of their ancestral wolves, then this recipe might just do it for her.
Taste Of The Wild understands that 70% of your canine buddy's immune system is found in the gut. Thus, they formulate their recipes to be gut-friendly.
The first ingredient in this grain-free formula is buffalo, lamb meal, roasted bison, roasted venison and chicken meal.
This ensures that your pooch has a plentiful supply of animal protein and other vital elements such as calcium for stronger bones and strong muscle development.
Just the sound of the ingredients is enough to make even the most choosy of eaters salivate. The recipe is packed with animal protein, and sweet potatoes and chicken fat ensure that there is adequate energy supply for your pooch.
Dry chicory root further enhances digestion and gut health for better absorption as well as a stronger immune system.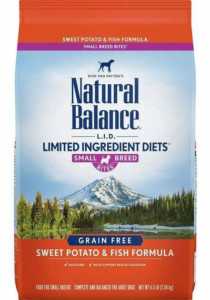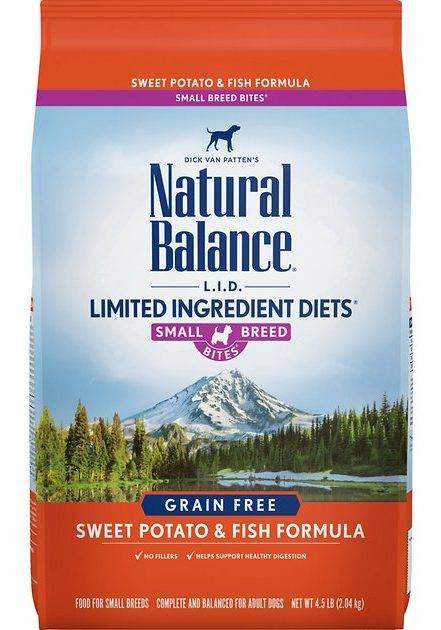 Sweet potatoes and fish are an excellent combination that most dogs will find hard to resist. If your pooch has food sensitivity issues, this recipe might just be what you've been missing.
The recipe is grain-free, with sweet potatoes as the carb source.
This is a highly digestible carb that is rich in fiber and energy for an active dog.
Salmon, the star ingredient in the recipe, is an excellent source of the animal protein your dog needs for lean muscle development.
Fish oil, salmon, and flaxseed work in tandem to form a potent omega-6 and -3 fatty acid profile that promotes healthy skin and a shinier coat while boosting immunity at the same time.
Diet-sensitive pooches are likely to benefit from this recipe, as it gentler on the stomach and contains limited ingredients that are highly digestible. And it's oh-so tasty for them!
Why Grain-Free Dog Food?
Because they are carnivores, dogs naturally thrive on loads of animal proteins and moderate portions of carbs or vital vitamins from veggies and fruits. Ancestral dogs would derive these ingredients from hunting wild prey. So, it's hard to imagine her craving corn, wheat, or any other grain.
This is not to say that she does not need carbs; she absolutely does, but grains are not the only option.
Although grains, when used in moderation, may be of some nutritional benefit in dog food recipes, dog food manufacturing companies have a tendency to go overboard and use grain as filler due to its inexpensive nature and abundance.
This is in no way good for your canine buddy, because of her primitive digestive system which finds it hard to breakdown complex carbs such as cereal grains. Given that your pooch relies on fermentation to break down such carbs, over time she may develop a weak lining that becomes susceptible to bowel inflammation disorders, as well as food allergies and sensitivities, not to mention a leaky gut which can result in obesity.
It is of little wonder that doggy parents would now prefer a dog food without wheat or recipes that have friendlier carb options known to be easier for Fido to digest and absorb.
You can learn of more benefits this type of diet offers by watching the  video below:
Qualities Of Great Grain-Free Dog Foods
Top grain-free foods are often misconstrued to be low-carb diets. But this is just a misconception. Grain-free diets often offset the use of grains as a source of carbs by utilizing ingredients such as potatoes, tapioca, green peas, and sweet potatoes, which are higher in carbs.
There is always more to a grain-free diet than just the mere absence of grains. It should have the following qualities in order to have wholesome benefits to you your dog's overall dietary needs.
Animal Protein
When searching for a recipe that is grain-free, be sure to check that the first ingredient is quality, identifiable animal protein. The reason for this is because dogs still need a healthy dose of animal protein for developing their muscles and keeping them strong, lean, and healthy.
Animal protein ingredients can come from quality sources such as chicken, turkey, lamb, fish, and buffalo, just to name a few. Animal proteins are also rich in vital minerals, such as omega fatty acids, that are essential for promoting a stronger immune system as well as healthy skin and a luxurious coat.
Carbs
As I mentioned earlier, there are several carbs that are a great alternative to grains, like peas, tapioca, potatoes, and sweet potatoes. These ingredients are excellent energy providers, but just as important is the fact that your canine pal will find them far easier to digest.
Other than better digestibility, they are also packed with other healthy benefits such as being rich in dietary fiber which aids in better bowel movement.
Probiotics
Grain-free dog recipes may be more digestible, but the need for probiotics to maintain a healthier gut by promoting good bacteria is important.
Read the ingredient label to see if ingredients such as beet pulp, tomato pomace, or chicory root are present in the formulation, as they do an excellent job in not only providing dietary fiber but also maintaining gut health.
In addition to making sure that the dog food recipe you are buying is 100% grain-free, be sure to look for the above qualities in order get a well balanced diet that will deliver on all your pooch's nutritional needs.
Conclusion
When cooked, grains can actually be digestible, but that's an option you can't fully trust to be as effective and nutritious as a special grain-free dog food recipe. Besides, most dogs with sensitive stomachs, food-related allergies, and gluten sensitivities would react adversely to a grain-heavy diet.
The good part is that that there are even better alternative sources of carbs that are rich in energy, digestible, and friendly to dogs with sensitive tummies. Because you know your pooch best, I will let you decide based on the reviews above as each grain-free recipe is special in its own way.
Meanwhile, all the recipes mentioned above come highly recommended by vets, a fact that speaks to their quality and reliability.