Updated: April 27th, 2023
This article contains affiliate links. Read the full disclosure here.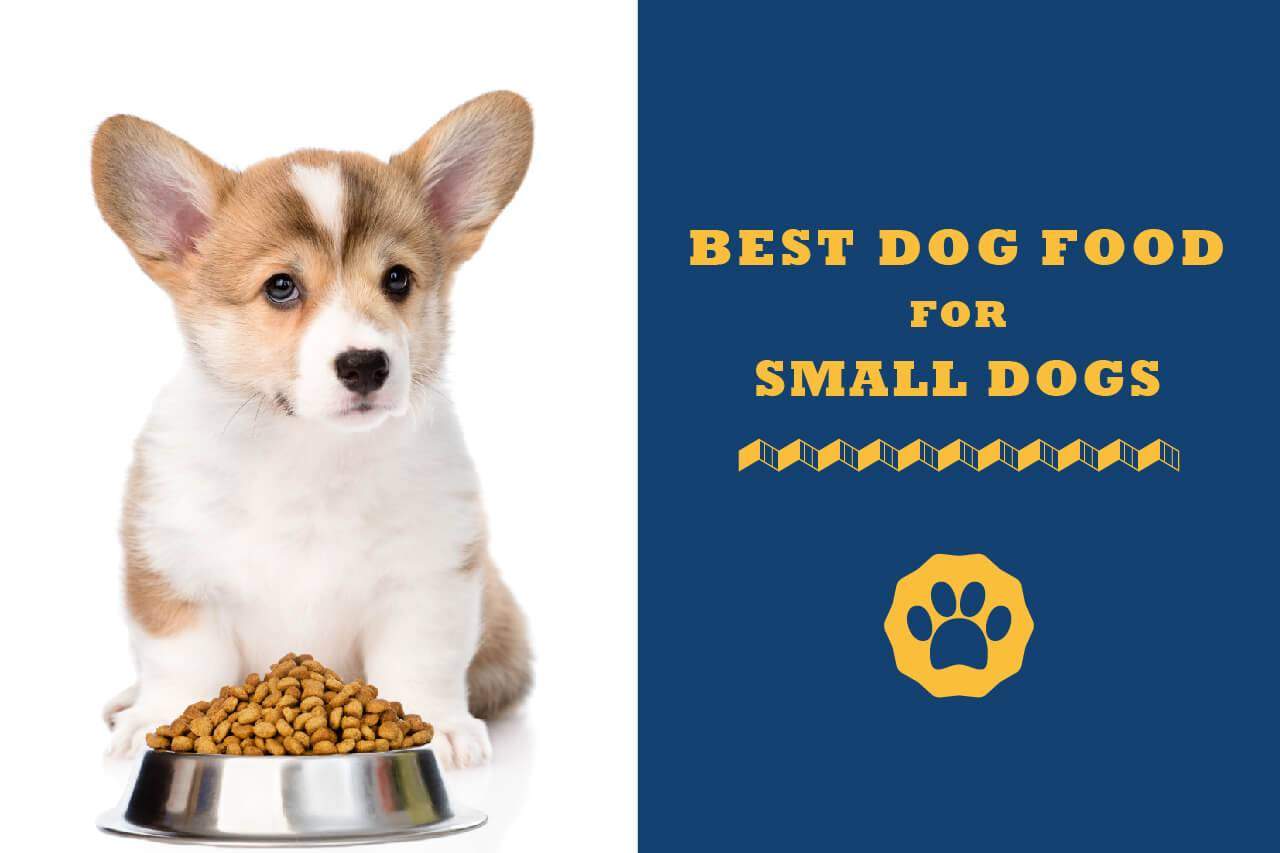 My guess is you want nothing but the best for your tiny furry buddy. Right?
Whether it's a Shitzu, a Chihuahua, or any other canine from this small breed family, seeing these little fellows healthy, active, and full of life definitely makes our days better.
So, how do you make that possible?
First, and most important, is nutrition. Given that a toy breed's well being has a lot to do with nutrition, you want to make sure they are feeding off the right stuff.
While there may be a sea of toy dog breed formulas out there being touted as the best dog food for small dogs, you need to be extra careful to ensure you get the right recipe that addresses the unique individual needs of your little friend.
To begin with, get to know what the special nutritional needs of your small breed dog are, then find out the nutrients expected to be featured in their diet.
More on that below, including a list and reviews of what I found to be the best dog food for small breeds.
AT A GLANCE:
Our 5 Best Food For Small Dogs
An Overview of the Best Food For Small Dogs
IMAGE
PRODUCT
 

Ingredients used in all their meals are human grade
USDA certified
Infused with a range of veggies, whole grains, and fruits

VIEW LATEST PRICE →

Easy to digest
USDA certified
Contains high-quality ingredients

VIEW LATEST PRICE →

Formula is dense enough
Grain-free
Easily digestible

VIEW LATEST PRICE →

Packed with omega-3 fish oil
Contains high-quality protein
Offers a 100% money-back guarantee

VIEW LATEST PRICE →

The food formula is great for small dogs
Soy-free
Grain-free

VIEW LATEST PRICE →
Top 5 Best Dog Food For Small Dogs: Reviews
Let's now go ahead to take a look at some of the best small breed dog food that you can hope to find in the market. You will appreciate the fact that there are a variety of options to suit the diverse needs of toy breeds.
You can opt for the typical highly nutritious and special commercial diets or dog food recipes that have a special formulation process and are delivered fresh.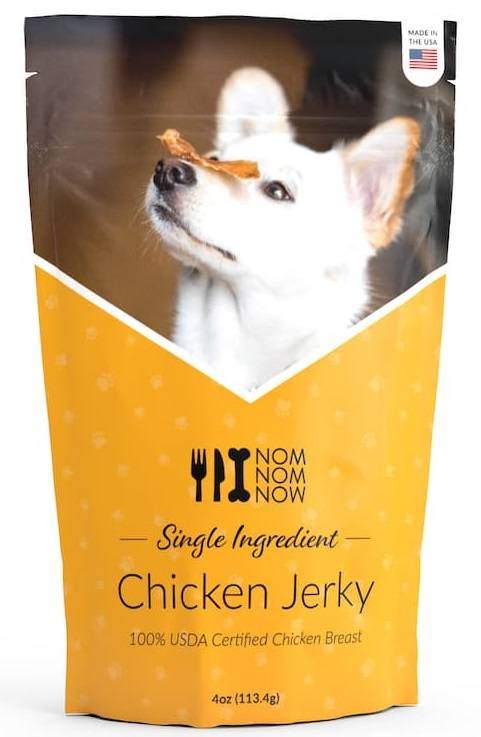 Because Nom Nom is a subscription service for dog food, your small pooch has the benefit of fresh food at every meal. The ingredients used in all their meals are human grade and are prepared in the utmost sanitary conditions.
Like most users, I love that the protein is real animal protein and not just by-products from "unknown" animals. Ultimately, the treats work the same way, featuring real meat from chicken.
The food is created in small batches to ensure your pooch clears its plate and to prevent waste. The chicken jerky is all chicken with no preservatives added to it. The jerky is made from chicken breast that is USDA certified. If you are looking to maintain your dog's coat and weight or even help it gain some few pounds, Nom Nom fresh foods have you covered.
When it comes to daily meals, you have the option of beef, pork, chicken, and turkey. Each is infused with a range of veggies, whole grains, and fruits for increased nutritional value.
The meals are pre-portioned to accommodate the needs of your small breed pooch according to the information you gave the company. The treats are only chicken or beef jerky packaged in 20 or 40 oz bags. Since you are feeding a smaller dog, you should opt for the smaller 20 oz package.
You'll love the nutritional value that each Nom Nom chicken jerky treat offers your pooch. Plus, it is a great option for picky eaters. Most pet parents actually really love the fresh tasting food at every serving, so why wouldn't your dog?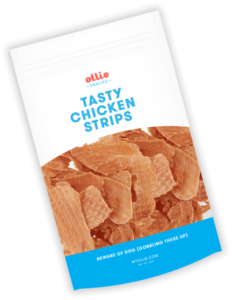 Smaller breeds need smaller-sized kibble they can manage to digest and also find easy to chew. The Ollie tasty chicken strips are easy to chew, making them ideal for small dogs.
The chicken is real human grade meat, not the bits and pieces placed in the kibble. In fact, the package doesn't contain any grains, veggies, or fruit like the recipes. This is purely chicken strips.
The strips are derived from USDA certified chicken and they are rich with calories, making them excellent for a healthy pup. If your pup is a finicky eater, these are great to use as a reward system. In the process, your furry friend gets to feed on premium chicken cuts and its nutritional needs are met.
If your pooch loves beef better, there is the option of savory beef strips cut from USDA certified beef sirloin or trusty turkey strips for the weight watchers who love the taste of high-quality poultry.
For some high-quality carbohydrates as a treat, try the sweet potato slices that provide sufficient fiber and minerals for your pooch.
These treats are created with all dogs in mind, but I find they suit small dogs very well in terms of edible dimensions and digestibility.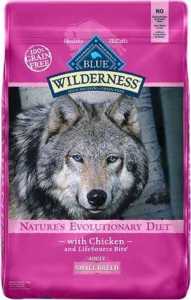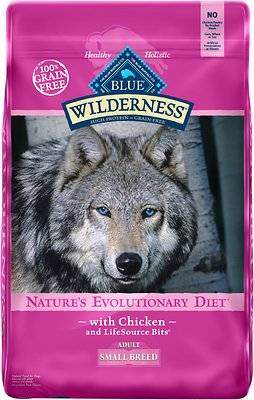 This formula is dense enough to keep small dogs full and fortified with the necessary nutrients their bodies need.
It uses real deboned chicken as well as turkey meal and chicken meal to provide protein. Most pet owners love that it is grain free because grains can be difficult to digest for small dogs.
Their choice of sweet potatoes for carbohydrates speaks highly of the food's quality. Sweet potatoes are an exceptional source of high-quality fiber and energy. They have also thrown in Irish potatoes, peas, blueberries, and cranberries to keep everything in the urinary system running smoothly.
With this food, you can count on your small pooch gaining healthy muscle tone. What's more, it is easily digestible and has a longer shelf life since it is dry food.
Blue Buffalo has perfected a simple two-part recipe that seems to work effectively in meeting the nutritional needs of small dogs. Their recipe is one-part high-quality protein and one-part LifeSource Bits (these are the minerals, antioxidants, and vitamin-providing ingredients).
I've also come to love the variety of meats used by this dog food manufacturer. They use duck, salmon, and even some uncommon meats like bison, venison, rabbit, and quail. Tasty definitely lives here!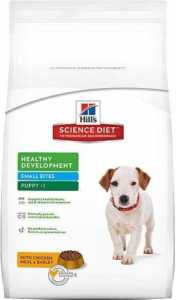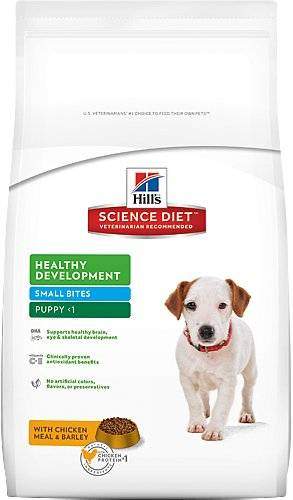 This is a dog food that you must get your hands on for any new pup. The formula is made to precisely ensure your pup stays in its ideal weight limit.
Having said that, the feed is tasty, nutritious, and healthy, with savory chicken as the protein of choice and packed with omega-3 fish oil.
Growing pups need these minerals and vitamins to develop their brains, motor skills, and the musculoskeletal aspect of their bodies.
This food has no artificial flavors to muddy the waters so your dog has a real taste of the high-quality protein within the food.
What's more, the morsels are small enough for easy chewing and digestion. You can feed this to your pup until she is one year old. That is actually enough preparation for their palate to upgrade.
I find it admirable that Hills Science offers a 100% money-back guarantee to unsatisfied customers if the food doesn't work for their pup. But with the veterinarian and scientific research backing this formula and it's high success rate, I'm confident it will deliver.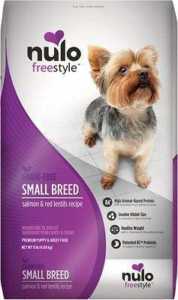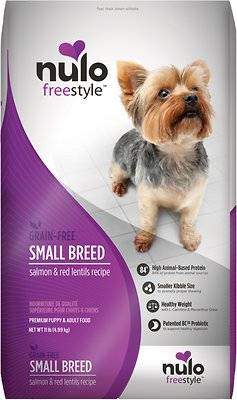 This food formula is great for small dogs with a higher metabolism. The protein used is top notch real meat from salmon. Lamb and turkey also feature in the protein combination.
I love that the kibble here is made extra small so pups with the smallest mouths can easily chew and digest it with ease.
If your little pal is losing weight or needs to maintain an ideal weight, consider this food. It is specifically developed for the health-conscious pooch owner by featuring low carbs.
Another lovely thing about this meal is the addition of probiotics.
This ensures the digestive tract of your pooch is always healthy and working at optimum to eliminate issues like constipation.
The formula is free from soy, corn, gluten, coloring, preservatives, and artificial flavors, making it an ideal choice for the sensitive pup. Basically, everything your dog eats and tastes is the real deal.
Reviewers said the fishy smell of the food is appealing to their dogs, prompting them to eat better. Keep in mind this may work for some animals and not for others.
Also worth mentioning is that this is a high-quality formula that's completely able to keep your doggie in shape at all times.
What Are The Nutritional Needs For Small Dogs?
While your little furry buddy may be small in size, his huge appetite might surprise you, especially if he's the kind who takes well to the food you give him. But not every diet is going to be right for him.
That aside, a common issue you will hear most small breed dog owners raise a lot is how choosy these little fellows can get. They tend to be finicky eaters.
That's why you have to find them a meal that is not only healthy, but also tasty. Don't forget that small breeds do require a balanced diet, despite their small size.
So, when choosing a dog food recipe for them, you want to make sure that they have all the three food classes (protein, carbohydrates, and fats) in the right proportions. That way, your pooch will nutritionally benefit from it.
You small breed pooch will have different protein needs through different life stages. Let's take a look at what your puppy, adult, and senior small breeds nutritional needs are as they grow.
Small Breed Puppies
Although small breed puppies are physically smaller in size, they are still very energetic and will require twice as much energy as adults. Because of this high energy factor, they tend to have a higher metabolism rate.
Also, they require more protein levels because of the need to form new tissue. Please note that this has to be animal protein as it is more effective in forming body tissue, supporting vital organs, as well as nourishing the skin and coat of your pup.
Animal proteins are also far more digestible for your canine than their plant protein counterparts.
Well, this is yet another reason why you as a doggy parent should always take time to go through the list of ingredients in the dog recipe you are purchasing.
This is key if you are to buy dog food that is beneficial to your pooch. The first ingredients must be high a quality animal protein meats such as chicken, lamb, and salmon.
And since one formula cannot fit all when it comes to dog food, it does make better sense to feed your puppy a meal that is small-breed specific for optimal growth and maximum all-round nutritional benefits.
Other than nutritional value, the dog food should also be easy for your tiny pooch to handle.
For instance, if it is kibble, it needs to be small-sized and easy to chew such that the tiny jaw of a small breed mutt will be able to handle the food with relative ease. A smaller kibble proportionate to bite size and bite strength has less probability of becoming a choking hazard.
For puppies that do not suffer any allergies as a result of the whole grains commonly found in the best food for small dogs, choosing a recipe with this ingredient will help to stabilize the glucose levels as they are slower to digest and absorb, hence providing a stabilizing glucose effect. This is an important point because small breed puppies are susceptible to hypoglycemia (low blood sugar).
Small Breed Adult Dogs
Between ages 9 and 12 months, your small breed buddy will have reached her adult weight and can start on adult dog food. Large breed dogs take twice as long, that is, 24 months to reach their adult weight.
The switch to adult food should be gradual. I recommend that you mix 25% of adult food with 75% of puppy food and gradually change the proportion to 100 % within three weeks. This will help to not shock your pooch's gut during the transition from puppy food to adult formulation.
Ensure that the recipe has a good protein quality such as chicken or beef as well as fats such omega fatty acids 6 and 3, which are essential for healthy skin and coat as well as boosting your mutt's immunity system.
This is in addition to reinforcing energy supply to your active little buddy.
Given the fact that small breeds are prone to hypoglycemia (low blood sugar) and your mutt is not grain sensitive, a recipe with some whole grains will work to his favor because grains are slower to digest, thus helping to stabilize blood sugar levels in your small mutt. This condition, however, becomes less and less of a concern with age.
Small Breed Senior
Senior dogs usually have a special place in the heart of a doggy parent owing to the many years of companionship that you've had together. For you to have many more years, you need to look out for her special needs now that she is aging.
Keep in mind that with age comes less activity and a window for other dog diseases to develop such as arthritis, gum diseases, diabetes, blindness, joint problems, etc. The dog food you select for your senior small breed should, therefore, continue to have adequate animal protein for muscle repair and promotion of lean muscle development.
Low carbohydrates are also recommended in order to keep her at an optimal weight. Unhealthy weight gain for a senior can be catastrophic because she's becoming less active and this can cause additional suffering from conditions such as arthritis that are old-age related.
If conditions such as hip dysplasia set in on an overweight dog, life can be quite miserable for him. So, you want to opt for a diet that is healthy for your senior and can keep him at an optimal weight.
A huge need for all dogs, especially seniors, is the need to have bone and joint strengthening ingredients such as glucosamine and chondroitin. These are plentiful in meat meals such as chicken, turkey, and lamb meals.
So, once again, read the ingredient label to ensure that the vital ingredients are present.
What Nutrients Should The Best Small Breed Dog Food Have?
Let's now delve a little bit deeper to see what are the ingredient that you as a doggy parent should look out for to ensure your pooch is getting all the nutritional benefits she needs and deserves.
First Ingredients
Whether or not you are a small breed dog owner, you should always check the ingredients listed on the side of the dog food packaging before adding it the cart.
Both the AAFCO and FDA standards require the ingredients on pet food to be listed by their order of predominance by weight in nonquantitative terms.
Amongst the ingredient listed, the first and main ingredients of healthy dog food should be an animal protein, which is usually in the form of meat or a meal. The source of the meat should be described specifically. You should expect to see descriptions such as deboned chicken, smoked salmon, roasted beef, whole turkey pasture, grown lamb, or pork and so forth.
Animal protein ingredients as the first ingredient is often an indicator that the dog food recipe is on the right track. Small breed dogs need a decent amount of animal protein in order to achieve optimal growth through lean muscle development. Also, animal protein is much easier for your canine buddy's stomach to break down and absorb.
When selecting an animal protein for your little buddy, it's all dependent on your pooch's palate, as some may have a preference for lamb over beef or vice versa.
Some may have a healthy appetite for novelty meats such as bison, rabbit, or kangaroo; whatever selection you make, you want to be sure that pooch will eat heartily.
Watch the video below by the United States Department of Agriculture (USDA) to learn more about pet food labeling:
Meat Meals
It is not uncommon to come across meat meals as the first ingredients in some of the best dog food for small dogs, though often you will see meat meals as a secondary ingredient.
Meat meals you can expect to see on an ingredient list may include turkey meal, chicken meal, lamb meal, salmon meal, and menhaden meal, just to name a few.
If the meat meal does not specifically identify it's source, then this should be a red flag for you as it may mean the meal may have been made from animal by-products, such as intestines or hooves, which most doggy parents do not take kindly to.
In actual fact, meat meals contain more protein content because of their dehydrated nature as compared to whole meats, which will contain a good level of moisture, thus significantly lowering their actual protein content.
Carbs
For small breed dogs, their active nature and high metabolic rate make them susceptible to hypoglycemia , especially puppies. Hence, mutts that are not allergic should be fed small breed recipes that have wholesome grains as carbs since they digest slowly and provide better glucose stability.
For mutts that are gluten sensitive or allergic to grains, carb options such as sweet potato, potatoes, tapioca starch, and green peas or other legumes will also work.
Fats
Quality fats are important not only for energy provision but also for their high digestibility. Fats are often digested first before protein and carbs.
Fats such as essential fatty acids are crucial for your pooch's health as they help promote a healthier immune system as well as a glossier looking coat and healthy supple skin. Important fats in your pooch's diet include fatty acids such as omega-3 and-6 fatty acids.
These fats can be found in ingredients such as chicken fat, Herring oil, flaxseed, canola oils, pork fat, and sunflower oil, just to name a few.
Fats are what makes your pooch's food taste and smell better. Given that small breed dogs are finicky eaters, you want to make sure that the small dog recipe you are buying is loaded with some good fats.
Veggies And Fruits
Veggies and fruit do a great job of flavoring and balancing out an entire recipe by providing the much-needed vitamins and minerals as well as antioxidants for a more robust immune system in your small breed mutt. Also, veggies can help out in the digestion process by acting as roughage in the gut for better bowel movement.
This will often include veggies, such as spinach, kelp, carrots, pumpkin, and kale, while fruit can range from apples to cranberries or blueberries
Probiotic And Prebiotics
Small breeds can be prone to stomach sensitivities. As such, you need to be on the lookout for the presence of pro/prebiotics. These two help in promoting good bacteria to keep the gut healthy and help smoothen the digestion process.
They naturally occur in ingredients such as dried beet pulp and dried chicory root. Together with dietary fiber sources like tomato pomace, they promote easier digestion and encourage frequent bowel movement, plus quality firm fecal matter.
Conclusion
Whether your small breed buddy is a pup, adult, or senior, the variety of the above-mentioned meals are crafted to make sure they have nothing but the best. Some treats can be used as toppers or fed as a treat to help your mutt cop with the naturally high metabolism of small breed dog.
The rest of the diets are full-fledged meals that comprise dense nutrient value, which ensures that the small frequent portions your mutt eats keep him nourished and energetic.
Doggie parents will attest that caring for a small breed is quite special owing to their transportable nature. You can literally bring them everywhere you go if you choose to.
To continue enjoying your many adventures with your miniature canine pal, feed him the right diet that will see to it that he stays healthy for the long haul.
Luckily for you, the above-mentioned options provide you with plenty of delicious and nutritious choices to work with in bringing the best out your little buddy.