Updated: January 13th, 2020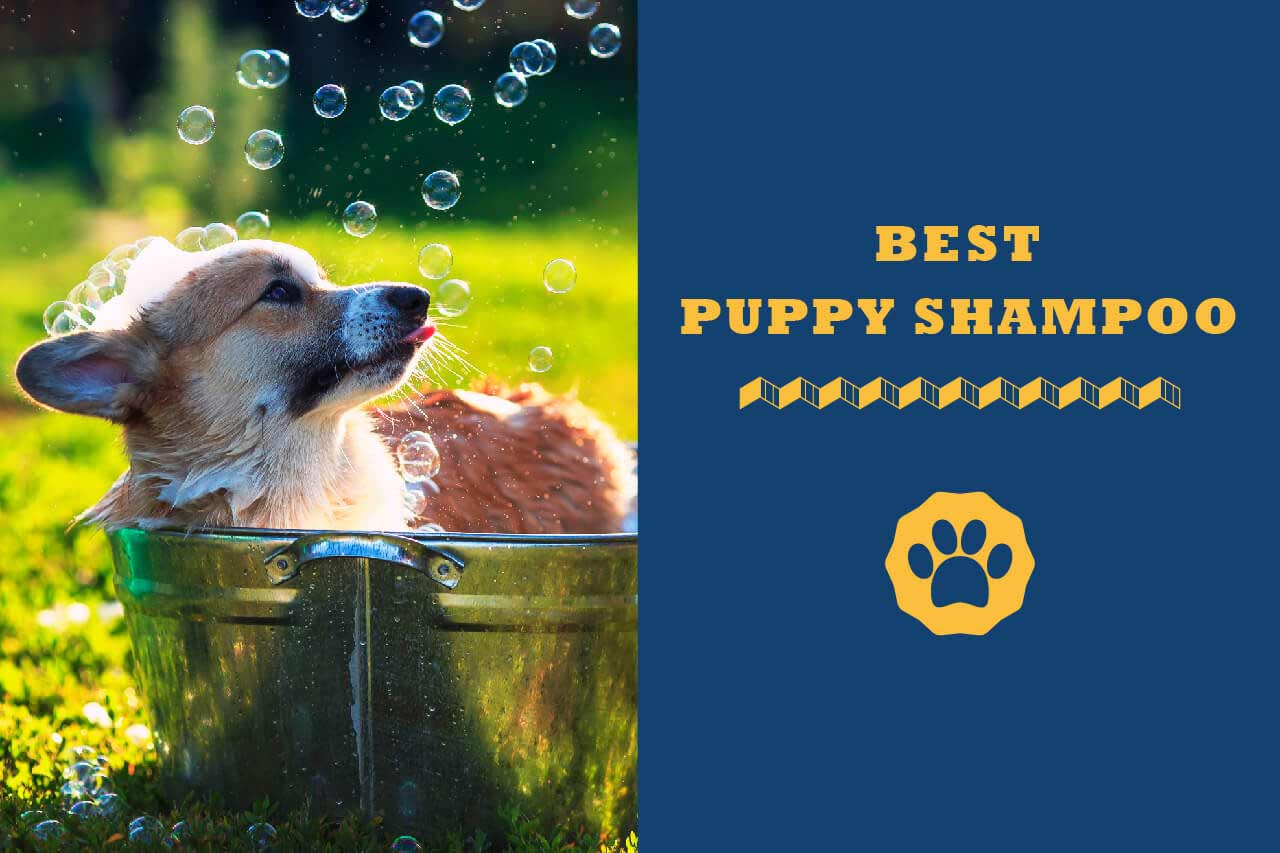 Sometimes it can seem like there is a 'puppy' version of everything. Puppy food, treats, toys, and even shampoos! But do we really need to be spending more on special products for puppies, or is it all just marketing hype?
AT A GLANCE:
Our 5 Best Puppy Shampoos
Overview of 5 Best Puppy Shampoos
When it comes to shampoo, it is best to get a special shampoo for puppies. Puppies are born with a puppy coat, which they shed and replace with an adult coat much as they shed and replace their teeth. This coat is softer and less durable than a normal dog coat, and their skin is also more sensitive than the skin of adult dogs. 
As a result, they do need something a bit different.But which of the many puppy shampoo products on the market is best? 
Read on to discover what I have found to be the five best puppy shampoos on the market, and read the comprehensive buying guide to fully understand what exactly makes a good puppy shampoo. I'll also share a few tips on how best to bathe your puppies so that bath time can be a no tears affair!
5 Best Puppy Shampoos

If you want a shampoo that is 100 percent safe for your puppy and the environment and leaves your puppy's hair and skin fresh and hydrated, then this puppy shampoo from Earthbath is the best in class.
Product Features
All-natural ingredients

Scented

Tearless, soap-free
This lightly scented shampoo from Earthbath is specially formulated for puppies to have the right pH balance and all-natural, coconut-based cleaners that don't irritate puppies' skin or sting their eyes. The formula cleanses naturally and also soothes and hydrates skin with natural aloe vera. It contains no known shampoo nasties such as parabens or phosphates.
This soap is safe to use with puppies as young as six weeks and won't interact with topical flea sequences, leaving your puppy protected no matter how many times you need to bathe them. The soap is also 100 percent biodegradable, so you don't need to worry too much about how you dispose of your dirty, soapy water.
The main downside with this product is the scent which may not appeal to all pooches, but it is derived from natural cherry essence and shouldn't hurt them.
Pros:
pH for puppies

Contains soothing aloe vera

Safe to use with topical flea treatments

100% biodegradable
Cons:
Scent may not appeal to all puppies
Keep your puppy safe and clean with this excellent puppy-specific shampoo from Earthbath.


If the condition of your puppy's hair is your top priority, try this two-in-one shampoo and conditioner from Nature's Miracle.
Product Features
All-natural

Shampoo and conditioner

Scented
This scented puppy shampoo is formulated to neutralize odors, clean the skin and coat, and moisturize the hair follicles for long-lasting softness. A natural formula based on Cocoa Surfactant, this is a shampoo and conditioner in one that will leave the hair soft and reduce static electricity.
This is another gentle formula that will not irritate your puppy's eyes and won't wash off any topical flea or tick treatments that are protecting your pooch.
The product does leave behind a 'fresh spring' scent, which may linger around your puppy for four to six weeks. While this may help keep odors in check, it may not appeal to all puppies.
Pros:
Neutralizes odors

Conditions hair and reduces static electricity

Safe to use with topical flea treatments
Cons:
Scent may not appeal to all puppies
Keep your puppy's coat clean and conditioned with this specially formulated product from Nature's Miracle.


If you want the best shampoo for your pup but don't want to pay a ton, then this puppy shampoo from Burt's Bees is for you.
Product Features
All-natural

Unscented

Tearless Shampoo
Specially formulated to be at the right pH for sensitive pups, this coco-based formula is free from sulfates, colorants, and other nasties that might irritate your dog's skin. It also contains added buttermilk to soothe sensitive skin and honey to lock moisture into the hair follicles. The shampoo does not leave behind any fragrance of its own but eliminates odors effectively.
This formula cleans effectively while being mild enough not to hurt their eyes and not to interfere with topical flea treatments that may have been used.
While it is pretty impressive that this formula is 97 percent biodegradable, for the environmentally conscious, the three percent may cause a twinge of guilt when disposing of used bathwater.
Pros:
pH for puppies

Contains honey and buttermilk to soothe and moisturize

Safe to use with topical flea treatments
Cons:
If you are looking for an affordable puppy shampoo that more than does the job, then look at Burt's Bees.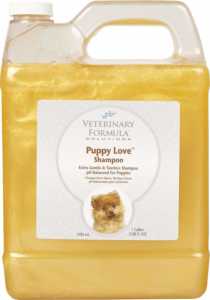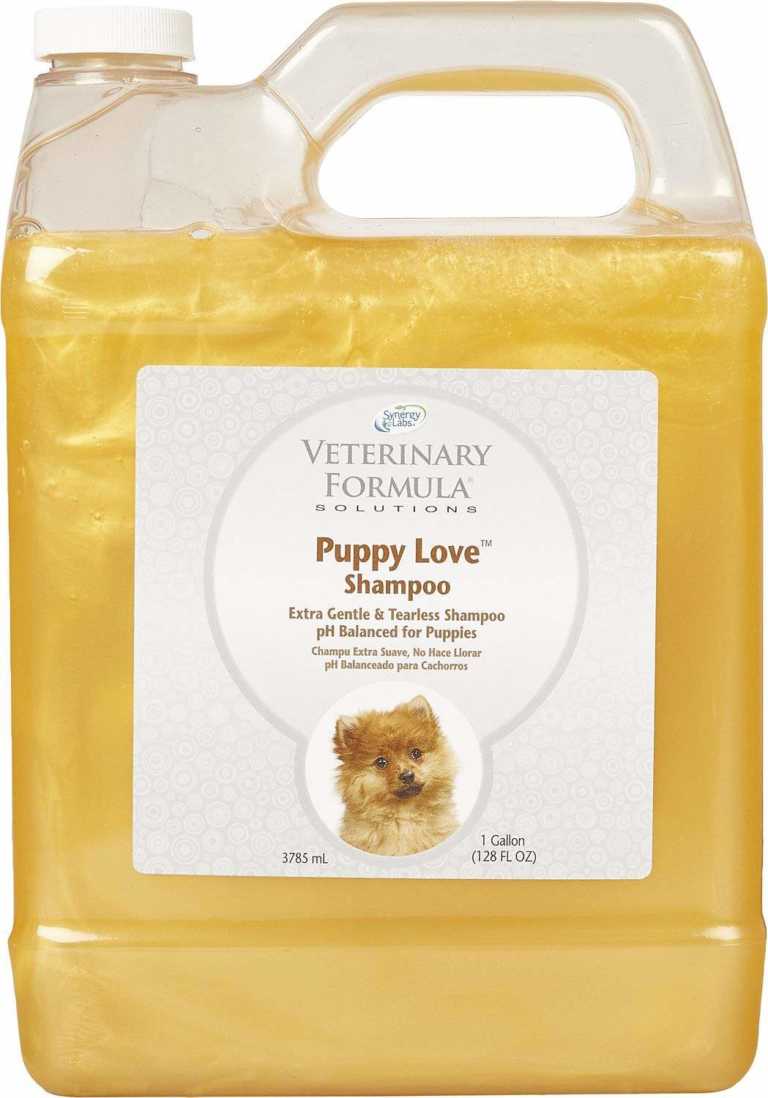 If you want the peace of mind of a vet-recommended product, then you can't look beyond Veterinary Formula Solutions.
Product Features
Contains safe ingredients

Scented

Tearless and mild
While this shampoo does not claim to be all natural, it does not contain any nasties, such as sulfates, that are dangerous to your young dog. It will leave delicate skin clean and coats soft and fluffy, all while being mild enough not to irritate the eyes and not to wash away topical flea treatments.
With the right pH balance for puppies, this formula will be kind to their skin, but the scent may not be so kind on their nose. Whether your puppy is happy with this mild scent or not will depend on them.
Pros:
Vet recommended

pH for puppies

Safe to use with topical flea treatments
Cons:
Bathe your dog with confidence with this vet-recommended shampoo for pups.


If you are keen to make bath time as quick and easy as possible, check out this easy rinse puppy shampoo from Perfect Coat.
Product Features
Contains safe ingredients

Scented

Easy rinse formula
This mild and gentle puppy shampoo, which alson won't irritate eyes or wash away topical flea treatments, is combined with keratin, aloe vera, and jojoba oil. Keratin and jojoba oil condition the coat to leave it soft and fluffy, while aloe vera soothes and moisturizes the underlying skin. The formula only contains ingredients that are safe for your puppy, but it is not 100 percent natural.
One of the other stand-out characteristics of this formula is that it is easy to rinse, so you don't have to worry about leaving behind residual shampoo, and it can cut down bathing time significantly.
The shampoo does leave behind a long-lasting baby powder scent that will likely appeal to pup parents, but your dog may find it less appealing.
Pros:
Added keratin, aloe vera, and jojoba oil

Easy-rinse formula

Safe to use with topical flea treatments
Cons:
Not all natural

Scent may not appeal to puppies
Cut bath time in half for nervous pups with this easy-rinse shampoo from Perfect Coat.
Puppy Shampoo Buying Guide
Not only is bathing your dog with human shampoo a rather expensive approach (as human hair products tend to be more expensive than their canine alternatives), it will do damage to your dog's coat over time. 
Human hair follicles and canine fur are very different. Most notably human hair and skin are significantly more acidic, while canine skin and fur is more alkaline. This means that shampoos formulated for humans can do damage to your dog's coat over time.
According to the American Kennel Club:
Using a human shampoo on dogs disrupts the acid mantle, leaving your dog vulnerable to parasites, viruses, and bacteria. It also makes his skin feel dry and flaky which can lead to repeated scratching and abrasions. This makes it easy for bacteria to invade.
Where humans and dogs are similar is that, just like human babies, puppies need something a bit different from adult dogs. This is because their developing coats tend to be softer and fluffier, and therefore need something a bit more gentle. As puppies grow, they will shed their baby coat—just like they shed their baby teeth—and will develop a thicker, more resilient adult coat. Until that time, puppies really need something specially formulated for their skin and hair.
Key Features Of Puppy Shampoo
When it comes to choosing the right puppy shampoo, there are a few key features to pay attention to.
pH Level
The skin and hair of dogs and puppies have a neutral pH level, and so as not to cause damage, their shampoo should also be around neutral. Look for shampoos that have a pH level near to 7, which is neutral.
Fragrances
While you might like getting a little whiff of fragrance from your hair when it is freshly washed, most dogs don't like to be surrounded by a lingering fragrance that is not their own. For that reason, good dog shampoos should work to neutralize odors rather than simply mask smells with fragrances. If you do decide to go for something scented, make sure the scent is light enough not to cause your dog major distress and is made from natural ingredients that will not irritate your dog's skin.
Natural Ingredients
Just as it is true for humans, harsh chemicals absorbed through the skin can harm dogs, especially puppies whose system is still growing and developing. Dangerous chemicals should be avoided by choosing products made from all-natural ingredients. Key ingredients to avoid include phthalates, formaldehyde, isothiazolinones, and nitrosamines.
Skin-Protecting Additives
Just as you can buy shampoos and skin cleansers that promise to hydrate your skin and keep it looking fresh, dog shampoos will often include skin-protecting additives such as oatmeal, aloe vera, or vitamin E that is designed to moisturize skin and keep coats shiny. This can add a lot of benefits for your dog, as long as the ingredients are all-natural and won't do your pooch any harm.
Medicated Shampoos
If your dog has specific skin conditions, there may be a shampoo out there specially formulated to help. Identifying these usually requires consultation with your vet. Look out for shampoos that can help with parasitic or fungal infections, skin allergies, or seborrhea.
Puppy Bath Time Tips
When To Shampoo Your Puppy
The general advice on how often to give you puppy a bath with shampoo is regularly but not too often. So, there is a lot of room for interpretation there! The reason not to shampoo them too often is that it can strip their coat of the natural essential oils that their skin excretes to protect their coat.
How often you need to give your puppy a bath depends very much on their lifestyle. If they are still with their mother, they will probably require fewer baths, as mothers regularly lick their young to remove dirt. If your puppy is an indoor pet, and therefore they aren't picking up a lot of dirt, then again, you can probably wait quite a while between shampoos. However, if they like to go out frolicking in the garden or park, they are going to need a thorough bath more regularly. Pups with longer hair are more likely to pick up and retain dirt, so they too need baths a bit more often.
Pay attention to your dog to see if they are in need of a bath. Unless they have clearly been rolling around in something icky, you should wait until they start to smell a bit dirty to you before you shampoo their coats.
How To Shampoo Your Puppy
A lot of puppies do not like bath time, and if it is not done properly, it can simply see it as punishment. This is one more of those things that you need to train your puppy to do. You need to train them what they need to do during bath time and to not see it as a punishment. 
Always reward your pooch for their good behavior and cooperation during bath time. According to Vet Mikkel Becker:
Bath time should always be paired with something your dog enjoys. I use a snack jar in my bathroom when bathing my pugs, so I can reward calm behavior of all four feet in the tub. I also give them a long-lasting toy or chew after their bath.
If you are looking for the best training treats for your dog, check out this review of the best dog treats for training.
As well as training, there are a number of tips to follow during bath time to keep your dog as calm and happy as possible.
Wear them out!

It is best to bathe your dog when they are tired after an active day so that they have less energy to make a fuss in the tub.
Regulate water temperature

. Dogs struggle with water temperatures that are either too cold, making them vulnerable to illness, or too hot, making them very uncomfortable. Try and get the water lukewarm, and bathe them is a space where the outside temperature is not significantly warmer or cooler than the water temperature.
Be gentle.

Just because your pup enjoys rough play does not mean that they will appreciate an overly rugged bath time. Be gentle, especially when washing their ears, face, and privates. Keep soap out of your dog's eyes, ears and nose as much as possible as this will sting.
Rinse thoroughly

. Residual soap on your dog's skin and hair can cause damage and irritate your dog as they feel the residue on their skin.

Towel Dry

. Dry your pup completely before letting them loose. Let them shake off the excess water, and then towel dry them. Never use a hair dryer, even if it is designed for pups, as this can dry out their skin and hair, and they can't let you know if it is too hot!
For more information on how to bathe your dog, check out this video from Banfield Pet Hospital.
FAQs
Can dogs be washed with human shampoo?
No. The pH of dog skin is very different to that of human skin, and shampoos formulated for humans are too acidic for dogs and can damage their skin and coat.
Is baby shampoo safe for dogs?
Baby shampoo is the only human shampoo that may be safe to use with dogs, as it is specially formulated to have a relatively neutral pH and uses only safe and natural ingredients.
Why is my dog so afraid of baths?
Dogs can fear baths for a number of reasons. Perhaps they have a fear of water. Maybe the slipping feeling of being in a wet tub scares them. Dogs need training in order to know how to behave during bath time and to understand that it is an activity that is safe and potentially fun.
Do dogs feel better after a bath?
Dogs often go crazy after a bath but not usually because they enjoyed it. If they roll around the house rubbing against everything in sight, it can be from relief or trying to rub off the scent of the soap or shampoo used.
The Verdict 
Dogs coats and very different from human hair, and therefore need a different type of shampoo to keep their skin and hair healthy and happy. Puppies, with their newer and more sensitive coats, need something a little bit different from adult dogs. Pick up a puppy shampoo in order to be able to bath your puppy with peace of mind and confidence.
If you want the best product to do the job for most puppies, then pick up a bottle of Earthbath shampoo for puppies. If you still want quality, but you are working on a budget, then try Burt's Bees as an affordable alternative. If you are looking to include conditioner in your puppy's bathing regime, then try the two-in-one formula from Nature's Miracle. If vet approval is important to you, then check out Veterinary Formula Solutions shampoo. If your main goal is to make bath time as quick as possible, then check out the easy rinse formula from Perfect Coat.