Updated: October 14th, 2022
This article contains affiliate links. Read the full disclosure here.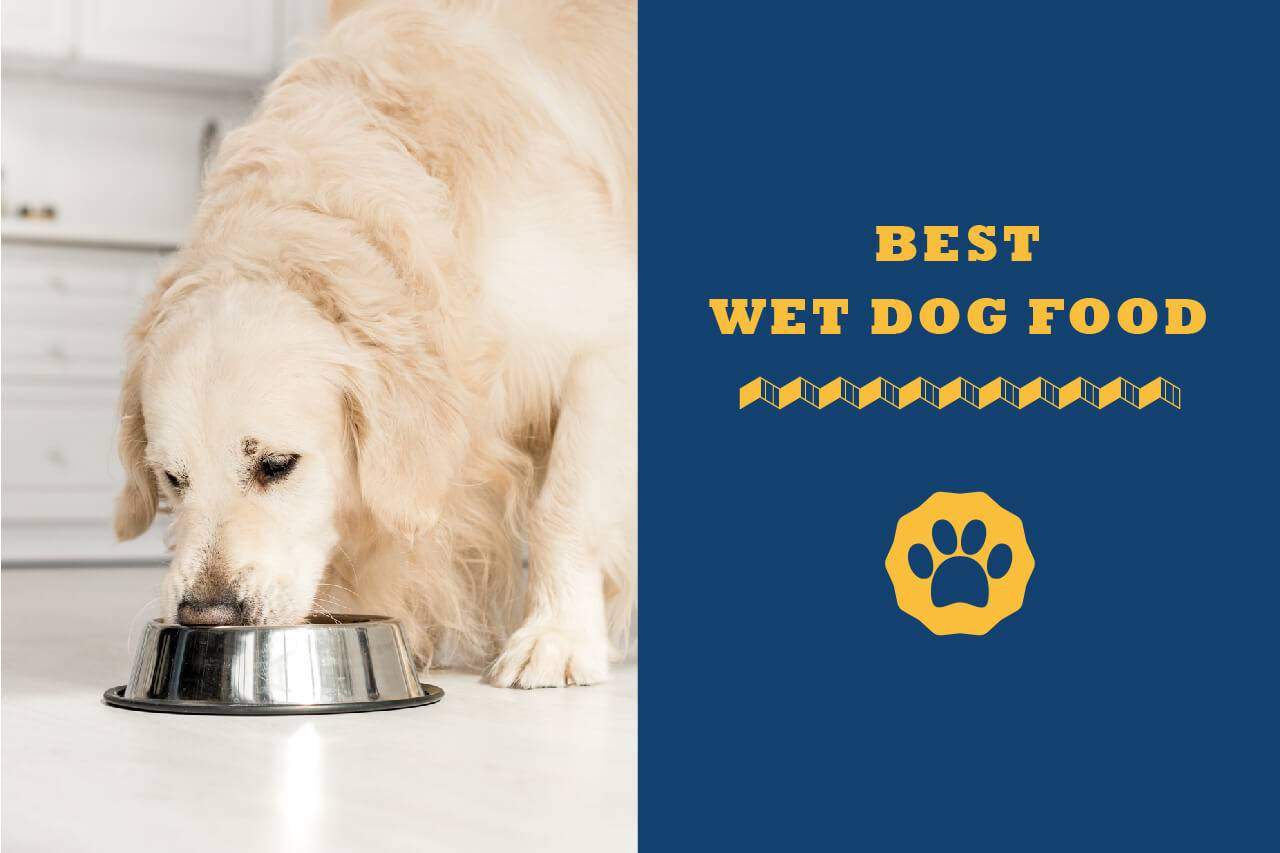 Just like dry foods, wet foods have their place in your canine's diet. You probably know of their benefits—more protein, less carbs, fewer preservatives, and high moisture content, just to name a few. The question in your mind right now is probably, "But what is the best wet dog food out there?" 
AT A GLANCE:
Our 5 Best Wet Dog Foods
Overview of 5 Best Wet Dog Foods
IMAGE
PRODUCT

Grain free
Uses real meat as the first ingredient
Limited ingredients

VIEW LATEST PRICE →

BEST FOR SENSITIVE STOMACHS

Low-fat formula
Prescription food
Contains prebiotics

VIEW LATEST PRICE →

High-quality chicken as the first ingredient
Contains powerful prebiotics, omega-6 fatty acids, & docosahexaenoic acid (DHA)
No artificial ingredients, colors, flavors, or preservatives

VIEW LATEST PRICE →

Real chicken as the first ingredient
Rich in chelated minerals
Formulated with garden vegetables

VIEW LATEST PRICE →

Two different recipes
Real meat as the first ingredient
Grain free

VIEW LATEST PRICE →
You've probably run into countless options, some grain free, others limited in ingredients, some branded natural or organic, others limited to puppies or adults. Well, which food is right for you depends on things like her nutritional requirements, state of health, and age group. 
That's not all, though. You'll have to look into other things like what's in the food and product recalls (if any). You're in luck! I've done the heavy lifting for you by doing a thorough search of what qualified to be the best and most reliable wet dog food in the market right now. 
Honestly, the outcome surprised me, and you won't want to miss out on what I found. Have a look:
Reviews Of The Best Can Food For Dogs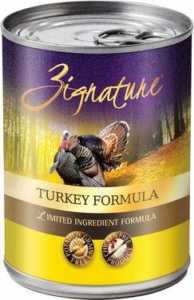 Turkey, which is the top ingredient in this formulation, is a great source of lean protein and a wonderful alternative if your dog has an allergic reaction to chicken. Use of this farm-raised turkey, together with carrots, chickpeas, and wholesome peas make this food tasty enough even for your picky eater. Zignature also offers duck if your pooch doesn't like turkey.
Key Features
Grain free

Uses real meat as the first ingredient

Limited ingredients

Dairy free

Contains complex carbohydrates
Most dog foods use potatoes, which when broken down become simple carbohydrates that increase your pooch's sugar level, because they have a high glycemic value. However, Zignature uses complex carbohydrates that offer higher fiber and low glycemic levels, like chickpeas and peas. 
The combination of essential minerals, vitamins, and antioxidants, with the other key high-quality ingredients, give your pooch a well-balanced meal every time she eats.
Pros:
Limited ingredients help eliminate the risk of an allergic reaction

Uses turkey, which is a lean meat excellent for building muscles

Free of common allergens like additives and artificial preservatives, colors, and flavors
Cons:
Company doesn't provide specific formulas for different life stages
This is a delicious food that can meet the needs of a pup or a senior dog (all stages). Not only is it among the best tasting wet dog foods, it is also packed with nutritional value, a fact that makes the best product overall in this review.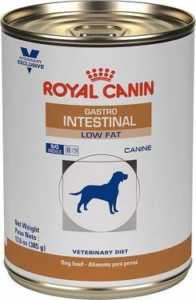 Sometimes dogs have a problem digesting fat because of diseases like cholestatic liver disease. Also, when a dog's gallbladder is affected, she will not digest fat properly. In such instances, she needs to be fed a gastrointestinally friendly low-fat food, like the Royal Canin Veterinary Diet Gastrointestinal Low-Fat Canned Dog Food.
Key Features
Low-fat formula

Prescription food

Contains prebiotics 

Contains powerful antioxidants, omega-3 fatty acids, EPA, and DHA

Can help with weight control 
In addition to being an excellent option for dogs with a sensitive stomach, it contains pork byproducts as well as dried plain beet pulp, giving it a sweet and savory flavor that is appealing to even the pickiest dog. 
Being a low-fat-content dog food makes this meal effective in keeping your pooch's weight in check. Also, the food is all natural with real flavors that make it highly palatable. 
Please note that this particular dog food requires a vet's prescription to purchase.
Pros:
It contains prebiotics to help your dog's digestive tract stay healthy

No artificial flavors and colors, making it great for dogs with food sensitivities

Healthy dose of antioxidants to soothe the urinary tract 
Cons:
Relatively expensive, making it hard to afford for owners with several dogs

Available only with a prescription
Not many special diets of this kind boast of the qualities that Royal Canin Veterinary Diet Gastrointestinal Low Fat Canned Dog Food has. It's a tasty, best natural wet dog food that doubles as an effective weight control diet that is also rich in essential nutrients. It's definitely worth your dollars.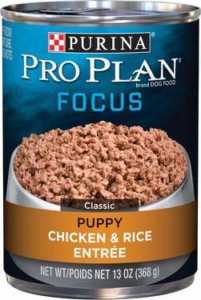 Purina has been creating tasty dog food for decades. They strongly rely on their research (which they've been carrying out for the past 85 years) when it comes to determining what ingredients to use in their dog foods. 
From having some of the best dog food prices online to the overall palatability of the Purina Pro Plan Focus Puppy Classic Chicken & Rice Entree Canned Dog Food, Purina effortlessly meets a unique need in the dog food market.
Key Features
High-quality chicken as the first ingredient

Contains powerful prebiotics, omega-6 fatty acids, & docosahexaenoic acid (DHA)

No artificial ingredients, colors, flavors, or preservatives
By including elements like DHA, the food guarantees better cognitive function in your dog and the omega fatty acids help keep her coat and skin in great health.
Since young puppies need lean protein, using lean chicken meat helps them to build the necessary muscle. Also the food has a clean formula to cater to the sensitivities of a young stomach.
Pros:
Prebiotics give your pooch's intestines the correct balance for optimum absorption of minerals

High-quality meat makes it nutritious

Contains calcium for excellent bone and joint health as your pup grows

No artificial additives which can cause an allergic reaction in dogs

No added preservatives, colors, or flavors, giving your pooch the authentic taste of the chicken they are eating
Cons:
Recent changes in the Purina Pro Plan formula has disgruntled some customers whose dogs love the older formula
The time and resources the company has put into researching the best ingredients for their dog food products has inspired confidence in dog parents and propelled them to sit among top wet dog food brands. You can rely on and trust products from a company that clearly cares about what they put in your dog's food. Also, the price is affordable, making it easily accessible.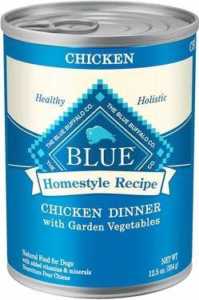 Chicken for dinner! How about making that possible for your furry friend as well? The Blue Buffalo Homestyle Recipe Chicken Dinner with Garden Vegetables & Brown Rice Canned features veggies and whole grain brown rice which helps keep your pup fuller for longer without compromising on the quality of the ingredients.
Key Features
Real chicken as the first ingredient

Rich in chelated minerals

Formulated with garden vegetables

Contains antioxidants
This food is nutritionally complete, because it has a great combination of lean high quality protein and wholesome grains to provide complex carbohydrates, veggies, and chelated minerals. You can feed your pooch this food on its own or add it to her dry food to make it more appetizing.
If you are trying to introduce your dog to wet food, this is an excellent choice to begin with. Of course, introduce it in small amounts and watch your dog for any reactions. The clean formula is easily digestible and highly palatable.
Pros:
Blueberries and cranberries boost her immune system and keep her urinary tract healthy

Chelated minerals guarantee better absorption of the nutrients in her food

Contains no corn or wheat which can trigger allergic reactions in dogs
Cons:
Contains carrageenan, a gelatin-like substance extracted from seaweed, but there are questions about its long-term biological effects on dogs
If you are looking for a nutritious, tasty, and high-quality food for your adult small, medium, and large breed dog, you cannot go wrong with the Blue Buffalo Homestyle Recipe Chicken Dinner with Garden Vegetables & Brown Rice.
Apart from having flavors that are natural, the presence of veggies in the stew gives it the correct balance for dogs at all stages of their life. What's more, this food has never been recalled, because they use high-quality protein and have a healthy mix of nutrients and vitamins in the food. 
Key Features
Two different recipes

Real meat as the first ingredient

Grain free

No byproducts

Uses

BPA-free

cans
American Journey packs their food in BPA-free cans, so the taste of the food within is not altered in any way. 
As for the protein in this meal, it is from lean muscle and sourced from local farmers, so the quality can be trusted. With ingredients like chicken, chicken and beef broth, chicken liver, and dried egg, your pooch is not only benefitting from real protein but she will also enjoy the meal.
Pros:
Uses real meat and organ meat to provide the protein needed

Comes with two cans (chicken and vegetable recipe and beef and vegetable recipe) so you can alternate the flavors

Contains no soy, corn, or wheat and no artificial colors, preservatives, or flavors, making it great for dogs with food sensitivities
Cons:
Some pet owners report that their adult dogs only lick the juices and eat a bit of the food
By offering two cans in a case, this food gives your dog a little variety at meal times to keep her coming back for more. The company also has a great reputation with their other foods as well as treats.
Important Features To Consider When Buying The Best Wet Dog Food
The following are important features to check for in the canned food you buy for your dog: 
Quality Ingredients
The label should contain a clear description of all the ingredients contained in the food. Look for natural ingredients which are available in the best organic wet dog food. The primary ingredient should be high-quality proteins like organ meat and authentic meat meals. 
Avoid labels with vague descriptions of the protein sources. I would also suggest you opt for a grain-free canned food to eliminate feeding your pooch low-quality grains and fillers. If your dog must have grains, opt for whole grains.
Natural Preservatives
Natural preservatives, like rosemary, are excellent for keeping allergies at bay. Most kibble and some canned foods contain preservatives like BHA and BHT as well as Ethoxyquin. Generally, the rule is to purchase wet food with little to no preservatives.
Your Dog's Age Group
Feed your dog according to the age group stipulated on the can. Each stage in life requires different nutrients which means the food varies from one age group to another. 
For puppies, look for foods that have a high protein-to-fat ratio to help her build muscle. Adult dogs also need a high percentage of protein and fat, and you can alternate canned food and dry kibble for the perfect ratio of calories. Adult dogs, especially the active breeds, will need more calories as well.
Senior dogs and dogs under weight restrictions need limited ingredients to help them manage a healthier lifestyle. Their food needs a good deal of fiber to help them maintain their ideal weight. 
For pregnant dogs, consider a dog food that contains enough fat and proteins and a healthy amount of carbohydrates.
Recalls
Keep up with the recalls (both those by the company and the FDA) so that you will not end up feeding your canine friend defective food.
Your Climate
If you live in a warmer climate, your pooch probably doesn't need to generate too much heat. So, look for canned food with low carbs and calories. However, if you are in a cold climate, make sure the food is packed with high-quality protein and fat to help your pooch generate adequate heat to keep herself warm at all times.
Dry Vs Wet Food 
Feeding your dog wet or dry dog food is a matter of choice. Sometimes your dogs will benefit more from one type of food than another due to age or maybe the unfortunate presence of a chronic condition.
So, here are the most important differences between wet and dry food, also known as canned food and kibble, respectively:
When it comes to flavor and moisture content, wet food offers both. The chunks of meat and veggies are usually in a savory gravy. Dry food features flavors from chicken fat, but it is simply not the same.

Dry foods need preservatives to keep the food consumable for longer, but wet food doesn't contain many (or any) preservatives at all.

Wet food is usually low calorie and low carb, making it more nutritious and ideal for keeping your dog at a healthy body weight. Plus the animal fat contained in wet foods is high quality. Dry foods have a higher percentage of calories, but it is not as nutritious as the canned food. The best canned dog food is excellent for weight control. 

Canned food has a higher moisture content which comes in handy especially if your dog doesn't drink as much water as she should during the day.

The texture and flavor of wet food enables picky eaters to eat far more than they would when eating kibble. 
The Downsides To Wet Food
Dry food is cheaper than wet food because it has a much longer shelf life. For dog parents on a budget, kibble may seem like a good idea, but it only works well for you if you get the food from a reliable source. Even kibble has a shelf life, and unscrupulous dealers still sell expired food, which is unsafe for your dog.

Canned foods need refrigeration to make them last longer, while kibble only needs careful storage in a dry, safe place.

Kibble is great for your canine friend's oral health, because it helps chip away at plaque as she eats. Wet foods can contribute to poor oral health, because they get stuck in the dog's teeth. In both cases, doggie parents must clean their baby's teeth with dental chews or brushes and ask for a deep cleaning at the vet once or twice a year.
As to which one is better between the two, the answer is NEITHER. Watch the video below to learn more:
Who Should Buy Wet Food?
Still debating if you should by dry or wet dog food? I recommend that you buy wet food if you have:
Senior Dogs 
Canned food is essential for older dogs, because it provides hydration and is low in carbs and calories which can lead to unwanted weight gain. Plus, having fewer ingredients keeps allergies away and her digestive tract healthy and adequately active. 
A dog is considered to begin aging once she reaches the mid-point of her life expectancy, which is between seven and eight years.
Senior dogs are more susceptible to weight gain from calorie-packed kibble, since their metabolism has slowed down with age. As she ages and is less active, chances of gaining too much weight from her food grow unless she gets on a healthier, lower-calorie diet.
Medium To Large Breeds
Doggie parents with larger breeds should invest in wet food because of its low calories. Because such breeds are susceptible to poor joint health conditions, like hip dysplasia and arthritis, a low-calorie diet enables them to keep an ideal weight. This helps ensure that their joints don't suffer the strain of additional unwanted pounds. 
Pregnant Mothers
A pregnant or nursing mother dog needs key nutrients and not just empty calories and carbohydrates for her own excellent health and that of her puppies. The dog needs to eat high-quality protein, and the food must not have artificial additives like preservatives, flavors, and fillers. 
Wet food contains high-quality protein and doesn't have preservatives to give it a longer shelf life like kibble. Plus canned food also contains adequate amounts of glucosamine and calcium, among other nutrients, for healthy bones and joints.
Conclusion
Even though wet foods tend to be slightly more expensive than their dry counterparts, their unique benefits compensate for this drawback. As for which canned dog food is best, look for a food that is balanced and can meet the nutritional needs of your pooch. 
Zignature Turkey Limited Ingredient Formula Grain-Free Canned Dog Food for instance, which is the best product overall on this list, boasts of higher nutritional value due to the use of quality ingredients that also accommodate dogs with food sensitivities. It's also very tasty and made for dogs at all life stages. 
Even the rest of the options boast of great nutritional benefits as well. Your only task is to figure out which one would work best for your little furry friend. 
Don't forget to follow the guidelines herein, as this is the only way to be sure that you are feeding her the right diet and doing it properly.