Updated: July 10th, 2022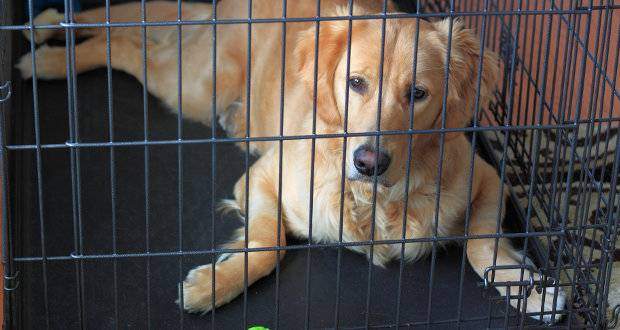 © Luckydoor | Dreamstime.com – Golden Retriever Dog In Crate Photo
I know: It can feel mean and sad to leave your new puppy in a crate when you're running to the store. But really, you're doing it for the greater good!
I know that, and eventually, your dog will know that, too.
Crate training is one of the most beneficial things you can do to help a puppy's early development, and is just as useful for an adult dog too.
In this article you will learn exactly how to crate train a puppy or dog, no matter their age or level of previous training.
You should read the whole guide before starting, to gain a complete understanding of the process, including the tips and troubleshooting at the end so you can find the speediest success.
Before We Start: What Is Crate Training?
Crate training is where we tap into a dog's natural instinct to seek out a 'den' in which to sleep, to teach them that a crate is their own special place of safety and security where they can sleep and relax in peace.
Why do we do this?
We do this so we can use the crate as a place for short-term confinement, to keep our dogs and our belongings safe when we cannot supervise them.
The training establishes a strong association in a dog's mind that a crate is a great place to be and only good, positive things happen there. Then we can confine them short-term when needed, and they are happy to do so. Plus, they're happy to please you!
Yes, they can even enjoy their time in the crate!
Recommended Comprehensive Training Course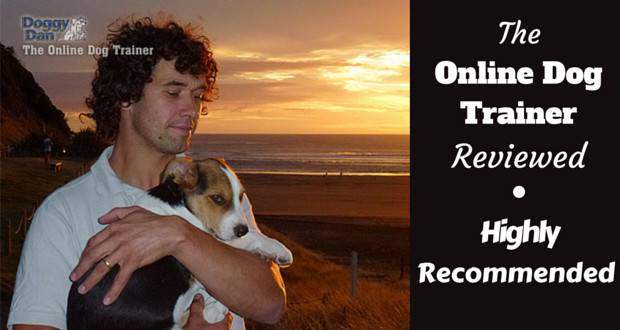 Why Should You Crate Train Your Dog Or Puppy?
Because forcing a dog into a crate without training them to be happy in one first can lead to them hating or even fearing it, the polar opposite of how we'd like them to feel.
In contrast:
A properly crate trained dog will enjoy time in there happily and stress-free, even relishing the chance to get down to some occupational chew toy time or just to chill out and relax. Dog obedience is key to get this result!
And you should go through crate training because only once you've trained your dog or puppy to be happy and content in a crate can you both enjoy the many benefits using a crate offers.
Benefits such as:
Dramatically speeding up house training.
Keep your puppy safe when you cannot watch them, while at the same time protecting your possessions from destructive behavior (speaking of watching them, here are some great pet cameras to monitor your puppy when you're away).
Giving your dog a cozy and comfortable place to call their own where they can sleep and relax, overnight or whenever they wish.
Giving you a tool to use for managing problem behaviors or to use for time outs to calm your puppy when needed.
Giving you a safe way to transport your dog both by car and air if the need should arise. So they can enjoy trips away and holidays with you.
Preparing your puppy for boarding at the vets, a kennel or at home to recover after medical treatment. Almost every dog needs crating at some time in life, so you're doing them a favor getting them used to it beforehand.
There are many benefits to using a crate when used correctly, but they can also be misused.
And there are also times when you should never crate a dog, regardless of their age or how much or little they can be trusted:
Times And Ways That You Should Not Use A Crate
There are a small number of dogs that suffer true anxiety and panic when placed in a crate. Under no circumstances should these dogs be crated…ever!
The signs you need to look out for are:
Any damage to the crate that show signs of attempting to escape.
Wetness or damp either on their body or the floor of the crate that's caused by excessive salivation.
Urinating or defecating in the crate.
Damage to any items outside of the crate your dog's been able to reach while inside.
The crate has moved at all while your dog is inside (they must have made some frantic movements for this to happen.)
These symptoms are usually a sign of an issue known as 'separation anxiety,' and a training class might help improve their behavior.
For a discussion of this, it's symptoms and what to do if you suspect your dog suffers from it, please see the following article: Separation anxiety – From The ASPCA
Separation anxiety and fear of the crate aren't the only times you shouldn't crate a dog.
You also shouldn't crate at the following times or for the following reasons:
Never for longer than your dog can hold their bladder.
Never if your dog has sickness or diarrhea.
Never when the weather is extremely hot.
Never for any time longer than 5 hours.
Not any time your vet prohibits it for medical reasons.
Never as a way to punish your dog or for punishment. Use obedience training to correct bad behavior instead.
Never just to 'get them out of the way' or because you 'can't be bothered to deal with them.'
Not if they've been crated too often, missing out on crucial exercise, companionship and life in general.
Crating your dog for any of the reasons above is either inhumane, dangerous or purely selfish.
For a fuller discussion on the times you shouldn't crate your dog and why, see: Times When You SHOULD NOT Crate Your Dog
But please know that the majority of dogs take happily to a crate and for many the crate becomes their preferred place to sleep and relax in after a short amount of training.
Getting Prepared
Before you can start crate training, you obviously need a crate. But you also need to make it a comfortable and happy place for your dog.
Here's how to do it:
1. Choosing A Crate
Dog sleeping in crate
There are many different sizes and style of dog crates available, from tiny 20-inch crates all the way up to 48-inch (and bigger!) XXL heavy duty dog crates.
If you have a puppy, you'll want a puppy crate, since training puppies is a bit different.
There are wire dog crates, plastic, fabric and even high quality wooden crates that look just like pieces of furniture.
Each style and type have their own advantages and disadvantages:
Some are more durable and long-lasting than others
Some more enclosed and 'den-like' compared to others
The difference in looks and price is quite remarkable.
My recommendation is you start with a wire crate, perhaps have a plastic or fabric crate for travel, and a furniture style crate only when your dog is fully house trained and you'd like to fit the crate into the style of your home.
But the most important aspect of the crate you choose is its size:
Too small and it would be cruel to expect your dog or puppy to spend time in there
Too large and it loses the den like feeling dogs crave, not to mention they can use one end to sleep in while using the other end as a toilet, so it loses its effectiveness.
For detailed instructions on measuring your dog for a crate and selecting the right size and type to suit your needs, please see my article: Choosing The Right Size And Type Of Dog Crate
2. Making The Crate Comfortable And Safe
Dog In Soft Crate
After choosing the right crate, you then have to make it a comfortable, safe and pleasant place for your puppy or dog to love spending time.
For a detailed guide on where to place your crate and what you should put in it, you can read my article on: How to make a crate comfortable and safe for your dog.
In summary though, you should:
Put the crate in a room where you spend lots of time so your dog doesn't feel rejected and isolated.
Make sure the crate is out of any direct sunlight, away from heat sources like fireplaces or radiators, and away from any possible cold drafts.
Place soft, comfortable bedding inside. 'VetBed' for a puppy, or any purpose-made dog bed for adult dogs over the chewing stage.
Place 2 or more chew toys inside to keep them occupied and develop good chew toy habits.
If you have a wire crate, cover it either with a purpose bought crate cover or an old blanket or towel. (If using a blanket or towel, make sure your dog doesn't pull it inside and chew on it!)
Following the above 5 tips ensures the crate is a nice comfortable place for your dog.
But there's one more tip for safety that you really have to follow:
Your dog or puppy MUST have their leash and collar removed before going in the crate.
These pose a risk of choking if they happen to snag on anything, so no collars or leashes allowed. Your dog or puppy must be completely naked when crated.
And now we've been over the basics and you've got yourself prepared, it's time to start the crate training process.
How To Crate Train A Puppy Or Dog, Step-By-Step
Crate training your puppy or dog as quickly and stress free as possible is achievable by anyone who follows the steps below in the order they appear.
In this method, you'll be teaching and rewarding good behavior to teach obedience in the crate.
You must not rush through and you must make sure you are successful at each stage before you move on to the next, otherwise you could end up causing your dog or puppy to hate the crate by leaving them crated before they are ready.
Step 1: Convince Your Dog That The Crate Means Only Good Things

© Depositphotos.com / monkeybusiness
If your dog or puppy has never seen a crate and you ask them to go in, or worse try to force them, it will very likely not end well. This unfamiliar box can be scary! The ultimate goal is for them to use it voluntarily.
So the first task you have on the journey to crate training your puppy or dog is to form in their mind an association between the crate and all the things that they enjoy in life, so they see the crate as a good thing.
Achieve this and you've won half the battle. Fail at this and you could saddle yourself with a dog who hates the crate, refuses to use it and maybe even fears it which can be a very hard thing to undo.
So how do you go about achieving this?
Technique 1: Magically Appearing Toys And Treats
Set up the crate before you bring your dog home or if you have an existing pet, assemble the crate without them seeing so it just magically appears.
Here's how to do it:
Either remove the door or make sure it's tied open so it cannot close, then scatter a few high value treats (For example: Bacon pieces or freeze-dried liver) around the outside of the crate and a few just inside and a few toward the back.
Also place a few toys in the crate, their regular favorites if they have such a thing, new ones if they don't.
Now let your dog or puppy into the room.
Now that they're inside, remember:
In training, don't make a fuss of the crate, don't even look at it, act like it's the most normal thing in the world and nothing to worry or barely worth even thinking about.
So what should you do?
Just act as you normally would, do what you would normally do. Play with your dog or puppy, or sit and watch TV, just act normal.
Hopefully they will investigate this new thing in their world, enticed by the treats around and inside it, but also out of plain curiosity.
Don't praise them for going near or even inside it. Just draw no attention to the crate at all.
Every dog will eventually at least eat the treats around the crate, if not the ones inside.
Now, when your dog isn't looking, every half hour or so if you can, throw a few more treats around and inside the crate so they just magically appear. If they get their toys out of the crate, return them inside when they're out of sight.
This has the effect of the most prized things in their life being magically conjured up by the crate.
Do this for a couple of days or more before you start crate training, and then occasionally for the few weeks after starting so your dog learns to love the crate and what it provides.
You should find after a very short time they venture into the crate on their own just to look for some goodies, all without any encouragement from you.
NOTE: Any treats you give this way have to be subtracted from their daily food portions or they will be overeating.
And I say to do this just for the first few days and then only occasionally because to help house training you want your puppy eating on a schedule to promote defecating on a schedule, not eating at random times and pooping at random times.
Technique 2: Feed Your Dog Inside The Crate
You will be feeding a young puppy 3 or 4 times a day, and an adult dog twice a day. Feed these meals inside the crate.
At first, place their food bowl just inside so they only have to poke their head in to feed. This way you aren't asking too much of them.
Then after the first couple of times, place it half way into the crate. After a couple of times of this, place it all the way at the back.
You might be successful with this right away, or you may have to place it at the front for a few meals over a few days. Some dogs confidence builds quicker than others.
Eventually and not before too long you should find your dog expectantly running over to and maybe even into the crate every time they see you holding their food bowl.
After a few days of magic appearing treats and your dog eating dinner from the crate, basically once they are used to the crate and associate good things with it, we are ready to start crate training.
Technique 3: Decide On The Cue Words You Will Use
You will want to have two cue words to use: One to ask your dog into the crate and another to say they can exit.
Most people train the first but forget the second, yet it's just as important to have a cue word to leave the crate for the following 3 reasons:
There will be times you'll want to place things inside and not have your dog try to bolt out when you open the door.
When you do release your dog you do not want them bolting out and bumping into you, particularly important if you have a large dog such as a Golden Retriever that can easily bowl you over on their way past!
Lastly, there will be times when you want your dog to leave the crate when they are so relaxed and happy to stay there that they'd rather not. You don't want to struggle with getting them out or 'go inside to get them'. You want them to reliably leave the crate when you ask.
You can only achieve these three things if your dog understands that they must stay inside until told they can leave, or must leave when they hear the cue word.
So during crate training and for the rest of days, use cues such as 'crate up' or 'kennel up' to ask them inside, and a simple 'out now' or 'out you come' to leave. Choose whatever words you like, just be consistent.
Step 2: Entice Your Dog Into The Crate With Treats
You should have been following the 'Magically appearing toys and treats' game for a few days so your dog is already comfortable around the crate and have at least poked their head in once or twice.
If so, up until this point you haven't paid the crate any attention while in your dogs presence and haven't asked them in at all. It's time for that to change and to entice your dog into the crate while adding your chosen cue word.
How To Entice Your Dog Into The Crate
First of all, either remove the crate door or tie it open so it cannot close. You do not want to spook your dog at this stage.
Sit close to the crate armed with some high value treats, show them to your dog and then throw one inside the crate. As they go in to get it, use your cue word: 'crate up!'
When they go in to get the treat, give lots of praise and feed them another treat while they are still inside.
Move away so they can easily exit and just stand patiently and quietly waiting for them to do so. As they leave, use your chosen cue word 'out you come!' and give them praise.
Don't treat them for leaving, to keep the idea strong that treats and good things happen INSIDE the crate, not outside.
Repeat this 8 to 10 times then take a couple of minutes break.
Then do another set of 8 to 10.
Yes, for real.
Repeat this whole exercise a few times over the course of a day or two until your dog is comfortably, happily and reliably going in the crate when you throw in a treat. Training your dog to do this is a huge step!
Make sure they really are confidently going in to get the treat before moving to the next step. And remember to use your cue words every single time so they quickly learn them.
Step 3: No Treat For Free!
The next step is to ask your puppy or dog into the crate before you treat them. Make them work for the treat instead of using it to lure them into the crate.
To start, do 2 or 3 exercises of throwing a treat in and using the cue word as they go in to get it.
The 3rd or 4th time, don't throw a treat in but give the cue word you've been practicing and gesture for your puppy or dog to go into the crate.
When they do, give them a treat or two while you praise them profusely.
Then use the cue word to leave and praise them when they do.
Repeat this 8 to 10 times, take a couple of minutes break, then do another 8 to 10 before finishing up for this session.
If your puppy or dog doesn't follow your cue and is apprehensive about going in the crate, you've progressed from the previous step too soon, your dog wasn't ready.
That's okay:
Just go back to practicing step 2 until they show confidence entering the crate to get the treat before coming back to step 3.
Repeat this step many times over the course of a day or two until you are certain your puppy or dog truly understands the commands and is happy to both go into and leave the crate on cue before you move to step 4.
Step 4: Teach Your Pooch To Sit And Lie Down In The Crate
The next step is to get your puppy or dog to sit down and lie down while in the crate.
Now, many of you will have a dog at this stage that goes in, gets the treat or their toys and cannot wait to get back out again. But some will already be sitting, laying and sleeping in the crate of their own accord.
Regardless though, what you want to achieve is your puppy or dog to sit and lie in the crate on cue, which is different to doing it of their own accord.
As part of this training, you should train your dog or puppy 'sit' and 'down' commands outside of the crate.
Begin this just a couple of days after getting them home because they need to understand the cues outside of the crate before you can hope to have them follow the commands inside it.
Other things you should have been doing before this step are:
feeding your dog or puppy their main meals inside the crate
occasionally leaving stuffed Kong toys in the crate
this gets them used to spending time in there, usually in a sitting or laying position
this will have made things easier
Now, run through 2 or 3 repetitions of steps 2 and 3 before you start step 4, always remembering to use your chosen cues!
Next, when your dog is inside the crate:
Simply cue them to sit, praise and reward them profusely when they do.
Then ask for a down and do the same.
Then cue them to leave the crate before repeating the exercise.
Try this 8 to 10 times before a few minutes break, then repeat for 8 to 10 times more.
Repeat this whole step a few times over a day or more, but as you repeat the exercises, ask them to stay sitting or lying down for longer periods before you release them. And you should vary the duration to keep them guessing what it takes to earn a treat.
Try just 1 second, then 5, then 2, then 10, then 3 and so on. Try to stretch the time out over a few practice sessions.
Step 5: Closing The Door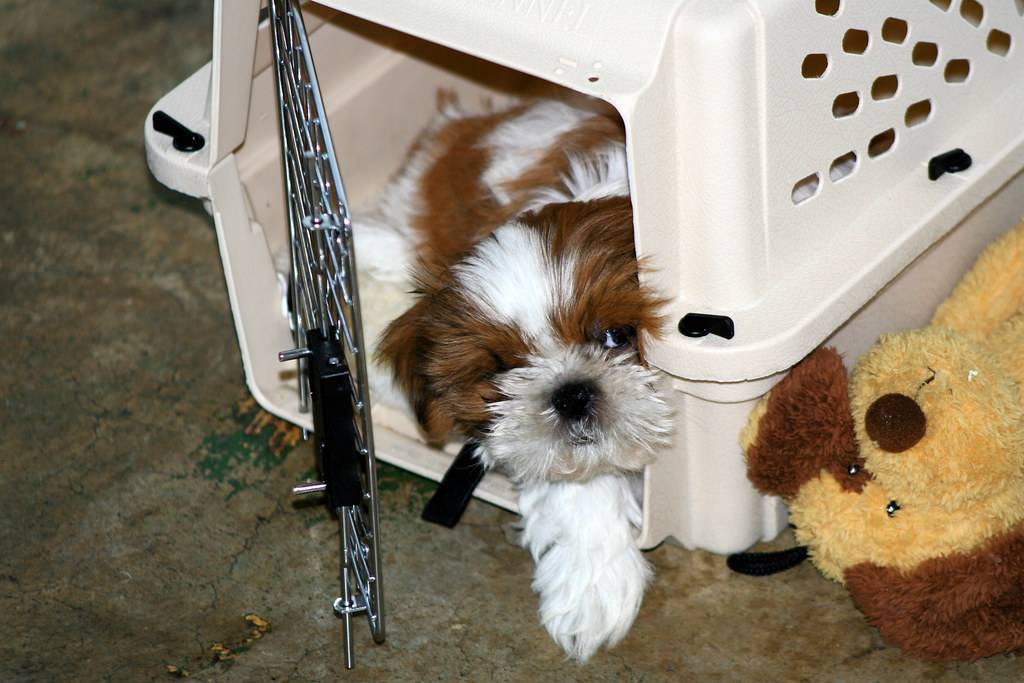 Up until this point, everything you've done has been with the door tied open or entirely removed. It's now time we started to close the door, essentially locking your dog or puppy in.
It's time to shut the door. Remember to be gentle and that your tone of voice throughout training matters.
As always:
Start with 2 or 3 repetitions of the easier steps first, going through steps 3 and 4 before trying to close the door.
When ready:
Cue your dog to go into the crate, praise and treat them, then ask for a sit, praise and treat and then slowly close the door. You ask for a sit because this position is automatically a more calm and relaxed position than standing.
Don't bang the door shut fast, try to make it a non-event by doing so calmly without fuss, and certainly do not latch it closed yet.
Continue to praise your dog and give a couple of treats through the closed door for remaining calm and sitting.
Then open the door, and cue them to leave the crate.
If your dog looks fearful or panicked when you close the door (some will!) you should add a few steps into the process.
Start by closing the door just part way for a few repetitions, then half way for a few, then most the way before finally closing it fully. Go at your dogs pace, don't force progress. This may take one training session or a few over days.
Are you ready to move on?
Once your dog is happy to sit a few seconds with the door closed, begin to latch it. Praise and treat for calm, then release the latch and open the door.
For a training session, do 8 to 10 reps, take a few minutes break and then repeat. During each set, vary the time they have to stay calm and sitting, 3 seconds, then 10, then 4, then 15 and so on.
You should aim to extend the time they stay calm and sitting with the door closed to a full minute before moving on to the next step. Again, this could take an afternoon, or it might take a few days. Go at your dogs pace and never force things.
Step 6: Moving Away And Leaving Them Alone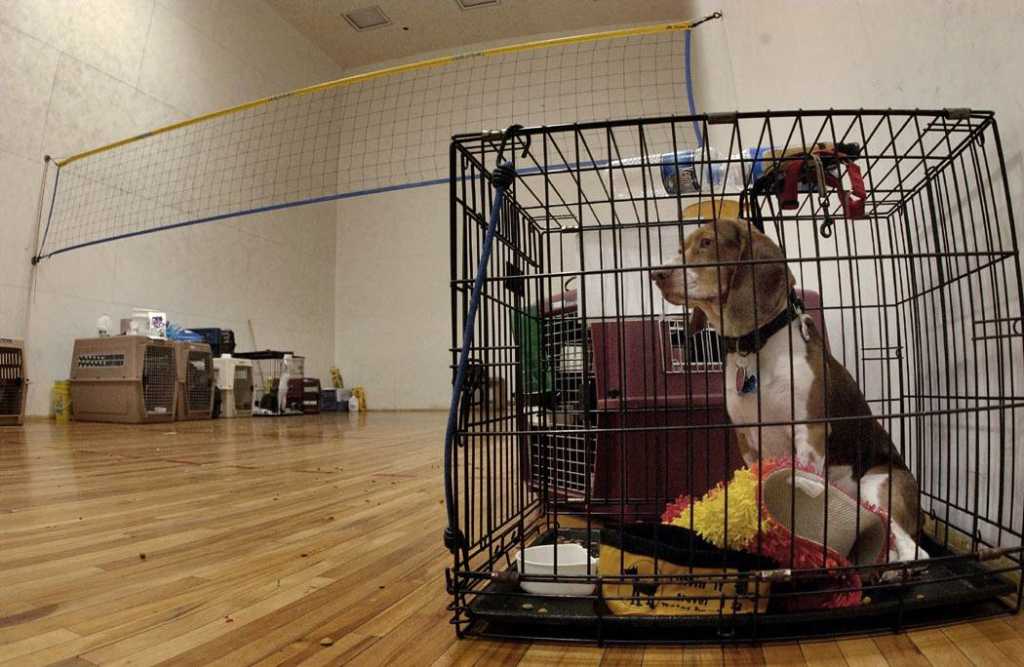 MAXWELL AIR FORCE BASE, Ala. — A Hurricane Katrina evacuee's dog stays sheltered here. The base is serving as a staging facility for hurricane relief operations. (U.S. Air Force photo by Master Sgt. Jack Braden)
Once your puppy or dog can sit calmly in the crate with the door closed for a full minute, the next step is to start moving away with the ultimate aim of being able to leave the room.
First of all, perform a few reps of steps 4 and 5 as a warm up, remembering to always use your cues.
Next, follow these steps:
Cue your dog into the crate, close the door, latch it, praise and reward them and take a couple of steps backwards away from the crate but still facing it.
Then return, praise and reward.
Open the door and cue your dog to come out.
Do this exercise 8 to 10 times, then take a few minutes break and repeat.
For each repetition, mix things up:
Try walking away a different distance in a different direction, but remaining in the room.
First 2 steps backwards and pause 5 seconds before returning, then 4 steps to the side and a 15 second pause and so on.
Work up to walking right to the exit or the wall and pausing for a full minute.
Next, you will want to amp things up even more:
Perform this exercise while you actively walk around the room, looking busy doing other things, but return to praise and treat your dog often.
Tidy some magazines, rustle through a drawer, just look busy doing other things a few times in the house.
Then, go even farther:
Perform this exercise but back yourself up to the exit of the room and leave for just a couple of seconds before returning and heading to the crate to treat and praise.
Do this a few times.
The time this takes and the success you have will vary from puppy to puppy and dog to dog. Take it slowly and don't be concerned if you have to go back a step or two before progressing again.
Always stop at 10 repetitions max, and never more than two batches in quick succession followed by a big break. Otherwise your dog will get bored and the training is less effective.
Step 7: Extending Time Alone
It's extremely important that you train your puppy to like or at least get used to and tolerate time alone. It's an essential life skill and can head off chances of separation anxiety developing.
Crate training is the best way to do this and by this point you've made a good start. Now you just need to start increasing the time they are happy to spend time alone.
Before you begin, something that goes a long way toward helping is to make sure your puppy or dog is well exercised before asking them into the crate.
Why is that?
A tired dog will be far more willing to relax and chill out for a length of time, compared to one who is full of energy and keen to play or wanting attention!
After exercising them, the first step is to increase the time they are happy to spend in the crate while you are still nearby.
To achieve this:
Crate feeding: Feed your dog in the crate, or give them a stuffed Kong toy or good tasting bone chew toy.
Hang out nearby: Ask your dog into the crate, give them their food or the toy, then close the door and take a seat nearby to read a book or a magazine.
Engage occasionally: Every now and then, give them a further treat and praise, then go back to your book or magazine.
Gradual build: Try to work up to a good half hour of quiet and calm in the crate while you read and they chew.
Ignore them: After a couple of times like this, crate your dog or puppy with their meal or a stuffed toy and move around the room busying yourself, paying little attention to your dog. You want them to be eating their meal or chewing a toy in the locked crate while you do other things.
Leave the room: After a couple of repetitions of this, repeat the exercise but move freely in and out of the room a few times, as well as occasionally sitting nearby.
Disappear: Start by leaving the room for only 5 or 10 minutes, extending the time over a few sessions until you eventually achieve a full hour of alone time.
As always, how long this takes will vary wildly from puppy to puppy and dog to dog. Go at their pace.
It helps massively to succeed in this step if you only ever give your puppy or dog the bone chew toys or stuffed Kongs when in the crate and never outside of it.
This increases their thinking that great things happen in the crate and they begin to look forward to some great tasting occupational chewing when they are allowed in there…but only if they don't get it anywhere else. crate. It builds excitement and anticipation, something to look forward to in the crate.
Step 8: The Grand Finale! Leaving The House
Once your dog or puppy is happy to spend time in their crate, happily chewing their toys while alone for up to an hour, it's time you took the final step and began to leave the house.
As a warm up:
Ask your dog into the crate where there's a tasty chew toy waiting. Wait for them to start chewing and then leave and come back into the room a couple of times. If they stay calm and pre-occupied with their chewing, simply leave the house.
Then, do this:
Go outside and walk to the bottom of your garden, just hang there for a few minutes and then go back inside and walk around your home for a couple of minutes before going to the crate and your dog.
Don't forget:
Make absolutely no fuss at the point of going back in your home, do not excitedly praise your dog as it can teach them that when you've been outside, you coming back is a major event. You want them to think that this is nothing, a complete non-event. Once this idea is reinforced, it'll be easier to leave.
And certainly do not go straight to them when you come back in. let them see and hear you come in and walk around a minute or two. This will help to take some focus and importance away from the fact you've just returned.
Remember: this even means nothing!
From now on, practice alone time in the crate when you leave the house at least a couple of times every day, for varying lengths of time. Never make a fuss of any sort before you go, never make a fuss on your return. If you are calm and act like it's nothing, your dog will too.
Over a few sessions, build up the time you are out of the house with your dog in the crate to a couple of hours (as long as they are old enough to hold their bladder this long.)
The Hard Part Is Now Over!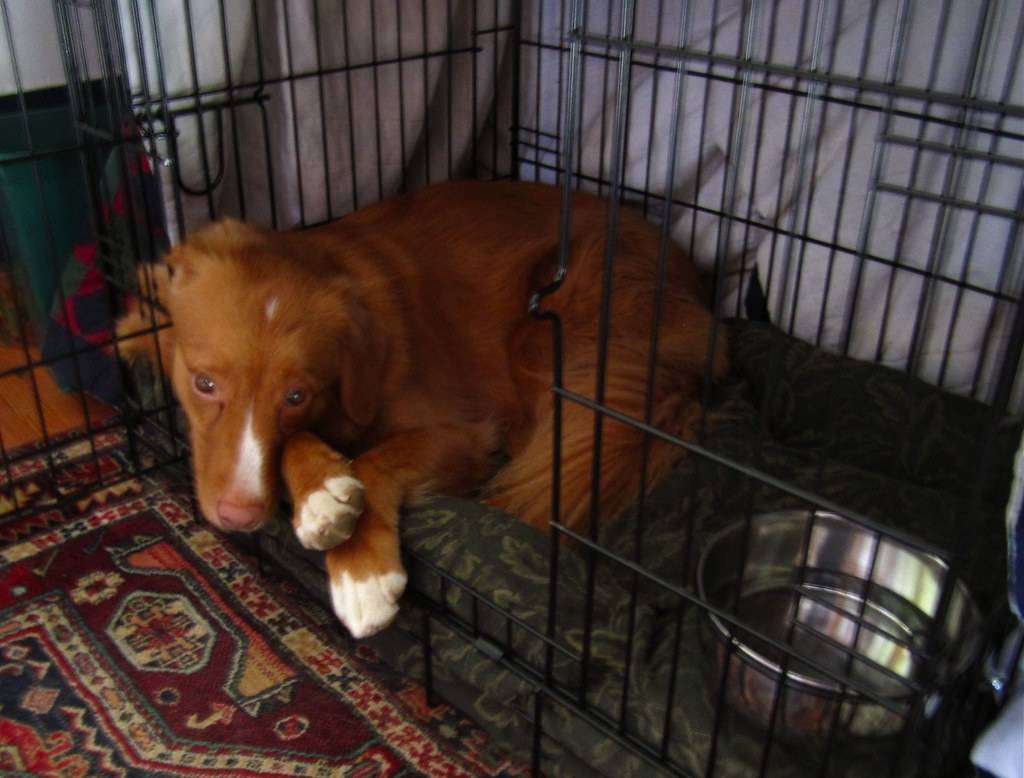 If you've gotten this far, your dog will now be happy left alone crated and all you have to do is maintain their level of comfort with it.
Do this by using the crate at least daily for varying lengths of time, sometimes while you're in the room, other times when you walk around your home, sometimes when you leave the house.
You can now use the crate to keep your dog and your belongings safe when you cannot supervise them, and use the crate as a sleeping place for your dog at night.
Always leave a few toys in there with your dog, and continue to repeat the exercise where you crate them with a stuffed Kong or chew toy if natural opportunities do not arise, just to keep them happy with the situation.
How Long Will Crate Training A Puppy Or Adult Dog Take?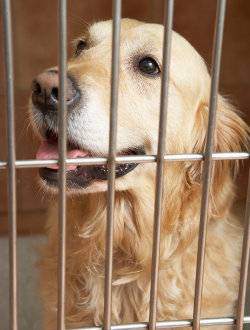 © Depositphotos.com / monkeybusiness
It is impossible to say and will vary from puppy to puppy and dog to dog.
A quick Google search will turn up articles with titles like 'crate training in a weekend' and similar, but they all use the same techniques and putting a time frame on it is just wishful thinking.
If you have a dog that:
Some puppies will take regular naps in the crate before you even start crate training.
 They might go on to show little interest or care about the door being closed.
They might be super confident and happy right away with a little alone time.
You might be able to crate train such a dog in just a few short days.
But that isn't always the case!
Dogs like this can take many weeks to crate train:
Some puppies may show fear of the crate and not want to go anywhere near it.
Once carefully trained to go in, they might feel panic and fear when you close the door.
They might have mild separation anxiety and won't like being left alone.
You have to go at your own dogs pace because if you rush them you can instill dislike or even fear of the crate in their minds, and then it will take far longer than it ever should have.
If you have a timid puppy, or an adopted dog who's had bad experiences and fears the crate, it could take many weeks. But many (or most) dogs will take to it quicker, and most puppies certainly will as they have no preconceived ideas, habits or emotions to overcome.
When going through the steps above, if your dog excels at any stage you can quickly move to the next step. If they do not, if they show any fear or uncertainty, spend more time at a particular step until they are comfortable before moving on.
Your dog will show you when they are ready to progress and you should go at their speed, however fast or slow that may be.
How Long Can You Crate Your Dog Or Puppy?
It's universally agreed that during the day, no dog should ever be crated for more than 4 to 5 hours.
Why is that?
They need to be able to:
move around
stretch their legs
exercise their muscles
enjoy some mental stimulation
If they are regularly crated longer than this, behavioral problems will be the result, as well as the fact they have little in the way of a fulfilling life.
It's also recommended that if you have to crate a dog for more than 2 hours they should have a crate mounted water bowl or bottle. So it's good advice to buy one in preparation.
Puppies cannot be crated for even 4 or 5 hours though because they don't have the physical maturity to hold their bladders for this length of time.
It's said that puppies can hold their bladder for their age in months plus one hour. In my experience this is a bit optimistic, all dogs are different and when a puppy is very young, this is certainly too long.
So the guidelines are:
30-60 minutes at 9-10 Weeks old
1-3 hours at 11-14 Weeks old
3-4 hours at 15-16 Weeks old
4 hours+ at 17 Weeks old and older
At night…
Just like in humans, a dog's body slows down and they have far less need to go to toilet, so crating a puppy overnight is fine. This is with the exception of puppies from 8 to 12 weeks old who will need letting out once during the night. But after 12 weeks, they can last the whole night through.
If you work full-time…
it's essential that you exercise them well before you put them in the crate, come home at lunch time or have somebody come to let them out for exercise half way through the day, and again take them for a nice long walk in the evening.
Crating your dog when you work full-time means two lots of 4 or more hours crated and this is a long time, so quality time, exercise and stimulation before and after crating is essential.
And minimize any crating at all other times when you're not working (evenings and weekends.)
Tips For Better Crate Training
What follows are a few useful tips to keep in mind when crate training your puppy or dog. They will make the process easier and faster, while making sure your dog is comfortable and happy throughout the process:
Always make sure you take your puppy or dog to their bathroom spot before you crate them for any length time. They will be uncomfortable and noisily complain with a full bladder…but rightfully so! Also take them the moment you let them out as they will usually be ready to go.
Make sure the crate door is always open and your dog always has access to it so they can use it as and when they please. Most dogs will use it as a place to rest and this is a good thing.
Every now and then, place treats inside the crate when your dog isn't looking so it continues to surprise them with the good things in life and is thought of positively in their minds.
Always leave chew toys in the crate for your dog so there is something for them to do while crated. This will minimize boredom and teaches good habits of chewing on the right things.
Continue to feed them their meals in the crate. Also, reserve special treats like bones and stuffed Kong toys for the crate only and never outside of it, so they really look forward to spending time there.
Exercise your dog or puppy well before crating them for any length of time. A tired dog is one who is happy to relax and chill out. If they're full of energy being crated may drive them mad.
If you find your puppy nodding off and completely unable to stay awake (this happens a lot!) it's a good thing to scoop them up and carry them to the crate to sleep. This will speed up their acceptance of the crate considerably if they snooze and find themselves waking up in there often.
Troubleshooting Crate Training – Overcoming Common Problems With Training Tips
Crate training rarely goes completely smoothly. It's more than just likely there will be a problem or two along the way.
So here's what to do when faced with the most common problems people meet:
Your Dog Is Scared To Go In the Crate
Some people find their puppy or dog is just too scared to step into the crate, no matter what treats they use to entice them in.
The worst thing you can do is force them in because chances are it will heighten their fear and make things even worse.
Instead, break the task down into easier steps for your dog by employing some of the following tasks:
Practice asking your dog to step in and out of cardboard boxes. First trimming the sides down to look like a small tray, then using further boxes and increasing height of the sides. Place bedding in the box and practice asking them to lay down.
Some dogs may not like the roof aspect of the crate. You can help with this by somehow setting up a blanket between two pieces of furniture, like building a 'camp' for a child. Ask your dog to step underneath, even sit under there yourself and read a book while enticing them over for treats. Start with a big gap and a wide area covered, then lessen the gap between furniture in later training sessions to make it feel more crate like over time.
If you have a plastic travel style crate (airline crate) then remove the top half and practice having them step in and out of the bottom half only.
If you have a wire crate, depending on it's construction you can take them apart. Start asking your dog to step into the bottom tray only. Then put on 2 of the walls for a couple of training sessions. Then three walls for a few sessions. Then the roof until finally the crate is fully assembled.
You could buy an 'exercise pen' (a larger enclosed space than a crate) and ask your dog into the pen and play with them a few times. Then cover the back third of the pens roof with a sheet and do the same. Then cover a half. Then remove a part of the pen to make the area smaller and ask them in to play with them. Then cover more of the roof and so on, taking small steps until eventually it's just like a crate.
Whichever of the above you try, make sure an exit is wide open and easy for your dog to use for escape so they will feel less anxious.
And take things very slowly, making sure they are visibly comfortable at any stage before taking a next step.
After a few days (maybe more) of slowly getting them used to stepping into things that progressively get more and more crate like, you should be able to begin crate training. But keep in mind you will have to go slow and you won't have a dog that can be crate trained in a weekend or even a week.
Your Dog Is Crying And Whining In The Crate
First and foremost, do not shout at or scold your dog or puppy in any way. This type of reinforcement will not help the cries.
Why?
This attention mostly just makes the problem worse because any attention, even if it's negative, is exactly what they want.
They learn that crying gets you to come, they don't care what happens after that as ANY attention is better than none, so the noise increases in future.
Yes, you getting angry and telling your dog off will actually make the issue worse.
Secondly…
You mustn't give in to the crying and release your dog when they are making a constant noise. This will train them to think that if they cry long and loud enough, you will eventually come and let them out. Not a good idea.
As hard as it is, you need to ignore them while they're making a noise. Wait for 5 seconds silence before you approach, then give them a treat.
As soon as they start to whine or cry, say 'No! You ruined it!' (or something similar) and walk away leaving the room. Wait for at least 5 seconds of silence before you return, then treat them.
Enough repetitions of this will teach them that silence gets rewarded and noise makes you go away.
Why did they whine?
You might want to go back a step or two in your crate training though. Because they are crying in the crate it could be the case they weren't really ready to be left alone crated yet and you could have progressed too fast.
Make sure they are comfortably happy and silent in the crate, for a reasonable length of time with the door latched and you present, before you ever try to leave them alone.
If Your Puppy Is Crying In The Crate At Night
Puppy care is a bit different than dog care. Young puppies cannot hold it through the night without having a potty break. But how do you know if the whines are because they need to eliminate or just crying for attention?
For a puppy 8 to 9 weeks old, you will need to set an alarm to take them to potty twice during the night, at 2.5 hour intervals.
For a puppy 9 to 12 weeks old, set an alarm to take them to potty half way through the night, 3.5 to 4 hours after bed time.
Make sure you do not feed them anything in the 3 hours before bed, take away water at least 2 hours before bed, and take them to their toilet spot to empty themselves as the very last thing you do before you go to bed. They simply can't go for long periods without going!
This way you can be sure you've catered to their natural bodily needs and any crying at night you then can, and should, completely ignore because it's just for attention.
When you take them to potty, make sure you do so in silence.
Get them from their crate, take them outside, wait for them potty, say 'good dog!' and then instantly take them back to the crate and go back to bed yourself.
Praise him, and that's it.
No playing, no words, no attention, otherwise they will learn that night-time is a time for play and attention. You obviously do not want this.
Your Dog Panics When In The Crate
When I say panicking, I mean a severe case of anxiety and true fear, not a little noise and crying to get out. They are very different things.
If it's just a mild case of fearing the crate, you can overcome this by crate training them slowly. Go back to the beginning and progress very slowly, only moving forward a step when they are completely comfortable with where you're currently at.
But if when you leave your dog alone crated they show these symptoms:
anxiety
extreme panic
panting heavily
drooling
biting
clawing at the crate to try to escape
urinating
defecating
If you see any of any of these things, then your dog likely suffers separation anxiety and you need professional help.
Severe separation anxiety is not something you can tackle yourself. It's very complicated and needs a highly skilled trainer to treat. Speak to your vet and they will be able to put you in contact with qualified help.
When Is Crate Training Finished?
Crate training is complete when you can ask your dog into the crate and they are happy to do so.
They should be comfortable and content, relaxed and showing no anxiety or crying to get out.
They should also be happy to eat and chew their toys inside, showing that they really are comfortable and able to settle down and be completely accepting of being inside.
Until your puppy or dog has reached this stage, you likely still have some work to do. Stick with it because almost every dog can reach this stage and then you and they can fully enjoy the benefits that using a crate brings.
Confine Your Puppy When Young So They Can Enjoy More Freedom Later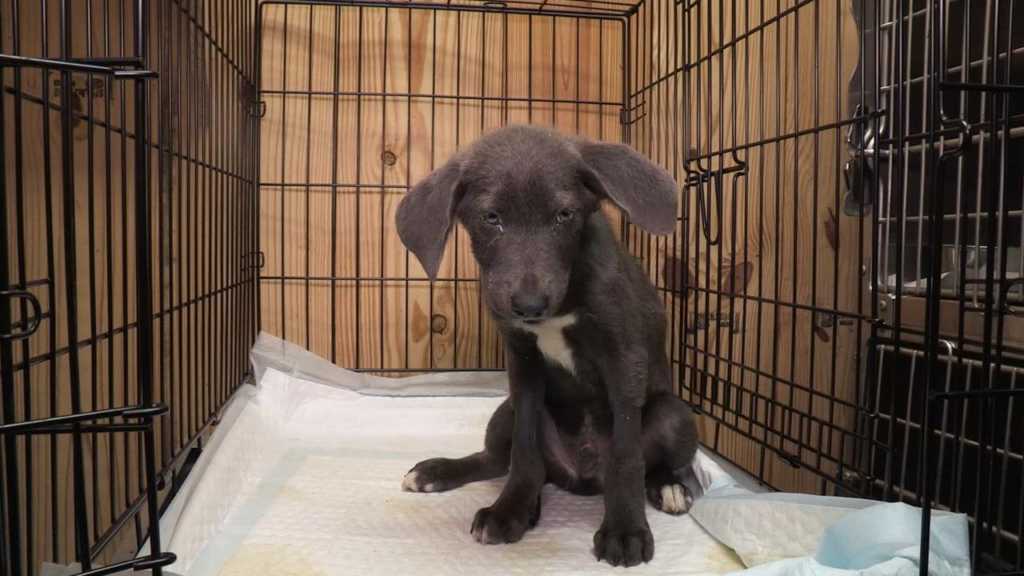 A young puppy is like a child. They don't know right from wrong or what's safe and what isn't.  Crate training puppies is a great period of time to start.
And a puppy can pick up some very bad habits if left alone unsupervised, habits that can be very hard to break later in life. Your training methods can prevent this.
There are so many adult dogs in the world with bad habits that spend most of their lives confined, or shut out in the yard when they cannot be watched because these dogs with little training cannot be trusted not to get into trouble when alone.
This isn't the dogs fault, it is a fault of their owners.
By crating your puppy when you cannot watch them, you keep them protected, your house protected, and avoid them developing habits that are hard to deal with later in life.
You have them out of the crate, experiencing life with you, guiding them and intervening when they do wrong so they learn what's right, then crate them to avoid bad behavior when you're unable to intervene.
Eventually, your dog learns the rules.
​They grow up to be trusted as they've been shown what to do most of the time, and crated at others to keep them out of trouble and prevent bad behaviors forming.
And when they've proven they know the rules, when they've shown for many weeks they never try to toilet in your home, and they've shown for many weeks they will not dig, chew or scratch at your household belongings and only chew their toys, they can be granted more freedom.
Bit by bit you can open up your home to them when they're alone, until eventually they can have free run of your home while everyone is gone. And you can be confident you can trust them.
This time will come anywhere between 1 and 2 years old, but the time will come. And it will come for a far higher percentage of crate trained dogs than for those that never were.
You crate your puppy sometimes when young, so they can enjoy the rewards of trust and freedom when they're older. This makes it all worth it, wouldn't you agree?
How Do You Know When It's Time To Grant More Freedom?
It depends from dog to dog, their individual personalities and how fast they learn the rules you decide for them. Here's how you test the waters and slowly increase their freedom.
Once they haven't tried to either toilet or chew anything in your home in your presence for at least a full 4 weeks, you can try to grant them more freedom.
Start by fully 'dog-proofing' the room where you normally crate them (put away out of reach as many things as you can) and leave plenty of their toys out for them to keep busy with.
Lock the door to this room, or use a pet barrier (baby gate) to prevent them accessing other rooms in your home. Leave their crate in the room, just leave the door open.
Then simply leave them out of the crate, confined to this single room and leave the house. Only go for a short while at first, a 10 minute trip to the shop or so, and see what greets you upon your return.
If you find they've been to toilet, or destroyed anything, it was too soon. Carry on teaching them right from wrong and crating them when you cannot watch them. Try again after the next 4 weeks without an incident in your presence.
If you come back to find nothing has happened and your dog has behaved as you'd like, you try again, and again.
Lengthen the time they are alone slowly and you will find out if they can be trusted. 10 minutes, then half an hour, then an hour.
All the way to 4 or 5 hours (the maximum time you can leave them alone before they need to be let out for a toilet break.)
Once they have proved they can be trusted for a couple of weeks or more in this single room, try letting them into a second room while you're gone. If they make a mistake, back to the one room it is.
If they do not, open up another room and eventually every room you're willing to let them be free in.
Conclusion
By following the advice in this article, going through the steps in order and at your puppy's or dog's own pace, not skipping any step and not trying to rush things, I'm absolutely certain you will find success.
Do you have more questions?
This article is as complete as I could make it with the exception of two common questions: How do I crate train my dog or puppy during the night? And: How do I crate train my dog or puppy when I work full time?
I've touched on these subjects but feel a more thorough discussion is needed because these are very important and valid concerns for many.
But this article is already very long (well done if you made it this far!) So please keep an eye out for these next two articles. I'll be adding them to the site in the next week or so.
Recommended Comprehensive Training Course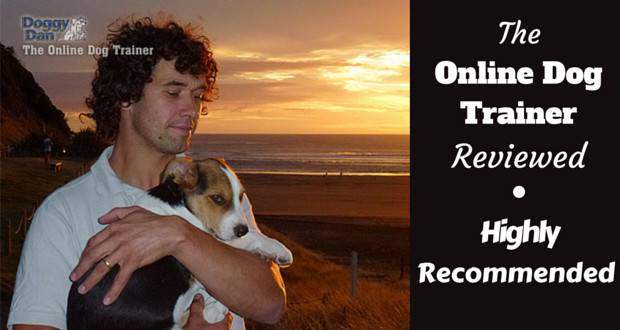 Dogg Dans The Online Dog Trainer is a very popular, positive, force free, comprehensive, effective and great value course.
With it you can learn to train your Golden, solve behavior problems and join a community of dog owners traveling the same journey.
We are very happy to recommend this course, and you can find out why here:
Questions?
If you have any questions on this guide or crate training your puppy or dog in general, please ask in the comments below and I will help with advice wherever I can!
A Complete Guide To Crate Training From Totally Goldens
For more information on crate training, please see our articles linked to below.
In time, this series will become the ultimate guide to crate training and will contain everything a Golden owner needs to know on the subject.
References And Further Information
In my attempt to create the most thorough guide possible, I took some ideas from the following guides and added them to my own when writing this article:
The Ultimate Guide To Crate Training – From LabradorTrainingHQ. A very thorough guide of 8 articles going into great depth on the subject.
Why Crate Train Your Dog? – From Pets.WebMD. Another lengthy and detailed guide with some solid advice, most of which mirrors the article above.
Crate Training – From the Humane Society Of The US. There's little in the article that you won't find in the above two articles (it's a bit brief) but the video at the top of the page is well worth a watch.
More…