Updated: October 14th, 2022
This article contains affiliate links. Read the full disclosure here.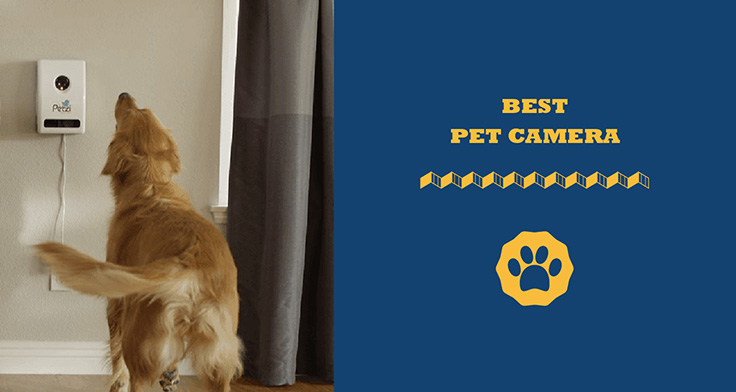 Do you ever wonder what your dog does all day while you're at work? You must have heard of nanny cams! Did you know that you can use similar pet cameras to monitor your pup when you aren't home?
There are even cameras that let you chat with your dog, post your favorite pet pics to social media, and feed your dog treats from afar. If you're thinking about investing in a pet camera, we've compiled a list of our top picks, plus some helpful information to help you choose the perfect model for your needs.

IMAGE
PRODUCT

Record up to three days of continuous footage
MicroSD and Cloud storage
Waterproof for indoor and outdoor use
Night vision sensors
Control from the app

CHECK PRICE →

1080P HD definition image
110-degree wide lens cameras
Networks several cameras
Control from smartphone app
Two-way audio

CHECK PRICE →

Tiltable and pannable camera
Motion detection within 10 meters
HD video output
Control from the app
Two-way audio

CHECK PRICE →

Treat dispenser with 1.5 pound capacity
1080P video quality
160-degree wide lens
Eight times digital zoom
Two-way audio

CHECK PRICE →
4 Best Dog Cameras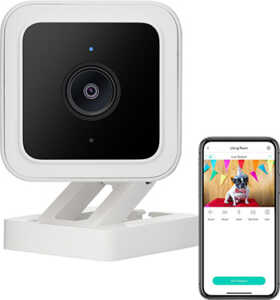 This affordable pet camera is perfect if you want to be able to monitor your dog and your home when you aren't around for a while. But bear in mind that there is a subscription fee for storing and accessing your footage of around $20 per year.
Record up to three days of continuous footage
MicroSD and Cloud storage
Waterproof for indoor and outdoor use
Night vision sensors
Control from the app
Wyze offers an easy system to use once you get your camera on your Wi-Fi network and download the free app. You can then control everything from your smartphone. Turn monitoring on and off, but keep motion detection and sound sensor active to alert you when something is going on.
With a paid subscription, the footage is sent to the Cloud where it is stored for 14 days for you to view. If you want to save for longer, you can record up to three days of continuous footage onto a 32GB MicroSD card. The picture quality is good, and there are even special nighttime sensors that give you vivid color images in dark conditions.
Use it inside or outdoors with its waterproof design, and both watch your dog, listen to them, and talk to them with two-way audio.
Pros
Affordable with a subscription model
Easy-to-use app control
Good picture quality in various light conditions
Generous storage options
Alert sensors
Cons
No way to interact with your dog beyond audio
Paid subscription model for Cloud storage
If you are looking for an affordable pet camera for basic monitoring of your dog and home, then Wyze offers one of the most affordable, functional, and user-friendly options on the market.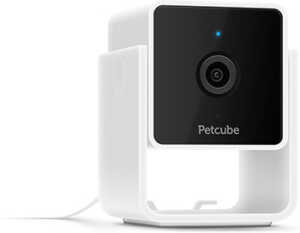 This is another affordable model that will appeal to pet owners who want to watch their furry friend in full HD. While you don't need a subscription to use the camera, your viewing options are limited without it, and there are lots of additional features with a premium subscription. Subscription fees start from $3.99 per month for basic to $8.25 per month for premium.
1080P HD definition image
110-degree wide lens cameras
Networks several cameras
Control from the smartphone app
Two-way audio
This dog camera stands out for the quality of its picture, with full 1080p HD video delivered straight to your smartphone. It is also easy to get good coverage around your home with 110-degree wide lens cameras and the ability to network several cameras for more complete coverage.
The cameras have night vision and motion sensors that can send you alerts when there is something going on. You can also soothe your pup or send them commands using the two-way audio.
The whole system is controllable from the Petcube app, and if you have a subscription. You can also consult a vet whenever you need it with their included service.
Pros
Affordable even with a subscription model
Good-quality imagery
Easy to cover your entire home
Useful additional features for anxious pet parents
Cons
Interaction limited to audio with this model
Some features require signing up for an ongoing subscription service
If you just love watching your dog in the top-quality video, this 1080P camera from Petcube and supporting service will leave you very satisfied.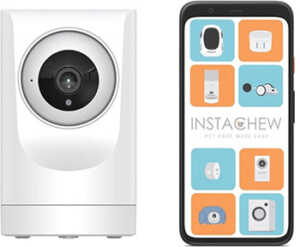 If you want to get as much coverage of your furry friend as possible with a single camera, this Instachew camera lets you rotate and tilt the camera from the app to keep them in sight. It stands out for not requiring a subscription, though they are available for Cloud storage.
Tiltable and pannable camera
Motion detection within 10 meters
HD video output
Control from the app
Two-way audio
This camera stands out in the market because you can adjust it to see various areas of your home. It pans 355 degrees and tilts 110 degrees so you can see what your dog is up to. While it has motion detection and sound sensors to alert you, these don't tilt the camera automatically, which you need to do from the app. You can network more than one camera to the app.
You can take out a subscription to send your videos to the Cloud or make a one-off purchase of a 128GB SD card to store locally. You can even capture and store images of your dog in the dark with night vision features.
Use the two-way audio to speak to your dog, and if you have problems using any of the features, speak to the highly responsive customer service team to resolve them quickly.
Pros
Affordable
Rotatable camera for better coverage
No need for a subscription to unlock features
Good customer service
Cons
Initial set-up can be challenging
Does not pan automatically to follow your dog
If you have an active dog who rarely stays in one place, this camera can be a game changer when it comes to monitoring their activity.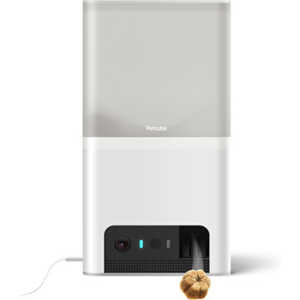 If speaking to your dog isn't enough when you are separated and you also want to be able to give them some treats, then try this monitor with treat dispensing from Petcube. It has all the same features as the standard camera (reviewed above), but you can dispense treats as well.
Treat dispensing with 1.5 pound capacity
1080P video quality
160-degree wide lens
Eight times digital zoom
Two-way audio
The main feature that differentiates this from the standard Petcube camera is that it can dispense dry treats. It has a 1.5 pound storage capacity and can take any treats measuring 0.3-1 inch in size.
But the larger size of this device means that it also has a better camera. It has a 160-degree wide lens to cover more of your home, and it also has eight times digital zoom if you want to get a closer look at what your dog is up to.
Pros
Communicate with your dog through audio and reward
Don't have to use specific treats
Wide angle lens to cover more of your home
Extreme zoom
Cons
Significantly more expensive than basic cameras
Treats inside may encourage your dog to go after the device
If you want a top-quality camera, a sophisticated monitoring system via a free app, and the ability to give your dog the occasional treat, then you'll love this Petcube option.
Pet Camera Buying Guide
What Is A Pet Camera Or Pet Cam?
Pet cameras are webcams that you strategically position in your home so you can keep a watchful eye on your pet when you're away.
Generally, pet cameras are connected to your home network via Wi-Fi and allow you to stream live video of your pet through your smartphone.
Of course, that's not all these cameras have going for them. Many come with innovative features such as infrared night vision, two-way communication, temperature notifications, and even treat dispensers. Pet ownership has definitely gone high-tech, but are pet cameras actually useful?
Why Would You Want A Dog Camera?
If you are at all curious about what your dog is up to while you're away, then a dog camera might be just the thing. If your dog suffers from separation anxiety, chews while you're away, or you just feel guilty leaving them alone all day, a pet cam could help you both feel better.
Many dog cameras provide two-way communication options, which means in addition to keeping an eye on your pooch, you can also talk to them.
Many pet cameras also have other useful applications that have nothing to do with your dogs. Some have built-in motion detectors, sound detectors, or temperature detectors that can help keep your home safe when you're away for long periods. You can also set the camera to view outside your front door to monitor for package deliveries or other visitors.
Pet cameras are best for people with anxious pets or those who are anxious about their pets. But consider some of the different user scenarios.
The neighbors are complaining that your dog creates a lot of noise during the day, but they aren't big barkers when you are around. You can see what might be setting them off.
Your dog has developed some unusual (and unwelcomed) behaviors when you go out, such as peeing when they shouldn't. You can keep an eye on what might trigger this behavior.
You have a friend who pops in to feed your dog while you aren't home, but your pup is always starving when you get in. You can monitor if, when, and how much they are being fed during the day.
What Are The Different Types Of Pet Cameras Available?
You can get a basic pet camera model that will allow you to stream live video of your home and your pets while you're away. Most will let you communicate with your dog (though your coworkers may be confused to hear you shouting "leave it" at your phone) and display high-quality video or still shots that you can view on your phone.
Higher tech models are much pricier but might provide extra features to better monitor your dog and your house in general when you aren't around.
Want to monitor your dog when they are out and about? Check out these GPS trackers for dogs.
What Are The Best Dog Camera Key Features?
Once you decide that a pet camera is for you, it can be difficult to figure out which one to buy. Here are a few tips — what to look for and what to avoid.
Resolution: The higher your camera's resolution, the better the quality of your video. Low-resolution cameras will appear grainy, without much detail. Look for a camera with at least 640 X 480 for decent picture quality.
Frame Rate: Your frame rate is measured in frames per second, and very low frame rates will cause your video to freeze mid-stream.
Durability: Some pet cameras are meant to be mounted on a wall or table and forgotten about, while others are interactive, allowing you to communicate with and treat your dog. Most cameras won't be able to withstand heavy chewing, but your camera should be durable enough to be dropped or pushed around without being damaged.
Interactive functionality: Do you want to simply keep an eye on your pet, or do you want to talk to them, play with them, post pictures of them to social media, and give them treats when they behave? The more functions built into your pet camera's design, the more expensive it will be.
Customer Support: Your pet camera is a computer, and like any computer, it will only be as smart as the person using it. While most pet cams are easy to set up and use, it is worth checking into the support that comes with the product. You don't want to be stuck with something that you can't figure out and with nobody to call.
Warranty – Before making a purchase, check what kind of warranty it has and what is covered under the plan.
FAQs
How do pet cameras work?
Pet cameras film parts of your home when you aren't there and send that footage to the Cloud. You can then watch that footage on your smartphone to see what is happening, including checking up on your pets. Remote cameras designed specifically for pets will also usually have motion and sound sensors that can let you know when something is happening at home via push notifications.
How do you set up a pet cam?
To set up your pet cam, you will need to connect it to your home Wi-Fi network. Most only work with 2.4Ghz Wi-Fi. You will then need to download the app for your camera onto your smartphone, and use this to detect your camera and link it to your account, which you can then access from the app.
Is there a camera where my dog can see me?
Some pet camera models will have a display screen where you can display video footage of yourself to your dog. However, these are relatively rare and tend to be very expensive. Since so much of what dogs sense is based on smell, it is questionable whether video footage of you is better than audio alone.
What is the best wireless pet camera?
The best pet camera matches the value for money with your needs, so your best option depends on the kind of video coverage that you need (Is your dog active or does your dog tend to stay in the same room?) and whether you are happy to just be able to speak to your dog or whether you also want to dispense treats. Our top two recommendations are made by Wyze and Petcube. If you are going after the full package, and you want to treat your dog even while you're away, we recommend the Petcube bites 2 as the best pet treat camera.
Final Thoughts On Pet Cameras For Monitoring Your Dog
Being able to check on your pets when you're at work can make you feel better about leaving them alone for extended periods and help you monitor and change behaviors that they might develop as a result of separation anxiety.
The pet camera model that you choose will depend largely on your unique situation. A simple webcam will allow you to observe, and even talk to your dogs.
For treating, training, and playing capabilities, opt for a model that has been designed specifically for pets. The bottom line is those pet cameras are a solid solution for dog owners who want to keep tabs on their pets and their homes when they can't be there.
​If you found this article interesting, you may want to check out our reviews of electronic doggie doors.