Updated: March 2nd, 2023
This article contains affiliate links. Read the full disclosure here.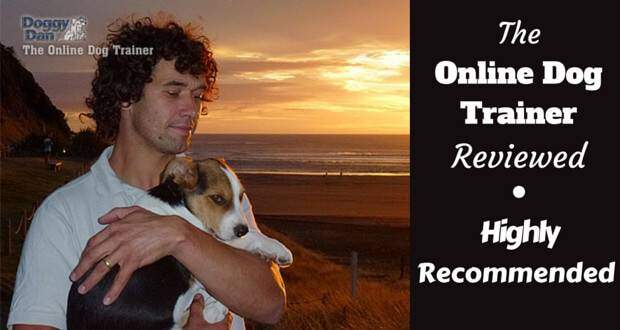 Doggy Dan with puppy Moses
Having a dog in your life is not only a joy but a responsibility. To keep your canine companion safe and happy, you must be able to train them properly.
Sadly, we don't live in a dog's world, so how we expect our pups to behave is often a far cry from their natural behavior. As such, correct socialization and proper training are imperative.
However, the majority of pet parents are simply dog-lovers, not canine experts, and there's no instruction manual comes with a new dog.
That said, there are near endless resources available for learning how to best train your four-legged friend. So, the real question is, which one should you choose?
We recommend Doggy Dan's comprehensive video based course and you can find out why in The Online Dog Trainer Review below.
Why Not Choose A Free Resource?
As you probably know, since you're reading one of them right now, there are tens of thousands of websites out there offering free advice to dog owners.
So, why not use one of these and save yourself a few bucks?
Well, for starters, for every thoroughly-researched, factual, positive reinforcement-based website (such as this one) ten sites are hastily put together and promote dangerous or outdated training methods.
The other issue is, for many people, it's hard to read about a training method on paper (or screen, as the case may be) and then put it into action. It's much more translatable to watch a video of a training technique.
Introducing Doggy Dan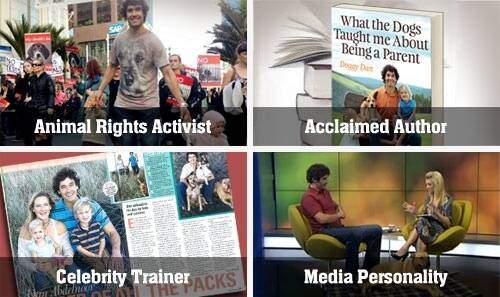 If you're looking for someone who can help you solve a whole host of canine training issues, we're happy to recommend 'Doggy Dan's: The Online Dog Trainer Video Based Dog Training Course.'
Doggy Dan is a professional dog behaviorist and trainer who has created a thorough online dog training program. Dan's archive consists of over 250 videos, covering more or less any and all training or behavioral problems you can imagine.
His videos feature real-life consultations with dogs and their humans, where you can learn how to approach the kind of issues you may also be facing with your pup.
What's more, he's an excellent teacher on film. He obviously knows what he's talking about and can impart his knowledge in a clear, concise way without buzzwords or jargon that a dog-training novice might not understand.
He's also clearly passionate about his work and enjoys making a difference in the lives of dogs and their owners, which is important.
His personality and demeanor make his videos fun and entertaining to watch, unlike some others you have to slog your way through feeling like a chore.

How Can You Tell Doggy Dan's Methods Are Safe And Effective?
If you're going to put your trust in someone to help train your dog, you want to do your research and know that more than one person approves of their methods.
So, you might be interested to know it's not just us at Totally Goldens who think Doggy Dan's 'The Online Dog Trainer' is great.
It is also approved and recommended by the Royal New Zealand SPCA. How's that for an endorsement?!
The NZ SPCA haven't just approved this program, they also actively promote it on their homepage, which is certainly something to boost your confidence in Mr. Doggy Dan.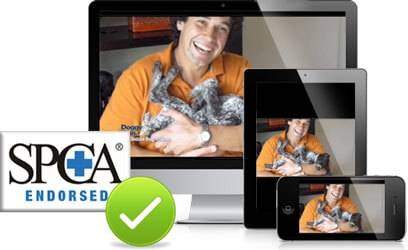 If that's not enough for you, there are also many winning testimonials from people who have followed the program.
"Doggy Dan's tips and instructions on handling our Schnoodle puppy Manu have been absolutely invaluable. His simple and easy going presentation makes it a great experience for the whole family.
I'm thrilled at how much more we've learnt about her needs and what a loving and obedient dog Manu has turned into. Our family wouldn't be the same without her. Thanks Dan." – Mike McRoberts
"Dans dog training has a lovely gentle approachable manner, he is utterly non-judgemental and wise and immediately put me at ease. He has a gift with dogs and is totally committed to improving their relationships with their owners. A true professional on dog behavior and obedience training I can't recommend Doggy Dan highly enough! Amazing value for money. His service is not just for one consultation but there on tap for a lifetime. You have shown me how to communicate with my dog Abbey, thank you." – Penny Light
His testimonials aren't just cherry-picked, with the best ones posted on his website, they're updated as a live stream via a Facebook plugin, so you know they're genuine and unedited.
Doggy Dan Covers A Wide Range Of Topics
While there are other video-based training programs out there, The Online Dog Trainer is one of the most comprehensive.
There are over 250 videos from Doggy Dan that touch on everything from house breaking a puppy to dealing with food aggression, and everything in between.
This means, if you have a more obscure behavioral issue you're hoping to deal with, you're likely to find a video that will help, whereas a program that just covers the basics would be of little use.
If you're bringing a new puppy home, there are videos that cover everything you need to know to give them the best start in life. But, there are also plenty of videos that will help deal with unwanted behaviors from older dogs, even if they've been going on for many years.
Each one of these short and highly watchable videos approaches these problems in a positive way, free from force and aggression. You won't find any controversial alpha rolls or other negative reinforcement techniques that often do more harm than good.

Watch Real Life Client Consultations
One of the things that sets Doggy Dan's videos apart is he uses video footage from his real life consultations with dogs and their owners.
This helps to make them more effective than videos that show what a trainer would do with a dog who was exhibiting certain behaviors when the dog in the video doesn't display the issue in question.
You see the dog showing the behavior problem and see Dan talk with the owners to try to find the root cause of the issue.
He also explains the situation from the dog's perspective, focusing on why they're doing what they're doing. He goes on to talk about what he's going to do to tackle the behavior, and not just "what" and "how" but also "why."
Then you see him solve the issue (or, at least, start on the journey to resolve the issue) right in front of your eyes.
See The Same Problems You're Facing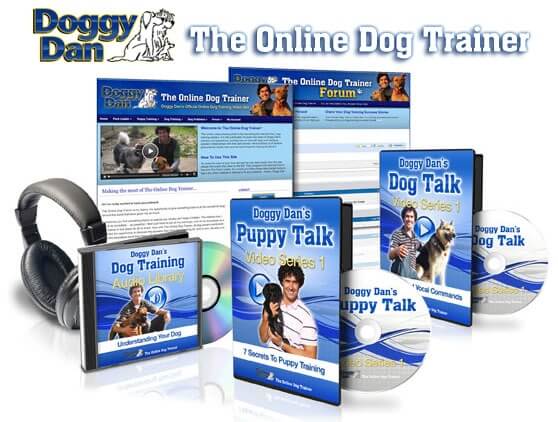 You should be able to find a relevant video in Dan's archives for almost any behavior problem that your dog is displaying, then you can see him work on the issue with a real dog owner who's in the same position that you are.
You can see the exact gestures, cues, commands, tone of voice, and body language that Dan uses, which is something that will never be able to get from a book or website, no matter how well-written.
This makes it so much easier to put into practice than if you're trying to visualize the correct way to do something after reading it in a book.
In comparison to many other training videos that simply talk about theory and show some basic obedience training, these videos show real life footage of dogs, which in some cases are clearly difficult to handle, having their behavioral issues solved or at least improved right in front of your eyes.

Why Video And Not An eBook?
As we've already touched upon in this review, learning dog training techniques is so much easier from a video as opposed to reading the information in a book, ebook or on a website.
Now, the problem with ebooks, in particular, is that often you're paying for information that you could have easily gotten for free elsewhere.
For instance, this very website you're reading right now, TotallyGoldens.com has plenty of free and thorough resources that can help you train your dog.
So, if you do prefer written resources to videos, or if you like to use them as an extra alongside video learning, there's usually no need to pay out for an ebook. Simply look for a well-researched article on a reputable website.
Only Gentle Methods And Techniques
As we touched on above, Doggy Dan's videos don't use any negative reinforcement training methods, involving punishment, aggression, fear or dominance.
Instead, Dan focuses on gentle, positive reinforcement techniques, which is exactly what you would expect from a program that's actively promoted by the New Zealand's SPCA.
However, he doesn't overly rely on the use of treats. Although treats have their place, you may well find yourself in a situation where you don't have any on you, so it's extremely useful to have gentle, positive training methods that aren't solely treat-based.
What Does The Program Teach You?
Unless your dog has some extremely off-the-wall behavioral issue going on, there's virtually nothing that you can't learn about dog training from this program.
These are the main segments that this information falls into:
Puppy Training – 'Project Moses'
For anyone who wants to learn how to train their new puppy, 'Project Moses' might be the most valuable part of the website.
This follows the training of Dan's new Labrador x collie rescue puppy, Moses, from when he brings him home aged 8 weeks old through to when the pup reaches his first birthday.
This allows you to see exactly what you should be teaching a puppy at what age and will help you set the best possible framework for your new addition's continued good behavior in later life.
Some of the topics covered include:
What to do when you bring your new puppy home
How to introduce your pup to their new home and any human or animal family members
Toilet training your new puppy
What to do if your pup cries at night
Crate training your new puppy
Obedience training
How to teach your puppy to be calm and happy when home alone
This might just be the best online education anyone with a puppy can receive as it allows you to follow along with how a professional dog trainer brings up a puppy just like yours.

More Puppy Training Advice
In addition to the advice found in 'Project Moses,' there's more puppy training advice, including:
Getting your puppy to walk nicely on the leash
Walking your puppy without a leash
Stopping your pup from jumping up
Which foods you shouldn't feed your puppy
The difference between a puppy mouthing and biting
How and why to socialize your pup
Basic obedience and command training
Solving Behavioral Issues
Of course, there's not just advice for new dog owners or people who bring puppies home, there's also plenty of tips on how to solve behavioral issues in older dogs. Whether it's a rescue dog you just brought into your family or a dog you've had since a pup who managed to pick up some bad habits.
What's great about Doggy Dan's method is that he shows you how to treat the cause of the behavior, and not just the behavior itself.
Therefore, not only do you know how to deal with the problem behavior, but the root cause is also solved, meaning your dog is happier and won't later develop more problems as a result of the same underlying issue.
These are just a handful of the behaviors Dan can help your solve as part of his program:
Aggression towards people, other dogs, and other animals
Nuisance barking
Poor recall
Hyperactivity
Nipping and biting
Jumping up at people
Pulling on the leash
Separation anxiety
Obsessive compulsive behaviors

Understanding Your Dog
Some of Dan's videos will also teach you about generally understanding your dog so that you can improve the relationship you have with them and how you interact.
This content includes videos on:
You and your dog's "energy" and how it can affect the way other dogs react
How dogs learn and how to help them learn more quickly
Creating a trusting and rewarding relationship between you and your dog
How even very subtle changes in your voice can make a big difference to how your dog perceives you
Understanding how dogs and children interact and how to make sure these interactions are safe
How to use food rewards the right way
The Online Dog Trainer Forum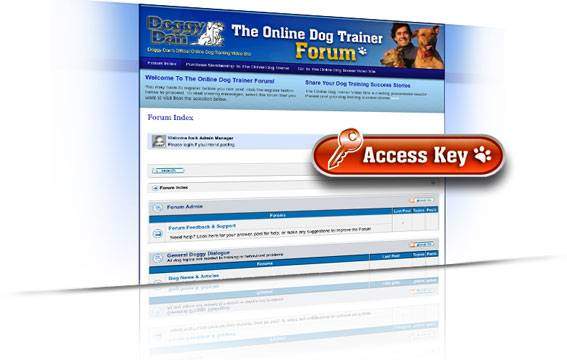 In addition to the videos, all paying members will get access to The Online Dog Trainer forum.
This can be a great resource where you're able to connect with other dog owners who may be having similar issues, ask questions and compare notes.
Better still, Doggy Dan himself is an active user and answers many of the questions that users have about their dogs or the training program.
So, as part of the fee you pay, you essentially get direct access to Dan and his wisdom, just in case you hit an issue that isn't quite covered in the videos, or you need clarification on any of the information given.
Audio Downloads
For any of you out there who like to go in-depth, there are also audio downloads that complement many of the videos.
Although these aren't essential, they're extremely useful if you'd like to learn more about the hows and whys of certain behaviors and they might just give you that extra bit of insight into any behavioral issues your canine companion might have.

So, What Does It Cost?
Unfortunately, not everything in life comes for free, and Doggy Dan's course is one of those things you have to pay for.
However, you'll find that it's fairly reasonably priced compared to other options, and there are safeguards in place in case you don't get on with the program. So, let's break down the options for you.
Get A Three-Day Trial
If you want to check out some of Dan's videos and other resources before you commit to paying full whack, you can opt to have a three-day trial.
Dan is so confident that you'll love his website that he offers full access for three days for the incredible price of just $1.
If you like what you see, it's easy to continue onto a full subscription where you'll get unlimited access for as long as you choose to remain a member.
However, if you decide that you don't like Dan's methods or it's not for you, then you can cancel the subscription at no additional charge.
Can't say fairer than that, can you?

Paying Full Price
If you take the three-day trial and decide that you want to continue onto a full subscription, the cost you'll be facing is $37 per month.
This is based on a rolling monthly subscription which can be canceled at any time, so there's no need to commit to a full year's membership or anything like that.
Now, you might be thinking that $37 per month is quite pricey, and compared to some other online training courses, you might be right.
However, you do get what you pay for, and we think that Doggy Dan's course is worth every cent.
With cheaper courses, you won't get access to anywhere near as many videos as you do on Dan's site. The videos that are available often focus on obedience commands and basic training, rather than on solving deep-rooted problem behaviors or setting a puppy on the right path to being a well-balanced adult dog.
Plus, you often don't get the added extras that you do on Dan's website, such as the ability to connect with him and other dog owners via the forums, to have your questions answered.
There's also that fact that many of the cheaper websites and programs will go on to charge you for extra materials, but with The Online Dog Trainer, everything is included for the $37 per month, and you won't find yourself being asked to pay more for hidden extras.
The other point that's worth noting is if you have a dog with serious behavioral issues, the cost of this subscription is magnitudes cheaper than the amount you'd pay to work with a professional dog trainer or doggy behaviorist.
You're looking at $20 to $40 an hour for group classes, but if you need one-on-one sessions, as most dogs with severe issues will need, this can be up to $100 per hour, or even more, depending on where you live and how experienced your trainer is.
So, if you and your dog need a weekly session, that's certainly going to eat into your paycheck.
We bet $37 per month isn't sounding too bad now!
Money Back Guarantee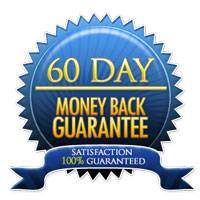 On top of the three-day trial, Doggy Dan also offers a 60-day 100 percent money back guarantee.
This means, if at any time during the first 60 days of subscription you decide that the program isn't right for you or it simply isn't working, you can cancel your membership and Dan will refund you all the money that you've paid out on subscription so far.
So, you really don't have anything to lose!

Summary of The Online Dog Trainer Review
While we don't necessarily think this course is for everyone, we believe that if you're even considering it, you probably have good use for it.
If you're already experienced in raising and training puppies, or you have an adult dog with no behavioral issues, then Doggy Dan's course is probably overkill. But if this was the case for you, we doubt you'd be here, reading this review.
If you do need some help with training your puppy right or you have a dog who already has some behavior issues, then Dan's program could really help you out.
Not only do you get the 250+ videos and many more audio guides, you also have access to Dan via his forum for when you need some extra advice.
The course is endorsed by the NZ SPCA and uses gentle methods, free from force, fear, and punishment.
Most dog owners will get something out of the Doggy Dan method, and with a free trial and money back guarantee, there's very little risk involved if you decide it's not right for you and your dog.