Updated: March 2nd, 2023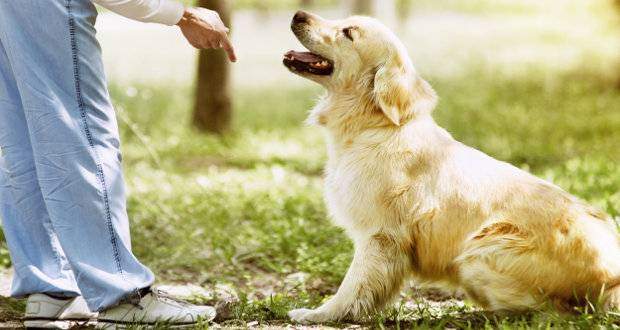 © Depositphotos.com / solovyova
The answer to this depends on what kind of environment your Golden Retriever will be living in, the type of training you're considering and ultimately your own preferences.
Some say not to start training until they're 6 or 7 months old, others say to start training the instant you get them home at 8 weeks.
So which is best? What is the right age to start training a Golden Retriever puppy?
Why Would Somebody Want To Wait For Their Puppy To Be 6 Months Old?
This advice traditionally came from the trainers of working dogs who quite rightly felt it best to leave a puppy to be a puppy, let it grow some and become stronger before starting formal training.
I say 'quite rightly' because up until the last couple of decades, working dog training was quite hard on a dog. It was very physical with the use of corrections and physical punishments and aversives very common. The accepted idea was that it was cruel to be so physical with a very young puppy and so training was delayed until 6 months old or so.
But there are so many gentle, positive reward based training methods today that physical corrections and aversives are almost completely unnecessary. So waiting for 6 months to start training is no longer essential.
But Isn't 8 Weeks A Little Too Young To Start?
Well, it's an interesting fact that you are training your puppy every single minute that you spend with them anyway.
From the moment you get your puppy, they will be watching and learning from you. Learning how you act, what your motions and gestures mean, where they can go, what they're allowed to do, what to play with and what to be scared of. And much, much more besides.
A puppy at 8 weeks knows nothing of life and learns everything from you at an amazing pace, all day every day.
So you are training your 8 week old puppy whether you think you are or not. Why not start a little basic obedience or trick training as well?
After all, it's far easier to prevent bad habits forming and steer your puppy away from trouble if you have a little control of them that comes from learning a few basic commands.
So What Age Should Or Can You Start Training Your Golden Retriever Puppy?
For a variety of reasons, the best age to start training your Golden puppy is as soon as you get them at 8 weeks of age.
Puppies soak up knowledge and skills like sponges in their first few months, why not take advantage to teach essential life skills as soon as possible?
If you wish to take your puppy everywhere you go, friends and shop owners will want you to have a modicum of control over your puppy while in their premises. You'll need your puppy to know and be able to follow commands to achieve this.
Behaviors are being developed all the time in your puppy so you should try to influence good ones and prevent bad ones. It's easier to prevent than to cure bad habits.
It's good to get into a training routine and form a habit of it as early as possible, for both you and your puppy, so you can carry it on through life.
Training is quality time you and your pup spend together, forming a bond and strengthening your relationship which is good for everyone involved.
Modern training techniques like clicker training and shaping are very positive and fun ways to train that will cause no stress to your puppy and can achieve great results.
There's no need for being physical in training anymore so there's no need to wait for your puppy to grow so they can handle it better.
Is It Bad To Wait A Few Weeks Or Months To Start Training?
There's lots of evidence that proves a puppy who starts training at 6 months can very quickly catch up to and equal the skills of a puppy that started training at 8 weeks.
So waiting a while, perhaps a few months, and just letting your puppy be a puppy won't necessarily cause any long-term harm to your training goals.
But you will have a puppy that doesn't know any commands so you can't ask them to sit, stay, drop or do as you ask.
If living out in the country and your dog spends all their time kenneled outside (not such good advice for a Golden) and do not venture into town or perhaps inside friends homes and business premises, then maybe this doesn't matter.
But if they live indoors with you and your family, are taken through town and into other peoples buildings, then you will definitely want to be able to keep them under control. So starting training early is pretty much essential and will be a massive help to you.
A Few Simple Rules To Follow When Training A Very Young Puppy
When training a young Golden Retriever puppy, there's a few rules you should follow to get the best results and not cause your puppy any undue stress:
Never correct your puppy! Until they're a few months old, they're just too young to understand. They don't have a developed enough brain or enough self-control to do any better. So do not correct them if they do wrong in training, it simply wouldn't be fair.
Keep training sessions very short, just 2 or 3 minutes long a few times per day. Their attention spans will be incredibly short and you do not want them getting bored and starting to dislike training. 2 or 3 minutes is fun and stress free.
Don't expect too much too soon. Only train simple commands and try to set them up to win and do things correctly. Frequent failure will cause your puppy to start dreading training instead of enjoying it. So keep it simple.
A Comprehensive Step-By-Step Course To Follow
Doggy Dan's Online Dog Trainer contains a comprehensive, easy to follow programme that leads you step-by-step through raising and training the perfect puppy.
In 'Project Moses', Dan – a professional dog trainer endorsed by the NZ SPCA – provides a detailed roadmap for you to follow, in which he shows during a 68 video series how to raise your puppy correctly from the second you get them home.
In real time, you get to see what you should be teaching your puppy as they grow through all the ages and stages from an 8-week old pup to a well-behaved, good-mannered, obedience trained and confident adult dog.
The course is an opportunity to see a professional dog trainer raising a puppy on video, with every single step, every milestone and problem encountered – and solved – along the way, filmed for you to follow along with.
There's more to the course, but that's not what this article is about. If interested, check out everything the programme has to offer here:
The Online Dog Trainer – By Doggy Dan
This is the best online based dog training course we've seen so we are very happy to recommend it. Check it out!
What Can You Teach A Young Puppy?
You should start crate training, house-breaking, bite-inhibition and socialization from the moment you get them home.
But Golden Retrievers are such intelligent dogs that they can learn a whole variety of simple commands and tricks while still very young. You can teach your puppy:
Sit
Stay
Leave it
Roll over
Turn
Crawl
Retrieving
Give paw and 'high five'
And lots more not listed.
Take a look at this 10 week old puppy to see just how well they take to early training.
So What Is The Right Age To Start Training A Golden Retriever Puppy?
The choice of when to start training your Golden Retriever puppy is entirely up to you. But for the reasons above, the ideal age is as soon as you get them home at 8 weeks.
Training is fun and completely stress free using modern techniques so you have nothing to fear concerning how it will affect your puppy.
As long as you take things slowly, never punish or correct them, keep training sessions short and make sure it's rewarding and fun for them, training your puppy from 8 weeks of age is nothing but beneficial.
And you'll be impressing your friends with your little puppy's neat tricks in no time 🙂