Updated: November 10th, 2022
This article contains affiliate links. Read the full disclosure here.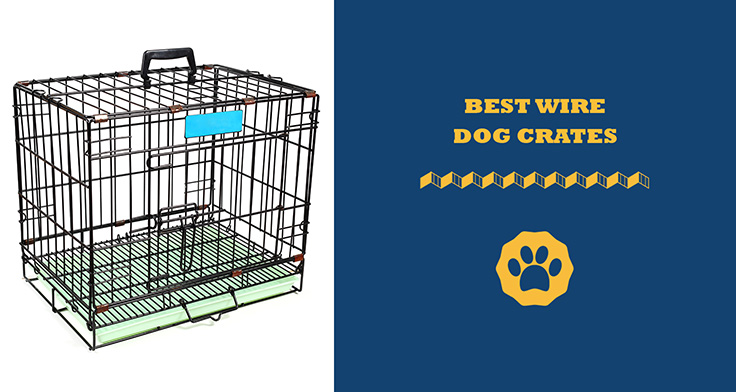 Dog crates – one of the most useful tools in a pet owner's toolkit for successfully raising a well-adjusted puppy. There's a variety of them out there, but it can be tricky finding the best wire dog crates.
In my opinion, the very best crates are collapsible wire dog crates – for a variety of reasons. We'll cover the reasons why collapsible crates are so great (as well as which ones are the best of the best) below.
Generally, whether you use them for house training, traveling, or simply as a cozy den for your dog, a good crate is the perfect sanctuary for your dog and a great way for you to keep them safe if you're unable to give them concentrated supervision.
But what crate should you use with your Golden Retriever?
As I mentioned above, there are many different types and styles on the market, from soft-sided fold-up crates to extensive furniture style hardwood versions. Wire dog crates, however, are among the best.
In this article, I discuss why I think they're best, then give my recommendations for the best and most suitable wire dog crates for Golden Retrievers available today.
AT A GLANCE:
Our Top 5 Wire Dog Crates
An Overview Of The Best Wire Dog Crates
I highly recommend looking at the comparison table below where I've highlighted the crate features of each item on this list.
We highly recommend looking at the comparison table we have below where we highlighted the features of each product.
IMAGE
PRODUCT

Divider panel included
Safe and Secure
Available in 6 different sizes

CHECK PRICE →

Good safety features
Easy to clean
Available in 7 different sizes

CHECK PRICE →

100% stainless steel
Durable
Available in 6 different sizes

CHECK PRICE →

Keeps your dog secured
Heavy duty wire crate
Easy to clean

CHECK PRICE →

Super easy to assemble
Highly secure crate
Has three doors

CHECK PRICE →
*Some of the above links lead to current prices and customer reviews on Chewy & Amazon
Carry on reading to discover why I made these choices in addition to lots of tips and buying advice to ensure you get the right product.
Top 5 Best Wire Dog Crates 2022: Reviews
If you're feeling overwhelmed with deciding which wire crate to buy, fear not; I've done the research for you.
Below are my top 5 picks of wire dog kennels on the market. I've highlighted their pros, cons, and most useful features so you'll be able to get a good idea of the best dog crate for your dog.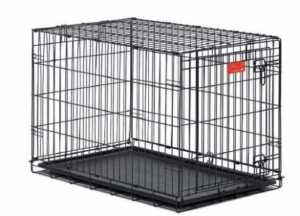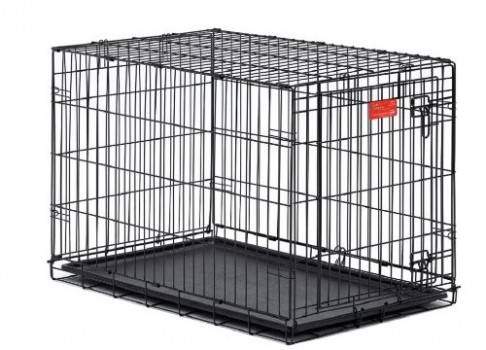 This multi-feature wire dog crate from MidwestHomes4Pets comes in 6 different sizes so you'll easily be able to find the right fit for your dog:
Available in 22″, 24″, 30″, 36″, 42″, (perfect for golden retrievers) and 48″, making it also the best wire crate for large dogs.
As an added bonus, it comes with a divider panel included, which means the amount of space available in the crate can be adjusted as your puppy grows – it's a crate for life! A divider panel also means your pup won't be able to go to the toilet at one end of the crate while sleeping in the other – a great tool to use during the all-important house training stages.
Rounded corners on the edge of the wires mean neither you nor your canine companion will hurt yourselves on any sharp edges.
Security is paramount with a double secure bolt system – your dog won't be able to escape no matter how clever at lock-picking they are – and two doors allow you quick and easy access.
Another plus point for this dog crate is it's exceptionally easy to clean. The wire structure has been coated with a satin black, electro-coat finish, while the ABS plastic pan is also super easy to remove and clean.
This crate folds flat, and the best part is, no tools are needed to assemble or take it down. It also sports 2 large plastic handles ­– so it can be easily transported no matter where you and your dog decide to travel.
There's a lot to love about this crate, so my advice is that you learn how to use a dog crate to really make the best use of it.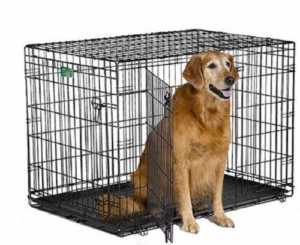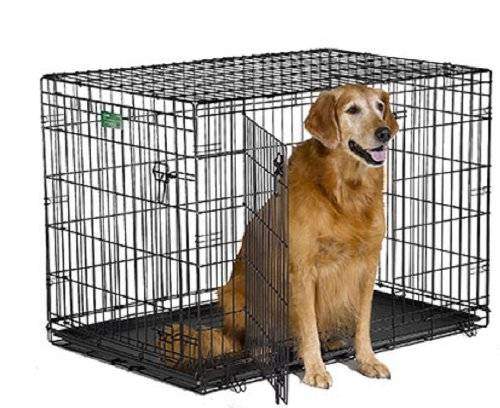 This wire dog crate – another offering from Midwest – is an excellent value for your money and comes in 7 different sizes:
Available in 18″, 22″, 24″, 30″, 36″, 42″, (perfect for golden retrievers) and 48″, so you'll have no trouble finding the perfect fit.
Another crate for life, it comes with a divider panel to assist you with housetraining and allow you to grow the crate with your puppy.
In terms of safety features, this Midwest crate is very well equipped with a handy double door system, allowing quick access to your dog, and a secure bolt system too – just the one bolt this time, however. The panel corners of the crate are rounded, ensuring that your dog can't cut themselves on any sharp edges, either.
Maintenance is also easy with this crate, as it is finished with a very durable, satin black, electro-coat finish. The composite plastic pan is easy to slide out for removal, making cleaning super easy.
The 'fold and carry' configuration of the crate allows you to erect and collapse it easily without the need for tools, it's a highly portable crate.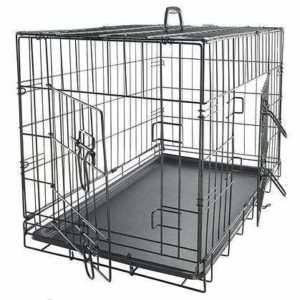 Another crate equipped with a dividing panel, this Paws & Pals number will grow with your puppy, giving you control in adjusting how much space your dog needs and what works best for their house training schedule.
It's available in 6 different sizes, so you should easily be able to find a good fit for Fido.
This crate would be particularly well suited to more boisterous dogs or heavy chewers, as the wires are very heavy-duty and made of 100% stainless steel.
Safety is still a top priority here, as all of the potentially sharp metal edges are rounded down to keep you and your dog safe from cuts, and there is a double door system allowing you easy access inside. Security is assured with a series of non-resistant, slide-bolt latches.
Finished with a durable, black, electro-coat finish, this crate is also totally washable – even the ABS plastic tray is removable with an easy slide-out motion.
As with all of our favorite crates, the OxGord is portable, requires no tools to set up and bring down, and is super easy to travel with, as it collapses down to less than 4 inches tall – perfect for sliding into the boot of your car. It also has a handle, so carrying it is no problem at all.
This dog crate comes in a wide variety of sizes with the option to purchase with a dividing panel or without.
The divider is a great idea if you have a puppy, as it's a really useful tool for housetraining, not to mention it allows the crate to grow with your pup – essentially making it a crate for life.
The crate is finished with an epoxy coating that is rust, corrosion, and fade-resistant, while the wire itself is made of steel.
This isn't quite as heavy duty as our other top wire crates, so it would be better suited to a calmer dog and one not prone to chewing or aggression.
The ABS composite tray is very durable and easy to clean – as a bonus, it won't stain, rust, warp, corrode or retain your dog's odors either!
As with the other crates, convenience and portability are one of its biggest strengths – it collapses, without the need for tools, into a package less than 4 inches tall, and it also has a removable handle so you can carry it easily, suitcase-style.
One slide bolt latch is also in place to keep your dog secure, and there are two doors so you can have quick and easy access to your dog if necessary.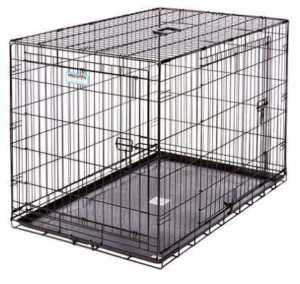 The standout feature of this BestPet wire crate is undoubtedly its safety standards.
With a two-latch system and three doors allowing you easy access to your dog, this is a highly secure crate perfect for the pooch who is a keen escape artist. Cleaning is also easy with this crate – the tray is of a slide-out configuration and is removable even when the door is closed.
Just like the other crates we recommend, maintenance is minimal – it is super easy to assemble with no tools necessary and folds flat.
The one drawback of this crate is it doesn't come with a divider panel, so it may be worth buying one separately if you're intending to buy one for a growing puppy or want to use the crate for house training purposes.
What Makes Wire Dog Crates The Best Choice?
Wire crates are the most popular of all types available – and for very good reasons.
They Are Very Strong And Durable
Being made of metal, these crates are extremely tough and long-lasting. Wear and tear over time has minimal effect, and they are impervious to a dog's scratching and biting. A single crate can literally last a lifetime.
This is often not the case with plastic, fabric, or wooden crates that can quite easily get damaged by even calm and non-destructive dogs. Large, boisterous, and even slightly destructive dogs are frequently seen to chew and scratch their way out of crates that aren't made of metal.
They Are Very Easy To Keep Clean
Because metal is non-absorbent and completely non-reactive to a little washing detergent, wire crates are very easy to keep clean.
If they should need a clean, a bucket of soapy water, or even a power washer out in the garden is all that's needed. It's a very quick and simple job to keep a wire crate clean, even with the messiest dogs.
They Offer The Most Ventilation
On a practical level, they afford your pup plenty of ventilation and air – definitely a plus point if you're living in a warmer climate.
In contrast, many plastic, fabric or wooden crates have enclosed sides and can quickly lead to overheating in warmer months.
Dogs Inside Have A Great View Of Their Surroundings
A wire crate will give your dog a great view of their surroundings and make them feel as though they're still part of events, even though they have a new, private space to call their own.
Able to relax, but still keeping an eye on things–that's how most dogs like to spend their time, with very few truly enjoying time with their pack (family) completely out of view.
Highly Portable Despite Their Strength
Yes, there are lighter, more portable options out there for a crate, made from materials lighter than metal.
But a wire crate isn't too heavy, collapses flat easily, and is set up within seconds with no need for tools, so they are highly portable for storage or transportation.
From Puppy To Adult – One Crate For Life
Many dog crates of this nature have a divider available that allows you to resize a large adult crate to suit a puppy.
So instead of having to buy a small crate for your puppy, a medium one when your pup's an adolescent, and a large crate for when they're fully grown (3 crates? Expensive!), you can simply buy a large crate and use a cheap divider to make it fit your puppy as they grow.
Possible Drawbacks To Wire Crates
As with everything in life, there are some aspects to wire crates that can be considered a disadvantage:
Very Exposed To Colder Climates
The advantage listed above of ventilation for hot climates swings the other way and can become a problem in colder climates. There's little shelter in a wire crate.
However, you can, of course, choose to sit the crate against one or two walls, certainly out of the way of any draughts, and then there are a wide number of crate covers available to keep them warm. Alternatively, you can do as many others do and simply cover the crate with a warm blanket!
They Can Be Noisy
Wire crates can be a little noisy if a large dog inside moves around a lot and the crate is on a solid floor with no mat or carpet. However, many crates come with little rubber feet, or you can buy some for a very low cost. You should also place bedding inside, which dampens any noise.
I always use wire crates, and they aren't loud at all with feet and bedding. I can honestly say I never notice it 🙂
Who Needs A Dog Crate?
Benefits of wire dog crates aside, why would you even need one in the first place? This is a question you might have asked yourself and possibly decided not to have one altogether. However, you are probably making a bad decision, and here's why.
Dog crates are an essential tool for house training a puppy and are just as important for adult dogs. You will be glad you bought one, especially for those times when you aren't around, because your dog will not have access to dangerous objects or unhealthy foods.
While you're away, you will also want to be sure that your household items are safe with your dog around. Imagine coming back to a messy house, carpets and seats torn apart. You can avoid all that by leaving your dog inside a crate.
Just make sure you've chosen a crate that's designed for comfort and is absolutely safe. And if you won't be needing it very often, it would be best to go for a foldable crate for easy storage.
What To Look For When Buying A Wire Dog Crate
Of course, there can be a world of difference between the quality of different wire crates, so we've compiled a list of things you should look out for to help you make the most informed purchase.
If you follow the rules on how to choose the right dog crate, your dog will be as safe and secure as can be in his new doggy haven, and it will last and remain useful for a very long time, saving you the cost of replacement when compared to low-quality offerings.
Size is the most important consideration: The crate must be large enough, but it mustn't be so large that one end can be used as a toilet while your dog lays at the other! For a Golden Retriever, you need a 42″ crate. A 48" option is probably the best wire crate for large dogs. (You can see our dog crate size guide here.)
Is it foldable? You may or may not want the crate to be foldable, depending on if you plan to place it permanently in one spot or occasionally move it. But it's a nice feature to have, if only for portability to clean it!
Check that the wire mesh isn't too thick or too thin. Too thin wires will be flimsy (and screams low quality!), while wire that is too thick can impair a dog's vision from inside the crate.
Make sure it's stainless or there's no exposed metal on the wires ­– ideally, they should be coated in a sturdy, easy to clean finish that is safe for your dog to chew (as well as being easy to clean!).
Make sure all the wire points on the crate are rounded or otherwise risk your dog potentially hurting or cutting themselves on sharp edges.
Does your dog like it? – Some dogs love to see what's around them and would definitely be happy to be in a wire crate. For others, that feeling of being exposed triggers their anxiety. Such dogs love their privacy and would be uncomfortable in a wire crate.
Multiple doors – For bulky crates that are difficult to move around, multiple doors could come in handy when you want to let your dog out from different sides.
Flooring – Some crates have padded flooring and others come with a plastic tray. Pick one that's most suitable for your dog. For example, a plastic flooring would be ideal if your pup has destructive behavior.
Dividers – Too much room in the crate isn't recommended because your dog might be tempted to use the extra space like a bathroom. Dividers allow you to split the room and adjust the space as your puppy grows.
Locking system – Dog breeds such as Golden Retrievers are intelligent and can easily work out how to open a lock through trial and error or by observing how you do it. So check to see that the locking opens with ease but is too complex for a dog to unlock.
Extras – Even though not necessary, some accessories such as dog crate covers, trays, and toys can make you and your dog's overall experience with the crate better.
Frequently Asked Questions About Dog Crates
Who Makes Frisco Dog Crates?
You might have come across lots of pet products going by this name. Just to clear your doubts, this is not a pet supplier or manufacturer; Frisco is a brand that's exclusively owned by Chewy.
Just like other online stores such as Amazon, Chewy has products that it sells under different brands, Frisco being one of them.  Besides wire crates, Chewy sells dog and cat toys, beds, food storage containers, poop bags, and bowls, among other products under this brand.
Are Wire Dog Crates Safe For Dogs?
Well-constructed dog crates are absolutely safe for dogs. But how do you spot one? Here's a quick hack to use. If the wires are loose or broken and the edges are sharp, then that's a potential hazard. Avoid it!
You may have noticed a few safety features from the products on our list, from rounded panel corners and edges to double doors and bolt latches.
It's highly unlikely that such a crate will hurt your dog. They won't be able to hatch an escape plan, either, because the doors won't allow it.
That said, take your dog through crate training and make sure she's not wearing a collar before you put her in a crate. You don't want a situation where your pet is anxious or unsettled, because she may end up trying a few things that could hurt her, like inserting her paw, toe, or toenail through wire openings.
Where Are Midwest Dog Crates Made?
Midwest has been in business since 1921, and yes, their dog crates and kennels are made in the USA.
For all these years, the company has only provided quality products, and you can tell they have been successful because pet owners spread out across different generations swear by their kennels and dog crates.
Whether you buy the Midwest iCrate Double Door, Midwest Life Stages Folding Metal Dog Crate, or any other Midwest dog crate, the experience for you and your dog will always be great. Just make sure it's the right and most suitable choice for her.
How To Collapse A Frisco Dog Crate
To safely collapse a Frisco dog crate, follow these steps:
Check either of the short sides of the crate for the two wire tabs that hold the side panel in place
Push down the crate, specifically the area between the two tabs, to unfasten it
Push the side toward you to the point where you can unlatch it
Gently lift on the top panel and then fold the entire side of your crate down to the floor
Repeat steps 1-4 on the other side of your crate
Where To Buy A Dog Crate
Most stores that sell pet products will probably have a section for crates and kennels. However, you shouldn't just walk into any store and buy the first crate you see on the shelf. Do proper research until you find pet stores that not only sell quality products but are also trusted by pet owners.
Alternatively, you can save yourself all that trouble and simply place an order on Chewy for any of the dog crates on our list. Even better, some of the products have enticing discounts and money-back guarantees.
So, Which Type Of Dog Crate Is Best? 
MidWest Life Stages Folding Metal Dog Crate is hands-down the best wire crate you can ever get your dog. Everything, from safety to comfort, has been done with precision. And no matter the breed you have, this crate caters to them all through its multiple sizes. What's more, it's collapsible and exceptionally easy to clean.
However, that doesn't mean the rest of the crates are inferior. You have probably seen the never-ending Frisco vs. Midwest dog crate debate and might also be torn between the two.
The truth is, each of these crates is actually safe, comfortable, and unique in its own way. You only have to weigh the crate features and establish whether the option fits the needs of your dog. Make sure your dogs love it as well.
Generally, wire dog crates are some of the very best value and most practical ones on the market. They're always my first choice!
I hope you've found this guide useful and would welcome any feedback or questions below 🙂