Updated: November 11th, 2022
This article contains affiliate links. Read the full disclosure here.
As 'retrieving' dogs, goldens love carrying things around in their mouths, and – while it's in there – they might as well have a good chew on it! Sometimes they simply do it because they are bored, anxious, or full of pent-up energy. Instead of trying to teach your dog to stop chewing, you should get the best chew toys for golden retrievers and then teach them healthy chewing habits.
Golden retrievers are some of the most playful, fun, and loyal canine companions there are, but if they have one tiny fault, it's that they can be very heavy chewers.
With so much playful energy, their heavy chewing can sometimes border on destruction. When there's no rawhide or chew toy to gnaw on, your shoes, furniture, and curtains might turn up totally destroyed in a matter of hours.
AT A GLANCE:
OUR TOP 10 BEST CHEW TOYS FOR GOLDEN RETRIEVER PUPPIES
That's why investing in really high quality, durable chew toy will be one of the best decisions you make as the pet parent of a golden retriever. Not only will it quell any destructive chewing, but it will also provide the mental and physical stimulation your pup needs to expend its energy and have a great time doing so.
It's also said that chew toys support dental health and can even deepen your bond with your golden.
There's a huge number of chew toys on the market and it's easy to get overwhelmed by all the choices. Shortly, I'll be showing you what you need to consider before you buy one, as not all chew toys are created equal.
An Overview Of The Best Chew Toys For Golden Retriever Puppies
We highly recommend looking at the comparison table we have below where we highlighted the features of each product.
IMAGE
PRODUCT

Keeps your dog interested and challenged
Made in the USA
FDA-approved

CHECK PRICE →

Safer and gentler than rawhide bones
Floats on water
Very durable

CHECK PRICE →

Made of award-winning Orbee
100% recyclable
Lightweight

CHECK PRICE →

It's absolutely huge
Incredibly thick
Vibrant colors

CHECK PRICE →

Can be stuffed with treats
Made of durable, firm rubber
Very bouncy and unpredictable

CHECK PRICE →

Lightweight and tough
Double lining and stitched seams
Comes in different sizes and configurations

CHECK PRICE →

Designed to provide an excellent grip
Tough and durable
Paw-friendly

CHECK PRICE →

Best FOR TEETHING PUPPIES

Best FOR TEETHING PUPPIES

Unique design
Different textures
Has nubs and ridges

CHECK PRICE →

Comes with squeakers
Can work both as a fetch toy and a comfort toy
Machine washable

CHECK PRICE →

Bone-shaped design
Safe for both adult and puppy
Tempting beef scent

CHECK PRICE →
Carry on reading to discover why we made these choices, and lots of tips and buying advice to ensure you get the right product.
How To Find The Best Chew Toy For A Golden Retriever – Tips
Safety First
As always with dogs, safety is the most important rule to abide by. There's no point to a fun and engaging toy if your pup is only going to shred it to pieces. Choking hazards are also a real risk with chew toys that just aren't durable enough.
Whatever toy you choose, though, it's really important to supervise your dog while they're enjoying it. Even if it's labeled as 'indestructible', there's still a chance they could break off bits and swallow them.
As well as potentially choking on them, broken toys can cause a host of internal problems for you golden, too.
Safe Materials
The best chew toys are fairly hard and durable, but there are a few other things you should look out for when making a decision.
If possible, always opt for toys made of non-toxic materials. That way, if they do chew off and swallow any of it, the internal damage can be somewhat mitigated.
Also, look for toys that have a little bounce-back in them and aren't too hard. Not only will your pup's  teeth thank you, but your dog will be better able to engage with the toy if they can really sink their teeth into it.
Be Prepared To Pay For Quality
Not all expensive dog toys are high quality, but most high-quality dog toys are more expensive than the run-of-the-mill toys you can pick up at your neighborhood dollar store.
It's best to view a chew toy as an investment. Spending a little more money now to get a durable, safe and fun toy that will last is ultimately less expensive in the long run than having to continually replace cheap toys that your dog can destroy within hours.
As with any product, the best materials will necessarily cost a little more. Certain materials lend themselves to durability – one of the most important features of a high-quality chew toy for golden retrievers.
The Best Materials For Chew Toys
Not all materials were created equal when it comes to chew toys. Look out for these if you want quality:
Hard Rubber
Although there's no such thing as indestructible when it comes to chew toys, hard rubber is about as close as you're going to get.
Favorite brands like KONG and Goughnuts make some of the toughest and most durable chew toys on the planet, and they use special formulations of hard rubber to achieve this.
Golden retrievers and other heavy-chewing large dogs are the perfect customers for the hard rubber toys – they're tough enough to take a few rounds of power chewing while providing enough stimulation to keep them engaged.
Some of the best hard rubber chew toys can last for years if you're lucky!
Rope Toys
A close second to hard rubber is the huge balls of rope that many dogs love playing tug-of-war with. Their sheer thickness provides enough of a tough surface for retrievers to really get their teeth into and, if strands do start to come off, they are easily passed through your dog's digestive system (and will even floss their teeth for them!).
They're also easy to wash and a brilliant interactive opportunity for you and your dog.
Chew Toys To Avoid
With aggressive chewers, there are some materials that simply don't cut the mustard. Avoid these if you're after a durable and safe toy:
Plush Toys
While plush toys are certainly becoming tougher, with multi-stitched seams and stronger threads, they're still no match for the jaws of a golden retriever who wants to get into a good chewing session.
The plush fabric can be torn apart easily and swallowed. Any stuffing and squeakers can be swallowed, too – a definite choking hazard and something that could cause internal damage.
Vinyl And Latex
While vinyl and latex are often marginally stronger than a stuffed, plush toy, they still don't cut it in the durability department.
Like a plush toy, they can easily be chewed apart in a few hours by a power chewer, and the likely included squeaker can, again, cause health problems if swallowed.
Plastic
While plastic is often just about hard enough to withstand the jaws of a heavy chewer, it scratches up easily and – if it does break – could see your dog swallowing sharp bits of plastic.
It also doesn't allow the same give and 'bounce-back' that hard rubber does, making it much less engaging and interesting as a chew toy.
Top 10 Best Chew Toys For Golden Retriever Puppies: Reviews
We've put together a short list below of 7 fantastic chew toys that are great quality, fantastic value, and perfectly suited to golden retrievers. These toys will keep your pooch entertained for hours, and hopefully your belongings intact and safe for far longer.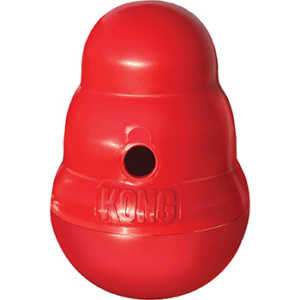 KONG is rightfully one of the most popular toy brands for golden retrievers. Incredibly tough and durable, these toys are able to withstand a lot of pressure from gnashing teeth and can last for years.
This 'Wobbler' combines a chew toy with a food dispenser and is both mentally and physically stimulating for your golden.
The idea is to stuff it with treats or kibble and let your retriever toil to get it out; keeping them busy for a few hours. First, they need to control the wobbling toy and stop it from rolling away from them!
Top Features
Great for dogs that eat too fast – the unpredictable dispenser helps them slow down, work for, and savor their food and treats
It wobbles unpredictably, keeping your dog interested and challenged
Can be used at mealtimes as an alternative dog bowl or for treating your dog
Made in the USA
Made of FDA-approved, high-strength plastic polymer
Dishwasher safe with a twist-off dispenser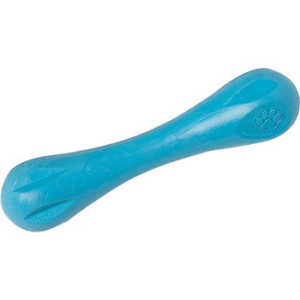 West Paw is another brand that specializes in high-quality dog chew toys. This Hurley bone chew is the perfect toy for golden retrievers that love to play fetch and gnaw on rawhide.
It's known for being very tough and durable, even in the jaws of aggressive chewers, but rest assured that if your dog does manage to swallow any bits, the toy is FDA-compliant and should cause minimal to no problems.
As always though, supervise your dog while chewing in case there's a choking hazard.
Top Features
Safer and gentler than rawhide bones – it's FDA compliant, non-toxic, and free from BPAs and phthalates
Will float in the water and bounce – great for fetch!
Brightly colored so you can spot them outside
Very durable and able to withstand heavy chewing
Made in the US
Dishwasher-safe and recyclable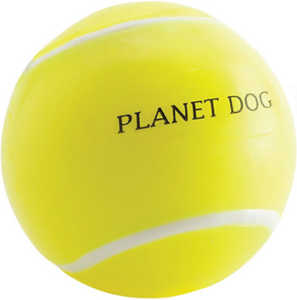 If your dog loves chewing on tennis balls but destroys them within a matter of hours, then these Planet Dog balls could be the answer. They're much more durable than regular tennis balls and can easily withstand the pressure from heavy chewers.
Like a normal ball, though, they can bounce, float, and are great fun to play with — for dogs and humans alike!
Top Features
Made of award-winning Orbee-Tuff compound – a smooth rubber – so it's highly durable and able to withstand heavy chewers
There's no fabric covering that your dog can tear off like with regular tennis balls
These feel like a regular tennis ball and have more bounce-back than some of its competitors, so it will really engage your dog
Floats and bounces
Made in the US
100% recyclable
Lightweight and bright yellow in color, so easy to spot when you're out and about
If you've got a power-chewing golden retriever who loves a game of tug-of-war, you're going to love this huge rope toy from Mammoth.
As well as being great fun to play with (not to mention good exercise for you both!), thistoy also serves as a great flossing tool for your dog's teeth as they chew on it.  The cotton strands are safe to chew and will be easily passed through your dog's digestive system if swallowed.
Top Features
It's absolutely huge ­– the Super X-Large is 72 inches long and has five knots to get a grip on. Great for large dogs!
The cotton rope fibers work to floss your dog's teeth
It's incredibly thick, tough, and durable – perfect for heavy chewers
The cotton blend colors are vibrant and easy to spot
Golden retrievers love carrying it around in their mouths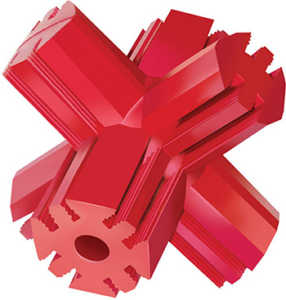 That's right, it's KONG again, with one of their most fun offerings in dog chew toys: the Jump N Jack Dental Dog Toy.
Perfectly bouncy for games of fetch, the durable rubber formula can take a good chewing from your strong jawed golden retriever. The ridged design can be stuffed with treats for dogs who need some extra stimulation, while it also helps clean your pup's teeth at the same time.
Top Features
The unique and patented ridges gently clean in between your dog's teeth, removing plaque and food debris
Can be stuffed with treats or peanut butter
Made in the US
Made of super durable, firm rubber
Very bouncy and unpredictable – will keep your golden stimulated in extended games of fetch and catch!
Easy to chew on as it doesn't wobble like the KONG Wobbler
Here's a toy made to match the energy and spirit of a golden retriever. Even a stronger chewer won't rip apart its super-tough fabric, so you can rest assured that your dog will be having fun with it for the long haul.
Inside this chew toy, you have squeakers that will not go quiet even after your golden punctures it. You may be expecting a mess when this happens, but the Outward Hound toy won't put you through such trouble because it is stuff-free.
Top Features
Lightweight and tough, making it suitable for a game of fetch, tug, and toss
Double lining and stitched seams for increased durability
Comes in different sizes and configurations to fit your dog's size and activity level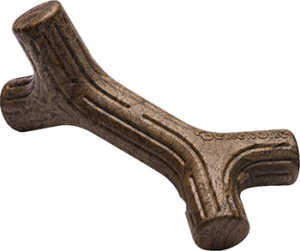 This Benebone toy resembles a stick because that is exactly what goldens love.  It gets even better when you realize that this chew toy is easy to grab and hold and offers a satisfying chewing experience.
Still, that wasn't enough so Benebone added a real maple wood flavor to intensify the playing experience your dog will have with this toy. And just to reassure you, this toy will not break into splinters like wood or leave a mess for you to clean up.
Top Features
Designed to provide an excellent grip
Benebone is passionate about dogs' welfare
Tough and durable
Different sizes available
Paw-friendly
Made in the USA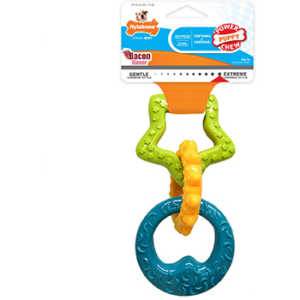 Nylabone went all the way in making sure you have a chew toy that can do more for your golden retriever puppy beyond making play sessions fun.  Goldens need to be taught good habits in their early years and that's part of what this toy does as well.
So besides entertaining your pup, this toy will help them develop better chewing habits and also improve their dental health (And here is our review of top dog foods for managing dental health). It's no doubt one of the best toys for golden retriever puppies.
Key Features
Comes in a unique design that's easy for your dog to grab and hold
Features different textures that help to make playing more fun
Has nubs and ridges that prevent tartar and plaque from building up
Available in different colors and sizes
Can relieve teething pain and improve the oral hygiene of your puppy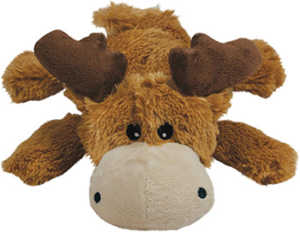 Marvin the Moose is another bestseller from KONG, designed to give your golden retriever puppy all the satisfaction they can ever get from a chew toy. It's cute and soft enough to comfort your pup yet at the same time double-layered to ensure it doesn't come apart as you play fetch.
What's more, you have a variety of Cozie characters to choose from and squeakers for extra fun.
Key Features
Reinforced with extra material to increase its durability
Squeaks to add more excitement to play
Can work both as a fetch toy and a comfort toy
Available in different sizes
Machine washable
Minimal filling for a less messy experience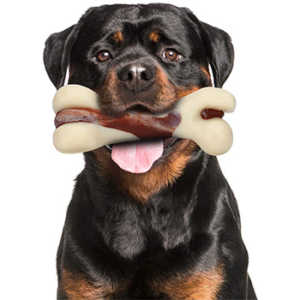 From afar, you could confuse this chew toy for a real bone, but it's not. However, Tikaton added a beef scent to make your retriever interested in it and feel like they are toying with a real bone. Entertainment aside, this chew toy can reduce anxiety and boredom and also help you fix destructive behavior.
It's also good to see that it's designed to be indestructible, so even if your golden is an aggressive chewer, they will not tear it apart.
Key Features
Bone-shaped design
Suitable and safe for both adult and puppy golden retrievers
Made of nylon material that is non-toxic, durable, and tough
Tempting beef scent
Frequently Asked Questions
Are there chew toys that last forever?
Never trust the 'indestructible' label that some of these toys are marketed with. If you see bits coming off the toy or a visible decrease in its size, it's time to throw it in the trash bin and get a new one.
As with so many products that are aggressively marketed these days, the best way to judge what's best for your golden retriever is to see what works for others. Read online reviews, talk to other owners, and check out articles like this.
What is a good chew toy for a golden retriever?
Good chewy toys should be soft enough for your retriever without putting their teeth at risk, and also durable enough not to break down into tiny pieces. Remember to also avoid those made of plastic, vinyl, latex, and plush fabric because they are not safe for dogs. Factor in their age as well, so that you can get them safer and proper toys as they grow.
Is a big stick good for a golden retriever to chew on?
Sticks, whether big or small, can be hazardous to your golden. Wood will easily break into splinters when your dog chews on it. The result could be injuries to the soft tissues surrounding the teeth, infections, and even intestinal blockages. So as much as sticks may be fun for your pup, it is best to just avoid them.
Why does my golden retriever chew everything?
When your golden is chewing on everything, that could be a sign they are teething (puppies only), have a lot of pent-up energy, or are bored. It could also be because the item tastes and feels good or your pup may have separation anxiety. You can stop them from doing that by getting them the best chew toys for teething golden retrievers, training them to quit the habit, or by visiting a vet for help
Why do golden retrievers destroy toys?
Generally, they do this to demonstrate frustration. But it can also be because they view the toy as prey and so destroying it sounds right. There are a dozen other reasons why your retriever is destroying his toys. My suggestion is you talk to a vet to find out why and how to address the behavior.
A Last Word
Hopefully, you've now got all the knowledge you need to buy the best chew toy for your golden retriever.
Remember, safety and durability are the most important factors, and be prepared to pay a little more if you want to get a high-quality product.