Updated: March 2nd, 2023
This article contains affiliate links. Read the full disclosure here.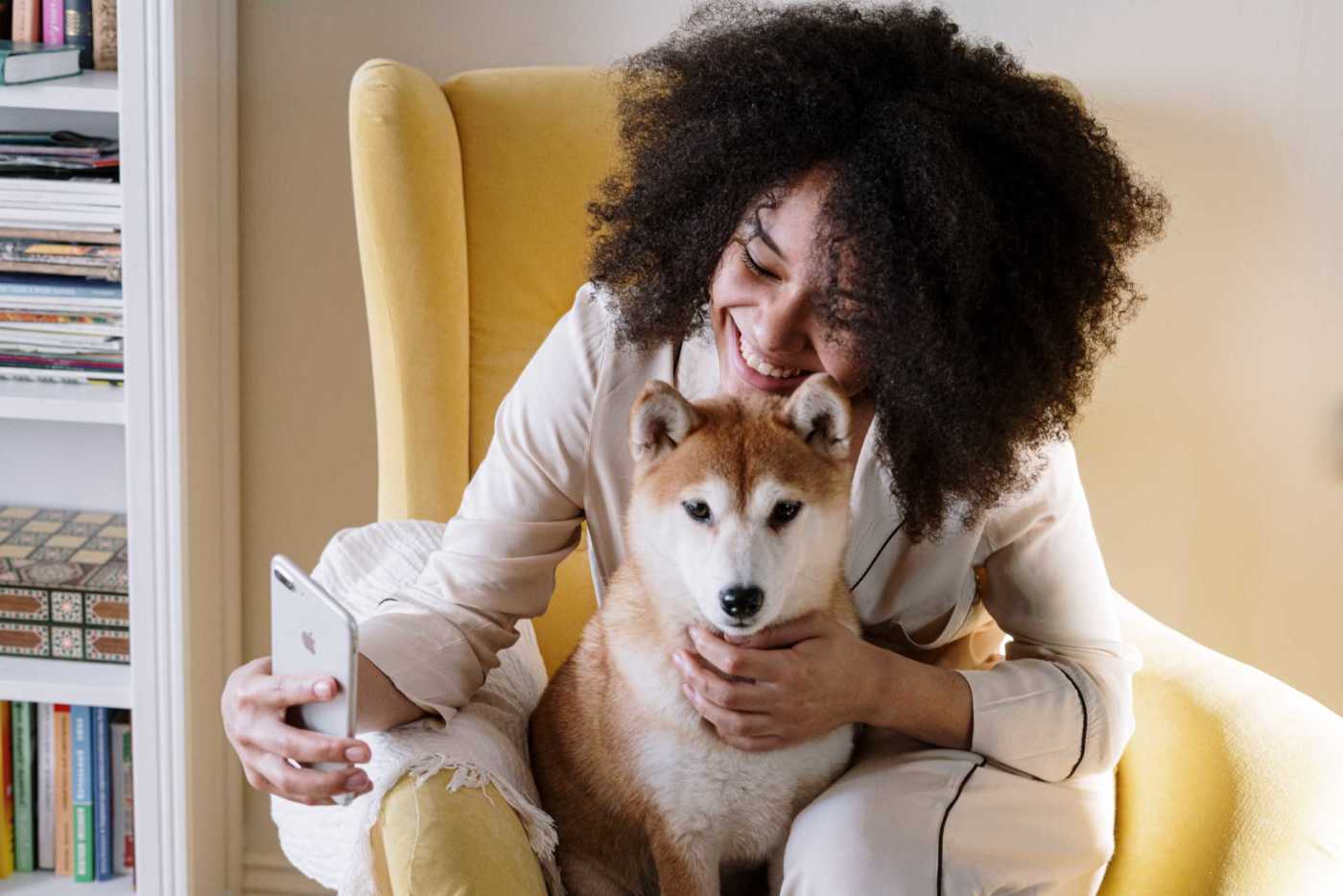 If you choose to stay at home all day due to illness or for some other reason, your furry friends would love it. As much as the period may leave you anxious, you can also create fun memories, from spending all day with your favorite people and playing with your pets.
However, imagine what happens after a sabbatical. As we return to our offices, how will our golden retrievers cope with staying alone? They have gotten so used to seeing people around; so, leaving them home alone could lead to anxiety. In addition to that, factors like abandonment, loud noises, traveling, strange faces, or other pets' presence can also lead to stress.
Though there is always the possibility of monitoring your dog using a dog camera, you should definitely learn how to help your 4-paws friend relieve stress when you're not around.
Toys also help in calming a nervous dog. Being focused and attentive when playing with these toys will take their minds off the source of their anxiety.
We have rounded up some of the best toys for an anxious golden retriever. However, please consult your vet before trying one to ensure that it is right for your dog.
OUR TOP 5 GIFTS FOR GOLDEN RETRIEVER LOVERS
Overview of the Best Gifts for Golden Retriever Lovers
We highly recommend looking at the comparison table we have below where we highlighted the features of each product.
IMAGE
PRODUCT
 

dishwasher-safe

High-quality plastic

Easy to fill

CHECK PRICE →

Durable, breathable, and soft fabric

Wearable

Adjustable

CHECK PRICE →

Nylon material for durability

Original savory flavor

Dual sizes options

CHECK PRICE →

Engaging and interactive design

Durable plastic

Treat compartment

CHECK PRICE →

Recreates intimacy with physical warmth and simulated heartbeats

No electricity required

Battery life of up to two weeks

CHECK PRICE →
Top 5 Toys for Anxious Dogs: Reviews
An activity like feeding on treats dispensed from a toy makes your dog more relaxed and easy-going. That is what KONG wobbler dog toy seeks to achieve. It is a food-dispensing toy that sits upright until your dog pushes it down with his/her paws or nose. First off, you fill it up with your pet's food, then allow him to nudge it around to get food from the opening. By the way, here are some great calming treats for dogs!
This toy is excellent for dogs that eat quickly. It will slow them down. Aside from that, the toy is a perfect choice for boisterous dogs like golden retrievers, as it will mentally stimulate and challenge them.
With Wobbler, you can slow down and extend your dog's mealtime while also pushing them to exercise. As the toy wobbles and spins around, he will continue chasing after it until the food finishes. When done, he will be fagged out. A tired golden retriever is a calm golden retriever.
The toy also comes with screws that help for easy filling and cleaning.
Pros:
Serves as an alternative to a dog bowl to help slow and extend mealtime

Keeps your dog engaged and entertained

It is dishwasher-safe and easy to clean.

Designed with high-quality plastic

Easy to fill

Gives your golden retriever a mental workout
Cons:
Can be loud when it wobbles around

The base is low. So, you will have to hold it upside down to get much food inside.
Thundershirt serves as a jacket for your furry friend. Though "thunder" is attached to the name, it does not necessarily protect your dog from thunder attacks. What it does is to provide gentle and constant pressure to reduce his anxiety.
The toy is simple, budget-friendly, and toxin-free, making it a perfect choice for pets that suffer from different anxieties. Its gentle hugging effect helps to calm pups down. Thousands of veterinarians and trainers well recommend it.
You can allow your golden retriever to wear the Thundershirt for an extended period but remember to remove it at least twice a day.
Pros:
Calms your golden retriever with zero training and medication

Features durable, breathable, and soft fabric

Recommended by thousands of veterinarians and trainers

Adjustable
Cons:
The Velcro closure takes much hair when you zip it up

It might be uncomfortable in hot weather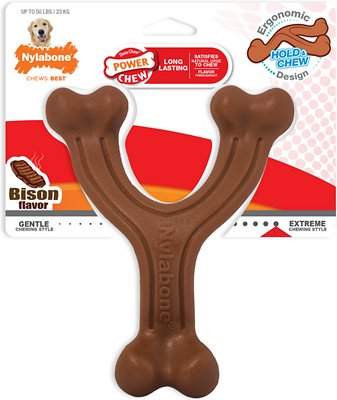 Chewing is one of the natural ways golden retrievers manage different emotions, including anxiety. The toy is made of durable nylon and has three ends for your dogs to chew, keeping them occupied and distracted. This feature can prevent them from feeling anxious when they are home alone.
Nylabone contains different flavors in a pack. They include beef, chicken, bacon, and peanut butter flavor. The toy's design is in such a way that your furry friend can easily grip it and enjoy the chewing. Compared to other chew toys, this one has ridges and nubs that will help prevent plaque and tartar buildup, ensuring that your dog's dental health is at its peak. The bristles will clean your dog's teeth and encourage fresher breath.
Also, you can easily hand-wash this product with warm water to remove any dirt. The toy comes with an irresistible flavor that your dog will love, with a design for medium-sized breeds that weigh up to 35 pounds.
Pros:
Made with extra touch nylon and practical even for the most aggressive chewers

Features ridges and nubs to clean up your dog's teeth after chewing

It has three ends for your golden retriever to chew

Comes with an original savory flavor

Washable for better hygiene

Available in two sizes
Cons: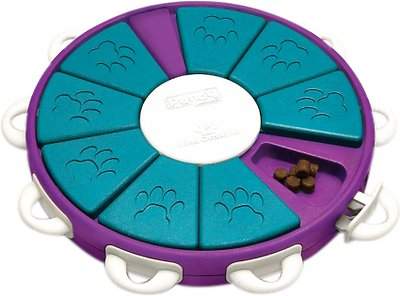 This toy is the perfect pick for golden retriever that have mastered the simpler dog treat puzzle. Since it requires real problem-solving skills, your dog's brain will be more stimulated and challenged, eliminating boredom when home alone.
You will fill the snacks compartment with kibble and then allow your furry friend to look for these treats. It is possible by moving one block after another in different circles. You can make it more challenging and fun by locking the blocks with bone-shaped pegs. He/she will then figure out a way to unplug the blocks by lifting the pegs one after the other to allow moving the blocks.
The toy features a slow feeder that will help reduce your retriever's speed while eating and keep them busy for hours. It will also redirect some of their destructive behaviors and improve their problem-solving skills.
Nina Ottosson retriever puzzle game features tough, safe, and durable material. It can be easily hand washed in soapy water after use.
Pros:
Engages your dog in a mental exercise

Slows down your dog's mealtime and keeps him busy

It makes mealtime more exciting

It can be hand-washed with warm soapy water

It is interactive and fun
Cons:
Dogs that are too smart may find it less challenging.
This Calmeroos puppy designed to provide comfort helps your four-legged friend cope with anxiety, especially when home alone. Dogs naturally crave for their mother's warmth, and this toy helps recreate that intimacy, physical warmth as well as a "real-feel" pulsing heartbeat.
This toy also features a heat source that helps calm your pup and tone down negative behaviors like barking or whining. The on and off button on the heartbeat-shaped device activates the features of the toy. It can last up to two weeks with continuous 24-hour usage. It also comes with batteries in case there is no electricity.
Calmeroos Puppy is easy to clean, but take care not to damage the electronic components.
Pros:
Easy to clean

Calms your retriever down without medication or any form of restraint

Recreates intimacy with physical warmth and stimulated heartbeats

Simple to use without electricity

Can last up to two weeks with 24/7 usage
Cons:
The heartbeat may too intense for small dogs like puppies

Not suitable for aggressive retriever chewers.
Factors to consider when buying a toy for your anxious retriever
1.Your dog's behavior
Take note of your retriever's character and get them toys that they will enjoy playing with. It is a bad idea to get them cuddly or soft toys when all they want to do is tear and rip things apart. Identifying your pup's personality will help you make better choices when it comes to toys.
2.Age
Your dog's age is also essential when choosing a toy. If your furry friend is still small, tough toys might damage his/her teeth. So, a softer toy will be preferable. In the same vein, older dogs with a higher bite force will need tough and durable toys.
3.Size
Toys come in different sizes. So, whichever one you are buying should be suitable for your dog's present size. If your dog is big, getting them little balls is a wasted effort, as they can constitute a choking hazard when swallowed. In most cases, it becomes a problem because the material could get stuck in their throat. Also, large toys could be rigid and might hurt smaller dogs.
4.Your dog's strength
Your dog's strength determines the type of toy you should purchase. As a retriever owner, it will be frustrating if your retriever keeps destroying his/her toys, and you keep buying new ones every week. It has nothing to do with purchasing inferior toys but because your dog's strength surpasses the toy's quality.
5.Price
While some toys are budget-friendly, others are not. So, you might want to consider the size of your pocket before making any purchases. Toys like Nylabone's Power Chew Wishbone are expensive, but you can still get quality ones at a fair price.
6.Design
Since hygiene is crucial for your retriever , you should get toys that are easy to clean. There are dishwasher-safe options like KONG Wobbler Dog Toy or Nylabone's Power Chew Wishbone that actively clean dogs' teeth while in use.
Other ways you can calm your anxious dog
a.Physical contact
Nothing soothes a dog more than being in direct contact with its owner. Despite your busy schedule, always find time to be with your furry friend. Once they start displaying a sign of anxiety, please pick them up, cuddle them, or give them a long petting session.
b.Massage
Even as humans, a massage helps to calm us down when stressed up and anxious. It is the same with dogs. When nervous, the muscles become tense, and good massage therapy will help alleviate it. An article by the New York Times suggests that massaging your dog is vital, as petting alone is not enough. You should start from the neck and work your way down with long strokes.
c.Music
After a long day, the last thing you would want to deal with is an anxious pet. Routine activities will be exhausting for both of you. So, you must take the condition seriously and find ways to reduce your dog's anxiety. When stressed and tensed, listening to music helps us to relax. The same goes for our canine friends. According to an article by Live Science, harp music can serve as a natural sedative for dogs. Music reduces noise sensitivity by blocking wither the street or scary noises that get your retriever anxious.
d.Exercise
Exercise is one of the most natural ways to relieve anxiety even as humans. Feel-good chemicals like endorphins are released, which helps boost the mood and stabilize hormones too. The way exercising calms us down is the same way it will help a nervous retriever . Find out ways to exercise your golden retriever.
e.Seek professional help
If you all the methods above and your dog is still anxious, see your veterinarian. First off, he will ensure that your dog's behaviors have no medical basis before referring you to a trainer that will look into other stress-related issues.
f. CBD / Hemp oil – CBD is an extract from the cannabis sativa plant (hemp). This extract from the hemp plant induces a state of calmness and reduces blood pressure. You can read here all about CBD for dogs with anxiety. Learn more about CBD oil Vs Hemp oil.
Conclusion
It is often said that the best way to solve a problem is to recognize that it does exist. To solve your retriever's anxiety problems, you have to pay attention to how they behave. Unlike humans, they hardly voice out their feelings. Some of the clues that indicate that your dog is stressed and anxious include whining, barking, panting, yawning, drooling, and licking.
Once you notice these, you start making efforts to rectify these problems. The toys reviewed above will help in alleviating their anxiety. Also, consider the factors mentioned above. We hope this article allows you to choose the best for your canine friend.