Updated: October 13th, 2022
This article contains affiliate links. Read the full disclosure here.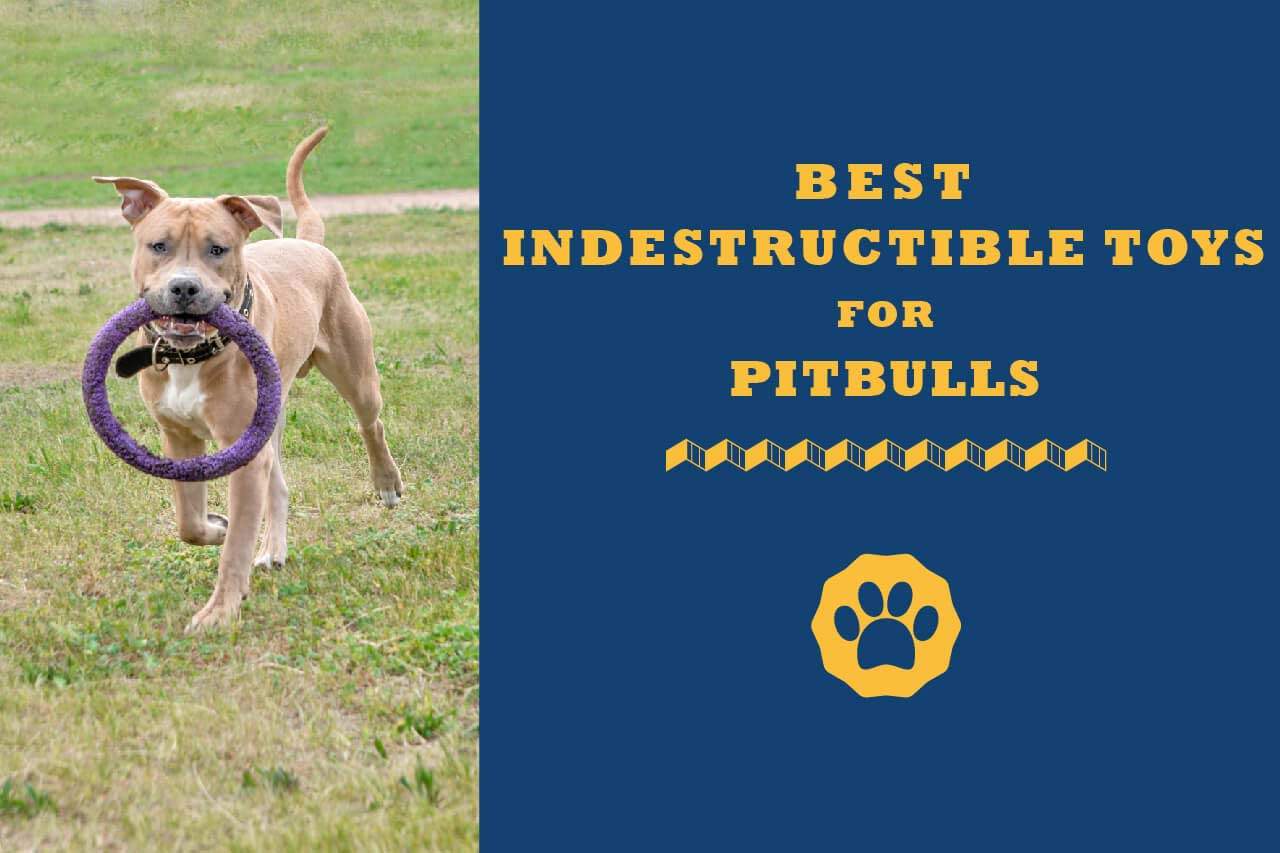 Pit bulls! Is yours the kind that will chew through everything and anything and still have room for more destruction? Yes? Then this is your chance to meet what could possibly be the solution – indestructible dog toys for pit bulls.
AT A GLANCE:
Our 5 Best Indestructible Dog Toys For Pit Bulls
Overview of 5 Indestructible Dog Toys For Pit Bulls
Pit bulls are one of the most misunderstood dog breeds in the world. Because pitties love to chew and shake their toys like prey, it's assumed that they must be aggressive. Nothing could be further from the truth. 
Pitties can be gentle and sweet to their owners, but just like large breeds and other aggressive chewers, you must buy the right toy for her to sink her teeth into, literally. 
It would be better if you considered things like the material and chew-resistant technology used, her size, and the type of toy before making your purchase, which is exactly what I did. 
Turns out there are a couple of excellent options you may not want to miss out on. Take a look:
Best Indestructible Dog Toys For Pit Bulls: Reviews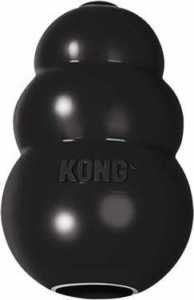 One thing you'll probably appreciate most about this toy is its versatility, from being a chew toy to seamlessly becoming a food puzzle toy. Plus, the materials are safe and secure for dogs of all sizes.
Key Features
Puzzle toy

Erratic bounce

Several size options
KONG Extreme Dog Toy is made from exclusive carbon Black Ultra-FlexTM, which is one of the strongest rubbers for dog toys. It is so widely respected and popular that K9 professionals use it and vouch for its efficiency.
Also, the company provides a guide to help you match your dog with the best size Kong. The various sizes include a small size for 20 pound pooches, a medium size for 35 pound dogs, a large size for 65 pound canines, an extra large size for 90 pound hounds, and extra extra large for those over 85 pounds. 
Pros:
Puncture-resistant

The design allows you to stuff treats in the hollow center

Its erratic bounce makes playtime interesting

Has a 30-day return policy from the day you purchase the toy

The materials used in the construction are resilient and non-toxic, making it durable and safe
Cons:
Looking at the thousands of reviews by satisfied users, the toy's unique features, and how the company has invested in making it ideal for pet owners would explain why it qualifies as the best overall indestructible dog toys for pit bulls.  KONG is easily the favorite toy brand for many pit bull parents. In fact, if you have pittie that loves to chew through everything in your home, consider this toy for a solution.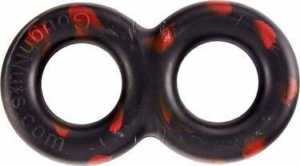 GoughNuts toys are excellent options for power chewers and this toy is proof. What I came to love the most is the fact that if your pooch chews through the outer layer and exposes the inner red layer, the company will replace the toy.
Key Features
Figure eight design

Natural rubber

Fit for all dog sizes and breeds
Although this is not a chew toy, your doggie can still use her strong jaw and teeth to hold on to the toy. Expect a lot of wear and tear, especially when she uses her teeth to hold it. But because of the design, the effect will be felt very gradually.
Pros:
Has a safe and comfortable figure eight design for both you and your dog during play

It is ideal for use with all types of pit bulls

The goughnut toy floats, making it ideal for use in both dry and wet conditions
Cons:
Some users report that the toy can get chewed up quickly by heavy chewers

It is relatively costly
Overall, GoughNuts TuG Dog Toy is a great option for interactive play. You can indulge in a fun game of tug of war with your pittie and it will withstand the strong pull of your pooch.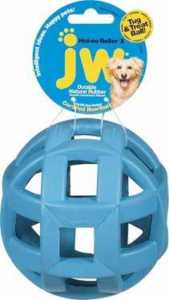 JW Pet Hol-ee Dog Toy is designed to withstand the efforts of every exuberant chewer, a fact that qualifies it among the tough dog toys for pit bulls. Featuring a bouncy ball design, your pit bull pup can play with this toy for hours and enjoy the squish texture every time she chews on it. 
Key Features
Honeycomb design

Bouncy and squishy texture

Treat openings

Tug and chew toy

Natural rubber

Two color variations
The manufacturers of this toy hit a home run by incorporating a chewy and squishy texture with a stretchy material that can be tugged at. The varied textures give your pooch a variety of play options. Also, the openings that can be filled with treats are a huge plus for her.
What's more, this is a great toy for continuous interactive games and your pittie will also not get bored because it is extremely versatile.
Pros:
The material used is non-toxic rubber, ideal for tug and chewy toys

It can be used as a treat ball and a chew ball

Double molded design can withstand power chewers
Cons:
A few users who own really heavy chewers report needing to replace the ball every couple of weeks, which can be expensive
This toy is the definition of an all-in-one toy because it can be chewed, tugged at, and hold treats. And guess what, you get all that for just a few bucks. Even with frequent replacements every month or so, you will have received value for your money.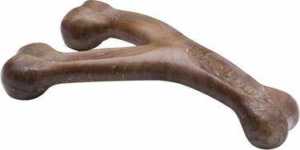 Providing your dog with a bone takes her back to her ancestral hunting instincts and love for gnawing on a bone. Well, Benebone does exactly that, plus it is flavored with bacon, giving your pooch every reason to stay attached to it for long periods of time.
Key Features
Three size options

Nylon material

Natural flavor

Food grade bacon
The combination of durable nylon infused with food grade bacon flavor makes this wishbone an ideal toy that is safe and sturdy. It is suitable for dogs under 70 pounds so your pit bull terrier is just the right size for it. 
Seeing as it is for a pit bull, the jumbo option is an excellent option and the design features prongs infused with the bacon flavor that fit safely into her mouth.
Pros:
An ergonomic design to give your pooch a great grip

Contains deep grooves packed with bacon flavor to keep it intriguing for longer  

The material used is non-toxic and strong enough to withstand aggressive chewing
Cons:
The bones are made in a facility where they can come into contact with nuts, making them a hazard for households with any nut allergy
Just like most pet owners, I love the Benebone Toy, not only because it is easy to play with, but also because the company supports animal welfare organizations worldwide with part of their sales. 
West Paw has built a reputation for creating dog toys that are extremely durable with heavy chewers in mind. West Paw Zogoflex Hurley Dog Toy is no different. This bone is brightly colored and will fit perfectly in your dog's mouth.
Key Features
Classic bone shape

Dishwasher safe

FDA compliant

Zogoflex material

Three size options
Another thing that makes this toy special is that the Zogoflex material is not only very durable, it is also bouncy and floats in water. Add to that the fact that the toy comes in various sizes, including small, medium, and large, thus catering to all dog sizes and breeds. 
As a pittie parent, you will definitely appreciate the BPA-free nature of this toy, considering the fact that your baby is an aggressive chewer and toxic materials may remain in her mouth and contaminate her body.
That's not all. This toy is easy to wash and keep clean. All you need to do is place it on the upper shelf of your dishwasher. 
Pros:
Easy to clean and keep sanitized

The materials used are non-toxic and safe for both you and your dog

The toy stretches without losing structure

FDA compliant, meaning you can place some peanut butter onto the toy and it will be safe for your dog to lick it off
Cons:
Users have reported that some pit bulls are able to chew it easily
Even after your pooch is done playing with this toy, you can easily recycle it and leave a better carbon footprint. Wouldn't that be nice?
Pit Bulls: Why They Are Power Chewers
The pit bull breed is a direct descendant of bulldogs and terriers. These breeds tend to be misunderstood because some have been bred for fighting and many have been abused and neglected by their owners, giving them a very aggressive nature. 
But that's not exactly what they are. In fact, pitties are some of the most loving and affectionate pets for many people worldwide.
Pit bull is a generic breed name for these dogs but they can get very specific and defined as you look further into the breed. For example, there are the American pit bull terrier and the Chamuco or Mexican pit bull, the Stuffawler, Spike, Colby, Red Nose, and the Pynat pit bull among others. 
The American Temperament Test Society shows that pit bulls have passed the temperament test with a higher percentage compared to other more popular breeds like the Golden Retriever. For example, the Staffordshire Bull Terrier passed by 90% compared to the Golden Retriever's 86%. 
This means that these dogs are far gentler in their interactions with humans, human situations, and their environment than most of our favorite breeds.
Pitties are, however, power chewers. It is important to understand that pit bulls have very strong hunting instincts and they are also athletic animals. They also have wider heads, which means their teeth and jaws are bigger compared to other breeds. The wider jaws pack more muscle and power when they chew. 
Because of their strong build, they participate in games like weight pulling. Pit bulls are more likely to grab their toys and to shake them compared to other dog breeds. Also, they love to play. But their play can get rough so their toys bear the brunt of strength and enthusiasm.
The Safe Use Of Toys 
The myth that pit bull terriers are naturally aggressive has led a lot of dog owners to be a bit careless with the quality of the toys they buy for their pitties. Many assume that because their canines are power chewers, they can tear through anything with no repercussions. 
But it is imperative to invest in the best pit bull toys and also learn to use them properly. Here are tips for how to use these toys safely:
Keep Them Clean
Make sure the toys you invest in can be washed and cleaned to keep your dog healthy. Simple cleaning using soap and water is easy and it won't take you too long to maintain her toys.
Avoid Choking Hazards
Moving parts that are not well fastened pose a choking hazard, which may also end up as a stomach obstruction. You must also look out for coatings on the toys as well as the type of materials used for toxicity. 
Dogs use their mouth during play, which means such materials can be easily ingested with fatal results. Make sure you do not use toys made of inferior quality materials and keep even small toys away from large breeds, including tennis balls.
Buy Hardy Toys
Because they tend to be aggressive, the toys you buy must be pitbull-proof toys. These are the kind made from strong material that is firm but safe. Also, ensure the build has no sharp corners and is well shaped for a safe fit in the dog's mouth. Rubber is a popular material because it is resistant to chewing, even by the most enthusiastic pittie.
Replace Often
Dog toys are not meant to last forever and with pit bulls they have an even shorter life span. It is important to replace your pit bull chew toys every so often to mitigate the hazards that come with the wear and tear, like torn pieces that can choke her. 
Types Of Toys 
Pit bulls love to play with many different types of toys, but the three most popular toys for them include: 
Interactive Toys
These are dog toys that require your participation to make them fun for your pooch. They include fetch toys, like Frisbees and balls. The best interactive toys that hold your pit bull's attention are those that bounce erratically. These toys should be soft and easy on the dog's mouth.
Another version of excellent interactive toys are ropes. You can tug at the rope and play with your dog for hours on end. Just be ready to withstand your pittie's shake once she has you in her grip.
Distraction Toys
These are the toys that your dog can play with in your absence. They include chew toys and can range from dental chew toys, like Petrodex dental chews, to bone-shaped chew toys, like the Kong Goodie Bone. You can also opt for puzzle toys, like food puzzles to distract your pooch and include treats to make it more interesting. 
Comfort Toys
Pit bulls like many other dog breeds love comfort toys. They will be happy with a stuffed toy or even your old T-shirt or old blanket because it smells exactly like you. But be sure that the stuffed toys are prey size for your pit bull because she will be chewing and shaking it for dear life every day.
What Makes Good Indestructible Dog Toys For Pit Bulls? 
Materials
The material used needs to be extremely durable and safe. Natural hard rubber is an excellent option because it is stretchable and can withstand the heavy jaws of a pit bull. 
Avoid stuffed toys as well as those made from luxurious, plush material. An aggressive chewer like a pit will easily chew on the stuffing and sometimes try to swallow it, resulting in a stomach obstruction or choking.
Size
Pit bulls are best served by chew toys that are the size of their usual prey like a squirrel. Anything that is smaller than their natural prey may pose a choking hazard for your pittie. With a life size chew toy, she can shake, chew, or tug at it, and it will withstand her strong build and large jaws.
Be sure to check the size against the size guide chart provided by the company to ensure safe use of the toys. Using the size guide matches you to the correct toy at all times.
Chew Resistant Technology
Invest in indestructible dog toys for pit bulls that are treated with chew-resistance technology. With this technology in place, the toy can take a fair amount of chewing punishment without giving way and becoming a safety hazard to your pet. 
Double stitching and durable linings are some of the chew-resistant additions you may see on soft chew toys for dogs.
Toxicity
Make sure you read the label that tells you what they toy is made from. Toxins from the material used can easily be transferred to your dog while she is playing with her toys. So, spare some time to learn about toy safety regulation and also about some of the popular materials used to make chew toys.
Conclusion 
Provided you are treating her right, your pit bull will always have a lovely disposition. And this is the same for all dogs. By nature, dogs get aggressive when abused, neglected, or chained. 
Remember, a pit bull loves to play and a hardy toy is an excellent way to help her work on her chewing skills. She will love it and love you even more.  
KONG Extreme Dog Toy, which is the best product overall, would be a great option to begin with for the reason that it's versatile and safe enough to meet the diverse needs of your pit bull This toy is also fun to play with due to its design and durability. It's also one of the most loved indestructible dog toys for heavy chewers.
Still, the rest of the options would easily make good indestructible dog toys for pit bulls because they stand out in their own unique way with special benefits for your dog. It's really up to you to decide which option matches your needs and that of your canine friend.