Updated: October 13th, 2022
This article contains affiliate links. Read the full disclosure here.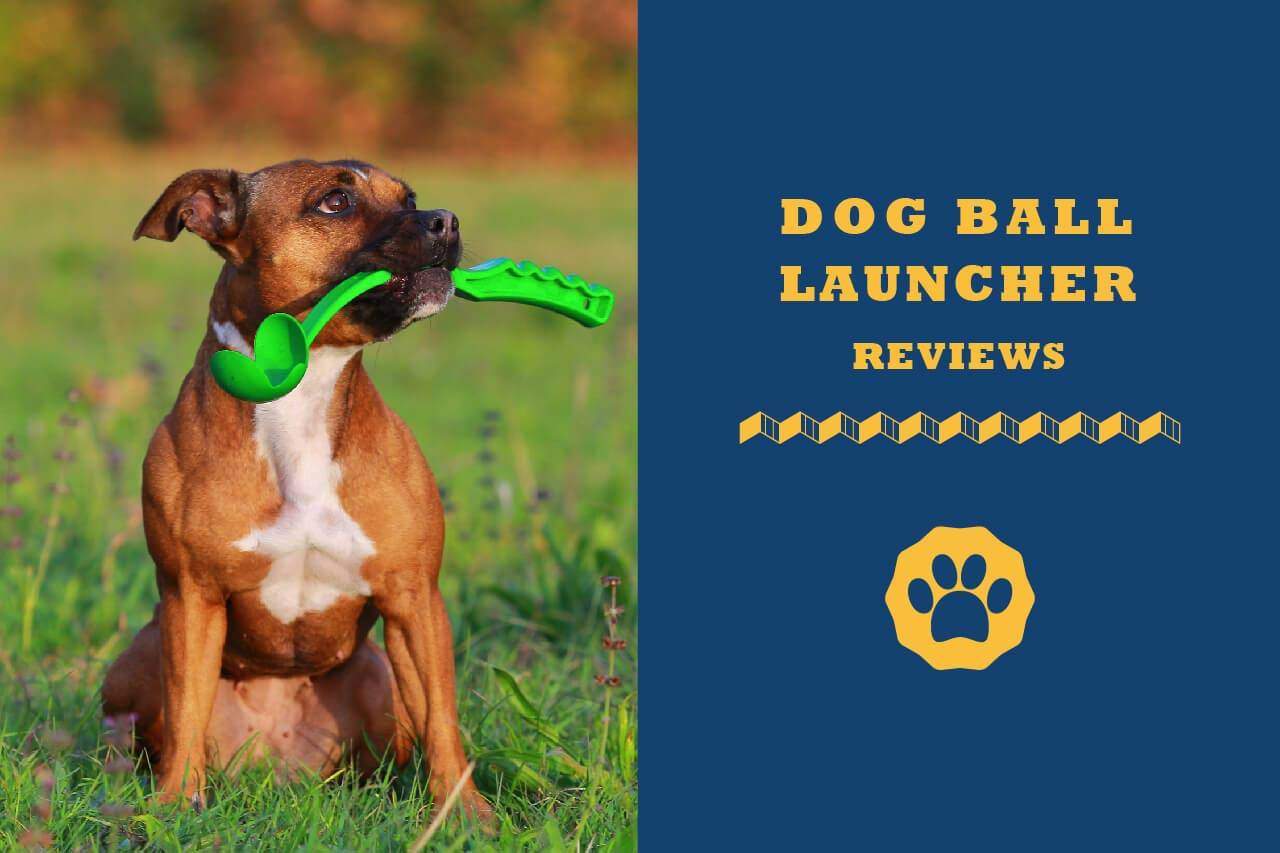 Don't we all crave for more fun and better ways to play with our furry friends? I do, mostly because it's exciting to try out new things that can make your life as a pet owner, and that of your dog, more interesting.
You've probably tried a game like fetch with your pooch. There's no doubt it's quite thrilling. However, parts of your body, like your arm and shoulder, won't have the comfort of staying the same throughout the game, day after day. At some point, you will get tired.
That aside, maybe you are also not able to fetch and throw a dog ball normally, probably due to an injury or disability. Either way, I believe you would be happy to know there's an item you can incorporate in your playtime with your pet to make your play just as exciting.
Meet dog ball launchers. Like the name suggests, this tool can come in handy in helping you throw that dog ball further and better than you would normally, while sparing your arm, shoulders, and other parts of your body the pain that comes with doing that.
You have the opportunity to learn more about these little great tools below, from whether you need it, how to select one, and an independent review of the top picks.
AT A GLANCE:
Our 5 Best Dog Launchers
An Overview of the Best Dog Launchers
| IMAGE | PRODUCT | |
| --- | --- | --- |
| | Small, medium, & large breeds | VIEW LATEST PRICE → |
| | Extra small, toy, small, medium, and large breeds | VIEW LATEST PRICE → |
| | Small, toy , and small breeds | VIEW LATEST PRICE → |
| | Small, medium, & large breeds | VIEW LATEST PRICE → |
| | | VIEW LATEST PRICE → |
Do I Really Need A Launcher?
Yes…yes, you do. If you love to play with your dog and your pooch is an avid ball fan, a dog ball thrower is a great tool to have around. The launcher helps you throw the ball further, giving your dog excellent exercise as it runs for longer stretches to find the ball.
You may not always be available for a game of fetch, but an automatic ball launcher for dogs is always ready to go. You just need to train your dog to operate the launcher and trust me, our pooches are smarter than we give them credit. They will get it going.
Another reason why you might need a launcher is if you have mobility issues or injuries that make it hard to use your arm sufficiently. Automatic launchers need no effort, so they are the ideal option in this case.
What To Consider When Buying A Ball Launcher
There are two types of ball launchers for dogs: manual and automatic. An automatic ball launcher for dogs can be powered by batteries or alternating current (AC). It depends with the model. Usually, these throwers only require the ball to be dropped into the device's opening and the launcher will spit out the ball up to 50 feet.
Manual launchers require you to pull the trigger, but the ball still travels a longer distance than it would with your free arm throw.
Knowing what is available on the market, you now need to understand what to look for when buying a dog ball thrower for your furry friend.
Range Of Throw
Most automatic launchers can be used indoors or outdoors, with a few exceptions. You can adjust the distance so that it is safe to use the launcher inside, and when outdoors the settings can be altered for longer distances.
A launcher exclusively made for the outdoors will usually throw up to 50 feet while those developed with indoor and outdoor play have a throw range of 10 to 30 feet. A manual launcher will give you at least 10 feet, making it an ideal choice for play in your backyard.  
Ease Of Use
Both manual and automatic launchers are pretty easy to operate. The automatic launcher can be also be used by your pooch even when you are not available. You need to train your pooch to drop the ball in the opening, and voila! Your dog will spend hours exercising, whether you are home or not.
Here's a demonstration by a dog owner of how his dog learns to use the iFetch launcher on his own:
The automatic thrower makes a sound when launching the ball so if your dog is jittery when it comes to sound, you must first make it familiar with the sound before going any further with the training.
The manual launchers are pretty easy to use for doggie parents. It only takes loading and pulling the trigger to launch the ball.  
Construction And Design
You can expect either heavy, hardy plastic, or rubber depending on the type of thrower you are purchasing. For example, a smaller slingshot launcher tends to feature high-quality rubber while bigger throwers, whether manual, semi-automatic, or automatic are mainly plastic with more length and weight to them.
Check also for components like the spring and recoil lever on manual launchers to ensure they are not flimsy, especially if your thrower will be in consistent use.
In automatic throwers, the settings are extremely important, as are the shooting components because they work without your intervention. Also, look for a ball-sensor which prevents your automatic dog tennis ball launcher from heating up even when there is no ball in the device.
Dog Size
How big your dog is should determine the type of launcher you invest in. Imagine a 100-pound pooch sitting on a small device, like an iFetch unit, while trying to get the ball into the opening.
Not only will it damage the unit in time, the small tennis balls that accompany this option will become a choking hazard. It is imperative to match the right dog and the right device, especially if you are away from your pooch for extended periods of time and they play alone.
Number Of Balls
That is the number of balls that you receive with the launcher. Consider an option that comes with a set of balls as opposed to only one ball. One ball can really slow down a game of fetch when the single star of the game gets lost in the process.
There are launchers that come with multiple balls, but if that is not the case with your preferred option, then you can always buy a set of tennis balls separately.
Warranty And Service
Even with the best instruction manual of how to use these machines, you may encounter some problems. That is why it is important to purchase a device with an excellent warranty and service. You can expect a warranty lasting up to a year. Since it used by animals, this is a fair warranty period.
In case of difficulty getting your unit to go as it should, you can rely on the customer support team to set you on the right path.
Reading reviews by experts and other users will help you find the company with the best customer service team and a long warranty period.
Top 5 Best Dog Launchers: Reviews

This launcher is an excellent lightweight option that you can carry with you even when you travel. The Chuckit! Classic Launcher not only gives you a variety of options when it comes to colors; it comes with a nice elongated handle and grippy head to retrieve the ball, which keeps your hand away from your pooch's slobber.
Yes, I know that can be a bit much! You can choose the handle length that you would like to use, ranging from 14 inches for small dogs to 26 inches for large dogs. The longer the handle, the further the distance you can launch the ball.
The size of the launchers includes the small sized 2-inch, a medium sized 2.5-inch, a large 3-inch,  and an extra large 3.5-inch ball size. The standard tennis ball will fit into a 26-inch launcher. The cup will grip the ball, so when you need to throw, use some force and have a nice follow-through.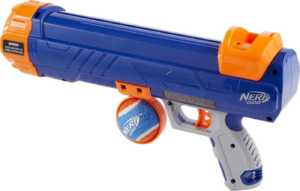 This is the ultimate dog tennis ball launcher for pet parents who do not have the swing in their arm to blast a ball tens of feet away. It offers you more throwing power (up to 50 feet), without having to put your shoulder into it. Your pooch will be doing all the work and having fun with it.
It features a safety release mechanism, making it very easy to operate. Pull back the handle, load your ball, and release. If your dog is new to the game or is still a pup, you can begin with the lowest level of throw so that the distance is shorter.
As your furry friend advances in play and grows in strength, you can increase the power to increase the throw distance until you finally reach the final level.
The Nerf Dog Tennis Ball Blaster comes with 4 balls, and it can also be used with regular tennis balls and even some smaller balls.
On top of that, it is portable and lightweight, and you'll love the hands free pick up, especially if your pooch is a slobberer. To up the game with your pooch, use it with squeaky balls that your doggie will love!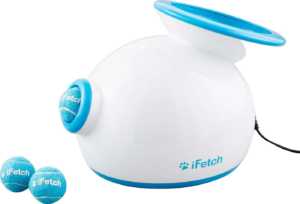 It is hard to be a dog owner with an energetic playful ball-loving dog and not have heard of iFetch. Let's just say having an iFetch interactive ball launcher for dogs will turn up the playtime energy and fun.
Small and compact in construction, this unit comes with three 1.6-inch balls a fact that makes it great for small-to-medium-sized dogs.
It is an excellent addition to mental stimulation toys, especially once you have trained your pooch to operate it.
It operates easily once plugged. Using the Launch-o-matic, you can throw the ball to adjustable heights of 10, 20, or 30 feet. It is a small unit, so if you have a bigger pooch, you may want to consider the iFetch Too, which is its bigger version.
You can use it outdoor or indoors. It is the perfect choice for your small pooch to get the levels of physical and mental exercise you would like for her.
I love the hidden storage compartment at the bottom of the unit that can hold the balls. There's also the small compact construction that makes it easy to carry along with you when you are on the go.
If you do not like the balls that come with the device, you can opt for Kong extras small squeaky balls.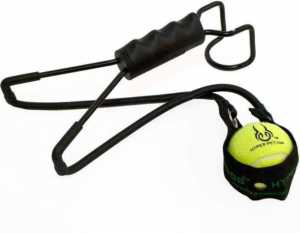 The first unique thing you notice about this launcher is the construction and design. It's a very convenient and handy slingshot design that can launch your ball up to 220 feet away.  So, you need a good deal of space for this beauty.
It features a collapsible arm brace and comes with four tennis balls. The materials used include rust resistant steel on the frame that is also chip and scratch resistant. The frame is collapsible, making it easy to store and carry around with you.
I find the bands quite practical as they are replaceable and easy to pull back so that children and the elderly can use it. It is an ideal ball thrower for energetic dogs that tire your arm out so fast.
Unfortunately, with this thrower you have to deal with the dog slobber because it needs you to manually place the ball on the sling every time.
The launcher is designed to cater to Hyper Pet tennis balls, but it is also compatible with regular tennis balls. The rubber is very elastic and it can take a lot of punishment. 

The look of these launcher is so goofy and adorable, a fact that has made it an attraction to both dogs and their owners. It uses the slingshot concept for the launch.
The rope tail is pulled and released launching it several feet into the air. It is an inexpensive option that can float and here is the best part: it squeaks. You can use it in the backyard without fear of losing it and come winter, it will also make an excellent indoor toy.
Another exciting feature they have is the the colors, which seem pretty vibrant and attractive to most dogs.
What's more, it stretches so you and your dog can play tug of war with it and also launches safely because it is not made with hard parts. Some users have had unfortunate incidences where the head came off the loofah, but since the head is too big to be a choking hazard, their pooches continued playing with it safely.
However, it is not the best option for an aggressive chewer or overly enthusiastic breed.  
Conclusion
Generally, a big part of doggie play involves toys, and having several that can bear the brunt of canine handling is a plus. Your experience, and that of your little friend, will even be greater when you have a quality dog launcher.
A dog ball launcher is a great choice for any pet owner because not only are they affordable, but also able to bear the aggressive play of dogs for the most part. That's in addition to the benefits I discussed about earlier.
Go ahead and invest in one, especially the best, like the ones I've mentioned here. I assure you oodles of fun and excitement for both you and your pup.
I know where to buy cheap dog toys and launchers is not usually a huge concern for doggie parents;  what bothers many instead is where to buy long lasting, durable dog toys.