Updated: October 14th, 2022
This article contains affiliate links. Read the full disclosure here.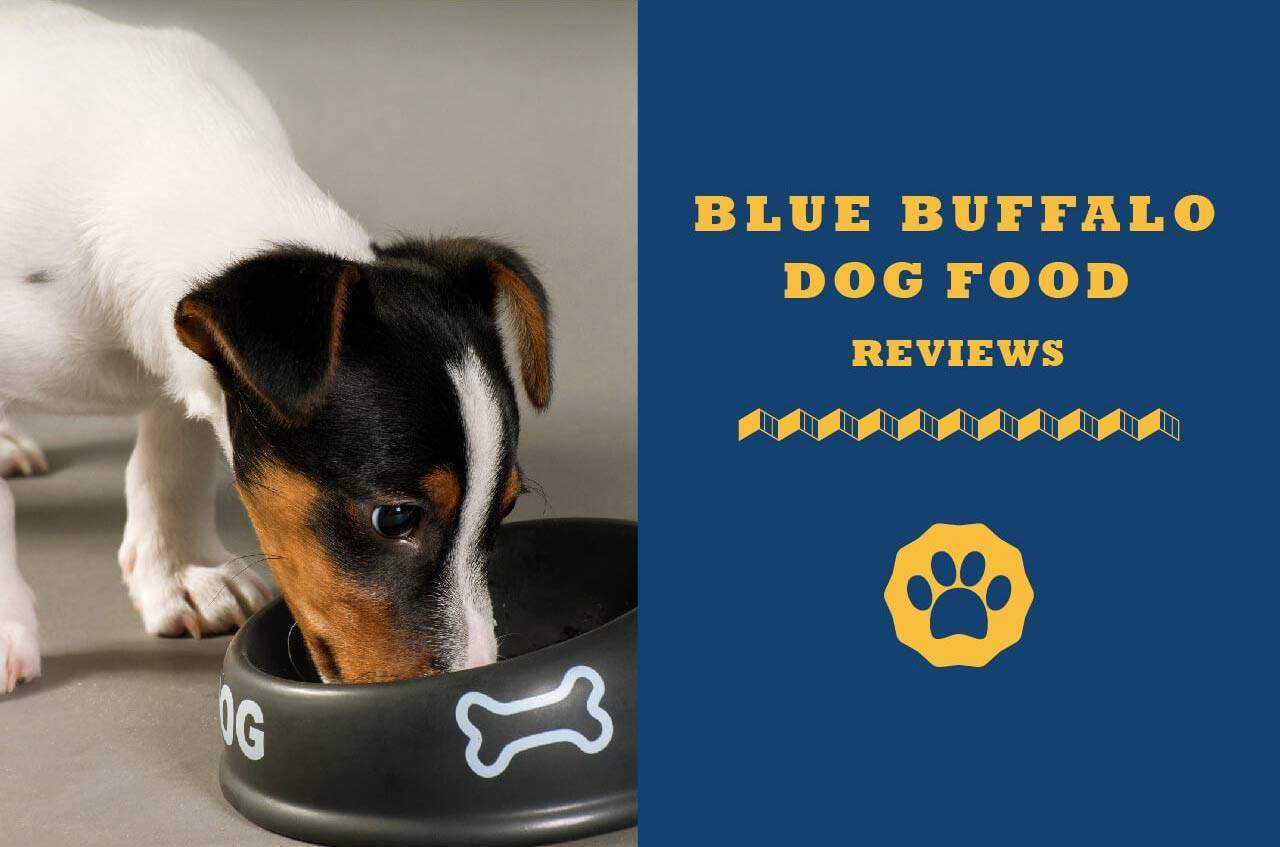 Of the many things that contribute to the well-being of your pooch, nutrition sits at the top. It's great that lots of doggie parents are well-informed about this now than years before when information on ingredients and their nutritional value was hard to come by.
I'm pretty sure you have a clue as to what a healthy diet for your pooch should look like. Remember, for your pooch to be at her best, lively self and provide you with companionship for many years to come, her health has to be in peak condition.
Thanks to brands like Blue Buffalo that make quality pet food for both cats and dogs, this feat is not as hard to achieve. Your furry buddy can always get her nutritional needs met as she goes through various life stages from a tiny pup to adult moving on to her senior years.
In this dog food review, I'll delve into what makes Blue Buffalo the go-to brand for tasty, healthy and wholesome dog foods curated to bring out the best in your mutt.
Then, later on, I'll take a look at a few blue buffalo dog food reviews so that you can see what an amazing range of taste, variety, and value you and your pooch stand to experience when you opt for this brand.
AT A GLANCE:
Our 4 Best Blue Buffalo Dog Food
An Overview of the Best Blue Buffalo Dog Food
IMAGE
PRODUCT

Contains quality source of animal protein
100 percent grain-free
Loaded wuth antioxidants, minerals, and vitamins helps boost the immune system

VIEW LATEST PRICE →

Contains a right proportion of animal protein, carbs, veggies, as well as vitamins and minerals
Packed with antioxidant ingredients known as life source bits
Helps with digestion

VIEW LATEST PRICE →

With a crude protein content of 34 percent
Loaded with high energy carbs such as potatoes, peas, and tapioca starch
Omega-3 and omega-6 fatty acids

VIEW LATEST PRICE →

Omega-3 and omega-6 fatty acids
Promotes strong immune system
Easy to digest

VIEW LATEST PRICE →
How Good Is Blue Buffalo Dog Food?
Given the countless mediocre dog food manufacturers in existence today, one has to really question how reputable a brand is.
In the case of Blue Buffalo, their track record speaks for itself. Their brand philosophy is simple yet powerful. They believe that your pets are part of the family and they should be treated as such.
For them, there is no better way to do this than through feeding them quality food made from top-notch ingredients. It is this philosophy that forms the basis and care that goes behind crafting the Blue Buffalo line of pet foods.
If you'd love to see how all these began, watch the video below:
Labeling
Through their website, Blue Buffalo strives to educate doggie parents on subtle differences and tricks often used in the industry to mislead consumers to unwittingly buying less value than promised.
They do not use ambiguous wording when it comes to describing the ingredients on their labels. You will never find phrases such as poultry, poultry by-products or animal fat. Instead, they use definitive quality ingredients such as real chicken meat and turkey as a protein source.
Quality Proteins
Quality animal protein as a first ingredient is the recurrent theme across all Blue Buffalo dog food recipes. This forms a firm nutritional foundation for your pooch as animal protein is a vital building block for cells, tissues, enzymes, hormones, and antibodies.
Equally important is that animal proteins also help in repair, growth, and maintenance of muscles as well as the provision of energy.
Recognizable Fats
This brand also uses recognizable fats such as chicken fat, which is a high-quality source of fatty acids. They make sure that the nutritional value promised is exactly what your pooch gets.
Complete & Balanced Nutrition
Blue Buffalo ensures that all six nutritional classes that are vital in a dog formulation are represented in order to provide your pooch with the wholesome, healthy, and tasty food that she loves and deserves.
All the recipes include:
High quality, identifiable real meat animal protein such as chicken or turkey
Quality animal fat such as chicken fat rich in fatty acids
High energy digestible carbs
Vitamins
Minerals
Water
Recall History
Although not many, there have been instances when this brand has had to recall some of its products. For instance, on March 18th, 2017, the company recalled a batch of Blue Wilderness Rocky Mountain recipe for adult dogs. The reason behind the recall was because of a batch that was suspected to contain high levels of naturally occurring beef thyroid hormones.
On February 14th, 2017, they also issued a recall on their Blue Buffalo Homestyle Recipe of chicken and garden vegetable. The reason for this recall was because a batch of the mentioned products was suspected to contain aluminum metal.
On March 3rd, 2017, Blue Buffalo issued another voluntary recall for their Blue Wilderness 3.5-ounce trail tray. The recall was due to a quality shortfall on the foil seal on the top of the trays.
All these recalls can be viewed positively because they show the company's vigilance and readiness to act in the event of any suspected shortfall in a product's standard that would be harmful to your pooch.
Although manufacturing standards may be high, issues, like the ones mentioned ones, are bound to occur.
For a doggie parent, it is reassuring to rely on a brand whose product vetting standards are high enough to detect and arrest such issues before they harm your pet.
Besides, there are plenty of Blue Buffalo reviews, including on shopping websites such as chewy.com, where you can get more proof of their competence.
Best Blue Buffalo Dog Food: Reviews
Now let's have a look at a few highly-rated and well-known Blue Buffalo recipes that you may want to give a try: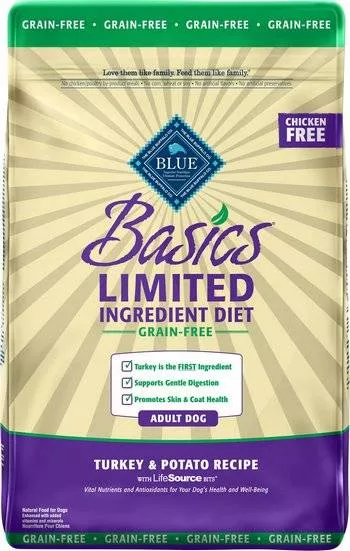 Blue Buffalo has done a good job of creating a limited ingredient diet that is tasty yet simple enough (in terms of ingredients) for a sensitive stomach, without compromising on the nutritional value.
For dogs that are averse to eggs, dairy products, grains and other meats such as beef and lamb, this recipe could work for your pooch as the first ingredient is turkey. Deboned turkey is not only tasty to your mutt's palate but is also a quality source of animal protein that allows lean muscle growth in your pooch.
When you have a pooch with diet sensitivities such as allergies, a single source of animal protein is much easier on her digestive system and can serve to help you easily eliminate what protein sources might be triggering her allergies. That's the other feature that makes this recipe special.
Also, in case your pooch is gluten intolerant or is unable to digest grains such as wheat, soy or corn, you will be pleased to know that this formulation is 100 percent grain-free.
Fatty acids such as omega-3 and omega-6 are indispensable if you expect your pooch to have healthy skin and a luxurious coat. The combination of canola oil, flaxseed and fish oil in this recipe forms a rich profile of fatty acids that your mutt stands to benefit from.
The recipe is balanced out by the presence of pumpkin for taste and better digestion while a blend of antioxidants, minerals, and vitamins helps boost the immune system. To get one for your pup, visit chewy.com.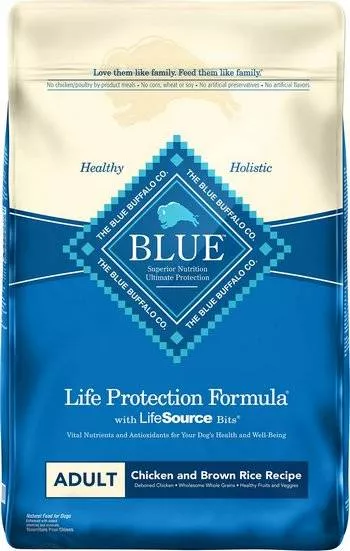 For your furry buddy to enjoy a gorgeous life, it means she has to be on a healthy diet that can keep her at her very best. This goes all the way from having a glossy skin to packing the right mass as well as maintaining optimal weight in respective dog life stages.
This recipe has been crafted to ensure that your pooch's mealtimes are something to look forward to while addressing all her nutritional needs. It does this by having the right proportion of animal protein, carbs, veggies, as well as vitamins and minerals.
With chicken as the first ingredient, your pooch will not only love the meaty taste but will also benefit from lean muscle development. Chicken meal has also been included in this formula to reinforce the protein content for better muscle development.
The fact that chicken meal is a rich source of glucosamine and chondroitin means you can expect your pooch to gain better joint mobility as well as stronger bones and teeth.
Another thing that sets this formula apart is the blend of enhanced precise nutrients that comprise of a super seven package of antioxidant ingredients known as life source bits. The chelated minerals and vitamins in this blend of life source bits promote a healthy immune system in your adult pooch as well as pups.
Veggies such as kelp and spinach help with digestion in addition to a more flavorful meal. Other ingredients, like garlic, are very helpful not just in flavoring but also in systematically discouraging ticks and other blood-sucking parasites on your mutt.
What's more, the cranberries and apples round out the recipe to form a balanced diet that your mutt will love. To order yours, visit chewy.com as they have the best offers.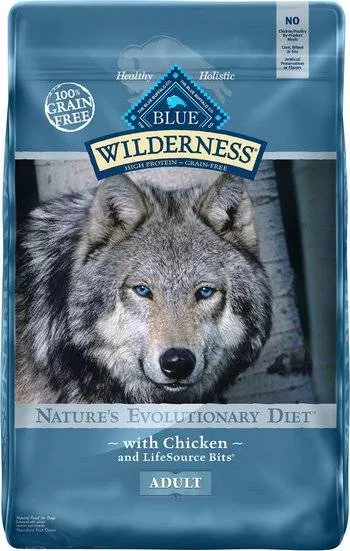 If your dog is the kind that requires a high protein diet, this formula might just be the right fit for her. That includes athletic dogs, herders, or those that accompany you for your jogs on a regular basis. With a crude protein content of 34 percent, you know you have the right recipe in this one.
Crafted for activity intensive dogs, the recipe is packed with vital animal protein for better muscle development, repair, and energy replenishment.
Ancestral dogs fed on more meat, fewer carbs and a bit of veggies and berries for optimal health. In a sense, this Blue Buffalo recipe mimics that sort of diet—one packed with animal protein that ancestral dogs used to thrive on.
The animal protein in this dog food formulation comprises of deboned chicken, which has a great natural meaty taste and is essential for lean muscle growth and maintenance of a healthy body mass. The formula also contains chicken meal as well as menhaden fish meal in addition to dried whole egg which serves to bolster the protein content.
Your highly active dog is also set to enjoy healthy bones and mobile joints owing to the adequate levels of calcium, phosphorus, as well as glucosamine.
The inclusion of high energy carbs such as potatoes, peas, and tapioca starch ensure that your pooch has plenty of energy fuel to drive her activities.
Omega-3 and omega-6 fatty acids from menhaden fish meal and flaxseed see to it that your pooch's immune system is bolstered in addition to promoting healthy skin and coat.
Digestion is further enhanced and facilitated by the presence of chicory root as well as veggies such as kelp. Blueberries and cranberries top off the recipe for taste and vitamins.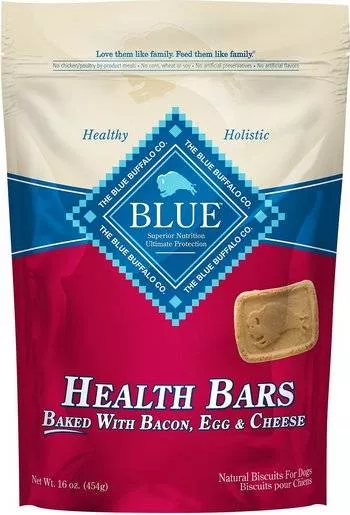 Just as the name suggests, this recipe is an ideal option for the pet parent who is really passionate about the health of their little furry friend. As you can guess, the formula is without any of the ingredients that can trigger allergic reactions in your dog. That includes wheat, corn, soy, and unhealthy artificial ingredients.
To give it a taste and texture your dog won't resist, the bars have been oven-baked, making them crunchy (which also helps to clean her teeth), plus they are formulated with egg, bacon, and cheese, all of which have a pleasant distinct flavor that pups love.
Although wholesome grains can be beneficial in a dog food recipe, they can also wreak havoc in your buddy's digestive system in the event she is grain intolerant. The alternative carb sources used in this recipe like oatmeal and barley are much friendlier on your dog's stomach because they are easily digestible all the while providing your mutt with the much-needed energy for play and doggy fun.
Also worth mentioning is the presence of omega-3 fatty acids and vital antioxidants, both of which enable the recipe to promote healthier skin and coat as well as a strong immune system.
If you'd love to give these healthy bars a try, chewy.com has you covered.
Conclusion
Generally, if your ideal brand is the kind whose consistency in quality is unmatched, Blue Buffalo is a choice you may want to consider. This is because their formulations, like the ones discussed above, start with the philosophy that your furry buddy is family and should, therefore, be fed as such.
With ingredients sourced within the US and a commitment to thorough labeling, you can be assured that your pooch is consuming quality food made with care and love. If you need more proof about the quality of each recipe mentioned above, the detailed Blue dog food reviews on chewy.com and other well-known online pet stores have you covered.
Although they've had several recalls in the past, Blue Buffalo has demonstrated responsibility in owning up to any shortcomings and have squarely addressed arising issues in order to make sure that the product that finds its way to your pet's bowl is safe and healthy.