Updated: October 14th, 2022
This article contains affiliate links. Read the full disclosure here.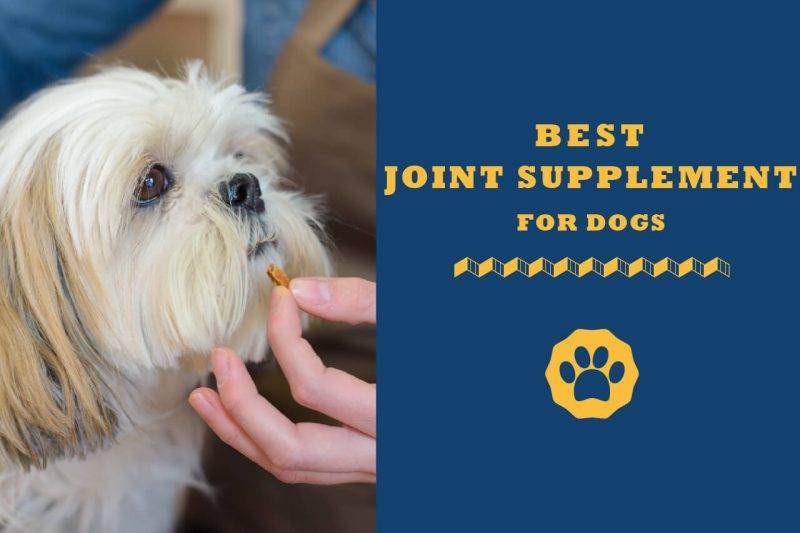 Guess what else your furry friend needs to stay healthy and happy?
A well-developed skeletal frame that is easily maintained by the best joint supplement for dogs that you can find.
Her bones and joints need to be in their best form so she'll be flexible and resilient, her mobility will be optimal, and she'll be at her best.
Sadly, joint health isn't guaranteed. Your seemingly healthy pup will grow up, and as time goes by, her healthy joints will probably begin to wear out.
Natural lubrication in the joints will drop, muscles will start to lose their flexibility, and joint pains will become common.
In other words, you'll have a new duty which is ensuring that your canine buddy has good bone strength. If you have an adult dog, this may already be something you need to think about.
Although most quality dog food formulations will have an adequate dose of calcium and a few other ingredients that promote bone strength, there is no way of telling for sure whether your pooch is getting enough or any at all.
Don't leave this to chance; it makes sense to go with joint supplements (more about them later in the article) for an easy solution that can't hurt your dog.
After thorough research, consultations with vets, and considering the reviews of fellow pet owners, here's what I found to be the best joint supplements for dogs:
AT A GLANCE:
Our 5 Best Hip And Joint Supplements For Dogs
An Overview of the Best Joint Supplement For Dogs
IMAGE
PRODUCT

Double-strength joint support ensuring that all breeds and sizes are catered to
Comes in tablet form to be easily administered whole
Prevents breakdown of existing cartilage and promotes growth of cartilage

VIEW LATEST PRICE →

Best for dogs with hip dysplasia

Helps ease discomfort in arthritic dogs
Great for small to extra large dogs
The kibble-sized soft chew is tasty

VIEW LATEST PRICE →

Best senior dog joint supplement

Supports overall bone and joint health
Helps bolster the immune system
Protects from allergies

VIEW LATEST PRICE →

Works for all breeds
Supports normal recovery after orthopedic surgery
Clinically proven to improve your canine's hind leg strength

VIEW LATEST PRICE →

Improves mobility and flexibility
Acts as a pain inhibitor and a natural antioxidant
Safe for your pooch as it is made from all natural and holistic ingredients

VIEW LATEST PRICE →
Best Joint Supplement For Dogs Reviews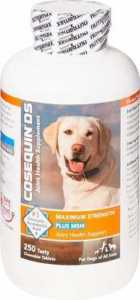 Click Here For Price
Adult dogs can be extremely active, from playing all day to jumping over fences and giving chase to your neighbor's cat or chickens just for sport. Supplementing their diet with this quality, double-strength joint support is a sound idea, because it's going to help them develop stronger bones and smoother joint mobility.
Key Features
Contains Methylsulfonylmethane (MSM), glucosamine, and chondroitin
Comes in tablet form
Safe and effective for all adult dogs, regardless of breed or size
Glucosamine, chondroitin sulphate, and MSM, all active ingredients in this supplement, work in tandem to strengthen your dog's bones and to promote better joint mobility.
Pros:
Double-strength joint support ensuring that all breeds and sizes are catered to
Comes in tablet form to be easily administered whole or ground and disguised in your dog's food
Prevents breakdown of existing cartilage and promotes growth of cartilage
Cons:
Can be harmful to humans and should be kept out of reach of children
This product is well-formulated to provide the adequate joint support that your active adult dog deserves, making it the best overall product on this list.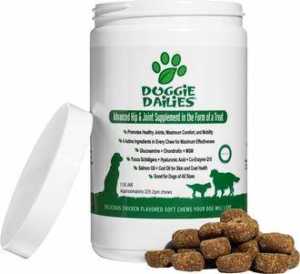 If your pooch is suffering from joint ailments such as painful arthritis and hip dysplasia, then this is one supplement that should be a staple on your doggie's shelf of must-haves. This advanced hip and joint supplement is formulated to bring swift relief to your dog's joints and to make sure that the bones are nourished and strengthened.
Key Features
Contains powerful active ingredients like yucca, schidigera, and hyaluronic acid
Laden with essential vitamins such as cold liver and salmon oil for a healthier coat
Tasty chicken flavor that dogs love
Dogs can be finicky about what they eat, but you can be sure that your pooch will not have any issues about this soft, chewy, chicken flavored joint support supplement. You can administer it daily, and your pooch will actually look forward to this like it was a tasty treat.
Other than great taste, this product comes laden with helpful ingredients such as chondroitin sulphate, glucosamine with MSM, energy supporting co-enzyme Q10, as well as salmon and cod oil.
These ingredients help it to deliver more than just strong bones and mobile joints; expect healthier skin and a shinier coat as well.
Pros:
Helps ease discomfort in arthritic dogs and those suffering from hip dysplasia
Does more than strengthen bones and joints by promoting healthier skin and shiny hair (see our top recommended skin and coat supplements for dogs)
The kibble-sized soft chew is tasty which makes it easy to administer daily
Great for small to extra large dogs, including puppies
Cons:
Has to be administered on a daily basis
This Doggie Dailies supplement's ability to offer multiple health benefits together with the pooch-approved chicken flavor are among the great features that make it worth your bucks.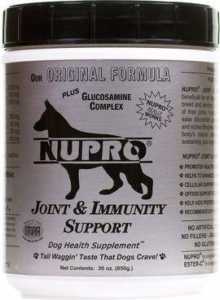 Click Here For Price
Understanding the physiological functions of your pooch can help you better manage his health. For instance, as your pup grows older, you want to supplement his diet with glucosamine and chondroitin sulphate to ensure that his bones and joints remain functional.
This is particularly helpful if your pooch is moderately to extremely active such as is the case for guard dogs, working dogs, police dogs, or show dogs. This is where this Nupro supplement comes in, as it's designed to help such dogs stay in optimal shape.
Key Features
Contains active ingredients such as glucosamine complex, MSM, and Ester-C Chelated Mineral Blend
Contains no preservatives, sugars, corn, or wheat
Designed to work with a variety of dogs, from seniors and large breeds to active, show, and working dogs, etc.
This supplement is fit for use by dogs of all sizes and breeds, even when they do not suffer from any joint ailments.
But if your dog, especially in the case of a senior dog, suffers from complications such as low Glucosamine complex and Ester-C levels, this supplement is ideal for them, as it has balanced ingredients that promote normal joint structure, function, and flexibility.
Pros:
Supports overall bone and joint health
Helps bolster the immune system and supports normal inflammatory responses
Protects from allergies while supporting proper glandular function
Glucosamine helps in the generation of synovial fluid, which lubricates the joint in active and senior dogs
Cons:
Can cause gastrointestinal upsets when administered before your pooch has eaten
For resilient bones, smoother joints, stronger muscles, and healthy connective tissues, consider this formulation a great place to start. It's likely to work with your dog due to its versatility, plus it offers multiple benefits for less, a fact that makes it the best value in this review.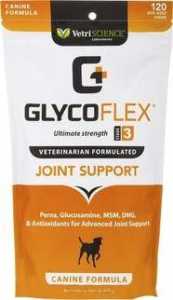 This is a go-to supplement product for joint health. It is versatile and beneficial for active dogs as well as those that show signs of aging and have age-related joint issues.
Key Features
Clinically proven to work
Tasty, bite-sized chicken flavored soft chews
Relieves discomfort from aging joint related aches
Formulated to work with puppies as well as adult dogs
This supplement is designed to augment your dog's bone and joint health. The formulation consists of balanced ingredients such as glucosamine, chondroitin sulphate, MSM, and perna canaliculus. All of them work in tandem for superior joint care.
Pros:
Clinically proven to improve your canine's hind leg strength up to 41% in just four weeks
Works for all breeds as well as for puppies, adult, and senior dogs
Supports normal recovery after orthopedic surgery
Cons:
Some dogs find it less palatable
Administering this supplement is super easy, not just due to the fact that it's bite-sized, but also because it has a real chicken flavor that most dogs will be glad to swallow. In addition to revitalizing bones, joints, and cartilage, the supplement also does a good job of helping your pooch recover after any orthopedic surgery.

As your pooch grows older, you will need to pay extra attention to caring for her bones and joints. Using a quality supplement like this one allows your dog to have better recovery of joints, bone, and connective tissue after a hard day's work.
Unlike many other joint support supplements in the market that come in either powder or tablet form, this one is a liquid which makes administering it even easier, plus it works faster.
Key Features
Safe, with all natural and holistic ingredients
Promotes resilient bones and joints as well as healthier nails, skin, and eyes
A natural antioxidant that prevents swelling and inflammation on joints
Comes in liquid form
Using such a supplement will give your dog better bone and joint strength. This is as a result of the active ingredients, like glucosamine, chondroitin, hyaluronic acid, and MSM, which also provide swift pain relief from joint conditions like arthritis.
Pros:
Improves mobility and flexibility as result of revitalized bones, joints, and connective tissue
Safe for your pooch as it is made from all natural and holistic ingredients
Acts as a pain inhibitor and a natural antioxidant
Being in liquid form means it can be absorbed faster to bring natural relief from arthritic pain
Cons:
Although made from natural ingredients, this product may be harmful to other animals and should be kept out of the reach of kids
For faster action, effective results, and easy administration, TerraMax Pro Extra Strength Dog Hip & Joint Supplement is your best bet.
What Are Dog Joint Supplements?
A dog joint supplement is a combination of ingredients that help your dog with joint health. They promote good joint strength and give your dog's skeletal structure integrity to handle its weight and active lifestyle.
A significant dog population suffers from hip and joint ailments, and as such, a huge percentage of dogs don't live their best lives because they tend to struggle with even the most mundane activities.
Although hip and joint pain in dogs is not a life-threatening condition, it is debilitating.
To combat joint pain and degeneration, it is best to start your dog on the best joint support for dogs before the condition begins to manifest. You can find out if your dog is at risk of developing joint pain from your vet. Most dog foods contain ingredients like glucosamine which promote joint health but in smaller concentrations compared to the supplements.
After consulting with your doggie's vet and checking out helpful dog joint supplement reviews like this one, you can find the right supplement to add to your pooch's daily diet.
Because these supplements contain a myriad of ingredients, it is crucial to understand what each ingredient offers and the correct quantities for canine consumption. Continue reading to see the most common ingredients and their benefits.
Why These Supplements Are Helpful
Just like humans find joint supplements useful for bone and joint wellbeing, dogs also need them. In dogs, hip dysplasia and arthritis are the common culprits afflicting joint health.
Also, dogs that have suffered from joint injuries are vulnerable to joint pain. The best hip joint supplement for dogs will reduce continued wear and tear on the joints. The supplements help lessen the pain in the affected joints, combat inflammation and strengthen the joint.
Some ingredients help the body build up components like cartilage, increase fluid in the joint, or prevent the breakdown of these components in the first place.
When To Use
Dog joint supplements should be a staple for any dog at risk of joint ailments. They can also be used once your dog has developed the condition in order to manage it and improve her mobility. The supplements can prevent stiffness in the joints, resulting in your pooch being able to exercise again (mildly, of course).
Dogs with hip and joint pain cannot exercise which inevitably results in additional health issues from being overweight. A dog in pain cannot interact normally with you or others around her. She may become aggressive because of the consistent pain in her joints.
By using joint supplements and alleviating the pain, she is able to live above the haze of pain and enjoy life with you and her loved ones.
Finally, a lot of doggie parents wonder "at what age should I start giving my pet joint care supplements?" This depends on the breed you have and their predisposition to early or severe forms of arthritis, joint inflammation, and hip/elbow dysplasia.
The recommended age by vets is about one year old, which is when growth in their bodies stops. Breeds like golden retrievers, rottweilers, pitbulls, pugs, Saint Bernards, Shih Tzus, Labradors, great danes, German shepherds, dachshunds, French bulldogs and bloodhounds, among many others are at a greater risk of joint ailments.
It is, therefore, imperative to begin giving these breeds the best dog supplements for joint before they reach their senior years. Supplements are more beneficial when taken before a condition develops.
Symptoms Of Hip And Joint Pain In Dogs 
Dogs tend to hide pain and injury unless it is very severe, because they still have the pack mentality where they are afraid of being left behind or picked on if they show weakness. However, you can tell when your baby is struggling by looking out for the following:
Lameness 
This manifests as an unusual or abnormal gait or standing position. In the early days, you dog will strive to continue walking, albeit slower and with longer rest periods, but later she may not move at all. This is usually accompanied by repetitive licking of the affected area.
Inactivity
Reluctance to exercise or play as usual is a clear sign that something is wrong. Combined with refusal to walk completely or trouble rising from her sitting position should be further investigated.
Swelling 
Swollen joints can be detected by feeling the area around the joint. Visually, you can sometimes see the swelling and your dog may whine or pull away when you touch the joint area. A visit to the vet will show the extent of the joint effusion.
Noise In The Joint
Sometimes you may hear an abnormal sound from the dog's joint. The noise is known as "crepitus", and it occurs when irregular surfaces inside the joint rub against each other. The sound is grating or popping.
Muscle Atrophy
This is the wasting away of muscle in the affected area. It is a noticeable decrease in muscle mass caused by lack of exercise and movement which are both results of joint pain.
Why Dogs Develop Joint Issues
Dogs develop poor joint health as a result of several conditions due to genetic predisposition, age, or trauma. These include:
Osteoarthritis
This condition diminishes the cartilage in your dog's joints that provides cushioning for her bones. With less cartilage, there is an increase in friction on the bones, resulting in pain and inflammation. Large breeds, highly active dogs, and overweight pups are a greater risk for this condition.
Rheumatoid Arthritis
This form of arthritis is an autoimmune disease which occurs commonly in young and middle-aged dogs. Your pooch's immune system attacks the tissues in her joints causing pain and inflammation. It is also characterized by lethargy, elevated temperature, and both pain and stiffness occurring simultaneously.
Trauma
Injuries to tendons or ligaments can result in permanent joint damage. Tendons attach bones to muscles, while ligaments attach bones to bones. Depending on the severity of the injury, your dog can suffer moderate pain or lameness that leads to complete immobility.
Some breeds that are highly active and adventurous are prone to such injuries due to the nature of their play and exercise. Playing carefully or having boundaries to prevent your dog venturing into treacherous territory can help avoid trauma and joint injury.
Hip And Elbow Dysplasia
This is a congenital disease that can be found in the family tree of your pooch. It is as a result of poorly formed joints which tend to be unstable and painful. Although it is hereditary, not all dogs along the family tree will end up with the condition.
Science hasn't been able to determine the exact factors that cause it to develop in some and not in others.
Types Of Supplements 
The four common forms of dog joint supplements available today include:
Liquid Supplements
These should be poured over your dog's food only at mealtime. Unfortunately, they feature less ingredients but may be flavored to increase their palatability. They come with a measuring cup for proper proportions and some may require refrigeration.
Tablets
Tablet supplements are a great option for dogs that are finicky eaters. They have no taste and are designed for easy swallowing. Some owners just place the pill in the mouth and encourage the dog to swallow while others bury it in a treat and give it to the dog.
Chews
You can buy supplemental joint chews, which are treats that contain joint supplements. The best dog treats for joint health tend to be more concentrated than liquid or powder supplements.
Powders
Like liquids, you sprinkle the correct measurement onto your pup's food or water. They also contain a limited number of ingredients. However, note that discerning dogs may taste the powder and refuse to eat.
Popular Supplement Ingredients And Their Main Benefits 
Here are the ingredients you should look for in dog joint supplements, plus the roles they play:
Glucosamine
Glucosamine helps the body to produce certain types of cartilage as well as tendons and ligaments. Supplements containing glucosamine are best for promoting the production of new cartilage and supporting tendons and ligament growth. It is harvested from shrimp, crab, and other crustacean's exoskeletons.
Omega Fatty Acids
Not only do omega fatty acids aid in bone and joint health, they are also crucial for a dog's eye development. Their major function in dog food joint supplements is to reduce inflammation in the joint during flare ups.
They are particularly useful for dogs suffering from osteoarthritis, hip/elbow dysplasia, and trauma to the joint and are derived from salmon, flaxseed, soybean oil, and green-lipped mussels.
Chondroitin Sulfate
This ingredient helps with the development of certain types of cartilage, and it also offers protection to the joints, reducing the amount of future damage. It blocks destructive enzymes from wreaking havoc on joints. There is naturally occurring chondroitin in dogs, but with age they produce less, leaving them vulnerable. This ingredient comes from bovine products.
Methylsulfonylmethane (MSM)
MSM is a pain reliever that is naturally produced by both dogs and humans. It is crucial for reducing pain associated with joint ailments, and it also has anti-inflammatory properties.
Hyaluronic Acid
This ingredient provides much-needed lubrication in the afflicted joints. As a result, movement is less strained and painful. It is a component of synovial fluid, the pale yellow to clear fluid that is found in joints. It nourishes and lubricates specific joint parts.
Other Ways You Can Help Your Pooch
Apart from supplements, there are other ways to help alleviate joint pain, including:
Anti-Inflammatory Diet
By adding anti-inflammatory foods into your dog's diet, you reduce the chances of inflammation flare ups in her joints. Of course, this must be done with the approval of your vet and after testing the foods on your pup for allergies. Consider fruits like papaya or veggies like celery and alfalfa. Ginger is also an excellent anti-inflammatory food.
Weight Management And Exercise
An overweight dog places a lot of strain on her joints carrying around all that excess weight. If she is predisposed to joint ailments and is overweight, that's a recipe for disaster.
Strive to keep your pal within the ideal weight ranges and even if she is arthritic, the condition can be better managed with mild, gentle exercise and a healthy diet. You can play on a soft carpet for shorter periods of time, but keep it frequent or take short walks to alleviate stiffness in the joints.
Physical And Laser Therapy
There are medical facilities that provide advanced therapeutic services for dogs with mobility problems. Hydrotherapy is one form of physical therapy that helps dogs with arthritic pain, and you can learn from the experts how to continue the physical therapy at home.
These facilities also offer laser therapy where low-level laser treatment is used to alleviate inflammation and relieve pain. The treatments are painless and fast.
An Orthopedic Bed
If your dog is sleeping on an ordinary mattress that offers no support to her joints, she is likely to have more flare up and get less sleep. Invest in an orthopedic mattress that offers excellent support for your dog's joints and pressure points all over the body. The result is better rest and less pressure on already sore joints.
Conclusion 
As a pet owner, you must make a concerted effort to find out about your dog's joint health with scheduled vet visits and good old keen observation, taking note of changes in mobility or behavior.
If she does end up having joint issues, take hope in the fact that there's a great solution to solving and improving her joint problems. These joint supplements have time and again lived up to their promise.
Nutramax Cosequin Maximum Strength (DS) Plus MSM Joint Health Supplement, in particular, stands out because of its simplicity as a joint supplement and efficiency in delivering excellent results, regardless of the joint problem your dog is facing. Its ability to support general wellbeing of your dog is also evident in the thousands of positive reviews about it.
That's not to mean that the rest of the supplements listed are less effective. As you've probably noticed, each has an area where it performs best. If that matches your needs, you have found an ideal option.