Updated: November 11th, 2022
This article contains affiliate links. Read the full disclosure here.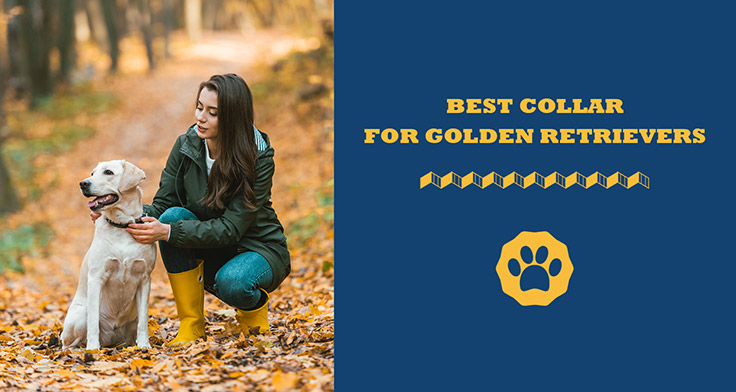 Finally, your dream came true. You are now a pet parent, but have you thought about getting the best collar for your golden retriever? It's actually right up there with a leash, high-quality food, water bowls, a brush, and toys.
Dog collars play a huge role in a dog's life. I'll be telling you more about that shortly.
For now, the more pressing questions are, what collar should you get for your four-legged friend, and how should you go about choosing one?
Choosing the right collar for your retriever can be confusing, especially for a first-time dog owner. There are all kinds on the market, so it can be tough to know which is right for you and your dog.
That's why we've put together this list featuring 10 of the best dog collars for goldens, along with some handy general buying tips.
You'll soon be picking out a collar like a pro!
AT A GLANCE:
OUR TOP 10 BEST COLLARS FOR GOLDEN RETRIEVERS
Overview Of The Best Collars For Golden Retrievers
We highly recommend looking at the comparison table we have below where we highlighted the features of each product.
IMAGE
PRODUCT
 

BEST OF THE BEST

Handmade and hand stitched
All solid brass hardware
Designed for your convenience

CHECK PRICE →

RUNNER UP

Flat and durable collar
Military style collar
Features 5 adjustable points

CHECK PRICE →

BEST DURABLE

High-density nylon webbing
Reflective threads
Water-resistant

CHECK PRICE →

 

Handcrafted using premium leather
Sturdy, beautiful and comfortable design
Water resistant and cleans easily

CHECK PRICE →

 

Fully adjustable design
Customizable
Simple side-buckle release

CHECK PRICE →

 

Higher degree of control
Durable nylon
Quick-snap buckle

CHECK PRICE →

 

Made of genuine American leather
Fashionable European style
Beautiful quick-release buckle

CHECK PRICE →

 

Made of eco-friendly safe nylon material
Can be personalized
Fully adjustable

CHECK PRICE →

 

High tensile strength
Uses a metal alloy buckle
Stylish design

CHECK PRICE →

 

Higher pulling strength
Reflective material
Comes with matching sets

CHECK PRICE →
Top 10 Best Collars For Golden Retrievers: Reviews
We've compiled this list featuring 10 of our favorite collars for goldens.
That said, there are a lot of great collars out there, so if you don't fancy any of the collars on this list, take a look for yourself. It's always a good idea to search online reviews or ask for recommendations from your local pet store, as this will give you an idea of the collar's quality.
This soft leather golden retriever collar comes in black or brown with a cream inner. What we like about it is the good amount of soft padding on the inside, so it's comfortable for your dog.
It also has a strong brass buckle fastening and D-ring, both of which are stitched in well and should be secure even if your dog pulls hard on the lead (that said, if your golden is a habitual puller, it's better to attach their leash to a head collar or harness to avoid neck damage).
In size large, this collar is 1.5 inches wide and fits necks with a circumference of between 18 and 21 inches, which should be sufficient for most retrievers.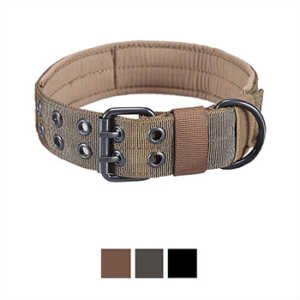 This stylish collar is made from extremely durable nylon, with comfortable padding on the inside.
It comes in three colors: a nice coyote brown, ranger green, and black, and has badass metal buckles and reinforced holes, making it stand up to plenty of wear and tear.
Another feature is a panel that you can embellish with patches and whatnot to make the collar unique.
The large size fits necks of between 17.7 to 20.9 inches.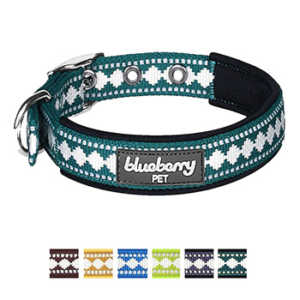 This neoprene dog collar from Blueberry Pet is tough and extremely durable, while still being soft and comfortable for your dog. The interior is even padded to provide extra comfort.
Although this is a fairly basic collar, what we like about it is the choice of colors in an attractive jacquard pattern and the fact it has some reflective stitching, which makes it great for late-night walks.
The large size should fit most goldens, as it's designed to fit necks of 17 to 21 inches in circumference, but, as ever, we'd recommend measuring your dog's neck before making a purchase.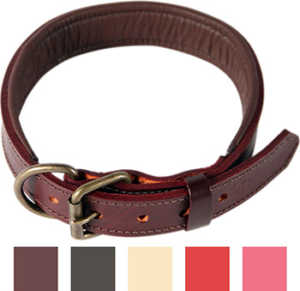 This golden retriever collar is handcrafted using premium leather and a comfortable padded lining. It's also handmade in the USA, which is perfect for those who like to buy American. The hardware is also sourced in the USA, and is tested for durability.
It is easy to clean, sturdy, and just plain gorgeous.
The large size of this collar is 1.38 inches wide and fits necks with a circumference of up to 21 inches. They have an even bigger size that's 1.5 inches wide and 27 inches long.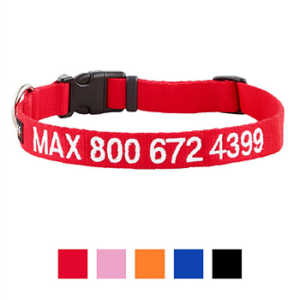 Because ID tags can be lost or damaged, this personalized dog collar is easily one of the best for goldens – or any other dog, for that matter!
This custom collar comes in five popular colors and is personalized with details that make it easier for a lost pet to find their way home. Fourteen different thread choices let you customize even more.
With a comfortable, fully adjustable design, a simple side-buckle release, and a D-ring for attaching tags, reflectors, and more, this collar is available in sizes to fit both puppies and adult dogs.
Golden retrievers are active dogs known to be very energetic and playful, which is great, but this can be frustrating when you lack a collar that can help you control your dog. Don't sweat it, though, because this PetSafe collar will give you that much-desired control when taking walks, jogs, hikes, and even during play sessions.
When your golden tries to pull, the collar will tighten to prevent them from escaping or slipping out. And when your pup finally stops, the collar will loosen and stay on comfortably. But you don't want to tie out your dog or leave them alone during playgroup sessions because this collar can cause injury.
Different sizes are available, but for your retriever, I would recommend the large option with a 13- to 20-inch neck size.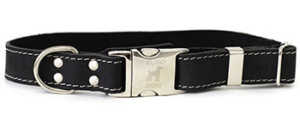 Even though the name says 'Euro', this dog collar is made out of genuine American leather that's soft and comfortable for your spirited retriever. Polyester was also thrown into the mix to add to the comfort.
Still, that wasn't enough for protection so the manufacturer added an extra leather tongue to ensure your dog doesn't suffer any kind of injury from the collar.
You also have a buckle that is made of steel and very quick to fasten and release, which is exactly what you want for those moments when you are in a hurry.  As for the neck size, the range is wide enough to accommodate your golden.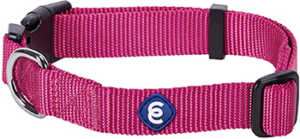 Here goes another Blueberry Pet collar that's more affordable yet just as functional as most of the collars on this list. It's designed to last and make walking with your dog a memorable experience.
It's good to see that this collar is made of eco-friendly nylon material to make it safe both for the environment and your dog.  However, it's not fit for tie-out so be careful not to leave your dog alone whenever they have it on.
Neck size ranges from 18 to 26 inches, and to ensure it fits your retriever properly, the manufacturer has made it adjustable. You also have lovely color options to choose from.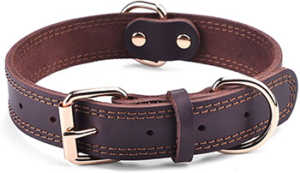 No matter how strong your retriever is, they won't destroy this durable collar. It's one of the toughest collars on the market and at the same time comfortable enough to guarantee enjoyable walks with your dog.
Unlike the other collars, this one uses a metal alloy buckle that you can adjust to fit your golden, whether it's a puppy or an adult. But the favorite feature for many is the stylish design, with two color options: brown and black.
When it comes to size, I recommend a large, which is 1.2 inches wide and can accommodate any neck size between 17 and 23 inches.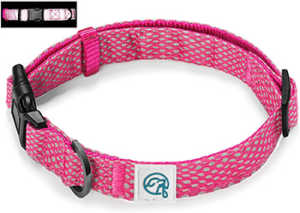 Embark does not disappoint. Looking at this colorful dog collar, you can clearly see its unmatched craftsmanship, design, style, and functionality.
It's not just the greater pulling strength you will like; this collar is also totally safe to use both during the day and at night or in dimly lit environments. You won't lose sight of your pet due to the reflective material.
You can buy it alongside a matching harness or leash to complete the look and style.
What Is A Dog's Collar For, Anyway?
This might seem like a silly question, but it's good to start with the basics! What is a dog collar for and why do they need one?
One of the primary purposes is to attach a leash for walking their dog. However, not everyone walks their dog with a collar. Many pet parents opt to use a dog harness or halter to walk their golden, as it can offer more control or increased comfort for the dog. So, does your pup still need a collar? In short, yes.
The main reason your dog should always be wearing a collar when they're out is so that if they get lost, they have an ID tag with your name, address and contact details on it.
Your pup should be wearing a tag even if they're microchipped, because any good Samaritan can read this info, whereas your pup would have to be taken to a vet's office or animal control to have their microchip read. In some areas, it's even a legal requirement for your dog to be wearing this kind of tag.
In places where licensing your dog is an option – or a requirement – you'd also need to affix the license to their collar.
Some dog owners will also use bark collars to control their dogs' excessive barking habits.
Buying Tips For Your Golden's Collar
When you go to pick a collar for your golden retriever, don't just grab the first one you see that seems suitable enough. Put some thought into picking a collar that's going to be safe and comfortable for your dog.
Choose a dog collar of an appropriate size and weight. The exact choice will depend on your pup. For instance, if you have a puppy, a thinner, lightweight webbing collar is best, whereas, for an adult golden, you want something strong enough that's still going to be comfortable.
Pick a regular flat or rolled dog collar. We absolutely would not recommend using any sort of correctional collars, such as a choke chain or prong collar. Not only are they generally inhumane and not in keeping with a positive reinforcement approach, but they can also do some nasty damage to your dog's neck and windpipe.
Select your fastening of choice. Most collars have either snap or buckle fastenings. There's no right or wrong choice here, so select whatever you prefer. That said, for a puppy, snaps can be better as they make it quicker and easier to get the collar on and off.
Make sure you get a well-fitting collar. If you're buying a collar for a young dog, make sure you get one that fits well now, not something they can grow into. As said above, you should measure around your dog's neck before buying so that you get a collar that fits correctly. For a comfortable fit, you should be able to get two fingers in between your dog's neck and the collar.
Frequently Asked Questions
Should your golden retriever have a flat or rolled collar?
When it comes to regular snap or buckle collars — which we believe are the best, safest and most humane options for your canine companion — there are two main types: flat and rolled. So, which is best for a golden? The jury's out on this one, but we'll go through the arguments.
Some people claim that rolled collars are the best option for long-coated dogs because flat collars can rub long fur and cause breakage. The more collar in contact with the coat, the higher the chance for fur damage.
However, other people use flat collars on long-coated dogs and report no rubbing away or breaking of fur whatsoever.
If you're planning on having your golden wear their collar all day, we'd recommend going with a rolled collar, to minimize the chance of damage to their fur.
On the other hand, if your dog only wears their collar when out on walks, it's unlikely a flat collar will break their fur. In which case, choose whichever variety you prefer.
How wide should your golden's collar be?
As a large breed, goldens need fairly wide collars. This is for reasons of both strength and comfort.
When choosing a flat collar, pick one that is at least 1 inch wide, but probably no more than 1.5 inches.
Rolled collars are measured according to the width of the material before it's rolled. Again, a width of between 1 and 1.5 inches is ideal, but don't be surprised that the rolled part is actually thinner than this.
What size collar is best for a golden retriever puppy?
The ideal length of collar for your retriever will obviously depend on the circumference of your dog's neck.
Depending on various factors including age, weight, muscle mass, and more, the size of a golden's neck can vary by quite a large degree. But the average neck size is 18″ to 22″, though it can go as low as 15″ and as high as 24″.
Your best bet is to measure around your dog's neck with a cloth measuring tape. Remember, that the fit of a collar shouldn't be pulled tight, you should be able to fit a couple of fingers between your dog's neck and their collar.
Bear this in mind when doing the measuring so that you get a good fit.
Is a collar or harness better for a golden retriever?
Both are great for your dog. But as I told you earlier, a harness does more. You could use it when going for walks, hikes, or jogs with your dog and also for training. Collars, on the other hand, are mostly great for walks and very convenient to use when your dog is already trained.
Are shock collars good for golden retrievers?
Shock collars can help to suppress unwanted behaviors, but not all of them can do this in the right way. There's also the issue of negative reinforcement, which experts argue can lead to fear, aggression, and anxiety in your dog. If you are eager to learn more about shock collars, how safe they are for your dog, and which options to buy, speak to your vet.
Which is the best collar for a dog that pulls?
For a dog that pulls, the best collar is the one you can fasten more securely around their body without hurting them. Make sure it is also made of materials that are tough yet soft and comfortable enough not to irritate or injure your pup whenever they try to yank the leash from your grip.
Last Word
There isn't one single dog collar that's head and shoulders above the rest. Any from the above list of 10 best dog collars for golden retrievers would do nicely, and there are also more good options out there.
As long as you follow our buying tips and make sure the collar is sturdy enough for your golden and fits them nicely, you should have a good dog collar on your hands.