Updated: October 14th, 2022
This article contains affiliate links. Read the full disclosure here.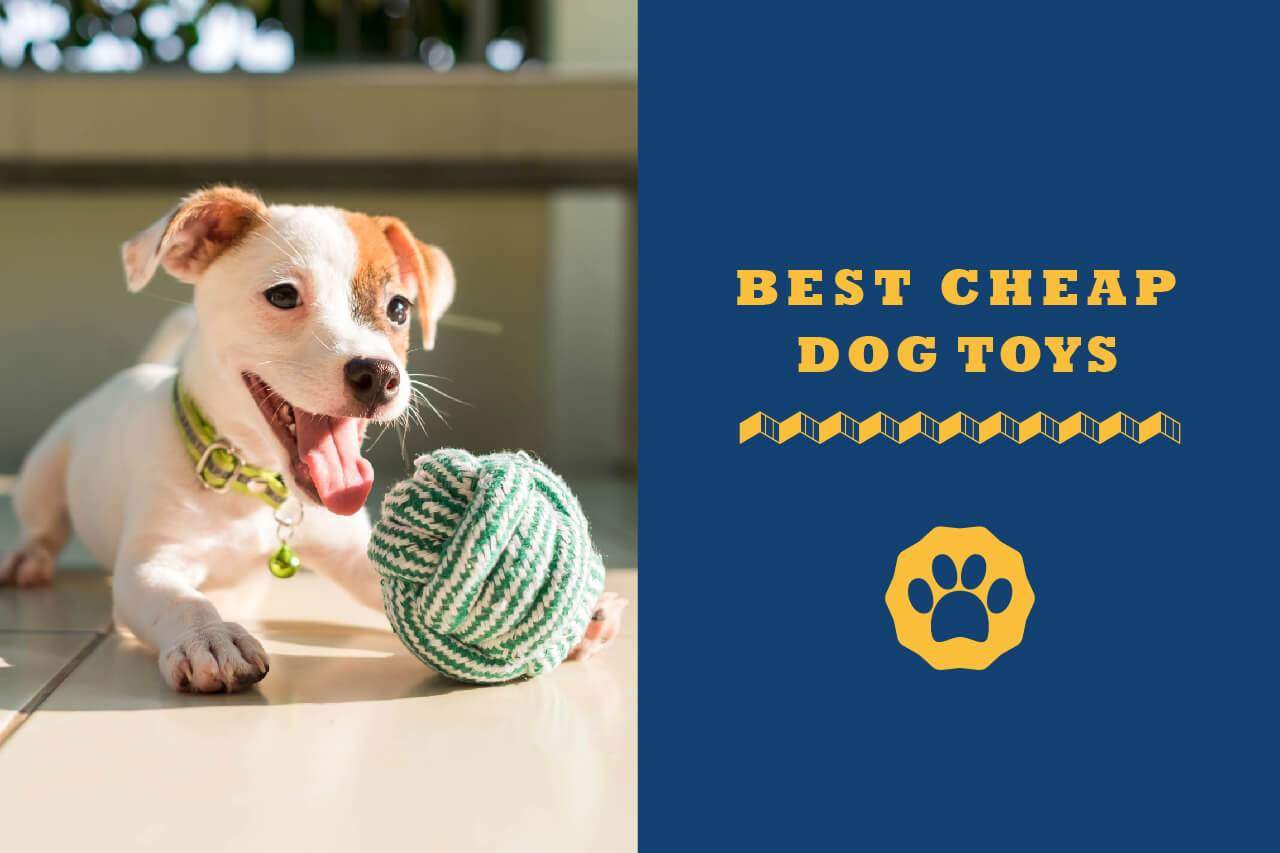 Cheap and quality are hardly bedfellows, but that doesn't always have to be the case.  Granted, there are some drastically poor quality dog toys on the market right now, most of which cost relatively less because of their poor construction and design. Yet in the same market, you'll also come across excellent dog toys that will not put a dent in your pocket yet perform to your satisfaction.
Does higher price always mean better quality? Just like most of you, I don't think so. A dog toy can cost you an arm and a leg yet underperform to your disappointment, as evident in most dog toy reviews.
The good news is that if you know what to look for in cheap dog toys, it can turn out to be the one toy that meets the needs of your pooch.
I'll be telling you more about that in a few minutes, in addition to introducing to the best cheap dog toys out there.
AT A GLANCE:
Our 5 Best Cheap Dog Toys On The Market
An Overview of the Best Cheap Dog Toys On The Market
| IMAGE | PRODUCT | |
| --- | --- | --- |
| | Extra small, toy, small, and medium breeds | VIEW LATEST PRICE → |
| | Small, medium, & large breeds | VIEW LATEST PRICE → |
| | Extra small, toy, small, medium, large, and giant breeds | VIEW LATEST PRICE → |
| | | VIEW LATEST PRICE → |
| | Medium, large, and giant breeds | VIEW LATEST PRICE → |
Qualities Best Cheap Dog Toys Should Have
There is nothing wrong with buying your pooch very cheap dog toys. It is just a question of striking the balance in knowing what qualities to look out for for the right prize. So, what are these qualities that a cheap dog toy should have? Let's see.
1. The Right Size
Finding a toy that is proportionate to your pooch is of utmost important. The general rule that seems to work is buying a toy that is enough for your pooch to be able to grasp with her jaws and not small enough to be swallowed. This approach always helps you find a bargain toy that is safe.
Or you could get a toy made specially for pups or adult dogs. Cheap for your canine buddy should not mean compromise, just the right qualities at the best bang for your buck.
You can learn more about getting the right sized toy for your dog in the video below:
2. Durable
Cheap can indeed be expensive if you are not careful to buy a dog toy that is durable. If the material used to manufacture the toy is substandard, then you really have not saved anything, because tomorrow you may still have to spend on another toy.
So, while looking for a bargain, be sure to examine the durability of the cheap dog toys that you settle for. The material used is a good indicator on how durable the toy can be. This will range from various forms of rubber and plastic to leather, or even tough rope.
Although the toughness of the toy equals durability, you should also ensure that at the same time it is gentle on your dog's teeth.
3. Mental Stimulation
It is possible to get some very affordable toys that offer mental stimulation your pooch. Some pooches love it more when it's designed for dispensing treats. This is thanks to the difficulty of getting the snack out.
It is enjoyable to watch your pooch work on the toy and to see the look on his face when he succeeds in getting the toy to dispense a treat. It is this sort of engaging ability of a toy that speaks of its quality. So, look for toys that will serve this healthy purpose for your pooch.
4. Special Features
Dog toys with special features can help your pooch engage better with them. But you know your dog best, so you want to get a toy that has features that are compatible to your buddy's style of play.
For instance, you can get a cheap toy that can float easily if your pooch likes to play in water. It would be better if the same toy can be used in your backyard to play fetch. Amphibious toys offer many playing opportunities as your pooch can enjoy them in the water as well as on land.
Other pooches might take more to a glowing toy, a treat-dispensing kind, a squeaky ball, or even a plaything that makes chuckling sounds. Therefore, observe and see what features best resonate with your Fido.
Top 5 Best Inexpensive Dog Toys: Reviews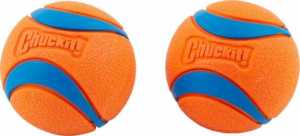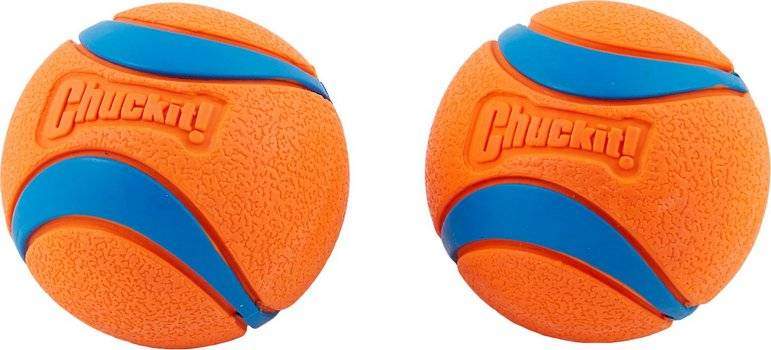 If your pooch is the kind that loves splashing around in a pool or any body of water, then you might want to give this Chuckit! bouncy ball a try. The durability is on a higher level, owing to the construction style and material used.
At its core of the ball is thick rubber and sturdy walls, which allow for extensive play times. The rubber used on the outer surface facilitates a good solid bounce that engages your pooch and tests his athletic skills to the limit.
This Chuckit! ball floats with ease and is brightly colored for easy spotting, even on tall grass or thicket. Given that this toy is not very easy to lose owing to its visibility, expect to use it for a while since it has a durable construction as well.
If you prefer a ball launcher, then you will be happy to know that this ball is compatible with the Chuckit! Launcher for even more fun in case you have a sore arm.
The surface is easy to clean so maintenance and hygiene is a breeze. It comes in five sizes, ranging from small all the way to extra large. Dogs of all sizes have a chance at enjoying amazing fetch games with this cheap dog toy.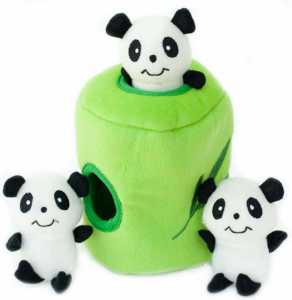 Most dogs love a toy that will engage them or suck them into the game so immersively, something I see most pet parents find pure fun to watch. This puzzle toy does exactly that; it pricks your pooch's curiosity and plays to her natural nature for burrowing and hunting after prey.
Working the toy is very simple as all you have to do is bury the squeaky panda into the bamboo and it's game on! Your little friend will then burrow his nose and paws into it to try and dig the pandas out.
He could spend a considerable amount of time trying to work out how to fish out the pandas. This is mentally stimulating for your pooch and allows him to exercise those instinctual behaviors that are good for his mental wellbeing and happiness. That includes pawing, nudging, and burrowing. Besides, it's a lot of fun.
This toy is, however, not recommended for aggressive chewers as they can potentially rip the pandas apart. But the toy is strong and tough enough for moderate chewers of small and medium size.
The whole toy is machine washable, so, maintaining hygiene is fairly easy.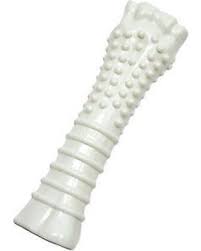 Dogs love to chew, and this comes naturally to them as a self-soothing mechanism. If you ever heard the saying as happy as a dog with a bone, then you will see this in action as soon as your mutt sets his eyes on the Nylabone Dura chew.
This artificial chew toy is constructed with tough nylon and infused with chicken flavor. This is the reason it is so irresistible to your pooch. It should come as no surprise to you when this toy quickly becomes a favorite pastime.
In addition to it being appealing to your pup or adult pooch, the chicken flavor just takes the chewing pleasure to a whole new different level. That aside, every chew helps clean your dog's teeth and takes care of her bad breath as well.
What's more, it's built for toughness, while at the same time it's gentle on your dog's teeth. You will find it impressively durable, even if you mutt's chomping ability is extreme. In fact, it comes most recommended for him as the chew toy can withstand any punishment he is willing to give.
Now you can see why if you decide to play fetch with this chewy toy, it is very likely that he will fetch but he may not bring it back to you just yet. At least not before he chomps it a little bit.

This real life racoon-looking toy is excellent for all kinds of dogs. It plays to their natural hunting instincts, which explains why dogs are always happy to bite and flip it over with passion.
The safety aspect of this toy makes it a favorite with doggy parents because it has no stuffing and, therefore, cannot be ripped apart to present a choking hazard to your mutt.
It has squeakers embedded inside: One on the head and the other on the tail. This makes for great sounds every time your pooch chomps or steps on it, or squeezes it.
On top of that, this cheap dog toy is machine washable, making it a great choice for the hygiene-conscious dog owners.
Expect the toy to last longer than the plush toys because of its stuffingless nature with nothing for your pup to rip out.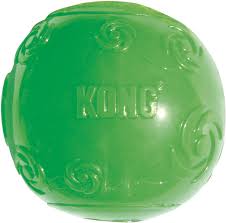 If you are looking for a cheap dog toy that doubles up as funfilled, the Kong Squeezz ball just might be what your dog is missing in her toy doggy toy closet.
What makes this toy ideal for both indoor and outdoors is that it's tough enough not to be easily punctured by thistles during outdoor play and soft enough not be a wrecking ball while playing fetch indoors.
The erratic bounce of this bouncy ball adds to the fun owing to its unpredictable nature. It also has a  recessed squeaker, which adds to the fun every time the ball is squeezed and the squeaker goes off. Your dog won't be able to get to the squeaker because of the recessed design.
The ball is round, with some raised patterns, for better play  when your pooch is gripping it with her jaws. It's also big enough with no ribbons or loose additives that can pose as a choking hazard. This Kong bouncy ball comes in various bright colors, ranging from sapphire and emerald, to ruby and amethyst. This makes them easy to spot, even when playing outdoors.
This toy also comes in various sizes that start from small, medium, to extra large. So, you are likely to find an applicable size for your mutt.
With such an affordable fetch option for dogs that love playing fetch with balls, this toy is a sure winner. Your pooch is likely to get attached to it. Good thing is you do not have to move a muscle as you can just throw it anywhere in the house and she will scramble to go get it.
Conclusion
Fun is a matter of imagination as opposed to high cost, as clearly demonstrated by the above amazing yet affordable toys. Remember, every dog has unique traits and so before you make your order, make sure you've the found the type of toy that works well for your pooch.
I, too, believe that no dog should lack a toy to keep her engaged, playful and mentally stimulated because of price. And luckily for you, every mentioned toy in this guide is ridiculously cheap, yet very capable of satisfactory results.
That aside, these toys provide yet another avenue for you to bond with your canine friend over interactive play that she loves.