Updated: October 13th, 2022
This article contains affiliate links. Read the full disclosure here.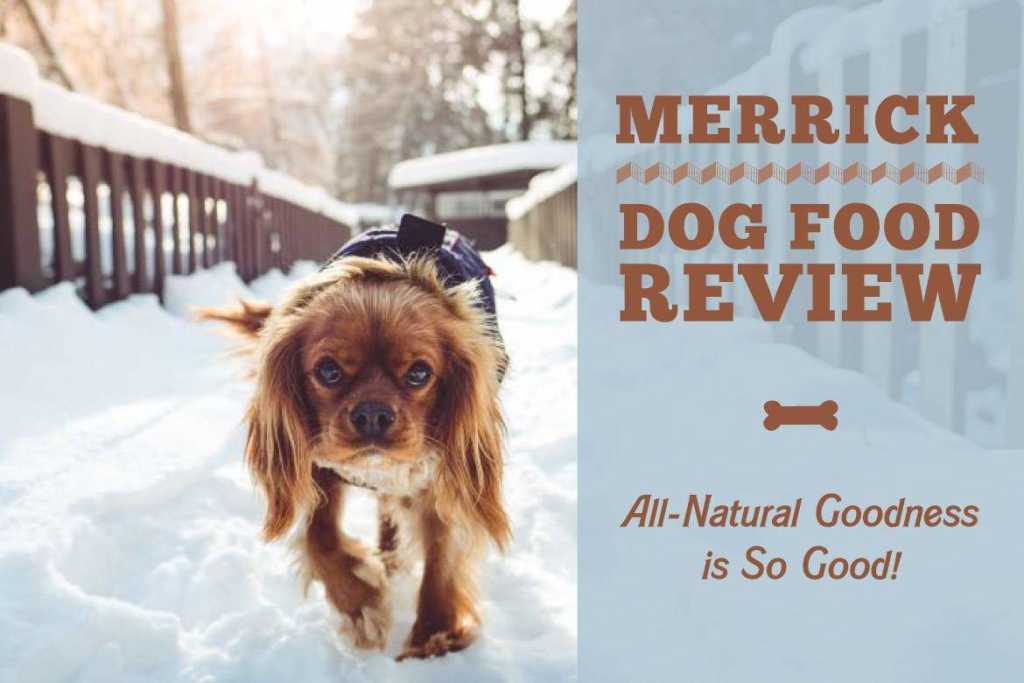 Take a closer look at Merrick Dog Food reviews and ingredients to find out if this is the right food for your best furry friend!
Introduction
Since its inception in 1988, with teeth cleaning treats, Merrick has been offering pet care and natural and healthy pet food products to promote happy lives. It seems that customers, both humans and dogs, love Merrick's formula and products such as grain-free dog food. With a wide range offerings from puppy food to healthy weight management, every dog at every stage of life is sure to find a pet food that will be perfect for them. Let's look at 5 of the top products in the Merrick line to see what might be cookin' that will your dog wag his tail in delight.
AT A GLANCE:
Our 5 Best Merrick Dog Food
An Overview of the
Best Merrick Dog Food
IMAGE
PRODUCT

Real deboned buffalo is listed as the first ingredient
Grain-free recipe
Omega-6 and Omega-3 fatty acids promote healthy skin and shiny coats

VIEW LATEST PRICE →

Grain-free
Real, deboned meat is listed as the first ingredient
Ingredients are farmed/grown in the USA

VIEW LATEST PRICE →

Grain-free
Real, deboned chicken is listed as the first ingredient
Added vitamins and minerals from fresh produce locally grown

VIEW LATEST PRICE →

Grain-free
Real, deboned chicken islisted as the first ingredient
Locally grown and farmedingredients that ensure freshness of all recipes

VIEW LATEST PRICE →

No fillers or artificial preservatives, colors, or flavors
Perfect for overweight adultdogs that get little to no exercise
Keeps teeth clean and gums healthy

VIEW LATEST PRICE →
Review
You will find that Merrick is truly a great choice for your fur baby. The ingredients used in Merrick Dog Food are all-natural, locally farmed and sourced, and are generally grain-free. We gave Merrick 4.9 out of 5 stars because reviews of Merrick Dog Food are raving and the ingredients cannot be beaten!
Pros:
Grain-Free Products
This is a huge plus for Merrick Dog Food—their products are grain-free! When dog owners start the search for the perfect dog food for their pups, they look for grain-free because it means fewer chances for their dog to suffer from allergic reactions. Customers love this aspect of the dog food brand because of the peace of mind they have when feeding it to their beloved fur friend.
Great for Picky Eaters
Customers reported that even their pickiest little doggies are eating up Merrick Dog Food! With great flavors and easy-to-digest formulas, dogs across the board love Merrick Dog Food.
Keeps Dogs Fuller Longer
Other customers comment that pooches that eat Merrick stay fuller longer, which means they eat less of the food! This is great for dogs that have a weight issue or the possibility of a weight management issue because they won't be eating as much of the food that they might normally.
Cons:
Tough for Smaller Breeds
While the kibble in small breed formulas is made specifically for smaller mouths and teeth, some owners reported that their small breeds had a difficult time eating the kibble. This did not seem to be a major issue, but it was one of the only negatives that was found in relation to the actual dog food itself.
Top 5 Best Merrick Dog Food: Reviews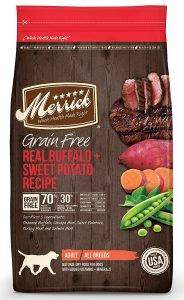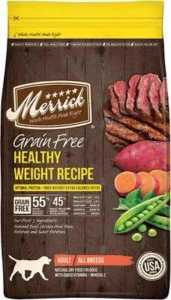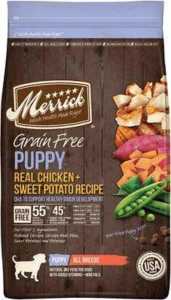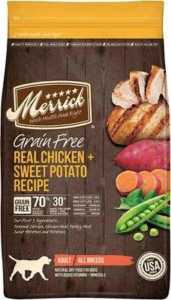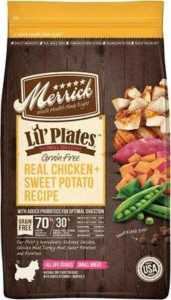 Check out these furry friends chowing down on Merrick Dog Food!
Ingredients Analysis
When you take a look at a number of Merrick Dog Food formulas, you can see that real meat is used as the first ingredient. While raw meat usually contains around 80% water, it is still a quality ingredient that should be noted. The formulas also include meat meal (turkey meal, duck meal, etc.) which makes up for the raw meat's loss of protein by providing almost 300% more protein than the fresh meat that is included.
One of the most important factors to note is that Merrick Dog Food is grain-free. This is a huge factor when pet owners look for dog food as grains usually cause allergic reactions such as itchy skin and unhealthy looking coats. Overall, the ingredients included in Merrick's food are top notch and of high quality! Your dog will be happy you put Merrick in their bowls each day.
Recall History
According to the FDA website, there have been no recalls for Merrick Dog Food in the recent years.
Conclusion
Merrick Dog Food are some of the best on the market today. You don't find too many negatives in regards to the actual formula, ingredients, or taste. Dogs from every stage of life and of every size lick their chops every day with Merrick Dog Food! One of the major elements to keep in mind is that Merrick Dog Food ratings are so high because customers love the grain-free aspect and the top ingredients in all of the formulas. Merrick Dog Food reviews prove that your dog will LOVE this dog food.
Want to learn more about dog food? Check out these articles: