Updated: October 13th, 2022
This article contains affiliate links. Read the full disclosure here.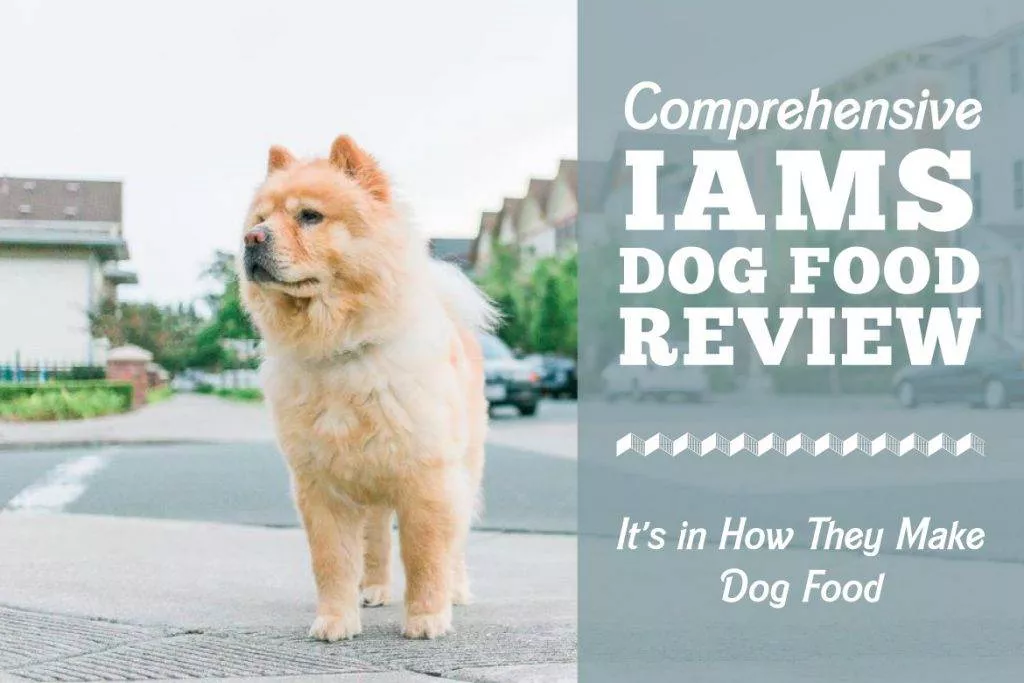 Dive into this IAMS dog food review that will you leave you waggin' your tail.
Introduction
It's hard to find a company that has such strong philosophies and truths on the market today, but there is at least still one: IAMS. From the 1950s when IAMS chose to be the first pet food to use chicken by-product meal and animal protein as the primary protein source in their pet food, IAMS has proven to be a company that backs up its beliefs with action. Let's dive a little deeper into this IAMS Dog Food review to help you decide—with 100% confidence-if this dog food is right for your pets.
AT A GLANCE:
Our 5 Best Comprehensive IAMS Dog Food
An Overview of the
Best Comprehensive IAMS Dog Food
IMAGE
PRODUCT

No artificial flavors, fillers, or preservatives
Great for promoting healthy digestion and strong defenses
Keeps teeth clean and gums healthy

VIEW LATEST PRICE →

Farm-Raised chicken is listed as the first ingredient
No corn, chicken by-product meal, soy, artificial preservatives, colors, or flavors
100% made in the USA

VIEW LATEST PRICE →

Keeps teeth clean and gums healthy
No fillers or artificial preservatives
Inclusion of prebiotics help promote healthy digestion

VIEW LATEST PRICE →

Best For Small Breed Dogs

Extra Small & Toy Breeds, Small Breeds
Prebiotics and beet pulp for healthy digestion

VIEW LATEST PRICE →

No fillers or artificial preservatives, colors, or flavors
Keeps teeth clean and gums healthy

VIEW LATEST PRICE →
Review
There are many factors that go into a review of any product, especially dog food. You find yourself standing in the isle of the pet store wondering, Is IAMS a good dog food? Is it right for Sparky? And the only way for you to answer that question is to really take a look at reviews on IAMS Dog Food to determine your answer. After much review of ingredients and customer feedback (humans and pups alike), it is clear to see that everyone loves IAMS.
Pros:
Shiny Skin and Coats
Your dog's coat is his pride and joy. You want his coat to shine. The consensus among dog owners is that after pets get on a diet of IAMS Dog Food for a few weeks, their skin and coats are healthier and shinier—even those with previous issues. With the infusion of vitamins and fatty acids, IAMS is sure to leave your dog with a beautiful coat he can bark about to his friends.
Happy Customers
There is no secret in the fact that happy customers drive product sales, and IAMS Dog Food is no exception. Customers (dogs and humans alike) are raving about IAMS Dog Food (and have been raving for years). Those picky eaters who refuse everything you put in their bowl? They absolutely love IAMS. The ability to tailor to different dogs' needs such as bite size and digestibility makes this a customer favorite.
Cons:
No Scientific Testing
It is no secret that IAMS does not test their dog food for nutritional value with scientific tests or research. That may not be a dealbreaker for most, but for some customers, this is a huge no-no. Customers like to know what research says about the nutritional value of the food their furry friends will be putting into their bodies.
Change in Formula
Changing formulas and recipes is something most brands are likely to do or even need to do. But dogs can find the new formulas off-putting and less than desirable. This is exactly the case with IAMS new formula for their dog foods. Dogs who once loved IAMS are now having a harder time with the new formulas.
Top 5 Best Comprehensive IAMS Dog Food: Reviews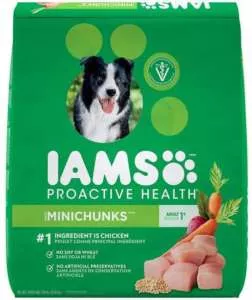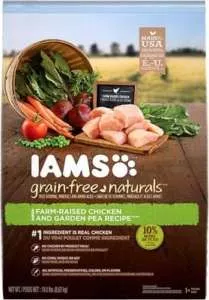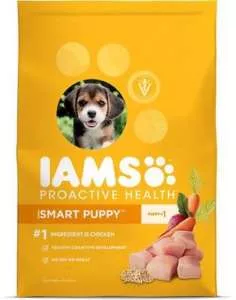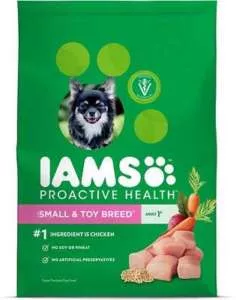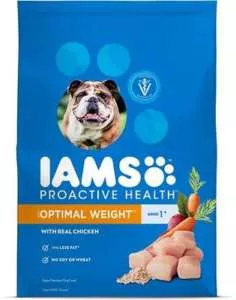 Ingredients Analysis
Is IAMS a good dog food? This is a common question when looking into buying a new food and we have the answers from an ingredients standpoint. If you look at the ingredients used in IAMS, you will find that they are on-target for other dog foods on the market with grain-free, no fillers or artificial preservatives, and prebiotics formulas.
These elements of the formula are perfect for any dog at any stage of life and customers are super happy with the ingredients used and the effects the ingredients have on their dog. IAMS dog food reviews do show that customers are highly pleased with this brand!
Here's a video of an IAMS customer review:
Recall History
According to the FDA website, there have been no recalls for IAMS dog food in the recent years.
Conclusion
This review of IAMS Dog Food proves that IAMS is a truly respectable dog food company that has been giving dogs around the country quality food for over 70 years. IAMS uses ingredients that are safe for your fur baby (and tasty, too). With fatty acids, prebiotics, and no fillers or preservatives, you can trust that the food you're feeding your pup is top-notch and great for your dog.
Read our other articles: