Updated: October 17th, 2022
This article contains affiliate links. Read the full disclosure here.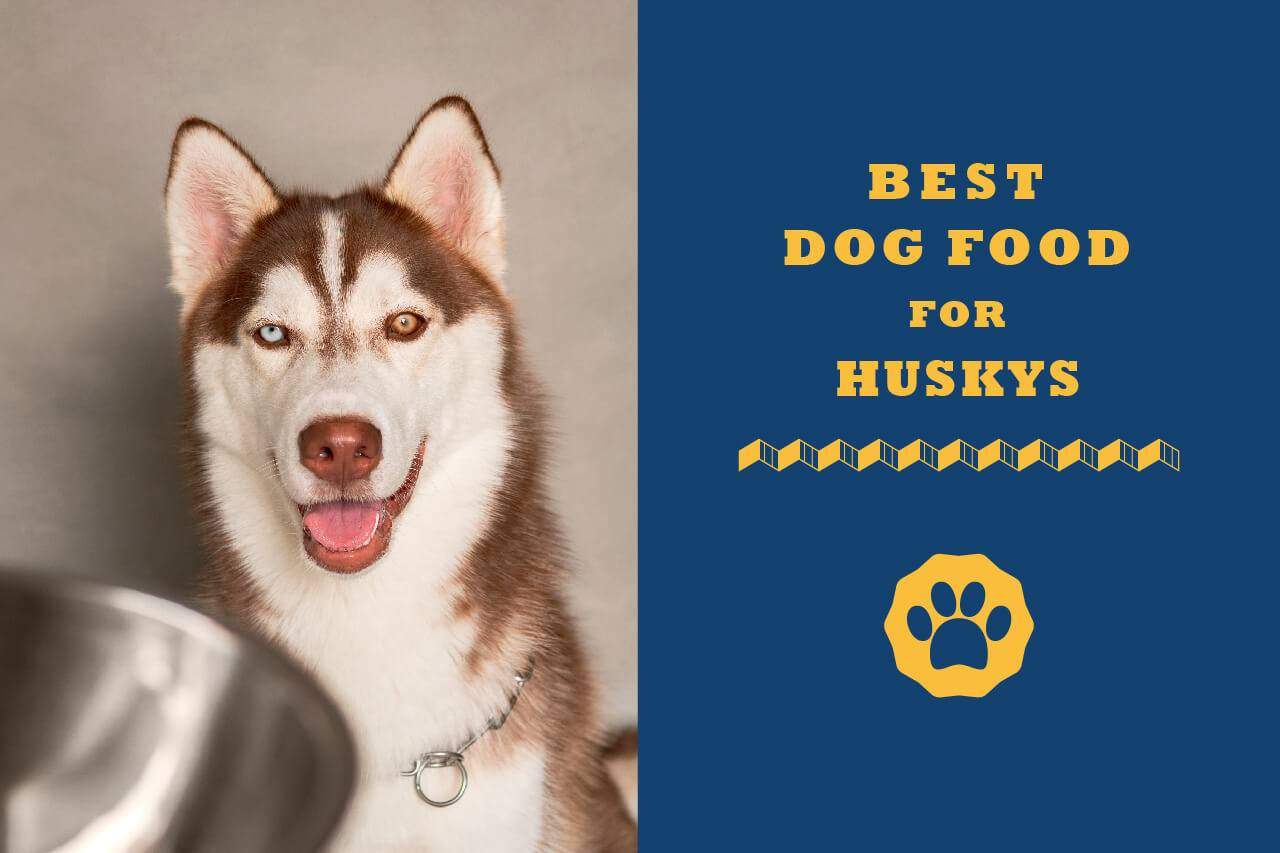 Ever fantasized about owning a wolf? If yes, your husky is arguably the closest you can come towards fulfilling that fantasy. But that joy of owning one could be shortlived because, like their ancestral counterparts, your little wolf will not function at her best unless you feed her proper dog food for huskies. 
AT A GLANCE:
Our 6 Best Dog Foods For Huskies
Overview of the Best Dog Foods For Huskies
IMAGE
PRODUCT

High-quality animal protein that promotes lean muscle growth
Real meat as the first ingredient that a husky's choosy palate will find delectable
Improved digestion as a result of probiotics, which promote gut health

VIEW LATEST PRICE →

Presence of DHA ensures that your pup develops proper cognitive functions
Omega fatty acids are plenty in this recipe for a healthy immune system
Strong bones and teeth from the presence of calcium and phosphorus

VIEW LATEST PRICE →

A special blend of chelated minerals and antioxidants boosts her immune system
Strong bones are promoted by the presence of calcium and phosphorus
Whole grain rice and barley are great energy sources for active dogs

VIEW LATEST PRICE →

Best For Sensitive Stomach

Safe for a gluten-sensitive huskies
High protein content for good muscle growth
Formulated for easy digestion

VIEW LATEST PRICE →

Best Dry Dog Food For Huskies

High-quality protein ensures healthy and well proportioned lean muscle growth
High digestibility is crucial for healthy pups
A rich profile of omega acids ensures a healthier immune system and better skin and coat

VIEW LATEST PRICE →

Savory meaty taste
Can be fed as a stand-alone meal or a topper
Grain-free for those pooches with grain sensitivities

VIEW LATEST PRICE →
Huskies were initially bred for hard work but lately, they've become a firm favorite with just about every pet owner, not just because they are highly active but also due to the fact they make great companions. 
You stand to enjoy her company even more when you get her a diet that meets her special dietary and health needs. The market, and the internet too, will suggest dozens of such options for you, but don't fall for that yet because there are things, like her age, health status, activity levels, that you must consider.
So, I did exactly that and ended up with a list that's pretty unique compared to what you'd get out there. Have a look: 
Reviews Of The Best Dog Food For Huskies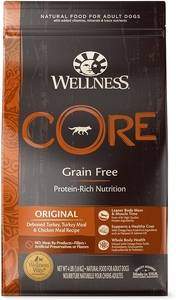 Click Here For Price
Huskies are notably picky eaters. Not because they are looking for a sophisticated meal, but due to the fact they inherited their eating tendencies from their wolf ancestors who preferred prey meat and berries. Well, this Wellness Core recipe mimics that diet approach for your husky.
Key Features
Grain-free

High protein content

Real deboned turkey as the first ingredient

Probiotics

Excludes common allergens
Even the pickiest eaters find it difficult to resist deboned turkey as a first ingredient. Better yet, the protein content in this formula is bolstered by the addition of turkey and chicken meal, which are excellent sources of not just protein but also glucosamine and chondroitin for bone strength and joint lubrication.
And with the presence of a probiotic coating on the kibble, stomach upsets are unlikely as the probiotic improves digestion and works to promote healthy bacteria in the gut. 
Pros:
High-quality animal protein that promotes lean muscle growth

Real meat as the first ingredient that a husky's choosy palate will find delectable

Improved digestion as a result of probiotics, which promote gut health

Exclusion of common allergens such as soy, corn, and wheat

Plenty of Omega-3 fatty acids, which is good for the immune system and a luxurious coat
Cons:
Some users report that their huskies will have none of it
The fact that this recipe contains a lot of animal protein and excludes grains is a testament of Wellness's understanding of your husky's dietary needs. Also, the diet is balanced out by the inclusion quality carbs, veggies, and fruits such as sweet potatoes and peas, kale, broccoli, and apples, making it the best overall.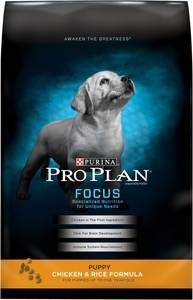 Click Here For Price
Husky pups are adorable, playful, and fun-loving. And to keep them that way, you will need a diet that is high in protein, healthy fats, and other essential nutrients. With 28% protein content combined with healthy fats and carbs, this Purina pro puppy dog food would easily make a great fit. 
Key Features
DHA rich

High protein

Prebiotics

Rich in Omega fatty acids
Puppies also require sufficient energy to stay playful all day. This recipe is rich in fat that ensures your dog's energy needs are well supplied. This is in addition to carbs such as brewers rice that keep your buddy energetic for all her daily escapades. 
Pros:
Presence of DHA ensures that your pup develops proper cognitive functions

Omega fatty acids are plenty in this recipe for a healthy immune system

Strong bones and teeth from the presence of calcium and phosphorus

Probiotics ensure ease of digestion as well as a healthier gut
Cons:
Owners of miniature huskies have complained that the kibble is too big for their jaws
If you are looking to give your little pups a good healthy start, this formulation does a great job of providing high protein as well as all the vital nutrients that your tiny pooch needs to start growing stronger.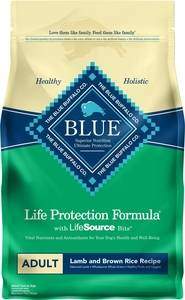 Click Here For Price
One of the most frequently asked questions is whether huskies eat rice. Actually, they do. And because this recipe has adequate amounts of it in it, that makes it the ideal option for her.
However, every husky canine is an individual in their own right. For those that are allergic to gluten, rice may not be the best ingredient. Nonetheless, this very affordable recipe still brings the wild to your golden retriever's food bowl by having animal proteins as the first ingredient mixed with healthy carbs, veggies, and fruits. 
Key Features
Quality animal protein

Glucosamine

Calcium and phosphorus

Chelated minerals
The animal protein in this diet is sourced from real deboned chicken and chicken meal. Both contribute to the high protein content in the diet. Their role is to ensure lean muscle maintenance for your husky's active lifestyles. 
On top of that, the recipe is loaded with adequate levels of calcium and phosphorus to promote healthier bones and teeth, while the chicken meal contains a generous portion of glucosamine for joint lubrication. 
Pros:
A special blend of chelated minerals and antioxidants boosts her immune system

Strong bones are promoted by the presence of calcium and phosphorus

Whole grain rice and barley are great energy sources for active golden retrievers

Presence of chicory root as a natural probiotic improves digestion and gut health

Plenty of omega fatty acids to nourish skin and your canine's double-coated fur
Cons:
Some pet owners have reported allergic reactions in their golden retriever, especially those allergic to chicken, which the recipe contains. 
Indigestion is one of the common issues with husky food. But that happens mostly when they are not fed with the right ingredients. Chicory root acts as a probiotic in this diet and combined with additional dietary fiber from the tomato pomace, it takes care of that. These ingredients work well in tandem with high proteins, carbs, veggies and fruits in the recipe to ensure your husky is comfortable and free from stomach complications.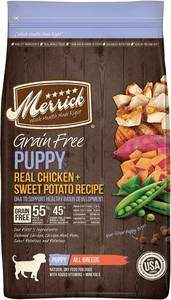 Click Here For Price
Not all dogs do well with grains and if your husky is one one of them, then you need not worry because this Merrick dog food recipe is one of the best dog food for huskies that are sensitive to grains.
It utilizes alternative carbs that are healthy and easily digestible. That includes sweet potatoes and peas, both of which ensure your pooch has all the energy supply she needs for the day. 
Key Features
Includes DHA

Deboned chicken

Grain & gluten-free
Pups need plenty of animal protein to support tissue and muscle growth. And with deboned chicken as the first ingredient, she's guaranteed of lean muscle growth. The protein in this recipe is supplemented by chicken meal, putting the overall crude protein at 28 percent. Your pooch can, therefore, grow to have well-developed muscles as well as strong bones.
Pros:
Safe for a gluten-sensitive huskies

High protein content for good muscle growth

Formulated for easy digestion 

Rich in omega fatty acids for a smooth luxurious coat

Presence of DHA ensures proper visual and mental growth
Cons:
Some consumers have lamented that their picky husky pups won't touch this food. If this happens, try the next formula
Among the things that make this one of the best food for huskies is that just like in the wild, it is topped up with blueberries and apples in addition to veggies that not only boost taste but promote a healthy immune and digestive system. Plus, the deboned salmon and flaxseed form a rich profile of Omega-3-and -6 for healthy skin and beautiful coat on your pup. 

Click Here For Price
Are you at a loss on what to feed a husky? Well, fear not because one of the things that Taste of the Wild dog recipes have going well for them is their ability to bring the wild to your doggie's dish bowl. Husky pups will appreciate this perhaps more than any other breed owing to their close ancestral wolf ties. 
Key Features
Chelated minerals

Probiotics

Grain-free

Balanced diet
This formulation is crafted for complete nutritional balance to cater to all your pup's needs. As established, the hallmark of a quality puppy food is high protein content that supports muscle and tissue growth.
Well, the crude protein in this golden retriever food is 27 percent, with plenty of fat to provide much-needed energy for play. Other energy-giving carbs include sweet potatoes to keep your pooch lively and energetic.
Pros:
High-quality protein ensures healthy and well proportioned lean muscle growth

High digestibility is crucial for healthy pups. Probiotics such as dried chicory root help improve digestion

A rich profile of omega acids ensures a healthier immune system and better skin and coat

A balanced diet of animal protein, carbs, veggies, and fruits ensure the overall well-being of your pup 
Cons:
Owners of smaller huskies complain of the kibble being too big for their dogs 
Another thing worth mentioning is the inclusion of yucca schidigera. That is because this extract helps to mask the odor caused by your puppy's poop. This, in addition to the diet being well-balanced and tasty enough for picky huskies, makes it the best dry dog food for them.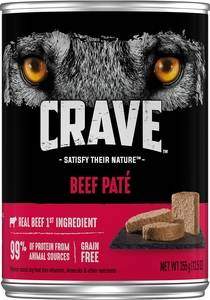 Click Here For Price
Switching gears from time to time in your buddy's eating routine can be helpful. If you are accustomed to feeding kibble all the time, then perhaps trying a wet food for a change can help keep the feeding times interesting for your husky. Crave Beef Pate wet food is a great way to provide that often much-needed break from a regular diet. 
Key Features
Grain-free

Decent protein content

Rich in omegas

Balanced diet
This recipe can be served as a stand-alone or as a topper to your husky's kibble. If you a have a choosy buddy, trying differently textured foods such as combining a wet and a dry food might just be what your pooch's palate need to get her eating better. 
Pros:
Savory meaty taste

Can be fed as a stand-alone meal or a topper

Grain-free for those pooches with grain sensitivities

Rich in omega fatty acids for healthier skin and smoother coat
Cons:
Owners with several huskies have mentioned how some dogs in the group will relish this food, while others won't even touch it  
If your husky is less active and she likes the taste of this food, then it will work great as a stand-alone diet. However, if your pooch is one of those whose activity is usually on overdrive, then this can be used as a topper. The reason for saying this is because the protein content is only at 12 percent while highly active golden retrievers need a much higher animal protein content to build and regenerate lean muscle. 
Why Husky-Specific Food? 
Huskies in many ways are a remarkable breed. Everything about their physiology is purposeful. And sometimes their finicky eating habits can be misconstrued to mean that they are picky eaters. 
But this is not necessarily the case. As a husky owner, you may need to know a little bit of their history, their build, and their evolution in order to better understand some of their eating habits. 
 Here's a video to help you with that:
Note that huskies are only one of eight dog breeds that are considered closest to their wolf ancestry. Their wolf ancestors ate prey and berries. The modern husky dietary needs have not evolved that much as they are still omnivorous. This means that they thrive both from meat and plant matter. 
Conservative Instinct 
A wrong choice of food in the wild could spell doom for a wolf. That explains their choosy nature when it comes to food. Huskies are not different. They seem to have inherited that trait as well. 
For the sake of an innate self-preservation system, they tend to eat selectively. Should dog food cause them to get sick, you can bet they won't touch it again! So, it is a good idea to purchase smaller quantities of husky food until you arrive at one that they seem to like. 
The Right Choice Of Husky Of Food
A one-dog-food-fits-all approach is likely to fail with a husky. Now that you as a pet owner understand that it is in their nature to be very selective, you might have to go through several golden retriever foods before you arrive at one that they will take to. 
At any rate, an ideal husky-specific food must have the right balance of nutrients, generally high protein, fats, as well as veggies and fruit. Also, the nutrients and servings should be proportionate to their age, health condition, and activity levels.
How Much To Feed Your Husky
The feeding regimen as aforementioned should be determined by the age of your husky, her overall health, as well as activity levels. You can read about the recommended amount of food for your dog in this article.
A look into the history of the husky does shed some light on their eating habits as well as their physiology. For instance, huskies are medium-sized dogs, intelligent, and very athletic. Their work ethic and intelligence and athleticism rival that of the German Shepherd or the Belgian Malinois. 
That explains why they have been and still are the breed of choice for harsh winter climates for centuries past to the present day. 
But, you do not have to live in the Arctic to enjoy the amazing nature of this breed. Many people today own a husky in an urban and rural settings. Huskies make excellent companions and are a hardy breed. That said, you as a pet owner is well served when you know how best to take care of her dietary need at all life stages. 
If your husky's primary job is to be your furry buddy at home, then you have the following meal options to work with:  
Kibbles

Wet food

Biologically appropriate raw food (BARF)

Home-cooked meals
Husky Puppies
Husky pups are playful and adorable. They can thrive on all the above-mentioned diet types. But I recommend that you feed your pooch a dog food specifically formulated for your husky puppy and not an all-life stage recipe or adult dog food recipe. 
Depending on your husky's palate, she may do just fine on kibble or wet food exclusively or a mixture of both. So, you may want to try different combinations to realize what works best for your pup's palates.  
Pups also enjoy raw food. However, you do not want to feed commercial food at the same time you feed BARF. It is best to offer these two types of feed at different times because they digest differently. 
Puppies that are under three years can be fed two to three times a day, while those above three months of age can be fed two times a day. That is a general guideline that usually works fine. It is always advisable to consult with a vet depending on the unique situation of your pooch. 
There is no one answer when it comes to quantities of dog food that should be fed in a day to your puppy. This is because the quantity is dependent on the quality of the dog food. A lesser amount will suffice when feeding a high-quality recipe while a larger amount is necessary if the dog food is of lower quality. 
Most husky pup owners have adopted an approach where you put a meal before your pups and let them consume as much as they can within 10 minutes and remove the bowl after that. 
Adults
Husky adult dogs thrive from all the above-mentioned diet types ranging from commercial dog food to BARF options. Whichever food type you opt for, you will know whether your husky likes it or not. Do not be surprised if you have to go through a few of those recipes before you find one that your canine husky buddy likes.
Adult golden retriever food for a husky should contain about 22 percent protein to support lean muscle growth. High-quality sources of protein include fish, lamb, chicken, and beef, just to name a few. Around eight percent of fat is recommended. 
Husky dog food recipes should be balanced with veggies, fruits, and high carbs. It's best to avoid dog food rich in dairy products, wheat, and soy. 
A routine feeding schedule is important for huskies. Usually, two to three meals a day is sufficient to keep your husky's supply of calories at an optimal level. A point of note is to allow not less than 30 minutes after exercise before feeding you pooch. 
This allows him to cool down from an exercise session. And also helps prevent gastric torsion, which is a condition that can be fatal when a dogs stomach twists and bloats with gas. On the same note, huskies should not exercise on a full stomach. So, after a meal, be sure to let her rest for at least two hours before any exercise. 
Fortunately, unlike labradors and German Shepherds, huskies will eat to their fill and not overfeed. Nonetheless, you need to provide them with the right quantity and quality of food to maintain their optimal weight. 
Usually, for huskies, 60 percent of what is mentioned on the label of husky golden retriever food for his weight will be enough. 
Seniors
The life expectancy of your husky buddy is in the range of 10 to 14 years. However, it is prudent to start monitoring his aging by carrying out routine medical exams with your vet as soon as he gets to seven years old. As they age, huskies become predisposed to liver disease, hypertension, arthritis, hip dysplasia, constipation, and teeth issues. 
When these are caught early, they can be managed with the help of good husky food.  Generally speaking, a senior husky diet needs to be of premium low protein that is formulated with glucosamine and chondroitin to promote healthy and stronger bones while easing discomfort in joints. 
Since your aging husky is not as active as he used to be, he still needs a daily dose of walks for exercise and a diet that is less loaded with calories. He should still have his meal twice a day at 60 percent of the recommended quantity labeled on the food package. This will allow your pooch to remain lean and have less discomfort with bone issues. 
What Kind Of Diet Is Best + Nutritional Requirements 
Some new husky owners have often wondered what do huskies eat? Most other breeds will tend to attack their chow. This is not so with huskies who will tend to nibble and gabble at their food before they consume it. 
With such an understanding of the breed feeding and metabolism peculiarities, you as a husky owner is in a better position not to be worried about their lack of enthusiasm with food as you keep searching for a dog food recipe that they will like. 
That should not be a big problem as there are numerous brands, such as the ones reviewed above, that your husky is likely to fall in love with. Husky food that is well formulated with husky age and activity levels in mind can come in several types. 
This includes commercial dog food such as kibble and wet food as well as biologically acceptable raw food. All these food types can be found in leading online stores such as chewy.com. 
Puppies
For puppies, be sure to look for dog food that has a slightly higher protein content of about 28 percent. Pups generally need a higher protein meal to promote tissue and muscle growth. Minerals such as DHA and omega fatty acids are vital to your husky pups well being as they promote cognitive growth and boost the immune system, in addition to supporting a luxurious coat and healthy skin. 
Adults
Adults will require a nutrition-packed diet with calories based on their activity level. Animal protein of about 22 percent and fat levels of eight percent are sufficient for an active adult husky. 
Calcium and phosphorus are crucial for bone density, strength, and to help ward off bone diseases such as arthritis and hip dysplasia. A proper husky diet can help your canine buddy be happy in his adult life but also age gracefully into his senior years. 
What most owners quickly and shockingly realize is that raising and taking care of husky is a different ball game altogether. Hard work and play is top on their list of priorities and food seem to be a distant third. This is rather odd compared to every other dog breed whose list of priorities have food at the top. 
You will have to understand their eating habits in order to strike a balance between exercising them enough and providing a healthy diet that closely resembles that of their wild ancestors. 
Food That Should Be Avoided 
There are foods that should be avoided at all costs when feeding huskies. This is because they are associated with the common health problems this breed faces plus they could also trigger a lot of other health complications.  
 These foods include:
Avocado

Sweets

Chocolate

Salt

Onions and garlic

Dairy products

Peaches and plums

Grapes and raisins 

Macadamia nuts

Yeast and dough
Organic Greek yogurt may be given at the recommendation of your vet when your pooch has a bad stomach, but other than that, it is best to keep away from dairy products. 
Conclusion 
Huskies are a beautiful breed to own. As pets, they have a beautiful build and they are probably the nearest resemblance to owning a friendly wolf that you can come home to. 
Huskies have inherited a lot of traits from their wolf ancestry. This perhaps better explains why they are so selective when it comes to food. I hope that this post will not only serve as a guide to swiftly locate food that will work for your husky adult or pup but also shed some light as to how different their approach to food is.  
You could start off by giving the best overall diet on this list a try. That is the Wellness CORE Grain-Free Original Dry Dog Food, which stands out because of its richness in protein content, digestive qualities, and diverse nutritional profile. 
Don't forget that the rest of the husky foods would be a great fit for your different needs as well, from age and budget to special health concerns and diet options.