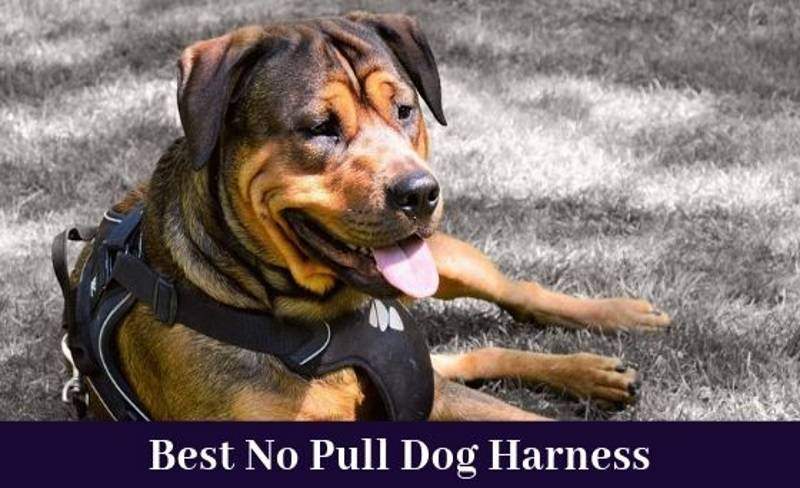 Picture yourself in a park, public space, or in the neighbourhood walking your little furry friend and everything is going on well until it's not – when she begins to pull away aggressively, and none of your tricks can help the situation.
Those around will, of course, not feel safe seeing your furry bud on the loose, not to mention the risks your arm faces, particularly if it's a large pooch pulling away. In fact, there's a lot that could go wrong and I'm sure that's the last thing you want to deal with when you simply went out to have fun with your dog.
Does it make sense to you now why it's probably not a good idea to sit on the fence about getting a dog harness for your furry friend?
Well, I was there too, until I realized that a dog harness is exactly what you need to keep your pet at close proximity when out in public, and thus also keeping them safer than if they were loose.
But I can understand your hesitation, which is why I thought a close look at the best no-pull dog harness on the market may be the best way to allay your fears.
There are key qualities to look for in a no-pull dog harness, primary ones being type, comfort, and safety for your dog (more about that later).
Meanwhile, I was able to round up a few options, with all those key qualities in mind, and here's what I found:
Quick Links: Our Top 5 Best No Pull Dog Harness
An Overview Of The Best No Pull Dog Harness To Buy In 2019
Top 5 Best No Pull Dog Harness: Reviews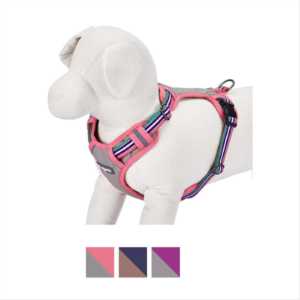 If your dog has a flamboyant personality, then a colorful dog harness could be a great fit. But this harness is not just about color; the multi-colored strip is reflective, keeping your dog safe and visible when you go out at night. The overall design of the harness is lightweight, making it an easy wear for your dog.
Key Features
Eco-friendly buckle material

10 color options

Made with mesh and polyester materials

Coated D-ring
It is an attractive harness without losing functionality and practicalness. Blueberry offers doggie parents the option of buying a matching set consisting of a collar, martingale collar, harness, leash, and seat belt.
Depending on the size of your dog, you have the option of a small, medium, or large harness. If you are worried about the reflective color stripe, it is subtle and woven into the harness.
Pros:
It's safe for night use because of the reflective multi-color stripe

Lightweight construction means your dog easily wear the harness

Has a sizing chart available to help you choose the correct size harness

The design makes it two vests in one for better distribution of pressure when controlling the dog

Overall padded construction for excellent comfort
Cons:
The adjustable straps can be hard at first, although they loosen up with time
Even strong pullers will find a good amount of resistance and control for the parents from this harness. Also, no-pull dog harness reviews are full of users who seem to love the colorful design because it makes their pet doggies look even cuter.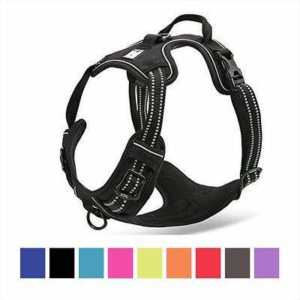 This is yet another reflective harness, but it offers dog parents two leash attachments. The Chai's Choice 3M Reflective Dog Harness is for the trendy but practical doggie owner who likes a little color, even in a dog training tool.
Key Features
Duraflex buckles

Made with scratch-resistant material

Has adjustable straps

Uses reflective material
You have the option of sizes, from extra small to extra large, and the color options are also very. The padding in the chest and belly areas is instrumental in distributing the pressure as you walk your dog, keeping the pressure from the neck and throat.
The harness is also a safe option when driving around with your dog as it features a handle that attaches easily to your car seat.
Pros:
Nine colors to choose from for dog parents

The buckles are plastic, eliminating the concern of rust

Center of gravity is on the dog's chest

It has dual attachment points on the chest as well as the back of the harness
Cons:
You may need to adjust the harness around the neck, depending on the girth of your dog's neck
This is an excellent choice for dog owners who have dogs that pull hard enough to leave marks on their bodies. The padding eliminates that and keeps your dog comfortable, even during hard pulls.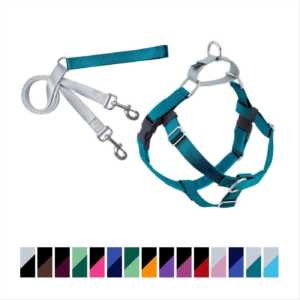 Freedom and a harness may be a great contradiction, but here is what the 2 Hounds Design Freedom No Pull Dog Harness & Leash does for you: it lessens the pulling habit and offers dog parents flexibility when training the pooch. It is a back harness, which helps your dog stay in the right walking position for promoting spinal health.
Key Features
Has an action loop

Patented twist-reduction design

Stainless steel hardware

Swiss velvet lining material

Four points adjustability
This harness is highly recommended by trainers to help you gain control and train your dog to walk beside you.
Users find their dogs behave better with this harness on compared to other normal harnesses. The feeling that their dog is choking on the collar is eliminated as the dog naturally and gradually reduces the instances of pulling.
For parents with stubborn pullers, a little more time may be required but the results will be same. Some users have seen progress after 1-2 months of using the leash on their stubborn pullers, like labs.
Pros:
Smooth material that prevents chafing on the dog and also is comfortable for the dog parent

It aids in redirecting your dog and steering it straight to walk alongside you

The design reduces straining and twisting  

Fits any dog breed

Has dual leash attachment points for versatility
Cons:
The price point is a little higher than other no-pull dog harnesses
It's worth mentioning that the manufacturer will replace two straps for free, if chewed, which gives consumers the confidence to use this product. That is aside from the effective results you get from it.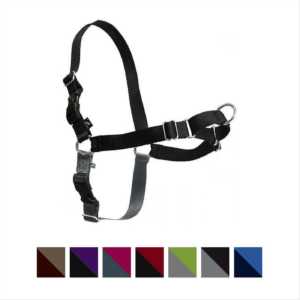 PetSafe's Easy Walk harness prides itself in being the ultimate solution to lunge-free outings with your pooch. It is available in several sizes so you can find the right one for any breed.
The Easy Walk wears across the chest of your pooch, forming a T-shape from the side when it fits properly. Even with the harness on, your furry pal can still eat and/or play its favorite game of fetch.
Key Features
Easy to wear

4 adjustable points

Quick-snap buckles

Available in different sizes
One special thing about this harness is that it is safe and helps your dog get naturally acclimatized to the leash when walking because the chest straps lie across your dog's chest so no pressure is placed on the throat area. This makes it an excellent choice for training any type of dog.
Pros:
Quick snap buckles that make wearing the harness fast and easy

It has a downloadable sizing chart to help you buy the correct harness

No pressure on the throat with both harnesses

Adjustable from four points for maximum comfort
Cons:
A few consumers have reported that it is not water resistant and will become brittle and dry when it comes in contact with water
PetSafe is one of the few brands that always consult with dog trainers and vets about their products. You can, therefore, be assured that this is one of the well designed and safest no-pull dog harnesses for any dog.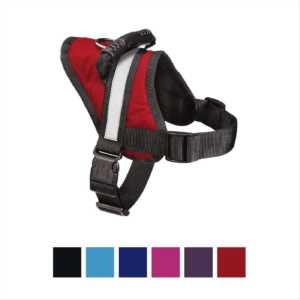 A big dog can be quite the source of annoyance, unless you have things like the HDP Big Dog No Pull Dog Harness. Generally, big dogs are hard pullers and that can take a toll on your arm in the long run. The construction is gentle, despite the bulky looking design.
Key Features
Several size and color options

Bonus handle

Made with polyester material

Extra padding

Sturdy D-ring

Easy-click buckles
This harness also works well for senior dogs that need the gentle comfort of the extra padding. The D-ring and the center ring work well together, offering you more control over the behavior of the dog. In case your dog is among strangers or is excited by a squirrel, you can tightly rein it in using the bonus handle.
Pros:
Made from 100% polyester for a comfortable fit and breathable material

Easy to wear, thanks to the easy click buckles

Has a padded design with wide straps to rest properly on the dog and distribute pressure during pulling

Several sizes and colors cater to all dog breeds and personalities
Cons:
Some users found it unable to control very stubborn pullers, despite its sturdy construction
From the design to the materials used, this harness offers durable resistance, a quality that is crucial when looking for the best harness for dogs that pull.
What To Consider Before Buying A Dog Harness
1.  Type
When buying a no pull dog collar, you will come across various types and it can be challenging to identify which one is best suited for your doggie friend, unless you know what to expect and how they work.
This overview of the types should help you choose the correct harness.
I. Back Attachment Harness
These are an excellent choice to replace the dog's collar, especially if you need to relieve pressure from her neck. If your dog has suffered an injury or is recovering from a medical condition that affects its upper body, back harnesses keep it comfortable since they do not have straps that pull on the neck.
Joggers particularly find this a great dog harness that keeps their doggie in tandem with them at their running pace.
However, note that as much as it may be probably the best harness for dogs that pull, chances are when your dog feels the opposing pressure of the harness from behind, she's more inclined to pull forward even when she's not a habitual puller. Remember, this is the same principle used on sledge dogs to encourage them to pull forward.
II. Front Harness
Any harness of this type can also easily qualify as the best dog collar for pulling. It has the leash attachment in the chest area. The effect is that when the dog pulls the leash, the collar pulls it sideways towards you. By turning them towards you, the harness helps stop the forward trajectory of your pooch, bringing them to a complete stop.
Considering the design of a front harness, jogging can create dangerous tangling for your pooch. So, this option is also more appropriate as the best dog collar for walking your dog.
III.  Head Harness/collar
At first glance, it doesn't look like a harness, but it does a great job of holding your pooch back when it gets up to its pulling antics. The head harness fits around your doggie's head and the leash is attached under the chin. This design pulls the head of the dog towards you every time they start to pull away. After several turns, your dog will soon settle down and stop pulling.
While the head harness is the most effective, you have to slowly train your pooch to get used to the harness on its head and to not fight the effect it has. This prevents injury since the dog's head is turned abruptly towards you if it fights back.
Don't worry though, your dog probably loves the walks and will soon learn that with the walk comes the harness.
So, now that you know what is the best type of harness for a dog that pulls, what else should you be looking out for in a no-pull dog harness?
2. Padding For Comfort
A well-cushioned harness prevents chafing as the straps rub against the skin of the dog. Dogs with shorter hair are especially prone to skin irritation in the path where the straps of the harness lie. This can cause discomfort and turn your dog against the collar since they associate wearing it with pain.
3. The Size And Breed Of Your Pooch
The size of the dog dictates the harness you buy. To get a fitting harness, measure your dog around the ribcage or head for the right size. Very tight harnesses cause your dog discomfort and very loose ones do not meet the need.
Smaller dogs and puppies are best served by a harness that fastens around the body, like a back harness. This takes the pressure away from the neck. Larger breeds may require a front harness because they are more powerful.
If your dog has the habit of barking or nipping at people, a head harness is ideal. Young dogs that are still growing need to have their harness changed to accommodate their growth.
4. Is It Durable?
A no-pull dog collar must be durable. It should be made from materials that can handle being the strain of pulling and tugging. To make sure that the harness can adjust to the dog's behavior, assess your pooch's behavior with the harness on.
If there is itching or whining, or your dog is uncomfortable with the material on the harness, you may need to adjust the harness for better comfort. For better durability, also ensure that the harness is made from easy-to-clean material.
5. Meets Your Needs
The best no-pull dog harness is also a fashion statement for the trendy dog owner and their pooch. That is why there are options that are colorful and bright or practical depending on where you live, like a farm or in the city. Also, find the right fit for you and your fido according to your personality.
How No-Pull Dog Harnesses Work?
First off, it's important to note that these harnesses are safe and not cruel to furry pals, despite their restrictive nature. They are excellent for reigning in over-eager dogs and puppies and they protect your dog's neck and by extension their airways and trachea. Using a shorter leash works better because you use less force to correct your dog as opposed to longer leashes.
The harness has a leash attachment so you can have a hold on your pooch. Whenever your doggie begins to pull away, a firm tug on the leash pulls it to the side, not backwards, causing it to lose forward momentum and bringing it to a stop. Sometimes you may need to have a harness that features both the front and back leash attachment rings to fully train your pooch. You can control your dog and train it to walk without pulling away over time.
As your doggie learns to walk by your side in what is commonly referred to as loose leash walking, you can only use the front leash attachment or choose any attachment depending on where you are walking.
Adjust the harness before your dog wears it. Tweak it once it is on and have some treats for your pooch when it behaves and walks beside you. If you'd like to learn how to fit a dog harness properly, watch the video below:
Like I said before, a no-pull dog harness is a training tool so after your dog is well trained, you can try walking without the harness. But before that, look out for telltale signs, like your dog looking at you before it proceeds during your walks or matching your stride by walking next to your calf or thigh.
Conclusion
Apart from offering you, your dog, and everything else around you protection, a no-pull dog harness might just be what you need to make your pup the most well-behaved in the neighbourhood. Remember, even the most adorable dog that has overeager tendencies can be a handful, preventing you from enjoying its personality.
But with a dog harness combined with proper training, you may turn her into a well-behaved pet. Blueberry Pet 3M Reflective Multi-Colored Stripe Padded Dog Harness easily stands out for me because it impresses on many fronts, from aesthetics and practicality to comfort and being very dog friendly.
Nonetheless, every item discussed in this review is special in its own way and it's up to you to figure which one would fit your needs best.
Last Updated on