Updated: October 19th, 2022
This article contains affiliate links. Read the full disclosure here.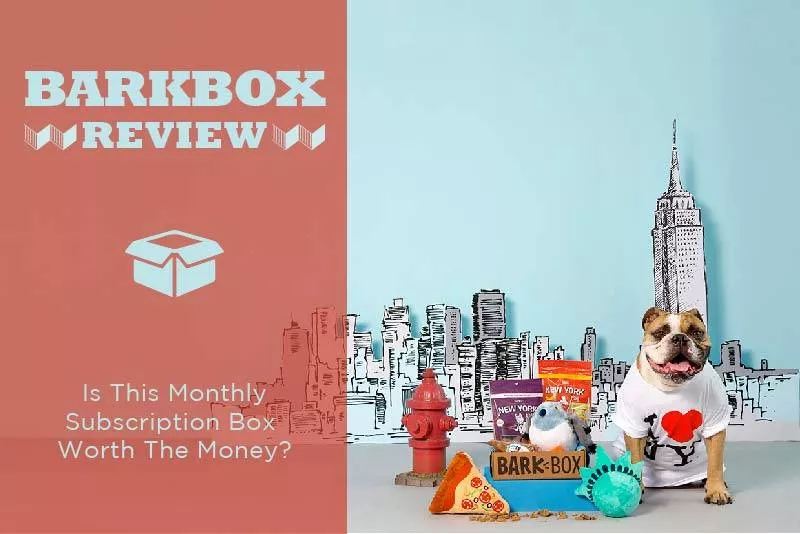 I'll admit it. In today's hustle and bustle lifestyle, I'm all about eliminating an extra errand. I mean, I love dressing our pups up and hitting up a pet store as much as the next girl, but sometimes life just gets in the way.
Although it is cute when they pick out their toy from the bin and carry it to the register!
However, due to my need to prioritize earning a living over making sure our pack stays current on the latest toy trends, our pups sadly often go months without a new toy because life just gets a little busy. I mean, we buy toys that hold up well; but ask any kid at Christmas, it's more fun to play with something new!
So, to help alleviate the pet-parent guilt, when I heard about BarkBox, I knew I had to give it a try! Here's my Barkbox review…
What is BarkBox?
Subscription services are getting pretty popular in the human world, so it was only a matter of time before our pups got in on the action.
BarkBox is a monthly subscription box that does your pup's fun shopping for you! They pick out two toys, two bags of treats and one chew and automatically send them to your doorstep each month. These treats and toys also usually follow some type of theme.
Now you can set up your subscription and never feel bad when you don't have time for that extra trip to get your dog a new toy or treat.
The catch? The contents of the box are a mystery until you open it!
How Does Barkbox Work?
BarkBox allows you to set up a subscription package that fits your dog. They ask for the dog's size: from small – under 20 pounds; medium – 20 to 50 pounds; and large – 50+ pounds. This way, they can tailor the toy to their four-legged customer.
They also only send treats free from corn, wheat, soy or by-product to ensure most allergy dogs are safe. However, if your dog has a specific allergy to beef, chicken or turkey, they can accommodate this as well if you contact them.
If you order a subscription, the company will renew your order and bill you by the 3rd of the following month. BarkBoxes are then shipped on the 15th of the month.
If you find a toy or treat you just have to reorder, and you don't think the BarkBox fillers will read your mind, you can also shop for it via their BarkShop website. This site also gives you a pretty good idea of what kind of toys you will get in your BarkBox.
What Do You Get in the Box?
For this review, I ordered the basic one-month subscription for an over 50-pound dog. I didn't add on the premium toy or give any special instructions. I just wanted to see what their base package entailed.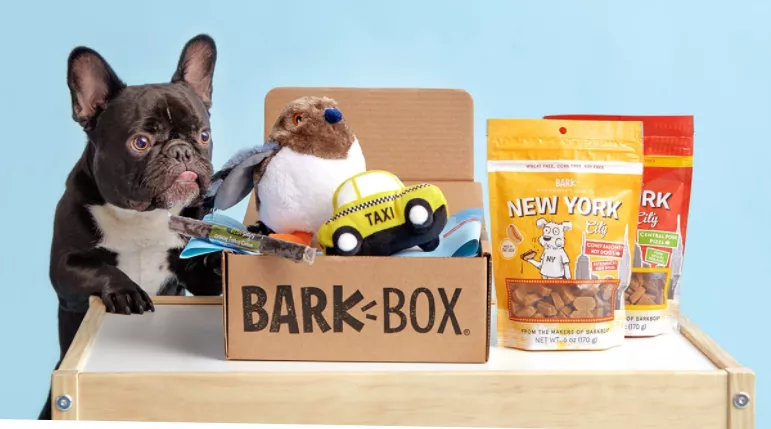 Much to our dog's delight, the package came promptly filled with goodies and a theme honoring New York City, the company's home town!
Inside our box were two treat bags, a chew and two toys. All of which our dogs loved!
The New York themed contents included:
A 12-inch long deer chew
Bacon Cheddar Flavor Sojos Treats
Plato Pet Treats Hundur's Crunch Fish Treats
A pretzel tug toy
A ball toy that looked like Lady Liberty with squeaker inside
What is the Quality of the Items?
From our experience, BarkBox doesn't skimp on premium products.
All the treats were 100% corn, wheat, soy or by-product free. They chose quality companies that used high-quality ingredients to produced the treats. Better still, our dogs couldn't get enough of them!
The toys looked fun and proved durable. These aren't your average cheap stuffed toys. They are interactive and engaging.
Overall, we were very pleased with the contents.
Are the Items Made in the USA?
Not everything in the box is American made. BarkBox sources all their treats from the USA and Canada. The chews are sourced from the USA, Canada, South America, Australia and New Zealand.
Their toys, hygiene and grooming products are sourced from around the world. However, BarkBox commits that all of their office testers approve all box contents by trying it on their own pets first.
Who is the Best BarkBox Fit?
BarkBox is best suited to busy people, such as myself, who don't always have time to get out to a specialty pet store and buy treats and toys each month. If you want something to spoil your dogs a little more without taking an extra trip, this is a great service.
BarkBox is also perfect for dogs that need variety in their lives and like to try different treats and toys. If your dog gets bored easily, BarkBox will always offer them something new and exciting each month.
My Dog Has Allergies – Is BarkBox Suitable for Us?
Yes! We actually have an allergy dog, so I'm pretty picky about what he eats. BarkBox edible chews and treats contain no corn, wheat, soy or by-products. This eliminates most of the major offenders.
BarkBox is also moving towards single-ingredient treats whenever possible, further reducing the likelihood that your pup will get itchy.
Additionally, BarkBox will accommodate your dog if they are allergic to beef, chicken or turkey. You just need to reach out to someone at customer service to request this option.
Subscription Pricing and Options
Just like most subscription plans, the longer you commit to the plan, the lower the cost per month.
If you just want to order a one-month subscription, your cost is $29. If you are willing to commit to either six or twelve months of BarkBox goodies, this drops to either $25 or $21 per month, depending on the length of time you commit.
BarkBox also offers different subscription plans. For example, you may feel like spoiling your pooch even more than the two toys normally included in the standard order. Never fear! You can add the $9 "pupgrade" to have them throw in an extra premium toy.
Is your dog is a heavy chewer? No problem! You can request a free upgrade known as the Heavy Chewer to get more durable toys put into the box each month.
If your pup still destroys the Heavy Chewer toys, you can choose the Super Chewer subscription. For one-month plans, expect to pay $39 per month. Six-month plans run $34 per month, and 12-month plans will cost $29 per month.
If the dog destroys the Super Chewer toy, they will send another one free of charge. Apparently, they test these toys on wolves, so they feel pretty confident about their durability.
Ordering and Shipping
Overall, I found the ordering process to be clear, with plenty of email follow up, package tracking and support along the way. Their website is also very user-friendly, complete with plenty of dog puns for an entertaining read.
We only had to wait about four days from when we ordered our box to when it arrived via our friendly UPS man. There was no additional shipping cost, although if you order outside of the 48 contiguous states they will charge you an additional $5 for shipping.
You can also reorder items that your dog loves and can even send those orders via text message from your phone. You can even use their phone app to reorder.
BarkBox Coupons and Offers
BarkBox does offer coupons and promo codes.
If you visit Groupon, BarkBox always has something on this site for new customers. Just use the search feature to see what they are currently offering. Other great deals and promo codes can be found with a little Internet digging.
BarkBox even offers their subscribers free boxes for each customer they refer through their link. So, if you know other pet parents who want to spoil their pups each month, you could score some free goodies for your dog.
You also have the option of gifting BarkBoxes to your granddogs or other canine pals outside of your household.
BarkBox Pros
Here are some positive reasons to give BarkBox a try.
They give 10% of profits back to shelter dogs in over 3,000 rescues and shelters. I love companies that give back!
They offer high-quality treats – only sourcing them from the USA, Canada. Their chews are from USA, Canada, South America, Australia and New Zealand.
If your dog falls in love with a particular toy or treat, you can always reorder on their BarkShop website.
They offer tailored boxes to fit your dog's size.
Their toys come in a wide range for specific interaction and chewing needs.
Their treats are always corn, soy, by-product and wheat free.
They offer accommodations for dogs allergic to beef, chicken or turkey if owners contact customer service.
If your dog doesn't love every item, they will replace it free of charge.
They have coupons available through a wide range of online retailers.
You can also send BarkBox as a gift to another pet parent.
They make ordering easy. Choose online, phone, text or app venues.
BarkBox Cons
Nobody's perfect. Here are a few things to consider before starting a subscription.
Some of their chew toys may only have one hole. Dogs have been known to lick inside this hole and create a vacuum, getting their tongue stuck. For this reason, we avoid any chew toys with only one opening. Make sure there is always another opening on the other side of chew toys for air to escape.
They are a subscription service. This means that even if you only order one BarkBox, you are enrolled. They will automatically renew your BarkBox order unless you cancel. If you forget to cancel, you may get a second surprise shipment and bill.
Should You Sign up For BarkBox?
If you want to spoil your pup, but don't want to rummage through a pet store toy bin or grab treats off shelves every month, then BarkBox is for you! If your dog gets easily bored with the same treats and toys month after month, then BarkBox is definitely for your dog!
Overall, this company works hard to offer premium toys and treats at a great price. I know going to any big-box pet store, we would easily spend more than we did on the box to get the same high-quality contents they offer.
Customer Reviews:
Here's what others are saying about BarkBox.
This reviewer, unlike me, ordered the extra premium toy. This will give you an idea of what the upgrade looks like.
This reviewer had a heavy chewer and ordered the Super Chewer subscription. If your dog destroys every toy, and you think you will need to upgrade to the Super Chewer, check out her SuperChewer BarkBox review.
Conclusion: Two Paws Up!
Overall, I was very pleased with the customer service, ordering process and the exceptional quality of treats, chews, and toys. The price was very reasonable for the items offered, and our dogs loved everything in their box.
So yes, if you want to offer your dog new toys and treats each month without leaving your cuddle buddy on the couch, I believe this service is well worth the money!
I know our pup pack gives BarkBox a big two paws up! And I give it 5 stars!