Updated: October 13th, 2022
This article contains affiliate links. Read the full disclosure here.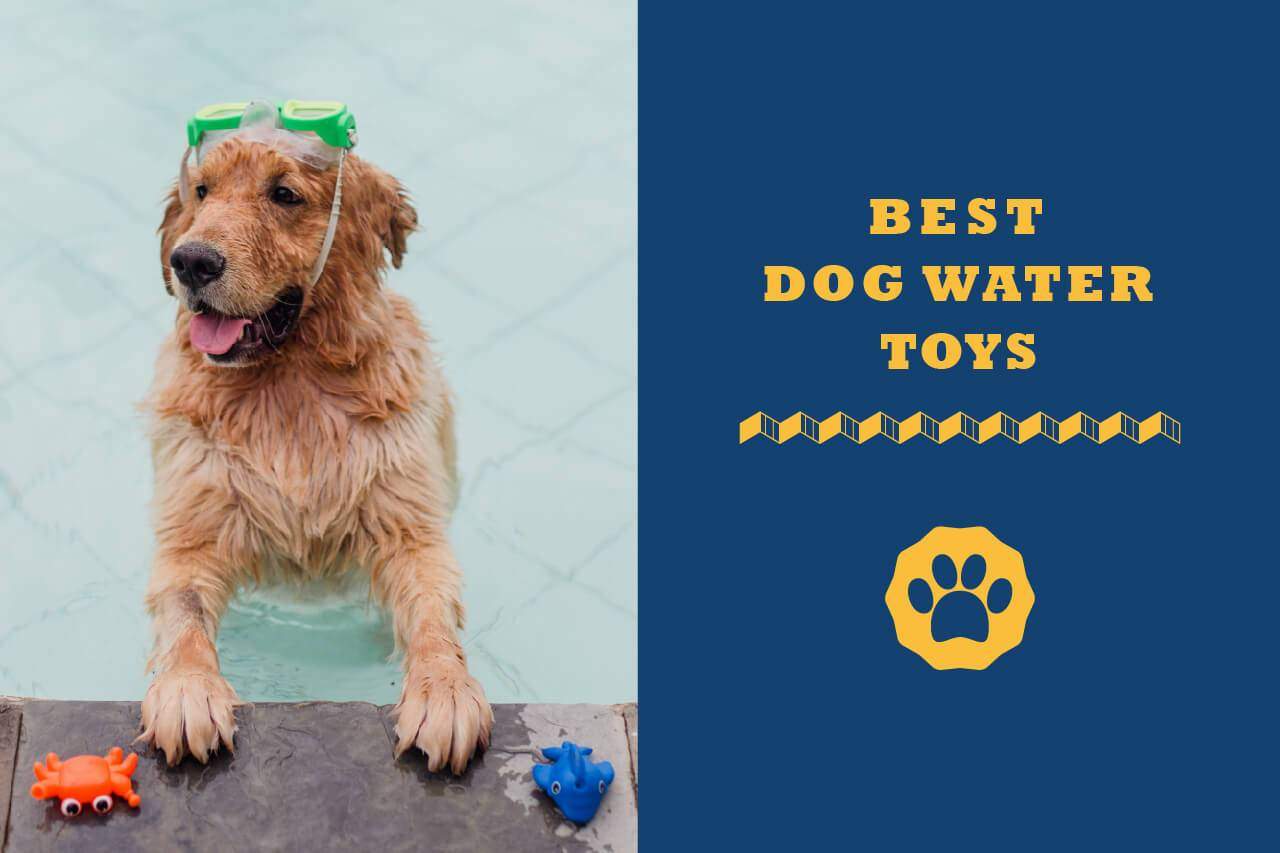 Your little canine friend most probably wouldn't mind a splash or two, especially on a hot summer day. You are lucky if she's the kind that takes to the water naturally and revels in scrambling for a fetch toy, whether on land or in a lake without a second thought.
I also know of pups that are hesitant to get their paws wet for one reason or the other and instead prefer to do their fetching with the firm ground underneath her paws. So, does it help to get them a dog water toy?
Well, a good way to look at that would be in light of the fact that, just like humans, lots of dogs admire the sight of water, but not all are swimmers. And the good thing is with a bit of learning and coaxing, your dog can learn and become an adept swimmer.
This is where dog water toys come in. In addition to being one of the best gifts you can get your pup, you could use them to teach your pooch to have fun in the water with the rest of the gang on a day out at the beach.
I'll be showing you a few great dog pool toys you can get for your dog later in the article. For now, let's see what you should consider before getting one.
AT A GLANCE:
Our 5 Best Dog Pool Toys
An Overview of the Best Dog Pool Toys
IMAGE
PRODUCT

Durable
Interactive with your canine friend
Comes in three sizes: mini, small, and large

VIEW LATEST PRICE →

Affordable
Made from durable material
Multiple sizes to choose from

VIEW LATEST PRICE →

Soft and pliable
Brightly colored for easy retrieval
Ideal for all age groups

VIEW LATEST PRICE →

BEST FOR AGGRESSIVE CHEWERS

Safe and easy yo use
The natural wood scent is very attractive to dogs
Non-toxic and extremely durable

VIEW LATEST PRICE →

Ideal for both small and medium dogs
Easy for the dog to grip
Bright colors for easy retrieval

VIEW LATEST PRICE →
What To Consider While Selecting A Water Toy
Before you place that order, here are a couple of things you will want to have in mind:
Is Your Mutt A Good Swimmer?
You have nothing to worry about if both you and your pooch are decent swimmers. However, some pets are naturally terrified of water the same way a good number of us suffer hydrophobia.
Usually, when your dog is placed in water, she will instinctively go into doggy puddle mode, but this should not be mistaken as being an able swimmer as she might not be able to stay afloat for long.
A doggy floating vest is advisable at first for a jittery pooch who does not take to water naturally. As she gets more acclimated in water, preferably a pool, she most likely will grow her confidence and will feel more comfortable playing with a water toy inside it.
For such dogs, it's advisable to restrict water play to a swimming pool, or the shallows when you are out on the beach. Playing with your mutt in strong currents and waves for weak swimmers is not recommended.
Another thing to note in relation to that is that dog water retrieving toys or a retrieving line on your doggy toy could be helpful if you are playing in water that has a current. This may save you from losing too many water toys to the current when your pooch is unable to successfully retrieve it.
You can actually teach your dog how to swim better. The video below by Solidk9Training could give you a great start:
Meanwhile, if your pooch is an adept swimmer, playing with toys in all sorts of water may be her forte. This can range from ponds and lakes to rivers and water parks.
Is The Toy Buoyant?
This goes without question. If the toy you opt for does not float, then your pooch might be a tad disappointed in your judgment. So, be sure not to let her down by getting a toy that actually floats.
Note that the material used for constructing water toys is usually some form of hard rubber that does not break away easily and floats effortlessly.
Construction
Other than the construction material being floatable, shape and design are two other aspects you should take into consideration.
Flat water toys may not be easy to grip while they are in the water. It also invariably means that your pooch is likely to take in a gulp or two of water as she attempts to clamp her jaws on the toy.
Generally, round, rod-like, and oval shapes are easier for your pooch to handle and see, even in wavy water. You will notice that some toys have rubber spikes peeking out. This makes the toys grip even better for you pooch to handle easily with the mouth.
Amphibious Qualities
Some water toys are quite versatile such that your pooch can play with them in the back yard as well as in the water. Such qualities are value for money as your pooch can make the most of the toy. Just be sure that the material used is tough enough to withstand aggressive chompers and gentle enough not to break your dog's teeth.
Top 5 Best Dog Water Toys: Reviews
With all that information in mind, I was able to select and narrow down on what I found to the best dog pool toys. Check them out: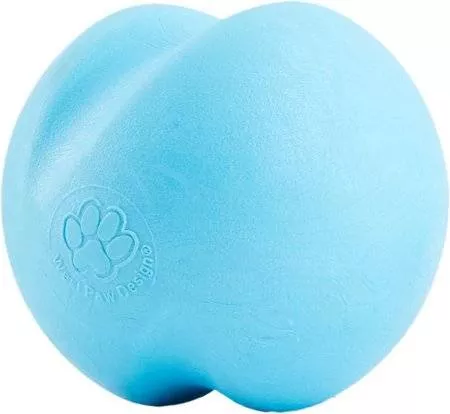 According to the manufacturers of this toy, this is their most durable dog ball yet. I love the fact that it is BPA-free, which keeps it safe even when your dog has it in the mouth.
The bouncy and bright nature of the toy makes it interactive with your canine friend, extending fetch playtime. Also, they have been designed to be safe for vigorous chewers.
The material used features Zogoflex technology, which makes the toy malleable. I bet you will also love the stretchy and erratic bouncy nature of the toy, which allows you to play fun games with your little friend, like high bouncing or even tug of war, without worrying the toy will fall apart.
As for the material, it's 100% recyclable and free of toxins. West Paw Zogoflex Jive Dog Toy comes in three sizes: mini, small, and large. The diameter for the larger ball is 3.25 inches and 2.6 for the smaller ball. Smaller toy dogs also have a special mini jive ball with a diameter of 2 inches.
Also worth mentioning is that the toys are dishwasher friendly and come with a limited lifetime guarantee. Get yours today for the best price by placing your order at chewy.com.=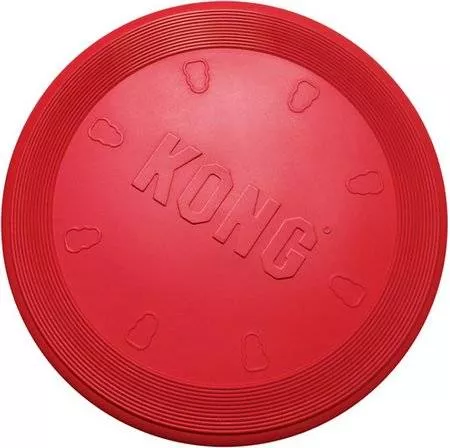 Kong's Flyer Water Toy is an attraction to lots of pet parents, first because it works for almost all dog breeds and life stages. You have multiple sizes to choose from, and the construction is quite accommodative.
Kong toys are made from durable material that can withstand vigorous play. It's actually firm enough to take a firm bite during a game of fetch. The rubber's outer ring is especially hardy for this purpose. However, the rubber has also been constructed to be soft enough to give way when pounced upon, eliminating any concerns of injury.
It's unfortunate if your doggie is an aggressive chewer. You may have to find it another chew toy that can handle his aggressive teeth. This is because this toy is not a chew toy and can become a choking hazard if your pooch chews into it.
KONG – Flyer – Durable Rubber Flying Disc Dog Toy comes in two sizes: small and large. The smaller disc is 7.5 inches in diameter and is a perfect fit for small breeds, while the 9-inch diameter larger disc is ideal for medium to large breeds.
Despite their sizes, the toy can float in both in water and in the air with excellent accuracy, giving your dog the perfect catch reflex. This toy is available at leading online pet stores, including chewy.com.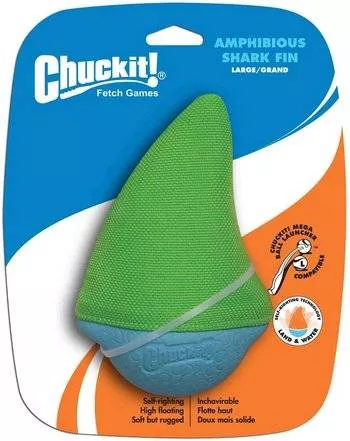 Top amongst the awesome features that make Chuckit! Amphibious Shark Fin highly-rated is the self-righting mechanism that ensures the toy always lands upright, whether your pooch is playing with it on land or on water. It also keeps the pooch riveted in the game as the fin always lands or bobs upright and is brightly colored for easy retrieval.
Material-wise, the toy is soft and pliable, with a textured exterior for better grip in the dog's mouth.
The construction features a tennis ball base with a fin jutting out. If your pup is the kind that swallows water when playing in it, this is an ideal toy because it fits better in the mouth.
It's actually an excellent toy for training your dog to enter and play in the pool.
Knowing that it could be challenging throwing the ball, the manufacturers created a Chuckit! launcher to help with that. The price point is very reasonable for the results you get.
Chuckit! Amphibious Shark Fin Toys are ideal for all age groups and easily available in pet stores like Chewy.com.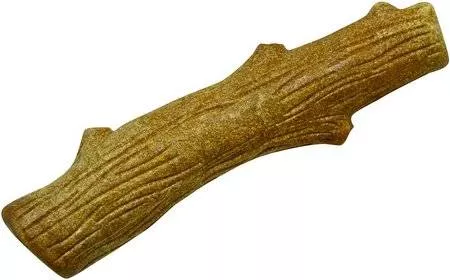 Ever noticed how your dog loves to scratch and bite tree trunks when out on walks or playing in the park? Well, turns out the natural wood scent is very attractive to dogs. Think of a toy infused with natural wood. Must be interesting, right?
Well, that's one of the features you'll find in Dogwood Durable Real Wood Dog Chew Toy. It's able to meet that need for the outdoors.
Lots of pet parents cherish that feature, mostly because it satisfies the craving for outdoor scents when your doggy is locked up inside your house.
Another impressive feature is that the materials used are non-toxic and extremely durable. Also, the shape is ergonomic, allowing your dog to have excellent grip during play.
Design-wise, this toy is much safer than a regular stick, since it doesn't have sharp or rough edges that can cause injury.
This toy floats. So, you can comfortably use it for water sports. The sizes range from petite to extra-large. The petite size is ideal for dogs below 15 pounds. The small size caters to canines up to 20 pounds, while the medium and large sizes are meant for dogs weighing up to 35 pounds and over 50 pounds, respectively.
What's more, your dog can chew this toy as well. If you'd like to get one for her, check out chewy.com for the best offers.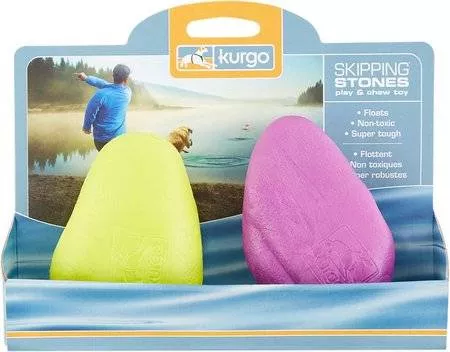 Skipping stones have been a favorite of man for a long time and this doesn't seem any different for dogs either. Dogs are actually fascinated by the skip of the stones on the water and will jump into the water after them.
Kurgo Skipping Stones Dog Toys are made of non-porous material so that they can never get waterlogged. They float every time and have bright colors for easy retrieval.
You can be sure of getting fully involved in your pet's playtime, strengthening the bond between you and her.
I also love the fact that they are not a choking hazard for the average dog and are non-toxic as well. That aside, when they get dirty, you can wash them in the dishwasher.
Their shape makes them easy for the dog to grip, and they are gentle on the mouth. On top of that, these stones are chew-resistant and have a lifetime guarantee.
Interestingly, they come in one size that's ideal for both small and medium dogs. For larger breeds, especially aggressive chewers, the toys could easily be a choking hazard.
Every pack features two stones of random colors. Unfortunately, you cannot choose your color. Kurgo Skipping Stones Dog Toys are available at well-known online pet stores, like chewy.com. They are excellent summertime dog toys you might not want to pass up.
Conclusion
No matter the taste or preference of your dog when it comes to play, they are more likely to fall in love with a new dog pool water toy, especially one with features that make playtime more fun and memorable.
You are sure to find a toy suited for your dog because the above selection caters to dogs of all sizes and breeds and they come with interesting features, like the righting technology, which ensures that the toy rights itself for easier retrieval.
Also, these toys are brightly colored and come in interesting shapes. Thus, they can easily bob out of the water plus you don't need to worry about losing them as they are visible to both yourself and your mutt.
Now you can spice up your play and bonding time with your little canine friend with some high-quality water toys that she will love.