Updated: October 13th, 2022
This article contains affiliate links. Read the full disclosure here.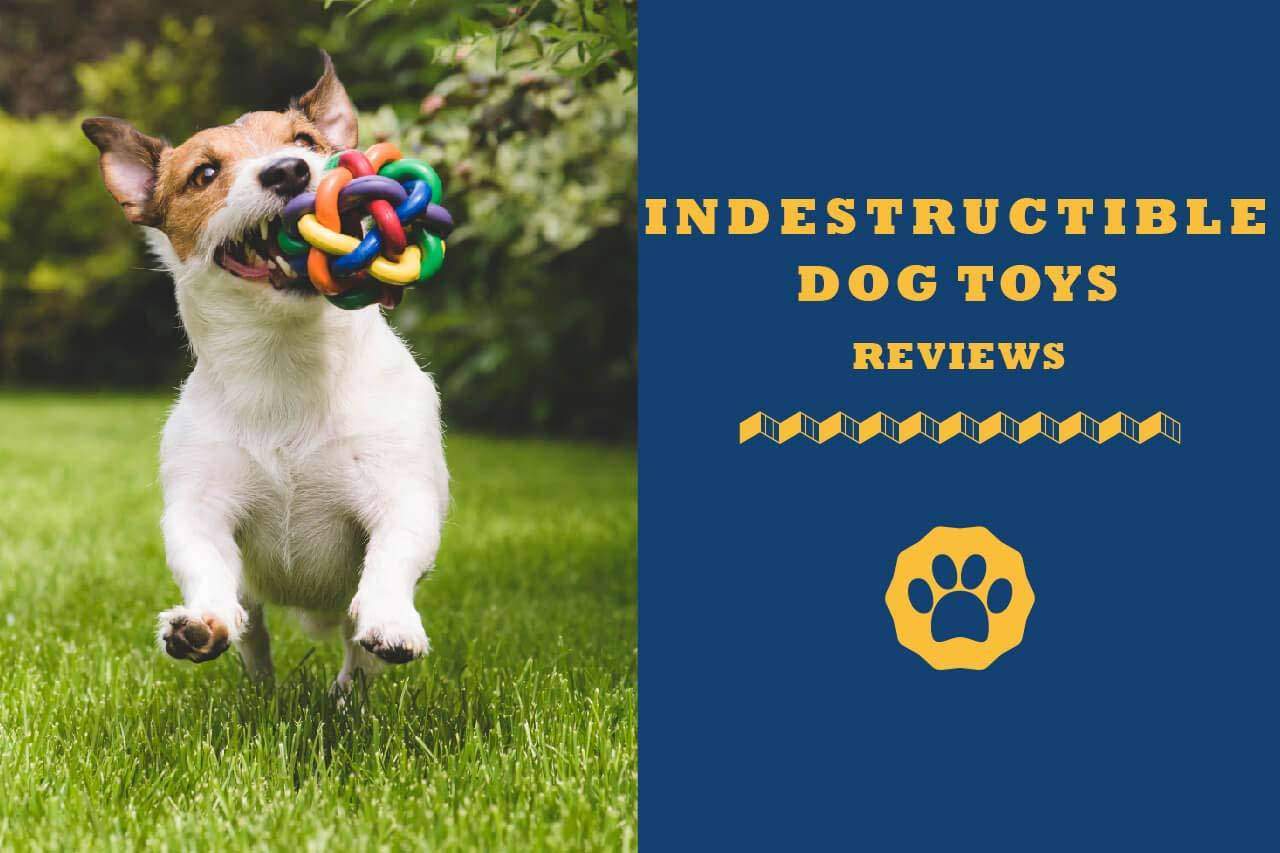 [five_sixth_last]
Let's imagine your lovely dog is a chewer, the kind that chews everything from your shoes to your expensive rugs. Even your visitors' shoes are not spared. Frustrating, right?
My bet is that you will end up searching for better ways to deal with that, and I have three words for you: indestructible dog toys.
Most toys, like the squeaky ones, are particularly prone to destruction because, to some pups, they sound more like prey. She'll most probably rip it apart in an attempt to kill it. My guess is the squeak appeals to the dog's hunter instinct. Generally, rubber toys last longer than their stuffed counterparts.
There are two types of chewers: aggressive and non-aggressive chewers. Powerful breeds like Labradors (very notorious chewers) and Pitbulls tend to be aggressive chewers, while gentler breeds like Pug, French bulldog, or Shi Tzu are non-aggressive.
Having said that, do not be surprised if your gentle, quiet, easy-going pup turns out to be an aggressive chewer. The bottom line is that the chewing is destructive, whether aggressive or nonaggressive. That is where an indestructible dog toy comes in.
First, I'll briefly show what indestructible toys are and, later on, I'll explore some of the best options available in the market today.
AT A GLANCE:
Our 5 Best Indestructible Toys For Dogs
An Overview of the Best Indestructible Toys For Dogs
IMAGE
PRODUCT

Easy to retrieve
Durable
Safe to use

VIEW LATEST PRICE →

Easy to clean
Made from durable rubber
Excellent grip

VIEW LATEST PRICE →

Really lightweight
Dogs love the bacon flavor
Recommended by vets to help scrape tartar

VIEW LATEST PRICE →

Dogs love the flavor
PROS Durable
Made of super-strong nylon

VIEW LATEST PRICE →

Encourages the dog to play
Natural materials
Bounce is unpredictable for added fun

VIEW LATEST PRICE →
Indestructible Dog Toys: What Are They?
Put simply, this is a dog toy designed to withstand the severity of aggressive chewing. They do eventually succumb to the dog's chewing, but not before putting up a spirited fight of bouncing back from constant gnashing and gnawing, unlike the regular toys.
For a dog toy to qualify as indestructible, it must not come apart easily, despite being handled by the roughest dog. Usually, such toys feature very sturdy materials, like poly plastic or hard rubber.
Dog toys for heavy chewers are actually a safety precaution that pooch owners should consider. A toy that disassembles easily can result in broken parts that can choke or cut the dog. Investing in an indestructible toy keeps your dog occupied without it becoming hazardous, especially if the dog is left alone for extended periods of time.
Dog toys for aggressive chewers should meet the following criteria to be effective:
They should not squeak, shake, shine, or spin
They have no stuffing
Ideal for indoor play
Are made from hardy material
Gentle on the dog's teeth and gums
Have no rawhide components
Indestructible pup toys are best when they are in the form of balls, dog bone shape, doughnut shape, chewy toys, frisbees, or dog ropes.
Consider investing in this type of dog toy, especially if you have a smaller dog, so as to eliminate the chances of choking. Note that these types of toys come in multiple sizes.
It is important to note that chewing is a natural behavior for dogs, so do not punish them for it. It begins when the animal is teething as a puppy. Just mitigate it by choosing an effective chew toy for your canine buddy.
However, if chewing becomes destructive, you may want to mitigate it. You can learn a few tricks on how to go about that from the video below:
How To Choose The Right Tough Dog Toys
Choosing the right indestructible dog toy requires your understanding of how extreme your pooch's chewing habits are.
Remember, dogs are ferocious with their teeth, which include sharp canines and incisors and flatter premolars and molars. Each of these teeth is used to rip and crunch whatever it bites into. Thus, the chewing is not similar to what we experience when eating food; it is more of a tear, shred, and rip combination.
Aggressive chewers tend to favor the rip-and-tear maneuver while gentler and average chewers prefer to lick, paw, gently bite, and leave their chew toys intact. The average chewers will cause a rip here and there over time, but the toy will not be completely destroyed.
Regardless of which type of chewer you own, here are the most important things to consider when looking for in an indestructible dog toy.
1) The Dog's Age
If your dog is chewing so much because it is teething, invest in softer, chewy toys. Once the pup has moved on from the teething phase, you can start to buy it progressively harder toys as you determine which kind of chewer it is. At this stage, your canine friend has boundless energy and its tooth and jaw strength are at their peak so hardier toys are advisable.
A senior dog aged seven and over loses its tooth and jaw strength, but it still needs to indulge in chewing games. For such a pooch, you can revert back to softer chewy toys made with chew-resistant material.
2) Size
As mentioned before a small toy can easily become a choking hazard for any dog. Larger breeds, in particular, should not be allowed to play with small-sized tough dog toys.
A sizable dog toy doesn't have to be enormous and overwhelming to a small dog. Mid-sized dimensions are befitting, allowing the dog to play, but still posing an exercise challenge.
Bigger dogs will do well with mid-sized to large toys.
3) Texture
Steer clear of very smooth, easy-to-swallow toys. Your dog can easily ingest it, which could cause a blockage. Also, smooth toys can easily be broken by the dog because they offer little resistance to the dog's teeth compared to textured exteriors.
4) Material
Always look for toys labeled with non-toxic materials, like rubber. Make sure the rubber is soft enough to prevent injury to the dog's gums and teeth. Toys that have layers sewn into them are an excellent option as long as the innards of the toy do not pose a choking hazard.
Top 5 Best Dog Toys For Aggressive & Non-Aggressive Chewers: Reviews
Here are some incredibly strong dog toys for your average to an aggressive pooch.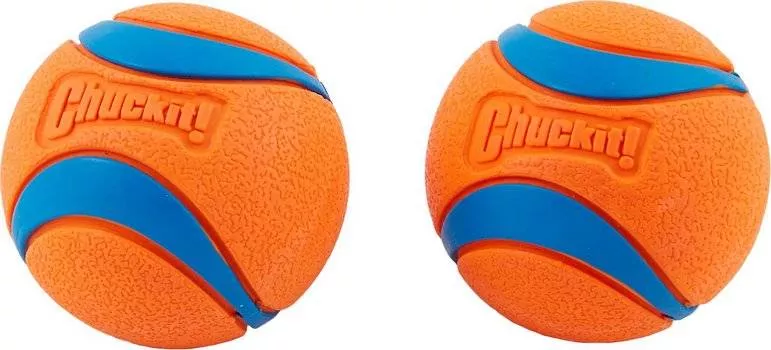 I've seen dogs that clearly need something beyond a bouncy ball to pounce on and run after. Mostly, a toy that can survive being chewed and bitten.
Chuckit! Ultra Rubber Ball Dog Toy is not only Ideal for an average chewer; it also fits the needs of a highly energetic dog that loves a good game of catch.
The balls come in a pack of two (small or medium size) and they have a high bounce to engage your pooch. The exterior is textured, covering a thick rubbery core. This ensures the dog has an adequate grip of the ball during play.
I'm also sure you will appreciate the lengths Chuckit! has gone to ensure their products are safe for your doggy pal. They subject their products to independent lab tests to rule out the presence of toxic elements like mercury, selenium, and uranium, among others.
The diameter for the medium sized ball is 2.5 inches, while the small ball has a diameter of 2 inches. You may want to buy a Chuckit! launcher to aid in throwing the ball for your dog.
Also worth mentioning is that these balls are brightly colored, making them easy to retrieve. They are able to float as well.
If you'd like to get one for your pup, look no further than chewy.com for the best prices.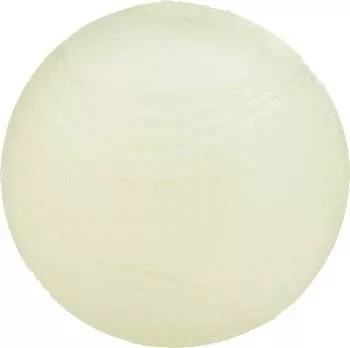 Chuckit! Max Glow Ball comes in multiple sizes to suit just about every dog owner. You can opt for a one or two ball pack in either small, medium, large, or extra large sizes.
The ball is made from durable rubber and glows as long as it charged. Here's the best part: it can charge under any bright light. Also, as little as five minutes of charge time can generate up-to half an hour of play time. This way your pooch is never without their favorite toy because of downtime, even at night.
The rubbery material is textured, offering excellent grip for your dog. In addition, the exterior is easy to clean. Chuckit! Max Glow Ball has received excellent reviews from those who've purchased it from online stores like chewy.com.
It's your turn now. Remember, the toy works well for all breeds and for all dog sizes.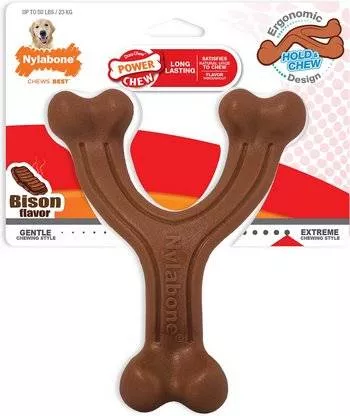 Nylabone gives you two options: regular or giant. With three prongs that your dog can gnaw on and a firm grip, this toy offers endless chewing fun for both large and giant breeds.
It's made from powerful, hardy nylon complete with a textured finish. Another interesting aspect of its design is the raised bristles that clean out your dog's teeth as it chews.
Pet parents who've purchased this toy admit that their dogs love the bacon flavor infused into the toy. Even dogs with food allergies can still enjoy the toy and the flavor because the flavoring is not from actual food products.
Your furry friend will love how light this toy is (just a few ounces). Despite this lightweight, it can withstand being consistently handled by an aggressive 35-pound dog without falling apart.
This toy works well for both pups and adult dogs looking for a chewing challenge. Nylabone wishbone toys are also recommended by vets to help scrape tartar off your pooch's teeth and maintain the dog's oral health.
Also, they last for months and can be ordered from a well-stocked online pet store like chewy.com.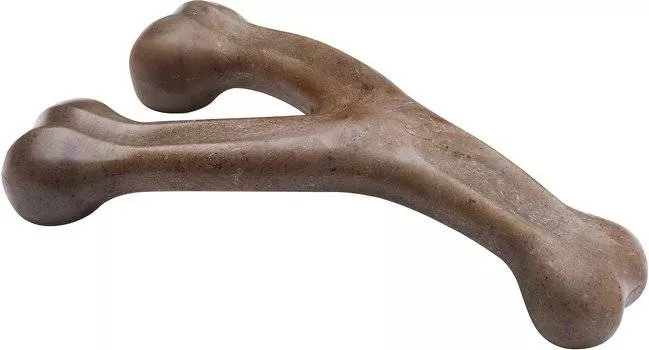 Bacon is clearly a favorite flavor for dog toys because the scent attracts the doggies. Benebone uses real bacon infused into the hardy nylon to keep your furry pal happy during chewing.
Plus, the toy features deep grooves that remain safe, even as your dog gets engrossed in trying to get to the flavor within.
Some animals are allergic to food flavoring. Thus, using real food grade bacon is a huge plus. However, if your doggie friend is allergic to nylon, do not use this toy.
This toy is meant for an average to gentle chewers. Aggressive chewers are likely to destroy the toy and probably their teeth as well as they seek the bacon flavor. If you really want this for your heavy chewer, opt for the jumbo size.
This toy comes in three sizes:
The mini, which is ideal for dogs under 30 pounds
The regular option, which is ideal for dogs under 60 pounds.
The jumbo size, which is ideal for dogs under 100 pounds.
Benebone's recommendation is that this toy is ideal for a dog of up to 70 pounds. However, customers with larger dogs have used the toy with very satisfactory results.
I love the fact that part of the profits from the sales of Benebone toys, like these ones, are donated to organizations that support animal welfare countrywide. You can be a partner by making your purchase today through well-known pet stores like chewy.com.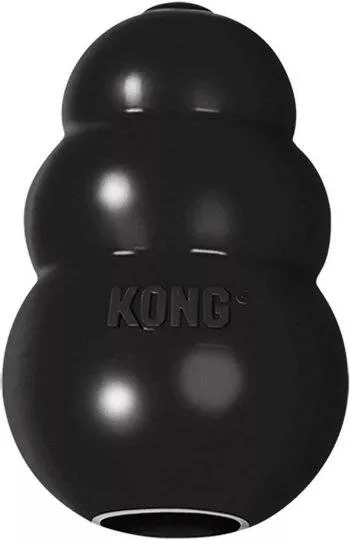 Kong Extreme Dog Toy takes pride in being one of the toughest dog toys of choice for pet parents with aggressive chewers. It's sturdy Kong rubber can withstand the effect of the canines and incisors ripping motion and the grinding of the flatter molars.
The material is all natural, eliminating the fear of toxic elements being released with the bites. Also, the rubber gives the toy a bouncy aspect, which encourages the dog to play.
On top of that, the bounce is unpredictable for added fun. You can also use the toy to enhance your pup's playtime by stuffing it with treats that it can scavenge for.
It's available in multiple sizes:
3 inches – For small dogs weighing less than 20 pounds
3.5 niches – For medium dogs weighing 15–35 pounds
4 inches – For average to large dogs weighing 30 – 60 pounds
5 inches –For extra large weighing 60 – 90 pounds
6 inches –For extremely large dogs weighing more than 85 pounds
I found the sizing interesting because it shows the manufacturer understands that even smaller breeds can be aggressive chewers. Lots of dog experts, from veterinarians to dog trainers, highly recommended this indestructible dog toy for aggressive chewers.
Make sure to match the right dog and the right sized toy. Also, note that you may need to replace the toy after some months depending on how aggressively your dog has chewed it.
Kong Extreme Dog Toy can be purchased from chewy.com.
Conclusion
Here's something all of us can admit. At the back of our mind, there's the fear that our furry friends will destroy our favorite slippers, furniture, or that expensive rug.
In most cases, your canine friend will revert to aggressive chewing if he's feeling lonely, anxious, or bored. The good news is that if you invest in high-quality tough dog toys and let your pooch have a go at them, your worries will disappear, just like that.
Ultimately, your dog will benefit from a challenging toy that can also withstand its predatory behavior. It's a win for everyone!
All the above options have been tried and tested on a variety dogs and boast of excellent results and reviews from dog owners. They give your dog a great outlet for their chewing habits and even help with oral hygiene in some cases. Even better, the bouncy options will provide exercise for your energetic pooch.