Updated: October 14th, 2022
This article contains affiliate links. Read the full disclosure here.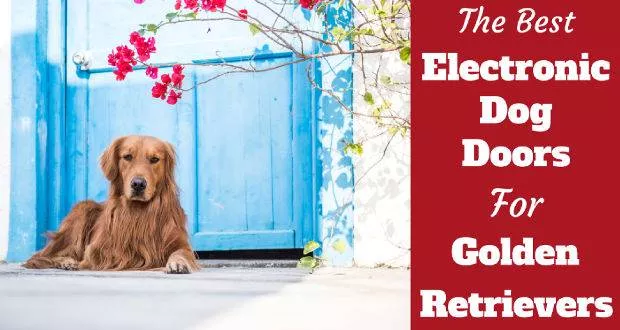 © Depositphotos.com / chendongshan
When you want to go outside, you go outside. When you need to go to the bathroom, you go to the bathroom.
Your dog doesn't have the luxury of doing these things right when they want to.
But they could!
Even the most dedicated of pet-owners aren't available to let their pets in and out whenever they want, 24 hours a day. That's why doggie doors can be extremely handy, as they allow your pup to be in charge of when they enter and exit the house.
The problem with traditional doggie doors, however, is they're not always as safe and convenient as you might like.
But don't count doggy doors out just yet:
While they let your dog come and go as they please, they can also let other animals get in your house. Plus, there are times when you might not want your pet to be able to get in or out, but you can't be there to manually lock the door.
Electronic doggie doors can solve many of these issues and make an excellent alternative.
AT A GLANCE:
Our 5 Best Electronic Doggie Doors For Golden Retrievers
An Overview of the Best Electronic Doggie Doors For Golden Retrievers
IMAGE
PRODUCT

Affordable
Mains or battery powered
Secure deadbolt locking

VIEW LATEST PRICE →

Easy to operate
Sensitivity controls adjust how close your pet needs to be before the door unlocks
Affordable and good value for money

VIEW LATEST PRICE →

Works in conjunction with your pet's existing microchip
One year battery life
Curfew mode timer

VIEW LATEST PRICE →
*Some of the above links lead to current prices and customer reviews on Amazon.
Top 5 Best Electronic Doggie Doors For Golden Retrievers: Reviews
We've selected our top five picks of electric doggie doors to share with you.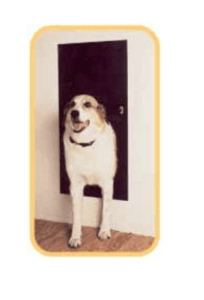 Available in 10 different sizes, the Solo Pet automatic dog door is one of the best out there. The door automatically slides up as your pet approaches, which many dogs prefer to having to push the flap to get through. It closes gently by the power of gravity, so there's no chance of it hurting your dog.
It's activated using an electromagnetic tag which needs to be attached to your pet's collar. It's small, lightweight and waterproof, but occasionally other devices can interfere with the signal. It doesn't seem to cause issues in most cases, but some users advise to install it away from any other appliances or devices that use electromagnetic signals.
It's an extremely durable door and is made in the USA, so you're supporting local manufacturing.
In each size, you have the option of ordering it for wall installation or for door installation, depending on what you need. It needs to be plugged into an outlet, but with wall installation you also have to option to hardwire it in.
Pros:
High quality
Motorized slide-up door
Safe closing mechanism
Locks securely on closure
Made in the USA
Cons:
It's been reported some appliances, such as driers, can interfere with the signal and make it behave erratically
It is fairly costly, especially in larger sizes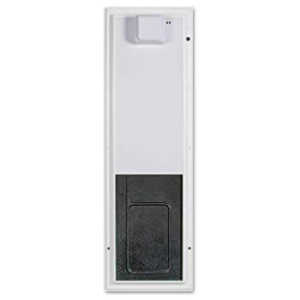 Much like the Solo Pet door above, the PlexiDor doggie door slides upwards to open and let your pup in without them having to push through a flap to enter. It won't close while the door is obstructed, so it's extra safe for pets and curious kids.
The standard unit is door mounted but there is an option to purchase a wall-mounted variety.
Don't miss this fact:
It comes with two lightweight collar keys that weigh only 0.4oz and operate using RFID technology. However, if you have more than two dogs, you can purchase additional collar keys that are reportedly straight-forward to program. They're also waterproof, so there are no worries if your dog likes go for a swim now and then.
Although this unit comes with a high price tag, it's of an exceptionally high quality, is made in the USA and comes with a five-year residential warranty.
The large size is big enough for dogs of up to 125 lbs, which should be more than big enough for your golden retriever.
Pros:
Light, easy to program collar keys
No batteries required
Doesn't interfere with home security systems
Locks when not in use and keeps other animals out
Five-year warranty
Won't close when obstructed
Cons:
Not a good option for anyone on a strict budget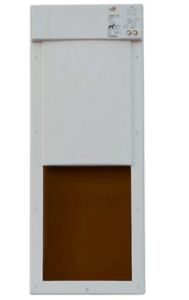 Once again, this model is similar to the previous two above. The door is operated by a tag fitted on your dog's collar and slides open upwards to let your dog in or out.
It claims to be made from a military-grade resin designed to withstand bullets and extreme hot and cold temperatures.
However, some buyers have not been 100 percent happy with the quality. That said, it's less than half the price of the two units above, so you can expect a slight downgrade in quality and durability.
Quality issues aside, it has mostly favorable reviews and seems to get the job done as well as other electronic doggie doors on the market. But, perhaps in just a slightly clunkier and less stylish fashion.
And there's more:
The standard version of this is to be door mounted. However, you can buy a kit so that it can be wall mounted. There are also panels available to let you fit it into a sliding glass patio door, so we appreciate the versatility here.
It's both windproof and weatherproof with an airtight seal and deadbolt locking when not in use, which increasing security.
It has settings to allow your pets access only in, only out, full access or completely locked. There are also range settings so you can control how close your pet gets to the door before it activates. While it can be plugged into the mains power, you can choose to have batteries as a backup or to completely run it from battery power if you find that more convenient.
Pros:
Affordable
Mains or battery powered
Secure deadbolt locking
Plenty of options regarding range and access
Can be fitted in regular doors, plus walls or patio doors with the correct adaptors
Cons:
Large collar adaptor
Lower quality parts than some similar (but pricier) models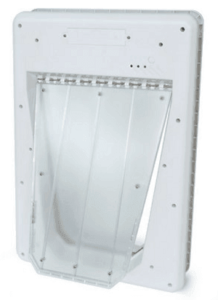 The PetSafe SmartDoor is a slightly different concept than the doggie doors listed above.
While it's still unlocked electronically using a "smart key" on the dog's collar, rather than having a motorized flap, the smart key unlocks the door but the dog still has to push their way through.
Most dogs are happy to use a flap like this once they've got the hang of it and they are significantly cheaper than their motorized counterparts, though they might be slightly less secure.
And get this:
The door comes with one smart key, but you can purchase more. Only five smart keys can be programmed at once time, so if you have more than five pets that would be using the door, this isn't the one for you. These smart keys are simple to program but may be bulky for smaller pets.
The large size if suitable for dogs up to 100 lbs. So, if your golden is your biggest dog, you should have no trouble there.
For those who need it, there is an option to buy a wall mounting adaptor.
Pros:
Easy to operate
Sensitivity controls adjust how close your pet needs to be before the door unlocks
Affordable and good value for money
Insulated to avoid losing heat from your house
Cons:
Some dogs might not like pushing through the flap
Battery powered only with no mains power option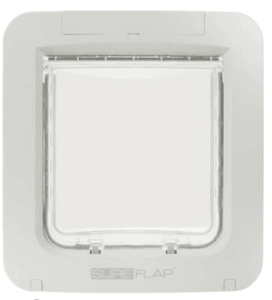 This one's a bit of a wildcard, because it's actually too small for a golden retriever. However, we know that a lot of people with small dogs will be reading this for general advice on buying doggie doors and this one had some really great features that we couldn't find in any larger models.
What we like about this door is that it can be programmed to read your dog's existing microchip, so there's no need for a collar and no chance it will let the wrong pet in. However, there is also a collar tag that activates the door if you prefer.
Another great feature is the "curfew mode" which is essentially a timer. Once set, it will automatically lock the door between certain hours, or only allow your pet to enter, and not to exit.
There is this to consider:
Although it is battery powered only, it has a battery life of one year.
Like we mentioned above, this is only really big enough for small dogs (or cats) so golden retriever owners should disregard this one.
Pros:
Works in conjunction with your pet's existing microchip
One year battery life
Curfew mode timer
Option to use a collar tag if preferred
Affordable
Cons:
Not large enough for a golden retriever
Read on to find out why we chose these specific models and some tips and advice on which model is best suited to you and why.
What Exactly Is An Electronic Doggie Door?
To the eye, electronic doggie doors look just like the traditional variety. However, they have additional features that make them much more useful.
As the name suggests, they're electronically powered. But, more specifically, they're automated to let only your pets in and keep others out.
They tend to achieve this by using special tags that you put on your pets' collars. These tags are either magnetic or battery powered and let the door know to unlock when your pet approaches.
Is An Electronic Doggie Door Right For You?
While it might sound convenient, an electronic dog door isn't necessarily right for every dog and owner. So, think about your specific needs before you decide on one.
First, there's some things you should think about:
Think about whether you're planning to use it only when your home, or when you're out at work or your dog is otherwise unsupervised.
If it's the latter, consider whether your dog will be safe and happy out in the garden alone. If you have neighbors close by and your dog barks a lot at noises or people who go past, this might not be a great idea. It could be stressful for your pup and annoying for your neighbors!
It also might not be a great idea to let your golden retriever go in and out as they please on especially hot or cold days if you're not there to supervise.
However, many owners don't tend to use them when they're not home. Instead, they can be handy for dogs who like to take 3am bathroom breaks (what joy to have a full, uninterrupted night's sleep).
Or for dogs who constantly ask to be let out, only to want to come in two minutes later (and repeat ad infinitum). The perfect pet wouldn't do this, but who's perfect anyways?
Ultimately, only you can decide whether an electronic doggie door is something you need. And whether its something suitable for your pet.
Selecting The Right Size
Once you've decided you want to go ahead and buy an electronic dog door, selecting one that's the right size is imperative. A small dogs, a medium size dog, and a large dog will all have their own sized door to be able to safely get in and out.
Most manufacturers give a maximum weight, but this is merely a guideline. It's much more accurate to find out the dimensions of the door and compare it to the dimensions of your dog!
Measure your dog across at their widest point and pick the door with the frame that's at least 2 inches wider than that measurement.
Next measure your dog from the highest point of their shoulders to the floor. This is the height of door you will need for your dog to easily get out from the inside.
Choosing The Right Style
Various styles of electronic doggie door are available to suit different needs when it comes to installation and positioning.
Door Mounted
When you think if a doggie door, you'll probably picture a traditional door mounted doggie door. This is where the door is fitted into your back door, going straight out into your yard. In your mind, it might even be a 2 way swinging door, though there are different designs within this style.
Wall Mounted
For some people, having a door mounted doggie door just isn't convenient. Perhaps they don't have a suitable back door or it doesn't lead out into the part of the garden they want to let their dog into.
In this case, we have a solution:
You can get dog doors that are mounted directly into the wall. This type of dog door installation is a bit more tricky. You definitely wouldn't want to do this to a rental property, but for some people they're an excellent option.
Patio Door
If you have a sliding patio door that isn't suitable for fitting a doggie door in the usual way, you can get varieties that are specially designed for fitting into these types of door.
They tend to be easier to install in this type of sliding door ​and don't require you to cut into the door at all. This means they're excellent for rental properties or anyone who doesn't fancy cutting a hole in their door or wall.
After all, not everyone can change out their glass sliding door!
Other Considerations
Installing an electronic doggie door can be a large expense and has a degree of permanence. Therefore, you want to consider everything before you commit to a specific model.
From energy efficiency to how easy to understand the installation instructions are, it all matters!
Durability
It's important to think about how durable your selected door is and how durable you need it to be.
Most people would be find with an average level of durability. However, if your golden is an avid chewer or if you live somewhere with extreme high or low temperatures, you might want something extra tough.
Another factor of this will be if it is a plastic door or an aluminum frame, or maybe something else entirely! Every type of material has a different durability rating.
Installation
How hard or easy is your selected door to install? If you're not at all handy, you might need someone to install it for you, so you'll need to factor that into the cost.
Trust us:
We know how hard it can be to install something like this. If the pet door installation is too hard to tackle alone, don't be afraid to bring in some outside help!
Amount Of Pets
How many pets do you have who will be using the electronic door? Will all pets be using the same door?
As mentioned above, most doors are operated by a special tag your pet must wear on their collar. Some doors have a maximum amount of tags they will respond to, so you need to make sure your chosen door will accommodate the amount of pets you have.
Also, you will want to be sure that the door sizes you are looking at will work for all pets. If they can get through when the door is open before it has a chance to close, then you're good to go!
Settings And Options
There are other features that you might want your electronic doggie door to have.
Here's a few examples:
Some feature a timer option. This allows you to, for instance, keep the door always locked at night. Or to unlock it for an hour or two during your working day but keep your pet securely locked in your house for the rest of the day.
Other doggie doors have the option to pick from a variety of settings; such as locked, open, or only open to animals wearing a collar sensor.
Some doors have automatic door closing options with spring loaded door panels that will shut when the door open for too long.
Some doggy doors help are more energy efficient of others. This might mean the door has insulating factors or a draft stopper to prevent air from leaking in or out. A screen guard can even help with keeping bugs out and wind resistance.
Other sets feature a security door that prevents intruders from using the doggy door as a way to break into your home. Electronic pet doors have an automatic door that opens with a certain signal, but you want to be sure this is secure.
Make note of any options you'd like your doggie door to have as it may make it easier to select one that fits your needs.
Conclusion
Having read through this post, you should have a better idea of what electronic dog doors are all about. As well as what kind is right for you and your dog.
Since the higher end ones are quite pricey, and you'll also have to put a hole in your door or wall to fit it, you want to be sure you've chosen correctly before you buy one.
Peruse our top picks above and hopefully you'll find the doggie door you've been dreaming of.
Product images: © Amazon.com
Please be aware this page contains affiliate links and TotallyGoldens receives a small commission if you make any purchases through any such links. This has absolutely no effect on the eventual price that you pay and we are very grateful for your support.