Updated: October 14th, 2022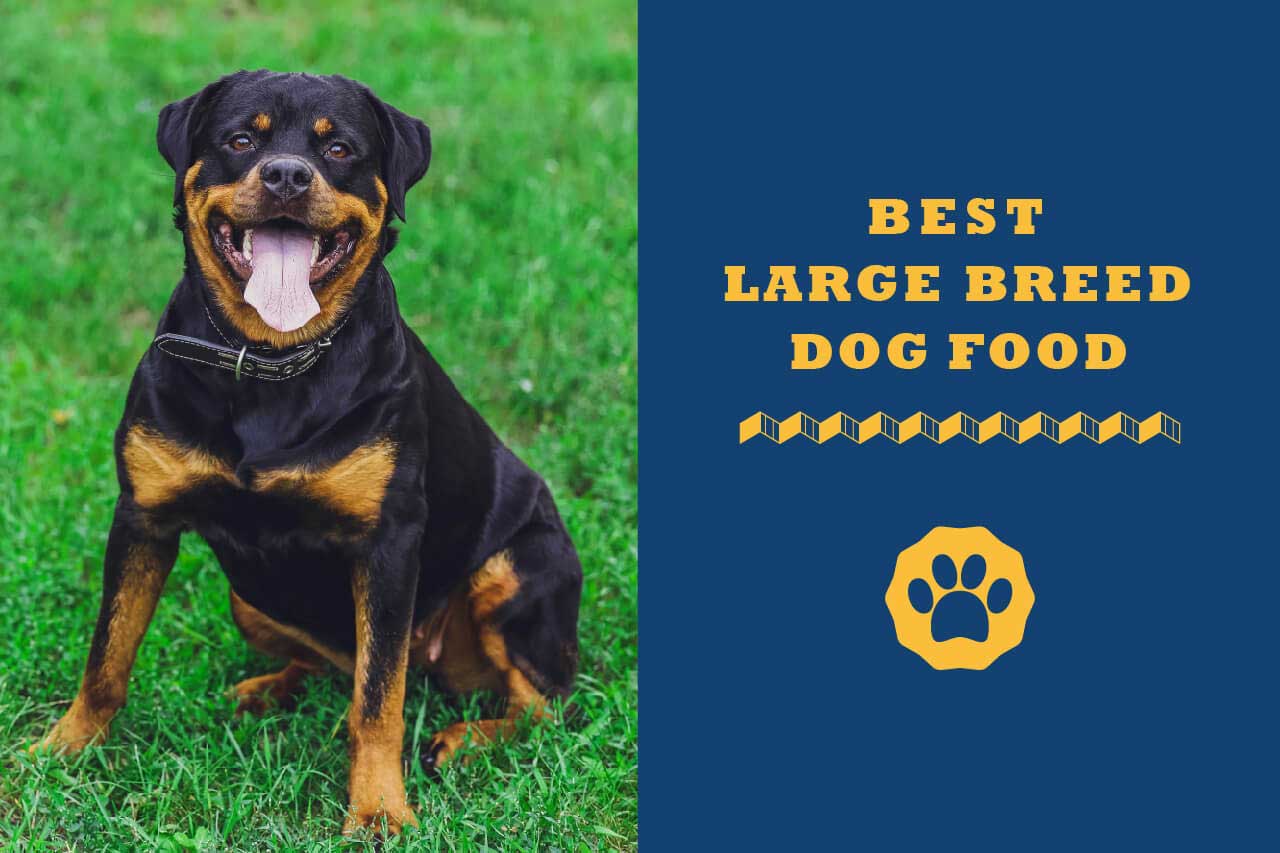 Imposing, intimidating, aggressive, gentle…Pretty interesting qualities for a canine, right? How about you add healthy and happy? That's what most of us would want for a pet, I bet, and the best large breed dog food might just be what you need to start off this journey with a bang!
AT A GLANCE:
Our 5 Best Large Breed Dog Foods
Overview of the Best Large Breed Dog Foods
IMAGE
PRODUCT

Infused with glucosamine and chondroitin
Rich in Omega-3 and -6 fatty acids
Plenty of chelated minerals and vitamins

VIEW LATEST PRICE →

BEST FOR LARGE BREED PUPS

Prebiotic formula
DHA-rich fish oil
Adequate calcium levels

VIEW LATEST PRICE →

Contains deboned chicken as the first ingredient
Adequate calcium and phosphorus levels
Rich in omega fatty acids

VIEW LATEST PRICE →

BEST FOR SENSITIVE STOMACHS

Made with highly digestible proteins
Rich in essential nutrients like prebiotics, omega fatty acids, antioxidant blend, etc
Adequate levels of EPA and DHA

VIEW LATEST PRICE →

Uses animal protein as the first ingredient
Adequate calcium levels
Formulated with mixed tocopherols

VIEW LATEST PRICE →
Some large breeds can be aggressive, there's no denying that. But most are just gentle giants with an imposing build. That aside, don't all of us love that they are a deterrent to trouble makers because of their size?
Proper nutrition is a must for your large breed if you want to continue enjoying her company. Like other breed sizes, they have special nutritional needs as well. Chief among these is a diet that is friendly to their stomach and helps their skeletal frame grow strong to support their large body mass.
Unfortunately, not all large breed dog diets are made equal and that's why you want to make sure that your pooch is enjoying a dog food formulation that meets all her unique nutritional needs. 
Think about her life stage, allergies, the food's protein content, and general quality. Well, that's what I took into consideration, plus a few other factors, and what I found is a list of large breed recipes you don't want to miss. Have a look:
Large Breed Dog Food Reviews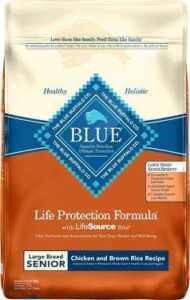 Click Here For Price
With real meat as the first ingredient, mixed with whole grains and veggies, your large pooch has a chance to enjoy a well-balanced tasty diet from a reputable brand. And since large breeds are also more prone to bone issues, this formulation takes care of that with the generous doses of chondroitin and glucosamine it packs which can help her maintain better joint health. 
Key Features
Infused with glucosamine and chondroitin
Rich in Omega-3 and -6 fatty acids
Plenty of chelated minerals and vitamins
Has L-carnitine
In best large breed dog food reviews, most pet owners relish the combination of deboned chicken and chicken meal to make a meaty flavorful meal loaded with protein which is what large canines require to stay happy and healthy. 
And that's not all. Because it is blended with oats and barley as well as veggies and fruits, expect this diet to be irresistibly delicious to your pet while at the same time boosting her immunity. 
Also, if your large pooch has really smelly poop that drives you nuts, you will be happy to know that the fiber-rich foods in this recipe (such as sweet potatoes and whole grains like oats), can help greatly with her fecal quality.
Plus, the recipe contains an extract of Yucca Schidigera which minimizes foul odor from poop and farts.
Pros:
Chicory root helps with digestion
Chicken meal not only reinforces the protein levels in the recipe but is also a rich source of chondroitin and glucosamine
Fish oil and flaxseed form an excellent profile of omega-3 and -6 fatty acids for healthier skin and a smoother coat
Chelated minerals and vitamins in the recipe help to bolster your dog's immunity
Cons:
A few users of this recipe report that the kibble size is a bit too small for their large hounds
In addition to being rich in essential ingredients, this recipe is made to meet just about every important nutritional need of your large dog, making it the best diet overall. It's especially ideal for the pet owner who wants a diet that will maintain and enhance the overall well-being of their senior canine friend.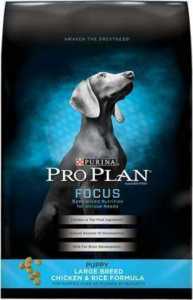 Click Here For Price
Large breed puppies, like the American pit bull terrier or the bullmastiff, can be gentle giants filled with joy as long as you feed them a diet specially formulated to meet their nutritional requirements. A good example is this Purina Pro Plan Focus Puppy Large Breed Formula Dry Dog Food.
For starters, this meal comes loaded with the right ingredients that will see your pup grow with lean muscle and a healthier immune system. Who wouldn't wish that for their pup? 
Key Features
Prebiotic formula
DHA-rich fish oil
Adequate calcium levels
Omega-6 fatty acids
If she's not receiving the right composition of nutrients, your large breed canine will end up developing skeletal complications. You probably know that calcium is one of the minerals crucial for the proper development of dog bones and teeth. 
Now here's the interesting part—this recipe is not only rich in calcium but also DHA which is important for cognitive and proper brain development in dogs. 
Pros:
Fish meal and fish oil, both rich in omega acids, help in the development of healthy skin and great looking coat
Lean chicken contributes towards proper muscle development
Poultry by-product meal is a good source for calcium which nourishes your doggies bones
Brewers rice offers high energy to keep your little buddies up and about all day
Prebiotic fiber promotes digestive health and intestinal balance
Cons:
Contain gluten meal, so unsuitable for dogs that are gluten sensitive
If you are looking to make sure that your dog develops properly, Purina Pro for Large breed pups is a great option as it focuses on cognitive and eye development in your furry friends. I liked the fact that chicken is the first ingredient, as it provides the high animal protein that your pups will need to develop well.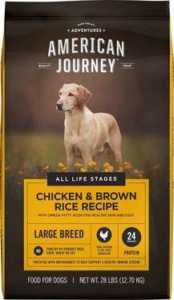 Click Here For Price
Due to their large skeletal frame, large breeds are more prone to bone-related complications. You, therefore, have every reason to get her a diet that has a healthy balance of calcium and phosphorus to promote stronger bones. 
Well, this American Journey Large breed formulation delivers exactly that and more. How about feeding her lean meat, such as deboned chicken, that is packed with protein? This will actually ensure that you furry pal develops strong muscles without becoming obese. 
Key Features
Contains deboned chicken as the first ingredient
Adequate calcium and phosphorus levels
Rich in omega fatty acids
Packed with wholesome grains for energy
Just like most users of this recipe, I appreciate the use of premium ingredients in this formulation. This works well with most large breeds. I have a Rottweiler who is a bunch of muscle and brimming with health, thanks to this recipe. 
Deboned chicken as the first ingredient not only promotes lean muscle but, when blended with veggies and wholesome grains, it becomes savory and even more nutritious. 
Pros:
Docosahexaenoic Acid (DHA) and omega fatty acids help in proper brain development and promotion of a shinier coat
Tasty for most palates due to deboned chicken and a blend of veggies as well as fruits
Bone development is supported by calcium and phosphorus
Packed with quality carbs for high energy such as brown rice and barley
Cons:
If you have an extremely finicky eater, he may find this food tasteless since it's not rich in tasty ingredients
Your large hound will find this formulation highly digestible, thanks to wholesome grains and sweet potatoes rich in fiber. Dietary fiber is further complemented by the inclusion of tomato pomace and dried beet pulp which are natural probiotics. 
So, with this option, your pooch will enjoy good immunity and healthier lean muscle. Besides, it's the best inexpensive dog food for large breeds on this list.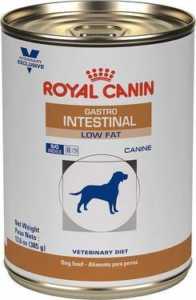 Click Here For Price
While fats are a great energy source for most dogs, some do have a difficult time digesting it. If this is a challenge your large buddy faces, save her the trouble by opting for this low-fat veterinary diet by Royal Canin.
Key Features
Made with highly digestible proteins
Rich in essential nutrients like prebiotics, omega fatty acids, antioxidant blend, etc.
Adequate levels of EPA and DHA
Although this canned food is veterinary formulated to be low fat, it still remains tasty with pork by-product as the first ingredient.
In place of energy-giving carbs, the diet uses rice flour and corn grits, both of which serve the same function.
The meal is also easy to digest, thanks to the use of digestible proteins and naturally-occurring probiotics such as dried beet pulp. 
Pros:
Dried beet pulp helps with digestion and maintenance of healthy gut bacteria
Formulated to address issues such as diarrhea, lack of appetite, and vomiting
Omega-3, EPA, and DHA work to soothe your dog's gastrointestinal tract so she can maintain her recommended weight
The antioxidant blend contributes towards a healthy and stronger immune system
Cons:
Although the recipe is effective, customers have complained about the price of this formulation being relatively high
Low-fat, canned veterinary diets such as this one can help your pooch stay healthy and comfortable. The simplicity of the formula and low fat content is what makes it so effective with an ability to curb diarrhea and vomiting. However, due to the recipe's medicinal nature, you can only buy it with a prescription from your vet.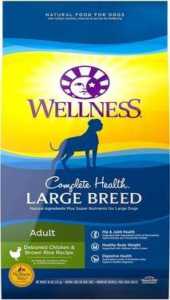 Click Here For Price
If your big canine loves the taste of meat, she is likely to love this recipe even more since it contains several sources of meat, from deboned chicken and chicken fat to chicken meal and salmon meal, among other ingredients that form a balanced formulation and a savory meal for her. 
Key Features
Uses animal protein as the first ingredient
Adequate calcium levels
Formulated with mixed tocopherols
Includes Yucca Schidigera, a rare but essential ingredient for large breed pet foods
Wellness Large Breed Formulation sees to it that your pooch develops and maintains lean body mass, thanks to the foremost ingredient being deboned chicken which is both nutritious and tasty. 
Large breeds are also known to have a larger skeleton, so it is imperative to have adequate amounts of calcium in their food to ensure proper development and strength of bones and joints. 
Pros:
Adequate calcium that promotes bone health
Quality animal protein helps your dog maintain a healthy weight and strong muscles
Less smelly poop due to the addition of Yucca Schidigera
Great taste from chicken fat, deboned chicken, and salmon meal
Salmon meal and flaxseed promote healthy skin and a glossy coat
Cons:
Some pet owners feel that the kibble is too crumbly and should be slightly firmer
On taste and nutrition, this formulation wins hands down. This savory taste will keep your large canine interested in his food while at the same time remaining healthy and active as a result of balanced nutrition that addresses digestion, healthy bone development, as well as strong lean muscles. 
Large Breed Nutritional Needs For Puppies, Adults, And Seniors
Making food for your large breed pooch is great but then comes the difficult part, which is selecting the right ingredients—and in the right proportions. You may miss an ingredient or two vital to her overall health, and this could be costly in the long run. 
Commercial dog food, on the other hand, seems to be a better option, because they take into consideration the specific nutritional needs of your dog and are made by dog nutrition experts. But then there's the challenge of having so many options to choose from. But that shouldn't worry you, because I'll be showing you what to look out for so it's easy to pick the most ideal food for your canine friend. 
Meanwhile, the difference between food for a smaller dog and that of large breeds is fairly small. But the impact of that difference will prove massive in the long run towards helping your big buddy live well and longer, right from puppyhood all the way to her senior years.
Generally pups, adults, and senior large breeds are prone to orthopedic diseases, obesity, and bloat in varying proportions. Nutrition plays an important role in fending off, managing, and disease prevention. 
To start you off on what to feed her based on her age, here's a look at what's required at each stage. 
Puppies
All puppies are made of bone, muscle, and tissue. They are also growing rapidly which makes it important to select a well-rounded dog food that allows muscle, skeletal, and tissue to grow at the proper rate and in a synchronized way. 
Bones that grow too fast lack density and strength, and therefore, they form joints and a skeletal frame that is weak. Too much body mass may also cause additional stress to the bones. So, the formulation that you opt for needs to promote strong muscles and a lean body mass. 
Common nutritional diseases in large pups include developmental orthopedic disease (DOD) and Osteochondritis des scans (OCD), as well as joint disorders such as hip dysplasia. 
To reduce the chances of such issues, ingredients such as chondroitin and glucosamine are crucial in a large puppy's diet. DHA and EPA are equally vital, as they promote cognitive and visual development in your buddy. 
Lean animal protein should be plenty in a pup's diet, because their growing tissue, bone, and muscle demand a lot of it. A large breed pup requires far much more protein than an adult. That is why it is highly recommended that you purchase dog food that is exclusively for puppies so that your little buddies can get all the nutrients they need for that growth stage. 
Adults
A well-rounded doggy diet with lean animal protein ensures that your four-legged friend develops lean yet strong muscle while preventing obesity. A diet that helps maintain an optimal weight plays a massive role in keeping bone and joint issues at bay. 
Another thing to consider is the right ratio between calcium and phosphorus, as it ensures that your adult dog has strong bones, teeth, and nails.
Next is the presence of prebiotics such as dried beet pulp and chicory root, both of which are important in maintaining gut health and improving digestion. 
Adult large breed dogs also need easy-to-digest carbs that are gentle on their stomach and easily absorbed nutrients to keep them healthy and energetic all day. 
Lastly, consider a meal with a good blend of veggies, vitamins, and minerals. All these are vital in keeping your buddy's immune system strong and vibrant. 
Seniors
In their golden years, large breeds are prone to arthritis. Over and above a well-balanced diet that delivers on lean protein, easily digestible carbs plus vitamins, minerals, glucosamine, and chondroitin are particularly important in maintaining her strong bones and lubricated joints. 
Don't forget that an overweight senior large breed is at risk of developing many ailments, including bone issues that can, fortunately, be avoided by using a diet that helps her maintain optimal weight. 
You might also want to consider a formulation that is rich in omega fatty acids. These are key in helping your aging buddy to still have a stunning coat with healthy skin underneath. 
You can learn more about the best dog food for big dogs in the video below:
When And How Much To Feed Large Breeds
For the most part, the dog food that you buy for your large breed, such as the ones mentioned above, will have a feeding chart. Most feeding charts are based on weight and life stage. 
So, if you have any doubts, I suggest that you consult with your vet just to be completely sure that you are feeding the right quantities. 
Large breed adults such as labs, collies, and golden retrievers will weigh about 50 to 70 pounds. Thus, their daily quality of dog food consumption will be about two and a half cups per day. Extra-large breeds such as St. Bernards, mastiffs, and Danes will weigh upwards of 75 pounds and take in anywhere between two to four cups of dry dog food in a day. 
Because large breeds are prone to bloat, a golden rule is to feed several smaller portions during the day. For adults, this can range from two to three feeding sessions in a day. Pups can also be fed three to four times a day to avoid stomach issues such as bloating. 
What To Look For In The Best Large Breed Dog Food
When shopping for the best dog food for large dogs, there are several things to consider:
1. Life Stage
One-size-fits-all dog food solutions may not be the best option as different life stages have varied requirements when it comes to large and extra-large breeds. In this case, it is best to buy dog food that is exclusive for large breed puppies, adults, and seniors so that all their different life stage nutritional needs can be met in a more precise way. 
2. Protein Content
It is imperative to ensure that you are buying a well-balanced diet. The first ingredient for a large breed dog should be a lean animal protein such as deboned chicken, duck, turkey, salmon, fish, and so forth. Meat meals are also good as a first or secondary ingredient, as they reinforce the protein content in the formulation for better muscle development and stronger bones. 
3. Prebiotics
These not only help in digesting food in your pooches stomach but also in promoting good bacteria in the gastrointestinal tract for a healthier gut. They occur naturally in ingredients such as dried beet pulp and chicory root. 
4. Fatty Acids
Fatty acids are vital in large breeds, as they help to boost the immune system. Omega-3 and -6 richly exist in ingredients such as salmon, flaxseed, fish oil, and so forth. They help in keeping your pooch's skin healthy and maintaining or developing a shinier coat. 
5. Balanced Diet
To support synchronized growth in your large buddy, you want to buy food that is well balanced. Ensure that it has lean animal proteins such as those mentioned earlier, digestible carbs, veggies, minerals, and vitamins. 
6. Allergies
If your large canine buddy is allergic to certain ingredients such as poultry and poultry products or corn and any other grain, then you want to be sure that select a dog food that does not have those ingredients. In the above-reviewed dog foods, you will find a good mix that can work for almost any large breed. 
In the event that your four-legged friend has trouble digesting fats and is prone to diarrhea, vomiting, and a loss of appetite, then perhaps a veterinary formulation might be of help. In such situations, it is best to consult with a vet in order to find the best solution. 
Conclusion
Large breeds are phenomenal companions. Contrary to what most people think, they are not necessarily high maintenance. Doggy owners have discovered that, as long as you have the right dog food formulation for all their different life stages, having massive dogs is more than a pleasure. 
The dog recipes reviewed here should make your work of raising a large breed so much easier and fun, while your big buddy will love you all the more because these recipes are specialized and tasty to fulfill all her needs. 
To begin with, consider Blue Buffalo Life Protection Formula Large Breed Senior Dry Dog Food—the best overall recipe in this review—for the reason that it's a well-balanced diet complete with almost all the essential nutrients your large breed hound needs to stay healthy and happy. 
Don't forget that the rest of the recipes are also made to suit the various specific needs of your large breed. So, if your budget demands you buy something more reasonably priced, trust in the rest to perform just as well in keeping your large breed happy and healthier for the long term.