We give a rundown of the 4 best large breed puppy foods. These will help the newest family members thrive and grow with the all the nutrition a large breed puppy needs!
Introduction
So you have a sweet large breed puppy, like a baby lab or golden. And you love your pup so much that you want to provide him with the best dog food that will set him up to live a long, healthy, and happy life, right?
When you start looking for a puppy food that will fit all of your puppy's growing developmental needs, it is important to know a few key aspects to look for in your puppy food's ingredients that will ensure your dog limits his exposure to some of the most well-known health issues for larger breeds, such as obesity, bloat, and orthopedic disease.
There is a simple way to help reduce the risk of any of these issues with your puppy—nutrition.
Essentials like folic acid and fatty acids, iron proteinate, manganese proteinate, and vitamin E supplements will help your pup stay strong while having real meat in there will help them pack on the pounds in the puppy weight department.
Let's take a look at the top 5 best large breed dog foods for larger breeds that have the nutritional balance your dog needs to continue to stay healthy, happy, and LARGER-than-life in personality (not just intimidating body size).
Puppies need the best to grow up strong and healthy, and want to help you find that pawfect food for your sweet puppy.  This article uncovers the best food for large breed puppies which will make your search a little easier.
Quick Links:

Our Top 5 Best Large Breed Puppy Food
An Overview of the Best Large Breed Puppy Food
Top 5 Best Large Breed Puppy Food: Reviews
Nom Nom Now is made with restaurant-grade foods that you could eat if you wanted to, making it the perfect choice for Large Breed Puppies as well as pups with sensitive stomachs.
There are several recipes to choose from, or if your dog tends to get tired of eating the same thing day in and day out, you can go with a variety pack. At order time, you get the opportunity to consult with a veterinary nutritionist, who will help you choose the best food for your picky pup.
This food exceeds AAFCO standards and is suitable for all life stages.
It stands out for its real, fresh ingredients, as well as for its convenience: Each week, fresh food is delivered to your door in pre-portioned single-meal packets.
Store it in the fridge or freezer until meal time, when your dog is likely to eat with eagerness and appreciation
Pros:
Ideal for all life stages, especially puppies
Lots of enticing recipes to choose from, all with specially formulated nutrition blends: Every recipe includes fresh protein plus delicious veggies dogs love
You consult with a canine nutrition expert when ordering, so your dog's food meets requirements based on age, weight, medical conditions, and other factors
No measuring or scooping; just open a packet at meal time
Cons:
Expensive to feed as a staple diet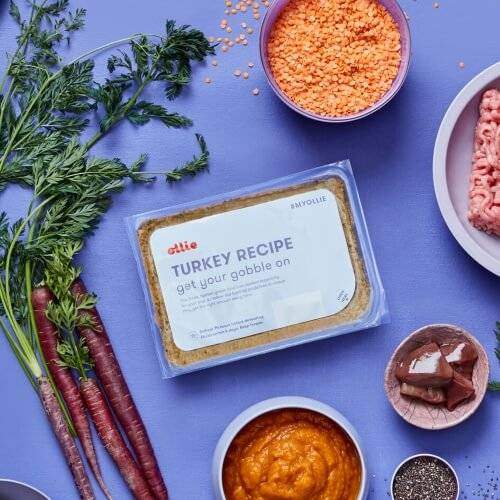 Get 50% OFF Your First Box of Ollie
You know that your large breed puppy needs food that encourages proper development, and we've covered quite a few great options already. Now there's a new one that's well worth trying. Ollie fresh dog food is specially formulated to meet AAFCO Dog Food Nutrient Profiles for All Life Stages, and these nutritional levels are also designed to meet the unique growth needs of large breed puppies that will grow to a weight of 70 pounds or higher once they reach adulthood.
Not only is this food nutritionally sound, it's made fresh with real food ingredients designed for humans but prepped for dogs.
Everything from fresh lamb to chicken is sourced from American and Australian farmers, and the fresh fruits and veggies that go into Ollie food are also from farms in America and Australia. There's nothing questionable or weird in this food; in fact, it's cooked fresh in New Jersey and delivered to your door once weekly.
Every canine customer has their own nutritional profile, and the food that's delivered is designed to meet each individual dog's needs exactly, with the right vitamins, minerals, and extras like chia and fish oil to provide healthy Omega-3s for a great-looking coat that feels fantastic. Most Ollie recipes are grain-free, too.
This food is amazing, and when it arrives, you might think it looks good enough to try yourself! A portion scoop is included so your pup gets the perfect amount at every meal.
Pros:
Made with fresh ingredients, nothing questionable or weird.
Every recipe has fresh meat as its first ingredient, plus a variety of healthy veggies. Some recipes include legumes and/or berries.
Ingredients come from trustworthy sources in America and Australia.
Veterinarian-designed nutrition with all the added vitamins and minerals your puppy needs for healthy, appropriate growth
Suitable for all life stages, no need to switch foods later
Convenient weekly delivery plan, no need to run out for pet food
Cons:
Costs more than average market price.
Doesn't arrive in single-serving packs like competing brands, but a portion scoop helps you serve the right amount.
Take a look at this veterinarian's advice on feeding your large breed puppy the best food for their growing and developing bodies.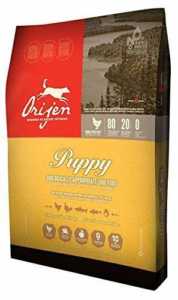 Orijen puppy food is made with whole, fresh ingredients including cage-free chicken and turkey, nest-laid eggs, and a combination of carefully farmed and wild-caught fish. This puppy food is high in protein and fat, but low in carbohydrates. The low-glycemic-index recipe supports optimal blood sugar without sacrificing energy.
Orijen foods are made in Canada using local Canadian ingredients and nothing from overseas. Foods are formulated fresh on a regular basis so your puppy's food hasn't been sitting in a warehouse for months.
Pros:
Puppies develop properly with lean muscles and soft coats
Smaller serving sizes than foods with fillers, so bag lasts longer
Grain-free recipe is suitable for puppies with sensitive stomachs
Cons:
Super premium price point, far more expensive than most other brands
Formula seems too rich for some puppies; a few develop gas and/or diarrhea when switching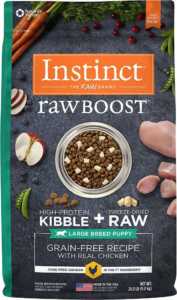 With bits of real, freeze-dried raw meat mixed throughout the recipe, Instinct by Nature's Variety features cage-free chicken as its first ingredient.
This food has added DHA from real eggs, which supports healthy brain and eye development, plus it contains plenty of Omega-3 and Omega-6 for a soft, healthy coat.
Instinct foods are made in America using a variety of ingredients including some sourced internationally. There are no grains or potatoes in this recipe, and it's certified gluten-free.
Pros:
Contains added probiotics for healthy digestion
Minimally processed with real fruits, vegetables, meat, and fish
Added vitamins and minerals for healthy nutrition overall
Cons:
Some picky eaters seem to dislike the flavor
Some reports of inconsistency from one bag to the next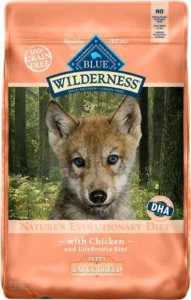 With complex carbohydrates from a blend of sweet potatoes, potatoes, and carrots, Blue Buffalo Wilderness large breed puppy food also contains antioxidants sourced from cranberries, blueberries, and blackberries, all designed to support your pup's developing immune system. The blend has real chicken as its first ingredients, and it's free from fillers like corn, wheat, and soy.
Added vitamins and minerals help support healthy growth, and a combination of calcium and phosphorus assure healthy skeletal development for your large-breed puppy. The kibble size is designed for puppies to handle with ease.
Pros:
Stools tend to be smaller and more solid than when pups eat foods with fillers
Good choice for puppies with digestive issues
Cons:
Kibble pieces are a little tough for younger puppies to chew; can moisten with hot water if needed
Some puppies don't like the flavor and refuse to eat the food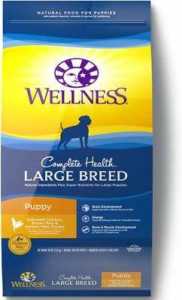 Wellness Large Breed Complete Health large breed puppy food is designed with a focus on healthy skeletal development so your puppy's bones don't become overloaded as the rest of the body grows larger. DHA from salmon meal aids in healthy brain and eye development, and flaxseed adds some extra omegas for a healthy, beautiful coat and worry-free skin. Added glucosamine hydrochloride and chondroitin support healthy joint development.
This recipe includes added taurine for heart health, along with a blend of premium fruits and vegetables for healthy digestion and natural nutrition. Added vitamins and minerals support overall wellbeing and rosemary extract assures freshness to the very last bite. Prebiotics and probiotics help ensure digestive health.
Pros:
Contains added Yucca Schidigera extract to reduce stool odor
Larger kibble size encourages puppies to chew food properly
New formula has been updated, now contains added glucosamine and chondroitin
Cons:
Not grain-free
Bag isn't resealable; best to transfer this food to an airtight container
Some reports of runny stools when switching
Conclusion
When you take in a sweet puppy, you know it's going to take quite a bit of work to provide them with the best of everything they need—food, treats, beddings, etc.
But when you take in a large breed puppy, you need to be extra sure that you are providing them with the best large breed dog food due to the extra nutritional needs a larger breed needs to be sure they grow and develop appropriately.
Also Read: Best Dog Food For Picky Eaters – Let's Feed the Fussy!
The top 5 best dog foods for large breed puppies we discussed in this article have the nutrition and minerals your puppy needs to grow and develop appropriately.
There are quite a few health concerns that larger breeds face as they grow older, but when a larger breed puppy is given the proper nutrition from the start, they are less likely to experience those health issues later in life (obesity, bloat, etc.).
So, when you are looking for the best food for large breed puppies, remember that these top 5 brands are great, but the best food will be determined by what your puppy needs the most! Be sure to look at the specific ingredients and nutrients that your puppy needs vs. what the dog food brand offers!
Last Updated on