Updated: April 27th, 2023
This article contains affiliate links. Read the full disclosure here.
A cold welcome from your golden retriever! Ever faced that? When she can't even look you in the eye or bother about your surprises?
If you have or know that feeling when your best friend or partner suddenly doesn't love you back, then you'll want to know about dog allergies and how to kick them out (with just food).
Allergies can suck the joy out of your pup and trust me, she'll have you feeling just as bad if you don't come to her rescue.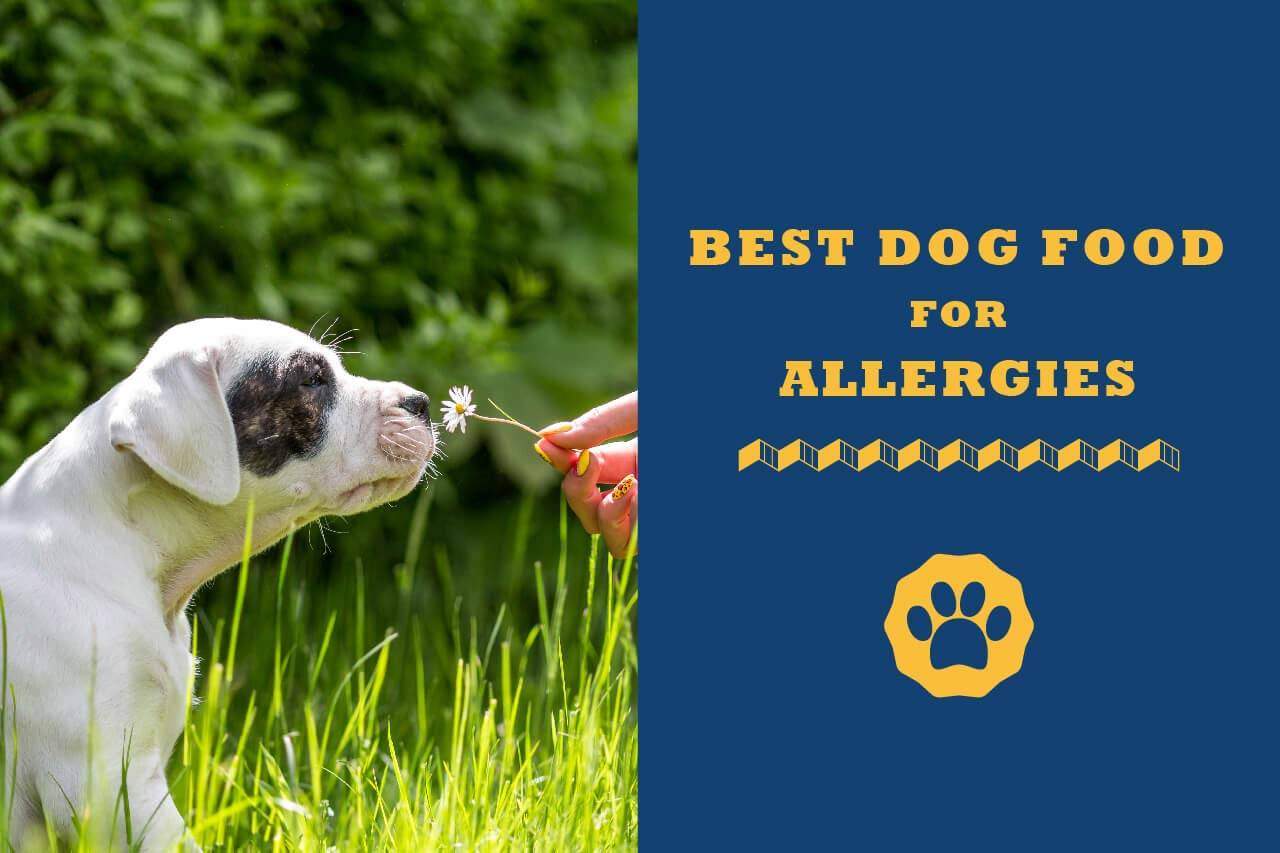 Vomiting, nausea, dry itchy skin, bald patches, skin rashes, diarrhea, you name it, these are all signs that your little friend could be deep into an allergy menace.
Is there a better way out? That's what I sought to find out and my forays led me into dog foods. I'm sure you badly want to know of this best dog food for allergies, what makes it special, and where to find it.
Guess what, I even went ahead and rounded up a few, then compiled more information that you don't to miss as you seek to deal with those allergies once and for all (more about that later in the article).
For now, I'll let you in on what I found to the best dog food for your allergy-prone pooch.
Not many dog food makers formulate their diets in a way that they are sensitive to the allergy complications dogs face. That explains why some formulas do the exact opposite: flare up the allergic reactions to severe levels.
For you to be safe from such diets, it begins by first knowing what qualities to look out for in the best hypoallergenic dog food. They include:
An Overview Of The Best Dog Food For Allergies
IMAGE
PRODUCT
 

The food contains high-quality human grade ingredients
It has been tested by industry experts and surpassed the expectations and standards set
Dog owners can create a meal plan for their dogs with the help of the company experts

VIEW LATEST PRICE →

Food allergies are taken into consideration when creating a meal plan for each dog
Meals contain high quality human grade ingredients
Recipes are vet formulated to create balanced meals

VIEW LATEST PRICE →

No allergy causing filler ingredients, like wheat and soy
Bison contains DHA to help your dog's brain development and health
Few ingredients and simple recipe to prevent incidences of allergic reaction

VIEW LATEST PRICE →

Food is made from natural ingredients and additional vitamins for a balanced meal
The ingredients do not contain intestines and feet to make them safer and more nutritious
Has chelated minerals that are absorbed much easier and better

VIEW LATEST PRICE →

Prebiotics and probiotics increase gut health for better digestion
Uncomplicated formula with natural products for overall health
Use of natural products and no fillers guarantees no allergic reactions

VIEW LATEST PRICE →
Top 5 Best Dog Food For Allergies 2022: Reviews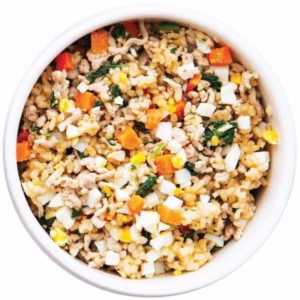 Natural ingredients remain one of the best ways to eliminate the chances of an allergic reaction. And that is what all NomNomNow recipes provide for dogs. Turkey, unlike chicken, is less likely to cause allergic reactions and this recipe from Nom Nom comprises that, in addition to whole foods, a fact that makes it a high quality diet safe enough for your allergy-prone dog to eat.
Key Features
Meets AAFCO standards

Human grade food ingredients

Uses natural ingredients

Portioned meals

Subscription-based dog food
The turkey used in the Nom Nom Tasty Turkey Fare Recipe has been USDA approved. The addition of high quality carbohydrates, like brown rice, and veggies, like spinach and carrots, make it wholesome and healthy.
The company adds to the recipe its renowned Nom Nom nutrient blend, which contains vitamins and fish oil to provide omega-3. Your golden retriever also receives important minerals like zinc, phosphorous, and selenium to boost immunity and fight disease-causing agents in the body.
Other recipes from Nom Nom include the Heartland Beef Mash, Chicken Cuisine, and Porkalicious Potluck all made with similar high quality ingredients and to the same standards.
Pros:
The food contains high-quality human grade ingredients

It has been tested by industry experts and surpassed the expectations and standards set

Dog owners can create a meal plan for their dogs with the help of the company experts

Food is freshly cooked, making an exceptionally healthier option for dogs
Cons:
This recipe contains eggs as one of the ingredients, which may cause a reaction in dogs that are susceptible to egg-related allergies.
Overall, this is a trustworthy dog food made to cater to your dog's health needs. There are no fillers to worry about with NomNomNow recipes and the nutrient mix blend is invaluable in the food.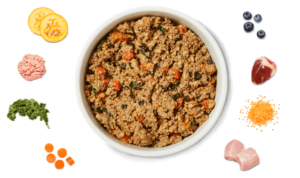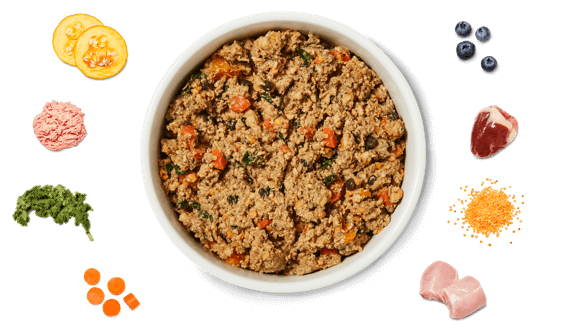 Like NomNomNow, Ollie is a subscription-based dog food company that creates excellent recipes from natural fresh ingredients. To get started on feeding your pooch Ollie dog food, create a profile for your pet with the required information and they will analyze the data provided and create a meal plan.
The meals provided are based on the weight, breed, age, activity level, and most importantly, food allergies of your golden retriever. Also, the food is portioned to ensure your dog only takes the recommended amount of calories and nutrients per meal.
Key Features
Human grade food ingredients

Flexible and regular delivering schedule

Customized meal plans
The full Ollie product range includes Hearty Beef Eats, Chicken Goodness, and Tasty Lamb Fare. Each recipe consists of natural human grade ingredients and is prepared in sanitized conditions.
Because there is a large amount of turkey ingredients, including turkey thigh, liver, heart, and ground turkey that make up the recipe, expect a high amount of protein and fat. This guarantees your dog a good portion of excellent protein and fat intake.
Pros:
Food allergies are taken into consideration when creating a meal plan for each dog

Meals contain high quality human grade ingredients

Recipes are vet formulated to create balanced meals

Cooked in low temperatures to keep nutrients for longer

A refund is available in case your dog doesn't like the meal
Cons:
It is a slightly expensive service, compared to the traditional dry kibble option because of the natural products, but still worth your bucks

Pumpkin can cause a reaction in dogs that are sensitive to it
Ollie reviewers have a lot of praise for the Ollie Healthy Turkey Feast, with some calling it their favorite Ollie dog food recipe. Doggie parents can rest assured that the amount of nutritional content packed into Ollie recipes is enough to meet the intended nutritional value.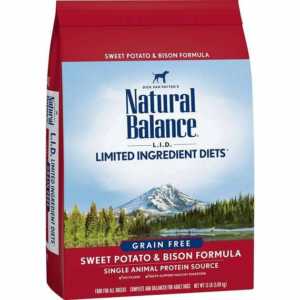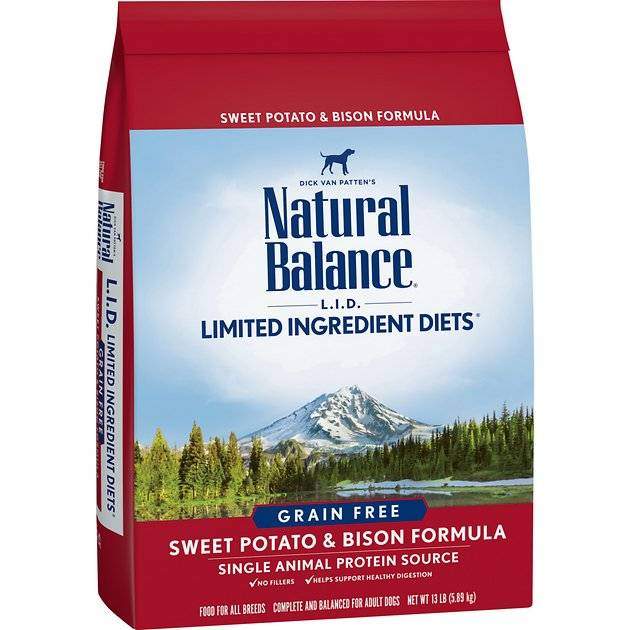 For a dog that has an allergic reaction to regular meat products like beef, chicken, or pork, this option from Natural Balance, which limits the ingredients in the food, is an excellent choice. Being a dry food, it is a bit more affordable compared to the subscription services dog foods.
Key Features
Grain-free formula

Single animal protein

No fillers included

Several dog food bag sizes
Not only is it limited in grain, but it also doesn't contain any preservatives, artificial colors, or flavors. By minimizing the number of ingredients in the food, manufacturers ensures that there is little likelihood for dogs to suffer from an allergic reaction.
Bison is a high-quality protein with a signature taste that is packed with amino acids. Combined with sweet potatoes for healthy carbohydrates and peas, the overall meal is healthy and hearty without risking the dangerous symptoms that accompany food allergies in your golden retriever.
Pros:
No allergy causing filler ingredients, like wheat and soy

Bison contains

DHA

to help your dog's brain development and health

Few ingredients and simple recipe to prevent incidences of allergic reaction
Cons:
Some users reported concerns regarding the state of the product when it is shipped, specifically mentioning a slight decline in the quality of some ingredients.
If a simple best limited ingredient dog food formula that works is what you are looking for, you will find it in the simplicity of this nutritious and balanced sweet potato & bison formula grain-free dry dog food.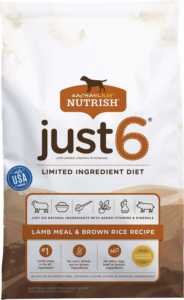 The taste of lamb is enough to drive any healthy and active dog bonkers. Well, that's what this simple delicious lamb and brown rice formula promises to deliver, despite its simplicity.
Key Features
Six natural, simple ingredients

No fillers included

Essential vitamins and minerals available
The six ingredients used in this recipe are wholesome and premium protein. There is no gluten, corn, wheat, soy, or artificial color or flavors.
The input of Rachael Ray, together with the expertise of pet nutrition specialists, has been instrumental in creating such formulas. She has tried and tested her own recipes to come up with delicious meals for your pooch.
In addition to creating these marvelous meals, Rachael has an animal rescue organization known as Rachael's Rescue. You can trust a renowned celebrity cook to know what appeals to the palate, and lamb and brown rice are a winning combination.
Pros:
Food is made from natural ingredients and additional vitamins for a balanced meal

The ingredients do not contain intestines and feet to make them safer and more nutritious

Has chelated minerals that are absorbed much easier and better

Created after consultation between a food expert and pet nutrition experts
Cons:
Contains chicken fat, which although not an allergen, can be off putting for golden retriever parents with pets that are allergic to chicken
Nonetheless, this is a winning formula that meets the needs of sensitive dogs without compromising on the taste and nutritional value. Plus, you get the best value for your bucks.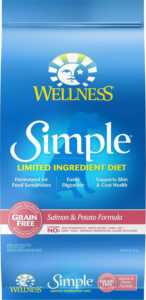 Limited formulas are a popular option for just about anyone who is out to fight the adverse allergic reactions caused by food in dogs. Fish has been considered a potential trigger for allergic reactions in dogs, but in most cases you cannot identify the exact fish that is the culprit. But this is a barebones formula that contains salmon and potatoes.
Key Features
Easily digestible

All natural

Contains prebiotics and probiotics

Grain-free
Arguably the best way to ascertain whether your golden retriever is allergic to fish is to try this dog food. If it is not, then you have the option of a highly nutritious food that you can build upon with other ingredients to figure out the trigger ingredient.
This dog food formula is created for dogs that have food sensitivities and allergies. The use of premium, high-quality salmon as the main protein component enables your dog to enjoy healthy lean protein for muscle health and development.
Pros:
Prebiotics and probiotics increase gut health for better digestion

Uncomplicated formula with natural products for overall health

Use of natural products and no fillers guarantees no allergic reactions

No fillers, preservatives, and color/flavors to contaminate the natural purity of the food
Cons:
Fish can be a trigger food causing allergies in some dogs

For dry dog food, it is relatively expensive compared to other brands
The use of salmon may be off-putting for some pet owners, but salmon is considered a very high quality protein source. Besides, this food is made from the best natural ingredients that are available so you pooch is always ingesting the best meals.
How To Choose The Best Dog Food For Allergies?
Pay Attention To The Protein Source
Top on the list of allergy triggers is proteins. Common culprits include beef, chicken, dairy, lamb, fish, just to name a few. However, reactions to these proteins vary from dog to dog. But before you take a chance with diets containing such ingredients, establish what's behind the allergy in your pooch.
If your worst fears are confirmed – that proteins could be behind it, then your best bet is novel proteins such as venison or duck. In fact, novel proteins should be your first consideration because they are too friendly to allergic dogs. So, check that the first ingredients comprise novel proteins and ingredients that are less common (exotic).
Limited Ingredients
A long list of ingredients may not be a good idea when there's a possibility you'll want to establish what ingredient is causing your golden retriever to exhibit allergic reactions.
Thus, you are better off with a formula that comprises very few ingredients, say one protein source and a few other ingredients, like vegetables or fruits. This way, you'll have an easier time zeroing in on an ingredient you suspect could be an allergen and know what ingredients aren't the cause.
Grain-Free
Grains are obvious culprits too when it comes to allergies in dogs. But don't pass off this judgment before you consult with your vet to establish the reason behind your canine's allergies. If it turns out that grains are the allergens, the best grain free dog food for skin allergies or other sensitivities should be your first consideration.
Nutritious Content
Your dog's overall nutrition will have an influence on allergy management. His immune system needs to be strong enough to fight off diseases and other attacks, like allergies, but that won't be possible if he doesn't feed on diets that contain minerals such as zinc, iron, and copper, vitamins, specifically A, B6, C, and E, all of which are known to play a major role in the strengthening of the immune system.
Once you've looked at all these factors, spare a few more minutes to look into the brand behind the diet. Dig into their reputation, find out the kind of quality control measures they have in place, where they source their ingredients, and their approach to making hypoallergenic foods.
How Can You Tell If Your Dog Is Allergic To Food?
Allergies can be a nightmare and sometimes it is easy to mistake them for something else. However, the following signs are clear symptoms of an allergy in your dog.
Persistent Ear Infections
A normal number of ear infections for a dog should be, at most, three per year. But when your dog chronically suffers from ear infections multiple times over the same period, there is a high probability she has a food allergy.
An ear infection in your pooch will mostly manifest as stinky yeast in the ears that looks black or brown. Your dog may end up constantly shaking and scratching his head. Unfortunately, over the counter medication or frequent cleaning rarely help.
You may have to try a food allergy test to ascertain the trigger food causing the allergic reaction.
Browning Of The Lips
The healthy hue of your dog's lips can be compromised by food allergies. Instead of its natural color, the lips become bronzed, with the hue spreading around the mouth and this can also seen on their feet and skin. This signifies either a yeast infection or a food allergy. The area may become inflamed and your dog itches often. A very uncomfortable condition this one.
Brown/Red Nails
If you notice that your pooch has bloody-looking nails and is constantly licking them to scratch, she may be suffering from a food allergy. A dog's nails should be white with a healthy tinge of pink. Using the food elimination method, you can identify what the trigger food is.
Watery Eyes
When you notice your golden retriever's eyes are watery and sometimes have a whitish discharge that collects on the side, a food allergy may be the cause. Allergies can cause more excessive tear production and more often irritation, which comes with staining of the eye. Because of the sensitivity of the eye, consult a vet as soon as possible when you see these symptoms.
Red, Itchy Underbelly
A lot of itching can be a sign of food allergies, especially when accompanied by red inflamed skin throughout the body of the dog. This allergic reaction is characterized by never-ending itching that doesn't dissipate even after a bath or allergy medication. The itching spreads all over the dog, including the face and rear end as well.
What Are The Most Common Food Allergies In Dogs?
The most common food allergies in pooches include:
Meat
Beef and chicken tend to be the main culprits causing allergies in dogs. It is usually your dog's digestive system's intolerance to the meat that causes it to itch or become nausea.
Dairy
Yes, it occurs in dogs too with extremely uncomfortable symptoms. The great news is that dairy products are not a requirement in the diet of a dog, so she is not missing out on any nutritive benefits by not consuming milk, cheese, or sour cream. If your dog loves milk, consider lactose free dairy products.
Wheat
Commercial dog foods tend to have wheat as a filler ingredient to beef up the food. Unfortunately, even traces of wheat products can cause an allergic reaction in dogs. Dog parents who like to feed their pooch bread or pastries may be enabling the allergy unknowingly.
Eggs
Eggs, like milk, are not necessary in a dog's diet. And although some owners give them to their pooches, they can be trigger foods causing an allergic reaction. The best thing to do is to eliminate eggs from your golden retriever's diet altogether.
Fruits And Soy Products
Some fruits and veggies are causative agents when it comes to dog allergies. Plums, apricots, and corn are notable culprits in causing allergic reactions in dogs. Soy products are also common allergens found in some dog foods.
Fish
Not all fish cause an allergic reaction, but unless you can isolate the particular fish your dog is allergic to, steer away from a fish diet completely for your pooch. Omega-3 is essential for the well being of your golden retriever but it can be found in different supplements as opposed to fish products.
Food Color And Flavors
Additives are definitely huge allergy triggers. As a result, dog owners are opting for natural food ingredients, mainly because of the additives in commercial feed. Reading labels before buying dog food is essential as is educating yourself on the ingredients contained in the food.
How Do You Treat A Dog With Allergies?
Because the dogs' immune system identifies the allergy trigger food as a harmful agent, it releases antibodies starting a series of dangerous reactions within the body. The most effective way is to remove the trigger food. However, that is not the only way. Your vet will counter the allergy using the food elimination method.
They will recommend a diet with two specific foods and if your pooch doesn't react to those, the vet proceeds to add on more ingredients until they identify which one causes the allergy. Dog food for allergies are those that have eliminated trigger foods like wheat and dairy as well as fillers and coloring among others things.
Conclusion
Watching your dog suffer through an allergic food reaction is extremely distressing. Imagine being totally uncomfortable, in distress, and in continued suffering. All these misfortunes are a recipe for extreme aggression and in some cases even depression.
That's why it's worth looking at excellent dog food for allergy options to ensure your furry friend is living her best life without worrying about what she eats.
NomNomNow Tasty Turkey Fare Recipe and Ollie Healthy Turkey Feast share the top spot in this review, not only because they are all made up of natural ingredients, but also due to the superior formulation process they undergo and the special attention paid to individual orders. Rest assured that your order from these two will come specially formulated for your pup.
However, the rest of the options would still live up to your expectations, especially if you are on a budget or your preference is dry foods that can be delivered quickly to your doorstep.