Updated: October 14th, 2022
This article contains affiliate links. Read the full disclosure here.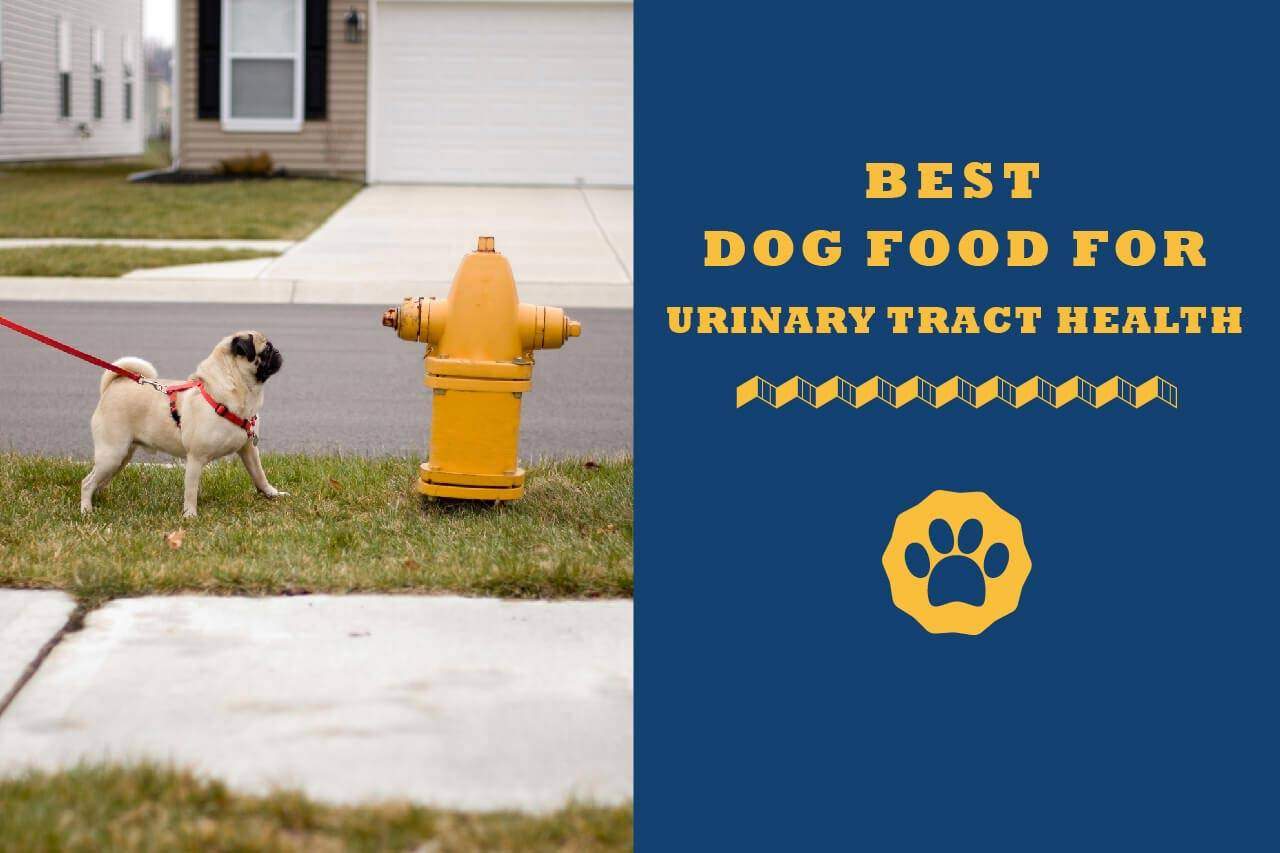 [five_sixth_last]
When your little canine friend starts to suffer from a medical condition, chances are high you might not pick it up right away, mostly because of the communication barrier. It's only when symptoms begin to manifest that it may occur to you that your mutt is truly sick.
UTI, which stands for Urinary Tract Infection, is an example of such an illness. It's fairly common in dogs, alongside other diseases like diabetes and cancer. Although it may be an uncomfortable disease, the upside is that UTI is treatable. Once you know the signs, you just might be able to catch it early.
Part of the treatment involves a dog food recipe that helps address the condition while keeping your pooch healthy, lively, and well supplied with nutrients despite the condition as she heals.
In this article, I will take you through the best dog food for urinary tract health and also show you how to spot the condition and choose the right diet.
AT A GLANCE:
Our 5 Best Dog Food For Urinary Issues
An Overview Of the Best Dog Food For Urinary Issues
| IMAGE | PRODUCT | |
| --- | --- | --- |
| | Brewers rice, corn, chicken by-product meal, chicken fat | VIEW LATEST PRICE → |
| | Cran-Max cranberry, Marshmallow Root, D-Mannose, Organic Astragalus: Organic Licorice | VIEW LATEST PRICE → |
| | Brewers rice, corn starch, pork fat, egg product | VIEW LATEST PRICE → |
| | Whole grain corn, brewers rice, chicken by-product meal, corn gluten meal | VIEW LATEST PRICE → |
| | Cranberry extract, echinacea purpurea, vitamin c, oregon grape root | VIEW LATEST PRICE → |
Top 5 Best Dog Food For Urinary Tract Health: Reviews
As promised earlier, let's now examine some of the top diet options that your pooch can benefit from as she battles UTI.
This formulation is specially-crafted to help alleviate UTI.  And as it does so, it ensures that your pooch is still getting vital nutrients, such as animal protein, in order to maintain muscle mass.
The moisture content is at 10 %, which is adequate, considering that it's a dry dog food, while magnesium levels are at a maximum of 0.08 percent, ensuring that this mineral is not in excess.
This prescription formulation dissolves struvite stones and does a good job of preventing calcium oxalate stones from forming. It does this through a methodology called Relative Super Saturation (RSS). It is through this methodology that ion content in urine, which is a key component of stone formation, is lowered thus effectively preventing stone formation.
It also helps straining mutts to take a wee wee more readily. However a prescription from your vet is mandatory in order to successfully purchase this product.
This chicken liver flavored chew bites are not only tasty but also packed with the right ingredients for promoting a healthier urinary tract as well as combating UTI. Also, they are crafted to help bring proper pH balance to your pooch's urine.
Urinary tract infections are usually on the tract itself, but they can also occur in the bladder as well as the kidney. This chew bites work with mutts of all ages by using a bio shield technology of cranberry concentrate to get rid of bacteria in the bladder and urinary tract.
On top of that, Zesty Paws Cranberry chewy bites are packed with natural ingredients that have the ability to flush out that build up of toxins from your mutts bladder and kidneys, paving way for less strained and eventual comfortable peeing. This is thanks to ingredients such as astragalus and nettle seed as well as organic licorice root.
Although this product does not require a vet's prescription to purchase, it is always advisable to run it through your vet just to make sure that it would be the right solution for your pooch's condition.
Hill's Science's Prescription Diet for urinary care contains the right mix of minerals and in the right proportion. Apart from helping to regulate pH levels in your buddy's urine, it also helps to reduce the levels of calcium in the urine in order to limit the formation of bladder stones.
The proteins in this formula are highly digestible therefore reducing the risk of struvite stone from forming.
Ingredients such as flaxseed provide omega-3 fatty acids and pair well added antioxidants to promote a stronger immune system.
Due to the medical nature of this product, you can only purchase it with your vet's prescription.
Struvite stones and calcium oxalates are the two most common stones that form in a dog's kidney or bladder causing much discomfort and preventing her from peeing with ease. Thankfully, this formulation is designed to create an environment that makes it impossible for UTI-causing bacteria to exist in the urinary tract and cause havoc.
Basically, this UR prescription recipe from Purina promotes a healthy urinary tract for dogs with UTI and those that have a history of it. Because it can promote healthy urine acidity levels, the diet will be particularly effective in your canine buddy if she has lower urinary tract disease.
What's more, this recipe is able to achieve all that  while still providing the necessary nutrition, such as animal protein for lean muscles growth and complex carbs for sustenance as your mutt battles the condition.
Purina Pro Plan Veterinary Diets UR Urinary Ox/St Dry Dog Food is readily available on well-known pet food outlet. However, you will need a prescription from your vet to be able to proceed with the purchase.
This is a great supplement that will work well with most pooches under the direction of your vet. This cranberry powder is naturally flavored and is palatable helping bring about relief to your mutt.
The active ingredients include cranberry, vitamin C, Oregon grape fruit and Echinacea which not only creates a hostile environment for bad bacteria and toxins to be flushed out from your mutt's urinary tract, but also serves to boost your pooch's immune system for a much quicker recovery.
Doggy parent are assured on the quality of the formula as well as ingredients as this has been formulated in the US.
How To Tell My Dog Has Urinary Tract Infection?
UTI can occur anywhere in your mutt's urinary tract and is caused by a bacteria named E.Coli. It's worth noting that female canines are more susceptible to UTI than their male counterparts.
The bacteria usually starts by gathering at the opening of your pooch's urethra and will eventually make their way through the urinary tract and in some cases, they may go all the way to the bladder or the kidney, causing further complications.
Typical symptoms that manifest as a result of UTI are crystals and kidney stones in the urine. This can be really painful.
If the infection is lower in the urinary tract,the symptoms exhibited will be as follows:
Urine dribbling
More attempts than usual to urinate
Licking of the urinary tract opening
Discolored urine that has a foul smell
Blood in the urine
An upper urinary infection or when the infection is more local to the kidney, you are likely to see the following symptoms:
Loss of appetite
Weight loss
Frequent vomiting
Soreness in the abdomen
Lethargy
Both types of UTI should be treated at the earliest opportunity once diagnosed by a vet in order to save your mutt from some major discomfort.  It would actually be better if you found from your vet about when to call him/her.
You can learn more about UTI in dogs by watching the video below:

Are There Home Remedies For Urinary Tract Infection?
The answer is yes. You can make homemade dog food for urinary tract health or opt for other home remedies .
But given the complex and nuanced nature of UTI, it will be difficult to get everything 100% right with respect to the nature, balance, and level of nutritional content that's ideal for dogs with this infection.
Although you may know of pet parents who resorted to home remedies, such as use of apple cider vinegar or citrus fruit, and it worked for them, it's important to realize that this may not work as effectively on every dog.
A home remedy that might work with one dog might be disastrous for another simply because all dogs are individuals in their own right. In some cases, you could instead end up with further complications.
A-trial-and-error approach with home remedies might cause you to lose valuable time and cause unnecessary discomfort and agonizing pain on your canine buddy.
A proper diagnosis from a vet is most recommended when you suspect UTI in your pooch. This will help to determine whether the infection is on the upper or lower side or in the kidneys and how severe it is.
Thereafter, he/she will prescribe the right medical solution. What's reassuring is that the vet's involvement takes the guesswork out of the equation.
Fortunately there are specially formulated dog foods for UTI problems. They deal specifically with the promotion of a healthier urinary tract.
Also, they can prevent kidney stones from forming and building up. UTI prescription diets are also rich in minerals such as phosphorus, magnesium, and omega-3 fatty acids that are essential in fortifying your pooch's immune system.
Qualities The Best Dog Food Urinary Tract Health Should Have
When shopping around for a quality urinary dog food diet for your pooch, there are a few things you will want to bear in mind in order to get the right quality.
First, note that not all urinary dog food diets are created equal. For the the best urinary care for dogs, you will have to select a brand that is notable for manufacturing effective prescription dog food for urinary issues or any health health conditions that affect dogs.
Secondly, although many dog food recipes may claim to have the right minerals to address UTI, they may fail to have them in the right proportion, which can end up exacerbating the problem.
So, look out for a recipe that has the correct proportions of required minerals. Examples of such minerals include magnesium and phosphorus.
Thirdly, avoid those commercial dry dog foods with less water content. Remember, lack of enough of water or moisture in dog food can lead to kidney issues. So, choose an option that is high in moisture (5-10% for dry dog food and at least 70 % for wet foods) and at the same time tasty.
Lastly, narrow your selection to dog foods that do not contain inflammatory ingredients such as grains and high starch ingredients because they contain magnesium, which is a top culprit when it comes to stone formation. Instead, lean more towards meats and veggies.
After seeing a vet and getting the right prescription diet for UTI, you and your pooch can rest easy as recovery takes its course.
Conclusion
As a caring pet parent, I doubt you will want to make guesses and try solutions that are likely to make your little friend suffer even furthur when she's already in pain. Common dog health problems, like UTI, can get painful and very discomforting for a dog.
Thus, it would be best if you kept your homemade dog food for urinary tract health aside first and instead seek your vet's help.
Get a proper diagnosis and diligently follow it up with the medical solution your vet will have prescribed.
For the best dog food for UTI problems, look no further than than this round up for start.
What makes each of these diets special is their ability to restore the health of your dog's urinary tract quickly with less agony and without any chance of exacerbating the condition, which is what you want