Updated: May 9th, 2021
Dry, flaky skin on your dog isn't just a bit disgusting and a pain to clean up. Dry skin can leave them feeling uncomfortable and irritable, and far from their playful, happy selves. Fortunately, with the best dog shampoo for dry skin, it is possible to manage dry skin, keeping both you and your dog happy.
AT A GLANCE:
Our 7 Best Dog Shampoos For Dry Skin
Dog shampoos designed for dry skin work to moisturize the skin and reduce the level of itchiness. Some shampoos can also be designed to deal with the underlying causes of dry skin, which can be something mild such as dry air or something serious such as a bacterial or fungal infection.
What shampoo is right for your dog depends on how serious their skin issue is, how it is manifesting, and the underlying cause. Read on to discover the seven best dog shampoos for dry skin. Also read the comprehensive buying guide that should help you decide exactly what shampoo is right for you and how to use it.
7 Best Dog Shampoos For Dry Skin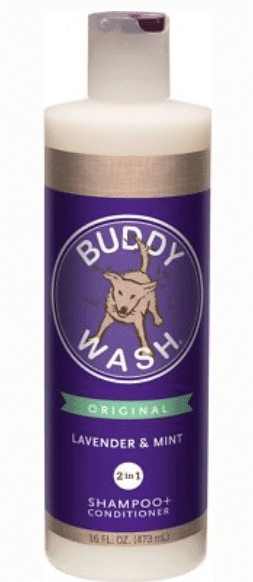 Buddy Wash's all-natural dog shampoo is the most effective, and surprisingly affordable, shampoo for common dry skin issues.
Product Features
All natural, soap free

Contains aloe vera, oatmeal, peppermint, and eucalyptus

Scented

Safe to use with topical flea treatments
This coconut-based cleanser is made from all-natural ingredients that you will recognize such as aloe vera, oatmeal, peppermint and eucalyptus. It is also made in a cruelty-free environment which is important to any animal lover.
The resulting formula relieves itching and uses oatmeal and aloe vera to heal areas of the skin that many have been damaged by scratching. It also deodorizes and leaves behind a pleasant vanilla and almond scent. But as is the case with all scents, this may or may not appeal to your dog.
The formula is free from parabens, phosphates, and other nasties that may be bad for your dog's health and is also 100 percent biodegradable, so no need to worry when disposing of your dog's bathwater. It is safe to use with dogs and cats, six weeks and older.
This shampoo is ideal for managing dry skin in general, but there are stronger, more effective shampoos when it comes to dealing with specific medical conditions such as allergies and bacteria.
Pros
Affordable

Cruelty-free manufacturing and testing process

All-natural ingredients that you will recognize

100 percent biodegradable
Cons
Scented

Not designed for specific issues such as allergies or bacterial infections
If your dog has dry or itchy skin that you would like to manage naturally without resorting to harsh chemicals, then Body Wash's all-natural, biodegradable shampoo is a great choice.
Also check out: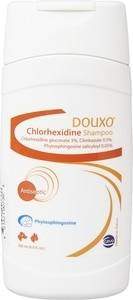 If you are looking for a serious, medicated shampoo to deal with major skin issues, then Duoxo offers a safe and effective treatment.
Product Features
Antiseptic lathering solution

Scented

Contains chlorhexidine, climbazole, and phytosphingosine
Rather than a shampoo, this is marketed as an antiseptic lathering solution, which reflects the more medicated formula than most of the shampoos on this list. This does mean that it contains chemicals and other non-natural ingredients that will not appeal to all pet parents. However, it is highly effective when it comes to managing itching and dry skin.
Chlorhexidine and climbazole kill bacteria and fungi that can be the root cause of many skin conditions. Phytosphingosine reduces itching. Lipacid moisturizes the skin and restores the protective barrier by depositing a lip-protidic layer to help retain moisture and reduce irritation.
The formula is slightly scented which may not appeal to all dogs, and as much as possible you should avoid getting the shampoo in their mouth and eyes as it can irritate.
Pros
Kills bacteria and fungi

Deposits a light coating for long-term protection after washing

Moisturizing and anti-inflammatory
Cons
Expensive

Not all natural

Scented
While Duoxo might not have the all-natural label that many of us like to see, it is specially formulated to deal with serious dry skin issues and will be a lifesaver to any dog suffering from a serious skin condition.

Burt's Bees offers the most affordable dog shampoo on the market for sensitive skin, and it is also made with 97 percent natural ingredients.
Product Features
97 percent natural ingredients, soap free

Contains colloidal oat flour, honey, and green tea extract

Unscented

Safe to use with topical flea treatments
Made with 97 percent natural ingredients, this soap-free shampoo uses colloidal oat flour to soothe dry skin in a formula that is specially pH balanced for your dog's skin. Honey promotes a shiny coat and tea tree extract strengthen hair follicles which may have been damaged by excessive scratching. It also deodorizes without leaving behind a fragrance.
While this formula is not as effective for serious skin conditions, such as bacterial and fungal infections, as some of the other shampoos on this list, it is reassuring that it contains no artificial fragrances, chemicals, parabens, phthalates, petrolatum, or sodium lauryl sulfate. This makes it a gentle and soothing formula that won't wash off topical flea treatments, so you can use it as regularly as you like.
Pros
Affordable

Made from 97 percent natural ingredients with no harsh chemicals

Bottle made from 80 percent recycled material

Unscented
Cons
Not as effective as medicated shampoos
If you are looking for an effective way to keep on top of your dog's dry skin without spending a fortune, then Burt's Bees is an excellent option.

If your dog's dry skin is also accompanied by a significant amount of dandruff or other skin shedding, then this hypoallergenic shampoo from HyLyt can help.
Product Features
Hypoallergenic

Soap free

Contains cocamidopropyl betaine and methylchloroisothiazolinone

Safe to use with topical flea treatments
This hypoallergenic and soap-free shampoo contains emollients to moisturize the skin and essential fatty acids that control flaking. This shampoo is made specifically to deal with the issue of dog dandruff and other types of skin shedding.
The resulting formula, while not all-natural, has the perfect pH balance for dogs. This means it does not strip the natural oils from the skin or dry it out, so it is gentle enough to use on a regular basis, though it is quite expensive.
Not only will this formula not interfere with the effectiveness of topical flea treatments, but it can also assist with the removal of fleas and other parasites from your dog, as it pulls these away from your dog's skin.
Pros
Decreases dandruff and other skin shedding

Helps remove fleas and other parasites

Gentle enough to use regularly without drying or stripping natural oils

pH balanced for dogs
Cons
Expensive

Not all natural
If doggy dandruff is a serious side effect of your dog's dry skin, then deal with the problem effectively with this shampoo from Hylyt.

Puppies can be particularly prone to sensitive skin issues. Keep their skin happy with this formula that is safe for the youngest pups to the oldest pooches.
Product Features
Hypoallergenic

All natural and soap free

Contains coconut, avena sativa oatmeal, vitamin E, and aloe vera

Safe to use with topical flea treatments
This soap-free, all-natural, hypoallergenic cleanser uses a coconut-based cleanser to clean hazardous materials, including allergens, away from your pup's skin in a way that is gentle enough to use even with young dogs. It couples this with aloe vera to moisturize the skin and soothe any irritation already caused by dry skin.
This 70 percent organic formula contains no nasties that might pose a risk to your dog's health and shouldn't cause any tears if it gets in the eyes or any major problems if a small amount is accidentally ingested.
You can use this formula daily if necessary, and it won't dry out their skin or wash away any topical flea treatments that you may be using. The main downside is that it is relatively expensive. While this formula is mild enough to use with pups, it does mean that it is not as effective and 'heavy-duty' as some of the other shampoos on this list.
Pros
All-natural and 70 percent organic

Removes allergens and other irritants

Moisturizing and soothing
Cons
Expensive

Not as effective as some of the shampoos on this list
If you need something to soothe the sensitive skin of a new pup or a particularly sensitive older dog, then this shampoo from TropiClean is safe and effective.

Zymox's enzymatic shampoo stands out, since it not only soothes and moisturizes the skin but, in the case of bacterial and fungal infections, also deals with the underlying cause of the problem.
Product Features
Contains plant surfactants and enzymes

Scented

Made with Decyl Glucoside, Lauryl Glucoside, Cocamidopropyl Betaine, vitamin A, vitamin B5, vitamin E
This shampoo has been specifically developed for dogs experiencing bacterial and fungal skin infections and effectively removes the offending microbes from the skin without the need for harsh detergents and chemicals.
Rather, the shampoo contains three enzymes, each designed to attack the root cause of the skin issues in different ways. They have anti-inflammatory properties and also relieve irritation and hydrate the skin.
The enzymes effectively deal with odors, but the shampoo also leaves behind a light fragrance which may or may not appeal to your pet.
Pros
Deals with bacterial and fungal infections

No harsh detergents or chemicals

Deals with the root cause of skin issues as well as soothing the skin
Cons
If your dog is suffering from dry skin due to a bacterial or fungal infection, they try Zymox's enzymatic shampoo as an effective treatment.

If your dog's skin issues are caused by allergies, then the Vet's Best Allergy shampoo has been specifically formulated for you.
Product Features
Soap free

Scented

Contains oatmeal, D'Limonene, and tea tree oil

Safe to use with topical flea treatments
This shampoo is specifically designed to wash away allergens that may have attached themselves to your dog's skin and hair, causing itching and irritation. It manages to achieve this while being soap free, as soap can dry out the skin, which means the shampoo can be used on a regular basis. It also includes moisturizing oatmeal, D'Limonene, and tea tree oil to soothe any existing irritations.
The shampoo eliminates nasty odors that might come along with allergies and leaves behind an herbal fragrance, which may or may not appeal to your dog depending on their preferences.
Essential oils and natural ingredients like oatmeal, D'Limonene, and tea tree oil calm skin irritation and moisturize.
This shampoo is safe and shouldn't irritate your dog's eyes or be a problem if they accidentally ingest a little bit. It also has a very affordable price tag which makes managing your dog's allergies achievable.
Pros
Affordable

Removes common allergens from skin and coat

Moisturizes and soothes irritated skin

Gentle on the eyes and safe if small amounts are ingested
Cons
This shampoo is highly effective for soothing and treating dogs with sensitive skin as the result of allergies.
Buying Guide: Dog Shampoo For Dry Skin
In general, dogs need their own special shampoo and should never be washed with human shampoo. This is because human hair and skin is significantly more acidic than dog skin and hair, and human shampoo is optimized for this. Using human shampoo on your dog can severely damage their skin, including drying it out.
Dogs with dry skin not only need dog shampoo specially formulated for dogs, but also benefit from shampoos that are specifically designed to support dry skin. In general, this will mean that the shampoo will:
Contain moisturizing ingredients, such as oatmeal and aloe vera, which helps reduce dryness and flaking.

Be balanced for your dog's skin pH level and actively work to restore their natural pH balance.

Stimulate the production of natural oils, which your dog should be producing themselves to protect their skin and coat, but which can be stripped away in a variety of ways.

Reduce itching and soothe areas that may be raw from irritants and scratching.

Treat the causes of dry skin in dogs, such as bacterial and fungal infections.
Causes And Symptoms Of Dry Skin
There are many potential causes of dry skin in dogs, some relatively benign and some serious medical conditions that should be treated by a vet.
You may find your dog's skin becoming dry due to low humidity or heating in the house during the winter. Bathing your dog with the wrong shampoo, and bathing or grooming them excessively can also dry out their skin. Poor diet, especially diets without sufficient zinc and vitamin A, can also cause dry skin.
This kind of dry skin can be treated pretty easily by using a dry skin shampoo regularly and doing your best to eliminate the cause of the problem.
Allergies are another major cause of dry skin. According to the American Kennel Club:
Food allergies and environmental allergies and seasonal allergies, such as pollen, dust, feathers, grass, animal dander, grain, and flea saliva can cause a host of symptoms in dogs that often include dry skin. If left untreated, these allergies can result in a skin condition called atopic dermatitis, which causes dry skin, itching, redness, and inflammation and can also lead to secondary skin infections.
Bacterial infections from parasites and fungal infections can also lead to dry skin. Flea allergy dermatitis, which is an allergy to flea saliva, is also a common cause of dry, irritated skin.
In the case of allergies and infections, you will want a shampoo that not only moisturizes the skin but also removes the bacteria or allergen. A shampoo treatment may be sufficient, or it may need to be combined with medication.
Serious medical conditions can also have dry skin among their symptoms. For example Alopecia, a rare hereditary disease; Cushing's disease, a hormone imbalance syndrome; and Hypothyroidism, can all result in dry and scaly skin. These conditions should be treated by a vet who may suggest a dry skin shampoo in combination with other treatments.
It is pretty easy to tell if your dog has dry skin. It will appear dry and flaky and maybe a bit scaly. You will likely catch your dog scratching a lot, and they will probably experience hair loss, largely the result of excess scratching. It can also be accompanied by an unpleasant odor in some cases.
Choosing A Shampoo
When choosing a shampoo for dry skin, there are quite a few things to consider. The five most important things to look at when evaluating a shampoo are:
The Cause Of Your Dog's Dry Skin
The first thing to consider when looking for a dry skin shampoo for your dog is the cause of their dry skin. Is it simple environmental factors such as humidity, or are they suffering from allergies?
If they are suffering from allergies or bacterial infections, you will want to choose shampoos with active ingredients specifically designed to address the root cause of the problem rather than just soothe and moisturize the skin.
Ingredients
In general, if your dog has sensitive skin, it is best to choose a shampoo made from natural ingredients, as chemicals and detergents can cause further damage. Soap can also be drying, so soap-free shampoos are generally best. If you recognize the ingredients listed on the shampoo bottle, things such as oatmeal, aloe vera, and tea tree, this is generally a good sign.
If your dog suffers from allergies, you will also want to look out for a shampoo that is hypoallergenic, as these specifically avoid ingredients commonly associated with dog allergies.
If you need a medicated shampoo to deal with a more serious skin condition, you will see a variety of unnatural ingredients added to make the shampoo effective. This is not necessarily problematic, but keep your eyes peeled for these ingredients that shouldn't really be found in any dog shampoo. Definitely steer clear of anything with alcohol, as this can sting if it comes into contact with skin that has been left raw from scratching or other irritants.
Moisturizing Agents
Obviously, dry skin needs moisturizing, so good shampoos for dry skin should include moisturizing agents that hydrate the skin and soothe itching. Some of the most common ingredients you will encounter are oatmeal and aloe vera.
pH Level
The skin and hair of dogs have a neutral pH level, and so as not to cause damage, their shampoo should also be around neutral. This is especially important for dogs with dry or sensitive skin. Look for shampoos that have a pH level near seven, which is neutral.
Fragrances
While you might like getting a little whiff of fragrance from your hair when it is freshly washed, most dogs don't like to be surrounded by a lingering fragrance that is not their own. If you find your dog rubbing against everything in sight after a bath, they are probably trying to remove the smell of the shampoo!
For that reason, good dog shampoos should work to neutralize odors rather than simply mask smells with fragrances. If you do decide to go for something scented, make sure the scent is light enough not to cause your dog major distress and is made from natural ingredients that will not irritate your dog's skin.
Bath Time Tips
When To Shampoo Your Dog
Unless you need to bathe your dog more regularly with a special shampoo as a course of treatment, in general, you should give your dog with dry skin a bath about once every two weeks. More often than that and you may inadvertently dry out their skin, unless the shampoo is specially designed for daily or more regular use.
How To Shampoo Your Dog
A lot of dogs do not like bath time, and if it is not done properly, they can simply see it as punishment. This is one more thing that requires training. You need to show them the behavior that is expected during bath time, and reward them for their cooperation. According to Vet Mikkel Becker:
Bath time should always be paired with something your dog enjoys. I use a snack jar in my bathroom when bathing my pugs, so I can reward calm behavior of all four feet in the tub. I also give them a long-lasting toy or chew after their bath.
If you are looking for the best training treats for your dog, check out this review of the best dog treats for training.
As well as training, there are a number of tips to follow during bath time to keep your dog as calm and happy as possible.
Wear them out!

It is best to bathe your dog when they are tired after an active day so that they have less energy to make a fuss in the tub.
Regulate water temperature.

Dogs struggle with water temperatures that are either too cold, making them vulnerable to illness, or too hot, making them very uncomfortable. This can be especially problematic if they have painful, broken skin. Try and get the water lukewarm.
Be gentle.

While you should always be gentle when bathing your dog, especially around the ears, face, and privates, you should be extra careful with dry skin. If you accidentally scratch or irritate a sore point, you could cause them quite a bit of pain.

Rinse thoroughly.

Residual shampoo left on your dog's skin can be a further drying agent, and be yet another source of irritation and scratching. If you are removing allergens and parasites, this is also an essential part of the rinsing process.

Towel dry.

Dry your pup completely before letting them loose. Let them shake off the excess water and then towel dry them. Never use a hair dryer, even if it is designed for pups, as this is yet another thing that will dry out their skin.
For more information on how to bathe your dog, check out this video from Banfield Pet Hospital.
For tips of every element of dog grooming, check out our dog grooming guide.
FAQs
What causes dry skin in dogs?
Dogs can develop dry skin for a multitude of reasons. Often environmental factors such as humidity or dry air can affect their skin, as can poor diet. Allergens and bacterial infections are further culprits, or they may be suffering from a more serious medical condition of which dry skin is just one symptom.
How do I treat my dog's dry skin?
The easiest way to treat dry skin in dogs is to shampoo them regularly with a shampoo specifically designed for dry skin. Brushing your dog regularly, once or twice a week, can also help stimulate blood flow to the skin and encourage them to produce the kind of natural oils that keep their skin happy and hydrated.
Why is my dog so afraid of baths?
Dogs can fear baths for a number of reasons. Perhaps they have a fear of water. Maybe the slipping feeling of being in a wet tub scares them. Dogs need training in order to know how to behave during bath time and to understand that it is an activity that is safe and potentially fun.
Do dogs feel better after a bath?
Dogs often go crazy after a bath but not usually because they enjoyed it. If they roll around the house rubbing against everything in sight, it can be from relief or trying to rub off the scent of the soap or shampoo used.
The Verdict
When it comes to finding a dog shampoo for dry skin, there are so many options on the market. The best general shampoo for dry skin that you can buy is probably made by Earthbath. Their shampoos are all-natural and made from ingredients that you recognize, so that you can moisturize and ease your dog's skin without any harsh chemicals. If you are looking for a cheaper version of this, which is almost as good, then Burt's Bees is worth looking at as well.
If your dog's dry skin issues are more serious, and you suspect that they are linked with a bacterial or fungal infection, then Douxo offers an effective medicated shampoo. HyLyt also makes a shampoo with essential fatty acids that deal with bacteria, and Zymox an enzyme-based formula that is similarly effective. If you think that allergies are at the root of their skin issues, then try allergy and dry skin formula made by Vet's Best.